ASUS, Lenovo and now HP carry them, laptops with foldable displays. It is not easy being a pioneer but it has its rewards. These new laptop profile go beyond the conventional clamp shell design and these companies are willing to bet on them. Laptops with foldable display cater to those who prefer big displays on their laptop but not wanting the heft associated with it.
What Are Laptops with Foldable Display?
These laptops use flexible foldable display, just like those found on foldable smartphones but in a much bigger scale and higher resolution. The display panels are typically made of OLED that can bend without breaking. This allows the laptop to unfold flat (180 degrees) to become one giant display. In some cases, the displays support stylus input, making them a giant slate too. So what you get essentially is from this new age foldable laptop is a giant foldable display and detachable keyboard with trackpad. The direct benefits of this new design are as listed below:
Portability: Foldable designs can make devices more compact, increasing portability.
Versatility: These devices can be used as both tablets and laptops, offering users a more versatile computing experience.
Innovative Use Cases: Foldable displays open the door to new user experiences and application designs that take advantage of the unique form factor.
Current Laptops with Foldable Displays?
Before we continue further, here are the laptops we will be looking at. We will consider their unique features and what we like and not like about them in the following section.
Lenovo ThinkPad X1 Fold 16.3
Asus ZenBook 17 Fold
HP Spectre Fold 17 3-in-1 (Desktop Laptop Tablet)
1. Lenovo ThinkPad X1 Fold
Back in 2022, ThinkPad X1 Fold was the first laptop in the market with the new profile. It has a flexible 13.3-inch 2K OLED touchscreen display that unfolds and lays flat to become a seamless screen powered. The laptop was Intel Core i5-11600 processor with 8GB memory and 512GB storage.
New Gen 2 Laptop
A second generation ThinkPad X1 Fold soon follows with a much bigger 16.3-inch OLED display. As you would expect, the laptop unfolds like a book and lay flat turning into a slate. A slate because not only is there an on-screen haptic keyboard to type on, but it also supports a stylus for taking notes and to sketch on. An optional ThinkPad Bluetooth TrackPoint Keyboard with fingerprint sensor is available to purchase if you prefer something with a more tactile feel.
Bigger 16.3-inch Display
The 16.3-inch display has a 4:3 ratio and can be used with a stand on either the long or short edge, portrait or landscape. Based on OLED technology it supports HDR colours and packs a healthy 2560 x 2024 pixel resolution making everything look super sharp. And, as it is an OLED panel, the self emitting display is super bright too with a maximum brightness of 600nits. You can choose to part unfold it like a conventional laptop with the on-screen virtual keyboard which leaves a compact 12-inch for display for your applications.
In a Compact Body Yet Powerful
Weighing only 1.28kg, this is a truly compact laptop and can be specified with up to 12th Gen Intel® Core™ i7 with vPro. To make the most of the laptop, we definitely recommend the optional keyboard as it comes with an adjustable-angle kickstand to reliably support the display propping it up to a good working angle. Due to the kickstand design, you won't be able to use it on your lap like a conventional clampshell laptop but get to enjoy a generous display.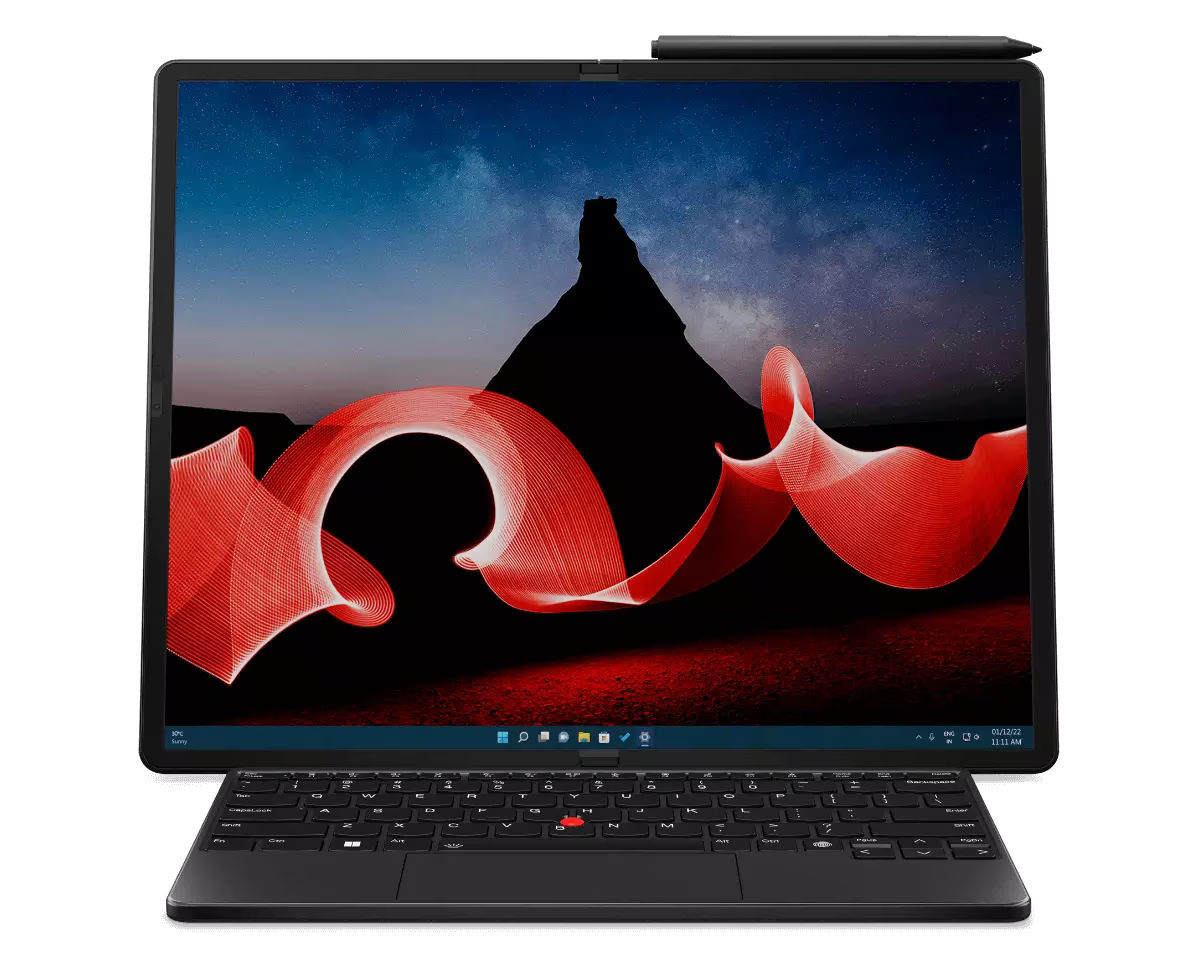 What we like about the Lenovo ThinkPad X1 Fold
Innovative Design: The bell-shaped hinge is a masterpiece, allowing for a seamless fold-flat design that's both aesthetic and functional.
Expansive Display: The OLED display is an impressive 16.3″ panel, which can be used either horizontally or vertically. This versatility is enhanced when paired with the detachable keyboard.
Power and Performance: The ThinkPad X1 Fold doesn't skimp on power. Thanks to a collaboration with Intel®, it's built on the Intel® Evo™ vPro® design, ensuring full-sized CPU performance.
Latest Intel Features: With the inclusion of the 12th Gen Intel® Core™ processors and Intel® vPro®, this laptop isn't just powerful—it's smart. The new Intel® Visual Sensing controller, an AI-powered co-processor, elevates the device's efficiency, intelligence, and security.
Consistent and Immersive Experience: Being an Intel® Evo™ laptop means delivering outstanding performance, captivating graphics, and consistent responsiveness, all packed into a slim and lightweight frame.
Thermal Engineering: The absence of fans is not just a silent feature; it's an engineering feat. It ensures the device remains cool while eliminating potential issues with dust and debris entering the system.
Power to Carry You Through the Day: The dual-battery design promises an extended battery life that can last the entire day and beyond.
Fast and Snappy: Its responsiveness is unparalleled, waking up in less than a second. Additionally, it boasts ample memory and storage, providing options for ultra-fast connectivity and enhanced security measures.
2. ASUS ZenBook 17 Fold
The Asus ZenBook 17 Fold is also powered by 12th gen up to Intel Core i7 processor with Iris Xe graphics but with a much bigger 17.3-inch display. The 17.3-inch foldable OLED NanoEdge panel supports 2.5K resolution and touch. The display is akin to putting two 12.5-inch OLED panels side by side, a bit more about this later.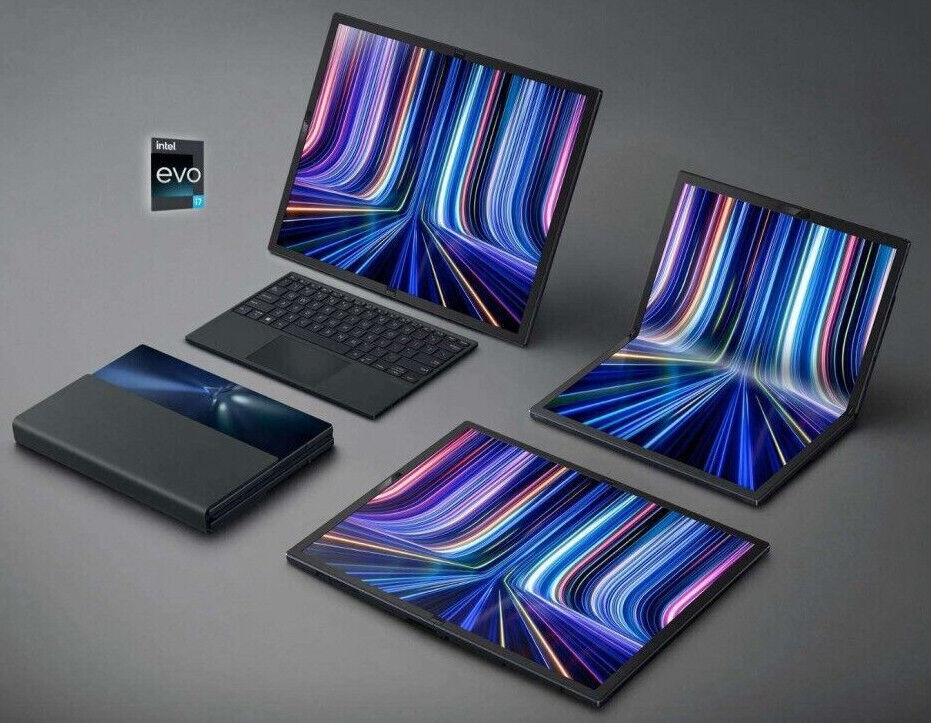 Superb Display
The OLED panel is PANTONE validated with 100% DCI-P3 colour coverage and support for Dolby Vision. It has a productivity friendly aspect ratio of 4:3 and is eye friendly low blue light certified. Fold it into half and the laptop takes on a footprint of a 12.5-inch device. In fact, when used in laptop profile, it behaves like two 12.5-inch Full HD+ 1920 x 1280 pixel 3:2 aspect ratio display.
Boost Your Productivity
Make the most of the extra real estate with Asus ScreenXpert, app that splits the screen up to three different panes to accommodate different apps to boost your productivity. The app works in landscape or portrait mode letting you choose up to three windows layouts via easy access Mode Switcher pop-up.
Great for Entertainment
With a screen that big, you would want to use it as a media streaming entertainment tablet (unfolded of course) and the Harman Kardon certified quad firing speakers doesn't disappoint. It supports spatial surround with Dolby Atmos.
Beyond that beautiful display and awe-inspiring sound, you also get a 5MP AI webcam. Like the front facing camera on ThinkPad X1 Fold, it is accentuated with InfraRed technology for faster facial recognition and a colour sensor for automatic brightness and colour temperature.
Thin and Light for a Giant 17.3-inch laptop
Even with the big display, the laptop only measures 8.7mm thin (unfolded) and weighing just 1.5kg. Just like ThinkPad X1 Fold, it loses some of the weight due to the absence of physical keyboard and trackpad. The Bluetooth keyboard alone weights 300grams.
Grab the keyboard and enjoy 5 different ways to use the device. They include, laptop, desktop, tablet, reader and extended (see photo).
Could Be Better Battery Life
If you are wonder how long does the battery last, the quick answer is up to 9.5 hours of 1080p video playback. In practice, with mixed use, such as web browsing, office applications, emails and media playback, you will get lot shorter battery life on a charge. This also depends if are using it with half the screen off in laptop mode or fully expanded in desktop or tablet mode.
Bluetooth Keyboard and Touchpad
The ASUS ErgoSense Bluetooth keyboard with touchpad is super slim and can be placed on the lower half of the display in laptop mode, in place of the on-screen keyboard. For desktop or extended modes, the keyboard can be placed on the table and the foldable display propped up with the integrated kick stand. For connectivity and controls, there are two Thunderbolt 4 ports, one audio jack, volume and power buttons.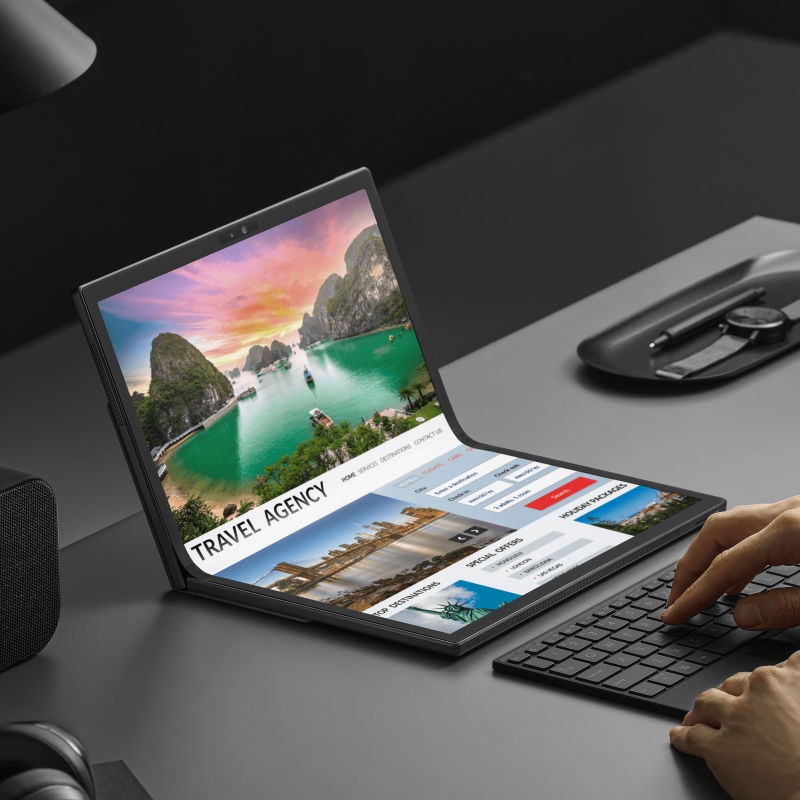 What we like about the Asus Zenbook 17 Fold
Display and Design: The ZenBook 17 Fold stakes its claim as the world's first 17-inch foldable laptop. Its 17.3-inch OLED panel, PANTONE validated with 100% DCI-P3 color accuracy and Dolby Vision, is nothing short of breathtaking. What truly captures the essence of innovation is how it effortlessly transforms into the size of a 12.5-inch device when folded.
Productivity: The Asus ScreenXpert app is a game-changer. Being able to partition the screen into three different sections takes multitasking to an entirely new level.
Entertainment: A device with a display this grand is built for binge-watching. The Harman Kardon certified quad speakers paired with Dolby Atmos make for an immersive cinematic experience.
Portability: A laptop with such a vast display measuring just 8.7mm thin (when unfolded) and weighing a mere 1.5kg. It's a remarkable achievement. Five user modes provide flexibility for every scenario.
Connectivity: The ASUS ErgoSense Bluetooth keyboard is a commendable addition, offering a tactile typing experience while also ensuring seamless connectivity with two Thunderbolt 4 ports.
3. HP Spectre Fold 17
The is the latest laptop to join the foldable revolution. Spectre being's HP's premium range means the laptop doesn't come cheap. if you think the Asus ZenBook Fold 17 is expensive, double that amount. Yes, the HP Spectre Fold 17 costs nearly twice that with an eye watering 5000 pound price tag.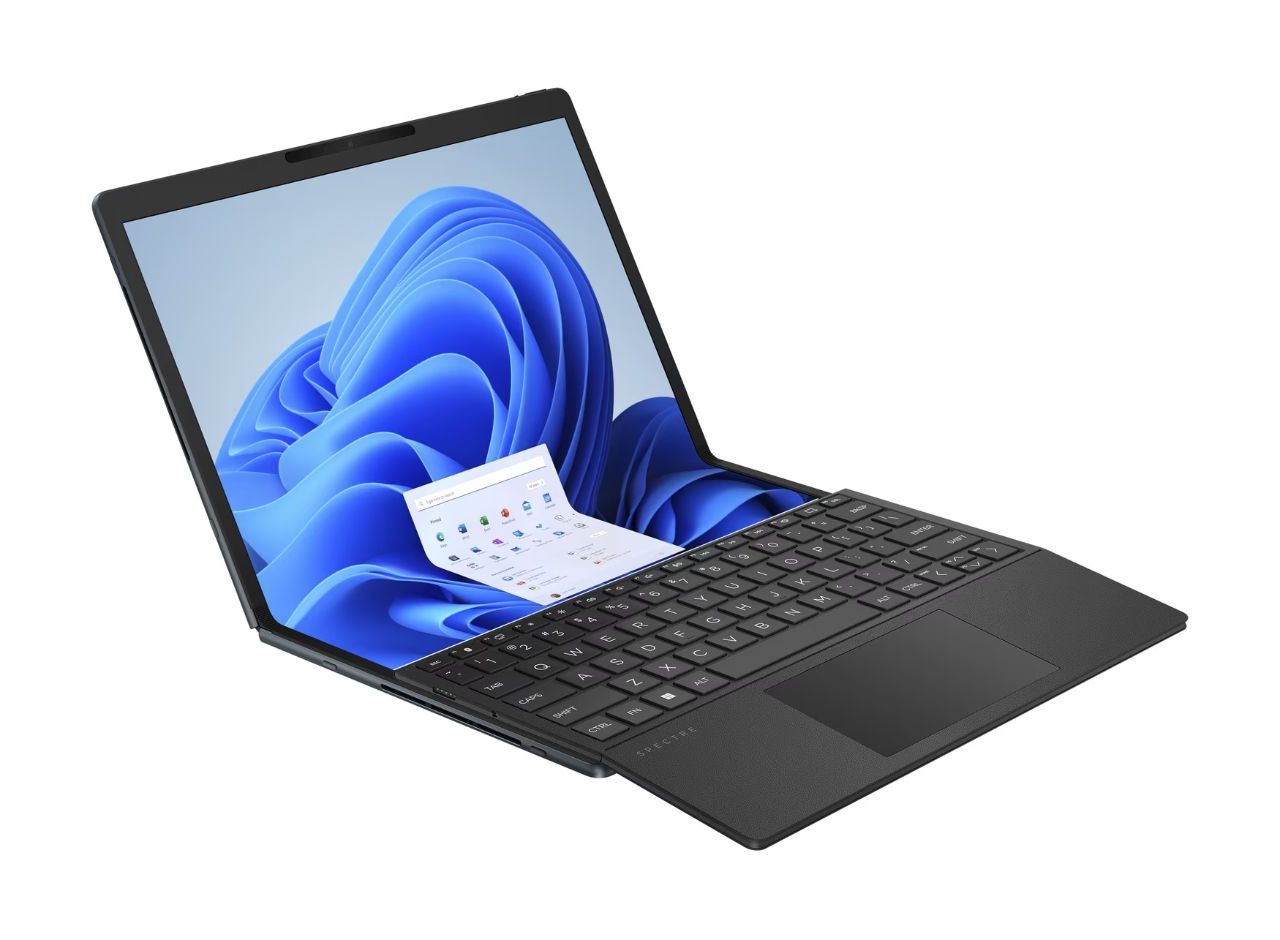 Performance, Screen and Flexibility
Also powered by 12th Gen Intel Core i7-1250U, it comes complete with 16GB RAM and 1TB SSD storage. The 17-inch OLED touchscreen packs 2.5K resolution at 2560 x 1920 pixels. You can use the laptop in three different modes; laptop, desktop or tablet hence the foldable 3-in-1 design. In unfold flat mode it can lay flat or propped up by extending the embedded kick stand.
Sounds Good to Me
The quad speakers design with Bang & Olufsen supports DTS:X Ultra, an alternative to Dolby Atmos and HP Audio Boost. Thanks to custom tuning by experts at Bang & Olufsen, you get great quality audio to go with your favourite shows.
Sustainable Design
HP is also big on sustainable design. The laptop uses post consumer recycled plastic. This can be found in the speaker enclosure and keycaps on the keyboard. Then there is recycled aluminium somewhere in there too.
High Quality Video Calls and Secure Login
Like the other foldable laptops, the HP Spectre Fold 17 also comes with a 5MP IR enhanced camera. Aside from the sharp video calls thanks to the high resolution sensor, the infrared sensor offers added security for Windows hello facial recognition. There is also a dedicated webcam privacy switch that lets you cut off the video feed for maximum privacy.
Long Battery Life
HP has a big claim with their foldable laptop with up to 12.5 hours of battery life, longer than any of the foldable laptops we have seen so far. It reminds to be seen how this will cope in real life, with mixed use. It is a bold claim for a laptop with a big screen.
Detachable Keyboard and Stylus support
In case you are wondering, a full size keyboard with naturally spaced keys is included. This sits between the folded display and can be detached to access both sides of the fold. Finally, while the laptop supports multi touch and gestures, it also supports stylus input. You will be glad to know that both Keyboard and HP Rechargeable MPP2.0 Tilt Pen are included.
Thinness and Weight
When folded, the device measures 2.14cm thin with the detachable keyboard sandwiched between the folded screen. It still only measures 8.5mm when unfolded and with the keyboard detached. Overall weight is 1.62kg which while the heaviest here, includes the keyboard and is still less than your conventional 17.3-inch laptop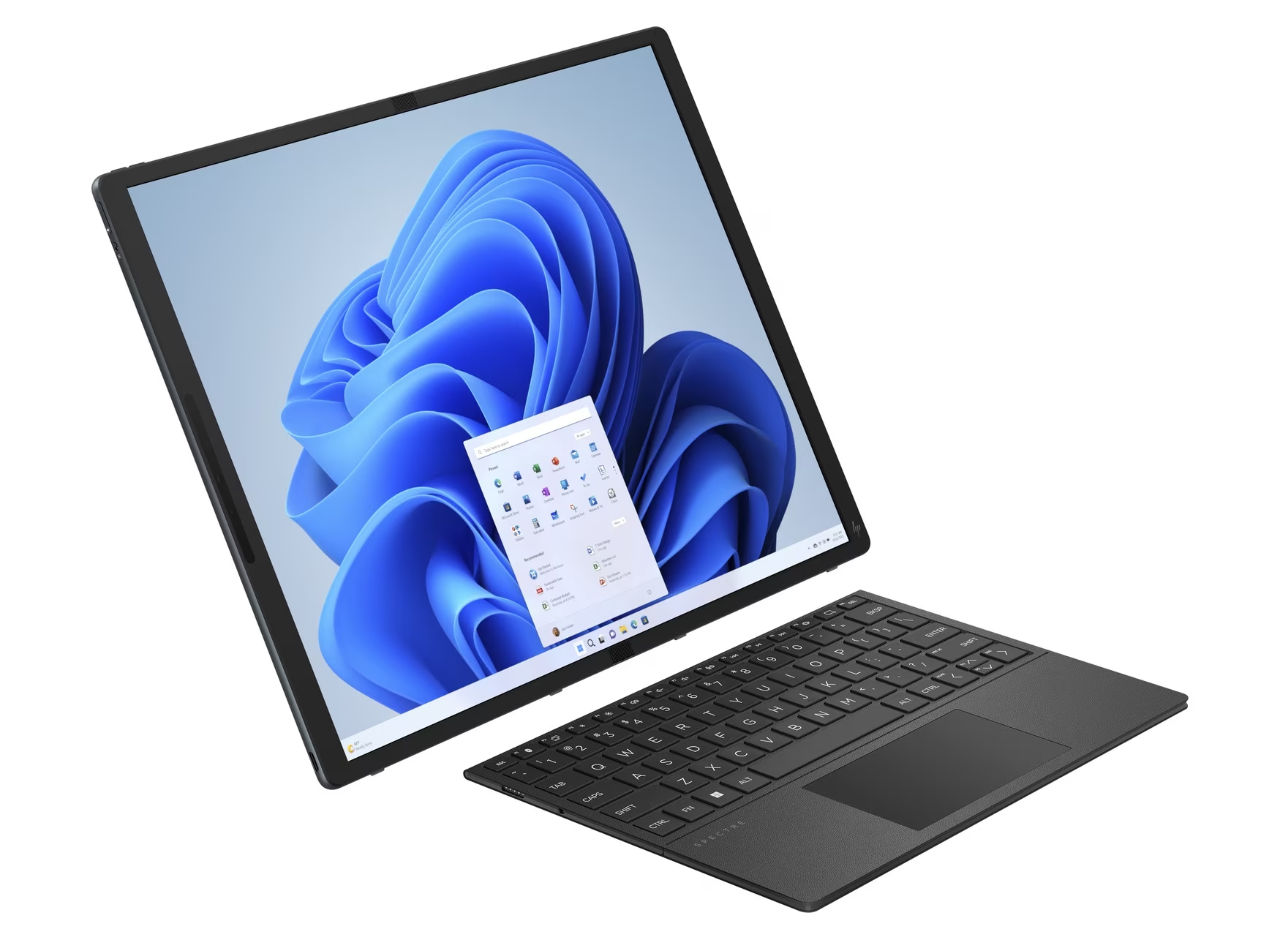 What we like about the HP Spectre 17
Performance: Fueled by the 12th Gen Intel Core i7-1250U with 16GB RAM and a 1TB SSD, the Spectre does not compromise on speed or storage.
Display Flexibility: The 2.5K 17-inch OLED touchscreen is a visual delight. Its foldable 3-in-1 design offers a plethora of usage modes, making it adaptable for various needs.
Audio: The quad speakers, fine-tuned by Bang & Olufsen, are worth every accolade. The DTS:X Ultra support ensures an auditory experience that rivals the best in the business.
Sustainability: HP's dedication to environmentally conscious design is evident. The incorporation of recycled materials is not just a nod to sustainability; it's a commitment.
Security and Privacy: The 5MP IR-enhanced camera strikes the right balance between quality video calls and security with Windows Hello facial recognition. The dedicated webcam privacy switch is a thoughtful touch.
Battery Life: A claimed battery life of 12.5 hours is impressive, especially for a device with such a large screen.
Accessories: The inclusion of a full-sized keyboard and an HP Rechargeable MPP2.0 Tilt Pen underscores HP's dedication to providing a comprehensive user experience.
4. LG Gram Fold
LG is one of the latest company to join the foldable touchscreen laptop revolution launched under its LG Gram portfolio. Named simply as LG Gram Fold, the touchscreen laptop has a large 17-inch OLED with 2560 x 1920 resolution. And, like other laptops with foldable displays here, you can snap on a keyboard and it turns into a conventional laptop with 12-inch display.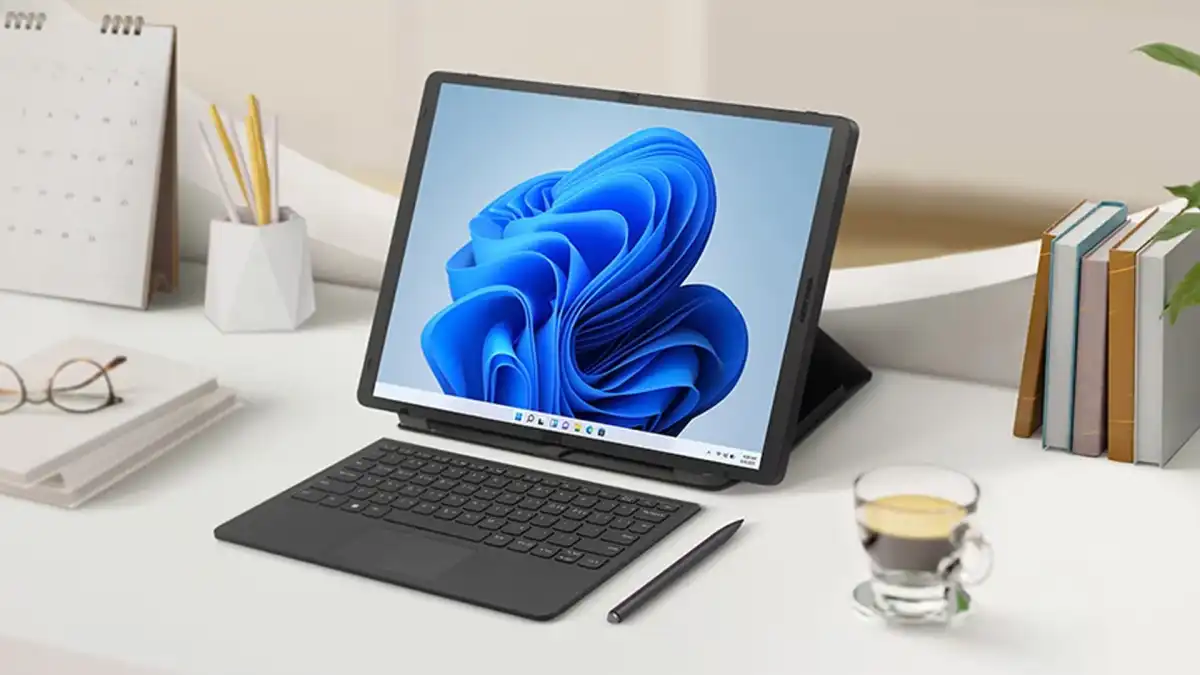 The unit is among the lightest weighing in at 1.25kg but not as slim at 9.4mm when unfolded. What puts this laptop in the lead is its use of 13th Gen Intel Core processor over 12th Gen found in the Lenovo, Asus and HP. The specs we have so far are based on Intel Core i5-1335U processor with 16GB memory and 256GB storage, see below:
Display: 17-inch OLED panel, 2,560×1,920 resolution
Processor: 13th-gen Intel Core i5-1335U processor
RAM: 16GB
Storage: 512GB
PPI: 188.2
Battery: 72Wh battery that supports 65-watt charging
Audio: Three stereo speakers
Connectivity: Bluetooth 5.1 and Wi-Fi 6E
Ports: Two USB-C ports
Price wise, we are expecting the LG Gram Fold to sit between the ASUS and HP offerings.