All-in-one PCs have the rather not-so-good reputation of being known as glorified laptops. They usually have limited upgradeability and zero options to tinker so performance is fixed. Even if they do have the advantages of being easier to transport, comes with bigger screen estate, and lower desk footprint.
That being said, when pushed to the absolute limits, these minimalist machines are actually capable of crunching numbers just as hard as the bigger boys. Of course, there's a rather hefty investment, but if you're not into DIY, or simply can't be bothered to learn the intricacies, here's an updated list of high-end all-in-one PCs you can buy today.
Powerful Core i7 and Ryzen 7 AIO desktops
By high end, we are referring to All-in-Ones take uses Intel Core i7 or higher processors and on the flip side, AMD Ryzen 7 or higher. There are the top end of the manufacturers offerings. Typically, based on the range within a series, you will get the option of different processors Intel Core i3, Intel Core i5 and Intel Core i7 or AMD Ryzen 3, Ryzen 5 and Ryzen 7 with different memory and storage sizes. We have consider the entry level and mid-range AlOs in our previous articles, it is now time to switch up and got for the absolute high-end of AIOs.
RELATED:
Why Get an All-in-One (AIO) PC? (Recap)
Here is a quick recap of why one would choose an All-in One PC. Here, we look specifically at the benefits of going with a high-end All-in-One with Intel Core i7 or AMD Ryzen 7 processor.
Powerful system with top tier processor, plenty of memory, big storage
Great for CPU and graphic intensive applications
Discrete graphics (GPU) on some for extra graphics performance
Typical stylish design with big display, matching keyboard and mouse
Easy to move and setup, with a single unit and single cable setup especially those with wireless keyboard and mouse.
Guaranteed component compatibility
No assembly required
Compact yet comes with big display
No separate desktop unit (tower or rectangular box, not even a mini one)
Touchscreen or pen support available on some models
Very small (if any) desk footprint, some AIO can even be mounted to the wall taking up no space on the desk
"plug-n-slot" upgradeability, mainly for memory
Easily double as entertainment unit for streaming video and music with the big display
Focus on sleek design, pleasing colour scheme and premium look
That said, as we have mentioned before, the disadvantages are limited upgradeability, difficult to repair or tinker. So, you are stuck with what you get and they are typically more expensive than compared to ordinary desktops.
High-End All-in-One PCs Overview
(DISCLAIMER: These selections do not include aftersales/customer service evaluations. The list is based purely on hardware performance and stability only. Also, the list will mainly be categorized by "visual estate", namely screen size.)
Here is a quick overview of our lists:
MEDIUM – good ol' 24-inch performance kings (AIO-wise)
LENOVO IdeaCentre AIO 3 (F0EW004WUK)
HP Pavilion 24 (24-k0019ng)
DELL OptiPlex 7480
DELL Inspiron 24 5000
LARGE – a necessary office step-up to 27-inch
DELL Inspiron AIO 7700
HP Pavilion 27 (27-d0072)
DELL OptiPlex 7780 AIO
EXTRA LARGE – climbing up to bigger than 27-inch and 32-inch
Microsoft Surface Studio 2 28-inch Core i7 GTX1060
HP Envy 32 AIO 31.5-inch (32-a1055)
LENOVO IdeaCentre AIO 3 (23.8-inch, top-end model)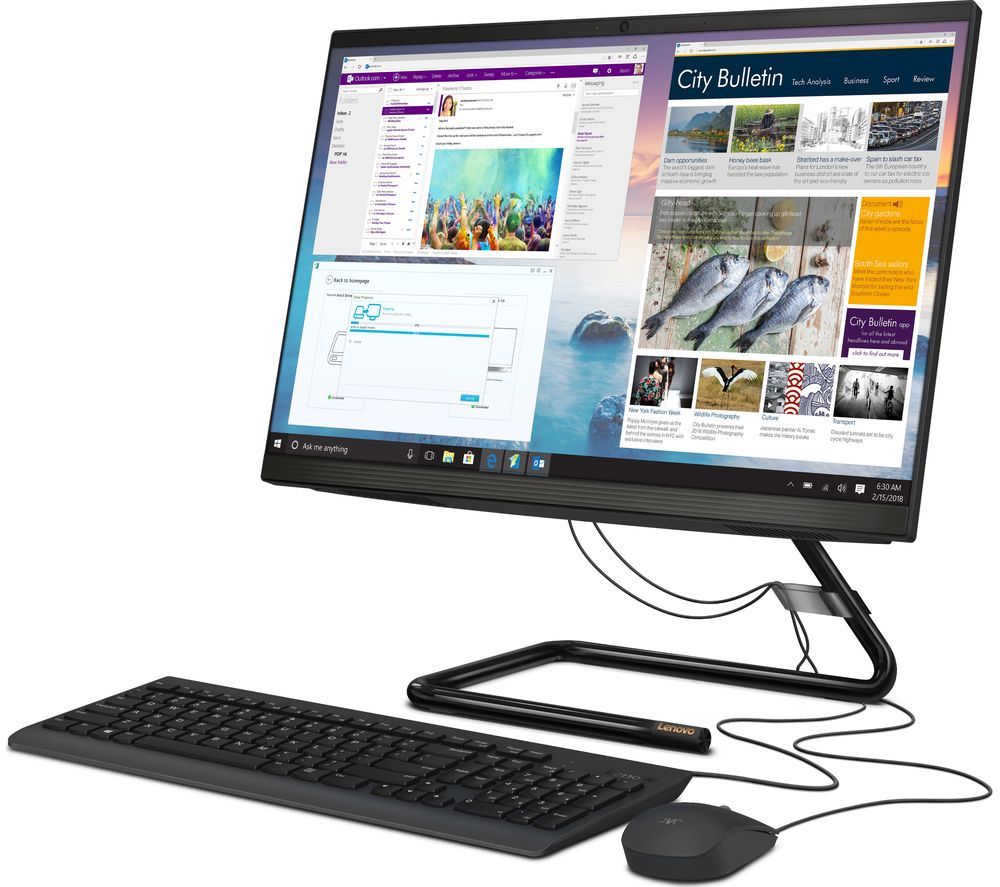 | CPU | AMD Ryzen 7 4700U (8C8T, Base 2.0Ghz, Turbo 4.1Ghz) |
| --- | --- |
| GPU | Radeon RX Vega 7 (integrated) |
| Memory | 8GB DDR4 RAM (max 16GB) |
| Storage | 512GB SSD (+ 1TB HDD) |
| Screen | 23.8-inch 1920×1080 (FHD) 60fps |
| Webcam | 720p |
Pros: Productivity beast, very snappy use, spacious SSD storage, zero side bezels, great value, medium level gaming, great value for money, sufficiently big display. Clear and bright display.
Cons: Still not dual-channel by default, wired keyboard and mouse so yesterday, no height adjustment, no touchscreen, stand could be more rigid, no discrete graphics
Starting off with a very solid entry, the 4700U-powered IdeaCentre AIO 3 definitely doesn't stand out among its peers. But, it does its job, and it does it really well. If it's a CPU-intensive task that requires the support of a robust iGPU, it will do in a satisfyingly snappy manner. Design is also very stylish, as the "bended-tubing" design of IdeaCentre AIOs never gets old but can be a little wobbly at times. Just be sure to immediately opt for that extra memory module upgrade for dual-channel performance.
Bought to run the full Adobe Cloud suite and seems to cope really well with having Illustrator, Photoshop and InDesign open at the same time. Keyboard is nice to type on and I was able to install my old wacom tablet easily. Very easy to set up and haven't stopped using it since.
HP Pavilion 24 (23.8-inch)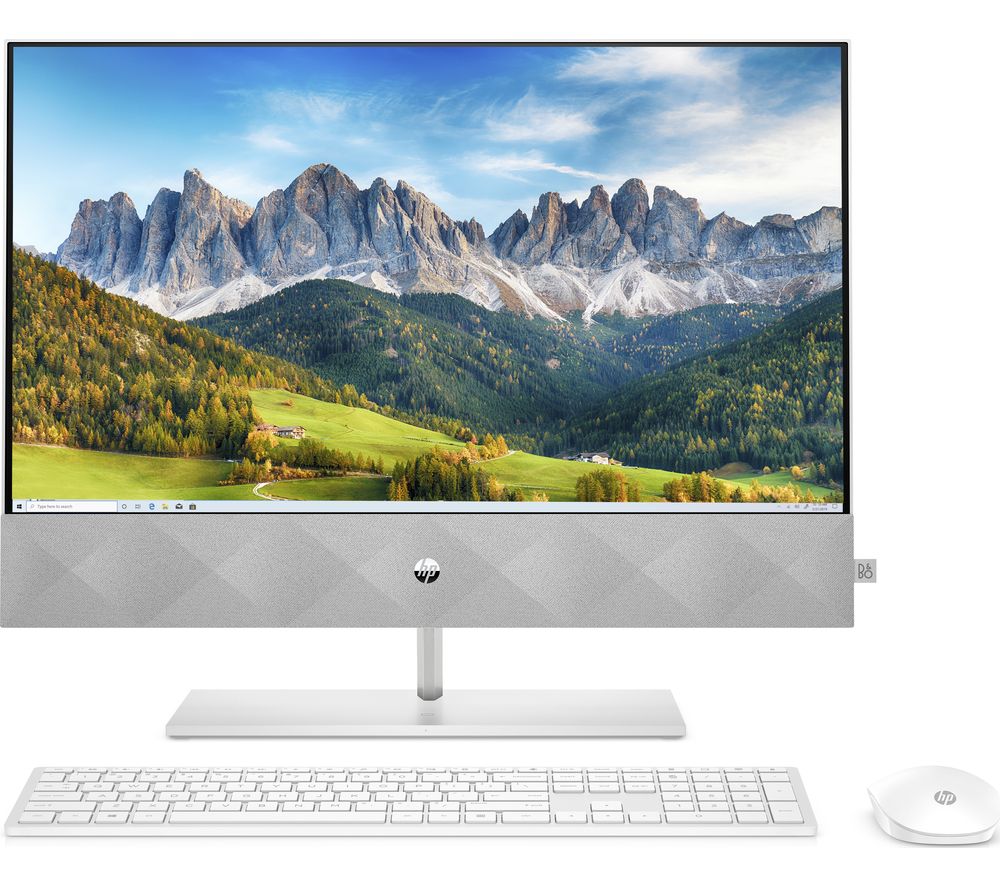 | CPU | AMD Ryzen 7 4800H (8C16T, Base 2.9Ghz, Turbo 4.2Ghz) |
| --- | --- |
| GPU | Radeon RX Vega 7 (integrated) |
| Memory | 16GB DDR4 RAM |
| Storage | 512GB SSD + 1TB HDD |
| Screen | 23.8-inch 1920×1080 (FHD) 60fps |
| Webcam | 720p |
Pros: Convenient video editing machine, optimized multitasking potential, big memory and storage, beautiful and pleasing design, fast and snappy, super loud speakers, matching wireless keyboard and mouse, dual storage option for boot, application and data, pop-up camera
Cons: low humming noise, graphics could be better (averaging only 40fps on games), no touchscreen, no discrete graphics
An 8-core 16-thread CPU may still be kind of optional for less dedicated purposes at this point, but the HP Pavilion 24 proves that you can still get the most out of it even in an AIO. If you are wondering how this Ryzen 4000 CPU is different to the previous one, the quick answer is the AMD Ryzen 7 4800H gets an average CPU performance gain of 11% over Ryzen 7 4700U.
We do wish that it had a discrete GPU so that it could at least run on full cylinders in visually demanding tasks. But hey, file transfers, encoding, and rendering are not a problem, and you'll get an absolutely snappy experience with the 4800H. Apart from that, the default SSD+HDD combo is nice, but it is more of a practiced standard, to be honest, and not a luxury. OS and applications can go on the fast SSD drive for quick boot-up and responsive application loading and switching while the secondary HHD drive is perfect for data such as files, images and videos.
Dell Optiplex 7480 AIO (24-inch)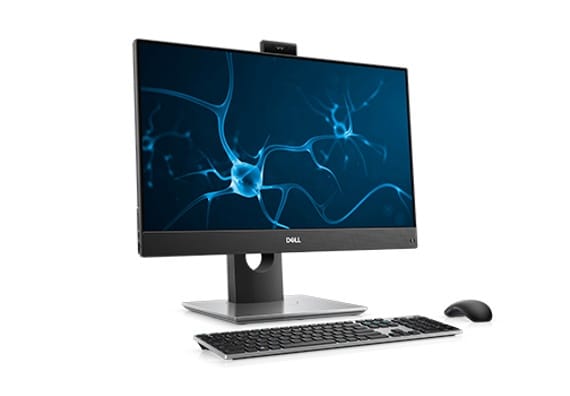 | CPU | Intel Core i7-10700 (8C16T, Base 2.9Ghz, Turbo 4.8Ghz) |
| --- | --- |
| GPU | Intel UHD 630 (integrated) |
| Memory | 16GB DDR4 RAM |
| Storage | 512GB SSD |
| Screen | 23.8-inch 1920×1080 (FHD) 60fps |
| Webcam | 720p |
Pros: Near complete high-end desktop experience, business class AIO with 10th gen CPU. Plenty of expansion Ports around the back and side, convenient front facing speakers, microphone and power button. Pop-up camera with infrared and FHD sensors for full privacy. Fast WiFi 6 and Bluetooth 5.1. Two colour options. height adjustable stand (also available with articulate arm)
Cons: Huge power draw, possible overheating issues, no discrete graphics (optional NVIDIA GTX 1650 listed), last generation processor, no touch screen.
When it comes to business PCs, stability is key and this next option, the OptiPlex 7480 AIO meets that requirements and then some. Here's one model that opted (pun intended) instead to use a full-desktop CPU, the Intel Core i7-10700. So far, we have seen mobile CPUs in place of their desktop counterpart. This makes the unit bigger and bulkier than normal but when you look at it from the front, you hardly notice it.
The result, of course, is stunning productivity performance that almost reaches the level of a standard DIY desktop PC. Though, be aware, it is both the greatest asset and its worst weakness. The Core i7-10700 will definitely heat up the system if you aren't prepared enough once it hits full load.
Dell Insprion 24 5000 (23.8-inch)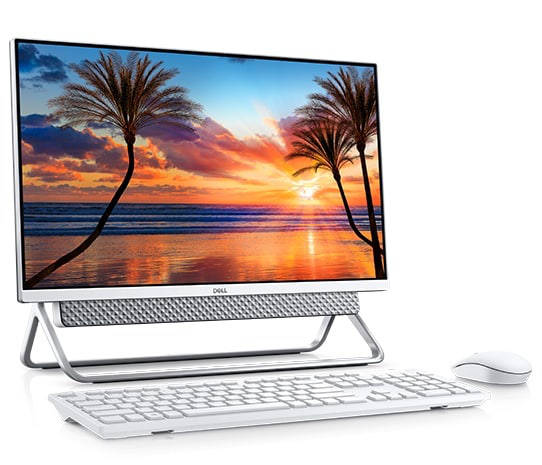 | CPU | Intel Core i7-1165G7 (4C8T, Base 2.8Ghz, Turbo 4.7Ghz) |
| --- | --- |
| GPU | Nvidia Geforce MX330 (discrete) |
| Memory | 8GB DDR4 RAM (Max 16GB) |
| Storage | 256GB/512GB SSD (+1TB HDD) |
| Screen | 23.8-inch 1920×1080 (FHD) 60fps |
| Webcam | 720p |
Pros: Discrete GPU significantly boosts usage profile, fast and responsive 11th generation Intel Core i7, added Discrete GeForce MX330, great design, plenty of connectivity ports. Available in three colours. Fast WiFi 6 and Bluetooth 5.1, Pop-up Webcam, touchscreen a bonus. Apart from the bottom bezel, InfinityEdge display offers even top and side bezels. Full HD IR Camera.
Cons: Lower than average boot/software drive, could do with bigger SSD and memory Discrete GPU on par or slightly better with onboard graphics, A frame while stable takes up more space on the table than need be,
Modern Tiger Lake CPUs do have the advantage of better processing efficiency, though to the layperson, this may well be a negligent bonus. But putting that aside, the mere fact that the Inspiron AIO 5000 has the option to use an MX330 is actually a weird surprise, since these CPUs are supposed to be infused with the latest Iris XE iGPUs. In any case, the separate GPU allows it to boost its usage profile to handle heavier productivity tasks, despite having significantly lesser cores and threads than the competition. To save yourself some money, consider ditching the GPU and using that extra money to upgrade its memory or go for bigger SSD and secondary HDD storage.
DELL Inspiron AIO 7700 (27-inch)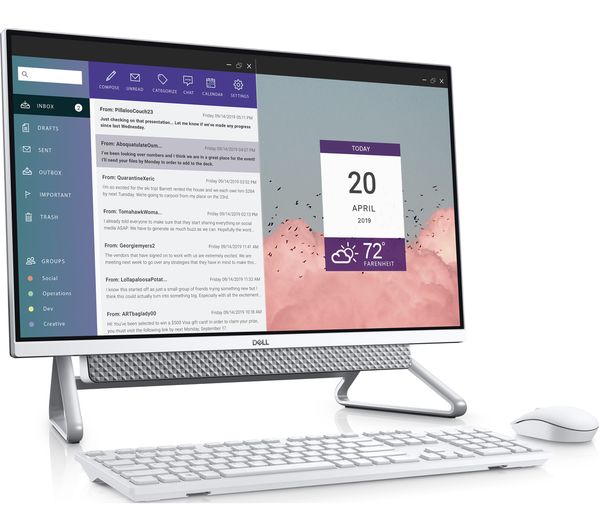 | CPU | Intel Core i7-1165G7 (4C8T, Base 2.8Ghz, Turbo 4.7Ghz) |
| --- | --- |
| GPU | Intel Iris Xe Graphics G7 96EUs (integrated) |
| Memory | 8GB DDR4 RAM (Max 32GB) |
| Storage | 512GB SSD +1TB HDD |
| Screen | 27-inch 1920×1080 (FHD) 60fps |
| Webcam | 720p |
Pros: Updated architecture, comparatively power efficient, fast performance, big storage, combo drive SSD and HDD, pop-up web camera, front facing sound bar, A-frame now separate. Sufficiently powerful Iris XE graphs. Compact design, sharp and clear display. Good value for money. Large display with tilt adjustment. Camera housing is sturdy and image quality is decent. Super WiFi 6 and Bluetooth 5.1.
Cons: Unoptimized data rendering tasks, limited memory, no USB ports on the side. Keyboard and mouse quality could be better for a premium machine.
Moving up a display size, we have another entry from Dell, this time the DELL Inspiron AIO 7700 with a huge 27-inch display. Unlike the AIO 5000, the AIO 7700 defaults back to its Iris XE iGPU. This iGPU, as we mentioned earlier, is actually a lot more powerful than any of its previous Iris XE graphics iterations. There is no need for discrete graphics card in this case as the desktop will even take on some light gaming with medium settings.
Productivity benchmarks should be somewhat comparable to the DELL Inspiron 5000 due to its choice of processor. Though, of course, the 7700 enjoys a bit more upgradeability perks, such as the option to go max x2 memory to 16GB, or adding storage to its default 512GB SSD boot drive with secondary 1TB HDD. Again, here you have a choice of choosing one with discrete graphics in the form of the NVIDIA GeForce MX330 with 3GB graphics memory.
The Inspiron AIO 7700 is very clean and professional looking, with a nice minimalistic look that can fit in any room. The display is clear and sharp. It was easy to set up and start using.

While it would be mostly used for Internet access, Office workload, work on my photographs and video collections, and casual gaming, I was looking for something that would be adequate for IT work. At the same time, it should have a small footprint on my desk. This model combines a powerful CPU, reasonable memory size, and plenty of disk space in a very slick form factor. It checked all the boxes, and I'm very happy with it.
Hp Pavilion 27 (27-inch)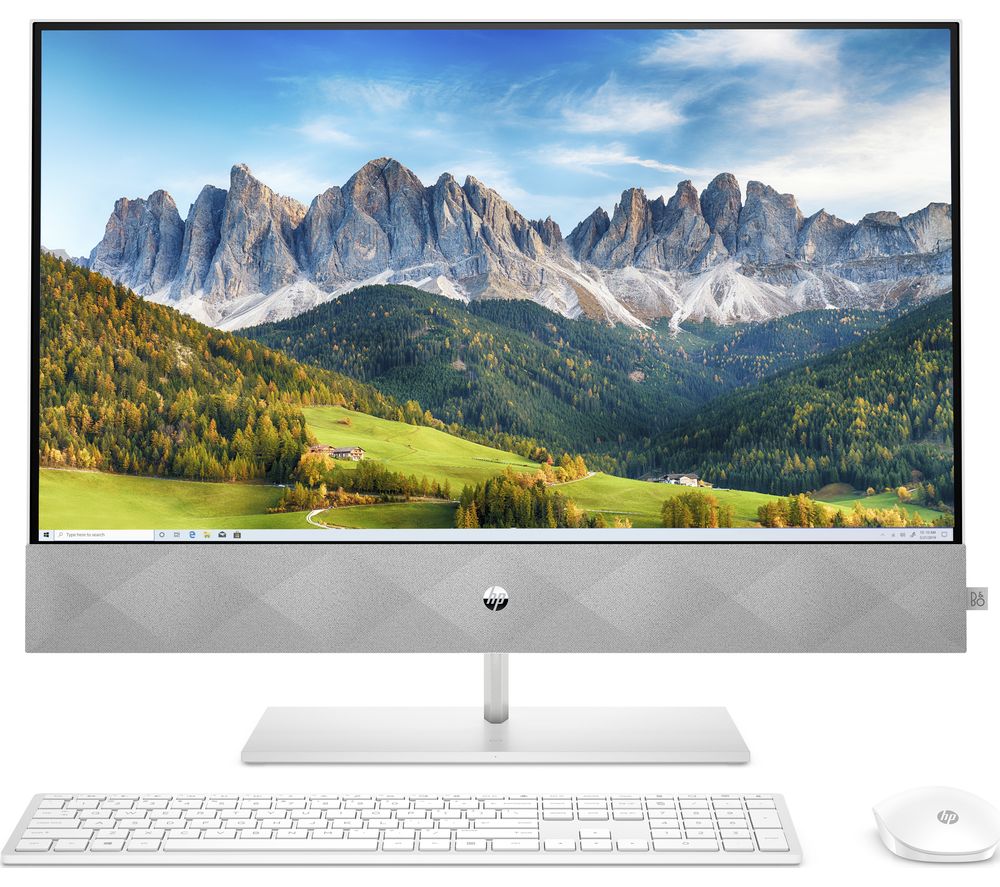 | CPU | Intel Core i7-10700T (8C16T, Base 2.0Ghz, Turbo 4.5Ghz) |
| --- | --- |
| GPU | Intel UHD 630 (integrated) |
| Memory | 16GB DDR4 RAM |
| Storage | 512GB SSD +1TB HDD |
| Screen | 27-inch 1920×1080 (FHD) 60fps |
| Webcam | 720p |
Pros: Full desktop hardware with laptop energy efficiency, fast performance, quick boot up, speed and style go hand in hand, big and bright display, sounds incredible and B&O tuned speakers, excellent build quality, pop up camera,
Cons: Rear facing ports only, keyboard could be better, textile cover for the front speakers panel has a love and hate relationship with users.
Just like the Dell Inspiron 7000 series is the bigger sibling of the Dell Inspiron 5000 series, the HP Pavilion 27 is the bigger sibling of the HP Pavilion 24. However, the processor used here is from Intel instead of AMD. Intel processor that comes with the letter designation 'T', always represents low power or efficiency for Intel's primary desktop targeted chips. The i7-10700T is no exception, although this time we have the added notoriety of Comet Lake in terms of boost power delivery. Thankfully, none of those are present (or at least noticeable) for the updated, 2021 version of the Pavilion 27. As its advertisement goes, it is power meeting performance… and that 16GB of sweet multitasking RAM boosts its performance further.
Dell Optiplex 7780 AIO (27-inch)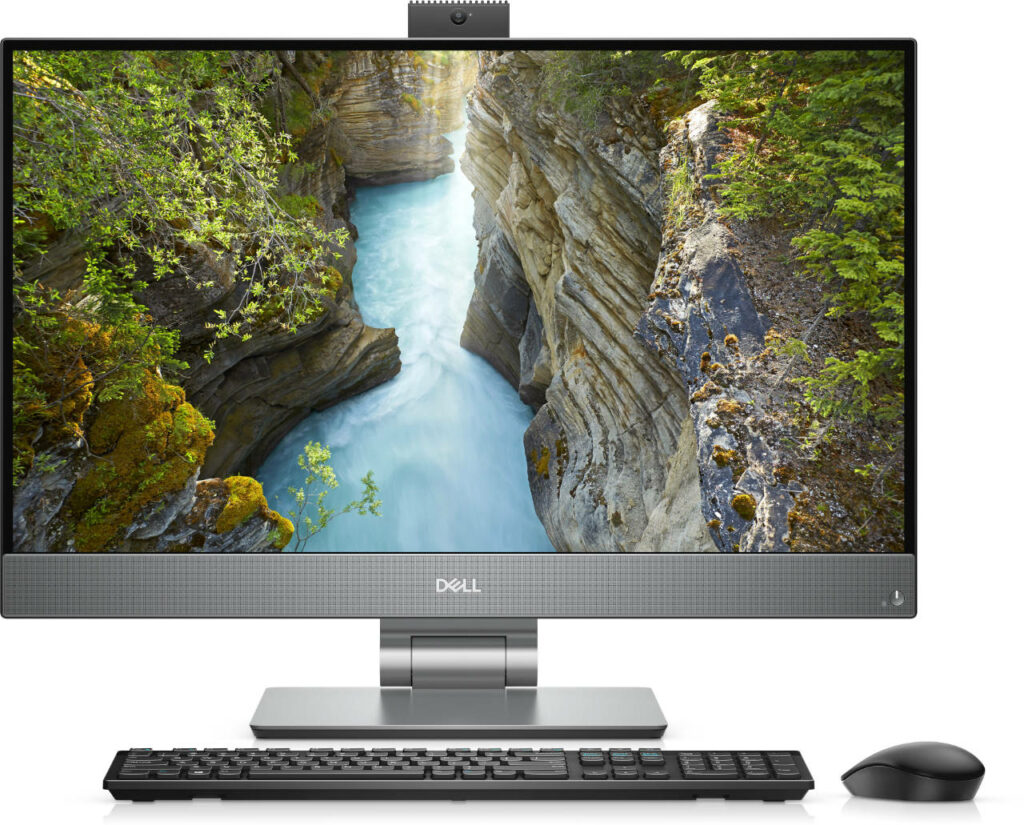 | CPU | Intel Core i7-10700 (8C16T, Base 2.9Ghz, Turbo 4.8Ghz) |
| --- | --- |
| GPU | Intel UHD 630 (integrated) |
| Memory | 16GB DDR4 RAM (up to 64GB) |
| Storage | Up to 1TB SSD +2TB HDD |
| Screen | 27-inch 1920×1080 (FHD) 60fps |
| Webcam | 720p |
Pros: AIO multithreading and rendering champ, no nonsense serious business machine, option to pick Core i9 10 core CPU, spacious memory and storage, combo SSD and HDD storage, touch screen support for higher models. Pop-up camera and height adjustable display. Different stand options available including articulate arm. Touch screen support.
Cons: Lower default boot drive (256, up to 512GB) although higher and bigger combo drives available at higher price, uninspiring design, no discrete graphics (although listed)
Back to the business class AIO, here is the 7780 with 17-inch display over the previous 24-inch Optiplex 7740. For a sustained, full productivity experience of a desktop, you need something that has the innards of a desktop. The Optiplex 7780 showcases the top-of-the-line Comet Lake CPUs' best rendering and workload capabilities, under a chassis that would not hold it back due to thermal throttling (at least in the short term). It would have been the perfect AIO had there been additional GPU upgrade options available for it (while listed we couldn't find one with NVIDIA GTX 1650 discrete graphics). Plus, if that Intel Core i7-10700 is not fast enough, you can pick the Intel Core i9-10900 10-core processor instead. Memory can be upgraded to 64GB and
Microsoft Surface Studio 2 (28-inch)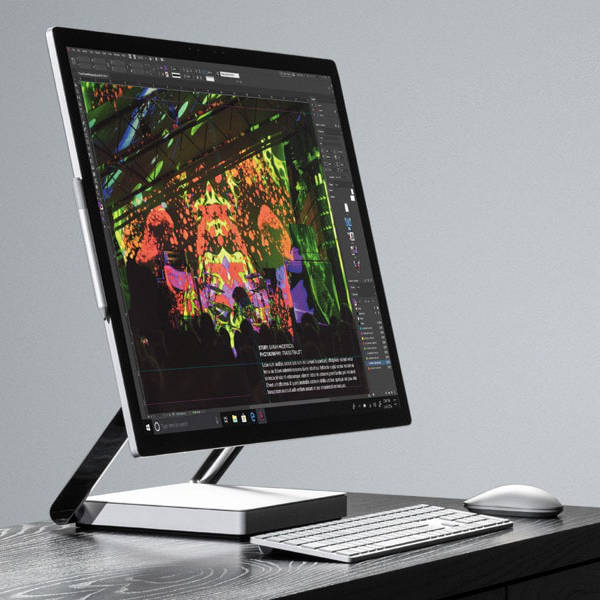 | CPU | Intel Core i7-7820HQ (4C8T, Base 2.9Ghz, Turbo 3.9Ghz) |
| --- | --- |
| GPU | Nvidia Geforce GTX 1060 6GB |
| Memory | 16GB DDR4 RAM (up to 32GB) |
| Storage | 1TB SSD (up to 2TB) |
| Screen | 28-inch 4500×3000 60fps |
| Webcam | 5MP 1080p |
Pros: has a "true" gaming GPU, excessively high resolution screen, cool articulate hinge and stand, big touchscreen, high resolution web cam, big storage and memory options, discrete graphics. Support for optional Surface Pen and Surface Dial.
Cons: CPU somewhat outdated, accessories are optional with separate purchase.
Breaking the 27-inch display size limit, is this Surface Studio 2. Yes indeed, Microsoft's very own AIO entry still lives on! Though the i7-7820HQ looks like a relic now compared to Comet Lake and Rocket Lake. It still provides very adequate number-crunching power to support the rest of the faster hardware for that convenient, snappy desktop experience. Besides, even if you exclude the old CPU, we still have the venerable GTX 1060, sworn rival of the immortal RX 580, and its super-delectable touch screen with high 4500×3000 pixel resolution. Productivity and entertainment wrapped in a clean, smooth package, for everyone else that could afford its price tag.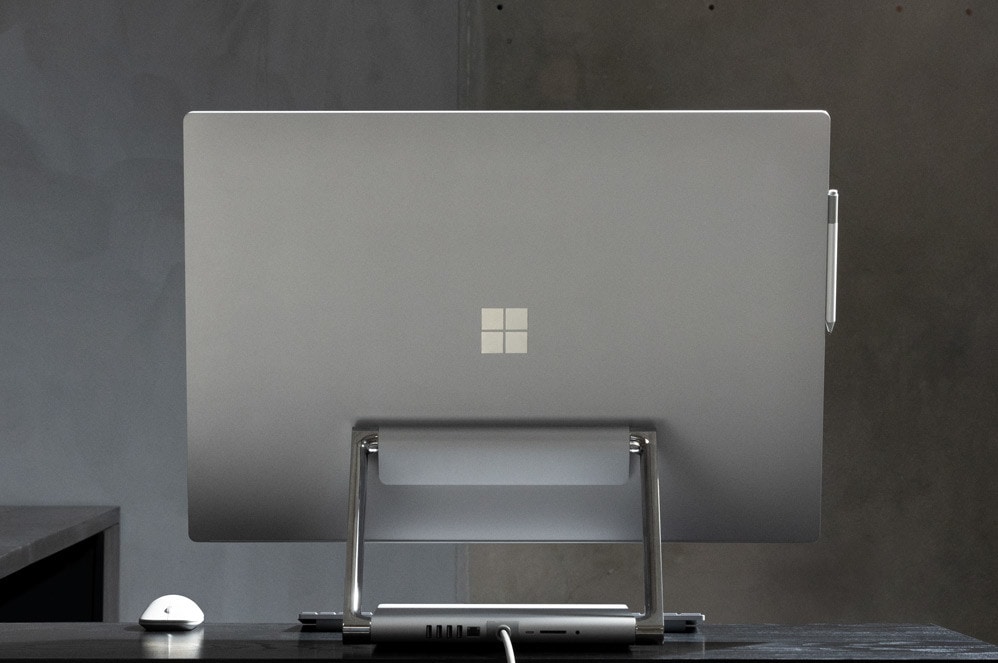 HP Envy AIO 32 (32-inch)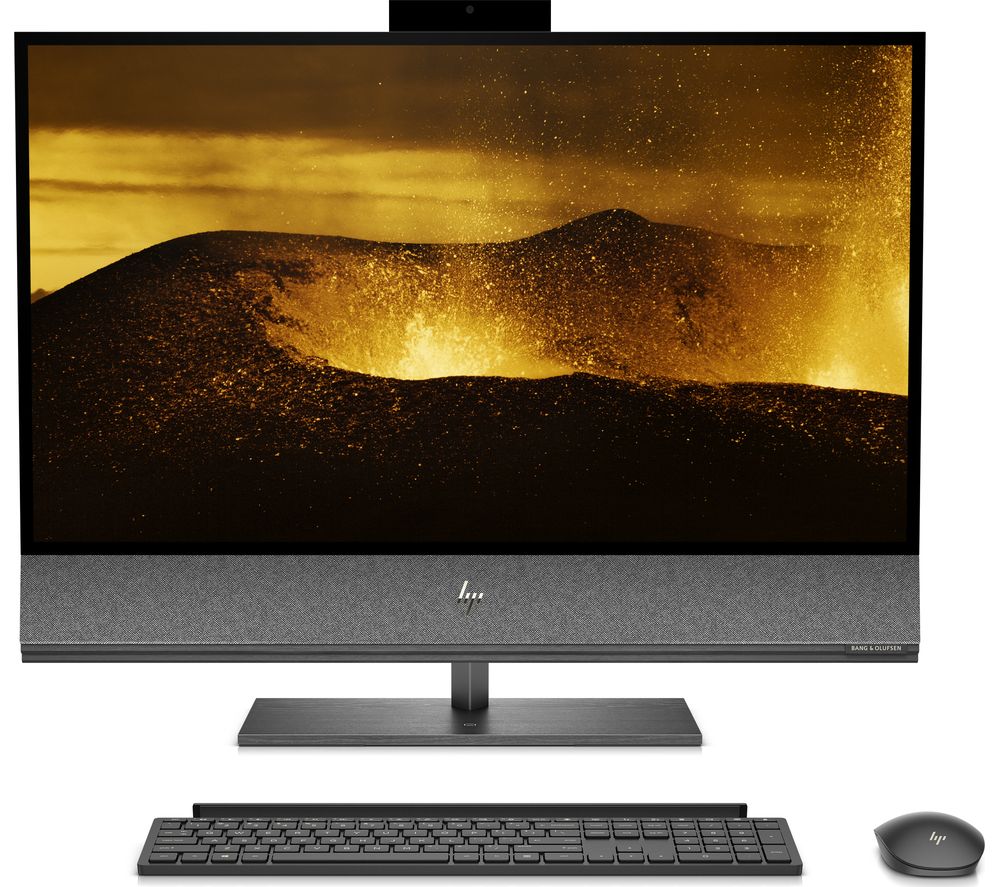 | CPU | Intel Core i7-10700 (8C16T, Base 2.9Ghz, Turbo 4.8Ghz) |
| --- | --- |
| GPU | Nvidia Geforce RTX 2070 |
| Memory | 16GB DDR4 RAM (dual-channel, up to 32GB) with 32GB Intel Optane |
| Storage | 512GB SSD + 1TB HDD |
| Screen | 31.5-inch 4K 60fps |
| Webcam | 5MP 1080p |
Pros: Pro-tier GPU, 32GB Optane for data transfer boosts and bandwidth maintenance, huge display (the biggest in our list), wireless charging plate, modern and stylish design in Gray, colour rendering and 4K resolution is brilliant and sharp (make sure you use the right settings for optimum view)
Cons: You most likely can't afford it, noisy fan, some technical issues with charging plate, issue with HDMI output, not value for money
What's the main weak point of all-in-one PCs again? Because if your sleek and thin screen is infused with innards that can perform blow-by-blow as a bona fide, gaming and video editing desktop, then there is practically nothing. But coupled with an ultra premium design, this does push the price up further. If you are a professional video editor or anything similarly hardware-intensive, then the investment to get this is absolutely worth it. Otherwise, you probably won't even be able to come economically close to it.
Edited by Samuel J. Tan