We are living in an age where premium laptops sell for over a thousand with some upwards of 1500 if you want more power. Apple's MacBook Pro 14 starts from $1999. That's some seriously ludicrous money. But it doesn't have to be this way. We gave ourselves a challenge to find decent laptops with the cool factor and performance yet only cost a third or less.
From our research, for around $500, there are some pretty solid laptops out there. And, if you are willing to pay more, at around $700, you get a choice of more powerful processors, more memory and storage. Here's a quick rundown of our favourite laptops for around the 500 mark.
In order to keep it around the 500 mark and under 600 dollars, only a couple of laptops come with the latest 12th generation Intel Core i processor. Most of these are based on the 11th generation processor. Still, they are amazing value for the performance, memory, storage and connectivity options that they offer.
1. HP 15.6-inch Laptop – Intel® Core™ i5, 12GB, 512GB SSD
Windows 11
Intel® Core™ i5-1135G7 Processor
RAM: 12 GB / Storage: 512 GB SSD
15.6″ Full HD screen
Battery life: up to 7 hours 15 mins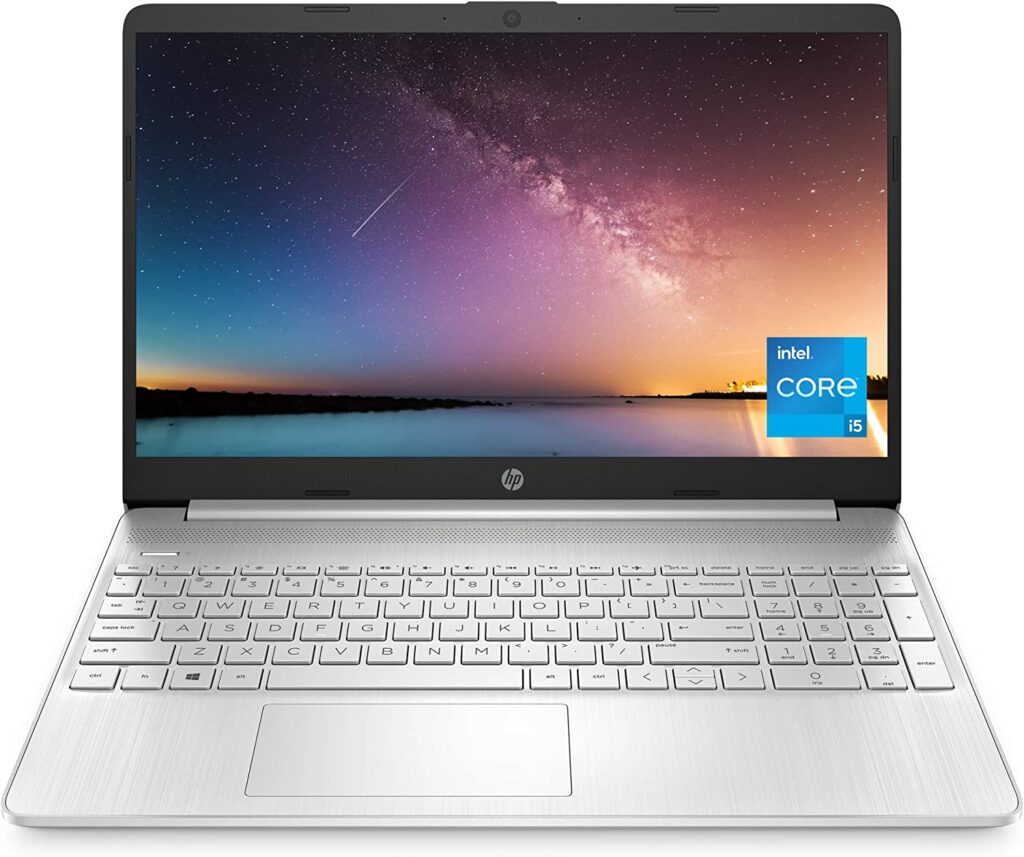 With the tiniest of bezels and sleek good looks, the HP 15.6 laptop has everything. A powerful Intel Core i5-1135G7 processor paired with one of the best integrated graphics there is, the Intel Iris Xe. It also comes with a generous 12GB memory, 512GB SSD storage, a big 15.6-inch Full HD display and a full keyboard with numpad. Back to its good looks, those ever so tiny 6.5 mm side bezels are truly pushing the definition of full display although the same cannot be said about the top and chin bezels. Granted that it needed to house the web cam on the top and display connectors at the bottom but the could be smaller. We are also not enamoured with the off centre trackpad. We are willing to forgo the number pad in favour of a more spacious keyboard layout and centred touch pad. Still, there is a lot to get excited about; Fast Charge, full set of ports including an SD card reader and fast wifi.
2. ASUS VivoBook 15 Laptop – Intel® Core™ i5, 12GB, 512GB SSD
Windows 11
Intel® Core™ i5-1135G7 Processor
RAM: 12 GB / Storage: 512 GB SSD
15.6″ Full HD touchscreen
Battery life: up to 7 hours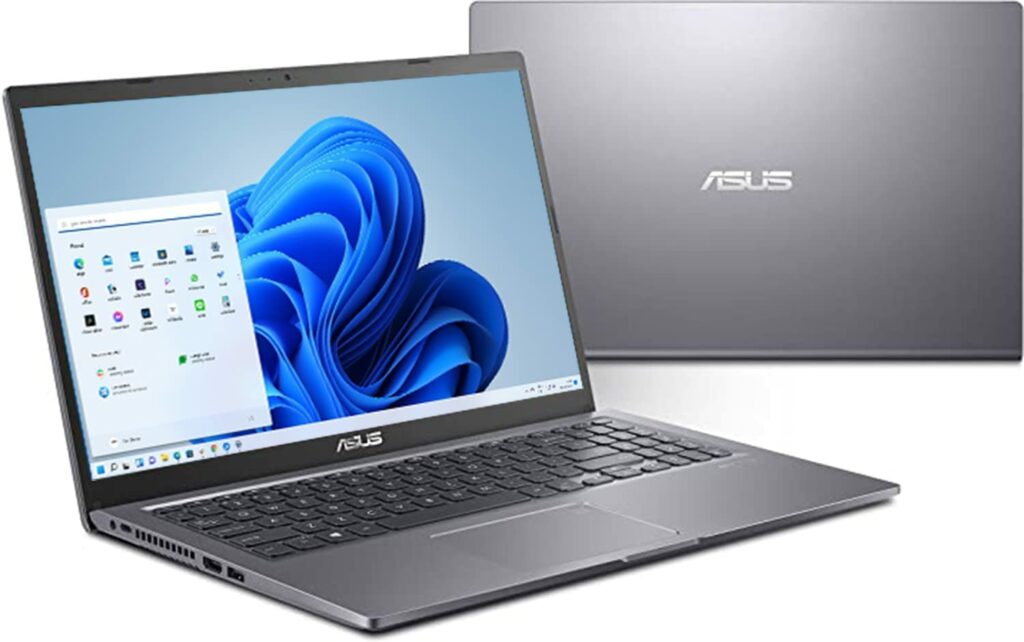 Quality and brand loyalty is what ASUS strives for. Over the years, it has managed to position itself as a premium laptop, motherboard, tablet and smartphone manufacturer. And you will be glad to know that ASUS hasn't forgotten the masses. From their affordable mid-range segment comes the VivoBook 15. This stunning looking laptop is comes with Intel Core i5-1135G7 with 12GB memory and a whooping 512GB SSD storage and yet still only costs under 600. It even packs the most number of connectivity ports found on all the laptop here. There are two USB2.0 full size ports on the right sandwiched between a Kensington lock port and audio combo jack plus microSD card reader. On the other side is a HDMI port, a USB3.2 Type A Gen 1 port and a USB3.2 Type-C Gen 1 port topped with a DC power socket. Another bonus choosing the Vivobook is the display. While it is a Full HD panel like most here, it is also a touchscreen adding another dimension of interactivity.
3. Acer Aspire 5 A515-57 15.6″ Slim Laptop – Intel® Core™ i5, 512 GB SSD
Windows 11
Intel® Core™ i5-1235U Processor
RAM: 8 GB / Storage: 256 GB SSD
15.6″ Full HD screen
Battery life: up to 7 hours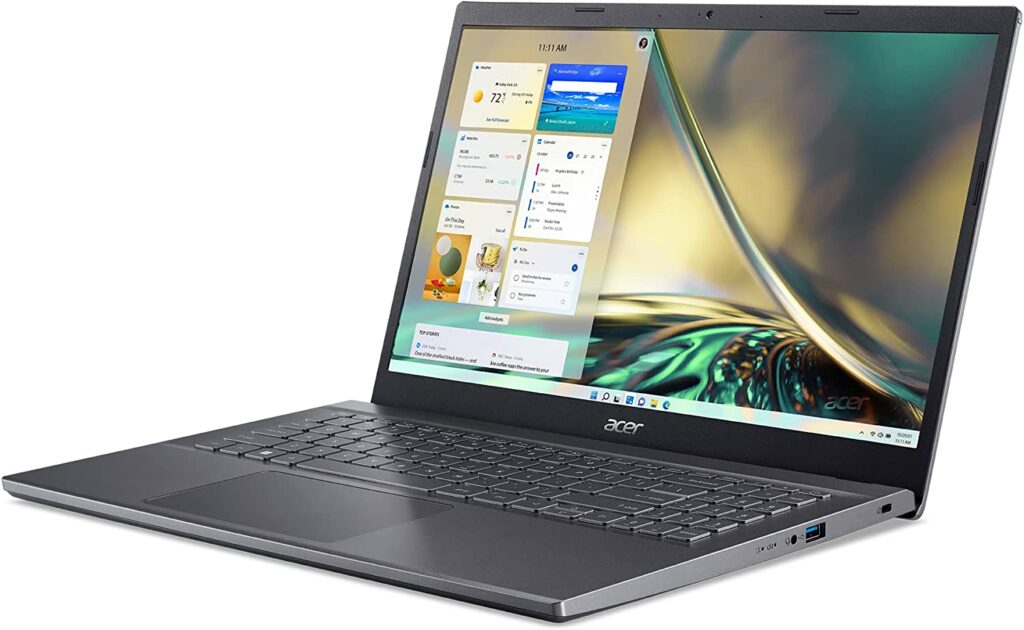 Forget 11th generation processors, the Acer Aspire 5 A515 is the first on our list with a deca-core 12th generation Intel Core i5-1235U SKU. The 10 cores CPU runs on 12 threads, with speeds up to 4.4GHz. This gives the processor an advantage, added single core performance up to 25% compared to Intel Core i5-1135G7 according to cpubenchmark.net. The figure will change when more units are shipped as the benchmark is still based on a small sample out there at this time. But you can't deny what those 6 extra cores bring to the table. On Geekbench v5 test, it is showing 22% faster in the single core performance comparison. Multi-core performance gains are 34% and 31% based on Passmark CPU and Geekbench 5 scores respectively.
4. LENOVO IdeaPad 3i 14″ Laptop – Intel® Core™ i5, 8GB, 256 GB SSD
Windows 11
Intel® Core™ i5-1235U Processor
RAM: 8 GB / Storage: 256 GB SSD
Full HD screen (1920 x 1080 pixels)
Battery life: up to 10 hours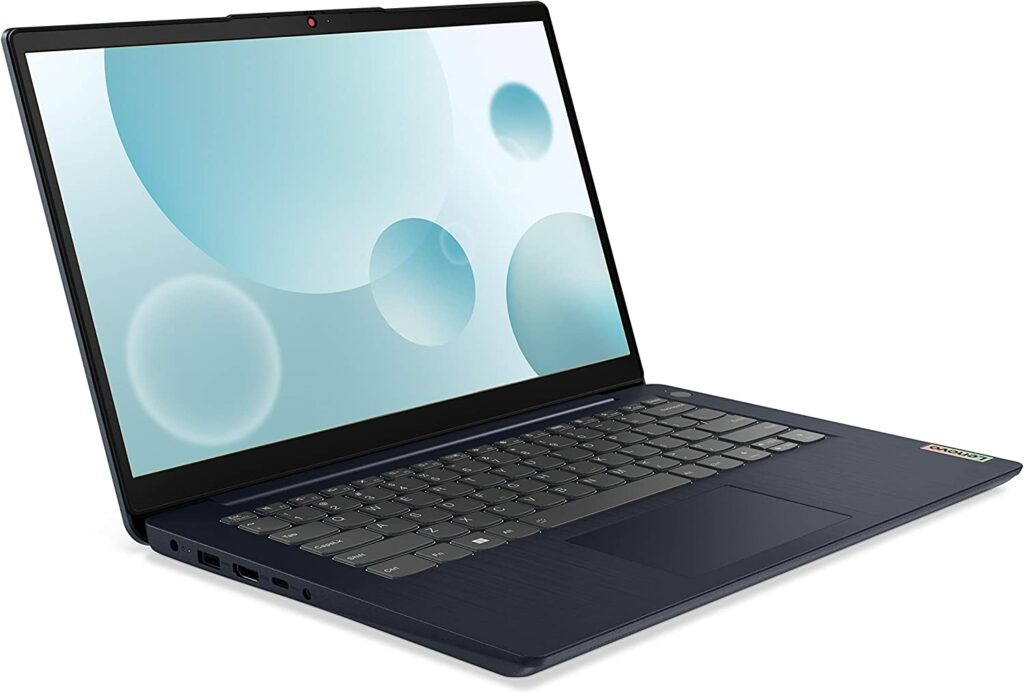 Another laptop with 12th generation processor, this time from Lenovo. With a 14-inch Full HD display, it is significantly more compact than the Acer Aspire above but not lacking in power. Thanks to the 10 physical cores onboard the Intel Core i5-1235U, it will take on any heavy lifting from graphic design to video editing even some light gaming with integrated Intel Iris Xe graphics. With a chassis measuring only 0.78″ and weighing 3.30lbs, it can still pack two full size USB-A ports and one USB-C ports, HDMI and audio jack. While the claimed battery life is much higher, we think 6 is a more reasonable number. 10 hours is only possible if you do nothing but streaming 1080p video. But with rapid charging, you can get 2 extra hours with 15 minutes of charge.
5. HP 17 Laptop – Intel® Core™ i5, 512 GB SSD
Windows 11
Intel Core i5-1135G7
8 GB RAM, 512 GB SSD
17.3″ HD Plus (1600 x 900 pixels)
Battery life: up to 8 hours 15 mins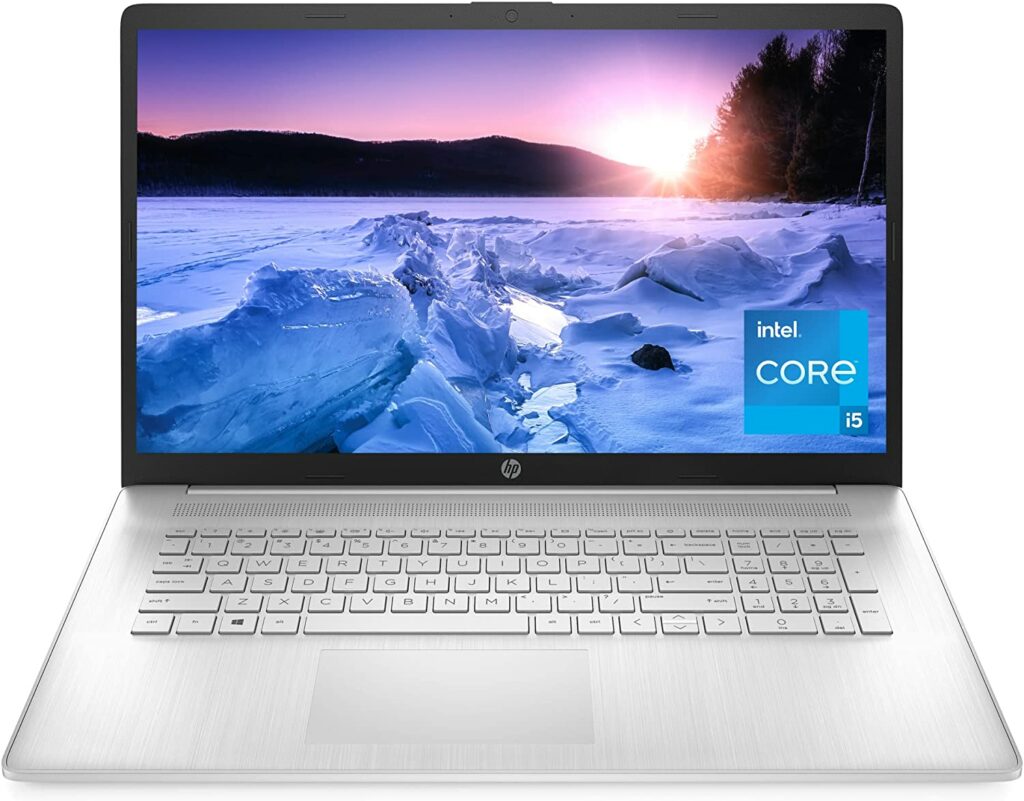 The screen is not quite Full HD or it would be on the top of our list as a desktop replacement. This 17-inch monster is minimalistic and sleek in design, reminiscent of the PowerBook of the old days. Underneath the silver almost metallic like exterior and silver keys is an 11th generation Intel Core i5-1135G7 with speeds up to 4.2GHz. Together with the embedded graphics from Intel, it will chew and spit out everything you give it. We picked this model with more storage. A cheaper model with half the storage at 256GB SSD is also available. For connectivity, you get a separate power socket, two full size USB ports, one on either side, one USB Type-C port, HDMI 1.4b and headphone combo. The unit also supports fast charging taking it up to 50% mark from flat in 45 minutes.
6. Dell Inspiron 15 3000 15.6″ Laptop – Intel® Core™ i5, 12GB, 256 GB SSD
Intel® Core™ i5-1155G7 Processor
RAM: 12 GB / Storage: 256 GB SSD
15.6-inch Full HD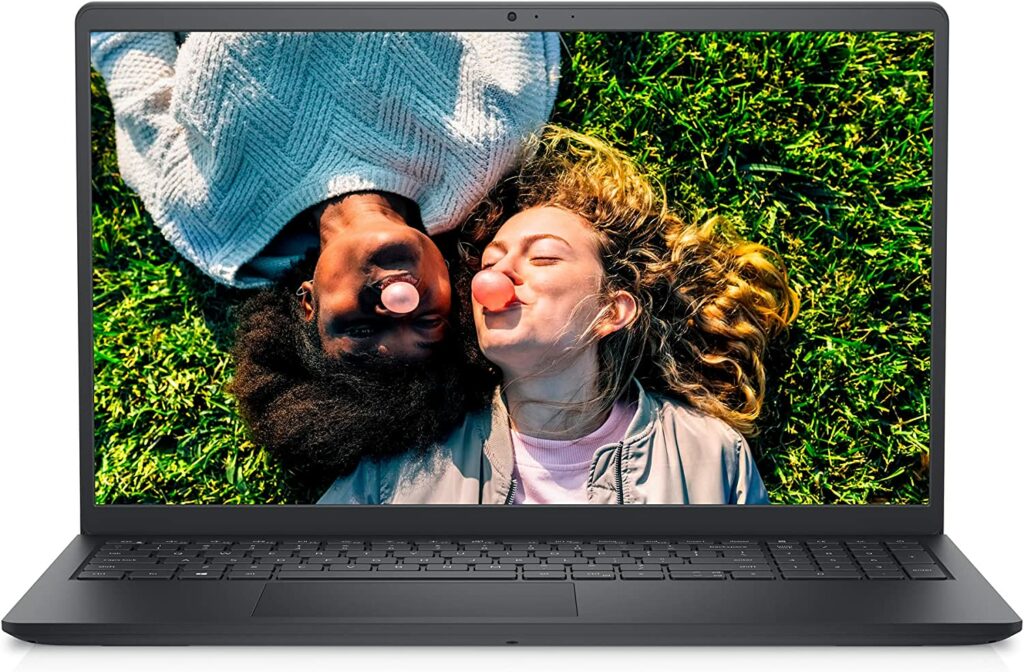 Another full size 15.6-inch laptop with off centre trackpad and keyboard with number pad, this time from Dell. The Inspiron 15 has a huge 15.6-inch display in a compact and slim body. The bezels are also remarkably slim bringing it bang up to date with todays modern design language. It even spots the all carbon black (or dark gray) finish. The back edge of the lid doubles as a stand with its lift hinge design giving you a good viewing and typing angle. It may not come with double the storage as with some of the laptops here, with only 256GB at the account of its reasonable price tag, we choose to overlook this.
7. MICROSOFT 12.4″ Surface Laptop Go 2 – Intel® Core™ i5, 4GB/8GB RAM, 128/256 GB SSD
Windows 11
Intel® Core™ i5-1135G7 Processor
RAM: 4/8 GB / Storage: 128/256 GB SSD
Battery life: Up to 13.5 hours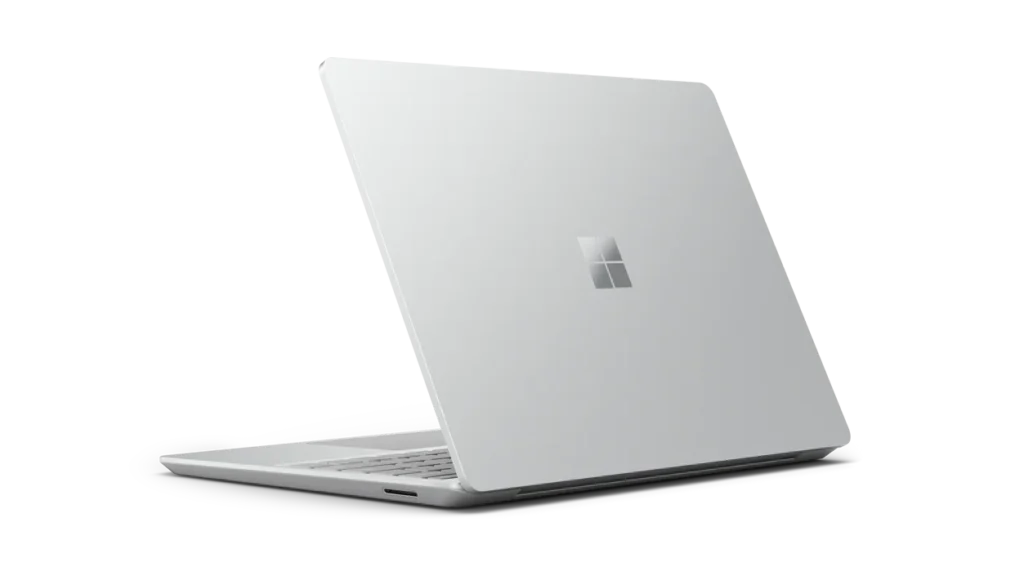 This ultra portable Surface Laptop Go 2 from Microsoft is available in four attractive shades, platinum, sage, ice blue and sandstorm. The 12.4-inch touchscreen display is bright and is wrapped with even bezels on the sides and top. The keyboard does not feel cramped. Extended to the edge of the laptop paired with a spacious touch pad, it is everything you ever want from an ultra compact laptop. But don't for a second mistake this for an under powered unit. Under the hood you still get the same powerful 11th generation Intel Core i5-1135G7 processor. Just be sure to pick up the 8GB memory and 128/256GB storage options. This will of course jack the price up, but you won't regret it in the long term.
What Else Is Out There
For those considering affordable yet powerful Chromebook, check out what we found below for around the same money or less. These are powerful Chromebook based on none other than the proven 11th generation Intel Core i5-1135G7.
ACER 515 15.6″ Chromebook – Intel® Core™ i5, 256 GB SSD
Chrome OS
Intel® Core™ i5-1135G7 Processor
RAM: 8 GB / Storage: 256 GB SSD
Full HD screen
Battery life: Up to 10 hours
HP x360 14c-cc0505sa 14″ 2 in 1 Chromebook – Intel® Core™ i5, 256 GB SSD
Chrome OS
Intel® Core™ i5-1135G7 Processor
RAM: 8 GB / Storage: 256 GB SSD
Full HD touchscreen
Battery life: Up to 10.5 hours
LENOVO IdeaPad 5i 14″ Chromebook – Intel® Core™ i5, 256 GB SSD
Chrome OS
Intel® Core™ i5-1135G7 Processor
RAM: 8 GB / Storage: 256 GB SSD
Full HD screen
Battery life: Up to 10 hours