Sitting between the premium Anker Soundcore Life Q30 with Active Noise Cancellation (ANC) and the entry level Life Q10 is the Soundcore Life Q20. A mid-range noise cancelling Bluetooth headphone that offers a wide dynamic range and bass boost at an affordable price that appeals to many. We discover how the Life Q20 performs in our review.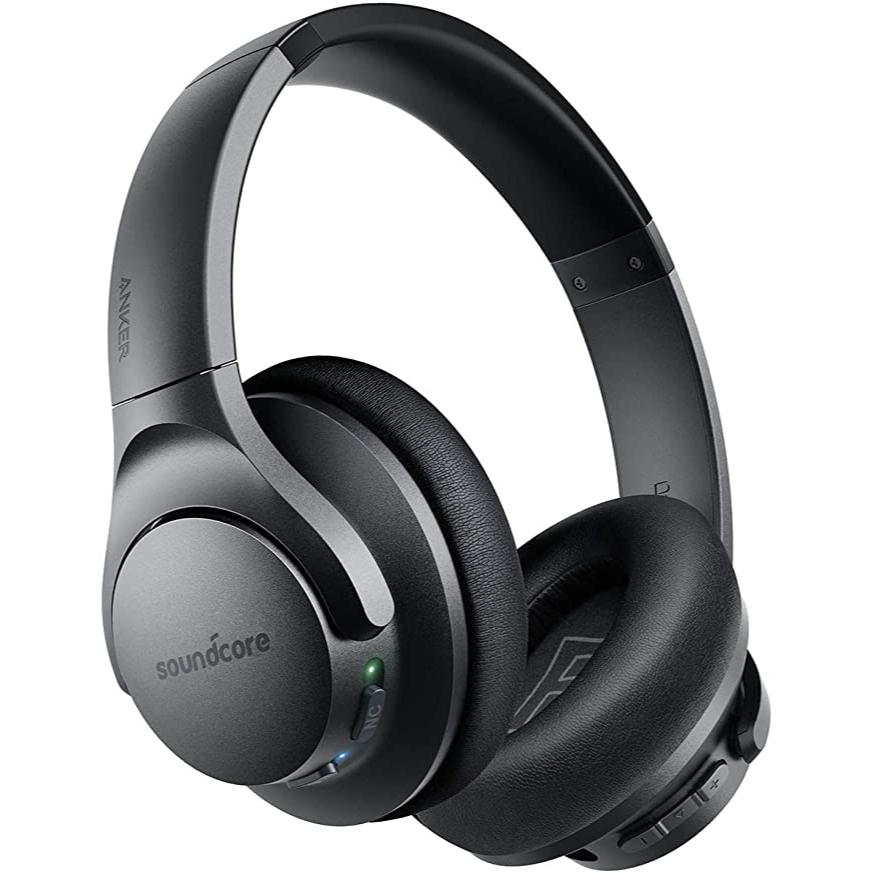 Search Soundcore Life Q20 on Amazon
The Soundcore Life Q20 Wireless Active Noise Cancellation Headphones
What does the Life Q20 bring to the table? Here is a quick rundown of the features:
Hi-res audio
Wireless Bluetooth connectivity
Hybrid Active Noise Cancellation
BassUp Technology
40 hours of wireless playtime
Extra-soft ear cups
Foldable design
Aux mode
On paper, there are plenty of desirable features but what is it like to live with.
1. Unboxing
What is in the box
Soundcore Life Q20 headphones
Aux cable
Micro-USB cable
Travel pouch
Documents: feedback card, quick start guide, safety information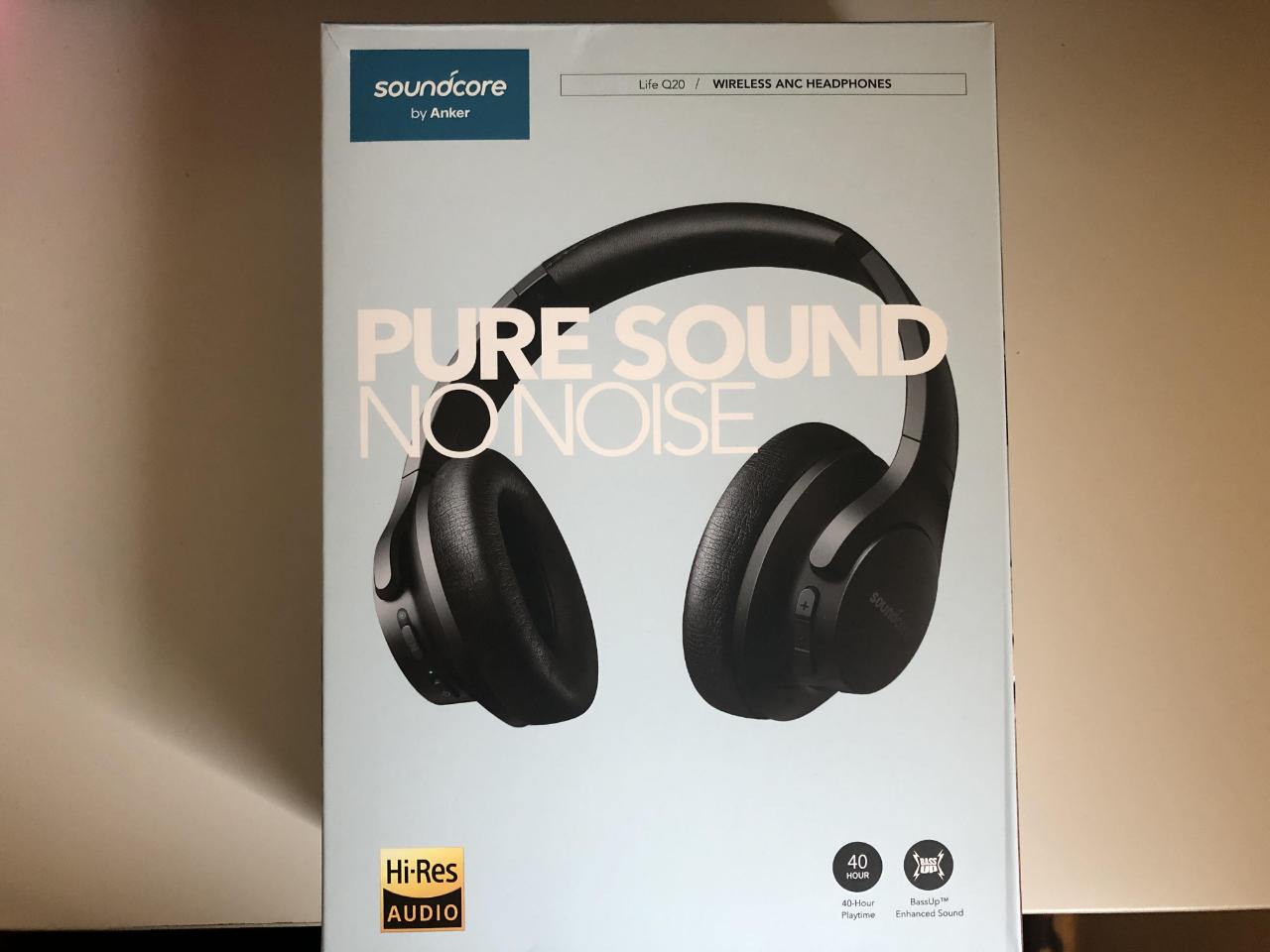 Optional: you can buy the Soundcore Life Q20 with a softshell case, a more structured travel case instead of the travel pouch which is no more than a bag with string tie. If you are going to travel with the headset, the softshell travel case is essential.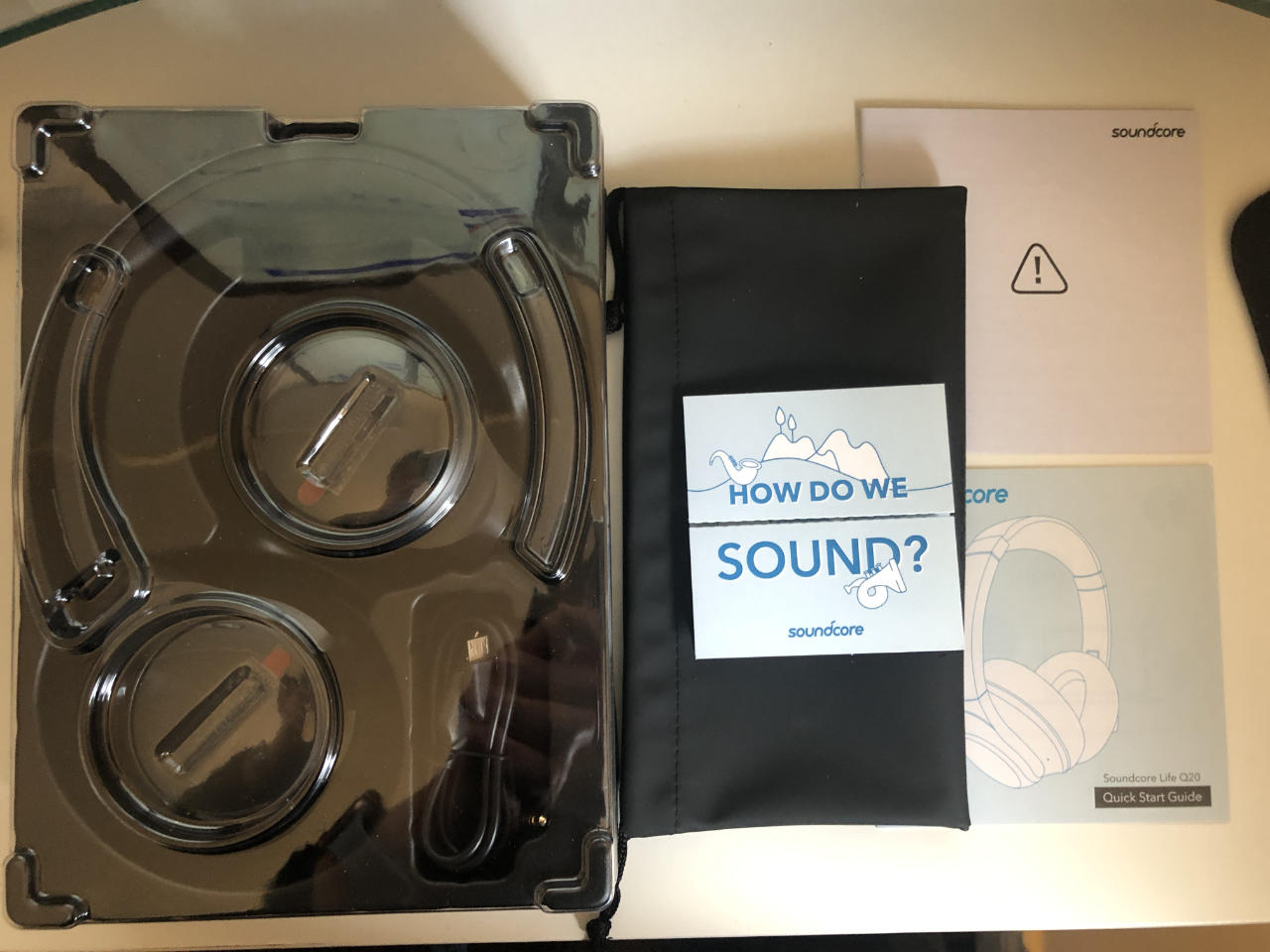 The protective plastic packaging shown above comes with separate compartments for cables and headphones part folded. The documentation and pouch kept under the box. All branding and glossy surfaces on the headphones are protected with sticky plastic films with tabs for easy removal.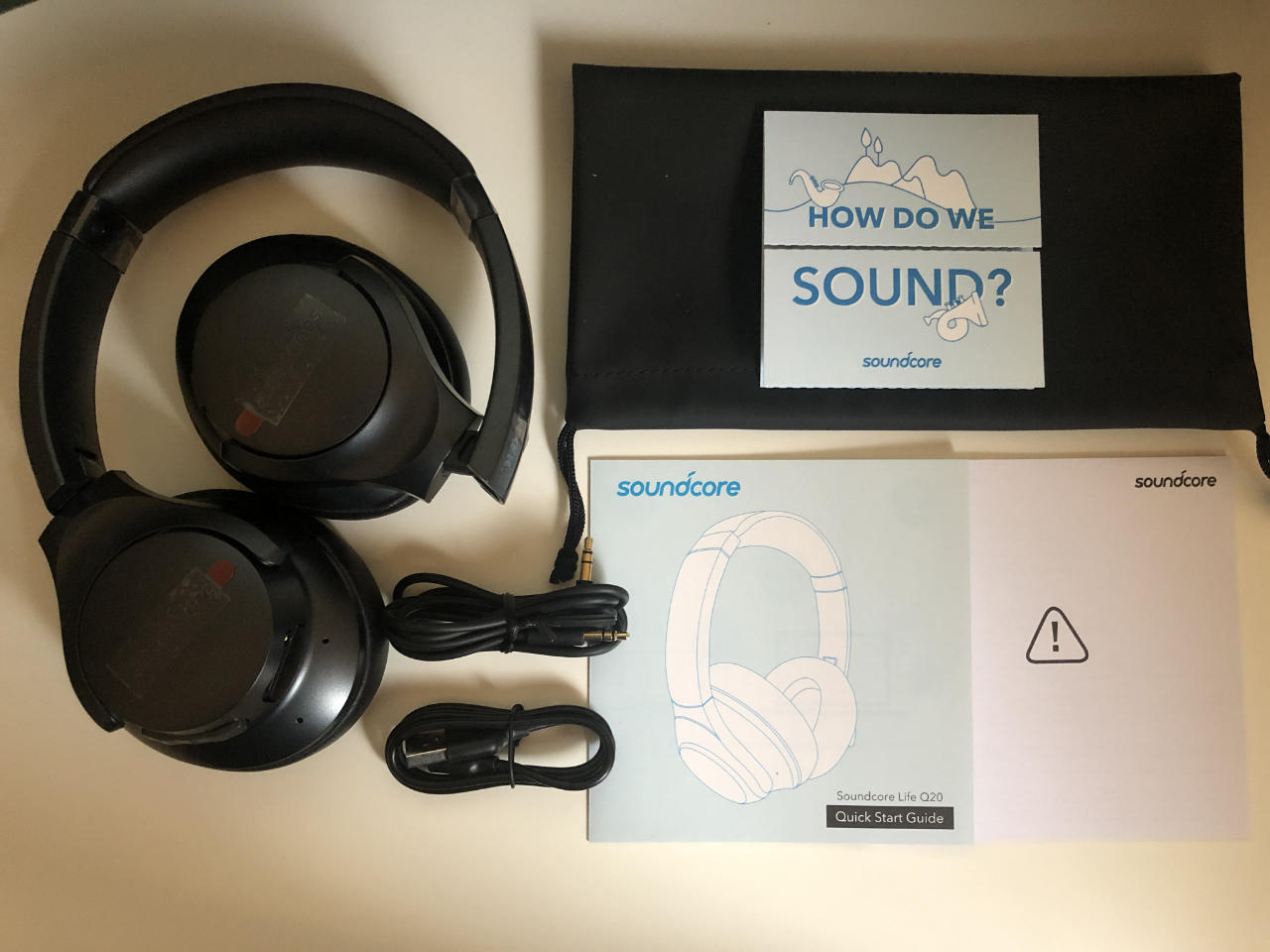 Here is what you get completely unboxed. The headphones come with sufficient protection inside the box. The quick start guide uses illustrations rather than words, much like IKEA's paper thin manual. It comes with everything one needs to get the headset connected and playing right off.
2. Controls and Ports
To enter Bluetooth pairing mode, press and hold down the power button for 5 seconds, the blue light will flash. Once we tested that the headphone works, we charged its battery before proper testing. Thereafter, press and hold down the power button for 3 seconds to turn off or on.
Other buttons for track control, volume, noise cancellation are pretty straightforward, see image below for the buttons on the right and left ear cups.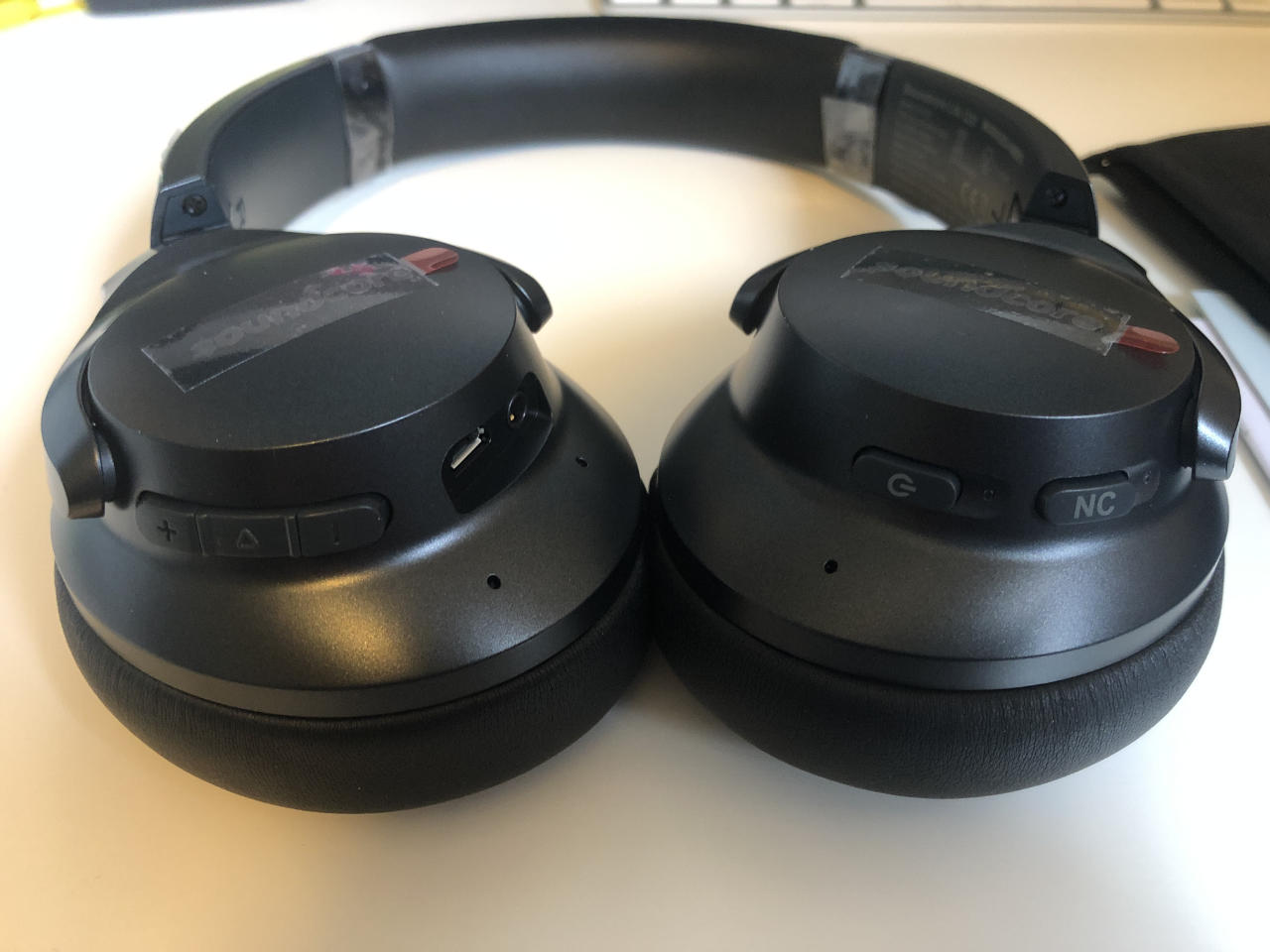 Rigth Ear Cups
On the exterior of the right ear cups (image below) are the volume control buttons marked (+ and -) that also double as track controls. Press briefly to control the volume level in steps or press and hold for 1 second to skip to the next track or go to previous track.
The middle button is a multifunction button. Press it twice to enable or disable BassUp. When there is an incoming call, press once to pick up the call using hands free function or press and hold for 1 second to hang up. Finally, to summon the voice assistance, press and hold for 1 second.
Also on the right ear cups are the Aux port and micro-USB charging port. The charging port and auxiliary port are exposed, not enclosed with a rubber flaps for easy access.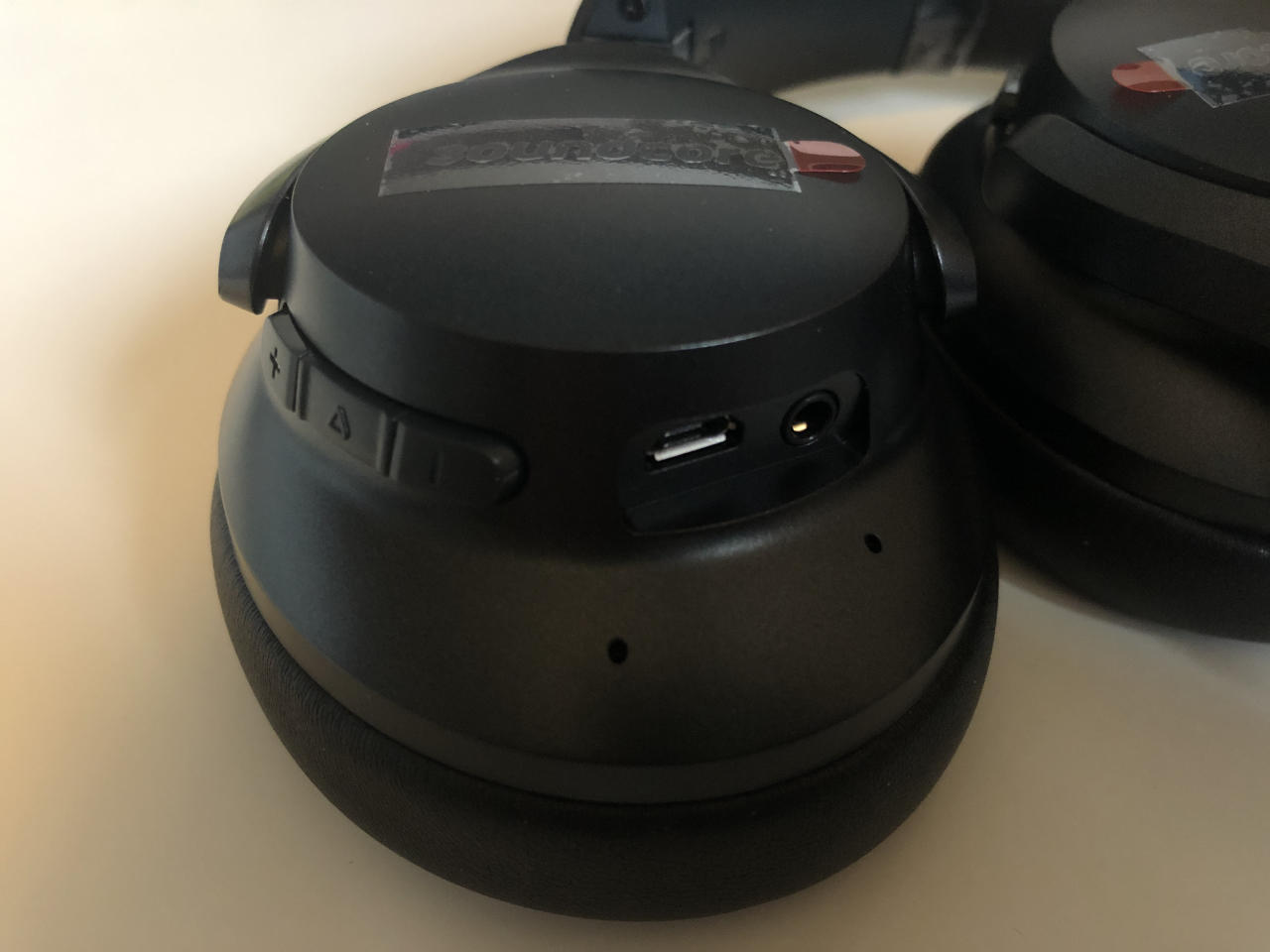 Left Ear Cups
On the left ear cup shown below, you get the power button, LED indicator lights and Noise Cancellation button. As mentioned, the former is used to turn on the device and to enter Bluetooth pairing mode when held down for 5 seconds. To turn on or off the Noise Cancellation, press and hold the NC button for 1 second. A voice prompt will indicate the state of the noise cancelling function. There are two LED lights, a blue light for power that flashes when in Bluetooth pairing mode and turns red when battery is low and a green light for when NC is enabled.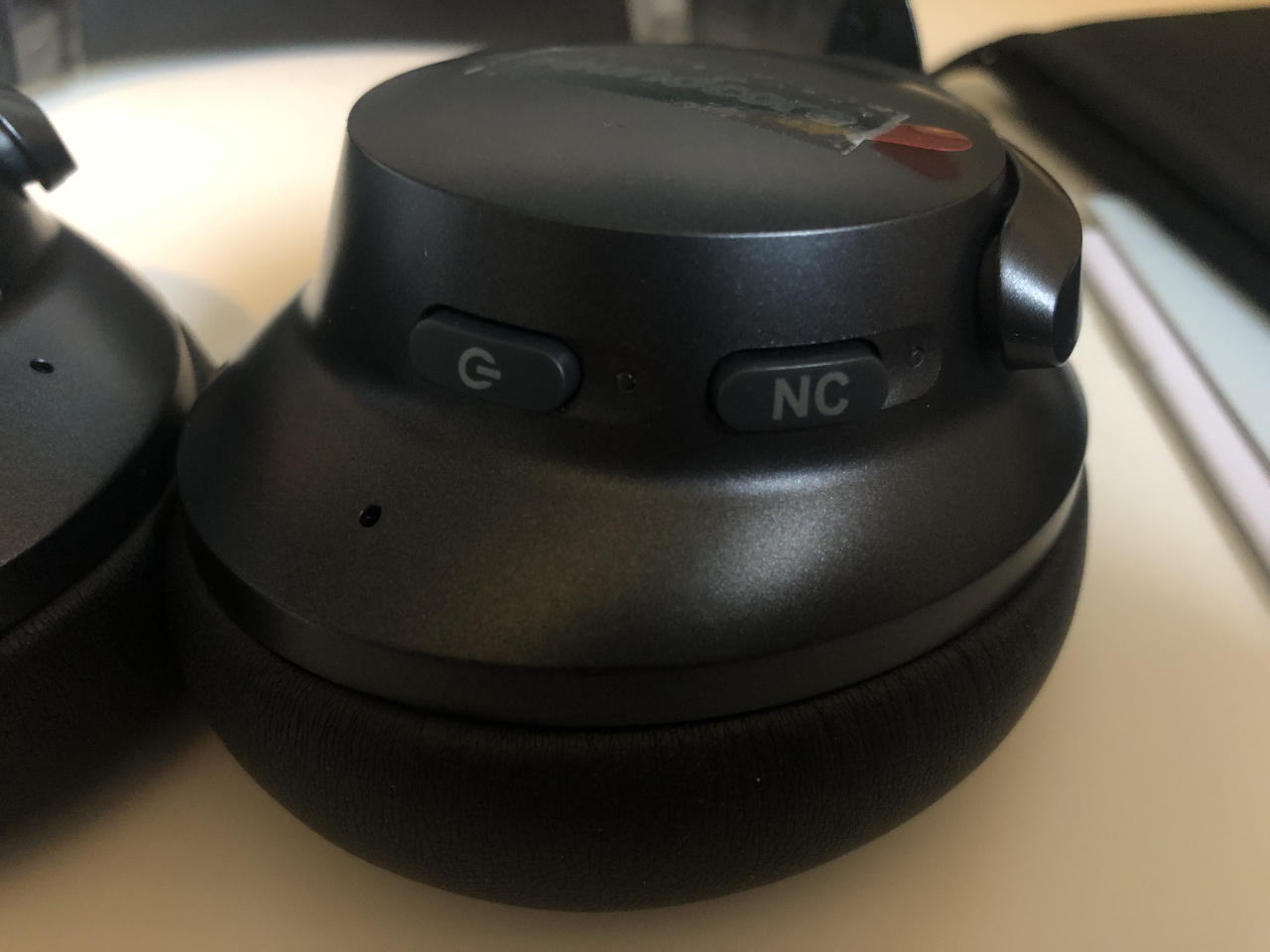 3. Comfort
The soft memory foam ear pads shown below are comfortable to wear and together with the adjustable headbands, rotating joints plus its lightweight design, they apply moderate pressure around the ears and over the head. Even with hours of playtime, it did not cause any pain or fatigue.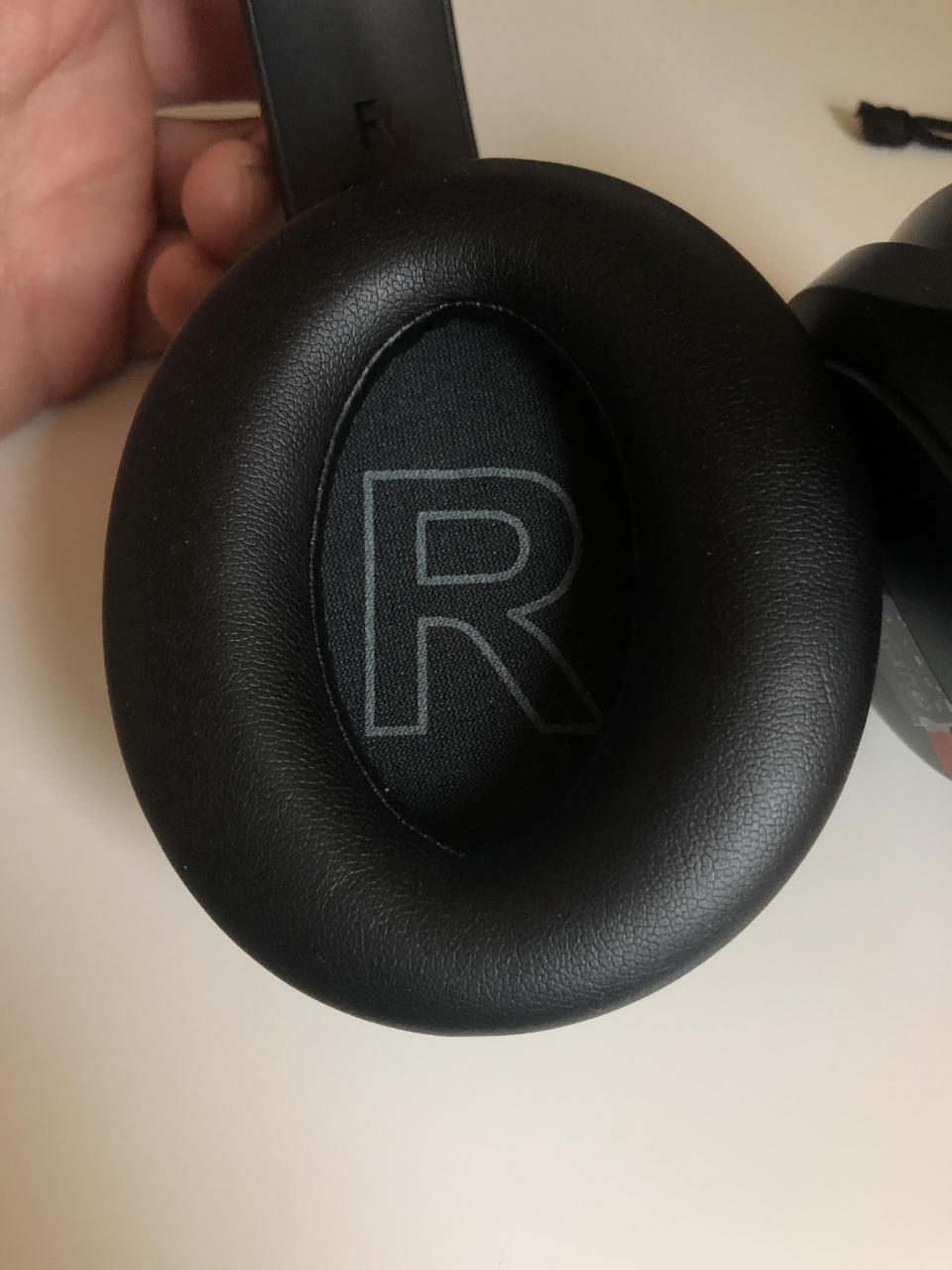 There is plenty of slack in the headband. The extendable arms slide out with clicking action so you can adjust the length and overall width accordingly to fit the shape of your head. The rule of thumb is to extend it until you feel the least amount of pressure on both ears and the ear pads are seated evenly around your ears.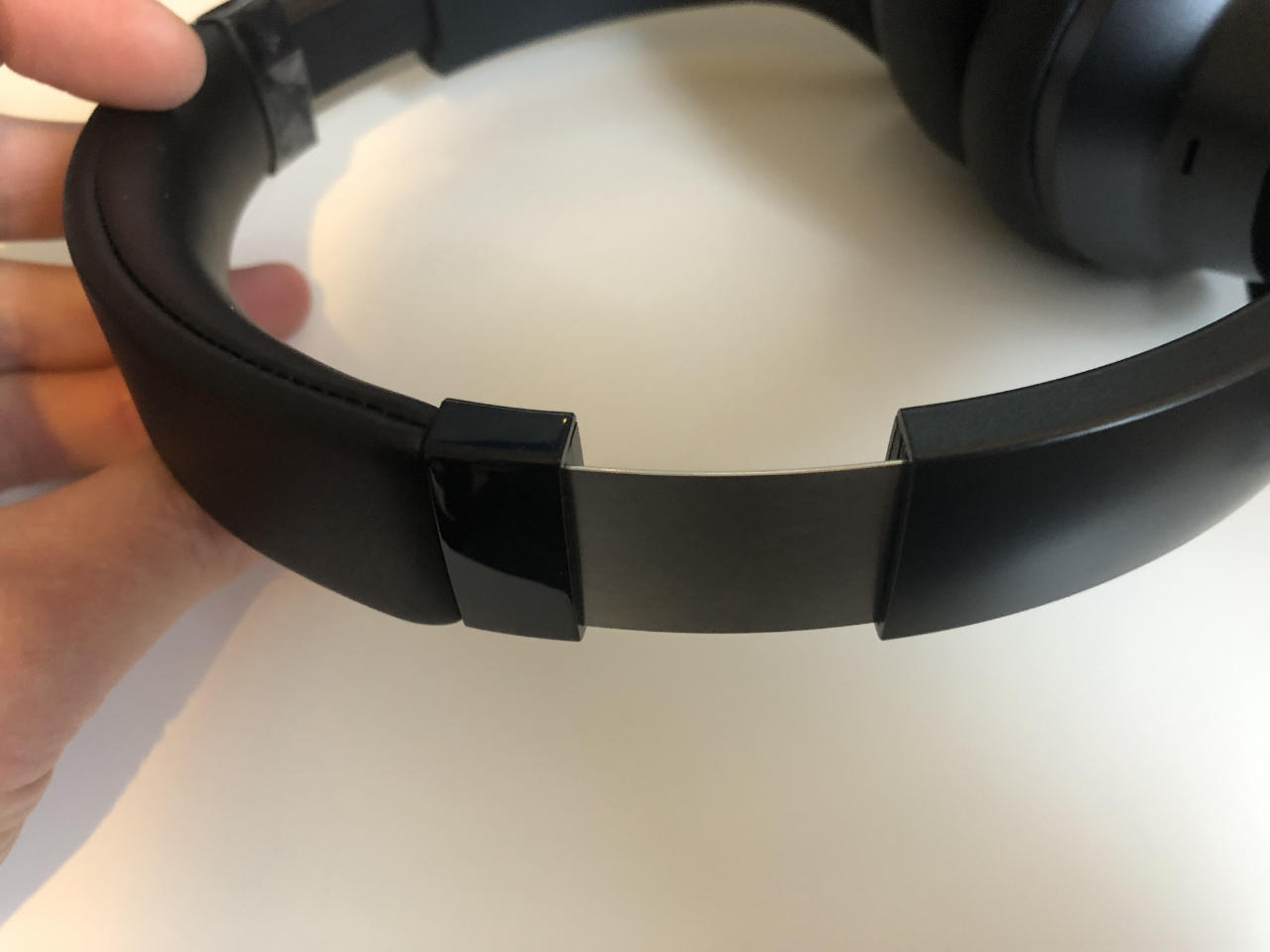 It does however get a bit warm after a long period of listening, especially when you are in a warm room, but this is to be expected. Perhaps it is a sign that you need to give your ears a break.
4. Hybrid Noise Cancellation
Those over-ear soft ear pads and active noise cancellation technology together cut out up to 90% of the noise. It works perfectly well in removing chatters, humming, public transport and airplane engines and background noises. Even when sat in front of the TV, with the TV volume set at moderate levels, the headset could cut down the noise significant enough that you can enjoy your own music.
The Basics
Anker claims that their team of sound engineers have carried out over 100,000 tests to fine-tune the head set using real-life scenarios. The Active Noise Cancellation technology is made possible with four microphones. Two outside and two inside with a pair on either side. This is apart from the single microphone for answering calls.
On each side, the external microphone also known as a feed forward mic picks up the noises and using digital active noise cancellation algorithm, the driver cancels this out so it does not reach your ear. A second internal microphone, known as a feedback mic does the same, cancelling any noise that may have reached inside the ear cups.
How Well Does It Perform
The result, the headset is able to detect and cancel out a wider range of low and mid-frequency noises, for minimal or next to no ambient noises. If somebody next to you tries to talk to you, it will be soft but you should still be able to pick this up. We are perfectly satisfied with the level of noise cancelling that the Life Q20 offers.
The key here is it ambient noise. It does not completely eliminate all noises, especially those that stands out like a honk, dog barking or screams. Higher frequencies will still come through. If you must know, Bose QC35 cuts up to 90% noise while Sony XM3 blocks up to 95%.
We do not recommend using this while you are walking outside, making your way around the streets with traffic. Only suitable for commutes, short or long hauls flights, travels, private listening at home or in the office and trains.
5. Performance and Sound Quality
The headset is Hi-Res Audio certified offering extended treble and enhanced clarity with defined details for both vocals and notes. I throughly enjoyed hours of acoustic music. Everything sounded crystal clear. If you are like me and prefer more lows in your music, even quiet ones, then the BassUp feature is for you. Double tap on the middle button between the volume controls for optimised bass. If it gets too much, simply turn it off.
Sound Range and Quality
The clear details and precise bass is made possible with a pair of oversize 40mm dynamic drivers. Together they produce low 16Hz to mid and high range of up to 40kHz for best clarity. Kick up the bass and you have the entire range covered. That said, it does not come with EQ settings usually offered via companion app to fine-tune the sound to your liking. It also does not support preset listening modes.
Wireless Range
Thanks to Bluetooth 5.0, the wireless range is also great. I was able to connect to my desktop upstairs and wondered around the house both upstairs, downstairs and even in the patio. I was able to enjoy uninterrupted music with no drop in signal or noise.
Reported Issues
There have been reports of pops and crackles with noise cancellation enabled, especially when one is moving. We did not experience this during our tests. There have also been reports of the sound being too bassy, even in normal mode. We have to agree with this, especially with dance and pop music at higher volume levels.
Again, as a matter of personal preference, this hasn't been too much of a problem. I just love the bass and would not want it to be any less. All I can say is, listen at mid to mid-low volume level or consider other options if big bass isn't your thing. The low range gets up to 100% boost in strength with BassUp switched on.
6. Zoom and Phone Calls
Having connected to Life Q20 to my computer for Zoom meetings and the phone to take calls, I can safely say that I can have a clear conversation with the participants and caller with no hiccups. Hands-free calling. While it does not have dual microphones for calls like in the Life Q30, the single microphone works just as well with uplink noise reduction. Note that the microphone for call is separate to ones for Noise Cancelling. The single microphone for calls is on the bottom of the right ear cup.
7. Battery Life
Perhaps one of the many reasons for choosing the Life Q20 is its battery life. With a full 40 hours or up 600 songs even with Noice Cancelling enable and playing at 60% volume, this headphone just keeps going. From our test, with stretches of listening for hours on and off, we have never had to charge it yet. Connecting to tablet, smartphone and desktop, it shows no sign of stopping. Voice prompt still says "battery medium".
On compatible devices such as the iPhone and iPad, the headphone icon in the status bar is accompanied by a battery level indicator which is handy. Now, if you don't need ANC or have this disabled, the battery life can reach up to 60 hours. If you run low, and need a quick "pick-me-up", a short 5 minutes charge will give you 4 hours of listening.
8. Wired Listening
When your battery finally runs out, you can always pull up the analogue cable and connect your headphones via 3.5mm auxiliary port, be it to your smartphone, tablet or desktop. You don't need to turn on the headphone for wired listening but Noise Cancelling can still be activated and works in wired mode. With wired listening, you can't control the volume on the headphones. You will need the volume control on the player. Understandably, listening this way means that the volume is lower as it relies completely on the source, not as strong as in powered and Bluetooth mode.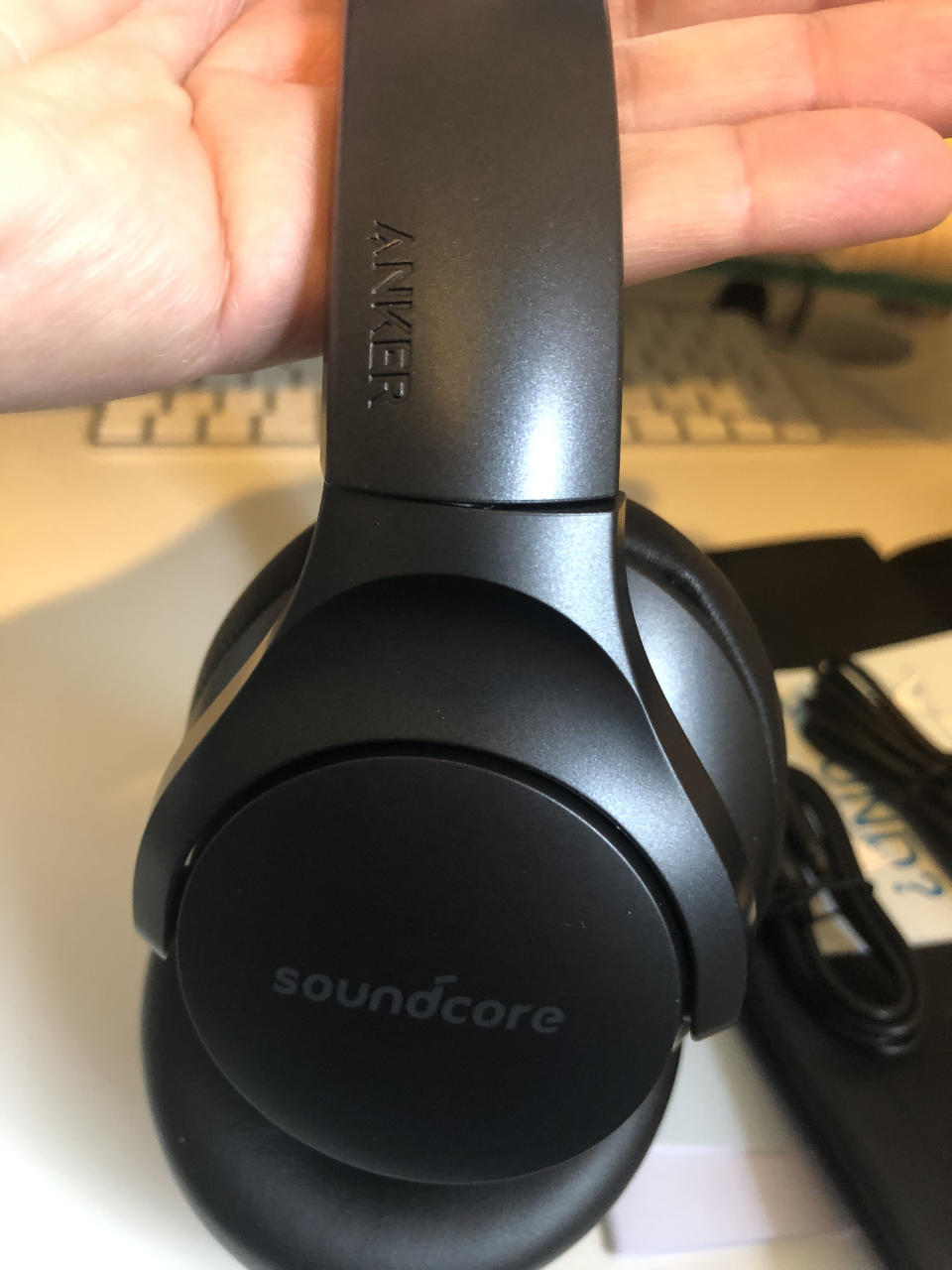 9. Build quality
While the headphones are light and affordable, they do not feel cheap. Far from it, the build quality is good. The soft ear pad cushions and cover does not give way with everyday handling, although we have yet to see if it will withstand long-term use. Only time will tell. The buttons feel tactile and solid. Taps and clicks are registered as they should. Even prints, badges, etches and logo on different parts of the headphone look sharp. It is also reassuring that the headbands, extendable arms and rotating joints inspire confidence during use.
10. Value
Without a doubt, here is an affordable wireless headphone with Hybrid Active Noise Cancellation that does not disappoint. It performs just as good, if not better, than some top brands like Sony and Bose. There are no like-for-like as premium headphones from said brand would cost 3-5 times more. But if you are strap for cash, we would certainly recommend the Life Q20.
Final Thoughts
The design may be a little dated with big buttons as oppose to touch sensitive surfaces. No gesture controls here, just physical buttons, which means you need to feel around, work out the position of the buttons and remember what they are for. Overall, it still looks minimalist from some angles with non-intrusive branding or bling (shiny and chrome bits) to speak off. A part from the black version reviewed, an all-silver version (below) is also available.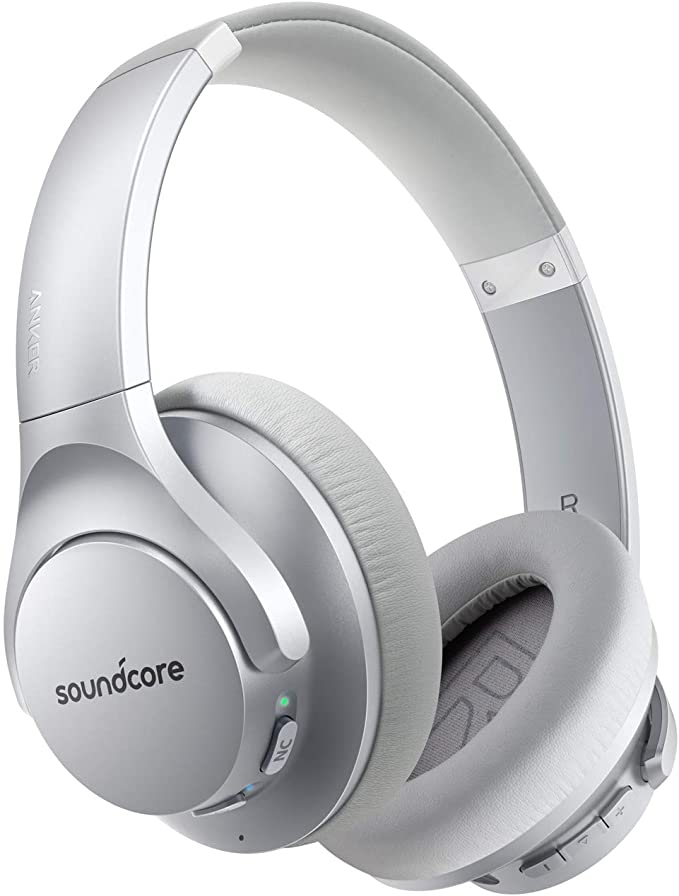 This article was originally featured on our sister site, Colour My Living