Choosing the perfect over-ear headphones that offer plenty of bass involves considering several critical factors such as frequency response, driver size, design, materials, and more. We take a look at how to pick the best over-ear headphones that offer plenty of bass whilst not compromising on the balance and dynamic of the overall sound.
A good pair of headphones will not only provide a rich, deep bass but also maintain a balanced sound across all frequencies. The comfort and fit of the headphones are equally important, as they can significantly impact your listening experience.
In this guide, we will delve into these aspects in detail, offering you insights into how to pick the best over-ear headphones for an immersive bass experience. From understanding technical specifications to exploring sound signatures and reviewing user experiences, we aim to equip you with all the necessary information to make an informed choice.
Whether you are a bass enthusiast, an audiophile, or a casual listener, this guide will help you find headphones that align with your specific needs and preferences.
How to pick the best over-ear headphones that offer top notch bass
The questions we are all asking is – what does one look for in an over-ear headphone when it comes to bass performance. There are several key factors to consider but the most common among these are:
1. Frequency Response
This specification measures how well headphones reproduce all frequencies of sound. A wider frequency range typically means more detailed sound. For great bass, look for a lower end that goes down to at least 20 Hz, though some headphones may go even lower. Not all manufacturers make this specification easy to find so you may have to dig deep.
2. Driver Size
Larger drivers can often provide a more robust and stronger bass response. Anything around 40mm or larger is a good starting point. Too small and you won't be getting a satisfactory overall performance let alone the reproduction of the low range. It does raise the dimensions of the headphones. But, your priority here is the bass otherwise, you would be looking for on-ear or in-ear units.
3. Materials
The build quality and materials used in the headphones can affect sound quality. Look for high-quality materials such as neodymium in the drivers and avoid cheap plastics where possible. Materials and joints that when stretched and bent, squeaks or creaks during use is best avoided. As it is right next to your ears, every little sound it makes will be heard, getting in the way of your music
4. Sealed Design
Over-ear headphones can either be open-back or closed-back. For the best bass, you'll want a sealed or closed-back design, which helps to prevent bass frequencies from escaping and provides a fuller, more immersive listening experience. Most headphones are closed-back these days as they also offer Active Noise Cancelling, something we will cover in the next section.
5. Active Noise Cancelling (ANC)
This is a prominent feature in many over-ear headphones that dramatically enhances their ability to provide an immersive listening experience. ANC works by using microphones to capture ambient noise, such as the hum of an airplane or chatter in a coffee shop. The headphones then generate a sound wave that is the exact opposite, or "inverse," of the captured noise. When these two sound waves meet, they effectively cancel each other out — a phenomenon known as destructive interference.
This process reduces the volume of the ambient noise, allowing you to focus more on the audio you're listening to, be it music, a podcast, or a movie. It's important to note that ANC tends to be most effective against steady, predictable noises and less effective against sudden, erratic noises. Another thing to note is that the quality of ANC can vary considerably among different headphone models, so it's worth considering user and expert reviews when choosing headphones with this feature.
6. Sound Signature
Not all headphones are tuned the same way. Some might have a more neutral sound signature, while others might emphasize certain frequencies. For more bass, look for headphones that have a 'bass-forward' or 'warm' sound signature.
7. Impedance and Sensitivity
Impedance refers to the power needed to drive the headphones, and sensitivity refers to how loud the headphones will get with a given amount of power. For good bass response, you'll want lower impedance (under 32 ohms) and higher sensitivity (over 100dB). However, be aware that headphones with low impedance and high sensitivity might require a headphone amplifier to perform at their best.
8. Comfort and Fit
Good bass response often comes down to a good seal around your ears. If your headphones don't fit well or are uncomfortable, they can let bass frequencies escape, reducing the quality of the sound. Make sure the headphones have a comfortable, snug fit and well-cushioned ear cups.
9. Reviews and Ratings
Always check user reviews and expert ratings on reliable tech websites. These can provide you with a clearer picture of how the headphones perform in real-world scenarios, particularly in terms of their bass response.
10. Try Before You Buy
Remember, sound is subjective, and what sounds good to one person might not sound good to another. If possible, it's always a good idea to try headphones before you buy them to make sure they meet your personal preferences for bass and overall sound quality.
We leave you with our favourite headphones that can pump out earth dynamic to earth shattering bass
1. Apple AirPods Max Wireless Over-Ear Headphones
Make no mistake, the Apple AirPods Max are premium over-ear wireless headphones that deliver high-fidelity audio and incorporate a suite of sophisticated features. All you have to do is to look at its price tag. If that puts you off, move on to our next recommendation.
They feature a distinctive design, with a stainless steel frame and breathable, knit mesh canopy for comfort. Each ear cup houses a 40mm Apple-designed dynamic driver and is equipped with Apple's proprietary H1 chip, which enables computational audio capabilities.
These headphones boast advanced features like Adaptive EQ, which adjusts sound in real-time based on the fit and seal of the ear cushions, Active Noise Cancellation (ANC) to minimize ambient noise, and Spatial Audio for an immersive, theater-like experience. They also integrate seamlessly with the Apple ecosystem, offering features like automatic device switching and Siri voice assistant.
The AirPods Max has received mostly positive reviews for their sound quality and feature set, although there's been some criticism of their high cost and battery life (up to 20 hours).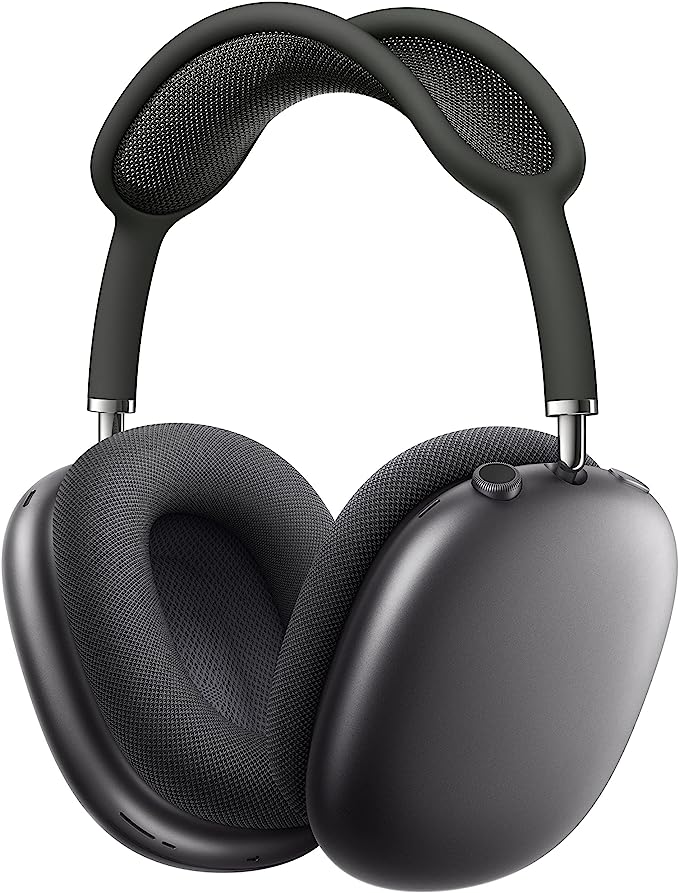 Search Apple AirPod Max on Amazon
2. Beats Studio3 Wireless Noise Cancelling Over-Ear Headphones
The Beats Studio3 Wireless are over-ear headphones that blend a stylish design with a host of modern features. The highlight of these headphones is the Pure Adaptive Noise Cancelling (Pure ANC) feature, which uses advanced algorithms to continuously monitor and adjust to your listening environment, effectively blocking out external noise for an immersive audio experience.
Equipped with the Apple W1 chip, the Beats Studio3 offers seamless integration with Apple devices, providing features like automatic pairing and switching. The headphones also boast a long battery life, offering up to 22 hours with ANC on, and even up to 40 hours in low power mode.
Those who like heavy bass will not be disappointed as apart from incredible sound sound quality, the cans offer solid and bass-heavy sound. This may be too heavy for some. Certain people may find this not as refined or balanced as some other models in its price range. Despite this, the Beats Studio3 remains a popular choice for those looking for stylish, feature-packed over-ear headphones.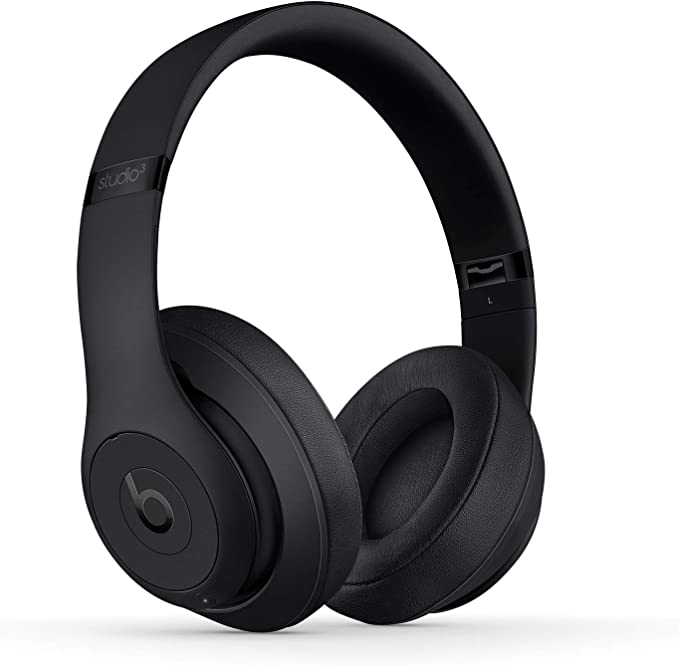 Search Beats Studio3 on Amazon
3. Bose QuietComfort 45 Wireless Bluetooth Noise Cancelling
The industry benchmark when it comes to noise cancellation, the Bose QuietComfort 45 are over-ear wireless headphones that build upon Bose's legacy of delivering superior active noise cancellation (ANC) and sound quality.
The QuietComfort 45 feature two listening modes – Quiet Mode, which uses ANC to minimize ambient noise and allow you to immerse yourself in your audio, and Aware Mode, which lets through ambient sound so you can stay connected with your surroundings.
The headphones also provide a high-fidelity audio experience, with a balanced sound profile that caters well to a variety of music genres. A significant highlight of these headphones is their comfort; they are lightweight with plush ear cups, living up to the "QuietComfort" name.
With up to 24 hours of battery life, they are built to last through long listening sessions. The Bose QuietComfort 45 gets top marks from us when it comes to excellent noise cancellation, sound quality, and comfort, although the lack of equalizer settings and touch controls (in favour of tactile buttons) sets the can back a bit.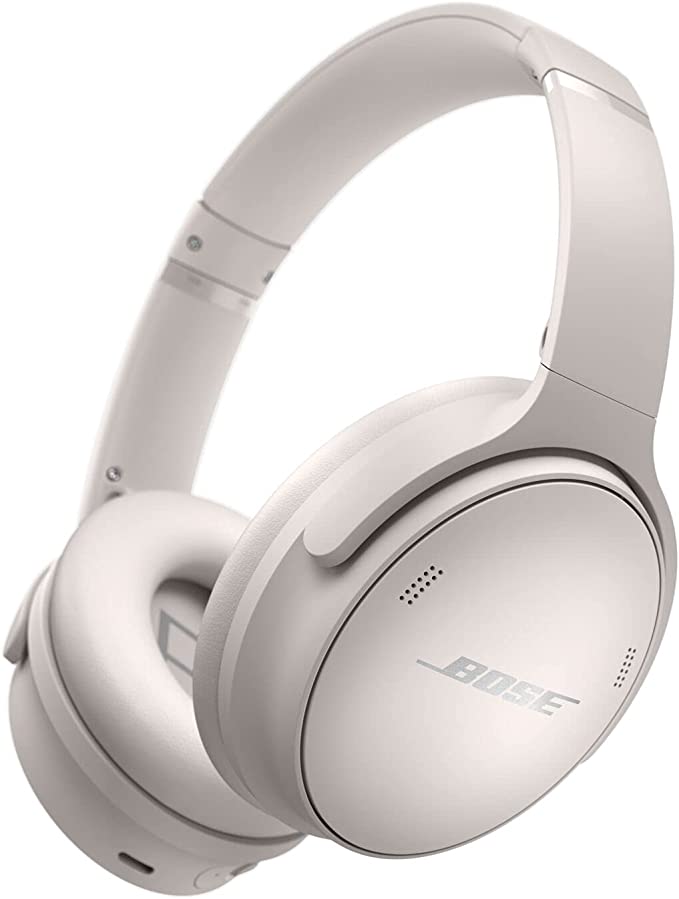 Search Bose QuietComfort 45 on Amazon
4. Sony WH-1000XM5 Headphones
The latest offering from Sony in the premium range is this industry leading Sony WH-1000XM5 headphones. Launched back in May 2022 last year, it is pricier than the Sony WH-1000XM4 is seeks to replace which begs the question, is Sony trying to create a tiered product. Judging from how long WH-1000XM4 is left on the shelf, we think the WH-1000XM5 is just an addition to the premium headphone family.
Already a multiple award winning headphone, it uses 30mm drivers and the same HD Noise Cancelling Processor QN1 found in XM4 for active noise cancelling. This is integrated with V1 processor and multiple microphones for a distraction free listening. Combining the two processors and multiple microphones creates an unprecedented noise cancelling system. Plus, Auto NC Optimiser mode automatically optimises noise cancelling according to wearing conditions and the environment.
Other features include High Resolution Audio support, Precise Voice Pickup Technology and all day comfort using soft fit leather and lightweight design. For the Precise Voice Pickup, this uses four beam forming microphones, advanced audio signal processing and AI based noise reduction algorithm for ultra clear and noise free calls.
You get all the features you love from XM4 including pause and replay your music when you remove and put back your headphones or when you start a conversation. There is also touch gesture control on the ear cup, 360 spatial sound personaliser via the app and up to 30 hours battery life on a full charge.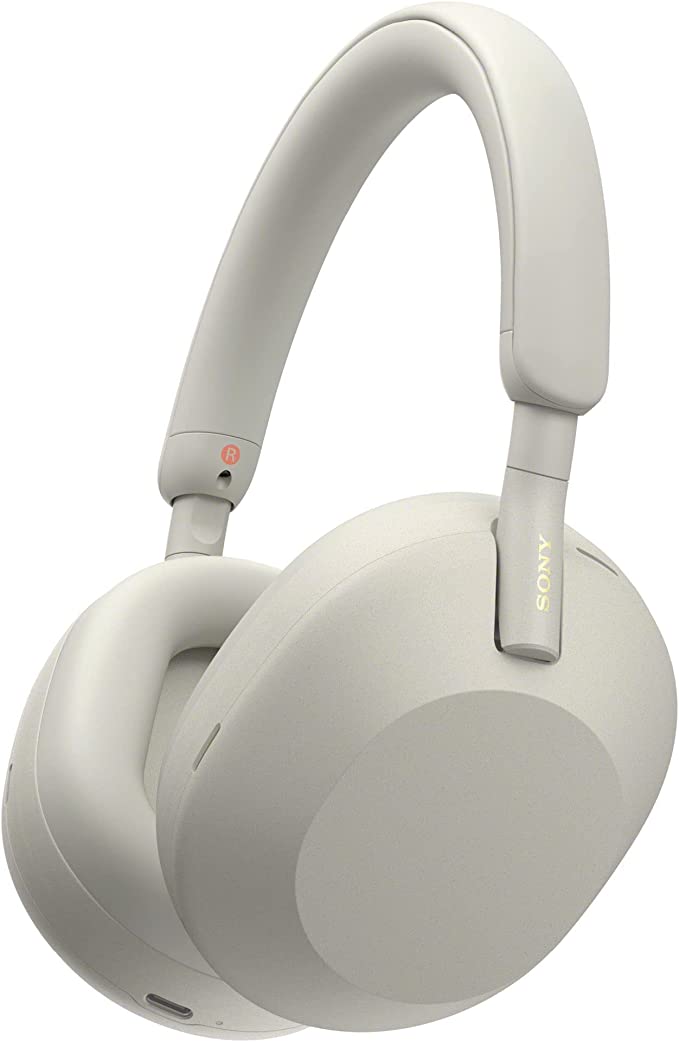 Search Sony WH-1000XM5 on Amazon
5. Sony WH-1000XM4 Headphones
The Sony WH-1000XM4 has been superseded by the XM5 above but is still available in the market at a much reduced price. This is great for those looking for a pair of premium over-ear wireless headphones without the hefty price tag. It is renowned for their excellent sound quality and top-tier noise cancellation.
The headphones feature Sony's proprietary HD Noise Cancelling Processor QN1, providing one of the most effective active noise cancellation (ANC) performances in the market. They also come with a range of features like Speak-to-Chat, which automatically pauses your music when you start speaking, and wear detection that stops playback when you take the headphones off.
With the Headphones Connect app, you can also personalise and control sound settings to suit your preferences. The WH-1000XM4 offer a balanced and detailed sound profile, with LDAC codec support enhancing the overall audio quality.
Their lightweight and comfortable design, along with impressive battery life of up to 30 hours with ANC on, make them well-suited for extended use. It may be nearly three years old (launched in August 2020) but the Sony WH-1000XM4 are still considered one of the best all-around headphones around.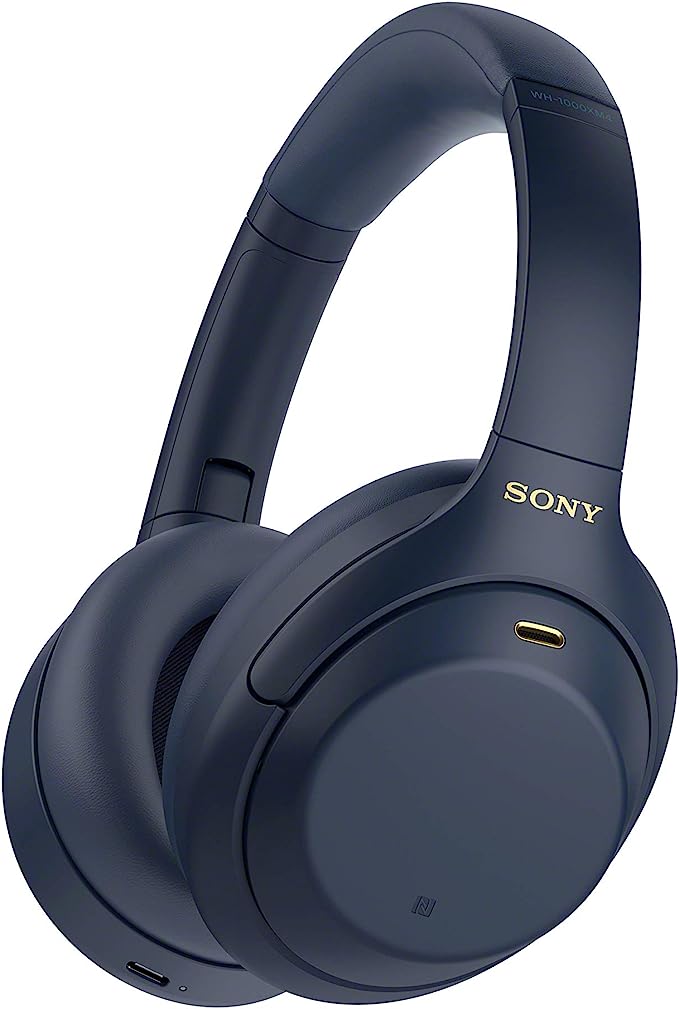 Search Sony WH-1000XM4 on Amazon
6. SKULLCANDY Crusher Evo Wireless Over-Ear
The Skullcandy Crusher Evo are over-ear wireless headphones that are specifically designed for bass enthusiasts. The highlight of the Crusher Evo is the adjustable Sensory Bass feature, which allows users to control the level of bass output according to their preferences, ranging from a light rumble to an intense bass-heavy experience that can actually be felt.
The headphones also incorporate a custom-tuned 40mm driver and an additional subwoofer for an immersive sound output. With up to 40 hours of battery life and a rapid charge function, they're designed for long, uninterrupted listening sessions.
The Crusher Evo headphones also feature built-in Tile finding technology, which makes it easy to locate them if they're misplaced. We tested the Crusher Evo and was left stunned by the amount of bass that is possible from a headphone.
Bass that you can literally feel, not to the point of crushing your skull but powerful enough to move you to the music. Among our testers, some consider the bass to be overpowering but we made this list for one reason, and one reason only – over-ear headphones with plenty of bass.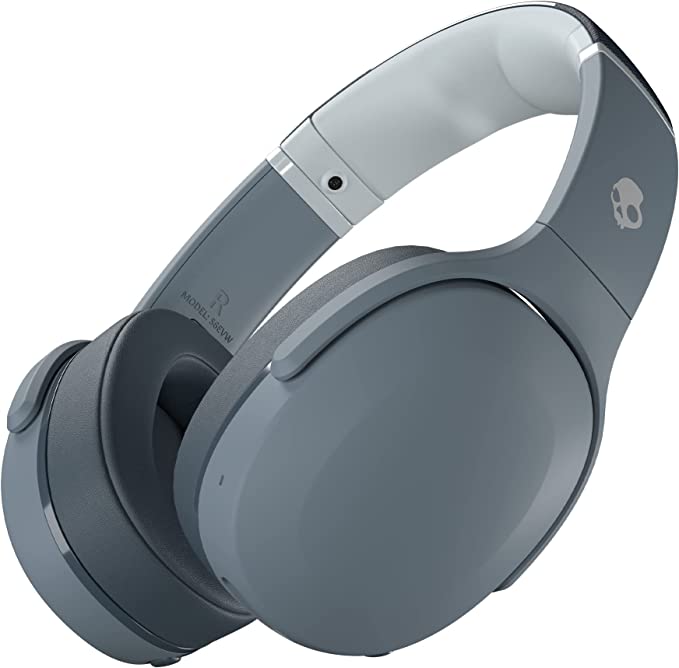 Search SKULLCANDY Crusher Evo on Amazon
7. Sony WH-XB910N EXTRA BASS headphones
The Sony WH-XB910N are over-ear wireless headphones from Sony's EXTRA BASS range are designed to deliver a deep, punchy bass response for bass enthusiasts. They come equipped with digital noise cancelling technology that reduces ambient noise and lets you focus on the music.
The headphones also support Sony's proprietary "Sound Position Control" feature, which allows you to adjust the direction of your audio, creating a more immersive listening experience. Bluetooth multipoint pairing, a must-have for multi-device users, and a 30-hour battery life, make the WH-XB910N a practical choice for everyday use.
They also feature quick charging capabilities, providing up to 5 hours of playback with a quick 10-minute charge. We love the Sony WH-XB910N for their strong bass performance and overall value for money in their price range.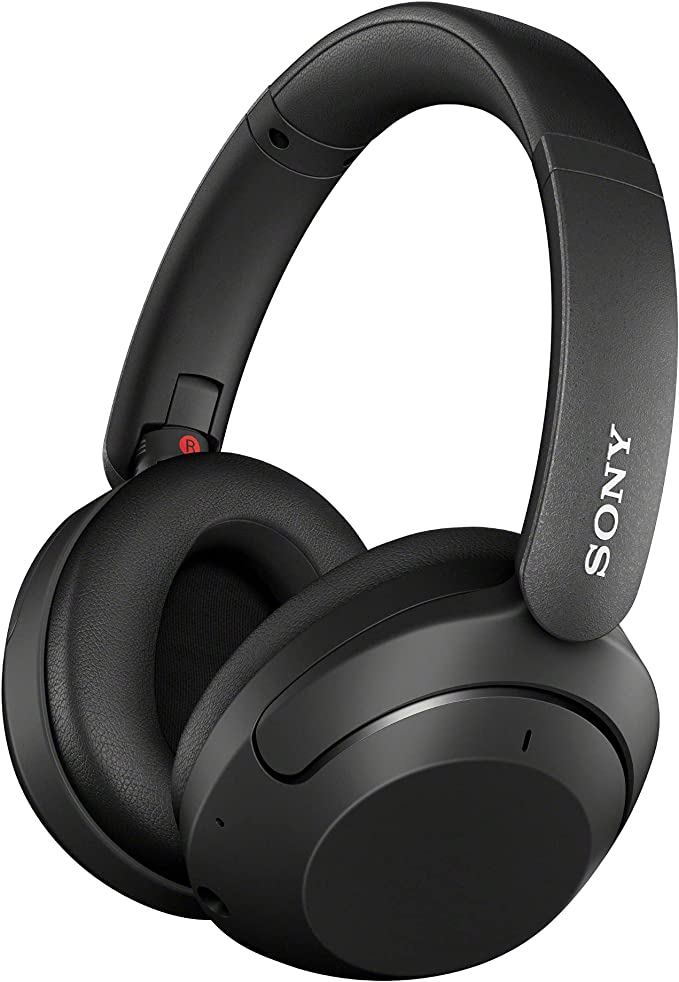 Search Sony WH-XB910N on Amazon
8. Sennheiser HD 450SE Black ANC Headphones
The Sennheiser HD 450SE are over-ear wireless headphones known for their exceptional audio quality and solid active noise cancellation (ANC). Leveraging Sennheiser's renowned sound engineering expertise, these headphones offer a well-balanced, dynamic sound profile suitable for a wide variety of music genres.
The ANC feature effectively reduces ambient noise, allowing for an immersive listening experience in a range of environments. They come equipped with intuitive on-ear controls and a robust battery life of up to 30 hours, even with ANC engaged, making them suitable for long listening sessions. They also support voice assistant integration for hands-free control.
With a comfortable design and travel-friendly foldable construction, the HD 450SE offer a mix of performance, comfort, and convenience. We love the HD 450SE for its well rounded sound quality and dynamic bass. Above all, it is great value for money and is one of the most affordable cans here.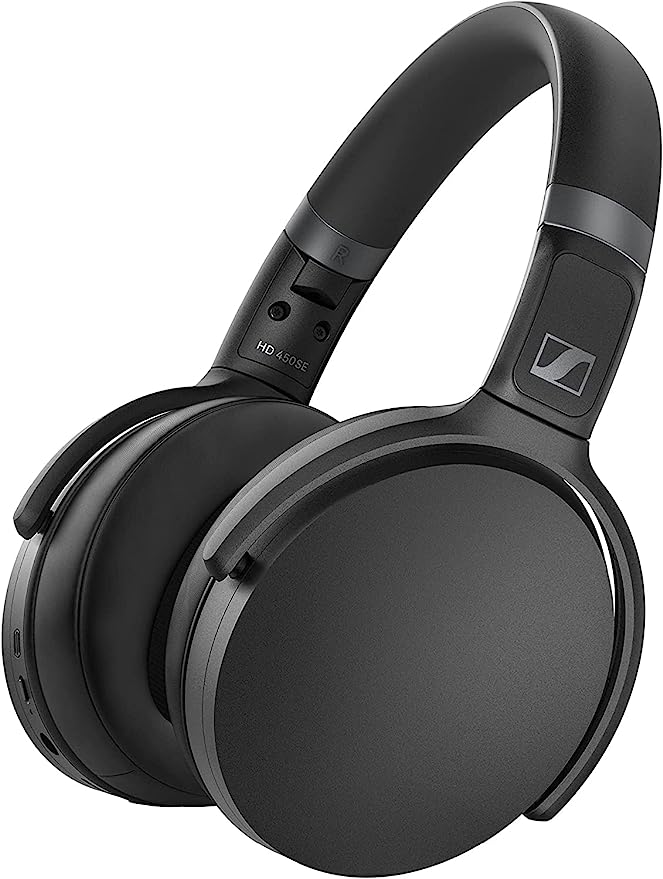 Search Sennheiser HD 450SE Black ANC on Amazon