4K video editing, multi-track audio mixing, graphic design, 3D gaming, augmented reality and desktop class performance, these are just some of what is possible on today's pro-level tablets. With so much potential, it is easy to see how pro-tablets can tackle anything from everyday tasks to creative workflows in schools.
Need a tablet that will work as hard as you in school? Today's pro-level tablets are not only powerful but purpose-built for the creatives. With its ultra smooth stylus, high resolution cameras, studio class microphones and super quick graphics, it can easily replace the laptop, digitizer and recording devices to become a portable design studio. Together with an all day battery life and the ability to turn into a laptop with optional keyboards, it is a truly versatile and feature packed solution for education.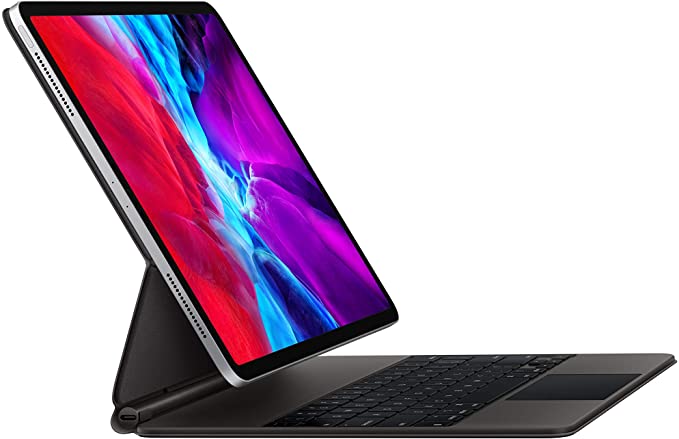 Large Tablet Recommendations 11-inch
In this article, we look at six of the best pro-level tablets from the big three in consumer electronics in the computing space; Apple, Samsung and Microsoft.
The do-it-all PRO-level tablet from Apple has a desktop beating chip. In fact, the A12Z Bionic chip was later used in the developer's edition of Mac Mini. This was subsequently replaced with Apple M1 with the launch of Mac Mini M1, MacBook Air M1 and MacBook Pro M1 at the end of 2020. With an 11-inch edge-to-edge display that supports True Tone, Wide P3 colour gamut, ProMotion and 600 nits brightness, the iPad Pro 11 is both powerful and a joy to use.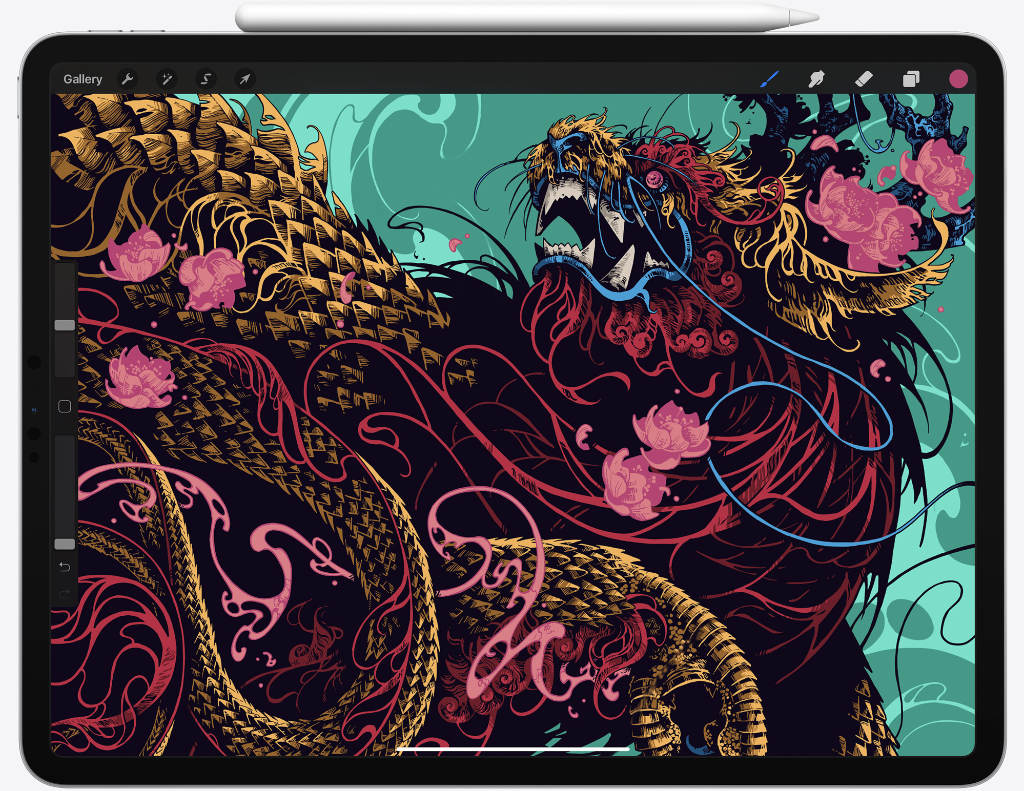 With its 8-core CPU and 8-core GPU, the pro-level tablet can take on any demanding application with ease. These include graphic intensive workflows, games, 4K video editing, multitasking, 3D design and augmented reality. In order to make the tablet work harder, Apple has also introduced the Magic keyboard with a floating hinge that, for the first time, includes a multi-touch track pad and USB-C pass through charging.
The tablet comes with a wide 12MP camera and an ultra wide 10MP camera for its main shooter with 2x optical zoom out and 5x digital zoom. It also comes with a True Tone flash and LiDAR scanner. Around the front, there is a TrueDepth 7MP sensor that also supports Face ID and together with its five studio quality microphones, it works great for video and audio recording as well as for video chat. Other premium features include support for WiFi 6, Cellular option and support for Apple Pencil 2.
RELATED: Best Apple iPad Pro 11 and 12.9 keyboards: Cases to turn your tablet into a 2-in-1 laptop
The premium tablet from Samsung is powered by Qualcomm Snapdragon 865+ chipset and comes with an 11-inch display capable of 120Hz refresh rate. Both the processor and a high definition display make the Pro-tablet great for multitasking, 4K video playback and extreme gaming. The bigger Galaxy Tab S7+ with 12.4-inch also made our list below, but we will talk about that later.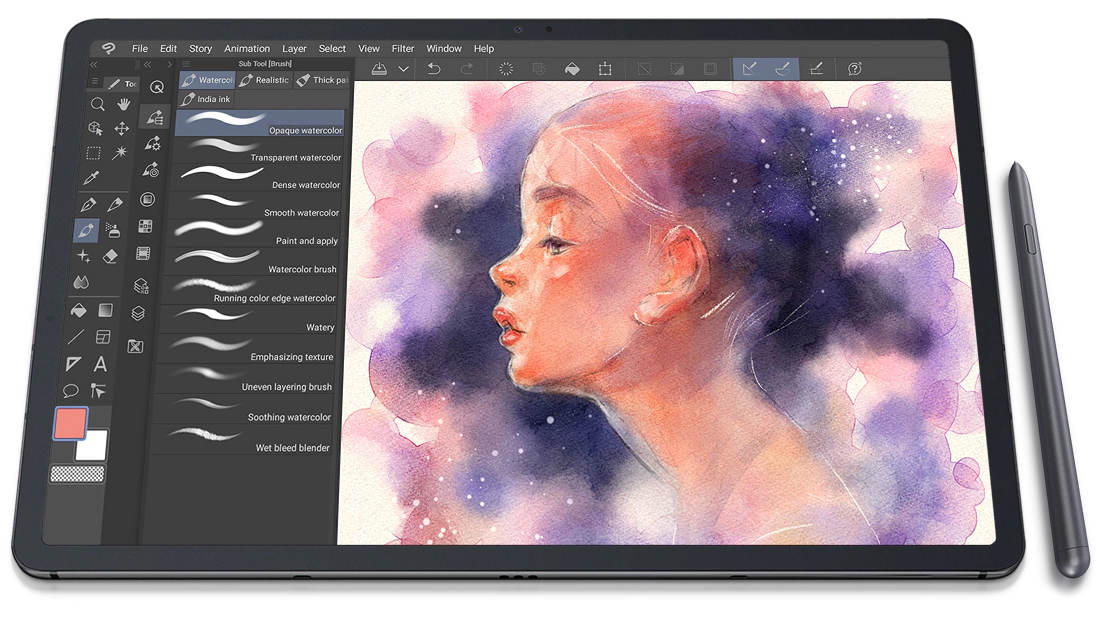 The Galaxy Tab S7 11-inch is Samsung's answer to the smaller of the iPad Pro duo. This 11-inch device may not have a Super AMOLED panel, settling instead for LTPS LCD but it is still super sharp, bright and offers a wide DCI-P3 colour gamut. Together, it caters to those who wants a PC-like experience. All you need is the optional, snap-on Book Cover keyboard and ultra low latency S Pen.
Other areas it excels at include, the high capacity battery that offers up to 15 hours battery life and the inclusion of a 45W super charger to top it back up when it runs out. Around the back is a pair of main shooter with 15MP and 5MP sensors with flash capable of 4K video capture. While for selfie or video calls, there is an 8MP frotn camera. For storage, 128GB is standard but you can use the microSD card slot to add up to 1TB of space. Finally, the 5G option, not one available on the iPad Pro 2020, makes this a do-it-all device wherever you are.
Okay, so this is not quite 11-inch but at 10.9-inch, but it is pretty close. With the new square edge design, edge-to-edge screen and a fast A14 Bionic chip, the new generation iPad Air is closer than ever to the iPad Pro. It is also closer to the iPhone 12 as they both share the same chip. Plus, there is savings to be had when choosing this over the iPad Pro 11-inch but at the expense of a single 12MP main camera with no flash, no facial recognition, two stereo speakers versus four and no Face ID or LiDAR scanner.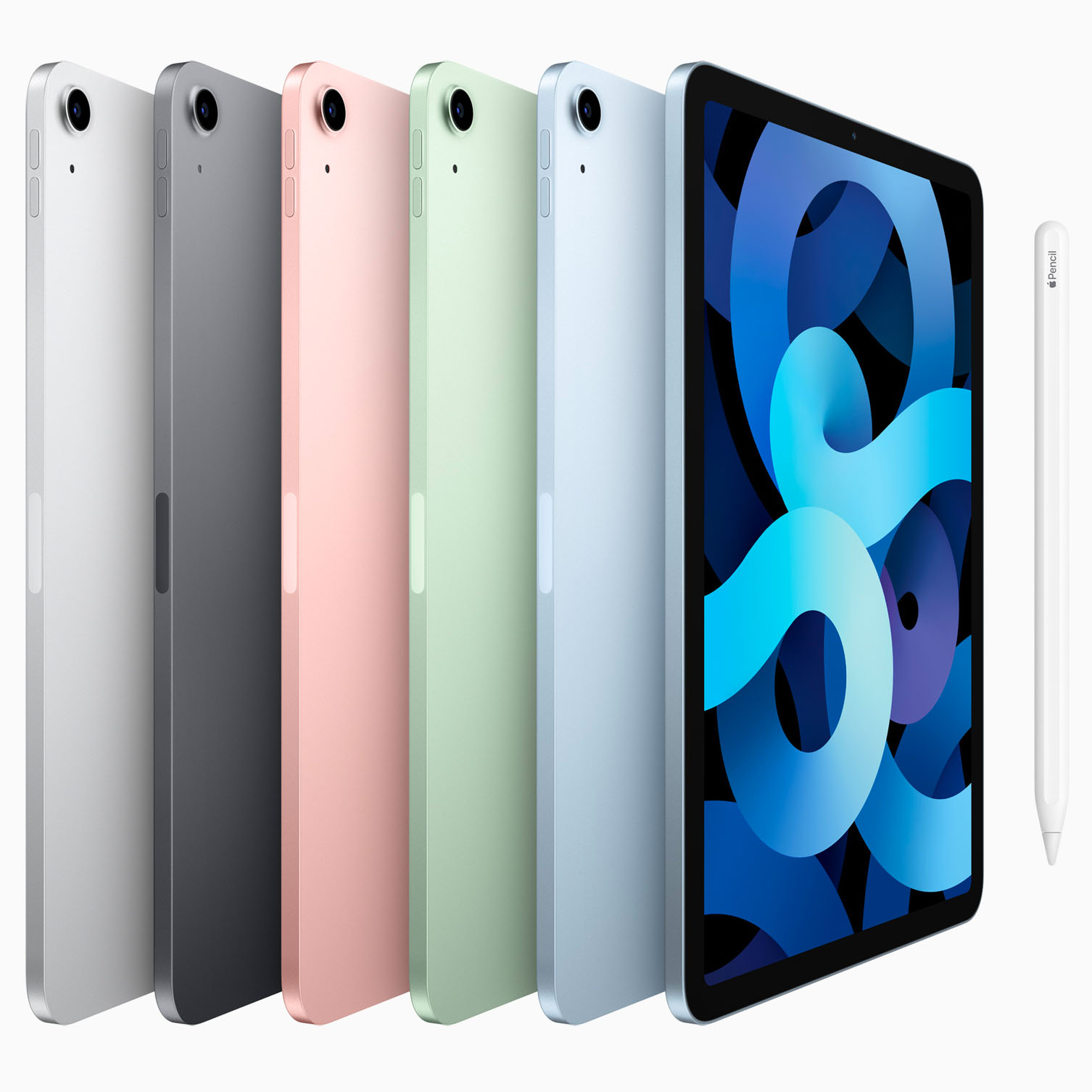 The fingerprint sensor for Touch ID has been moved the power button given that the home button has been removed. This is also the first device from Apple to have a fingerprint sensor on the power button. If you can live with a slightly smaller display and without the extra sensor, flash, no ultra wide camera and Face ID function, this high performing, iPad Pro beating tablet is for you. See benchmark results from Geekbench below comparing iPad Air 4th gen (Apple A4 Bionic) to iPad Pro 2nd gen (Apple A12Z Bionic).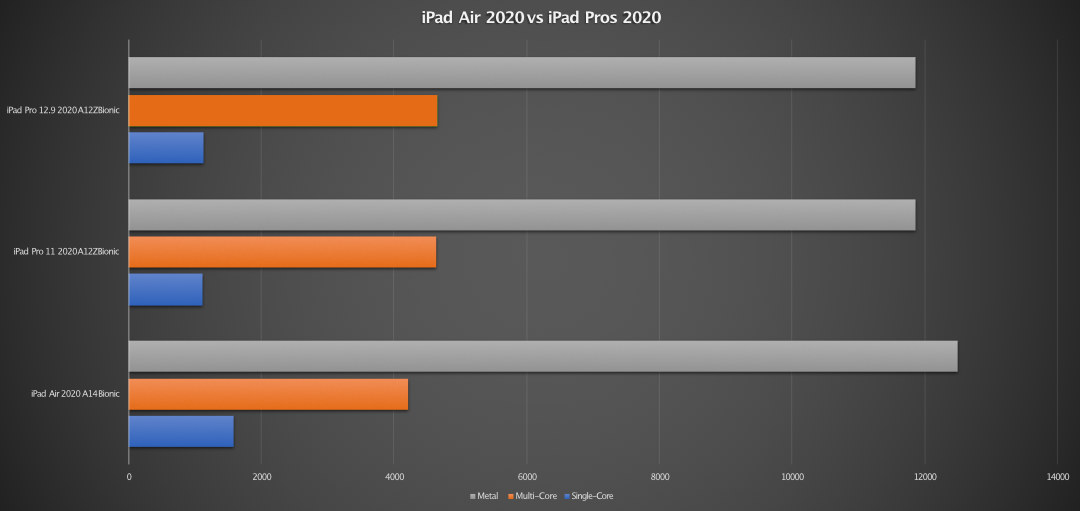 | | | | |
| --- | --- | --- | --- |
| Tablets | Single-Core | Multi-Core | Metal |
| iPad Air 2020 A14 Bionic | 1585 | 4210 | 12500 |
| iPad Pro 11 2020 A12Z Bionic | 1118 | 4636 | 11858 |
| iPad Pro 12.9 2020 A12Z Bionic | 1121 | 4651 | 11855 |
Source: Geekbench
As you can see from the result, the iPad Air 2020 hammers the iPad Pros in single-core and metal benchmarks. Other advantages choosing the iPad Air 2020, apart from it being faster are the USB-C port, cool colour options, WiFi 6 with cellular option, ability to shoot 4K video and support for Apple's magic keyboard and 2nd generation Apple Pencil with magnetic charging.
RELATED: Much Improved iPad Air 4th Gneration: Why I would buy this over iPad Pro 11 2020
Large Tablet Recommendations 12-13-inch
Now if the 11-inch devices are not big enough for your creative needs, here are three more pro-level tablets with display starting from 12-inch up to 12.9-inch.
Microsoft Surface Pro 7 and Surface Pro 7+ have the same 12.3-inch PixelSense display with multi-touch and Surface Pen support. The main difference is in the processor used. The Surface Pro 7 uses 10th generation Intel Core i3, i5 or i7 processors, while the newer Surface Pro 7+ uses 11th generation processors from the series. The other differences are the longer battery life of up to 15 hours with WiFi only or 13.5 hours with WiFi + 4G LTE Advanced on the Surface Pro 7+. This also means the Surface Pro 7+ comes with cellular connectivity option. Microsoft is marketing this as the business laptop with 2.1 times faster processor and removable SSD.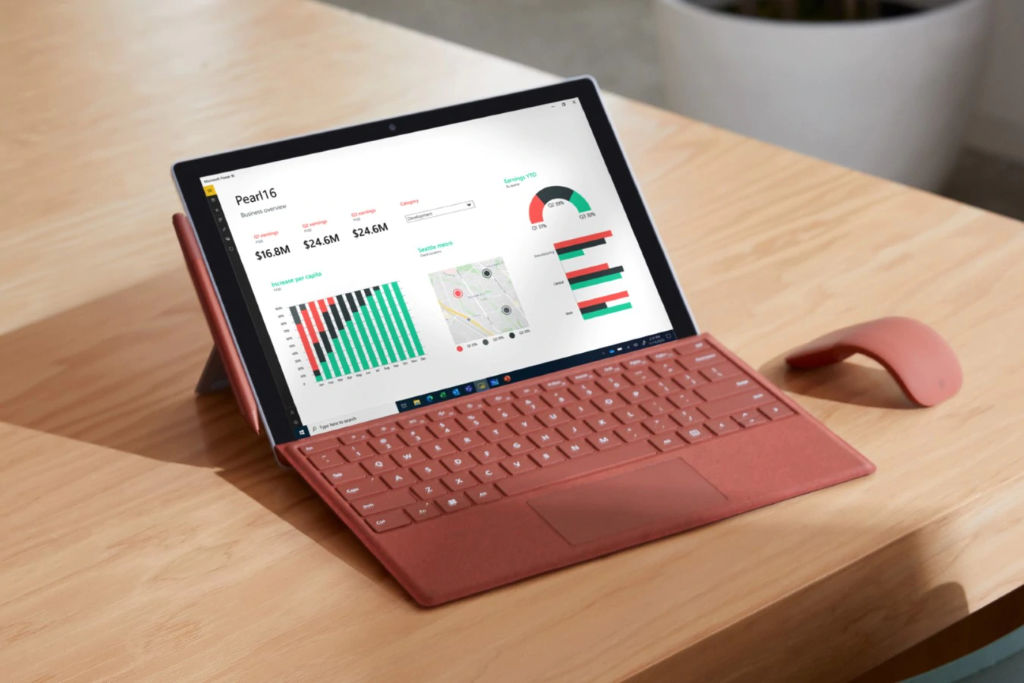 What is foremost in our minds is the tablet's ability to perform and function as a laptop or even a desktop replacement? With the right processor, memory and storage up to Intel Core i7, 16/32GB RAM memory and 1TB SSD storage respectively, the Surface Pro is certainly a pro-level tablet in a versatile and proven chassis. It comes with a built-in kick stand, option to add keyboard cover, support for stylus, USB-C and USB-A connectivity and microSDXC card reader. To top it off, it also features a 5MP front camera and 8MP rear camera capable of 1080p Full HD recording.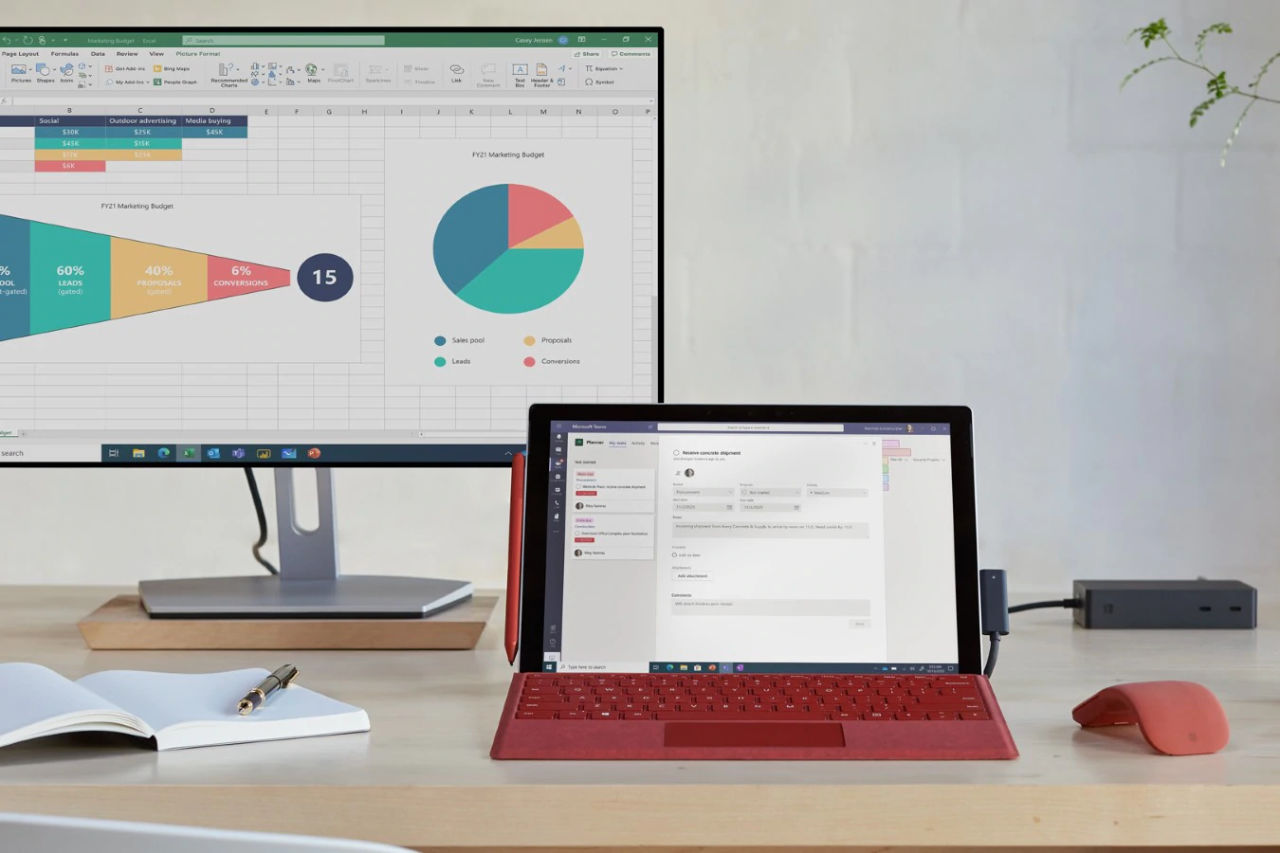 For an even bigger working surface, consider the Surface Book 3 with 13.5-inch and 15-inch display.
The Samsung Galaxy Tab S7+ is not only bigger with its 12.4-inch display but uses a Super AMOLED 120Hz panel for more contrast and NTSC colour gamut. Power by Snapdragon 865+ processor and come with 6GB RAM and 128GB storage with up to 1TB extra storage via microSD, the tablet is a beast offering PC level performance. Apart from that, the tablet is also the first to come with 5G connectivity on top of the 4G option. Given its size, it can accommodate a big 10,090mAh high capacity battery offering up to 14 hours.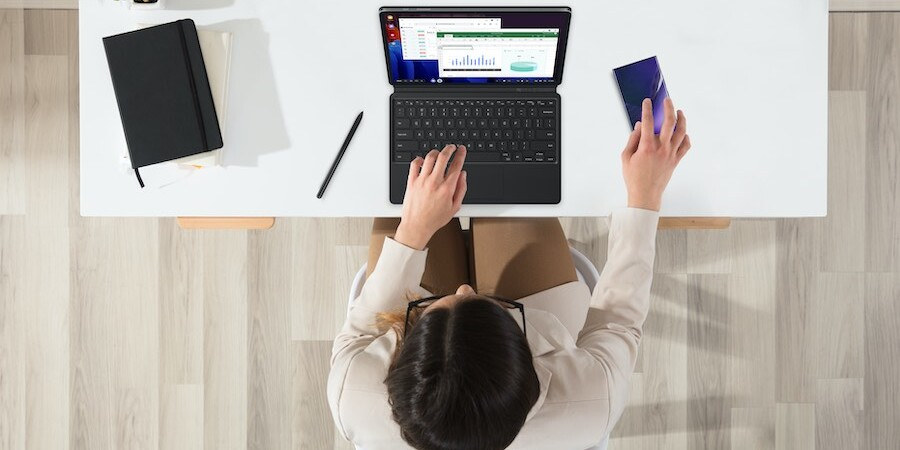 Now, a big advantage that the Galaxy Tab s7 and S7+ have over the iPad Pro is the inclusion of the updated S Pen. Straight out of the box, at no extra cost, the Bluetooth S Pen supports gestures, remote control and smooth writing and drawing experience. It will also magnetically attach to the body of the tablet to charge, but this is oddly on the rear of the device.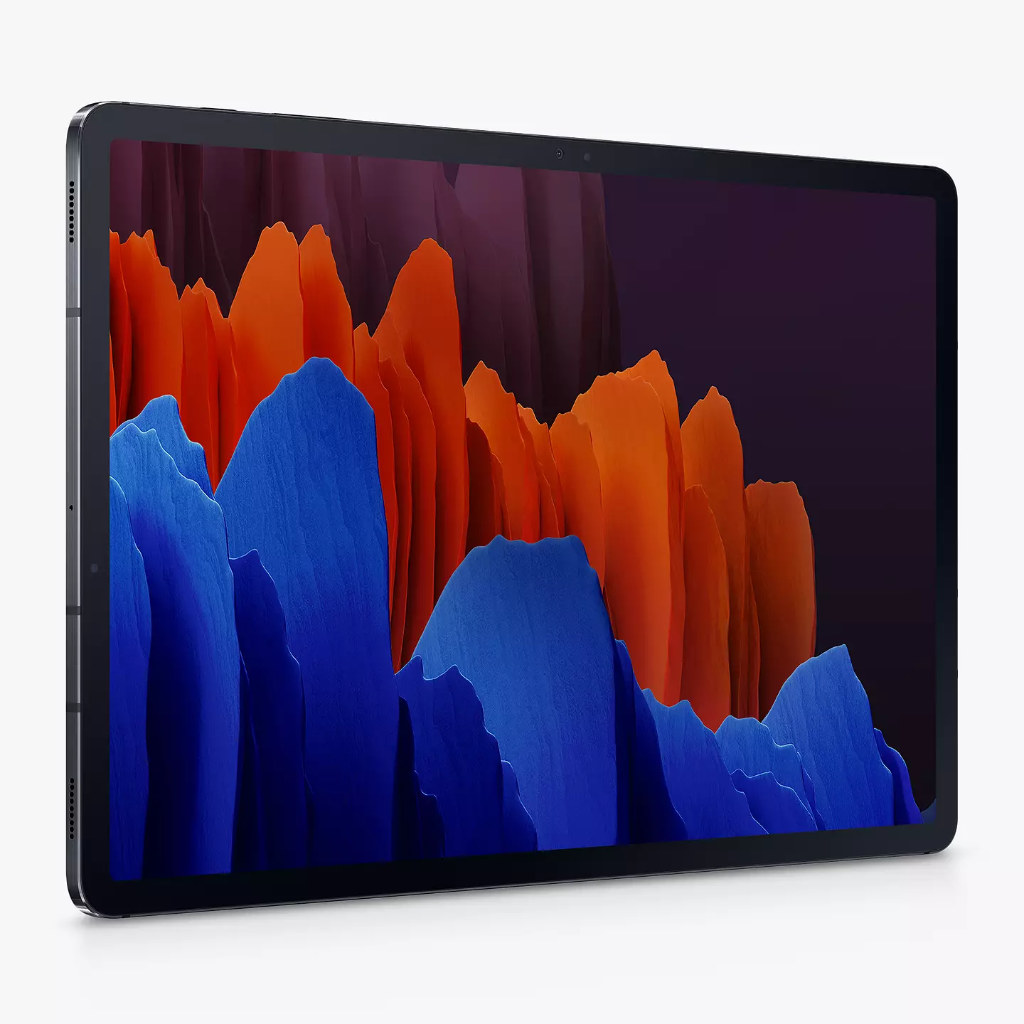 Again, like its smaller sibling, the S7+ comes with a dual 13MP main and 5MP ultra wide shooters on the rear and an 8MP front camera. But to make it that bit more versatile, it supports Samsung's DeX technology, which means you can turn the tablet into a desktop with a compatible monitor or screen that supports Miracast. Other niceties include the AKG tuned quad firing speakers with Dolby Atmos technology perfect for games and streaming and the must-have optional keyboard book cover.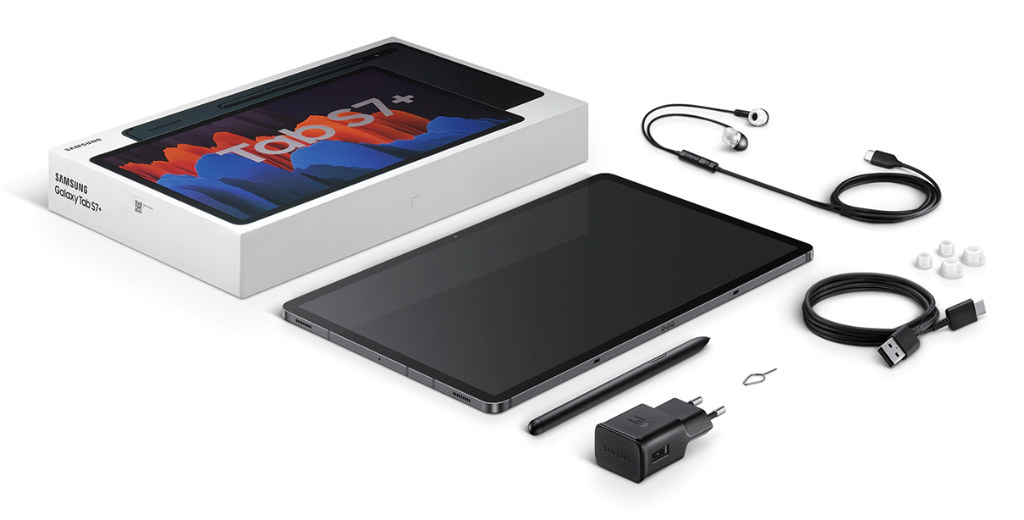 RELATED: Samsung Galaxy Tab S7 and S7+ cathing up with Apple iPad Pro 11 and 12.9 and more
Finally, we have the biggest of the pro-level tablets in our list, the Apple iPad Pro with a 12.9-inch display. The tablet is again powered by Apple Bionic A12Z, an 8-core CPU with 8-core GPU chip. You won't be buying this tablet to watch TV shows in bed although it would look really good. You would choose this tablet because it has the ability to change the way you work. From editing on Photoshop with tonnes of layers, mixing your own music with studio hardware and apps and cutting your own 4K mini series, there is nothing the tablet can't do.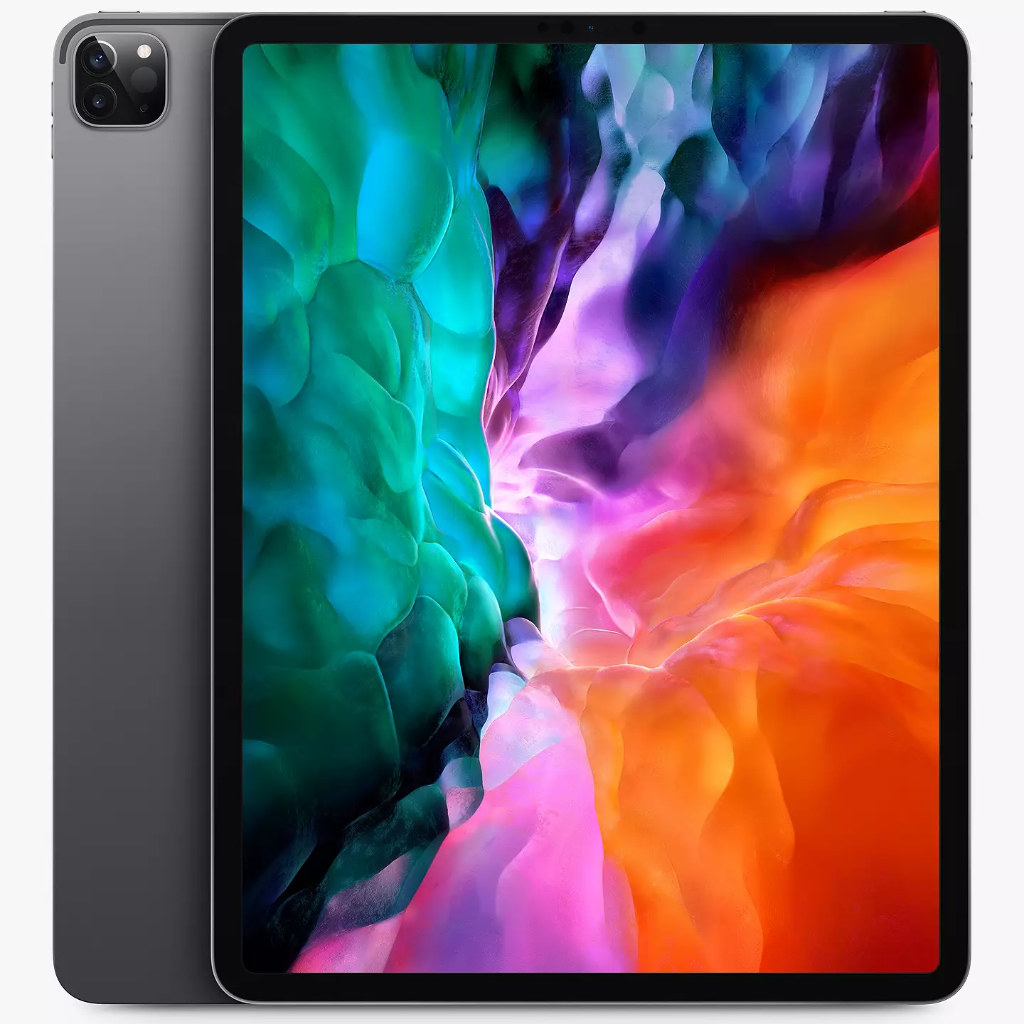 Now, this Pro-level tablet is also more expensive when you factor in the Apple Pencil 2 and Apple Magic Keyboard but such is a premium you have to pay to access all of Apple's amazing set of apps including iMovie and Garage Band straight out of the box. The Photos app will also support basic photo editing now. It will literary be just about everything you need from without spending any more money on software. Finally, with the new iPadOS, a forked version of iOS designed specifically for iPads, working on the tablet hasn't been easier with support for external drives via USB-C and internal storage options up to 1TB.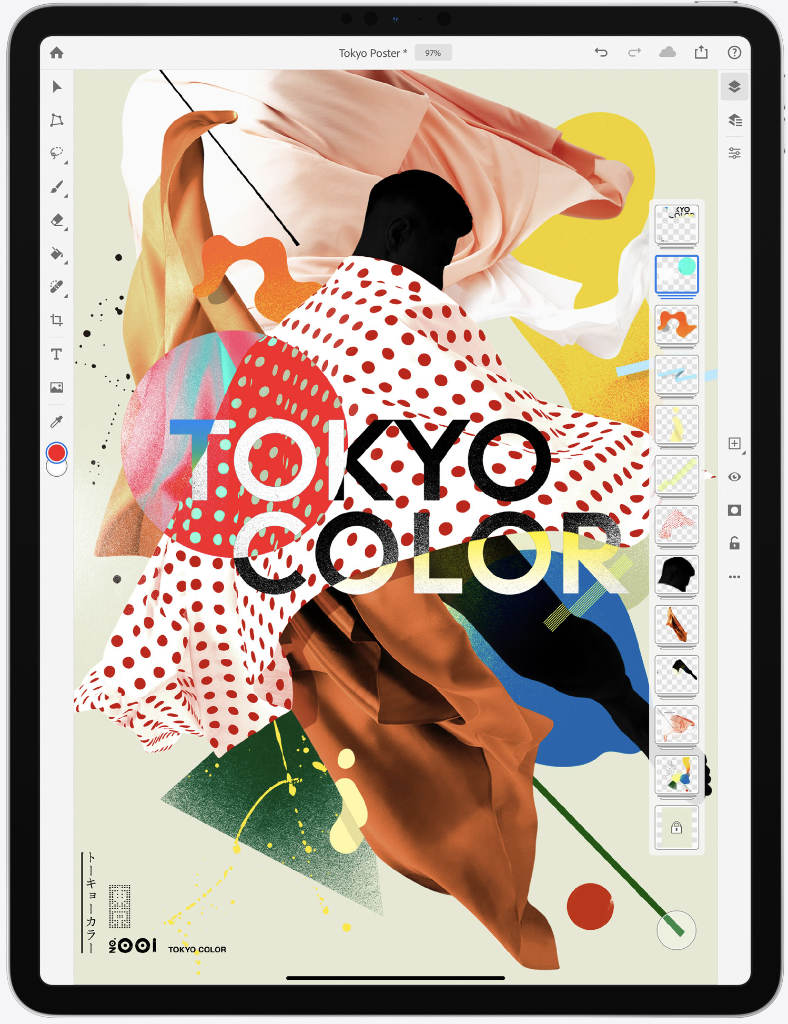 RELATED: 8 More Ways to Use the Apple iPad Pro: so much more than a tablet