Microsoft's flagship tablet, the Surface Pro 4 can only be matched by their first laptop the Surface Book until now. Ultra-portable 2-in-1 or powerful tablets with detachable keyboard and if you are lucky, with stylus thrown in are now able to go against the tablet.
There are many reasons for considering alternatives to the super tablet, but the main reasons we felt is cost. When deciding on the purchase of the Surface Pro 4, the price tag starts to creep up when you pick the processor, memory and storage combination to go for.
There is no denying that the Surface Pro 4 is a premium device. While the entry level Surface Pro 4 starts with Intel Core m3 processor, 4GB RAM memory and 128GB storage, you will one to consider one of the higher package and that is when things get interesting.
If you choose a mid range or high end package, the cost can go up as much as 44% for Surface 4 with Intel Core i5 processor, 8GB RAM memory and 256GB storage or 100% for Surface 4 with Intel Core i7, 16GB RAM and 256GB storage. The later is double the price of the entry package.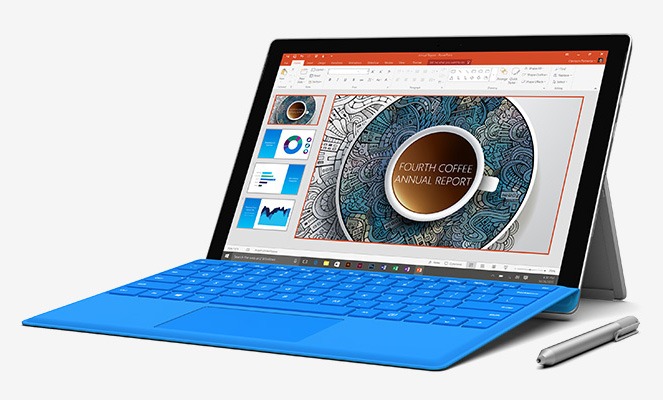 To make choosing an alternative to the Surface Pro 4 easier, we lay out the specifications of the device so you can compare this with the alternatives below:
Display
Screen: 12.3″ PixelSense display
Resolution: 2736 x 1824 (267 PPI)
Aspect Ratio: 3:2
Touch: 10 point multi-touch
Processor
6th Gen Intel Core m3, i5, or i7
Graphics
m3 Intel HD graphics 515
i5 Intel HD graphics 520
i7 Intel Iris graphics
Memory
Storage
Solid state drive (SSD) options: 128GB, 256GB, 512GB, or 1TB
Cameras, videos and audio
5.0 megapixel front-facing HD camera
8.0 megapixel rear-facing autofocus camera with 1080p HD video recording
Stereo microphones
Stereo speakers with Dolby audio
Battery Life
Up to 9 hours of video playback
Security
TPM chip for enterprise security
Surface Pen included
Wireless
802.11ac Wi-Fi wireless networking;
IEEE 802.11a/b/g/n compatible
Bluetooth 4.0 wireless technology
Ports
Full-size USB 3.0
microSD Card reader
Headset jack
Mini DisplayPort
Cover port
Surface Connect
Sensors
Ambient light sensor
Accelerometer
Gyroscope
Magnetometer
Exterior
Casing: Magnesium
Colour: Silver
Physical buttons: Volume, Power
Dimensions
Tablet: 11.50 x 7.93 x .33 in (292.10 x 201.42 x 8.45 mm)
Weight
i5/i7: 1.73 lbs (786g)
m3: 1.69 lbs (766g)
---
Before we take a look at the Surface Pro 4 alternatives let us consider the predecessor to the Surface Pro 4. The Surface Pro 3 is still in the market and is worth considering as an alternative to the more expensive Surface Pro 4. And before you ask, the differences are Surface Pro 4 features a larger PixelSense display and the latest Intel 6th generation Intel processors, while being thinner and lighter than the Surface Pro 3. Still the Surface Pro 3 is a very capable tablet… while stock last.
12-inch Full HD touchscreen display (2160 x 1440)
Intel Core i3, i5 or i7 processor (4th Gen)*
4GB or 8GB memory and 64GB, 128GB, 256GB or 512GB SSD storage –

MORE STORAGE OPTIONS

Up to 9 hours battery life –

GOOD 

BATTERY LIFE

Dimensions & Weight: 11.50 x 7.93 x 0.36 in (292.10 x 201.42 x 9.14 mm), 1.76lbs (0.79kg)
Surface Pro 4 Alternatives – Tablets with 12-inch display
Here are 5 best 12-inch Tablets and 2-in-1s to go up against the Surface Pro 4.
2. ASUS Transformer Book T300 Chi 2 in 1 PC – SLIM & LIGHT, CORE M5 CHIP
3. HP Spectre X2 12-a003na 2-in-1 Laptop – SLIM & LIGHT, KICK STAND, CORE M7 CHIP
A Closer Look
Let's dive straight in and take a closer look at each of these tablets and 2 in 1 PCs to see how they compare with one another.
12-inch Full HD IPS TruBrite touchscreen (1920 x 1080), 10-finger multi-touch support
Intel Atom x5-Z8300 1.44 GHz with Intel Burst Technology up to 1.84 GHz
4GB LPDDR3 1600MHz memory/64GB eMMC with 3-in-1 memory card reader (microSD/microSDHC/microSDXC)
Connectivity: 802.11a/b/g/n/ac (Miracast enabled), Bluetooth
Cameras: 2MP HD camera (front), 8MP camera (back)
Ports: 2 Micro-USB 2.0, 1 Micro-HDMI, Headphone output/Microphone input combo
Dimensions and Weight: 11.80 x 8.00 x 0.27 in (299.72 x 203.20 x 6.90 mm) and 1.23 lbs (0.55 kg) –  

LIGHTEST & SLIMMEST

Windows 10 Home, 64-bit
Includes TruPen stylus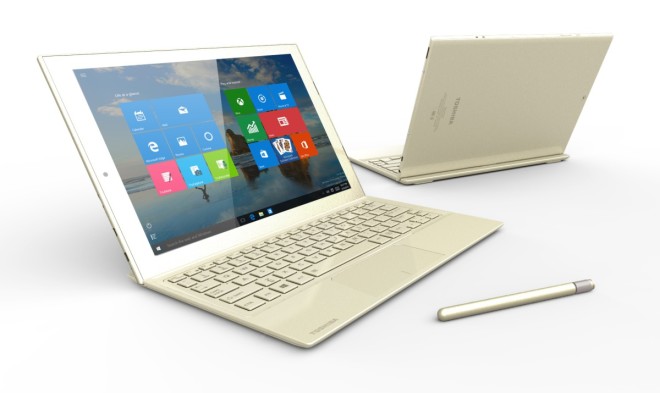 The ultra portable 2-in-1 from ASUS is incredibly thin and light in a convertible tablet profile with detachable keyboard. The Transformer Book Chi T300 combines the power and performance of a laptop with the portability and convenience of a talbet.
When docked, it is still slimmer than the MacBook Air and while as a tablet it is barely 0.29 in, only .02-in more than our thinnest tablet the Toshiba dynaPad WT12PE. But do not think for a second that it has to sacrifice on specification, the Transformer is powered by the new generation Intel Core M 5Y10c processor, has 4GB RAM memory and 128GB SSD storage.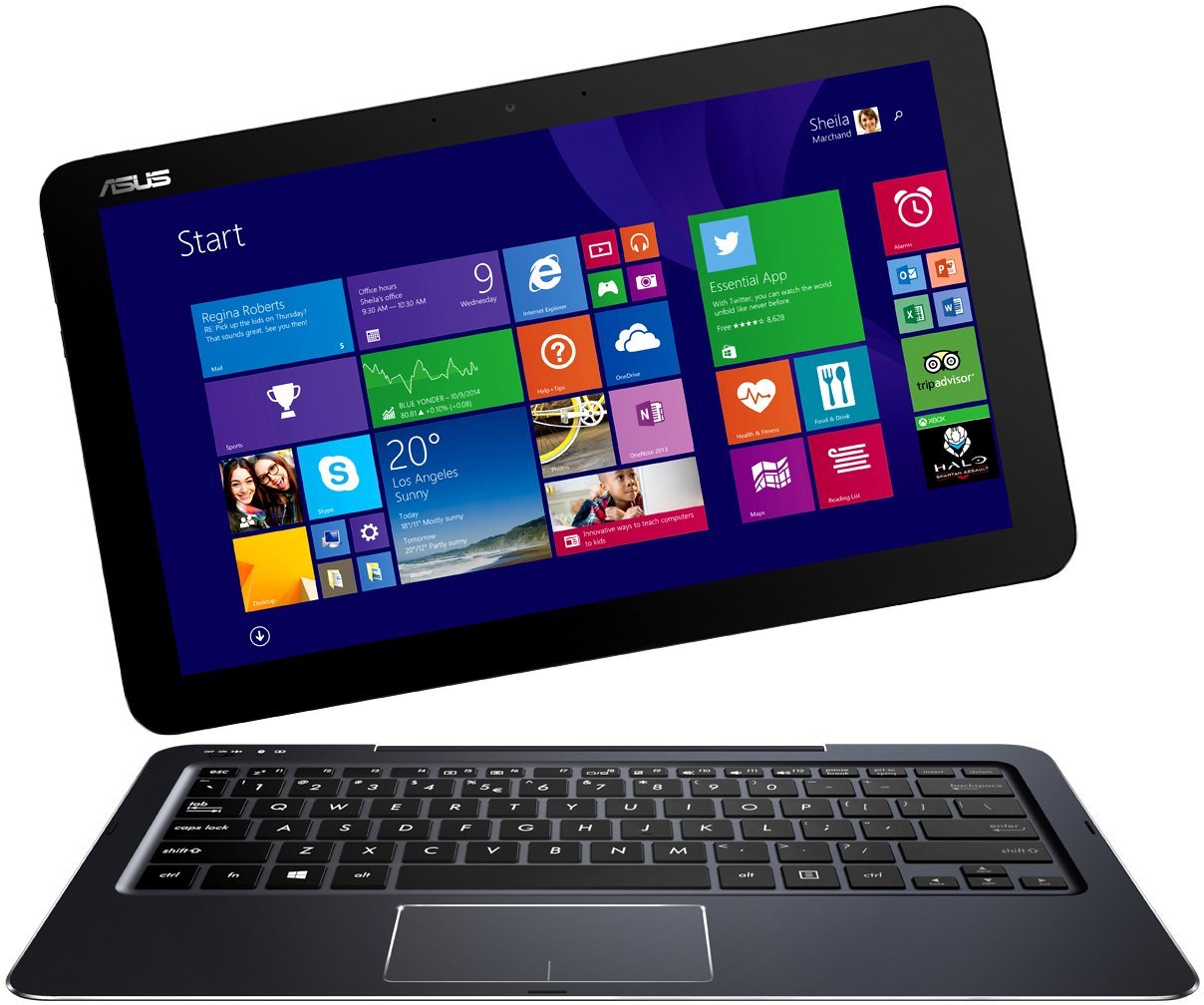 What You Need to Know
Intel Core M-5Y10c 0.8GHz with Turbo Boost Technology up to 2.0GHz –

CORE M

12.5-inch Full HD LED-backlit touchscreen (1920 x 1080), 10-finger multi-touch support
4GB memory/128GB SSD with MicroSD card slow
Ports: Micro USB 3.0 • USB 2.0 via included dongle • Micro HDMI • Headphone output/Microphone input combo and integrated web cam
2-cell lithium-polymer with up to 8 hours battery life –

GOOD BATTERY LIFE

Connectivity: 802.11a/g/n (Miracast enabled) and Bluetooth
Dimensions & Weight: Tablet + dock: 12.51 x 7.54 x 0.64 in (317.80 x 191.60 x 16.50 mm) and 3.19 lbs (1.44 kg), Tablet only: 12.51 x 7.54 x 0.29 in (317.80 x 191.60 x 7.60 mm) and 1.60 lbs (0.72 kg) –

LIGHT & SLIM TABLET

Includes keyboard dock
What Customers Say:
I'll start off by saying I have owned an iPad, Surface Pro 2, Surface Pro 3, Asus transformer Infinity TF700, and an Asus Transformer T100. I felt each of these had their merits, but none had the same functionality, size, weight, and performance as the Asus Transformer t300 Chi has.

I'm a happy camper but, there's a reason why I have a desktop computer. How I came to getting this laptop was through the idea of having a good laptop that is light, sleek, and fast enough.Let me tell you, this laptop delivers.

This laptop can take the toughest I get at it, it runs most of my games(realistically) and all of my office applications. The keyboard feels good and the speakers are not as bad as many people say they are.

Using the T300 Chi as a tablet is such a delight. I mean, a 12.5′ display would be a treat for anyone! Locking the tablet with the keyboard dock is merely just sliding in the magnets into the slots, it's very simple.
Designed for those who appreciate beauty and performance as much as practicality, the new Spectre x2 brings this sleek, sandblasted aluminum design to life with a range of smart, innovative features. The unique kickstand is made from durable stainless steel and rotates 150 degrees adjustable for any viewing angle. It is held seamlessly in the body of the tablet with a slide button when not in use.
To make the Spectre x2 incredibly thin without compromising durability or battery capacity, an advanced precision manufacturing process called CNC (Computer Numerical Control) is used to carve the tablet from a single piece of aluminum. It does not just stop with the good looks, the tablet has a Full HD screen, up to 10 hours of battery life, runs on the new generation Intel Core M7-6Y75 with lightning fast 256GB SSD drive and 8GB of memory.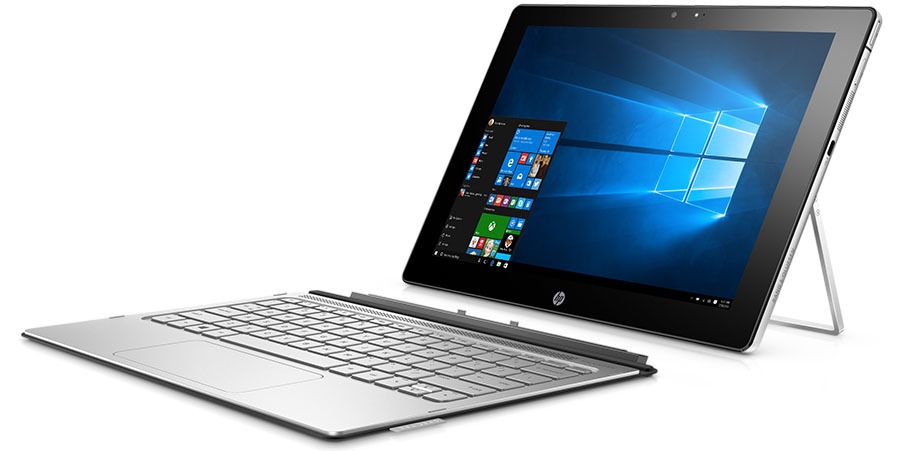 What You Need to Know
Intel Core M7-6Y75 1.20 GHz with Turbo Boost Technology up to 3.10 GHz – 

 CORE M

12-inch Full HD 1080p 1920 x 1080 pixel resolution –

FULL HD

4GB or 8GB RAM with 128GB, 256GB or 512GB SSD storage with 1 multi-format SD media card reader –

MEMORY & STORAGE OPTIONS

Battery life: 3-cell 42Wh lithium-ion polymer (up to 10 hours) –

GOOD BATTERY LIFE

5MP Front camera TrueVision Full HD Webcam, 8MP Rear camera with Intel RealSense 3D Long Range (R200)
Ports: 2 USB 3.1 Type-C • Headphone output/Microphone input combo. Bang & Olufsen, dual speakers
Connectivity: 802.11a/b/g/n/ac (Miracast-enabled) and Bluetooth 4.0
Dimensions and Weight: 303 x 209 x 8 mm (tablet), 303 x 209 x 13.1 mm (tablet + base) thinness.31″ (8 mm), 1.76 lbs. (840 grams), 1.23 kg (tablet + keyboard cover) –

LIGHT & SLIM TABLET

Active Pen Ready, Backlit keyboard included.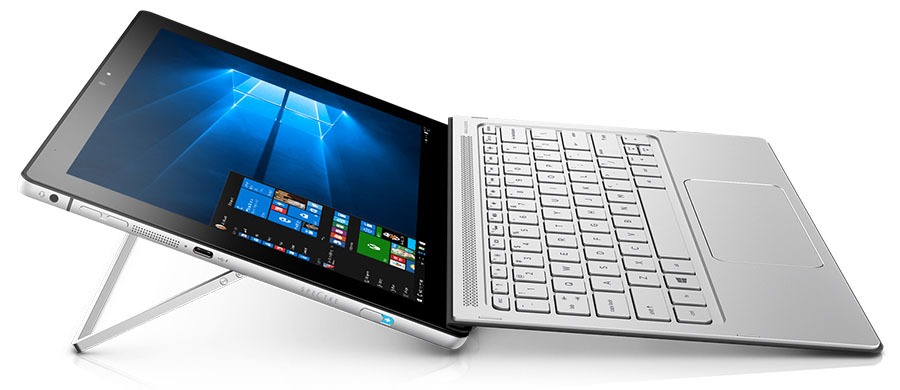 What Customers Say:
This is exactly what I wanted, something that is more versatile than an Apple tablet, in other words able to run software like QGIS and R, but something that can also double as a tablet for long flights etc. This is perfect for me – lovely screen, very nice build quality, great keyboard, plenty of storage, good battery life and very fast. I'm extremely pleased with it.

Everything works exactly as I'd want it to. I don't know why some reviewers are moaning about the kick stand, I think it's great and offers more versatility than the Surface Pro's folding thing. I looked in detail at this and at the Surface Pro 4 and think I made the right choice.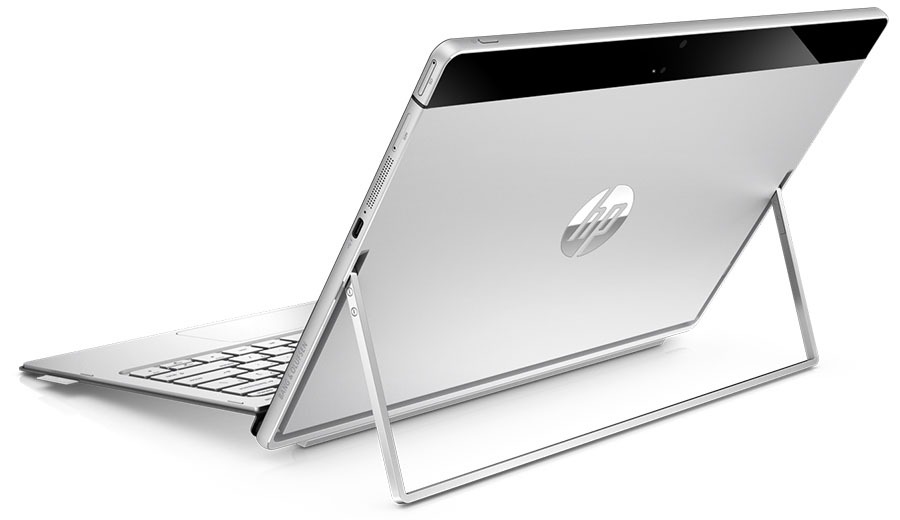 You can trust the VAIO brand to deliver a marvel of form and function as legacy has it since its Sony days. VAIO does not disappoint with the superbly crafted Z Canvas. VAIO's triumphant return to the PC scene brings with it all the premium traits and quality we have come to expect.
Its versatility extends from the detachable keyboard to a built-in, freestyle kickstand, and it brings the power with a fourth generation quad-core Intel Core i7 processor and before you ask, quiet tripled internal fan and ultra slim heat pipe cooling system.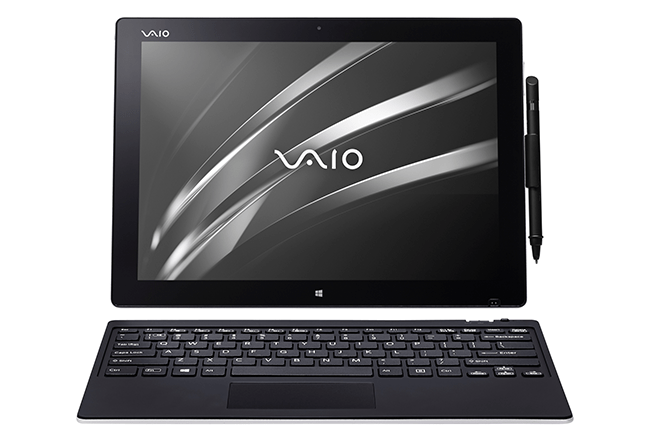 There is plenty of storage 256GB SSD and memory at 8GB with a high definition WQXGA touch display at 2560 x 1704 resolution. The striking display has a wide gamut covering 95% of the Adobe RGB spectrum, enough to satisfy graphic designers and professional photographers and enthusiast alike.
VAIO Z Canvas is also one of the few tablets here that comes with a kick stand, the execution however is different, the built-in freestyle kickstand perfect hands-free view. Simply pop out the kickstand and tilt the screen for a steady picture just where you want it. The ultra-sturdy, spring-loaded hinge will stay when you leave it. Finished in silver with aluminium-carbon frame and body, it is both durable and sharp with a super slim and lightweight body, 0.7-inch thin and weighing just 3.4 pounds. The included stylus offers pen like accuracy with its pressure sensitive tip that glides freely on an optical resin layer between the LCD and glass. The Z Canvas also comes with Windows 10 Pro.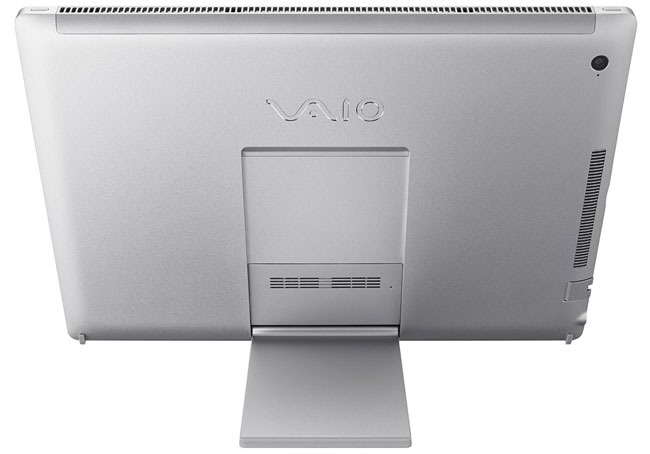 12.3-inch WQXGA+ IPS display touchscreen (2560 x 1704), 10-finger multi-touch support
Intel fourth generation Core i7-4770HQ 2.20 GHz with Turbo Boost Technology up to 3.40 GHz
8GB memory/256GB SSD or 16GB memory/512GB SSD or 16GB memory/1TB SSD with SD card reader
Camera: 8MP camera rear, HD webcam front
Ports: 2 USB 3.0 (1 powered) • HDMI • Mini DisplayPort • Headphone output/Microphone input combo • LAN (10/100/1000)
Battery: 63WHr lithium-polymer
Connectivity: 802.11ac/a/b/g/n (Miracast enabled) and Bluetooth 4.1
Dimensions & Weight: 11.85 x 8.38 x 0.70 in (300.99 x 212.85 x 17.78 mm) Tablet: 2.65 lbs (1.20 kg) Tablet and keyboard: 3.41 lbs (1.54 kg)
Stylus and stylus holder, detachable keyboard
Windows 10 Pro 64-bit
What Customers Say:
The machine itself is flat out incredible. Life changing. The first platform I have had where the pen actually WORKS!! The performance is exceptional. This is probably the best designed laptop/surface I have ever seen or used.

The VAIO Z Canvas definitely lives up to its name, as an artist this computer is the ultimate device to create projects more efficiently. Although I only purchased the base model 256 gb SSD the VAIO Z Canvas is still crazy fast, which is good enough for my working standards. The boot up times are amazing, smooth and crisp when browsing through files and the web. I have also enjoyed the pen stylus and the pressure sensitivity is highly capable to handle difficult tasks in Manga Studio and SketchBook. The color accuracy of the display is also a bonus, and the three fans this device carries allows for me to draw for long periods of time without worrying about overheating the device.

The VAIO Z Canvas kickstand is also very useful when drawing and watching movies, the engineering of the overall device surpasses the Surface Book and any other tablet device out in the market. I can't wait to see what VAIO has in store for the future, I am happy I chose this beastly computer!