Microsoft's Surface 3 with its new generation Atom processor is taunt as an entry level tablet from the tech giant but how does it hold up with Toshiba's super slim new dynaPad also powered by the new generation Atom process.
Spec-wise, the DynaPad seems on-par with tablets like the Surface 3. Both, for instance, have an Intel Atom-series processor, 1080p display, 4GB of RAM ad 64GB of internal storage. The biggest advantage that the DynaPad have over the Surface 3 apart from it being lighter and slimmer is the price tag. Those looking for alternative to Surface 3 with 4GB RAM and not wish to spend so much on a tablet look no further.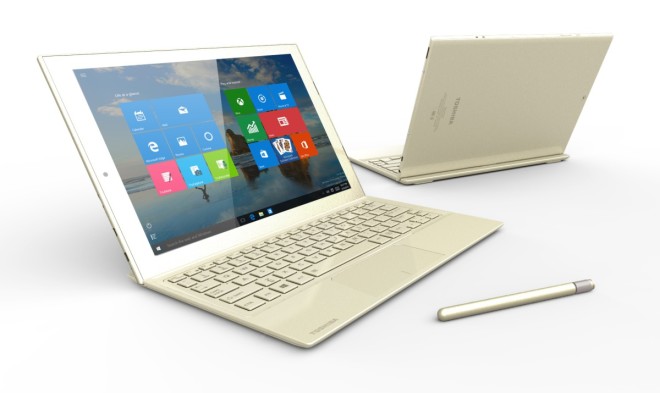 Processor
The Surface 3 runs the power efficient Intel Atom x7-Z8700 quad-core SoC processor clocked at 1.6 GHz with Intel Burst technology that pushes the clock speed up to 2.4 GHz when it needs to. PassMark's processor benchmark gives this processor an average CPU Mark of 1957. Toshiba's dynaPad however uses theIntel Atom x5-Z8300 1.44 GHz quad-core with Intel Burst Technology up to 1.84 GHz. PassMark records an Average CPU Mark of 1193, around 36% slower than the processor on Surface 3. Both processors have 2MB cache which is double the standard 1MB compared to previous processors in the Atom series.
WINNER: Surface 3 with its more powerful processor.

Display
Toshiba dynaPad has the upper hand here with a screen measuring 12-inch compared to Surface 3 with 10.8-inch. The 12-inch is Full HD (1,920 x 1,280) with IPS and TruBrite technology. The display on the Surface 3 is a ClearType Full HD Plus Display and has slightly higher resolution at 1,920 x 1,280. Both displays are 10 point multi-touch and support stylus input. Surface Pen for Surface 3 is sold separately while TruPen for DynaPad is included.
WINNER: DynaPad – for Size and Resolution and pixel density the display on DynaPad performs better. Choose Surface 3 for Resolution. Both offering 3:2 ratio.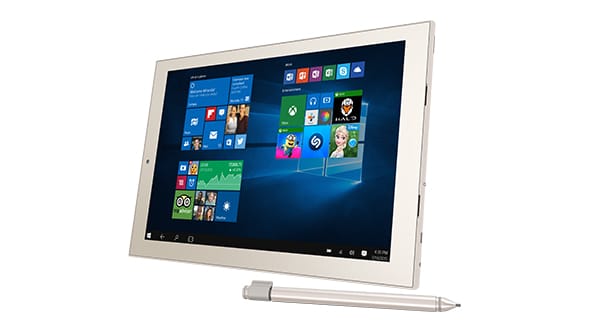 Memory & Storage
There are two different variants with the Surface 3, a 2GB RAM memory with 64GB storage and a 4GB RAM memory with 128GB storage. Naturally, we would recommend one with more memory. Toshiba on the other hand, gives it straight to the customer, memory and storage at 4GB RAM and 64GB eMMC respectively, no beating around the bush, just one option and one option alone. Both tablets come with microSD card reader should you need extra storage although Surface 3's microSD card reader is compatible with microSD cards up to 128GB while DynaPad can only support up to
WINNER: DynaPad – starts at 4GB RAM but Surface 3 starts at 2GB, both have 64GB storage but only Surface 3 has 128GB storage. Memory trumps storage as far as performance goes. Having double the memory at 4GB does give DynaPad the upperhand, while if you want 4GB on the Surface 3, you will need to choose a higher model.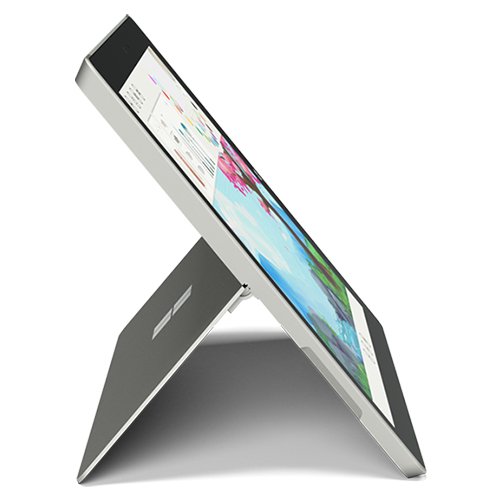 Cameras
The Surface 3 has an 8.0-megapixel rear-facing camera with autofocus and 3.5-megapixel front facing camera. The DynaPad on the other hand has a 2-megapixel front camera and an 8-megapixel rear camera with autofocus. This puts the Surface 3 in front as the front facing camera is of high resolution. But, given that it is unlikely that you will need more than 2-megapixel for a High Definition Skype call, the extra pixels would probably matter only when you wish for a higher definition selfie with the tablet. These are just spec by spec comparison, for real world stills captured by both cameras on both devices, one would need to search elsewhere.
WINNER: Surface 3 with 8MP/3.5MP pair as oppose to DynaPad with 8MP/2MP pair.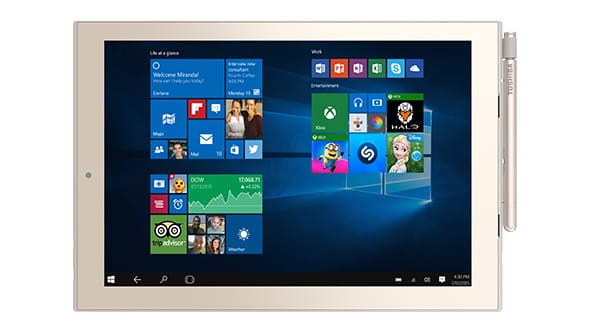 Battery Life
Given it's slender and lightweight package, the Toshiba DynaPad still manages 7 hours of battery life. Microsoft claims 10 hours of video playback on the Surface 3. With mixed use, it is likely less and probably be around 8.5 hours. This comes as no surprise given its smaller 10.8-inch screen and bigger capacity battery. The clear winner here is the Surface 3.
WINNER: Surface 3 with 8.5 hours to 10 hours battery life depending on usage. DynaPad only manages 7 hours.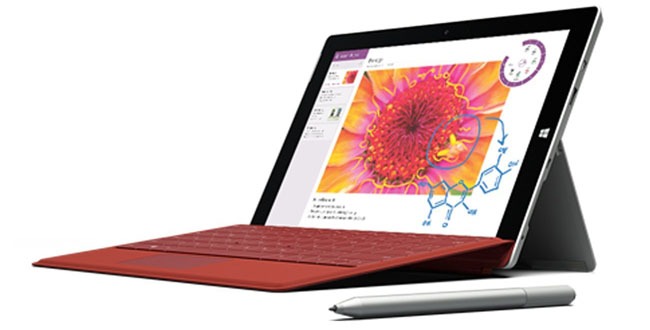 Connectivity & Ports
Surface 3: Wi-Fi (802.11 a/b/g/n/ac) • Bluetooth 4.0 • UMTS/HSPA/HSPA+: 850, 900, 1900, 2100 MHz • 4G LTE7: 700, 800, 850, 1700, 1800, 1900, 2100, 2600 MHz • LTE Carrier Aggregation. Full-size USB 3.0 • Mini DisplayPort • microSD card reader • Micro USB charging port • Headset jack • Cover port.
DynaPad: WiFi (802.11 a/b/g/n/ac), Bluetooth 4.0, USB 2.0 client (480 Mbps). 2 x USB Series Micro-B (Micro-USB 2.0) connector, Micro SD expansion slot (up to 32GB). Headphone socket 3.5mm, HDMI Type D (HDMI 1.4) Micro-HDMI connector for FHD (1920 x 1080) video output.
WINNER: Surface 3 again takes the lead here with 4G LTC broadband Internet connectivity option and full USB 3.0 port. DynaPad owners will have to be contend with Micro-USB 2.0 ports with suitable optional converters. Both come with Mini Display Port and Micro-HDMI port respectively for video output.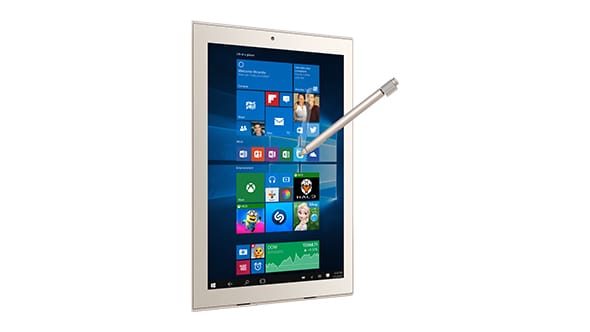 Dimensions & Weight
As the world's thinnest and lightest 30 cm (12") Windows 10 tablet, the dynaPad is perfect for use in almost any environment and even more flexible with the included lightweight keyboard attached. Housed in a smart Satin Gold carbon body, the dynaPad offers a strong chassis for mobile use that is four times the stiffness of a conventional structure. As a tablet, it tries to mimic a B5 notepad with holder on the side edge for the stylus.
The Surface tablet is beautifully crafted, following design cues from Surface Pro 3 and previous generation Surface tablets. It is designed with simplicity and elegance in mind. The 10.8-inch Full HD display is housed in a thin and light frame that weighs under 1.5 pounds, Surface 3 is just the right size to take anywhere but not as small or light compared to the DynaPad.
Toshiba DynaPad: 299.4 mm x 203 mm x 6.9 mm, 580 grams – SLIMMER, LIGHTER
Surface 3: 10.52 x 7.36 x 0.34 in or 267 x 187 x 8.7 mm, 1.37 lbs, 622 grams
WINNER: DynaPad with its slimmer and lighter body. Keyboard included.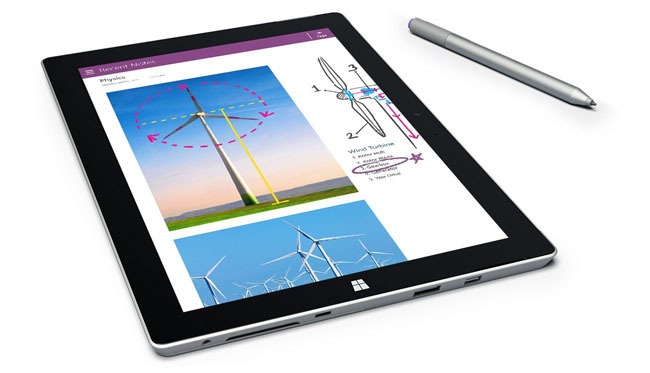 Stylus Support
Toshiba dynaPad has been designed to replicate the naturally comfortable feeling of handwriting with a pen and paper – even mirroring the common B5 notebook size. To achieve this, a WACOM Active Electro-Static (AES) stylus is included which excels at position accuracy and is able to recognise the pen pressure – no matter how sharp or shallow. Users can maintain their natural writing style while they make notes, annotate documents, doodle or draw while delivering detail and accuracy throughout. Even inadvertent mistakes are avoided thanks to the inclusion of a palm-rest rejection feature on the tablet display.
Surface 3 supports the Surface Pen which is sold separately. The responsive and precise stylus offers natural writing experience on a tablet. It has 256 levels of pressure sensitivity and Palm Block technology. It makes it easy to draw, take notes, or write music on the Surface 3. The Surface Pen offers a neat trick, in that by simply clicking on the Pen, the tablet will be called upon to open a blank document ready to capture your next idea on paper (or tablet).
WINNER: DynaPad while both Surface 3 and DynaPad support pen input device, only DynaPad offers this as standard. Surface Pen is available to purchase separately and is not included.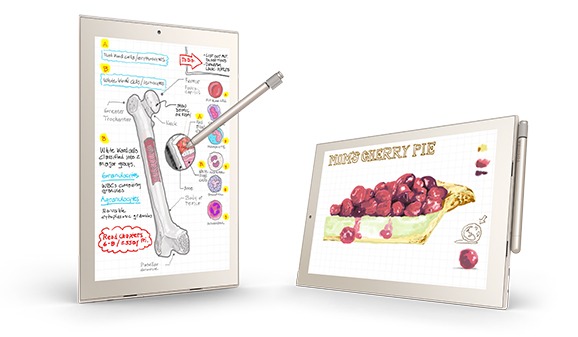 Keyboard Support
The DynaPad, when used in a clamshell mobile PC mode, with optional keyboard connected by magnets, offers a 19mm pitch and 1.5 mm stroke for easier typing. When not in use, the tablet and keyboard are also seamlessly held together by magnets for easy storage and protection of the display while the WACOM AES pen neatly clips on to the side of the tablet.
The Surface 3 has an integrated 3-position Kickstand, making it great to work on a desk with an optional Cover Type Keyboard, making it perfect for hands-free entertainment or productive laptop wherever you go. The Cover Type Keyboard also works with magnetic connectors switching to desktop mode when connected and back to tablet mode when detached.
WINNER: Draw, while both tablets support keyboard, you will need to fork out for the optional keyboard available to purchase separately instead of including it as standard.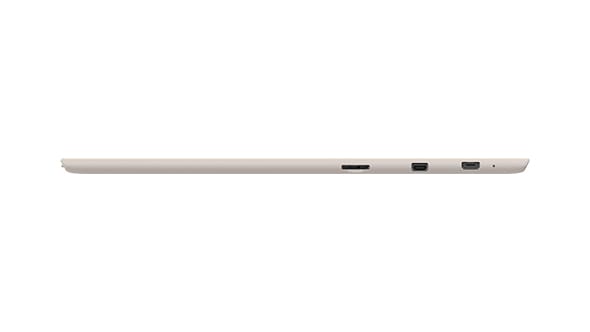 Final Thoughts
In comparing DynaPad vs Surface 3, we looked at Processor, Display, Memory and Storage, Cameras, Battery Life, Connectivity and Ports, Dimensions and Weight, Stylus Support and finally Keyboard Support.
DynaPad is a winner in 4 categories; Display, Memory & Storage, Dimensions & Weight, Stylus Support.
Surface 3 is also a winner in 4 categories; Processor, Cameras, Battery Life, Connectivity & Ports.
Both drew in the following category: Keyboard Support.
Depending on your priorities, if you are looking for a better display, smaller & lighter package with extra memory to boot and stylus thrown in then DynaPad is your answer.
If you would prefer and do not mind paying, think that you would use the cameras and need a tablet that supports 4G LTE connectivity then Surface 3 is for you.