When Honor decided to join the consumer PC market, specifically notebooks, we were treated to amazing value and high performing laptops such as the Honor MagicBook 14 and MagicBook 15. It did not take long for them to punch further and higher with their first Pro-level laptop, the HONOR MagicBook Pro.
Previous MagicBooks were based on 8th generation Intel Core i5 and AMD Ryzen 5 2000 series. Later iterations of the MagicBook 14 and 15 were based on AMD Ryzen 5 3000 series. As for MagicBook Pro 2019, it was based on AMD Ryzen 5 3550H and AMD Ryzen 7-3750H mobile chip.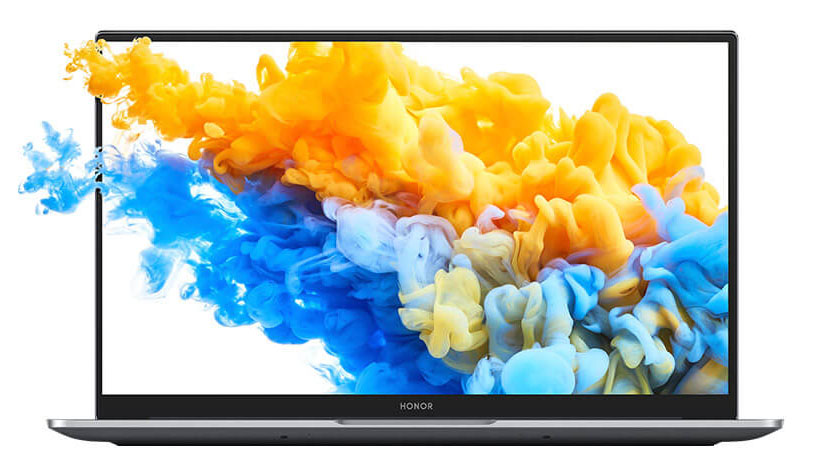 At the same time as the launch of MagicBook Pro 2020, the MagicBook 14 and 15 both received a spec bump to AMD Ryzen 5 4000 series. You could say HONOR has developed a close working relationship with AMD in developing these laptops. The strategy is two pronged, to offer great value laptops with performance to boot.
Earlier in the year, HONOR launched MagicBook Pro with 10th generation Intel Processors and Nvidia GeForce MX350 with 2GB GDDR5 memory. The processor options are Intel Core i5-10210U and Intel Core i7-10510U, both quad-core power efficient chips.
AMD Ryzen 5 4000 series Processor on MagicBooks
HONOR's move to adopt the new 6-core processor with 7nm chipset is a natural progressive move. AMD Ryzen 4000 series has significant advantages over rival Intel's offering, especially in value proposition. Previous generation AMD Ryzen 3000 series mobile chip had four cores on the higher models and dual core for the lower model and fabricated on 14nm manufacturing process.
New AMD processors for HONOR MagicBooks and MagicBook Pro
MagicBook models across the board received the latest AMD Ryzen 4000 series mobile processors. The upgrades for the laptops are as listed below:
HONOR MagicBook 14 and 15

: AMD Ryzen 5 3500U to AMD Ryzen 5 4500U mobile processor

HONOR MagicBook Pro

: AMD Ryzen 5 3550H to AMD Ryzen 5 4600H mobile processor. Depending on the market, you may get AMD Ryzen 7 3750H upgraded to AMD Ryzen 7-4800H
On the surface, it is not easy to tell, the difference between AMD Ryzen 5 4500U on the standard MagicBook and the AMD Ryzen 5 4600H as they are both from the 4000 series but there is a great deal of difference between them. Read on to find out more in the next section.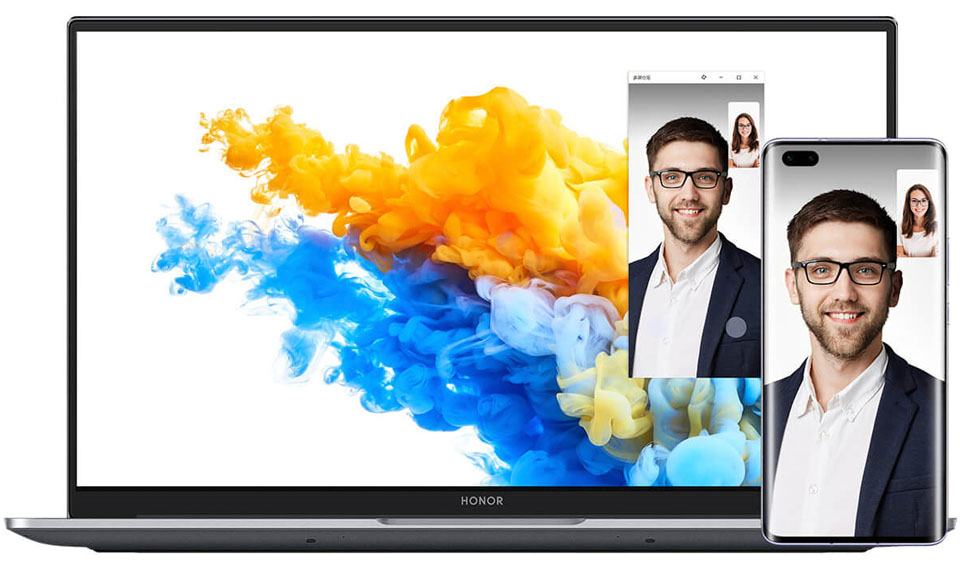 Processor Specifications
When comparing the specifications of the two AMD Ryzen 5 processors, we immediately see that the AMD Ryzen 5 4500U has a much lower base clock speed of 2.3GHz compared to the Ryzen 5 4600H which clocks in at 3.0GHz. Also while both are hexa-core processors, the former is capable of only 6-thread while the latter uses 12-thread processing.
Both processors max-es out at 4.0GHz but clock speed does not spell out the true performance of processors these days. The tell-tale sign of a high performing processor from the same generation is in the power it consumes. The AMD Ryzen 5 4500U runs cooler at 15W Thermal Design Power (TDP) while the AMD Ryzen 5 4600H runs HOT at 45W with more active cooling required.
The higher Ryzen 5 4600H also enjoys bigger cache memory with a total of 11MB versus 8MB on the Ryzen 5 4500U. To summarise, the specifications of the two AMD Ryzen 5 processors are as listed below.
AMD Ryzen 5 4500U

: 2.3GHz 6-core / 6-thread processor with maximum boost speed of up to 4.0GHz running on 15W TDP

AMD Ryzen 5 4600H

: 3.0GHz 6-core / 12-thread processor with maximum boost speed of up to 4.0GHz running on 45W TDP
Performance Comparison
CPU benchmarks alone does not offer the complete picture. The average score of 7% is recorded by userbenchmark.com. Throw in a few multi-core and gaming benchmarks and you get a picture of how those extra clock cycles and threads really come into play. Cinebench R20 (multi-core) shows an improvement in performance of up to 147% and 161% with 64bit.
Compression apps like WinRAR and 7-Zip benchmarks records improvements of 125% and 155% respectively. Enjoy up to 140% performance gain when using VideoLAN encoder and up to 157% with on the fly encryption. Finally, some 3DMark benchmarks sees gain in performance of up to 163%. Based on these benchmarks, notebookcheck.net reports an average benchmark gain of 123% when comparing the Ryzen 5 4500U and the Ryzen 5 4600H.
Is it value for money, 23% gain or nearly a fifth improvement in performance? We think so, if nothing, it will definitely shave on a few seconds here and there when working on big projects.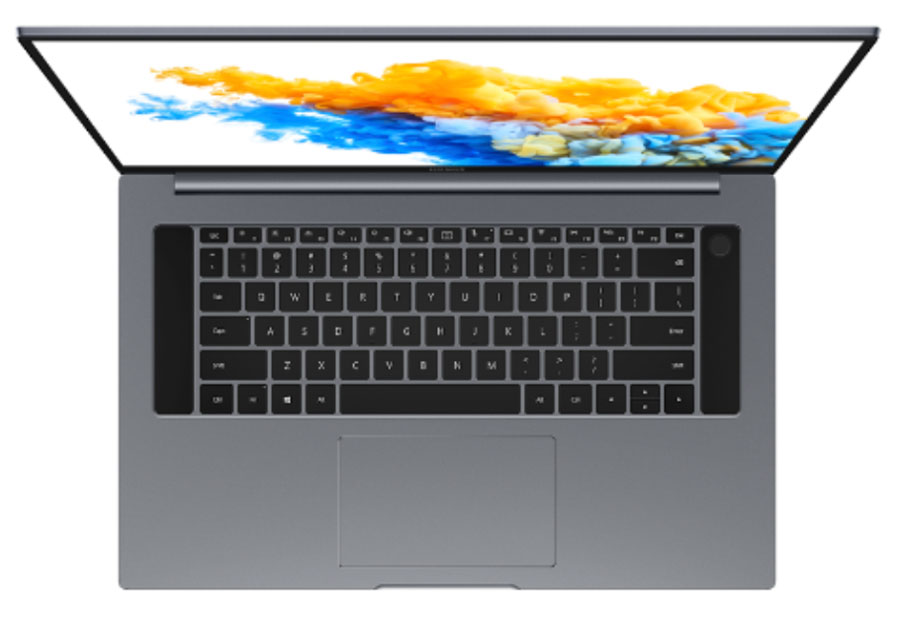 HONOR MagicBook Pro 2020 with AMD Ryzen 5 4600H
This puts the MagicBook Pro almost on a level playing field with ASUS TUF A15, HP Pavilion 15 and MSI Bravo 15, all running the same AMD Ryzen 5 4600H mobile processor. Each of those laptops has dedicated graphics processing unit; GeForce GTX 1650, GeForce GTX 1650 Ti and Radeon RX 5500M, respectively.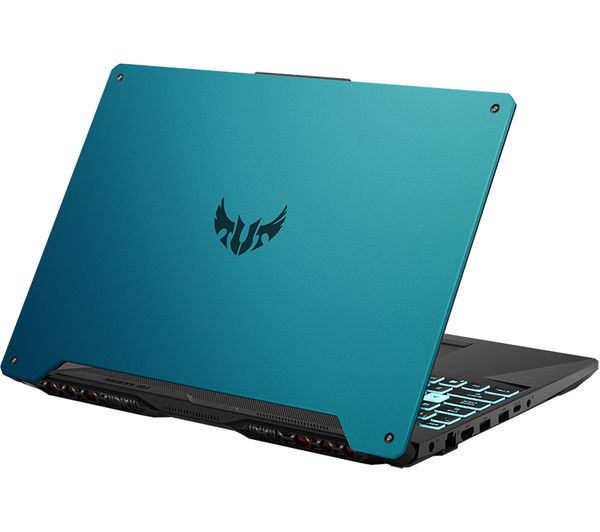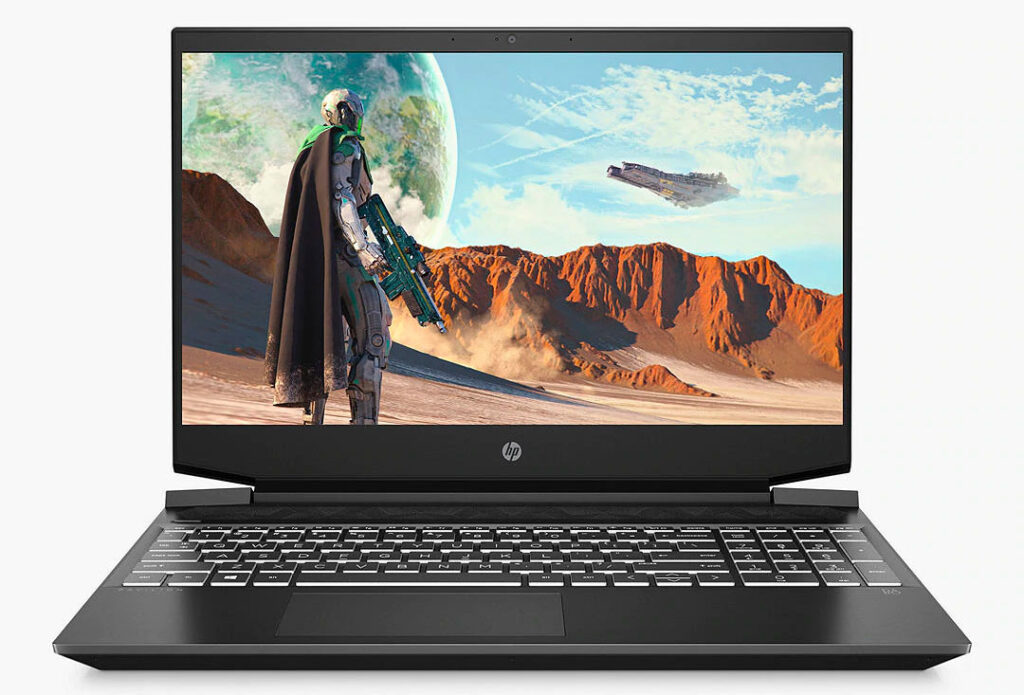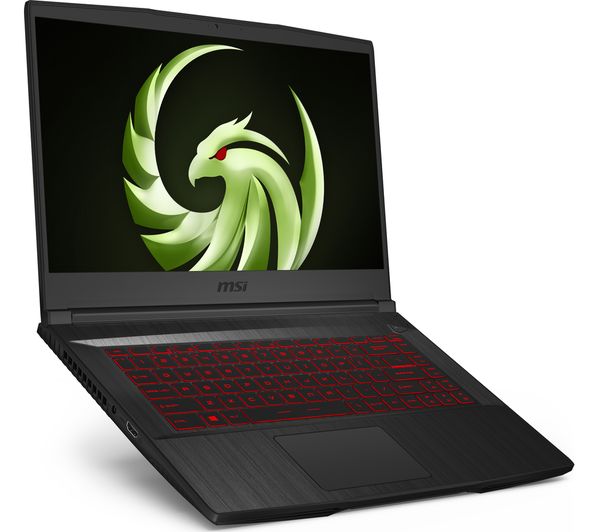 The HONOR MagicBook Pro 2020 however relies on the integrated AMD Radeon RX Vega 6 Graphics. That alone is enough to pull off heavy tasks on creative pro apps such as Photoshop and Lightroom and even light gaming. For serious gamers, look for dedicated graphics. Here is how the latest MagicBook Pro 2020 compares to last year's model.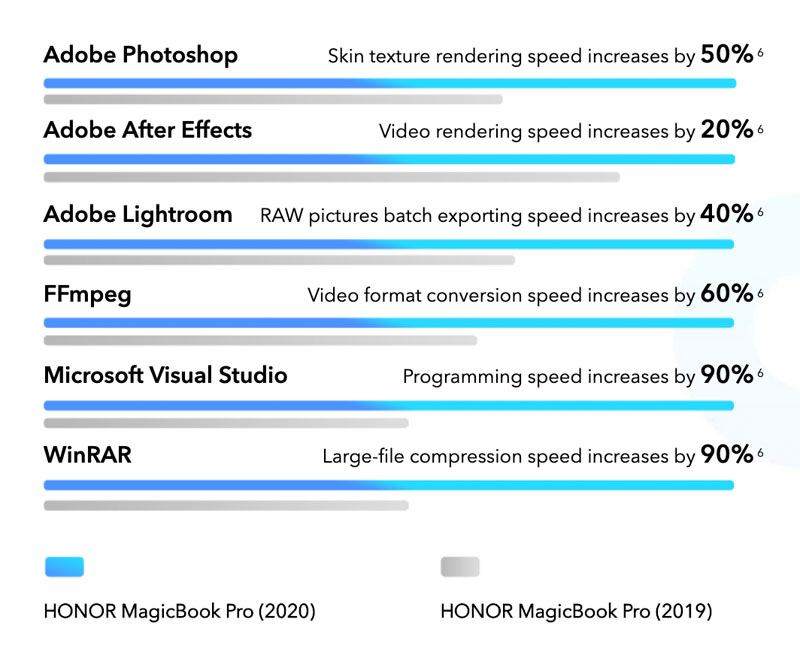 Design
Design wise, not much have changed from last years model. The HONOR MagicBook Pro has that sleek and slimline aluminium body measuring only 16.9mm thin and weighing only 1.7kg. For comparison, the MacBook Pro 16 is 16.2mm thin and weights a bit more at 2.0kg. Even with a 16.1-inch display, it is able to keep its footprint down to no bigger than a typical 15.6-inch laptop. Thanks to really small 4.9mm narrow bezels and pushing the displays board into the hinge to eliminate the bezel next to the keyboard completely pushing the screen-to-body ratio way up to 90%.
With powerful components comes the need for active cooling. The HONOR MagicBook Pro's dual fan design, improved airflow and dual heat pipes will hopefully be enough to dissipate the heat produced, especially by that hot processor.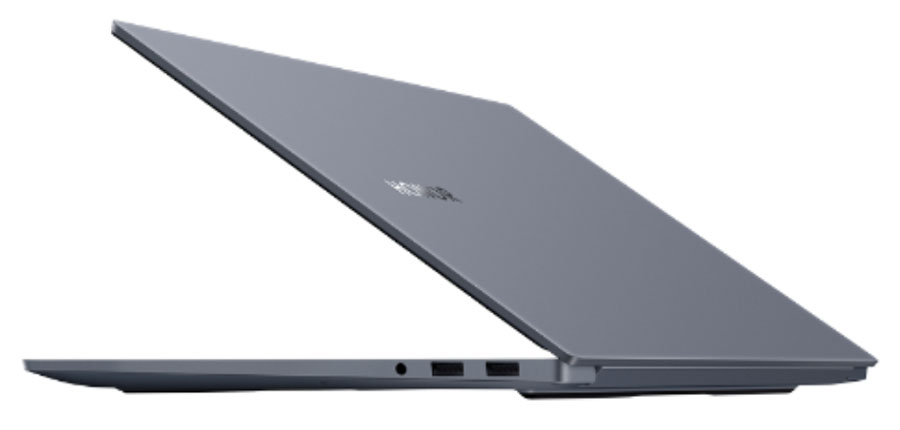 Memory and Storage
You also get plenty of memory and storage with the device. At the time of writing, there is only one memory and storage configuration, 16GB dual-channel DDR4 RAM system memory and 512GB PCIe NVMe SSD fast storage. Knowing HONOR, it is unlikely for that to change, which helps keep the inventory simple and in some ways, keep the cost down as we have seen with MagicBook 14 and 15.
Battery Performance
HONOR claims that the MagicBook Pro will push up to 11 hours of usage. When you run low, the included 65W fast charger will bring it back up to 50% charge level in just 30 minutes. In the real world, it all depends on the type of applications you are running. It won't be until we get our hands on one to really understand how the laptop performs in terms of battery life.
Others Features
Other notable features include:
16.1-inch FullView Display with 100% sRGB and 90% Screen-to-body Ratio
TÜV Rheinland Flicker Free Certification relieves eye fatigue and safeguarding your digital wellbeing.
Symmetrical dual-speaker design to produce a virtual three-dimensional premium sound. These are upward firing speakers found on either sides of the keyboard.
Instant pairing with HONOR smartphone for multi-screen collaboration sharing the smartphone screen and files including clipboard sharing on the MagicBook Pro
Unlock the laptop quickly and securely using fingerprint sensor found over the power button
Pop-up webcam hidden in the full-size keyboard for assured privacy
Large track pad for enhanced productivity
Plenty of connectivity ports; 3.5mm headphone jack, two USB3.2 Gen 1 ports on the right, one USB3.1 Gen 1 port, one USB-C port and one HDMI port on the left.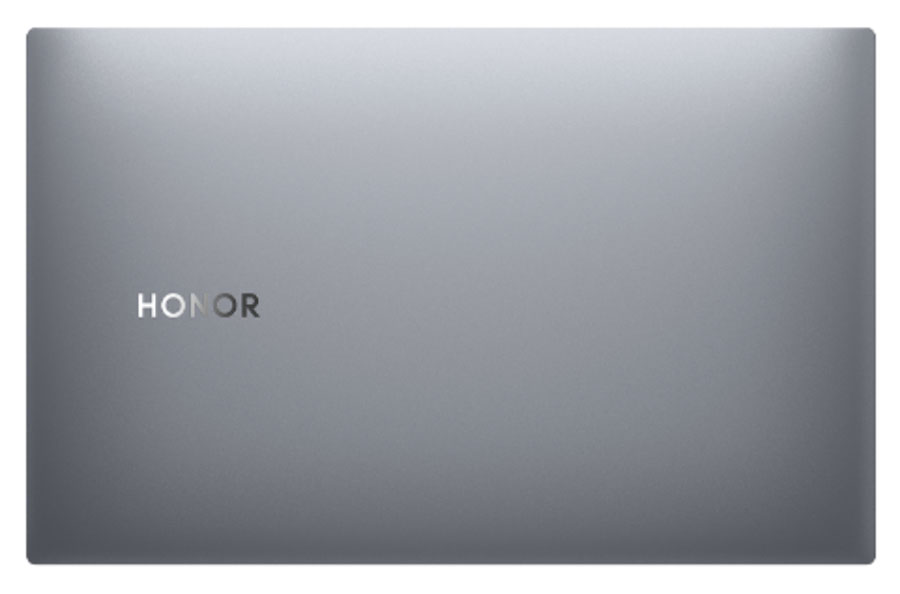 Specifications
16.1″, 90% screen-to-body ratio, 100% sRGB color gamut
Ultra Fast Performance with AMD Ryzen™ 5 4600H Processor
16GB DDR4 dual-channel RAM + 512GB SSD ROM
Multi-Screen Collaboration
56 Wh battery, up to 11 hours all-day battery life