Take the dual display ZenBook Pro Duo 2020, throw in a tilt lift for the secondary display, liquid metal cooling, the 10th generation Intel Core i9 processor and NVIDIA GeForce RTX 2080 SUPER GPU and you get a mobile pro-level workstation and gaming machine in one.
ASUS ROG Zephyrus Duo 15 will Rock Your Socks Off
By combining the best of Zenbook Pro Duo and ROG Zephyrus gaming DNA, ASUS came up with ROG Zephyrus Duo 15. The award-winning ASUS ROG Zephyrus Duo 15 is nothing short of amazing. Every powerful component you can imagine on a mobile gaming laptop is here. Nothing is left to be desired. It even goes further by including a tilting mechanism for the secondary 4K display no available in the ZenBook Pro Duo. It will take on AAA games like Dying Light 2 any day. Offering a truly immersive gaming experience with its 15.6-inch display. Let's take a closer look, breaking down the awesomeness part by part.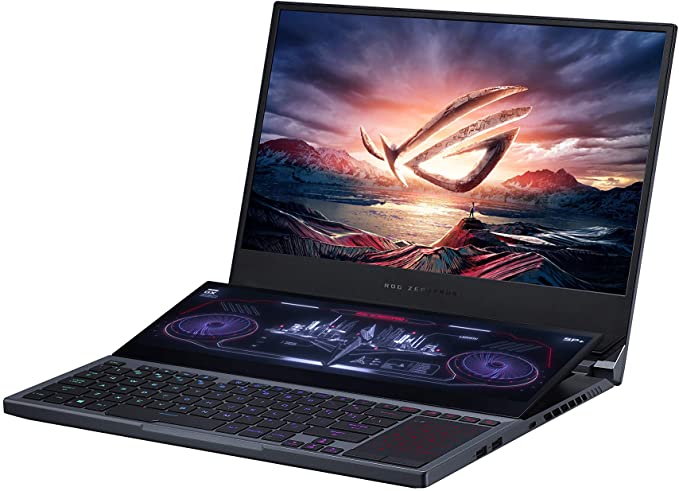 Displays
It's obvious, like the ZenBook Pro Duo, the laptop does not have one but two displays. But unlike the Zenbook Pro Duo with its secondary display staying flat above the keyboard, the secondary display on Zephyrus Duo is raiseed and tilted at 13 degrees when deployed for better viewing.
Why do you need the second display? Creators can use this for quick buttons and shortcuts or additional productivity apps running alongside the main app akin to multi-tasking on a dual display setup. For games, this can be used for chats and stream controls while you game away on the primary display. This keeps you engaged with your audience as you play.
14-inch ScreenPad
Whatever your application is for the secondary display, once you've got it, you will be hooked, and wondered how you coped without one. ASUS calls this display the ROG ScreenPad Plus, derived from the company's earlier attempts at using a display for a trackpad. This has now evolved into a ScreenPad. And, as trackpads go, it is also an input device, a touchscreen that lets you control and tap on what is on the display intuitively. Although, there is a touchpad on the far right of the keyboard and the ScreenPad supports stylus input for drawing, sketching, taking notes and more. It is worth noting that the stylus is included.
As we have seen on the ZenBook Pro Duo, ASUS included a host of applications to make the most of the secondary display. With the ROG, apps to support multi-display gaming are also included. The Overwolf apps includes build recommendations, real-time stats and other tools for popular titles like League of Legends, Fortnite and Counter Strike :Global Offensive. Other useful optimisation tools include GPUTweak II and Armoury Crate. Games like Dying Light 2 also lets you move missions, inventory, objectives, chats, quests and more to the secondary display.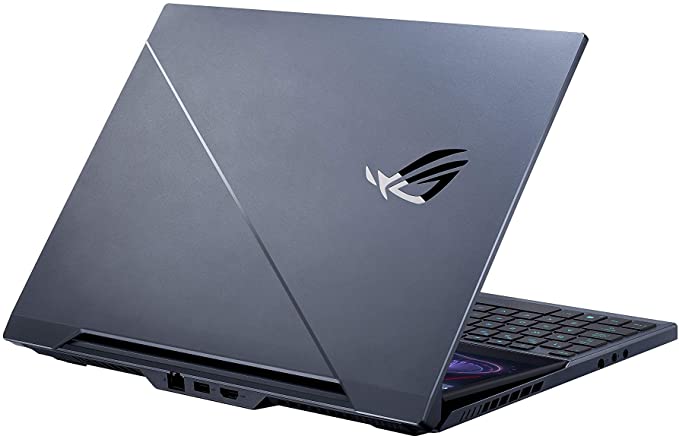 15.6-inch UHD or FHD Panel
As for the main panel, this is a 15.6-inch, Non-glare UHD (3840 x 2160), IPS panel at 60Hz refresh rate, 100% Adobe RGB colour gamut, Pantone® Validated and support for G-SYNC™. Yeah, only 60Hz refresh rate but creators will enjoy video and images in all its details and colours with full colour gamut, wide viewing angle, good brightness and contrast.
Gamers looking for higher refresh rate will have to choose the Full HD resolution 300Hz gaming panel option. Not that long ago, displays with 144Hz refresh rate were considered high-end. You won't regret going with the lower resolution as it supports a small 3ms grey-to-grey response time to minimise ghosting and for between tracking precision, especially when taking on fast-moving targets.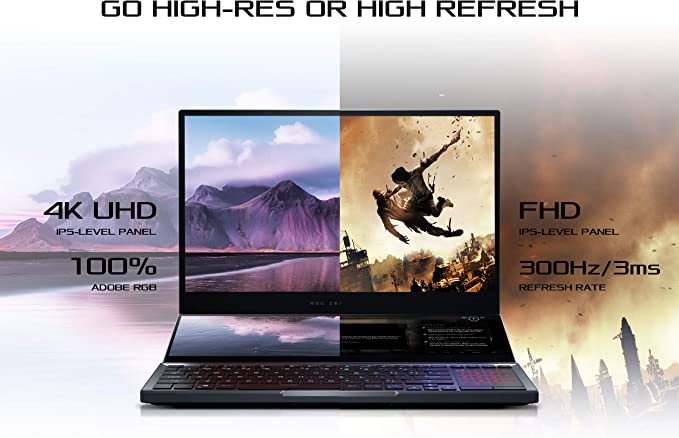 As a content creator and creative, I would recommend the 4K UHD display as this goes better with the resolution on the secondary 14-inch (3840 x 1100) touchscreen. Both have a horizontal resolution of 3840 so there is no disparity in size of image or window there when dragging between the screens. On the other hand, if you choose the Full HD display at 1920 x 1080, you have to content with the discrepancy in horizontal resolution between the two displays.
Pure Power
Overwhelming is the word that comes to mind when considering the power you can extract from this package. With a choice of Intel Core i9-10980HK or Intel Core i7-10875H tenth generation Intel Core processors, it is not short of processor cycles. Naturally, our choice is the Intel Core i9-10980HK, an 8-core processor with a turbo boost speed of up to 5.3GHz.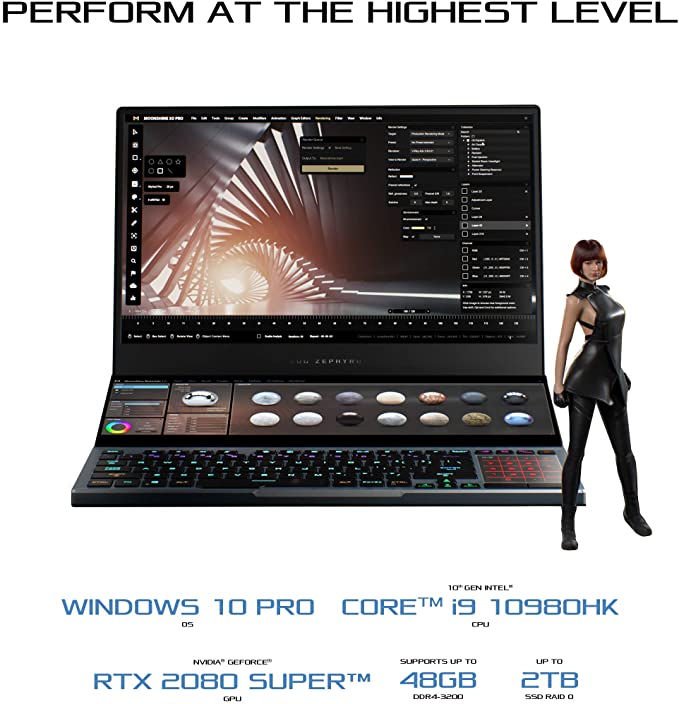 It has both the power from a single core for intensive work and from Hyper-Threading up to 16 parallel threads to cope with heavy multitasking. This processor will take on big content creation projects such as video editing, 3D rendering, music mixing, software compiling and testing. Benchmark indicates that the Intel Core i9-10980HK is 48% faster than a system running Intel Core i7-9750H.
Future Proof GPU with VR Ready Support
The NVIDIA GeForce RTX 2080 SUPER GPU is another high-end component designed with mobile gaming in mind. It is quiet, efficient and fast. Capable of real-time ray tracing and AI enhanced graphics, it is taking desktop level gaming experience to the thin and light. For its graphic prowess it employs NVIDIA Turing Architecture to display life lifelike lighting, reflections, and shadows not seen before using traditional rendering techniques.
It also supports the next-generation GDDR6 memory and DirectX 12 features inherently with software drivers that will let you enjoy the highest levels of performance, and the smoothest experience possible. Finally, there is the next generation VR support. The GeForce RTX 2080 SUPER is plug and play VR ready with compatible headsets. It will let you see, feel and hear every move with 360-degree audio support, VR audio, physics and haptics.
Graphics Performance
Now pair this with top of the line mobile GPU and you have a match made in heaven. GPUs used on the ASUS ROG Zephyrus Duo 15 with Intel Core i9 is NVIDIA GeForce RTX 2080 Super 8GB GDDR6, while the system with Intel Core i7 comes with NVIDIA GeForce RTX 2070 Super 8GB GDDR6. Compare this to the ASUS ZenBook Pro Duo, both Intel Core i9 and Intel Core i7 configuration comes with NVIDIA GeForce RTX 2060 6GB GDDR6 VRAM. Lastly, the smaller 14-inch ZenBook Duo comes with entry level NVIDIA GeForce MX250 2GB GDDR5 VRAM.
To give you an idea of performance, here are two performance charts from NVIDIA. The GeForce RTX SUPER series has more cores and higher clocks speed and yields up to 25% faster in performance than the standard GeForce RTX 20 series. NVIDIA GeForce RTX 2080 Super 8GB is the fastest mobile GPU currently available from NVIDIA.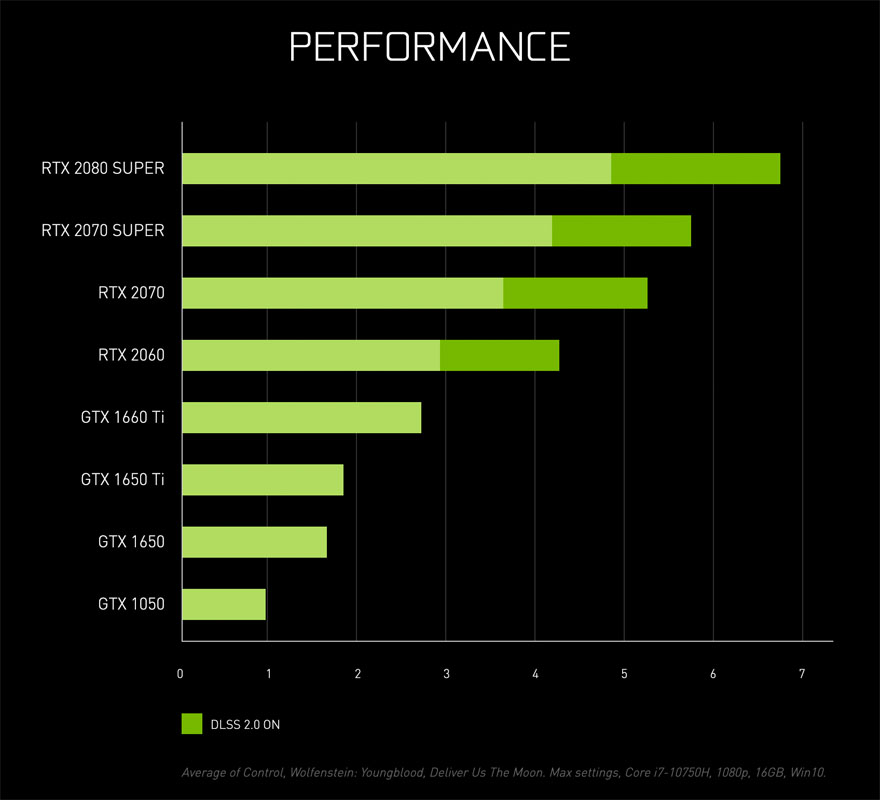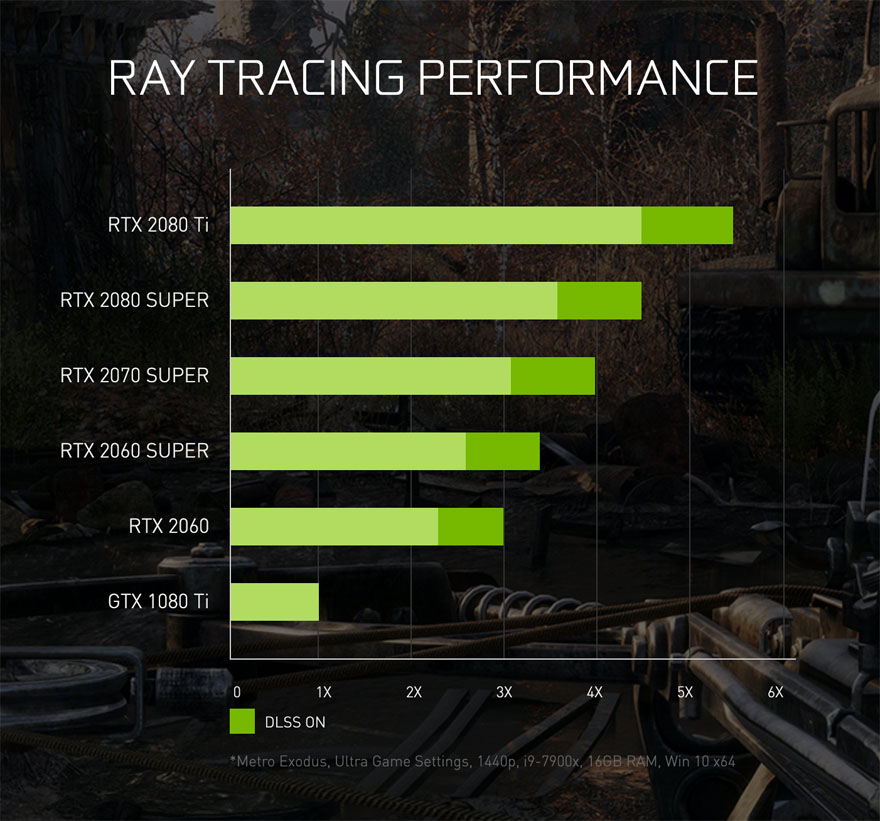 Memory and Storage
Where starting memory and storage are concenred, the two configurations of ROG Zephyrus Duo 15 are kitted with generous amounts of DDR4 RAM and fast M.2 NVMe PCIe 3.0 solid state drive. The configurations are as below:
Intel Core i7 15.6-inch FHD: 32GB DDR4 RAM and 1TB M.2 NVMe PCIe 3.0 storage
Intel Core i9 15.6-inch UHD: 32GB DDR4 RAM and 2TB M.2 NVMe PCIe 3.0 storage
Both systems can support up to 48GB of DDR4-3200 system memory and up to 2TB of lightning fast RAID0 SSD storage with two 1TB M.2 NVMe PCIe 3.0 solid state drives as per Intel Core i9 configuration.
Sounds Good
Next, in the sound department, the laptop uses ESS Sabre HiFi DAC to delivery High-Res Audio. This offers not only rich and clear audio but support for 7.1 virtual surround sound from your favourite headphones. There is also a separate microphone jack, not one of those combos, to plug in a dedicated microphone. This is suitable for streaming or when you are engaged in multi-way chats Zoom or Skype. On top of that, the onboard Twin Smart Amp powered speakers will pump out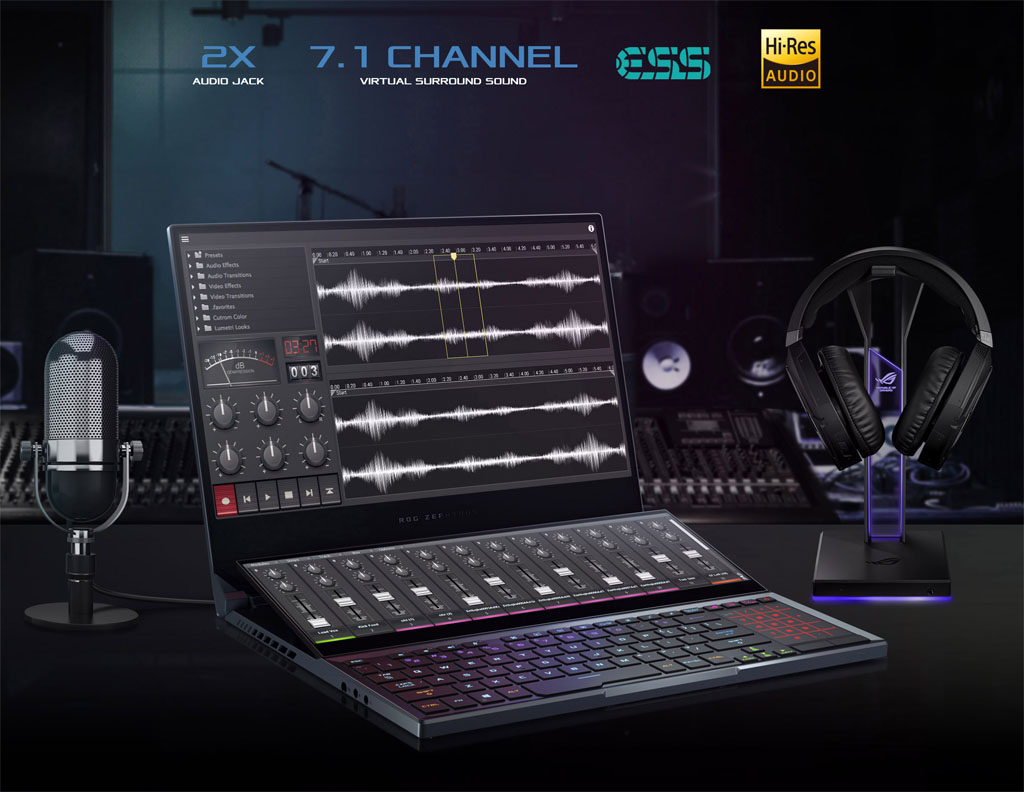 There is More
Liquid Metal Cooling, Ultra Thin Chassis and USB 3.2 Gen 2 Type-C with DisplayPort 1.4, Thunderbolt 3 and Power Delivery are just some of the many unique features uncommon in a gaming laptop. Yet, it is all here. Here is everything else you need to know about the ultimate mobile gaming machine.
The chassis while wrapped in all metal magnesium-aluminide for strength, it measures only 20.9mm thin and weighs 2.4kg.
The secondary display is propped up by one of a kind hinge that tilts it in the same motion as lifting the lid. This 13 degree angle is perfect a perfect working angle for interacting and viewing the touchscreen.
Innovative cooling with liquid metal and ground breaking thermal design to the whole system running cool, especially the processor and the graphics card.
Active Aerodynamic System (AAS) Plus opens up a larger 28.5mm air intake behind the second screen for over 30% airflow (I knew there was another reason for the tilting display).
This combined with liquid metal thermal compound on the CPU, active cooling and ROG Armoury Crate software that optimises cooling performance and acoustics, it pushes hot air out towards the rear of the laptop, keeps the device running optimally while maintaining noise level to below 43dB on performance mode.
Connect multiple displays via USB Type-C with Thunderbolt 3 support for even more efficient multitasking. Thunderbolt 3 has a a peak interface bandwidth of up to 40Gbps and support up to 8K display resolution or two 4K monitors at 60Hz via DisplayPort 1.4 protocol.
high capacity 90Wh battery with support for Type-C charging
ASUS AURA Sync RGB back-lit illuminating keyboard has per key RGB lighting. Use the software to customise the RGB lighting effect, choose one of 6 effects; breathing, static, strobing, colour cycle, rainbow and comet.
Not only is the full-size keyboard intuitive and easy on the fingers with a generous 1.4mm travel and support for N-key rollover to accurately register simultaneous presses, it is also away from hot components.
Having the keyboard positioned forward keeps the surface temperature low but better typing comfort. This does mean that a separate detachable palm rest is essential to improve the ergonomics of this keyboard and you will be glad to know that it is included.
Three USB 3.2 type A ports, two audio jacks, HDMI 2.0b port (4K UHD at 60Hz) are available on the sides and to the rear of the unit, see image below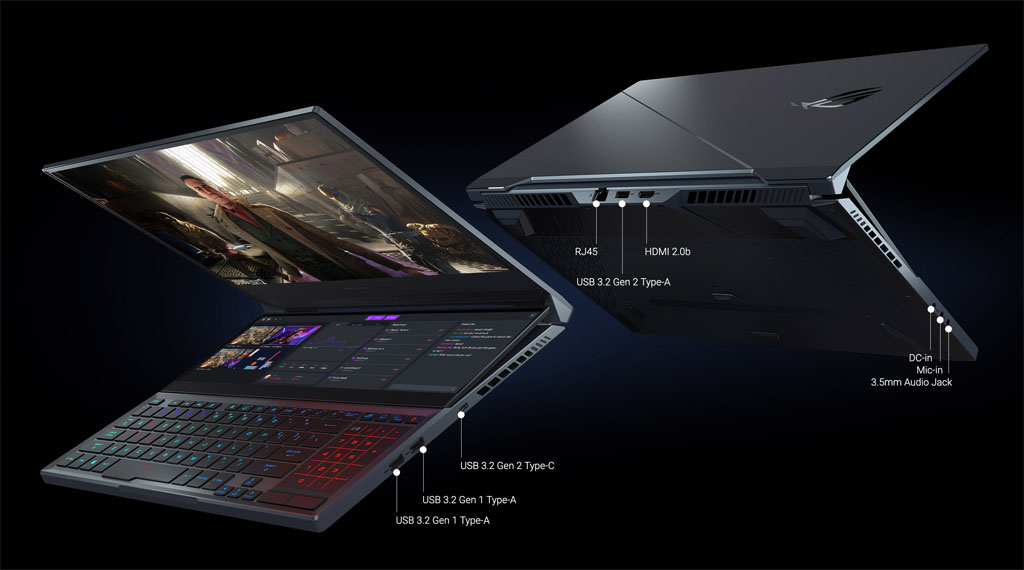 Finally, instead of pushing multiple applications, ASUS offers a unified system tuning, lighting and personalisation app called the ROG Armoury Crate. Use this to easily control and customise Scenario Profiles that will seamlessly deploy when you launch your favourite title.