Managing your storage needs is usually just a matter of deciding on pre-set data capacity that you might need for specific usage objectives on your computer be it laptop or desktop. For gamers, a fast-access, high-capacity SSD is usually a requirement. For document archivers, the cheaper but more spacious HDD is still the traditional norm. Here we look at how to choose an external storage drive going beyond physical look and data storage size.
Beyond the system storage, be it SSD, HDD or combination of both there is another option, something that should be instantly familiar to laptop users, an external storage drive. Sure, it is technically more basic than say a NAS (Network Attached Storage), and as such it won't always be optimal as a data storage situation but it pays to choose the right device to suit your needs. In this article, we present the technical know-how required to choose the best one for you.
Reasons to Consider Using an External Data Storage in the First Place
For many people, including enterprise and corporate offices, the go-to solution for external storage has always been a NAS, or something functionally similar. The main reason is that it is a central hub of data, as it can be conveniently accessed anytime using any device or unit that is authorized to work with its files. This can be on the same network at home or in the office or over the Internet as a private cloud storage. In addition, multiple devices could also access it at the same time, sometimes even working on the exact same file within a collaborative activity.
So why even use plug n' play external storage? Well, as ironic as it seems, there are still some specific data management-related applications that a NAS isn't capable of efficiently doing, which a simple ol' external hard drive can brilliantly fulfill:
Free, unrestricted portability – yup, everyone already saw this coming a mile away. Big n' bulky NAS systems may be accessed everywhere with an Internet connection. But an external hard drive can simply be moved physically like a glorified USB stick. No muss, no fuss.
Exclusive machine access – want exclusive, single machine access to your files? Well, your NAS is obliged to share it with everyone authorized to access it, maybe even those not really authorized to get into it. Save for malware and other similar junk on your PC, an external hard drive doesn't ever need to worry about unauthorized access in the same manner.
Not dependent on a VPS – In case your virtual private server that is used to offer cloud storage suffers from sudden issues (malware attack or security breach), your constant connection to a file (presumably being edited) may be at risk. No problems like that whatsoever on an external hard drive, unless your USB port or cable is somehow faulty.
Constant Internet connection – a step worse than above, a NAS always requires the user to connected to the Internet. If you are on a connection with somehow slower speeds, it could greatly impact your work progress. Then again, this probably goes the same when using traditional USB 2.0 as a data port for your external disk drive. Consider our recommended fast external storage drives below.
Simply cheaper for what you need – if you just need the drive and its capacity, why bother spending another grand just for the "digital casing"? Just whip out that external hard drive and edit your last photoshoot at the nearest Starbucks.
Dedicated backup and game storage – you can use an external hard drive as a backup drive for your PC with the right backup software or Mac with Time Machine. As soon as you connect the external drive, the pre-configured software will go to work, automatically backing up your personal file in a sure manner to the attached device. Same goes with game consoles. Xbox or PlayStation consoles use external storage for saves and games. Manufacturers even offer external gaming storage.
A pay-once alternative to subscription based cloud storage – if you don't like the idea of recurring payment and the reliance on cloud storage, the external storage drive is your answer. It won't be easy getting out of a cloud storage plan once you are totally dependent on it for all your files. As your files grow e.g. photos or videos, you will probably have to pay for a high monthly plan adding further costs to keeping your files on a server in the cloud. Move then out to an external storage, keep a copy as backup in a desktop or server and you have a full proof solution that can match the cloud for availability and safety.
Wide range available – a great many options are available, in all shapes and sizes, with different interfaces, storage size and speed. You will be spoilt for choice. Use our guide below to pick some of the best external storage drive out there right now.
How to Choose an External Storage Drive: Specs and Its Related Considerations
Data storage specifications that are notable to the average consumer are pretty straightforward, as with any other data storage media. However, there are a few more things to keep in mind due to a few distinct differences, particularly with its connectivity configuration:
Storage capacity – the amount of data that can be stored on a single external drive. Minimum is 1TB, typical maximum goes up to 4 or 5TB. The economic sweet spot usually lies at 2TB, but then again, it depends on whether you need the extra space immediately or not.
Storage type – can be a bit confusing due to relative similarities of form factors. But yes, external drives also come in either SSD or HDD. External SSDs are, as usual, significantly more expensive, and may offer faster transfer speeds than typical spinning external drives. However, this is significantly less of an issue since regular USB 3.0 only maxes out (theoretically) at 5Gbps.

Interface Types

– For todays external storage, choose at least a SuperSpeed USB port (USB 3.1 Gen 2 for 10Gbps max or USB 3.2 Gen 2 for 20Gbps max) to use an external SSD more efficiently. It is still early and not widely available but USB 4.0 offers a high bandwidth of up to 40Gbps. Then there are storage drives based on Thunderbolt interface. The bandwidth again varies based on its generation with Thunderbolt 1 up to 10Gbps, Thunderbolt 2 up to 20GBps and Thunderbolt 3 up to 40Gbps. Note that, these are all theoretical speed of the interface. The real performance of the drives come from its actual transfer rate also known as read or write speed.
Security options – there is no one stopping some unauthorized user from simply plugging your drive to gain physical access to it. As such, you might also want to consider an external hard drive model with one or two easy-to-use data encryption features. More sophisticated drives use fingerprint sensor or numbed to decrypt and unlock the files.
Form factor – is the drive slim? Pocket-friendly? Does it come with shock-proofing enclosure? You might also need to consider the color and design if you intend to match it with your regular desktop or laptop. This is also where you consider the physical dimensions of the hard drive, the footprint it will occupy on your desk. Under this heading, also consider the build and design of the chassis and enclosure. Intrusion Protection rating, shock and drop resistance as well as water proof designs are now becoming more common.
Operating temperature – this is usually only important if the external drive is to be put regularly near notable sources of heat (such as the exhaust of your laptop's cooling fan).
Connectivity – USB 3.0 is pretty much the standard today. But, as we mentioned in the storage type and interface sections, other USB 3.0 standards could exceed the traditional limit of a USB 3.1 Gen 1 port. Type-C port are now used for both Thunderbolt and USB interfaces with backward compatibility. These are smaller and reversible USB port for faster/more convenient connectivity. In any case, just be sure to check if you have the port on your system necessary to facilitate this transfer speed.
Optimum configuration – the final point to raise is where all things fall into place. By that we mean the drive, the cable and the ports. Start first with the interface you have on your laptop or desktop. Does it support USB 3.1 Gen 2 or higher? Do you have Thunderbolt 2 or 3 ports and its maximum bandwidth. Next, do your research and find an external storage drive that uses these interface and required storage size. Finally, make sure that you have the right cable, adapter and connector to connect the storage device to your system. USB Type-A and USB Type-C are quite common. Old Thunderbolt 1 and 2 use Mini DisplayPort connector. New Thunderbolt 3 and 4 use USB-C connector labelled with a lightning symbol near the port.
Top External Hard Drive Recommendations
Sure, most external hard drives look the same, but there are still a few notable models out there that you can get for more specific use case scenarios:
1. Western Digital My Passport Ultra (max 5TB) –

BEST FOR VALUE & STORAGE SIZE
The bread and butter external HDD. It provides a nice balance of features, as well as price, compared to My Book and Elements, the other two popular external hard drive product lines of WD.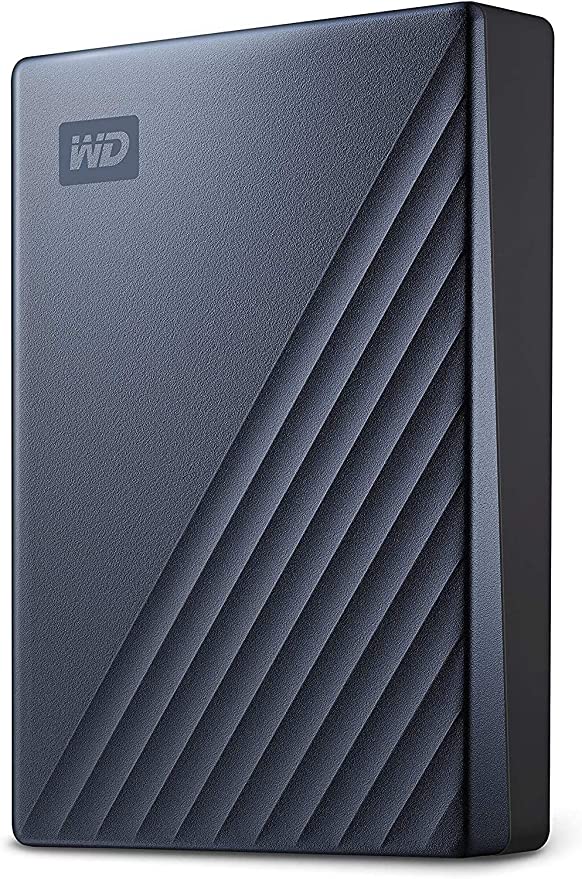 USB-C and USB 3.1 compatible
ALSO: Seagate equivalent of an affordable and portable external hard disk drive (HDD) with USB3.0 interface and up to 5TB storage is the Seagate Portable External Hard Drive below.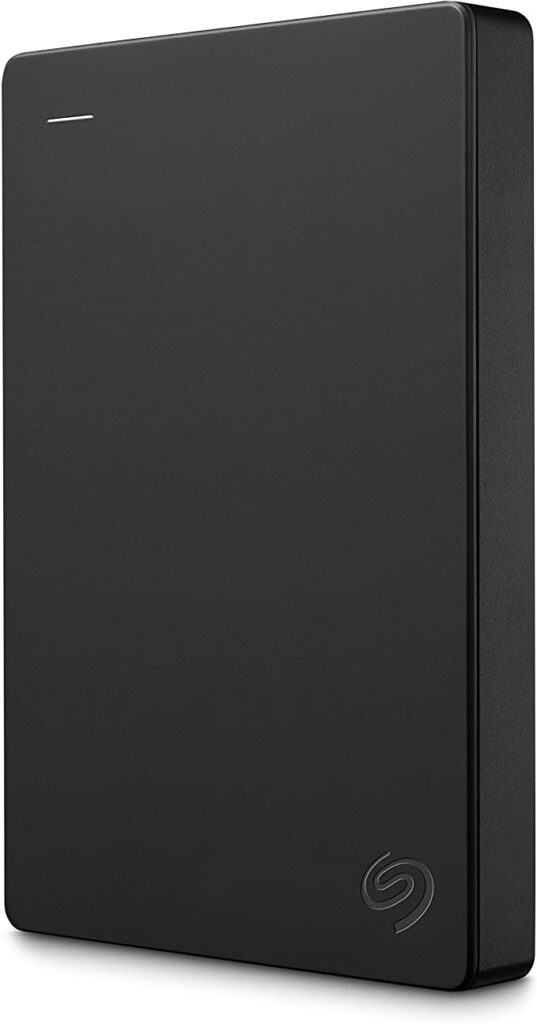 USB 3.0/2.0
Max transfer speed of up to 120MB/s
2. Samsung T5 External SSD (max 2TB) –

BEST FOR PORTABILITY
The bread and butter external SSD. Usable out of the box, provides superb transfer speeds when the transfer hardware is appropriate. Also has extra durability in the form of being a beefed-up USB stick. Very expensive, though.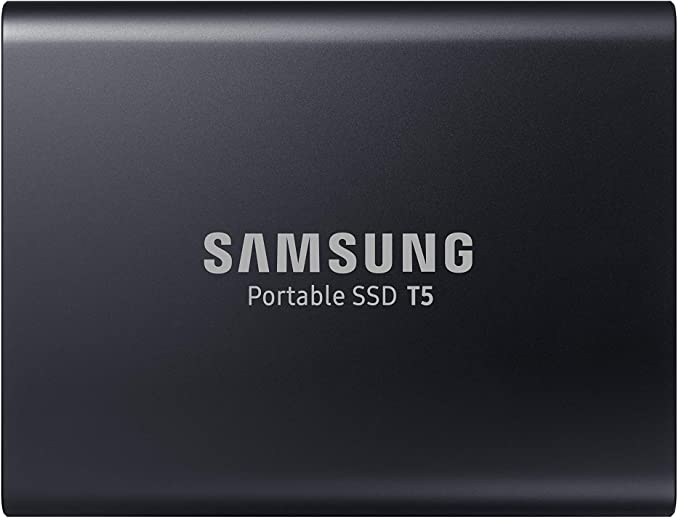 USB 3.1
Up to 540MB/s transfer speed
ALSO: An alternative to the Samsung above is the Seagate Barracuda Fast SSD external storage also with a transfer rate of up to 540MB/s. It has a square, flat cube profile with rounded corners and floating accent with up to 2TB maximum capacity.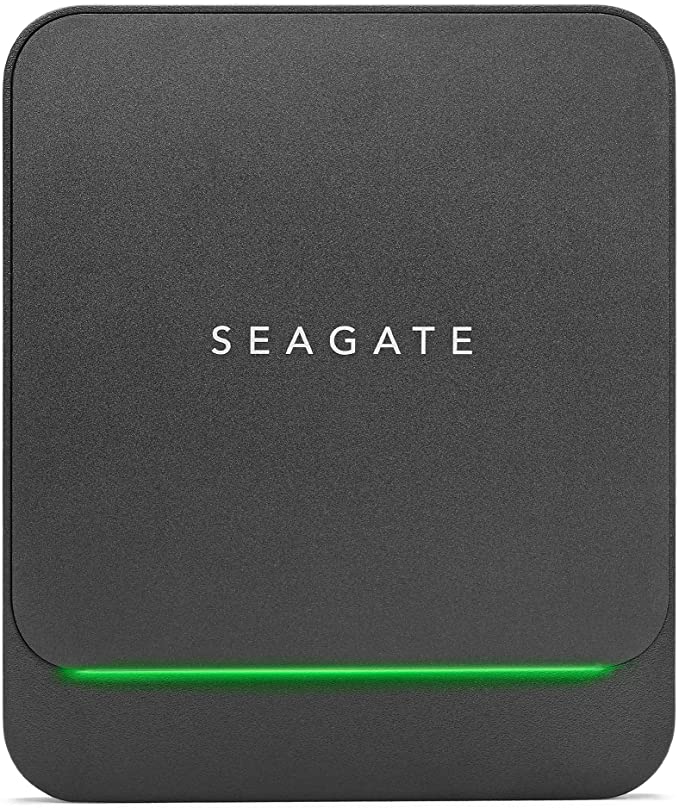 3. Buffalo MiniStation Thunderbolt (max 2TB) –

BEST FOR COMPATIBILITY
This one is for those who need an external hard drive with the fastest transfer medium currently possible. Current Thunderbolt 3/4 ports allow for uber transfer speeds of 40Gbps, under the right set of hardware. This is the maximum bandwidth speeds and does not reflect the real world transfer rate (read or write). The Buffalo MiniStation's Thunderbolt port supports data transfer rates up to 10Gbps while the USB3.0 up to 5Gbps and if used with USB2.0 port, up to 480Mbps.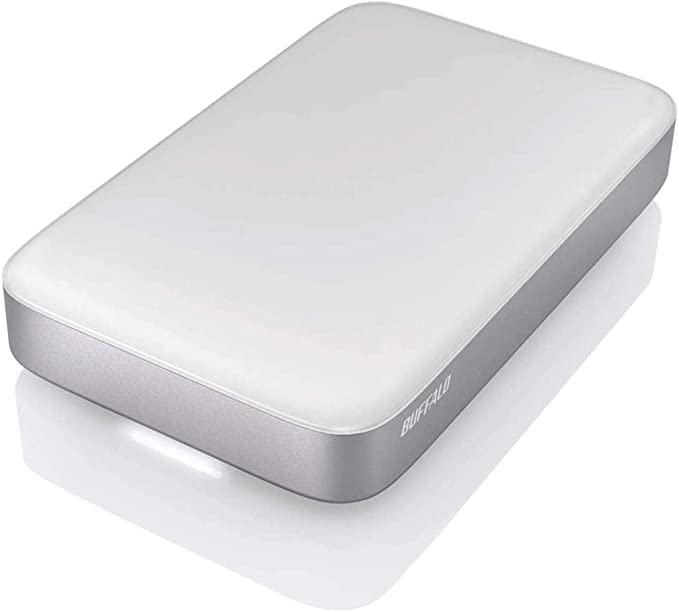 Two ports: USB 3.0 and Thunderbolt 3 (maximum 10Gbps transfer rates)
4. LaCie Rugged External Drive (max 5TB) –

BEST FOR RUGGEDISED DESIGN
Adata may have its catalog of budget-friendly shockproof drives, but it still doesn't beat the dumb simplicity and reliability of LaCie's shockproof drives. These are guaranteed extreme-sport certified data machines that you could bring anywhere, anytime.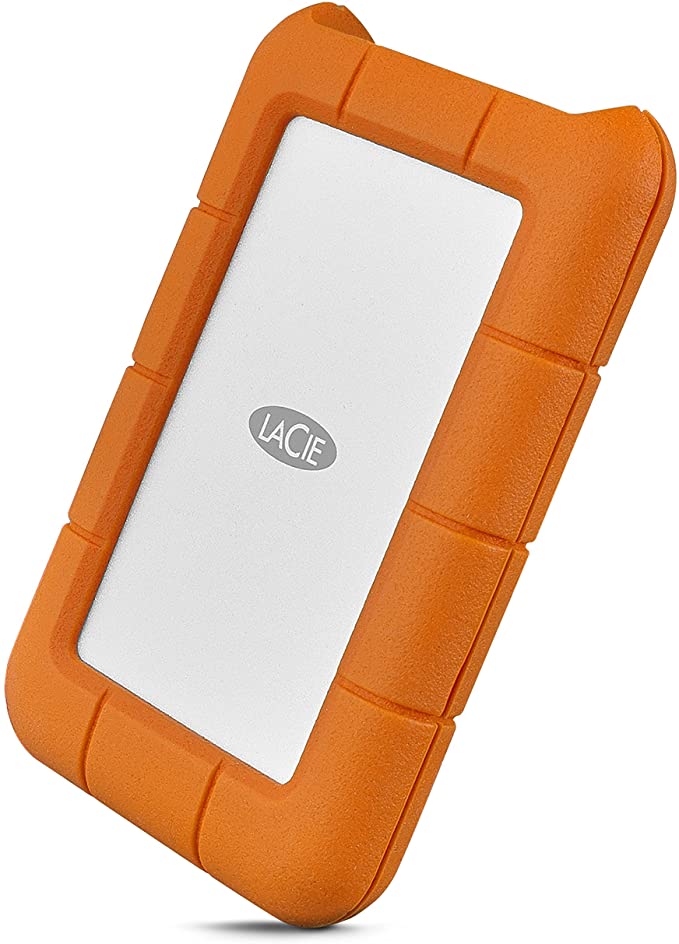 USB-C
Transfer speeds up to 130MB/s
ALSO: If you like the looks of the Rugged USB-C drive above, an SSD version with Thunderbolt USC-C version and RAID Pro/Shuttle version are also available with transfer speed boost of up to 510MB/s and 250MB/s respectively.
5. iStorage diskAshur2 External Drive (max 5TB) –

BEST FOR SECURITY & STORAGE SIZE
If access security is a concern with you, then you might want to try out this particular external hard drive. It has a freaking numpad on it, all for the most sophisticated PIN-based authentication system on a portable data medium. The unit is waterproof and is available in four bright colours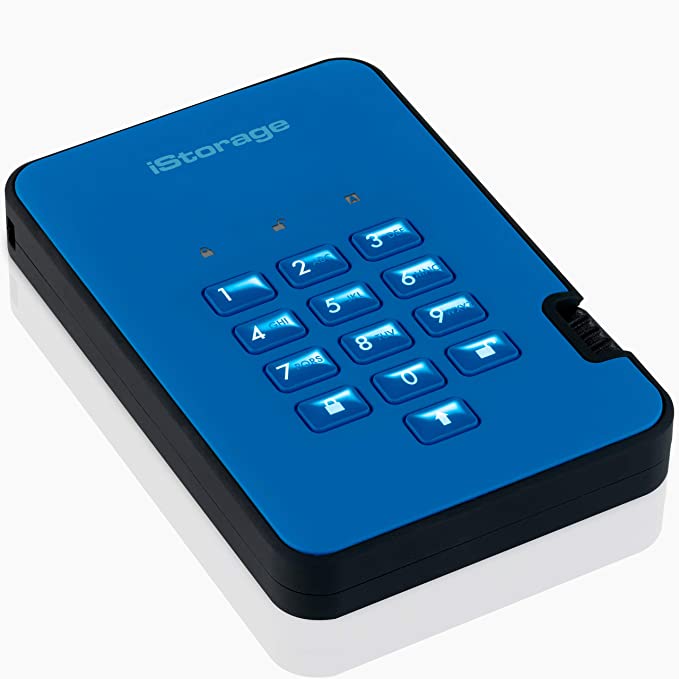 USB 3.2
Data transfer speed up to 160MB/s read, up to 143MB/s write
6. Crucial and WD Portable SSDs with speed up to 1050MB/s –

FASTER STORAGE
We mentioned SanDisk Extreme Portable SSD above alongside the PRO model with a transfer rate of up to 1050MB/s with USB-C connectivity and USB3.2 Gen 2 interface. Here, we look at a couple more SSD storage with the same interface, bandwidth and transfer speed. They are Crucial X8 Portable SSD and WD My Passport SSD.
7. SanDisk 2TB Extreme PRO Portable SSD (max 4TB) –

FASTEST STORAGE
The SanDisk Extreme may have a high transfer rate of up to 1050MB/s, the SanDisk Extreme PRO pushes that to nearly double at 2000MB/s. If you want the fastest external storage device based on SSD, then this is one to consider. Wrapped in forged aluminium and enclosed in silicon shell, it is both rugged and water and dust resistance.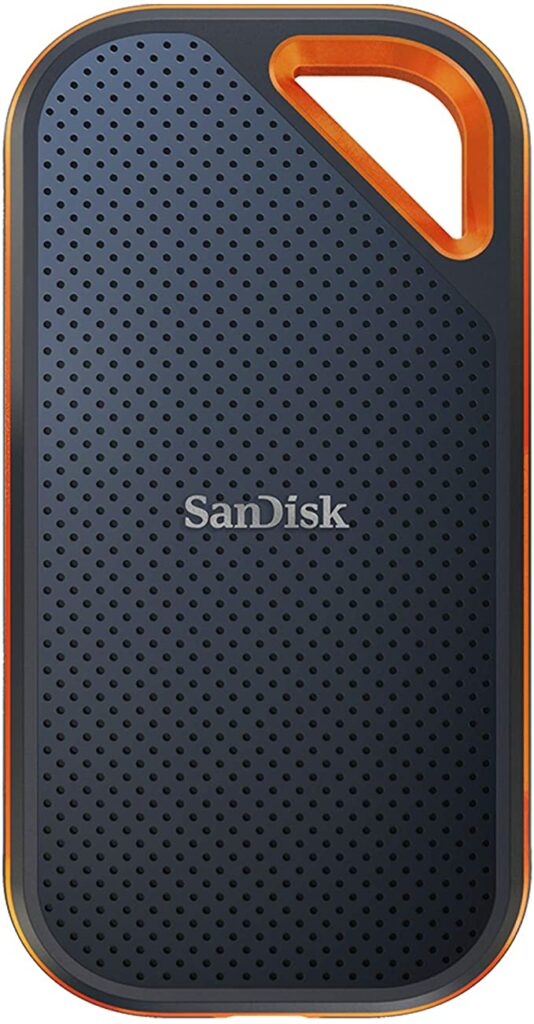 USB 3.2 Gen2x2 Type-C
Up to 2000MB/s transfer rate (read/write speed)
8. Samsung T7 Touch Portable SSD (up to 2TB) –

BEST FOR SECURITY & SPEED
A more sophisticated option of securing your data is a portable external storage drive with fingerprint scanner. The Samsung T7 Touch Portable SSD is such a drive with read and write speed up to 1050MB/s and 1000MB/s respectively. It even has a nice blue LED light to illuminate the edge of the fingerprint sensor and is built to withstand shock and drop.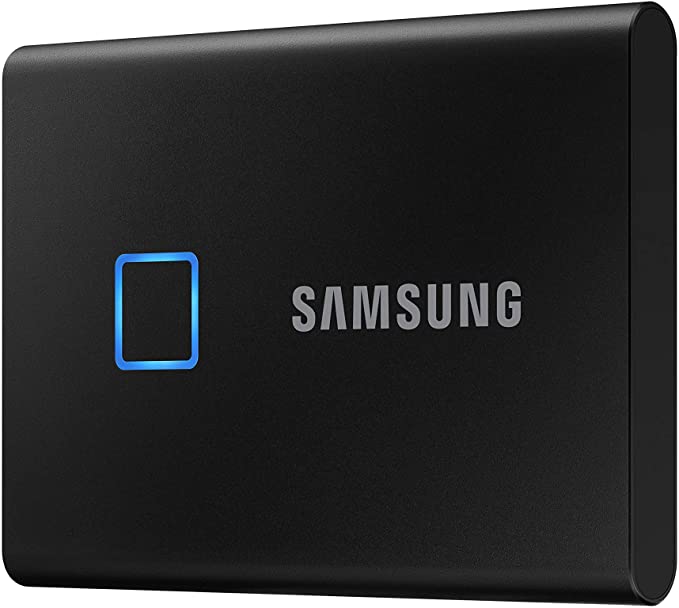 USB 3.2 Gen 2 Type-C, USB 2.0 compatible.
Read speed up to 1050MB/s, write speed up to 1000MB/s
Alternatives to External Hard Drives
Aside from dedicated external hard drive products, you can also check out these alternative PC accessories that provide a similar function:
1. External HDD adapter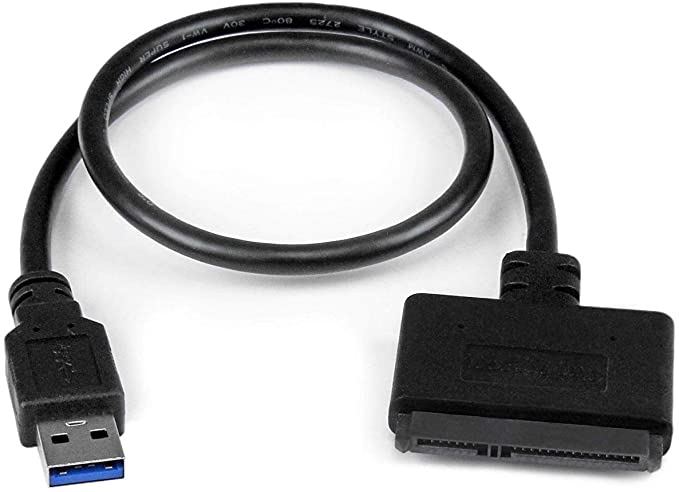 Plugs to a traditional 3.5-inch or 2.5-inch drive's SATA connectors (power and data), converting them into USB input. 3.5-inch modes on these devices also usually require an additional power brick attached to the module, to provide sufficient power for larger HDDs.
2. External HDD dock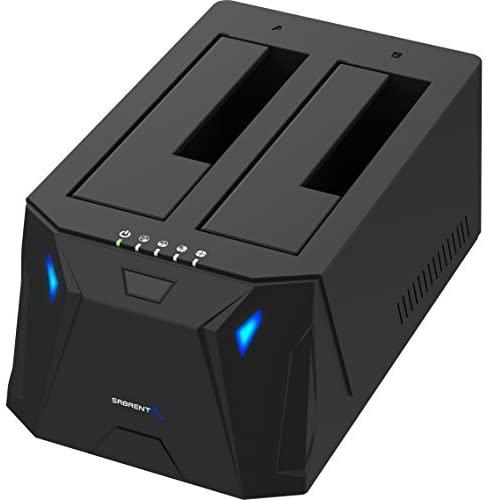 This one is very similar to a standard external HDD adapter, except that it has a more solid, fixed desk platform for inserting SATA-based data storage (usually vertically).
Do note, that almost all of these adapters are configured for USB 3.1 Gen 1. This means that anything connected to it will get "throttled" down to USB 3.0's theoretical 5Gbps, reduced further by the entire capacity of the motherboard chipset's port data bandwidth. For example, a typical SATA 6Gbps HDD will run at 190+ MB/s, but will slow down to around 110-120 MB/s if converted to a USB 3.1 Gen 1 device using an external HDD adapter. Performance may be lower depending on the host device.
Edited by Samuel J. Tan