PCs are cooler than ever before. Not just figuratively, but also literally. Today's astounding level of CPU efficiency is directly proven by how relatively less heat they produce over the amount of processing power they can crunch. So while the liquid AIO cooling market has gained significant market traction over the years, air cooling still maintains its position as a default CPU cooling solution.
And so, the neverending question continues: is one cooling solution type inherently better than the other? If so, what are the factors that are involved in getting to that conclusion? In this updated look, we shall pit air cooling and liquid cooling against each other for the ultimate comparative test.
(NOTE: This article does not include liquid custom loops, which are technically a completely different form of cooling and are not as standardized as single air or AIO cooling products.)
Basic Mechanics of Cooling
Air Cooling
Air cooling is quite self-explanatory: air simply flows throw a metal structure designed to conduct heat away from the CPU. Technically speaking, though, you either have a stack of grid fins directly connected to the base plate, or a set of pipes connecting the base plate to a typically larger set of grid fins. As heat is conducted through the metal structure, a fan pushes cool air into it. This lowers the temperature of the grid fin via convection, and the more air is pushed into it, the more heat it can dissipate.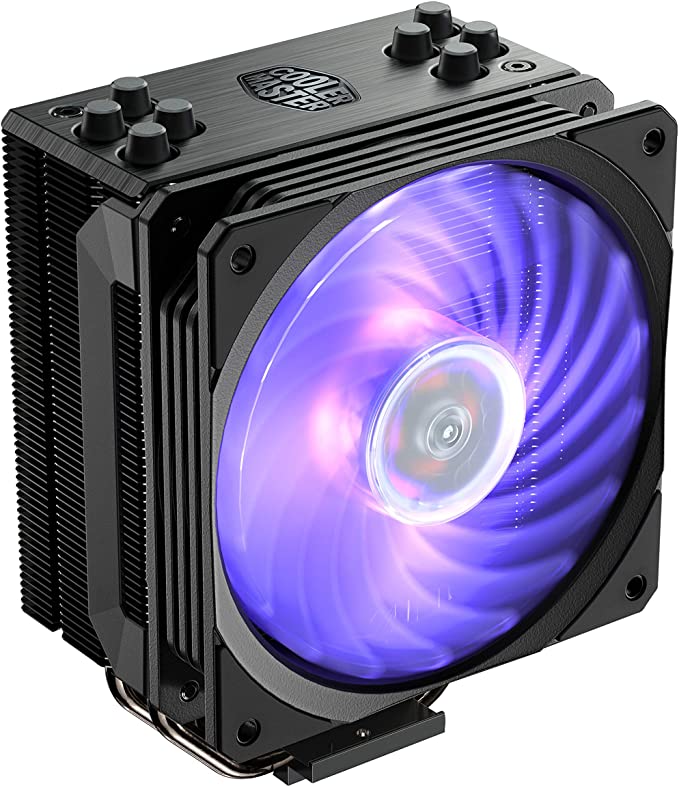 A tower-type cooler will cool with a sideways-oriented (relative to the PC) airflow. On the other hand, downdraft coolers direct airflow towards the motherboard, where the CPU and VRMs are installed. Furthermore, more modern versions of air coolers might feature hollow tubing, filled with vapor that is intended to deliver heat more quickly to the grid fin stack.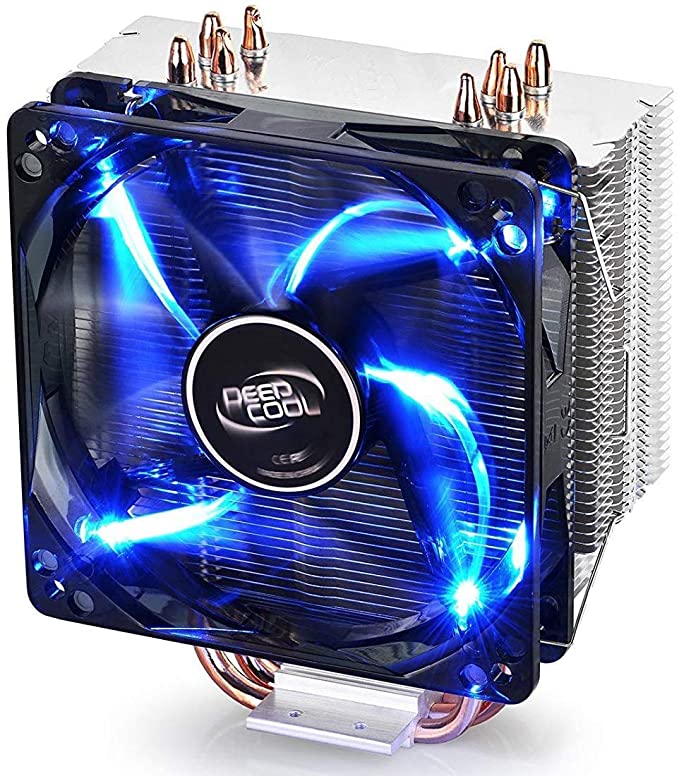 Search on CPU Air Cooler Amazon
Liquid (AIO) Cooling
Liquid AIOs provide alternative CPU temperature control by using a base plate + water block component filled with a coolant (usually a mixture of pure water and some type of antifreeze). The water block pumps the coolant through flexible piping, and flows all the way to a radiator. Heat from the CPU that is transferred to the coolant is then dissipated here via connected fans. Finally, the loop pushes the coolant back to the water block, completing the cooling cycle.

As you may have realized, liquid AIO cooling is essentially the same mechanically as air cooling. Heat is initially transferred to a medium (pipes), then transferred to the larger dissipating material (grid fin stack/radiator), where fans remove the heat from the system via convection. In both types, it usually only the shape and installation style are configured differently.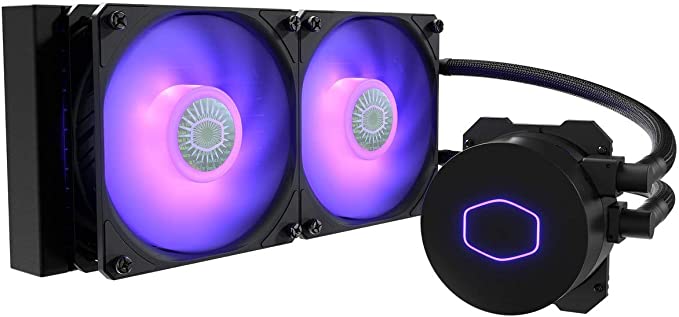 As to why these coolers are referred to as AIOs (All-in-ones), the radiator is generally installed where (only) case fans are supposed to be placed. In other words, it works both to provide airflow to the case itself while cooling the CPU, hence the nomenclature.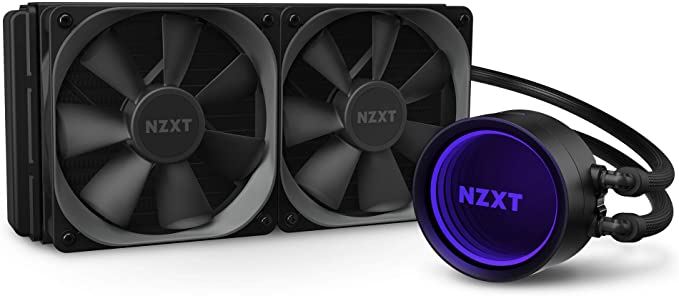 Search on AIO CPU Liquid Cooler Amazon
Advantages of Air Compared to Liquid (AIO) Cooling
The main advantage of air cooling is its component simplicity. True, both are mechanically the same. But air cooling mainly uses only two components: the grid fin stack + base plate composite, then cooling fan itself. Less moving parts, less complexity. And less complexity means fewer complications in setting up. This means that potential points of failure are inherently limited.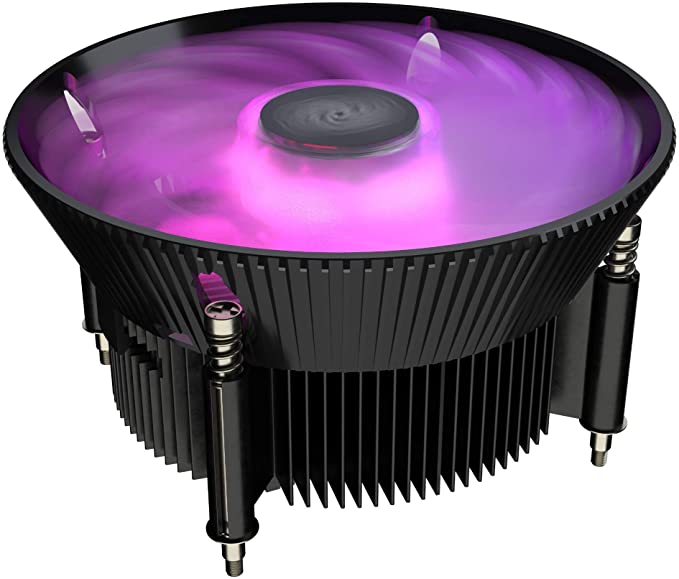 Other advantages related to this configuration (when compared against liquid AIO cooling) are as follows:
Near infinite longevity – fans with a good bearing configuration can usually stay operational for a very, very long time. Typically spanning years, more likely a decade or more. Since the main heat dissipation component is just a hunk of metal, you can expect an air cooler to last for as long as there is a compatible socket to install it on. Even if the fans do prematurely fail, most coolers (even liquid ones) are typically compatible with most types of case fans (usually 120mm), so you can simply hook up a new one onto the grid fin stack.
Zero risk of leaks – developments in modern liquid AIO cooling has done a superb job of maintaining quality with the risk of leaks almost crushed to zero. However, it is still not zero, and as the years pile by, that 0.00001 percent can steadily go up to 0.0001. Air cooler has absolutely zero risk of leaks. So in that specific regard, it edges out just a tiny, tiny bit against liquid coolers.
Clears cooling requirements at much cheaper cost – unlike other benchmarks, where every last digit is important for performance, cooling solutions operate in margins and allowances. So long as the CPU is very far from its TjMax (at least 15 degrees, but try to aim for 25+), there is no need to worry about accumulated damage due to constant heat. Thus, there is no technical need to move away from using a cheaper air cooler.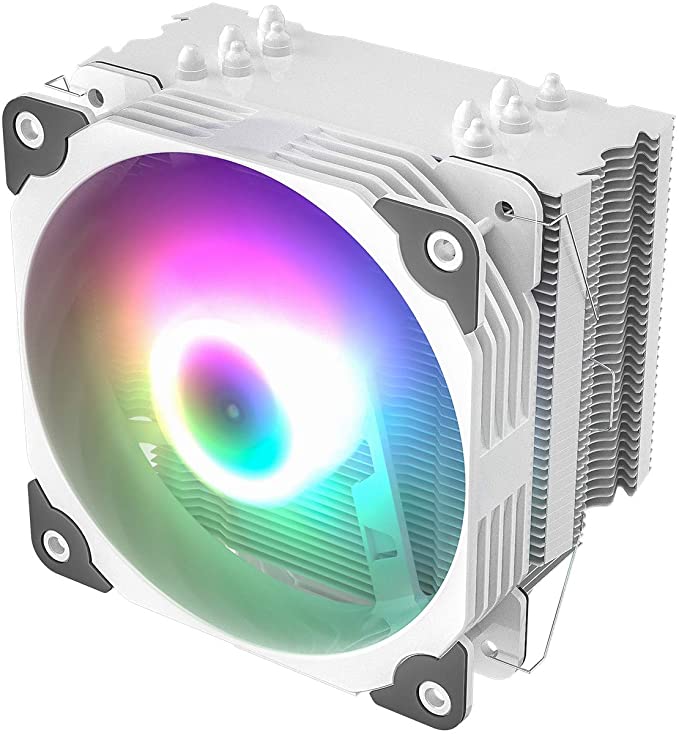 Finally, there is also the fact that no additional maintenance is required for air coolers apart from dusting them every now and then. In comparison, liquid AIO coolers also need to be partially uninstalled/disassembled to refill their coolant after a few years, since some of them eventually leak out and evaporate. This is really more of an inconvenience rather than an outright disadvantage though, so it simply gets a special mention.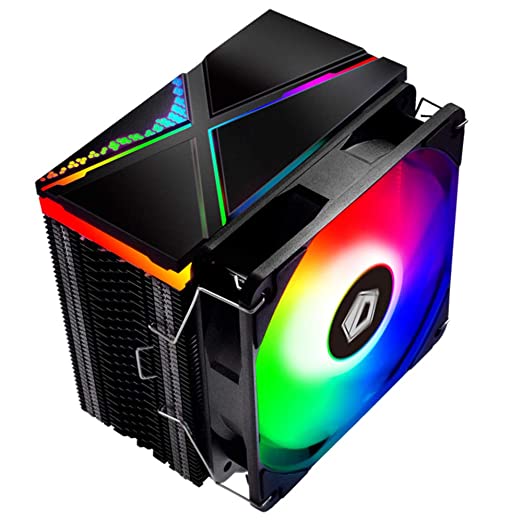 Search on CPU Air Cooler Amazon
Advantages of Liquid (AIO) Compared to Air Cooling
Aside from generally better number to number performance, liquid AIO coolers are superior to air coolers because they are a complete cooling solution package. And yes, both of these advantages are usually already enough to justify their higher initial costs.

Other important advantages of liquid AIO coolers (against air cooling) include:
Motherboard positional clearance – grid fin stacks often need to be measured against a motherboard's VRM heatsinks, RAM distance, and GPU gap before they can even be installed in the first place. AIOs don't have this issue, since the base plate + water block is usually small enough to always fit in no matter what.
PC case width clearance – aside from not having to worry about motherboard components, liquid AIO cooling obviously also has nothing to worry about when it comes to the maximum width of a PC case.
Fits smaller form factors with negligible performance drawbacks – downdraft coolers are usually the go-to air cooling solution for smaller PC builds, which are okay, but are generally inferior to setups with better airflow. With a liquid AIO cooler, you just need the matching radiator clearance, and it will be able to efficiently cool the entire system almost as if it was any other PC case.
Separate installation makes for easier component arrangement – unlike air coolers which need to fit everything with the 3D space around the CPU, AIOs split interior space between the motherboard and a panel on the case. This makes it easier to arrange and organize stuff, or at least make stuff look
Potentially Less Noise – Liquid AIO cooling doesn't require the same fan RPM, as the coolant itself already dissipates a good amount of heat. Couple this with the wider shape of a radiator, and fans parallel to each other (as opposed to a push-pull configuration), and the entire setup could produce noticeably less noise than an air cooling solution.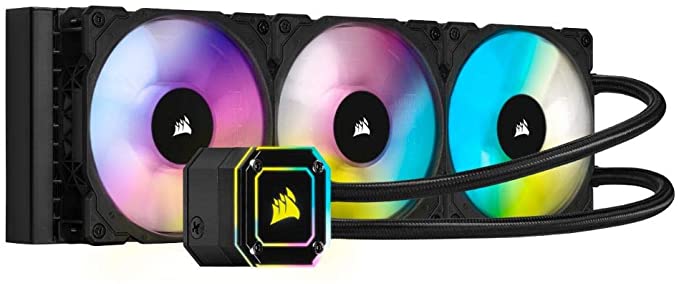 Some people might consider the negligible weight and pressure of the water block to be an advantage as well. But, motherboards are usually very tough when it comes to component mounting pressure or shear forces. Even the most titanic Noctua or Be Quiet air coolers will not pose any risk of bending or cracking any modern motherboard of any tier and configuration. Therefore, liquid AIO coolers are not really better in this regard.
Search on AIO CPU Liquid Cooler Amazon
Conclusion: Pick the Advantage that You Like
With the vast developments in improving CPU cooler performance over the last few years, it is actually surprising that CPU tier now bears little consequence to the cooler type that you should ideally use. For AIO coolers, almost any competitive model + a good thermal paste can allow for an overclocked and fiery hot Core i9-10900K. For air coolers, you simply need to match the correct air cooler stack. In this case, an equally high-end Arctic Freezer 34 eSports Duo or a Noctua NH-D15 should tame the same overclocked Core i9-10900K (on a well-ventilated PC case).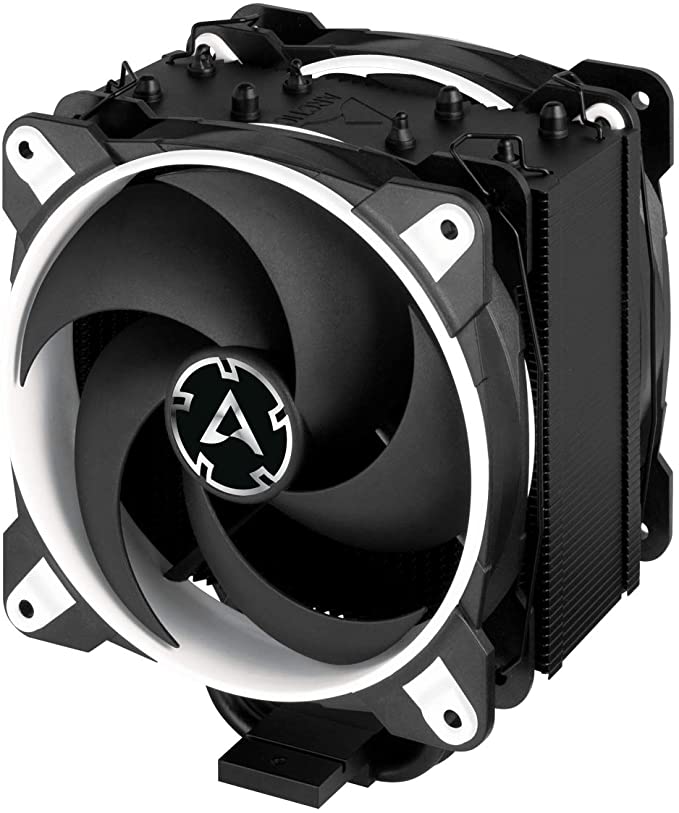 As such, the ultimate decision lies in matching your preferences to the individual advantages each cooler can provide. Need a cheap solution that can still keep CPU thermals below 80 degrees Celsius for your Ryzen 5 5600X? Go for an air cooler. Having trouble finding a cooler that won't hit the VRM heatsinks of your MSI MEG X570 Godlike? Then just give up air cooling and buy a liquid AIO unit.