Working at home has never been more relevant in recent years. With the pandemic still continuing for the foreseeable future, more and more companies and organizations will be implementing some form of working from home. Face-to-face interaction becomes less of a norm, as we begin to rely more and more on VoIP and video chats for real-time communication.
Because of this, there has been a constantly high demand for better and more optimized webcams beyond recreational applications. Thankfully, we have a very solid and economically feasible product line-up for 2021. Some are new, some old, but all meet our requirements for working from home.
Certified for Skype for Business and Cisco, and compatible with popular video meeting apps including Zoom, WebEx, Blue Jeans, Facebook Messenger, and more
Webcams for Work at Home Overview
Here is an overview of our top recommendations
Microsoft LifeCam HD-3000
eMeet c960
Depstech D07
Logitech C310
Logitech C920
Razer Kiyo
Logitech StreamCam
Logitech Brio
1. Microsoft LifeCam HD-3000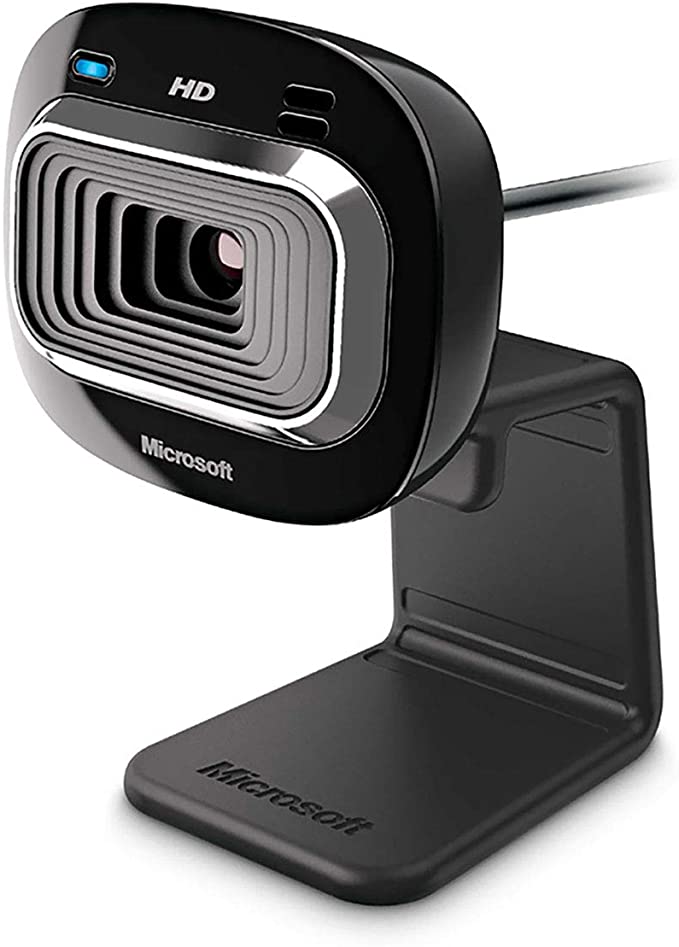 | | |
| --- | --- |
| Max Resolution | 720p |
| Image Definition | 4 MP |
| Aspect Ratio | 16:9 |
| Frame Rate | 30 |
| Field of View | 60 |
PROS: Very cheap without feeling cheap, Good enough video and audio clarity
CONS: Proprietary software can feel very fiddly to use
Coming up at the very start of our list is the ol' trusty LifeCam HD-3000, which is essentially the epitome of "if it ain't broke, don't fix it", when it comes to webcams. It might be initially strange that the lowest tier LifeCam was the one that made it this list, but it all comes down to cost. With what presumably are your typical office-level tasks, working from home does not strictly require a high-end webcam to work on. You only ever technically need something that could provide consistently good (enough) video quality for those everyday online conferences. Thus, the LifeCam HD-3000 would perhaps be the best entry-level option in terms of features, compatibility, and comparative performance (against its upper-tier product line).
2. eMeet C960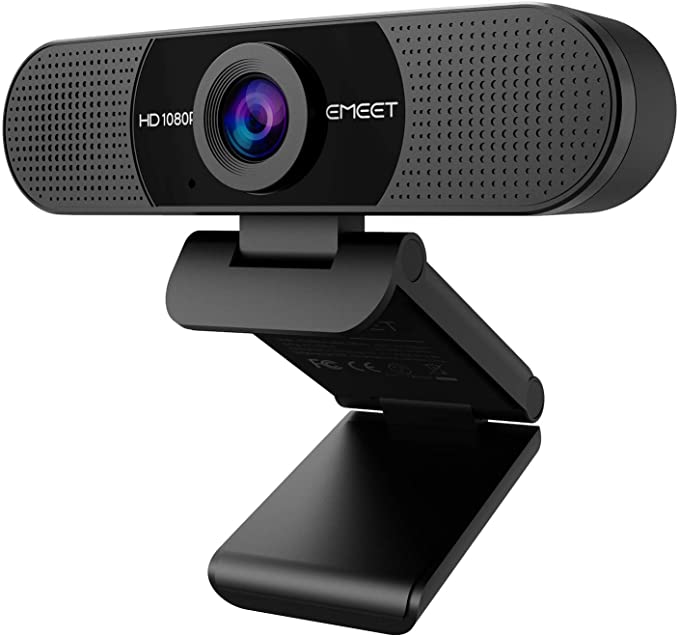 | | |
| --- | --- |
| Max Resolution | 1080p |
| Image Definition | 2 MP |
| Aspect Ratio | 16:9 |
| Frame Rate | 30 |
| Field of View | 90 |
PROS: Great wide viewing angles, Mic quality is surprisingly decent
CONS: No autofocus
The first Full HD 1080p webcam in our list, the eMeet C960 is yet another great entry-level option for your work at home webcam. It has most of the features you need, light correction, wide viewing angles, plug-n-play compatibility, and a surprisingly good audio quality given its price point. Even better, these features are offered at even slightly lower prices than most within the competition, making it a very compelling buy for your home office.
Just a warning though, be sure to keep things behind you neat and organized (or at least pleasantly clear), or they'll be glaringly visible in front of the C960 thanks to its higher resolution camera sensor.
3. Depstech D07 2K Webcam
| | |
| --- | --- |
| Max Resolution | 1440p |
| Image Definition | 4 MP |
| Aspect Ratio | 16:9 |
| Frame Rate | 30 |
| Field of View | 90 |
PROS: Even cheaper than the C960 yet still competes with (good enough) quality
CONS: Mismatched optics and CMOS sensor specs
Like we said, "most within the competition." Depstech D07 manages to be one of those exceptions, able to beat our previous entry at almost every category. To start off, it's 1440p/4MP/90-degree camera. Not impressive enough? Okay, but when you realize how much more cost-effective it gets, the D07 essentially becomes quantitatively competitive (within its category). Video quality is decent, colors are warm and vibrant, and its mic quality is… passable. Build quality also ticks all quality check boxes for any home office setup (mountable, clippable, low desk footprint, etc.).
It may not have the premium feel, but it assures you that it is worth more, and could last way, way beyond its investment cost.
4. Logitech HD C310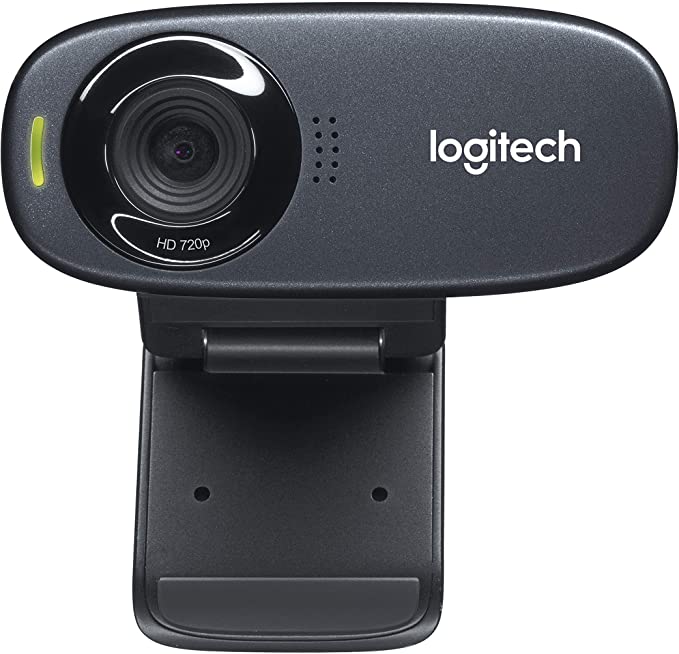 | | |
| --- | --- |
| Max Resolution | 720p |
| Image Definition | 5 MP |
| Aspect Ratio | 16:9 |
| Frame Rate | 30 |
| Field of View | 60 |
PROS: Most balanced specs, best price-to-performance ratio
CONS: Fixed position, somewhat limited field of view
Best is subjective, and depends on the criteria that you want to focus on. But when it comes to balancing all specs, including price, the "best" title goes to none other than the Logitech C310. It works out of the box, great camera quality (seriously, 720p for a work-at-home webcam isn't terrible at all), solid audio, has all basic QoL features (noise suppression, light correction, etc.), and is very affordable. One obvious downside is that it's fixed, making its 60-degree field of view seem worse than normal.
5. Logitech C920 HD Pro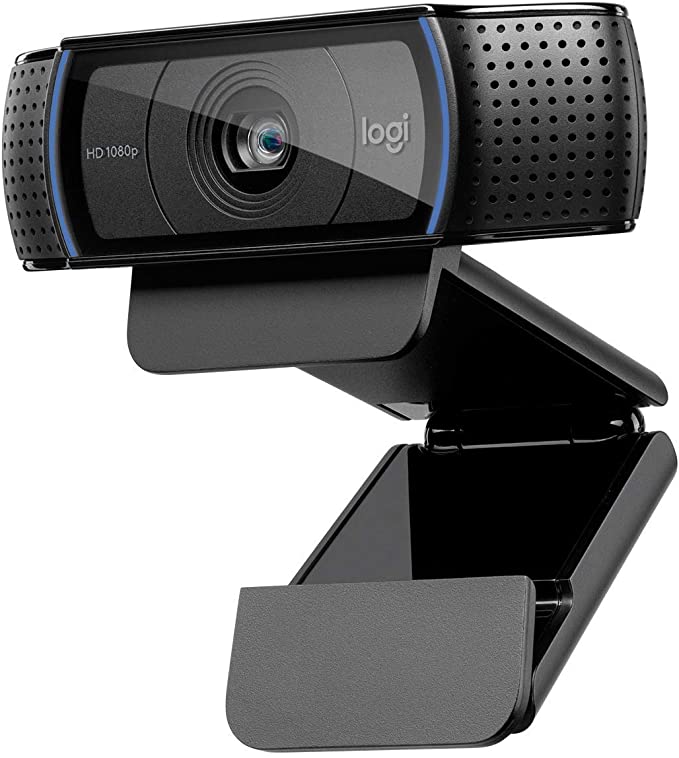 | | |
| --- | --- |
| Max Resolution | 1080p |
| Image Definition | 5 MP |
| Aspect Ratio | 16:9 |
| Frame Rate | 30 |
| Field of View | 78 |
PROS: Almost a baseline recording camera with its image quality
CONS: Optimizing its configuration may be confusing for non-tech-savvy users
Going one step up the premium line of webcams, the Logitech C920 seems instantly overkill for work-at-home users, having double the price of the C310 (effectively quadruple of the D07). Thankfully, this is equally offset by its significantly enhanced video quality, along with an enhanced field of view. You know, if a bigger portion of the workspace in your video angle during online meetings or over-the-web demonstration, this is the camera for you. Do take note that even though it can handle 1080p, the option is only available for direct recording. During video calls, it reverts back to 720p depending on the speed of connection and app support. Apps like Skype and Jitsi for instance support 1080p Full HD resolution if all conditions are met. When researching for a suitable webcam for MacOS devices with the new Apple M1 silicon, the Logitech C920 came up repeated with users reporting a positive experience.
6. Razer Kiyo
| | |
| --- | --- |
| Max Resolution | 1080p |
| Image Definition | 4 MP |
| Aspect Ratio | 16:9 |
| Frame Rate | 30/60 |
| Field of View | 81.6 |
PROS: Built-in lighting (LED ring), Camera features and options to shame the C920
CONS: Premium price tag, may not always be in stock
Going one step even higher than the C920, the Razer Kiyo offers a price tag that is unsurprisingly premium for almost any home office. Spec-wise, we have a superb 4 MP camera that offers either 1080p 30fps or 720p 60fps natively (without third-party app tweaks). A very wide field of view also ensures that its digital image quality captures an entire living room's worth of information.
7. Logitech StreamCam
| | |
| --- | --- |
| Max Resolution | 1080p |
| Image Definition | Full HD Glass lens f/2.0 |
| Aspect Ratio | 16:9 or 9:16 |
| Frame Rate | 30/60 |
| Field of View | 78 |
PROS: Compact with support for portrait mode and dual mount options. AI enable face tracking
CONS: No USB-C to USB-A adapter, some issue with USB-C compatibility
Here is a camera for influences and social media streamers but there is nothing stopping you from using it as a webcam. In fact, it comes with some useful software like AI enhanced face tracking for auto focus and auto exposure. It also supports vertical video recording for portrait mode on top of the standard horizontal format by physically turning the camera 90 degrees on the mount. It will capture Full HD 1080p video at ultra smooth 60fps and perfect audio with onboard dual front facing microphone.
While it is not strictly necessary, it also comes with electronic image stabilisation to reduce camera shake. A sufficiently long USB 3.1 Type-C cable is also included, which means you will need an equally fast USB 3.1 Type-C interface to take full advantage of the camera. The use case for the Logitech StreamCam is very specific. Choose this if you have a need to create live streams for Twitch, YouTube, Facebook, Instagram stories or other broadcast platform, otherwise, look elsewhere. For streamers, the StreamCam is optimised for OBS, XSplit and Streamlabs on top of the platforms mentioned earlier.
8. Logitech Brio Ultra HD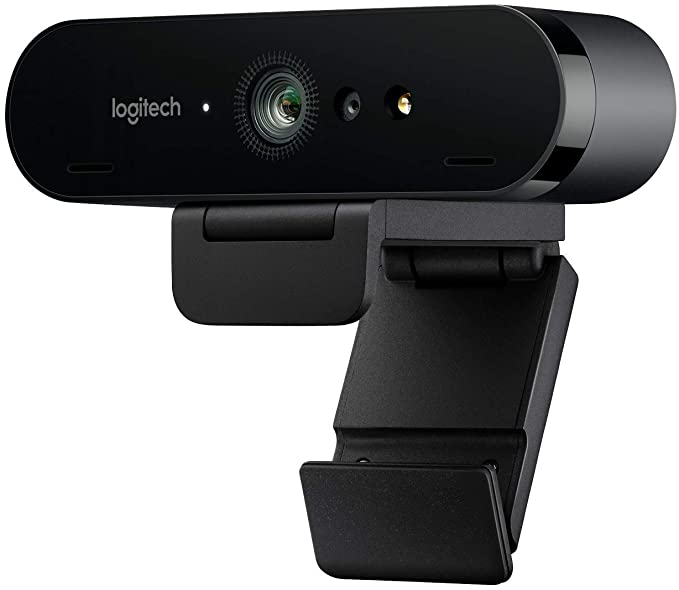 | | |
| --- | --- |
| Max Resolution | 4K |
| Image Definition | 13 MP |
| Aspect Ratio | 16:9 |
| Frame Rate | 30/60/90 |
| Field of View | 90/78/65 |
PROS: Whopping 4K max resolution, adjustable frame rates and field of view
CONS: Exorbitantly 'expensive' (for a work-at-home webcam)
Finally, we have the most overkill of overkill when it comes to work-at-home webcams. Without context, the long list of specifications would seem like just a preview for a professional recording camera. The Logitech Brio Ultra HD is optimized for the most professional of work conference systems. You would use this in an inter-office conference room or a small office at home with multiple-but-separate groups of people per session.
Another use for an Ultra HD camera like this is for live streaming. Premium features include support for HDR, to automatically compensate for low-light for clearer streaming, high 60fps frame rate support at 1080p including support for slow-mo replays, HD 5z digital zoom, choice of three FoV and dual microphone for better audio. Finally, while it is plug and play, Logitech has included an intuitive video recording software called the Logitech Capture. At the time of writing, many MacOS M1 users are still struggling to use the app properly, hopefully a native M1 optimised version will be available from Logitech soon.
Oh, and please don't connect this to your front-side USB 2.0 port (or to backside peripheral-use USB 2.0 ones, for that matter). Some of its features may become unavailable. While it is backward compatible with USB 2.0 connection, be sure to use a USB 3.0 port be it Type-A or Type-C to take advantage of the bigger bandwidth.
So are all of these features worth the exorbitant asking price of the Kiyo? If purely for video conferencing with fellow employees, most likely not. But if you plan to expand your webcam's use apart from work at home, it's a pretty solid investment.
Note: The same camera is also available from Apple store online as Logitech 4K Pro Magnetic Webcam for Pro Display XDR. It just comes with a magnetic mount and a sleek anodised aluminium finish case.