It is now 2021, and no one is content shooting just still images. No one is content shooting just full-HD videos either. With displays getting bigger and better consumers are now looking for cameras that can shoot at a higher resolution, 4K Ultra HD videos. Here are 5 of the top choices in 2021.
At one time, full-HD was the norm. Now, it is 4K. Changes in technology are constantly pushing the envelope in terms of resolution and image quality.
So, as a consumer looking to buy the best digital camera for shooting 4K videos, what are your options in 2021? Well, we have looked at several cameras and these five are, according to us, the best 5 choices for shooting 4K videos in 2021:
Sony ZV-1 (Best overall pick)
Canon G7 X Mark III
Panasonic Lumix DC-GH5S (Best professional pick)
Canon EOS RP
Canon EOS M50
1. Sony ZV-1 Camera
Our Choice as the best digital camera for shooting 4K videos in 2021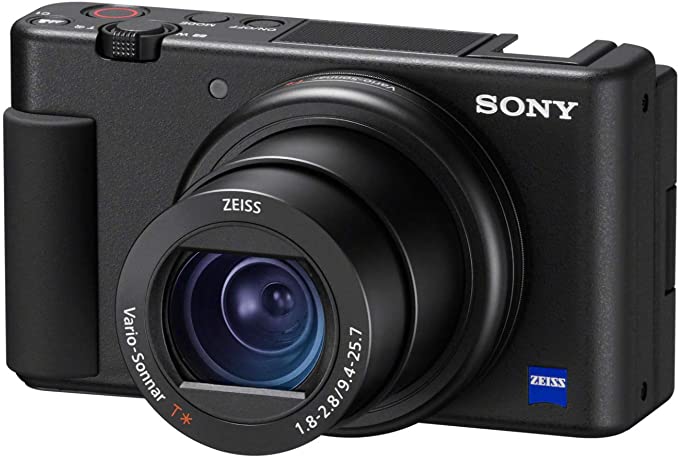 Price – US$748
Chances are if you are interested in the best digital cameras for shooting 4K videos, you are a vlogger, a YouTuber to be specific, and you need a good vlogging camera. Let me introduce you to the latest and greatest vlogging camera – the Sony ZV-1.
Sensor
The ZV-1 is designed for the avid vlogger. Under the hood a 20.1-megapixel (MP) 1-inch RS BSI CMOS sensor powers it.
Video capabilities
The camera is capable of capturing UHD/4K footages at 30p. Plus, you can shoot full-HD videos at a frame rate of 120p.
Lens
The built-in lens has a 35mm focal length equivalent of 24-70mm with a maximum aperture range of f/1.8 to f/2.8. That's an optical zoom up to 2.7x. The wide aperture produces a beautiful shallow depth of field effect that you normally see in movies. For everyday family videos, this is not a necessity, but if you vlog, the ZV-1's lens is just perfect.
Touchscreen
As I mentioned above, the ZV-1 is a great camera for vlogging. The 3-inch rear LCD touchscreen can flip 180-degrees and face forward. This allows you to keep yourself in the frame and check for focus while recording your own video, without the need for someone to man the camera.
Microphone
Among the other vlogging-centric features, the ZV-1 has a front-facing 3-capsule microphone. This is perfect for recording audio coming from the front of the camera. Sony also provides a noise-canceling mic in the box. You can plug this mic into the hot shoe of the camera and capture crisp audio along with your footage.
Who is it for?
As you can realize, the major features of the camera are all geared towards a vlogger/YouTuber. That does not mean that this camera is unsuitable for someone looking for a 4K camera for shooting family videos. It has everything you need as an enthusiast user and more just in case you want to start a YouTube career. A Sony ZV-1 in white is also available if black isn't your colour. Plus, there is bundled option for Vlogger to get the camera with bundled tripod with Bluetooth remote that converts to selfie stick and 64GB card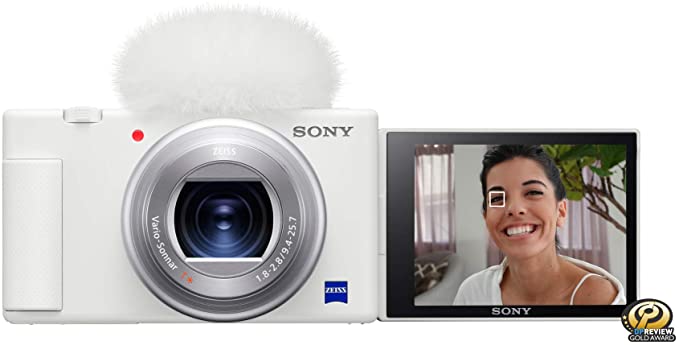 2. Canon G7 X Mark III Camera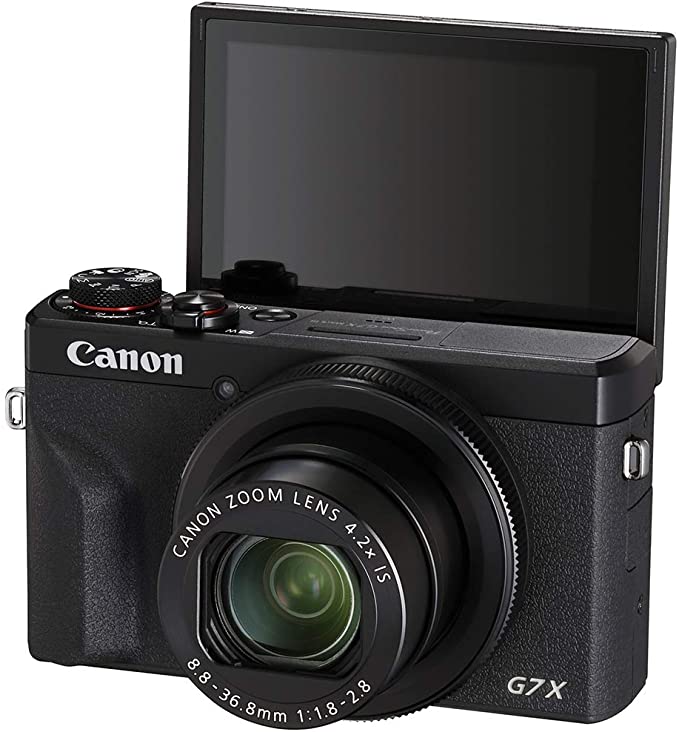 Price: US$749
Before the Sony ZV-1 burst onto the scene, the Canon G7 X Mark III was the tool of choice for a lot of YouTubers. Even enthusiastic users looking for a 4K camera, to shoot family and vacation videos, preferred it over other options.
Sensor
Under the hood, the G7 X Mark III is powered by a 20.1-megapixel (MP) 1-inch Stacked CMOS sensor and a DIGIC 8 image processor.
Video capabilities
The camera captures UHD/4K videos at 30p and full-HD videos at 120p. You can do live streaming on YouTube too. And that is a feature that vloggers will love.
Lens
The built-in lens has a focal length range of 24-100mm (35mm format equivalent). When compared with the ZV-1, the G7 X Mark III has a slightly longer focal length. So, if you are shooting videos on a vacation the G7 X Mark III gives you a longer 4.2x zoom reach than the ZV-1.
For a vlogger/YouTuber, on the other hand, the extra reach makes little sense. A vlogger/YouTuber rarely uses a focal length longer than 70mm and shorter than 24mm.
The maximum aperture of the lens is f/1.8 to f/2.8. The same as the ZV-1. Therefore, with this camera too, you can shoot those beautiful shallow depth of field footages.
Touchscreen
At the back of the camera is a 3-inch 1.04M-dot touchscreen that practically dominates the space. It flips out 180-degree. Perfect for vlogging. It is useful for other purposes as well such as when taking a selfie or a group video.
Other features
The other features of the camera include the option to plug-in an external mic and wireless connectivity via Bluetooth and Wi-Fi.
Who is it for?
The camera should suit someone looking for a no-frills video shooter. If you are not interested in color-grading your footage or doing too much post-processing, then this camera is useful for you too. the built-in lens has a longer reach therefore this should be useful for the average user (not so much for a YouTuber). If you want to hit the ground running, consider the bundled Video Creator Kit that includes a tripod with detachable Bluetooth remote, 32GB memory card and extra battery.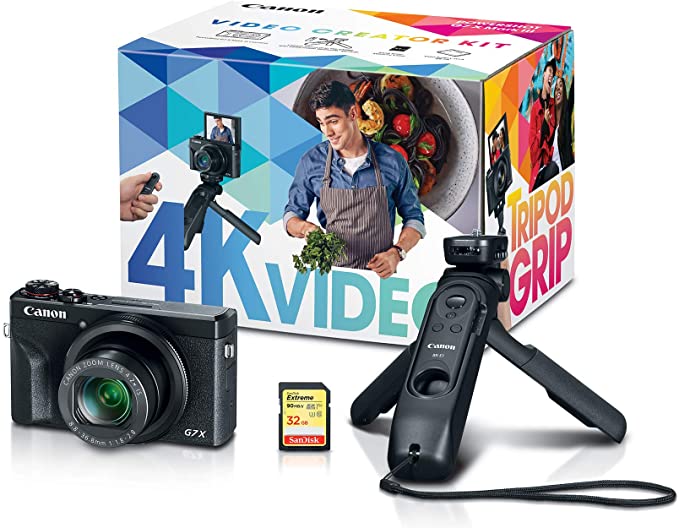 3. Panasonic Lumix DC-GH5S
The best option for professional-level results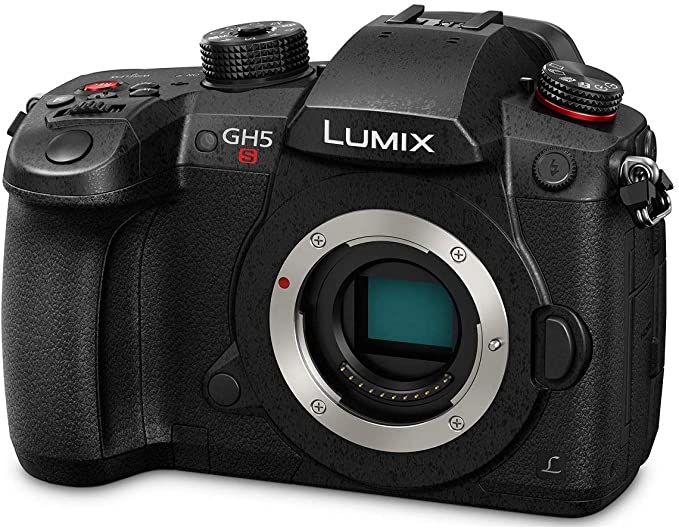 Price – US$1798
The GH5S is the video-centric version of the extremely popular GH5. I would say both the GH5 and the GH5S are capable video shooters. But if it is primarily videos that you are looking to shoot and not stills, then this is the version to go for.
Sensor
If you look at the specs of the camera and then compare it with the generic version, i.e., the GH5, then you will immediately realize that the GH5S has a lot less resolution to start. 10.2-MP compared to 20-MP on the GH5.
Plus, there is a lot of price difference, with the GH5S costing nearly US$500 more a piece. So, is the GH5S a better choice than the stock GH5? In terms of shooting videos, yes. Let's discuss the video features of the camera.
Video capabilities
The camera is capable of capturing DCI/4K at 60p and Full HD at 240p.
The GH5S lack of resolution isn't a handicap when you consider that when shooting videos, moving images are less likely to be pulled up for lack of detail. On top of that, the 10.2MP sensor is more than enough to capture 4K Ultra HD video frames.
Dual-native ISO
But that is not all. The GH5S is equipped with Dual-native ISO sensitivity. It is basically like having two different sensor sensitivity levels.
To give you an analogy from the film days, you get to load two different film stocks with different ASA numbers, on a single camera at the same time.
This gives the GH5S an incredible advantage when shooting in low-light situations.
The GH5S is one of few interchangeable lens camera systems that allow you to record 4:2:2 10-bit footage internally. Optionally, you can also record to an external recorder or display to an external monitor, while recording footage internally.
This may not sound extremely attractive to someone who is only looking for a decent 4K camera. But if you are an enthusiast and might be looking to invest in a camera that can capture cinema-quality footage, the GH5S is very hard to ignore.
Touchscreen
The articulating touchscreen at the back of the camera is a large 3.2-inch unit. It is one of the largest on this list.
Who is it for?
If you shoot videos as a profession, the GH5S is your camera of choice. You will however, need to pick up a suitable lens. We recommend one with the range of 12-35mm. If you want something with more range, get the 35-100mm lens or the 45-150mm as well. Also, these lenses are going to cost extra, so make sure you budget for them too.
4. Canon EOS RP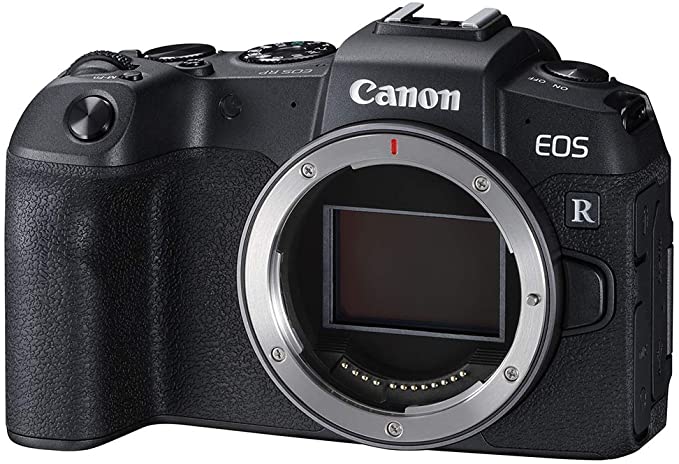 Price – US$ 999
Sensor
The Canon EOS RP is a mirrorless unit with a 26.2-MP full-frame CMOS sensor. For image processing, it uses Canon's DIGIC 8 image processor.
Video capabilities
The EOS RP is capable of shooting UHD/4K videos at 25p and full-HD videos at a maximum frame rate of 60p.
Internally the camera is capable of recording at 4:2:0 sampling with 6-bit color depth. However, for better information, you can record externally to get 4:2:2 8-bit color depth. This is suitable for someone interested in color grading the recorded footage.
Microphone
The onboard integrate stereo mic records decent quality sound. But if you want to record even better-quality audio you should use an external mic. An external mic port is available on the camera.
Dual-pixel CMOS Auto-focusing
Canon uses a new auto-focusing technology known as Dual-Pixel CMOS AF. This technology is a smoother and much more accurate auto-focusing process.
Unlike the jerky focus acquiring process of older camera systems, this technology uses a series of phase-detection AF points embedded in the imaging sensor, for better autofocus reliability.
This technology is designed to improve the live-view auto-focusing performance of Canon's DSLR cameras. It now finds its way into the next generation of Canon mirrorless cameras as an integrated feature.
The result of it is a more reliable focus lock, even when you are shooting in live-view mode. Plus, you get the advantage of a smoother auto-focusing performance when paired with the right lens.
Touchscreen
Turn the camera around, and you get a large 3-inch 1.04m-dot vari-angle touchscreen display. The large LCD screen is perfect for composition when recording videos.
Additionally, the fact that the screen can flip out 180-degree means you can also use it for selfies and recording yourself. This feature is also useful for vloggers.
Other features
The other features of the camera include an electronic viewfinder with a resolution of 2.36m-dot, integrated Bluetooth, and Wi-Fi.
Pro tip – if you are already a Canon DSLR user and have a few EF lenses with you, the new RF mount supports full functionality to all legacy EF lenses via an EF-RF mount adapter.
Who is it for?
Users who are looking for a good quality camera that shoots 4K/UHD and offers professional-level results. Again, as with the Panasonic Lumix camera above, you will need to pick a lens kit for the camera. We recommend one with the range of 24-105mm.
5. Canon EOS M50 with EF-M 15-45mm Lens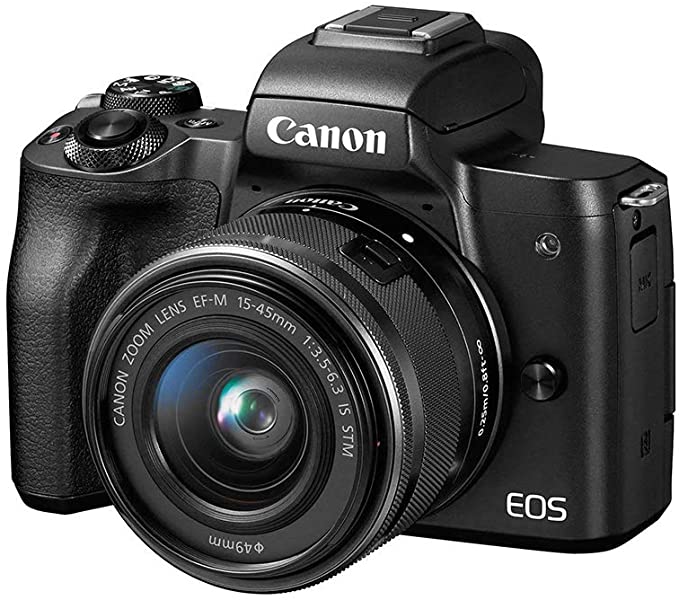 We have seen the Canon PowerShot G7 X Mark III above. For a beefed up offering, consider the Canon EOS M50 or the Canon EOS M50 Mark II. This is our choice vlogging camera with interchangeable lense from Canon's vlogging range.
Sensor
The Canon EOS M50 is powered by a 24.1 Megapixel (MP) mirrorless APS-C CMOS sensor backed by the DIGIC 8 Image Processor.
Video capabilities
With a Dual Pixel CMOS Autofocus, the camera shoots fast and accurate images. It also helps with video capture too, with cinematic quality 4K video capture capability right on the camera. it also supports 60p Full HD video with continuous auto focus. Use this to tackle shallow depth and low-light action sequences easily.
Lens
The included EF-M 15-45mm zoom lens with IS STM is perfect for close up and video capture. It supports Eye/Face tracking as the subject moves around the frame. Used together with the touch interface, just tap to focus on your chosen subject.
Touchscreen
The big touchscreen uses vari-angle hinge and support drag autofocus. This means you get maximum flexibility in framing your shots and video, whatever the angle or height. If using the touchscreen for shooting isn't for you, try the electronic view finger.
Microphone
Onboard microphone is pretty standard but a microphone input means you can use your favourite professional microphone with the camera.
WiFi and Bluetooth
If you are used to connectivity on a smartphone, you will like the EOS M50 Mark II. It comes with WiFi connectivity and support for YouTube live streaming so you can capture and stream at the same time.
Who is it for?
If you want a step up from shooting on the smartphone, the Canon EOS M50 Mark II is for you. Combining the video capabilities of the Canon EOS M50 MII camera above with Rode VIDEOMIC Go microphone makes this a vlogging powerhouse. This is what you will get straight out of the box with the Video Creator Kit option. The kit also includes a 32GB SD memory card for storage. For a quick off-the-shelf solution, if a camera with interchangeable lens is what you are after, this is the camera for you.
Conclusion
The best overall pick for shooting 4K videos is the new Sony ZV-1. It has everything that you can ask for as a consumer looking to shoot 4K videos, and much more. The other all-in-one cameras that we like is the Canon PowerShot G7 X Mark III. On the other hand, the best pick, if you are a professional looking for a compact 4K video camera, is the Panasonic GH5S. It has professional-level video features including 10-bit 4:2:2 internal recording and dual-native ISO for excellent video quality in any kind of lighting. This is also a professional camera with interchangeable lens so you have better creative control over the angle and way you film. For this category, also check out the Canon EOS RP and EOS M50, both are equally powerful cameras to capture 4K video but one is more than double the price of the other.
RELATED:
Edited by Samuel J Tan