If you only use mainly the Chrome Web Browser, Google's Suite of Apps and other web-based applications and media streaming services, here are low cost 2-in-1 convertible Chromebooks for you. These budget laptops are not only portable but versatile too with a multi-point touchscreen so you can interact with it like a tablet.
Remember the days of Netbooks; budget, small and low power laptops that allows you to surf the web and not much else. The ideas was great but the execution is flawed. It had a full fat operating system that demanded more of the hardware causing it to struggle. Chromebooks however are based on the lightweight ChromeOS and take advantage of network and cloud computing as well as more capable processors, more memory and bigger display.
Use Android Apps on 2-in-1 Convertible Chromebook Laptops
Plus, you can now install Android apps on your Chromebook. And, with one of these 2-in-1 convertible laptops, you can access your Android apps via multitouch on the device in tablet mode. How's that for flexibility. You are basically getting two distinctly different device in one.
Use the laptop like a tablet and enjoy you Android apps just like you do on your Android tablet. Simply go to the Google Play Store app on your Chromebooks and browse compatible Android apps that will run on your device. Most modern Chromebooks will support this. If you have an existing Chromebook, check the list of compatible devices with Chrome OS systems that will support Android app.
Top 5 Best Budget 2-in-1 Convertible Chromebook Laptops
To keep the Chromebooks in our line-up affordable, we kept to the smaller 2-in-1 Chromebook laptops with Intel Celeron processor or MediaTek chip. Majority of these laptops are no bigger than 12-inch making them super portable and handy as a tablet.
You can find other, more powerful convertible Chromebook laptops based on Intel Pentium or even Intel Core i-series processors in our post here: 2-in-1 Chromebook Convertible Laptops: versatility and value with performance to boot.
The Lenovo C340-11 is small enough to carry comfortably around. It also has a right size keyboard for a feel good typing experience. Even when working on the machine for a long time, it does not feel out of place. When in tablet mode, the device is easy to hold with its chunky while not so sezy bezels. Powered by Intel Celeron N4000 processor with 4GB memory and 64GB eMMC storage, it is a laptop that will take on your everday tasks including homework, research and report writing.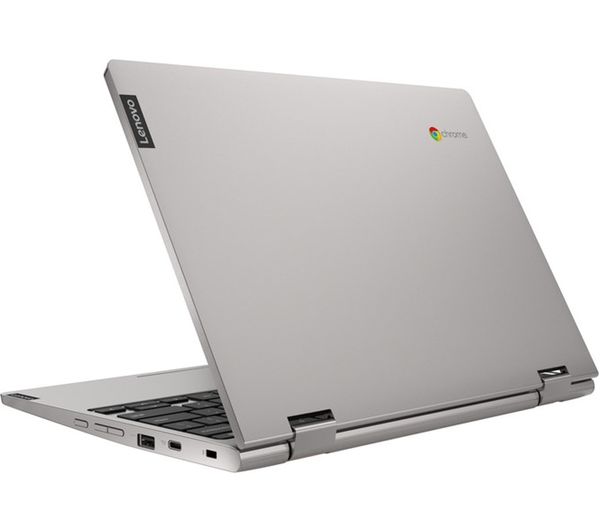 As with all ChromeOS based machines, start up is quick. Setting up is also easy, login with your gmail account and away you go. The interface is pretty straighforward and user friendly. Those used to working on Microsoft Office suites will find that Google Docs is capable of importing and exporting in and out of Word format supported by Microsoft.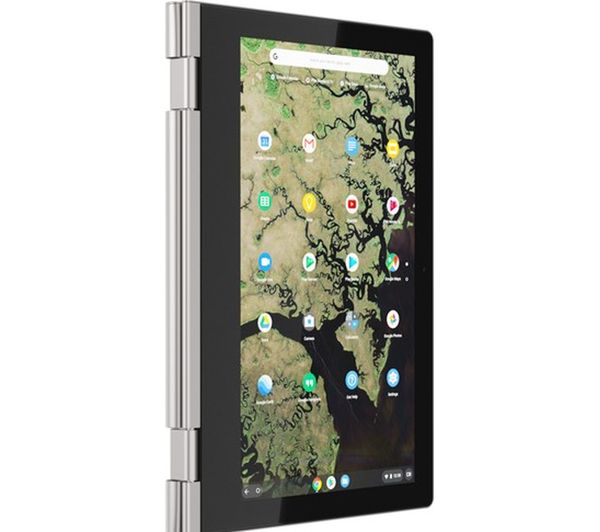 Specifications
Chrome OS
Intel® Celeron® N4000 Processor
11.6-inch IPS LCD HD 1366 x 768p 250 nits 16:9 aspect ratio
RAM: 4 GB / Storage: 64 GB eMMC
Battery life: Up to 10 hours
USB Type-C x 2, USB 3.1 x 1, microSD, 3.5mm jack
Dimensions and Weight: 17.8 x 290 x 207.8 mm (H x W x D), 1.2kg
---
This budget Acer laptop may cost a bit more but it has one advantage over other convertible Chromebooks on our list. It comes with a stylus. This, the touchscreen and keyboard offers more ways to use the laptop apart from the four usage modes associated with convertible laptops. These are laptop mode, tablet mode, presentation mode and tent mode.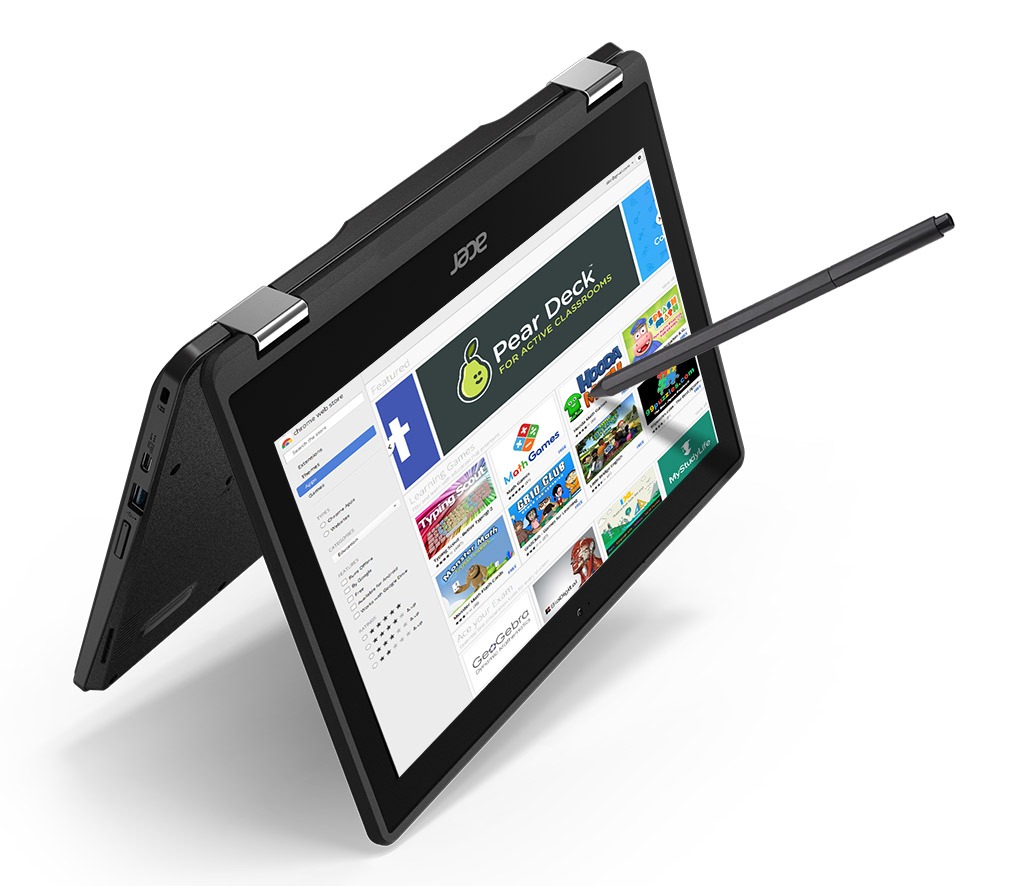 The ACER Spin 11 is great for school, with a robust design that will withstand the rigors of student life. It even has tamper proof keyboard to stop those itchy fingers from picking out the keys. And those who saw just how dirty a touchscreen can be, the Cornig Gorilla Glass fronted display is coated with an antimicrobial compound to resist growth. Although, we would still recommend cleaning the display often.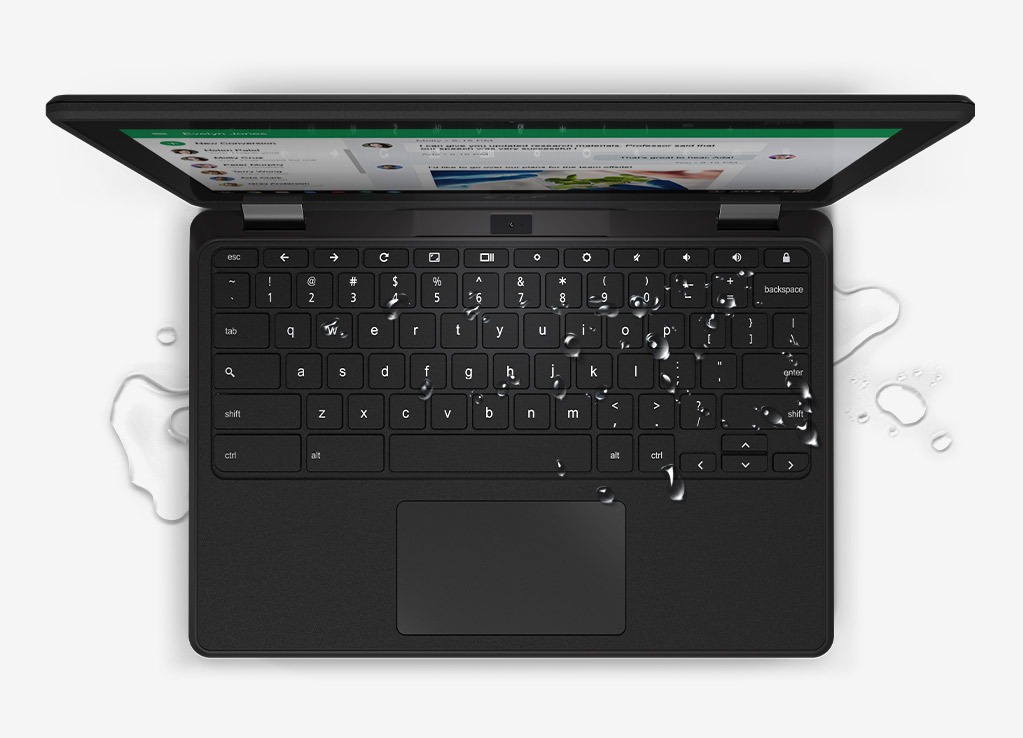 Back to the Stylus, the Acer Chromebook Spin 11 uses a Wacom pen and digitizer sensor. This allows you to write, sketch and jot naturally, directly on the screen like paper. Another advantage of the device is its durable design. Complying with MIL-STG 810G standard set by the military, the case is impact resistant and can take falls and knocks. Even the keyboard is tamper-proof and spill resistant (see image above).
Specification
Chrome OS
11.6-inch HD Ready 1080 x 720p IPS LCD
Intel® Celeron® N3450 Processor
RAM: 4 GB / Storage: 32 GB eMMC
Battery life: Up to 10 hours
Wacom pen included
USB Type-C x 2, USB 3.0 x 2, microSD
Dimensions and Weight: 19.99 x 206 x 296 mm (H x W x D), 1.25kg
---
A Chromebook with a more up to date look, especially those narrow side and top bezels, the HP x360 is not much bigger than the Chromebook with 11.6-inch devices above but comes with a 12-inch display. The laptop is lightweight, the screen resolution is amazing, the system is fast and using it to accomplish everyday tasks is a breeze.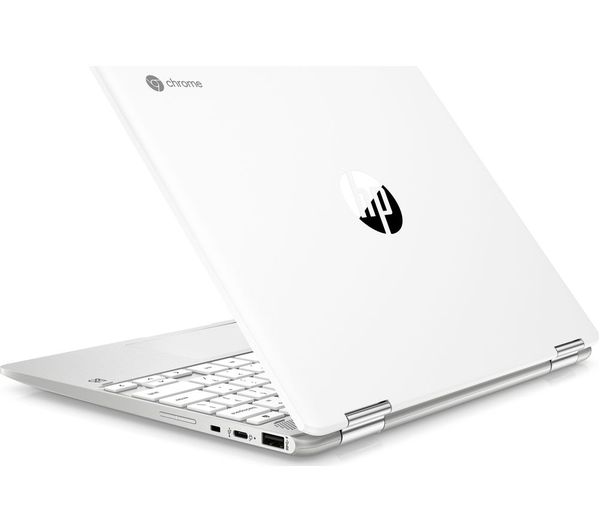 On top of that, the touchscreen and ability to install and run Android app is a blessing, although the speaker could be a little louder. Battery life is one of the best here with up to 13 hours of use per full charge. Overall a delight to use at just the right size.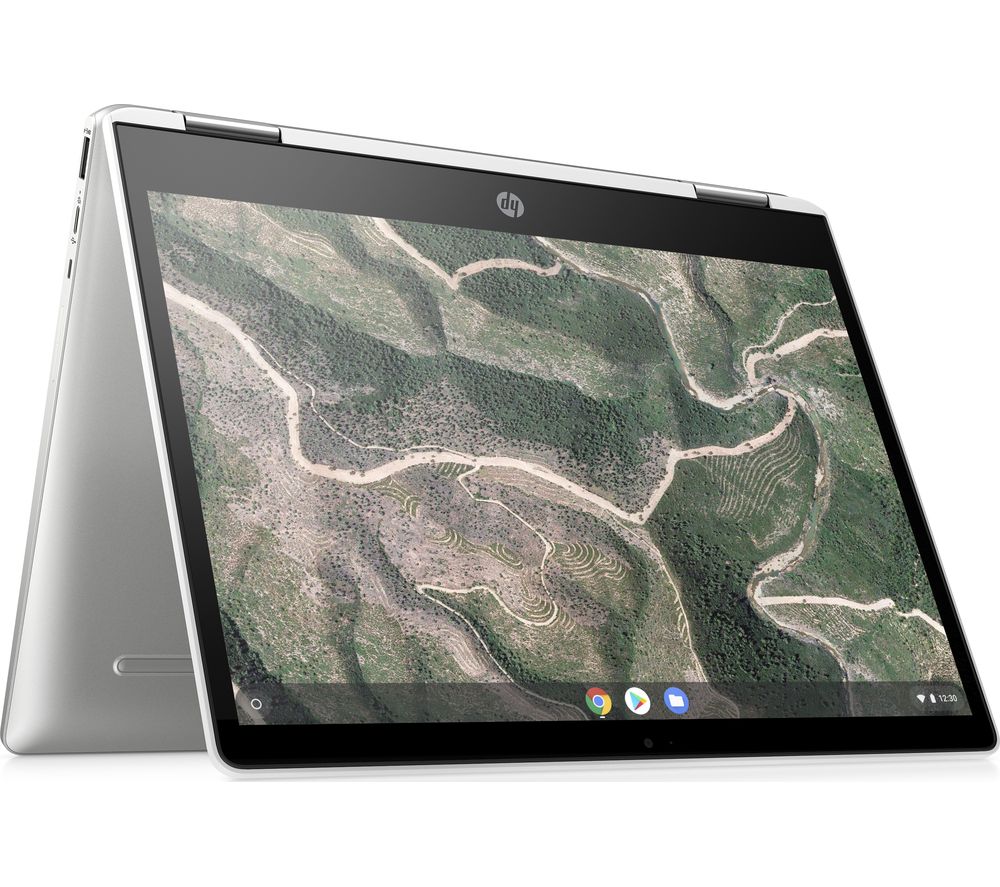 Specifications
Chrome OS
12-inch IPS LCD HD Ready 1366 x 912p 3:2 aspect ratio
Intel® Celeron® N4000 Processor
RAM: 4 GB / Storage: 64 GB eMMC
Battery life: Up to 13 hours
USB Type-C x 2, USB 3.1 x 3
Dimensions and Weight: 17.3 x 216 x 272 mm (H x W x D). 1.35kg
---
ACER Chromebook R 13 CB5 13.3-inch 2 in 1 – MediaTek, 64 GB eMMC –

BIGGEST DISPLAY
Big display without the heft, this Acer Chromebook R13 CB5 powered by MediaTek M8173C chip has a Full HD 13.3-inch display. The processor is usually found in tablets. With a screen that size, it does compromise on portability given its bigger foot print and dimensions but maintains a slim profile, only 15.5mm thin. Being the biggest device also means it has the highest price tag among our budget Chromebooks.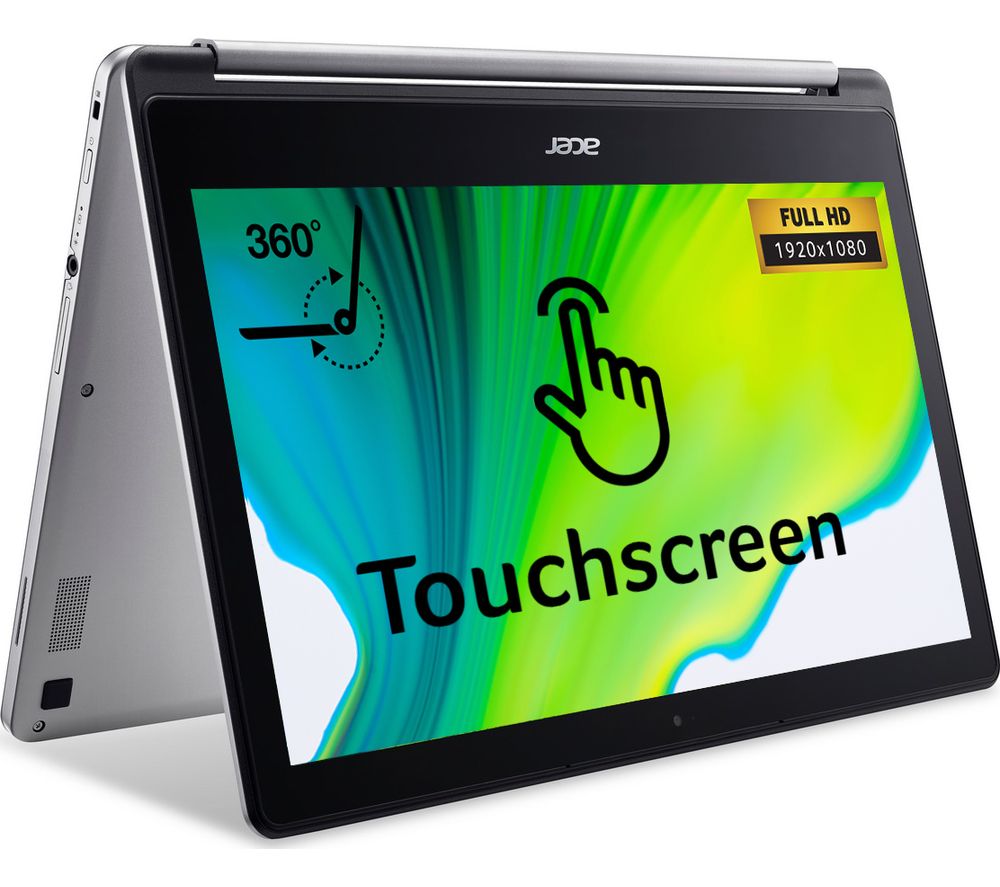 A slimline laptop that is great for browsing the web and consuming streaming media as well as catch up on emails, research the web, carry out office, college or university work. You can easily accomplish all that in a single charge as the battery seems to last forever. The big 13.3-inch Full HD display is just what you need for movies and TV shows.
Using a chip designed for a tablet also means that it does not need active cooling. No active cooling means a silent operation and no fan to suck the air in, keeps the dust out of the components inside. Finally, even with a slimline body and a big display, the battery in the convertible laptop still manages an all day 12 hours' use.

Specifications
Chrome OS
13.3-inch Full HD IPS LED Backlit multi-touch display
MediaTek M8173C Processor
RAM: 4 GB / Storage: 64 GB eMMC
13.3-inch Full HD screen
Battery life: Up to 12 hours
USB 3.0 x 1, HDMI x 1, USB-C x 1, 3.5mm audio jack, microSD slot
Dimensions and Weight: 15.5 x 326 x 228 mm (H x W x D), 1.49kg –

SLIMMEST
---
Another Chromebook from Acer, this time the Acer Spin 311 with 11.6-inch display. It does feel a bit dated with its chunky bezels on all sides but like the ACER Spin 11, it comes with Wacom pen included. This allows you to write, sketch and jot things down directly on the screen with a natural writing feel. It has everything you would want from a 2-in-1 convertible laptop minus the durability aspects of the Acer Spin 11.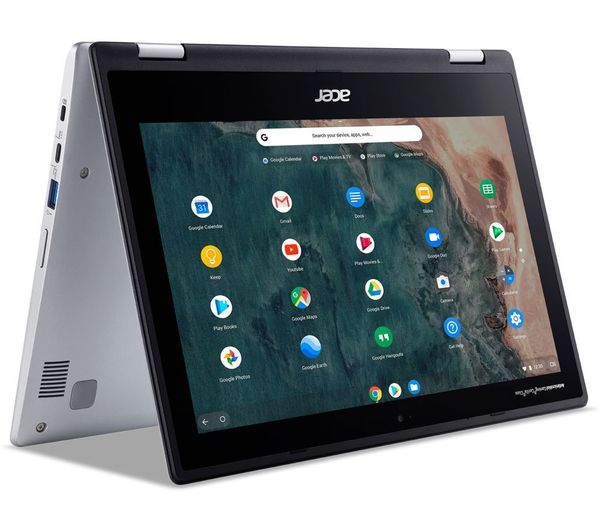 Specifications
Chrome OS
11.6-inch HD Ready 1080 x 720p
Intel® Celeron® N4000 Processor
RAM: 4 GB / Storage: 64 GB eMMC
Battery life: Up to 10 hours
USB Type-C x 2, USB 3.1 x 2, 3.5mm jack, microSD slot
Wacom pen included
Dimensions and Weight: 20 x 206 x 296 mm (H x W x D), 1.19kg –

LIGHTEST