If you are looking to add some bling and boost to your work from home mood, here are some gold retro mechanical keyboards that will help you do just that. Not only do they look elegant with their gold accent and keys, they also do not compromise on the typing experience using only the best mechanical switches for that ultimate haptic feedback that all writers yearn.
1. AZIO IZO Wireless Bluetooth Mechanical Keyboard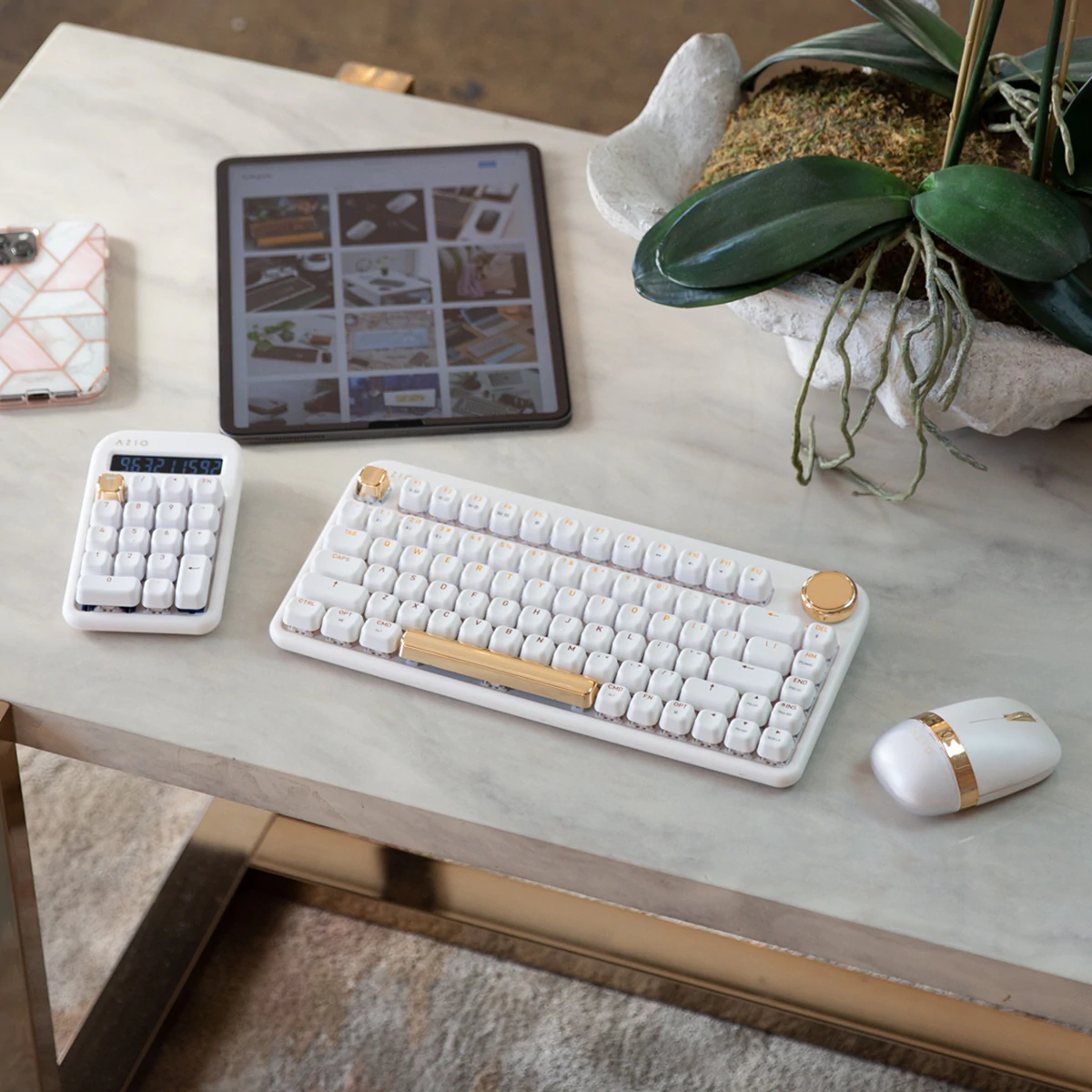 First on our list is the IZO wireless keyboard from AZIO. The company's range of retro keyboards are well-known for that distant retro mechanical feel and  retro styling. Also from the collection are IZO wireless mouse, palm rest, mouse mat and Numpad/Calculator to complete your Golden aspirations. Features that stand out include the unmistakable gold knob, space bar and escape key. The key caps have bezel edges and rounded corners for a smooth and ergonomic feel and underneath each button is Gateron Blue mechanical switch. Blue switches offer the best old school typing experience with its clicky sound and responsive haptic feedback. You can use the knob to control the volume or LED back lighting levels.
RELATED: Compact Mechanical Keyboards for Mac to Replace the Apple Magic Keyboard
2. AZIO Retro Compact Keyboard Posh
Also from AZIO, this time from their Retro Keyboard Collection aptly titled R.C.K for short. This is their compact wireless keyboard entry. While there are four different colour combinations, we only pick the following with Gold Accents and buttons, they are the Posh (below) and the Artisan (one after).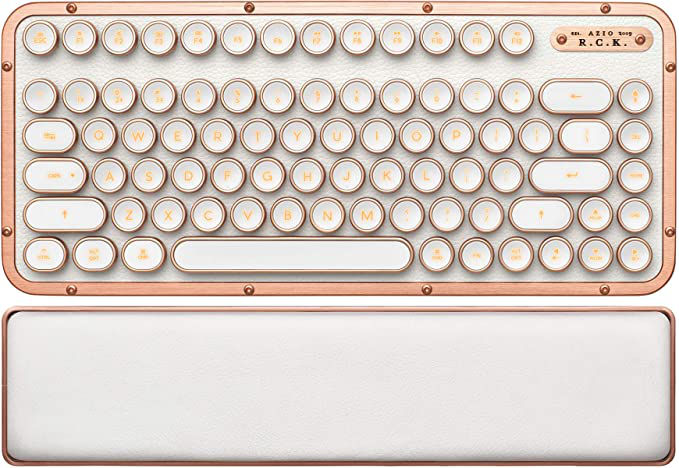 Complete with matching palm rests, these are modern mechanical keyboard with a retro twist. Both keyboards above and below come with genuine leather panels in white or black. The other two Elwood and Maple comes with, you guessed it, wood panels. Bottom line is, they are finished to the highest quality and with materials like leather or wood, they exude charm and character. All keyboards come finished with a durable aluminium frame with swappable feet for height adjustment, dual connectivity (USB wired or wireless), support for 3 devices and has a high 5000mAh rechargeable battery for months of use.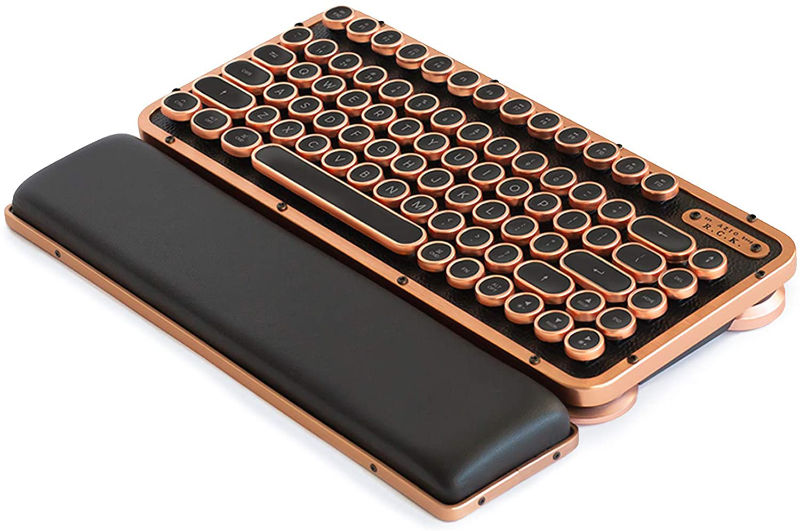 Apart from the compact keyboard above, AZIO also offers full size retro mechanical versions of the R.C.K collection with the same colour and material combinations, see below.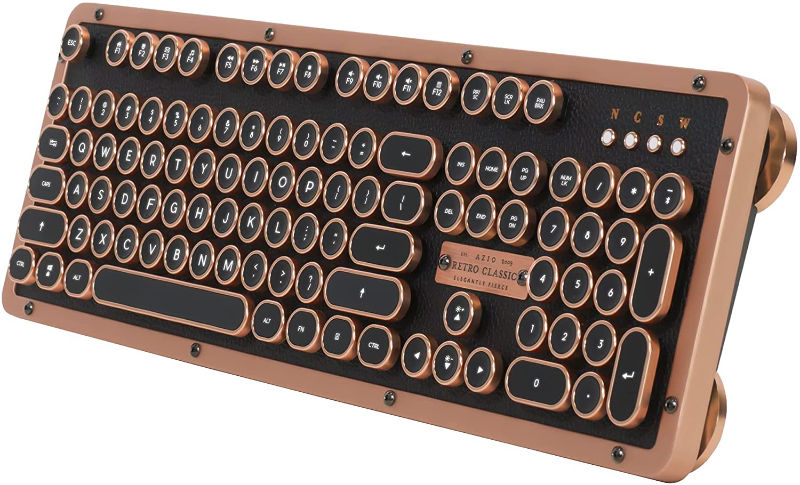 3. Rymek Typewriter Style Mechanical Keyboard
Rose Gold on White
Starting with this rose gold on white unit from KnewKey, the Rymek Typewriter tries its best to mimic a classic or retro typewriter its big tilted chassis. You can use it as wired or wireless and it is able to support up to three devices, switching between them quickly with shortcut keys. Underneath those round key caps are blue mechanical switches, the best choice for that clicky sound and tactile feedback. It also features dynamic LED backlight, working lever and scroll know with button actions. If you find the dynamic lighting effects too distracting, there are 5 level brightness, 7 effects and 4 speed to choose from or you can simply turn it off.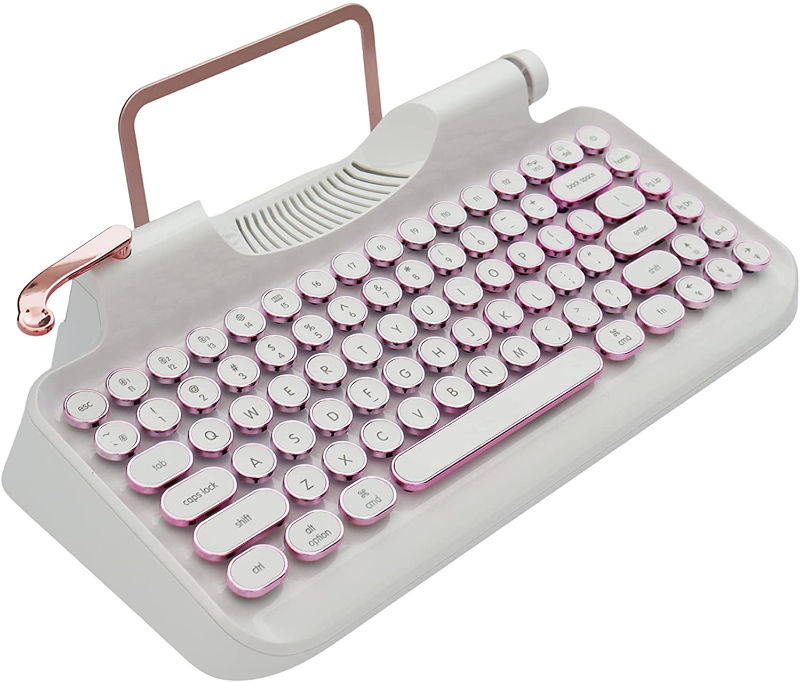 Rose Gold on Black
Another Rymek Typewriter Style gold mechanical keyboard with a more serious and mysterious look. This one comes with gold buttons on a black chassis. This resembles more closely to an old typewriter with its classic carriage return lever, u shaped buttons and array of type bars. There is even a platen knob on the right for scrolling or to control the volume. Like the crystal snow vision above, it comes with a 2000mAh rechargeable battery for up to 50 hours of typing time via bluetooth.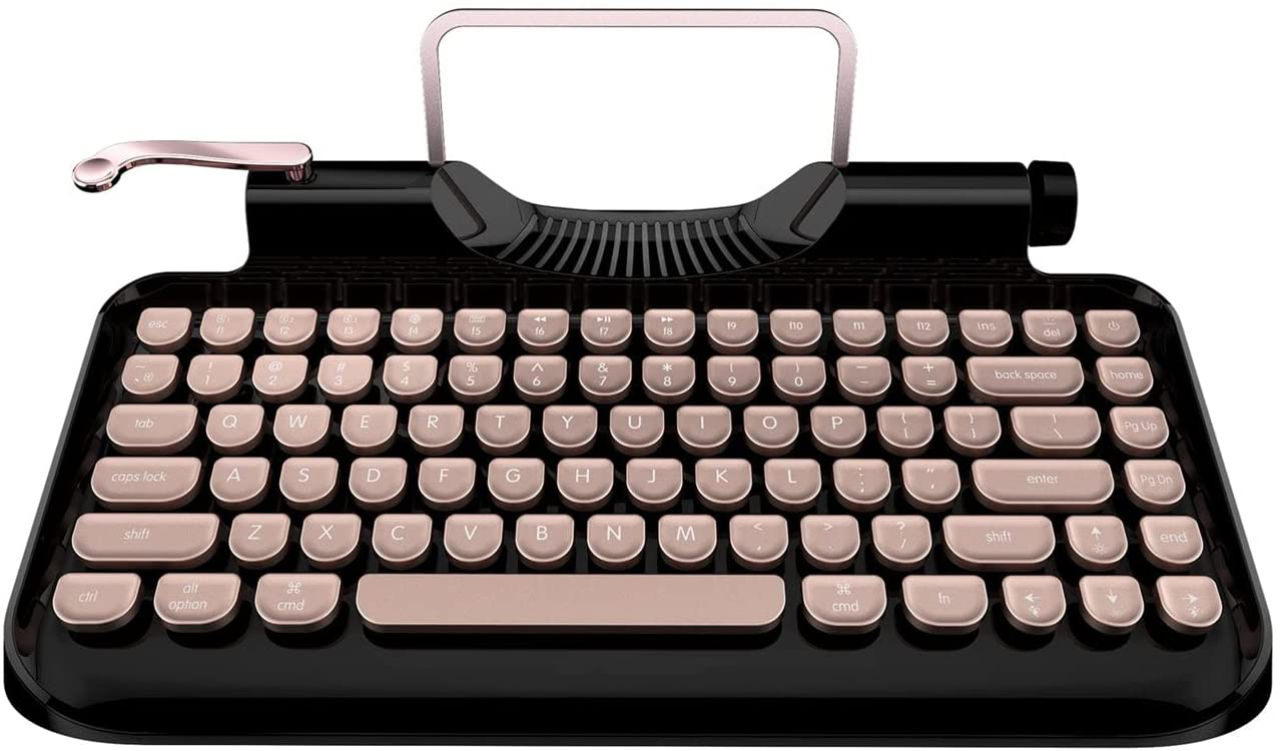 4 .Hallsen Full Metal Mechanical Keyboard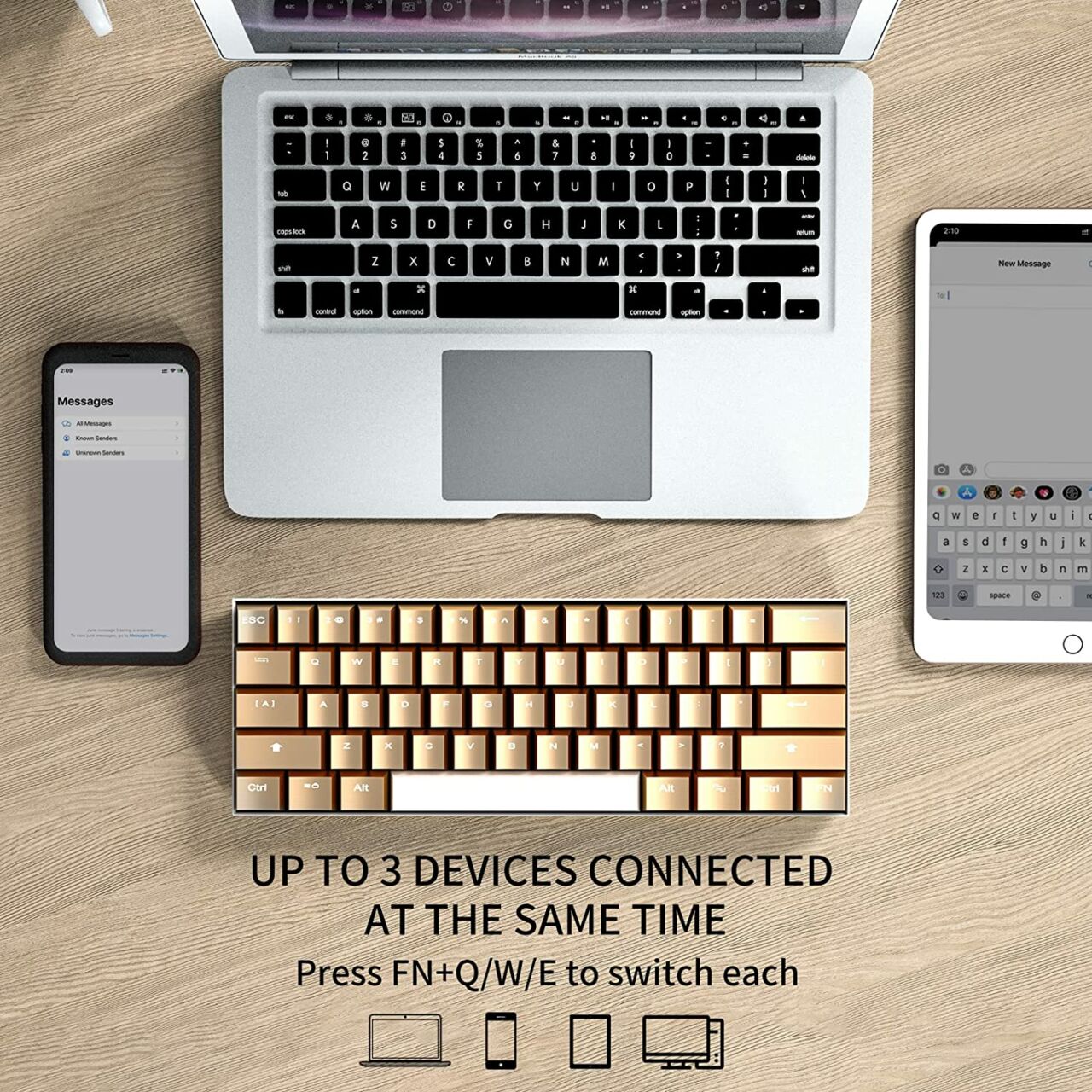 Not quite as retro or vintage looking as some of the keyboards we have seen so far, but the Hallsen is good looking nonetheless. With its full size keys, it is still a compact keyboard with 60% the standard size but there is more. The use of full metal keycaps in gold colour affixed to GamCap Blue mechanical switches. This gives in a solid feel with an all metal design. To turn up the bling a notch further, it comes with rainbow RGB backlight with 15 different effects using 6 different LED colours. The edges on the key caps are a little sharp but it does give it that strong masculine look.
5. LEGO Ideas Typewriter 21327 (not a real type writer)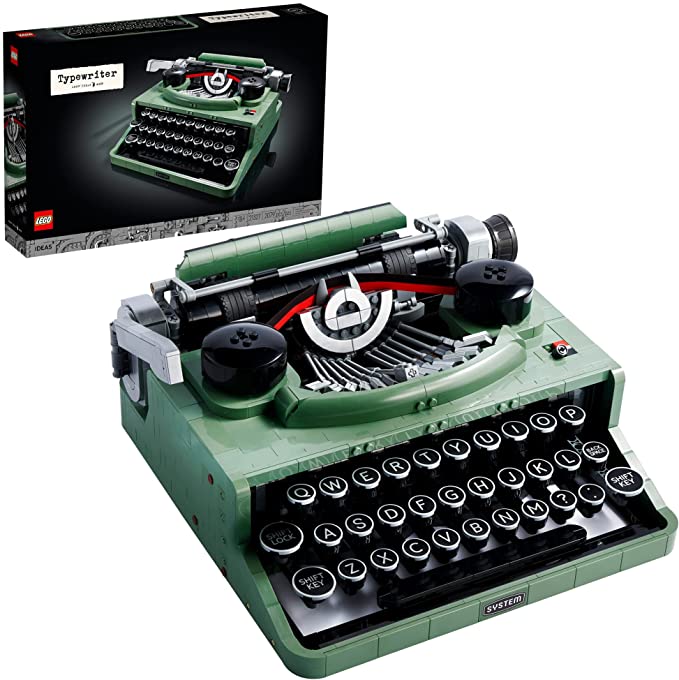 We leave you with a model typewriter that you can build with Lego bricks. Retro no doubt and it even comes with keys, moving type bar and sound. BUT this is not a real typewriter nor is it a mechanical keyboard. The fact that it isn't real and not in gold means it shouldn't be on this list. But, we couldn't help it especially with its oh-so-retro look. Lego says the model is inspired by the classic typewriter used by Lego founder Ole Kirk Kristiansen. Definitely a collectible.
RELATED: Expensive Mechanical Gaming Keyboards: Are they worth it?