With iPadOS, cursor and track pad support, it is now possible to use the iPad Pro as a laptop replacement. With the right keyboard and accessories, it can even be your main machine. Choose from one of these keyboards to add to the iPad Pro 11 and 12.9 (2018 or 2020 model) and make the most of your tablet.
Granted, there is a learning curve to familiarise yourself with the shortcuts, gestures, apps to get equivalent jobs done on the tablet and finding your way around the operating system. But, once you get over that, the iPad Pro is an accomplished and powerful machine. Not to mention reliable, lightweight and truly compact as a portable device. The first step to do that is to add a keyboard.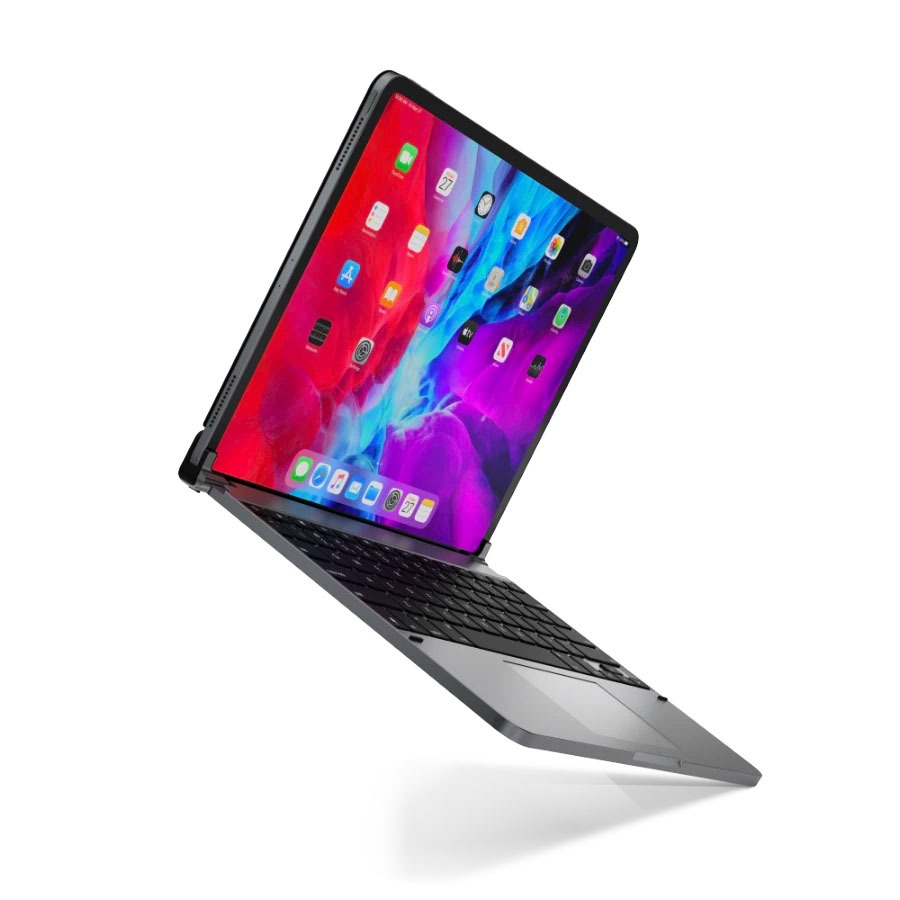 Top 5 Best Apple iPad Pro 11 and 12.9 Keyboards
Here are five of the best Apple iPad Pro 11 and 12.9 Keyboards. These keyboards work with the 2018 and 2020 models, instantly converting them into a 2-in-1 laptop.
1. Apple Magic Keyboard [

BEST FOR CANTILEVER SUPPORT

]
The Magic Keyboard with its revolutionary floating hinge, back-lit keyboard and touchpad is compatible with the third and fourth generation iPad Pro 11 and 12.9. The zig-zag hinge props the tablet up to make it seem like it's floating. Simply place the iPad Pro on the back support and it latches on magnetically. This back plate offers protection and is held by a cantilever support design.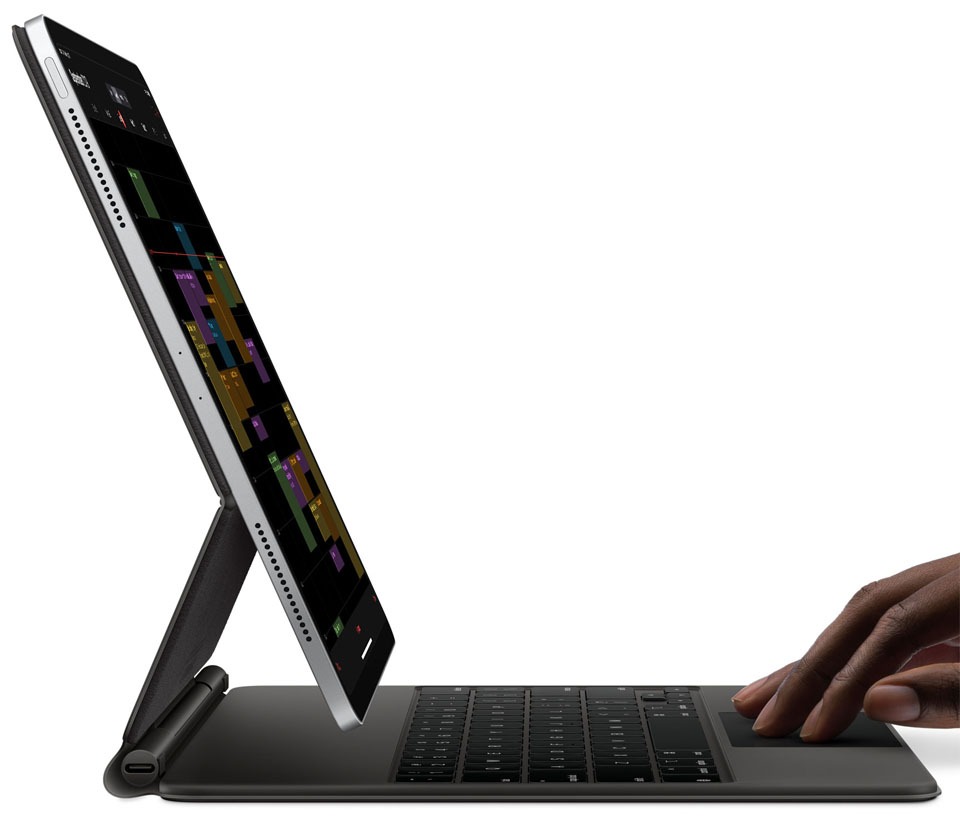 Once in place, you can smoothly adjust the working angle to suit. It has a USB-C port for pass-through charging and comes with front and back protection for the tablet. Fancy floating cantilever design aside, the full-size keyboard uses the new Magic keyboard scissor mechanism. That same mechanism used on the MacBook Pro 16 and MacBook Air 2020 with 1mm travel, quiet and responsive typing. As for the track pad, it supports multi-touch gestures and the all new round cursor.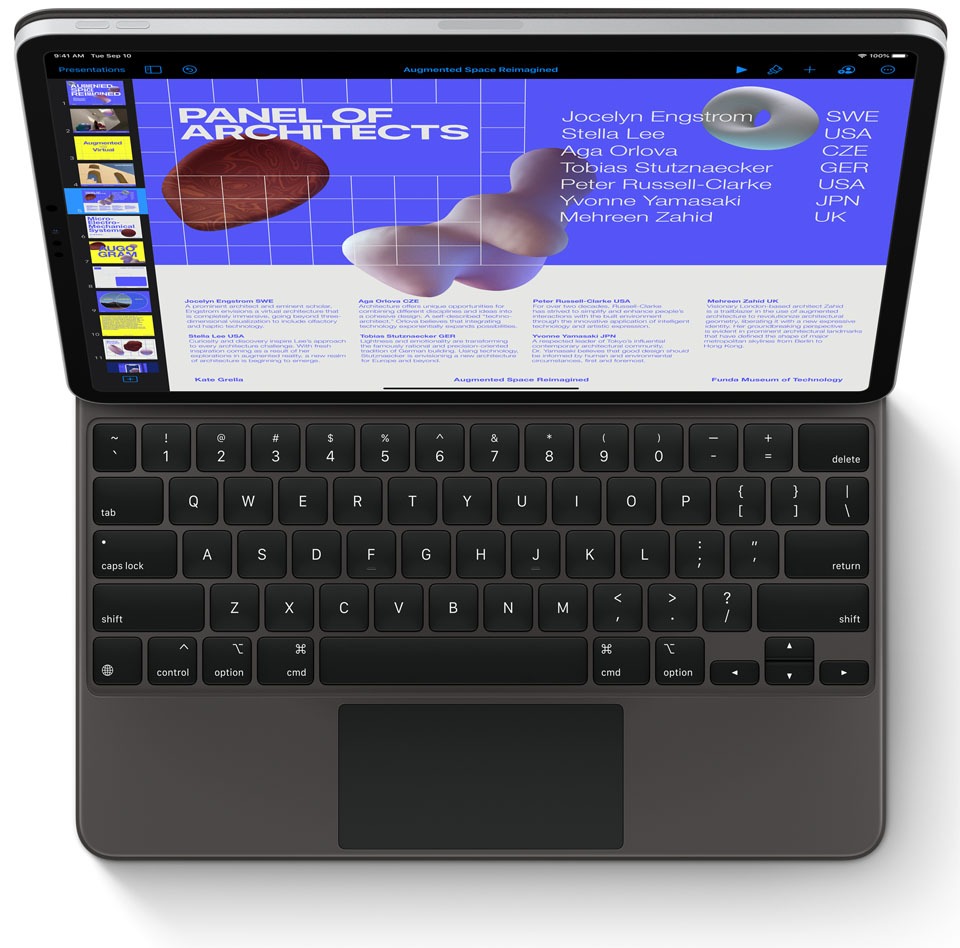 Apple Magic Keyboard on Amazon
Using Apple's proprietary connector on the back of the iPad, the Magic keyboard not only gets its power and sends keystrokes to the iPad but also supports an extra USB-C for charging. It may not be as slim as Apple Smart Keyboard Folio below but the charging USB-C port helps free up the onboard USB-C and floating cantilever hinge allows for a variable viewing angle. Finally, it comes with the new Magic Keyboard and trackpad, a first for iPad, but lacks iOS shortcut keys.
2. Brydge Pro+ [

BEST FOR LAPTOP PROFILE

]
The soon to be launched Brydge Pro+ is the company's answer to those looking for a case that will convert the Apple iPad Pro into a laptop. Compatible with iPad Pro 3rd and 4th generation, it comes with an oversized multi-touch trackpad with gesture, full-size keyboard, extra row of shortcut keys and support for iPadOS's Assistive Touch function. The iPad Pro mounts onto the keyboard's 180 degree hinge at the long edge of the keyboard. This offers complete versatility to support all working angles.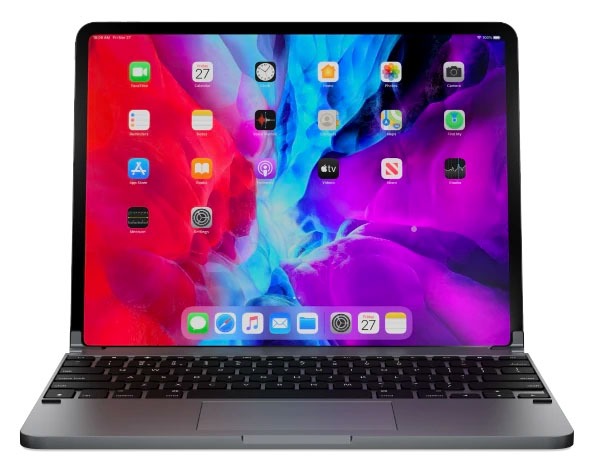 To get a true laptop experience from your iPad Pro, look no further. The Brydge Pro+ with its top notch build quality, amazing keyboard experience, iOS shortcut keys and track pad turns your iPad Pro into a MacBook. The battery may not last as long as the original Brydge Pro but is still 3 months per charge.
Like the Logitech offerings, the keyboard back light has three interchangeable settings and connects to the iPad Pro via Bluetooth 5.0. Yes, the onboard battery will need to be recharged. Thankfully with its long battery life of up to 3 months per charge, not too often. Even with the trackpad it is priced no where near as expensive as Apple's Magic Keyboard, At around 230 dollars for the 12.9 model, we expect it to sell very well. Plus, at the time of writing, an extra magnetic cover to protect the back of the tablet is included.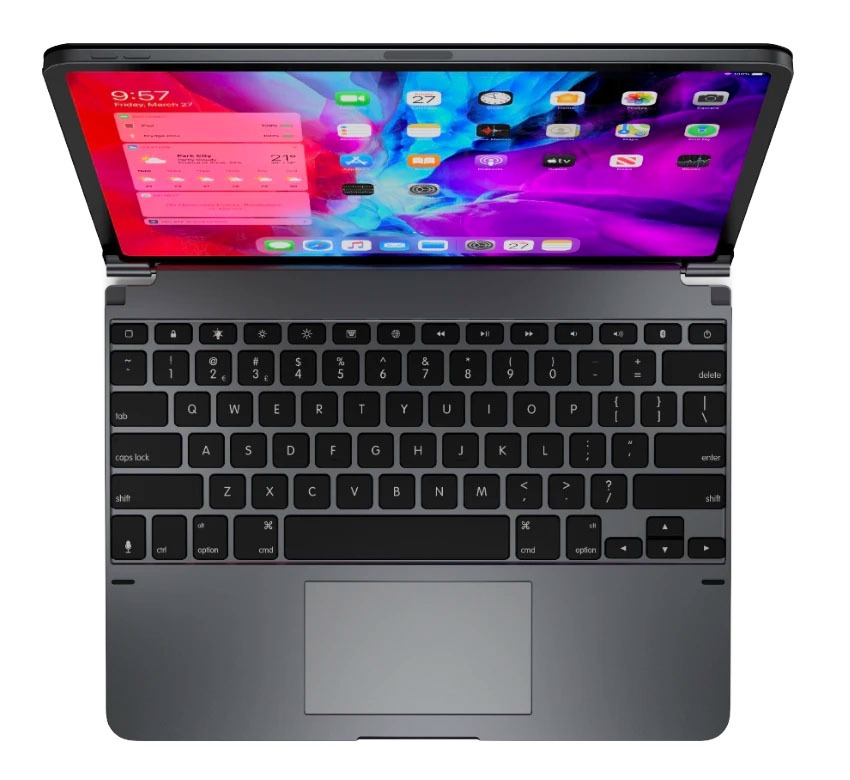 3. Apple Smart Keyboard Folio  [

SLIMMEST

]
The full-size keyboard cover offers two fixed viewing angles, comfortable typing and front and back protection, all in a lightweight and slim design. It supports both 3rd and 4th generation iPad Pro 11 and 12.9. Like the Apple Magic Keyboard, it draws power and transfers data from and to the iPad via the Smart Connector on the back of the tablet. The Smart Keyboard Folio is both lightweight and super slim.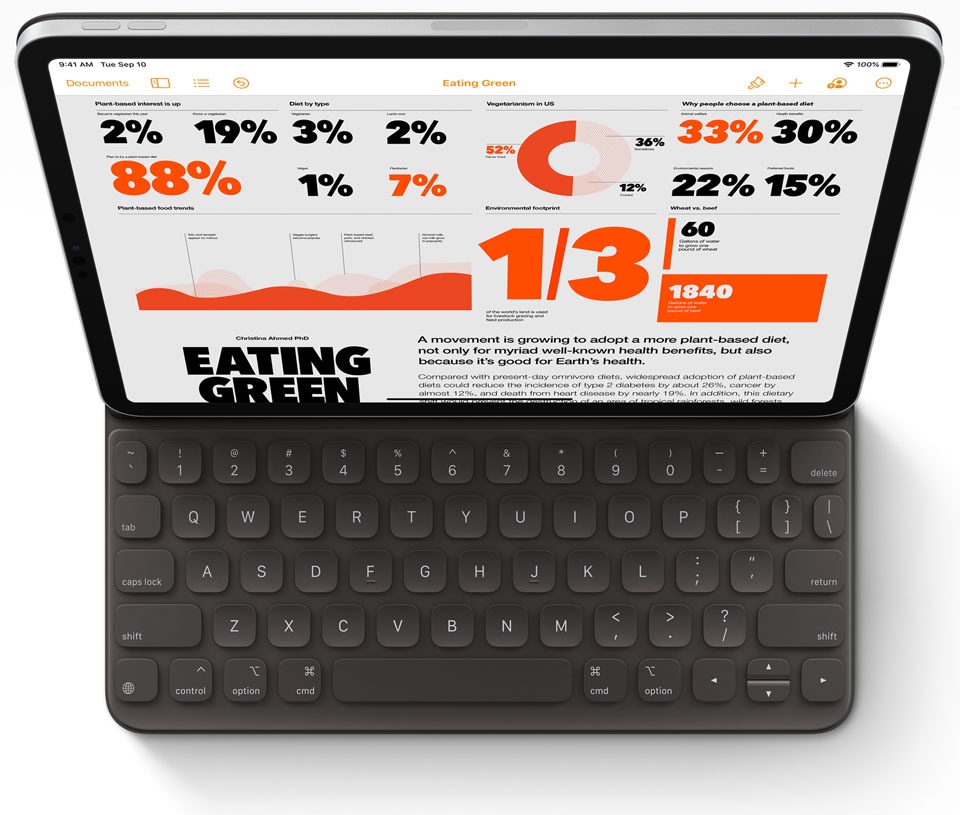 Apple Smart Keyboard Folio on Amazon
At around 150 dollar cheaper than the Magic Keyboard, the Smart Keyboard Folio for 12.9-inch iPad Pro is ultra slim. Like the Magic Keyboard, it attaches magnetically to the back cover while also connecting to the iPad's smart connector automatically. This allows the keyboard to get its power and send keystroke to the tablet. It supports two fixed viewing angles. Also, there is no onboard battery to recharge. The slimmest and lightest option in our list.
4. Logitech Slim Folio Pro Case [

BEST VALUE

]
Make no mistake, the Logitech Slim Folio Pro Case is not as slim as its name suggests. In fact, with all-round protection and corner bumpers, full-size back-lit keyboard with rechargeable battery and laptop style typing experience, it adds heft and size to the otherwise slim and light tablet. But, a quick glance at its price tag and all is forgiven.
The Logitech Slim Folio Pro Case comes with an extra row of function keys not available on Apple's own keyboards. These are iPadOS shortcut keys to control keyboard brightness, volume and more. The keyboard also offer ample key travel at 1.6 mm and the cover supports two fixed viewing angles, one for type mode at 58 degrees and the other, view mode at 10 degrees.
Priced at just around half Apple's Smart Keyboard Folio and just over a third the price of Apples Magic Keyboard, it offers amazing value. On top of that, there is a magnetic flap that goes over the Apple Pencil (2nd generation) to keep it in place during transit, and the rechargeable battery lasts up to three months on a full charge.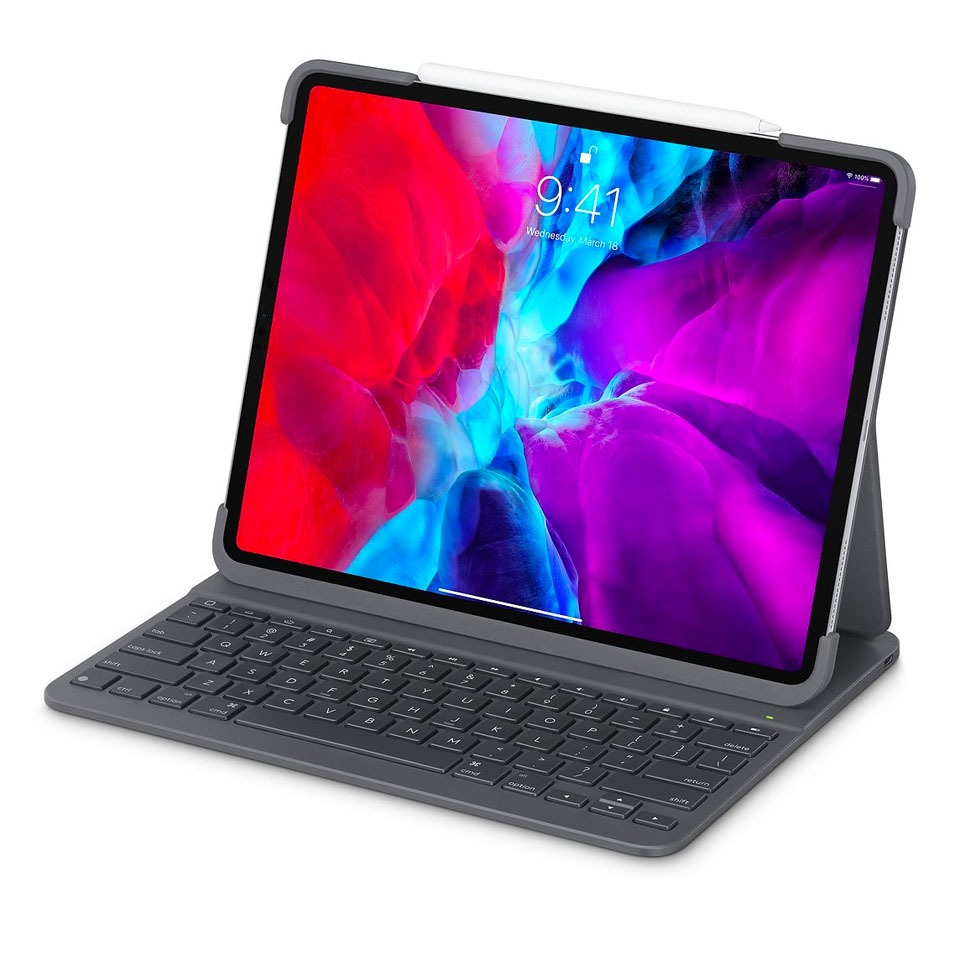 Logitech Slim Folio Pro Case on Amazon
Dimensions:

Length: 11.3 inches/28.7 cm x

Width: 9.06 inches/23 cm.

Weight: 24.95 ounces/707.43 g
5. Brydge Pro [

BEST BATTERY LIFE

]
If you have no need for a track pad, save yourself some 60 dollar and opt for this, the Brydge Pro over the Brydge Pro+. This, the original Brydge Pro keyboard for iPad Pro is one of the hottest selling premium keyboard for iPad Pro thanks to its familiar laptop profile. While keyboard folios and smart type covers offer access to a keyboard, these have limited viewing angle. The Brydge Pro with its 180 degree hinge turns the iPad Pro into a full laptop replacement.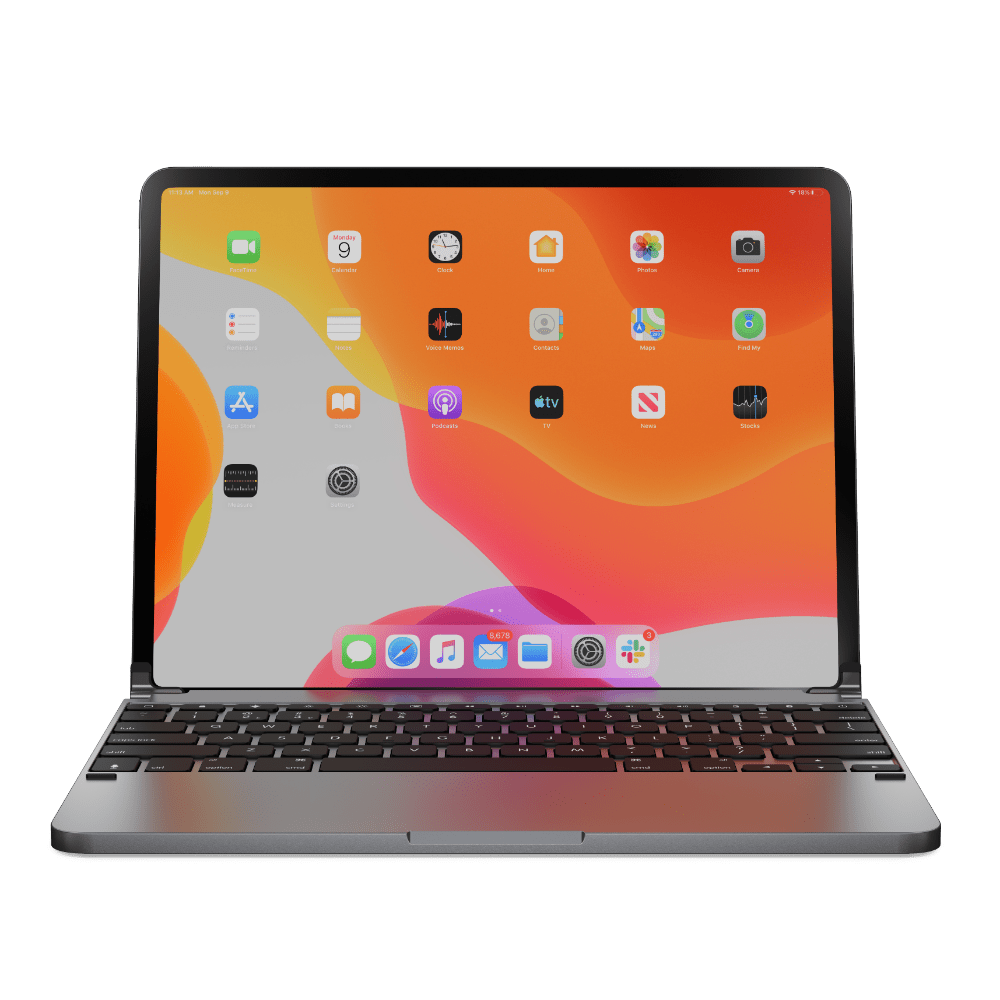 Like the Brydge Pro+ model, the iPad Pro mounts to the long edge of the keyboard base directly onto a pair of 180 degree micro-hinge for maximum viewing angles. The base of the keyboard is made from machined aluminium and is available in Silver or Space Gray to match the iPad Pro 2018 and 2020. Build quality is superb, matched only by Apple's iPad Pro. Keyboard feedback and accuracy is good and can very well pass for a real laptop typing experience. There is also a row of iOS shortcut keys where the function keys usually are. But what is truly amazing, is the battery life. The best among keyboards here that need charging, the Brydge Pro can last up to 12 months on a single charge.
Others
Logitech Slim Combo Keyboard
Works with 1st and 2nd generation iPad Pro only, the Slim Combo for iPad Pro 10.5 and 12.9 has a detachable keyboard, back shell with integrated kick stand and Apple Pencil holder. With the kick stand, viewing angle can be adjusted within 50 degree range. Detachable keyboard means you can use the tablet without carrying the weight of an extra keyboard. Finally, the keyboard supports iOS shortcuts and takes advantage of the Smart Connector for direct power from the iPad Pro. Also, the palm rest can be folded under the keyboard to raise the keys if need be.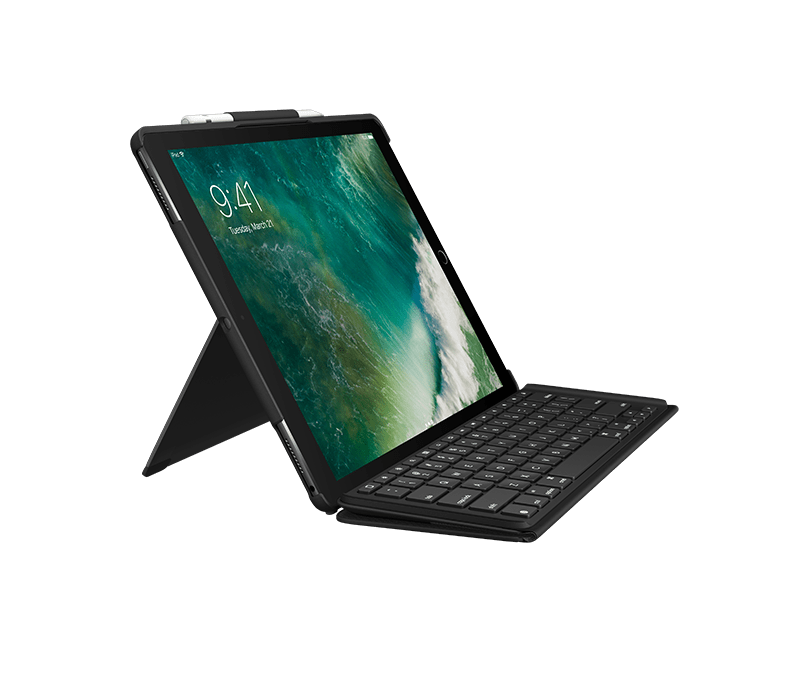 Logitech Slim Combo iPad Keyboard on Amazon