Don't get me wrong, hybrid or 2-in-1 convertible laptop is a novel idea but when is turning your laptop into a 'tent' or folding your laptop with keyboard facing down on the table a good idea. Even in tablet mode, the keys on the keyboard while disabled are exposed.
The Different hybrid 2-in-1 Laptops Explained
There are two types of 2-in-1 laptops, the flip type and the detachable type. The flip type converts from a laptop to a tablet or any of the afore mentioned modes with a clever 360-degree hinge. The detachable type simply has a keyboard dock. You can quickly detach the screen from its keyboard, turning it instantly into a tablet. Personally, I prefer the second option if I haven't made that clear earlier. It just makes a lot more sense than trying to flip your laptop all the way over and carrying a somewhat bulky tablet/laptop.
There is a third type, which is not very common, combination of both flip and detachable. The only example available right now is the Microsoft Surface Book, now in its second generation and available in 13.5 as well as 15-inch so they must be getting it right. It comes with a 360-degree flip hinge and the screen can detach from the keyboard turning it into an oversized tablet (13.5-inch or 15-inch). This third profile offers maximum versatility and flexibility.
So When are Hybrid 2-in-1 Laptops a Good Idea
Hybrid 2-in-1s are unique in that you can easily switch the mode from a tablet to a PC and back. They are also known as convertibles or simply as 2-in-1s. It's like a middle ground between laptop and tablet offering the best of both worlds in a slightly bulkier package.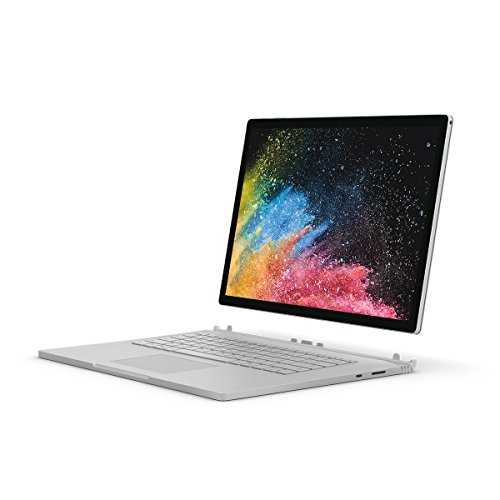 Advantages in Choosing a Hybrid 2-in-1 Laptop
Here are the reasons when a Hybrid 2-in-1 laptop is a good idea:
1. Easy to use: If you are familiar with a laptop, the hybrid is no different. Do not worry because you do not need to be an expert to switch from one mode to the other. You just have to rotate, flip or detach the screen depending on your chosen model, and you are good to go.
2. Flexibility: The tablet mode is ideal when you are making a presentation on a one to one, checking your emails, taking notes with the optional or included stylus, accessing content such as TV shows and Movies or reading the news. The laptop mode is best suited when you are working on a huge projects or simply just want to use the keyboard and trackpad as the main interface as oppose to the touchscreen.
3. Other mode of use: There are other modes of use we have made clear earlier that we are not so hot about but some may find it useful. These are the tent mode, where you flip your keyboard over, way over, nearly 270-degrees or more and stand it on its long edges. Lastly, there is the presentation mode, which uses the keyboard as a base after flipping the screen over turning into a L-shape. Again, not very impressed with this modes.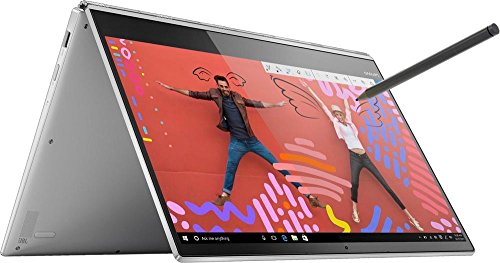 Tent Mode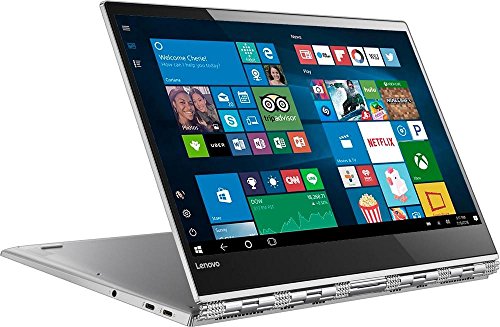 Presentation Mode
4. Convergence: The fact that you have a tablet and a laptop combined makes it easy to move from one place to the other. You will have only one device to take care of which reduces your baggage especially while you are travelling. Go to and from the office or on a remote assignment to presenting your work can all be achieved on the same device without having to transfer your files over the cloud or flash drive.
5. All-in-one machine: it may be a bit big as a tablet depending on your chosen model, if it is specified with sufficient processing power, memory and storage, it may just be the only machine you will need. Your hybrid will effectively replace your desktop, laptop and tablet. Although, we would still recommend a separate Bluetooth Mouse and Keyboard and even an external display for a real desktop experience.
6. Add your own accessories: Some manufacturer offers optional docking stations. Given the number of ports and Bluetooth connectivity, this may not be necessary. Like we mentioned before in our previous point, you can turn your hybrid machine or any laptop for that matter into a convenient work station at work or at home with Bluetooth Mouse, Bluetooth Keyboard and large external display sometimes up to 2 sometimes 3 monitors depending on the model.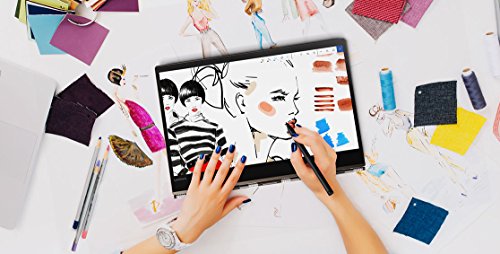 7. Ability to use a Stylus: Some devices support stylus and these are either included or as optional purchase. This greatly extends the use of the device as you can not only annotate on the screen but sketch and draw with the right applications. Then there are specialist accessories like the Surface Dial, an entirely new interface first made its debut with MS Surface Studio desktop which lets you dial into options and colour spectrum anywhere on the screen.
8. Battery life: These devices have rechargeable batteries that last up to 12 hours, sometimes more which allow you to work away from a wall socket for the entire day or when you are in a place without electricity. The battery life will depend on your usage and the components used to build the laptop. The choice of energy efficient mobile processors like the latest 8th generation Intel Core processors allow hybrids to last longer per charge.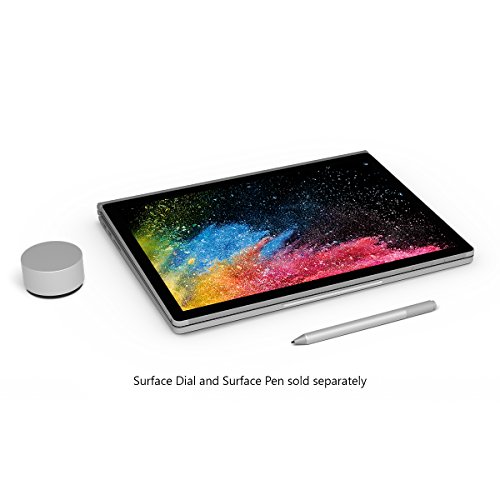 Disadvantages in Choosing a Hybrid 2-in-1 Laptop
Now for a couple of reasons against a hybrid laptop.
Bulky: Convertible hybrids with 360 degrees flip hinge are bulkier than a standard tablet. If you want a slim hybrid, go with one that has a detachable keyboard like the Surface Book. Even as a tablet, they tend to be bulkier given its bigger display at 13-inch or 15-inch but they would be slimmer having lost the keyboard. There are detachable models with keyboard covers, these are ultra slim keyboards that also double as cover and stand for the tablet.
Lack the power: Smaller and cheaper hybrids on the other hand lack the processing power and memory to tackle more resource intensive tasks. You may have to put up with waiting for applications to load and switching from one application to another. Small hybrids also have shorter battery life, needing charge sooner than the bigger versions. The small display, around 10-inch or less makes it strenuous to work on over long period of time.
Your Best Hybrid 2-in-1 Options
We take a look at Microsoft Surface Book 2, Google Pixel Book, Lenovo Yoga 920, ASUS ZenBook UX370 Flip, Lenovo Yoga 720 , HP ENVY x360, Dell XPS 13 and HP Spectre x360 15
1. Microsoft Surface Book 2 13.5-inch or 15-inch (stylus optional) –

DETACHABLE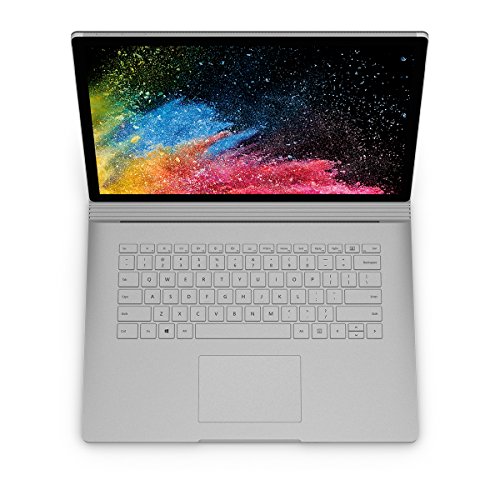 Check on Amazon
The second generation Surface Book, simply known as the Surface Book 2 is now available with 2 different screen sizes, the 13.5-inch and the 15-inch. Besides the display, you can configure it with an Intel Core i5 or Intel Core i7 processor, 8GB or 16GB of memory and 256GB, 512GB or 1TB storage. It still has the unique combination of flip and detachable profile with its one of a kind hinge. There are also models with discrete Nvidia GTX 1050 graphics chip for gamers. If you can look pass the hefty price tag, the Surface Book is a very capable hybrid with support for optional Surface Pen stylus and Surface Dial available separately.
Intel Core i5 or Core i7-8650U Quad Core Processor 1.9GHz
8GB or 16GB RAM Memory, 256GB, 512GB or 1TB Solid State Drive
Nvidia GTX 1050 or Intel UHD Graphics 620
up to 17 hours of battery life (with second battery in the keyboard dock)
5MP front facing camera, 8MP rear facing camera
2. Lenovo Yoga 920 13.9-inch Convertible Laptop (stylus included) –

FLIP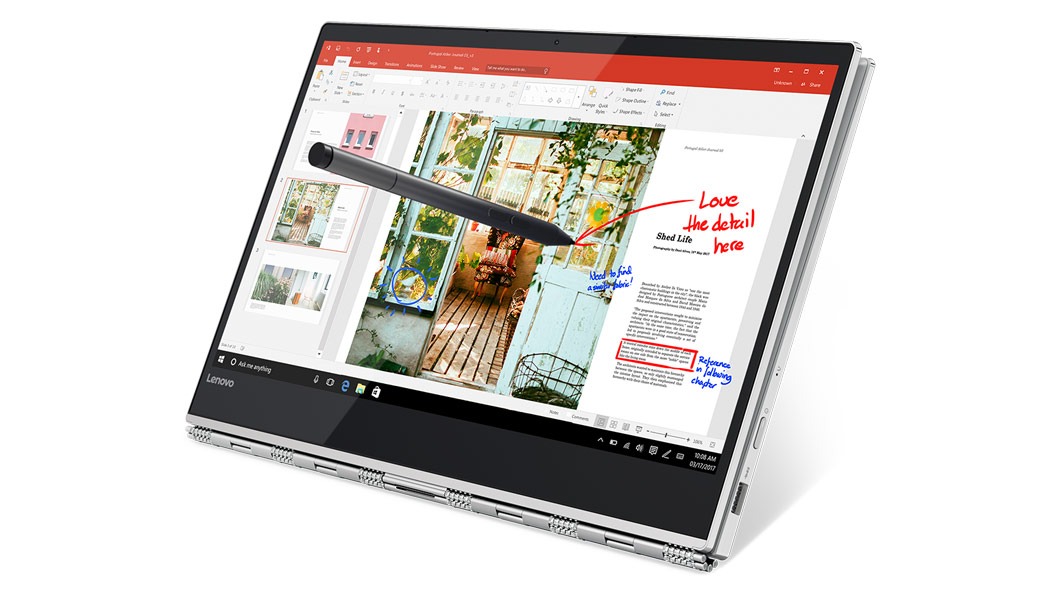 The Lenovo Yoga 920 is an ultra portable premium convertible laptop with the same jewel watch band like hinge. The device uses the latest 8th generation processor bringing with it plenty of power and still last up to 12 hours per charge. Notable features include long-range voice-activated support, a nearly edgeless 4K display, a digital pen featuring pinpoint accuracy with 4096 levels of sensitivity and a Vibe's version with Gorilla Glass wrapped in a polished CNC aluminium body with two Thunderbolt™ 3 USB-C ports. Unlike Microsoft Surface Book 2, the Active Pen 2 is available as a bundle. A special Star Wars edition with 4K display is also available.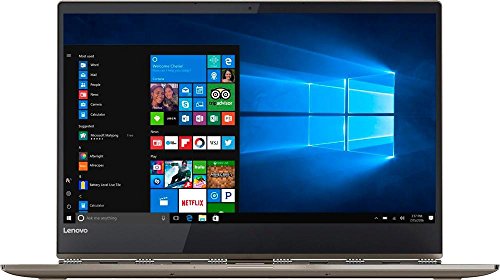 Intel Core i5 or Intel Core i7-8550U Quad-Core Processor 1.8GHz
8GB RAM Memory, 512GB SSD Storage
13.9-inch IPS display 4K UHD 3840 x 2160 or Full HD 1920 x 1080 touch screen
Up to 10.8 hours with UHD display, Up to 15.5 hours with FHD display
Lenovo Active Pen 2 included.
3. HP Spectre x360 15 15.6-inch Convertible Laptop (stylus included) –

FLIP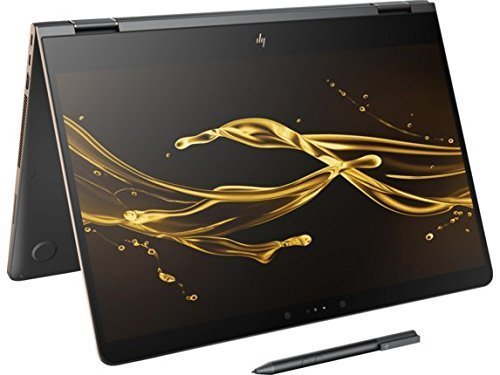 If you are impressed by the premium Spectre laptop from HP, here is the convertible version. The HP Spectre x360 15 is just as stylish as the Spectre laptop but comes with a bigger display, micro bezel screen and keyboard and the all important 360-degree hinge. With Kaby Lake, 8th Gen CPU Intel Core i7 at the heart of the device, 4K display and 1TB fast SSD Storage option, the convertible works just as great as it looks. For the chassis, it is sculptured from a single block of metal and held together with steel-encased hinge. To top it off, it has a dedicated NVIDIA GeForce MX150 GPU2GB GDDR5, Bang & Olufsen audio, a host of connectivity options, super-long 12 hour 45 mins battery life with fast charging and HP Active Stylus pen and HP Sleeve included.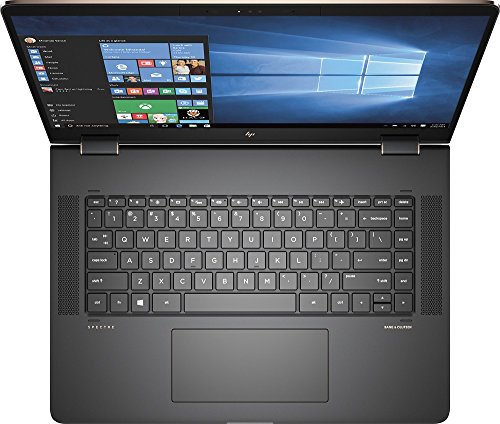 Intel® Core™ i7-8550U Processor (

1.8 GHz with up to 4 GHz Turbo Boost, 8 MB cache, 4 cores)

RAM: 16 GB / Storage: 512GB or 1 TB SSD
Graphics: NVIDIA GeForce MX150 2GB DDR
15.6-inch 4K IPS display 3840 x 2160
HP Sleeve, HP Active Stylus Pen, Bang & Olufsen Audio
Up to 12 hours 45 minutes battery life
ALSO: A smaller HP Spectre x360 based on 13.3-inch 4K UHD display powered by the same processor is also available if you wish for a more compact model.
4. HP Envy X360 15.6-inch Convertible Laptop (stylus included) –

FLIP
Close on the heels of HP Spectre x360 is another offering from HP, the mid-range HP Envy X360. It may not have the premium finish and all metal body but it packs the same 8th Generation Intel Core i7 processor. It even has the same NVIDIA GeForce MX150 graphics. What it lacks are the 4K display, using instead a 15.6-inch Full HD display, has only half the memory at 8GB and a combination of 128GB SSD and 1TB conventional spindle drive storage. Even so, it is still a very powerful machine, comes with Bang & Olufsen audio for immersive sound and HP Stylus included.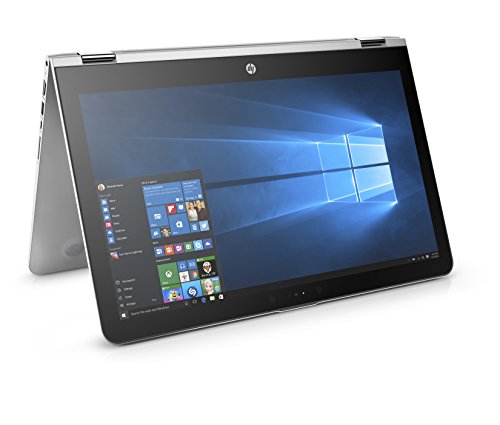 Intel® Core™ i7-8550U Processor (

1.8 GHz with up to 4 GHz Turbo Boost, 8 MB cache, 4 cores)

RAM: 8 GB / Storage: 1 TB HDD & 128/256 GB SSD
Graphics: NVIDIA GeForce MX150
15.6-inch Full HD display 1920 x 1080 pixels touch screen
Up to 11 hours 45 minutes battery life
ALSO: HP Envy X360 15.6-inch with 8th Generation Intel Core i5-8250U Quad Core Processor 1.6 GHz / 3.4 GHz (Turbo Boost) is also available.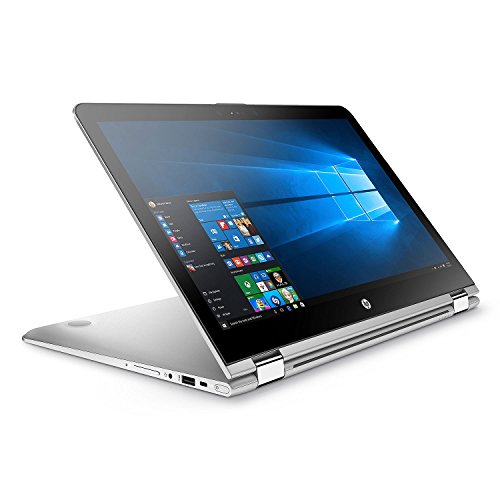 5. Google Pixelbook 12.3-inch 2-in-1 Chromebook (stylus optional) –

FLIP
Running Chrome OS, the new Google Pixelbook 12.3-inch Chromebook is Google's first convertible laptop. Everything about Google's Pixelbook, just like the original Chromebook Pixel laptop in 2013 screams high end. This time around, it picks up where the first Pixel laptop left and added a 360-degree hinge. The successor is now called the Pixelbook to differentiate it from the Pixel and Pixel 2 smartphones. Pixelbook is powered by 7th Gen Intel® Core™ i5 or i7 processor, up to 16GB RAM and up 512GB NVMe for storage in a thin and lightweight body measuring 10.3mm and weighs 2.45lbs. The long lasting battery delivers up to 10 hours of use and it's fast charging so can get 2 hours of use in 15 minutes. If you live, breath and sleep Google Chrome, than the Chromebook with access to Google's entire ecosystem of apps; Google Drive, Docs, Sheets, Slides, Gmail, YouTube and beyond is for you. The Chromebook and ChromeOS now also supports Android app blurring the lines between the two platforms. Unfortunately, given its premium design and high-end parts, it is still cost prohibitive to some and the Pixel Pen is sold separately.
Intel Core i5 or Intel® Core™ i7-7Y75 processor
RAM: 8GB or 16 GB / Storage: 128GB, 256GB or 512GB SSD
12.3-inch Quad HD display
Up to 10 hours battery life