Google Pixelbook may have the most highly specified Chromebook there is in a stylish and sleek chassis, price wise, it may be out of reach for majority of users. We explore the best Google Pixelbook alternatives currently in the market that will match of come close to the convertible laptop from the search giant.
Let's see what we are up against when it comes to searching for an alternative. There are three iterations to the Google Pixelbook with either Intel Core i5 or i7 and a variations in memory and storage. The following are the available  configurations:
Google Pixelbook, Intel Core i5, 8GB RAM, 128GB SSD, 12.3″ Quad HD Touchscreen
Google Pixelbook, Intel Core i5, 8GB RAM, 256GB SSD, 12.3″ Quad HD Touchscreen
Google Pixelbook, Intel Core i7, 16GB RAM, 512GB SSD, 12.3″ Quad HD Touchscreen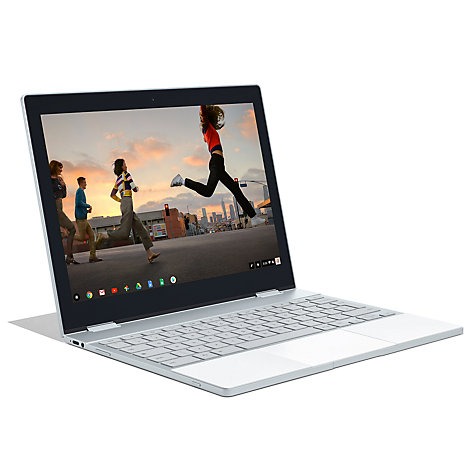 The processors in use are as below:
Intel® Core™ i7-7Y57 Processor Dual-core 1.3 GHz / 3.6 GHz (Turbo Boost) with 4 MB cache
Intel® Core™ i5-7Y57 Processor Dual-core 1.2 GHz / 3.3 GHz (Turbo Boost) with 4 MB cache
What are the Appeals of the new Google Pixelbook or Chromebook in General
A successor to the Google Chromebook Pixel first debuted in 2013, the Pixelbook takes the same high-end premium only mantra and add a 360-degree hinge to make it a 2-in-1 convertible device so you can use it as a laptop or a tablet with those two other modes in between, the tent mode and presentation mode.
The Pixelbook is ultra slim and lightweight, weighing only 1.1kg and measuring as little as 10.3mm thin. It has a 12.3-inch Quad HD 2400 x 1600 pixels touchscreen display, a good middle ground between a laptop display and a tablet size. You don't want to be totting a 15.6-inch tablet, that would be just too big neither would you want to work on a 10.1-inch laptop, again too small to make viewing comfortable. 12.3-inch is just right for pictures, videos and text.
Act two also comes with updated and improved Chrome OS, now with Google Assistant built-in. This means you can simply ask for what you want after pressing the dedicated Assistant key to wake it up. If you have the optional Google Pixelbook Pen, you can also summon the virtual assistant by drawing a circle. After that, use the magic word "OK google" followed by your question or command.
The device is powered by Intel's 7th generation Core i7 processor. The mobile CPU processor is not only fast but efficient too allowing you to speed through everything you need to do on the machine with plenty of time to do it given its long up to 10 hours battery life. It does this with plenty of memory 8GB or 16GB and super fast SSD storage from 128GB, 256GB to 512GB. Enough to power through the Chrome OS, any apps and Android apps you choose to run on it including games.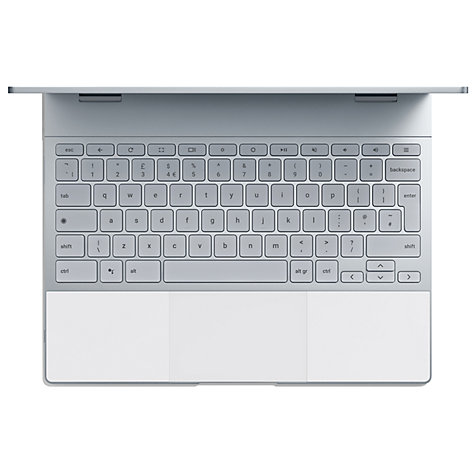 To top that, it comes with 2 USB-C ports, headphone jack, edge-to-edge trackpad, 3-axis gyroscope / accelerometer, magnetometer, ambient light sensor, hall effect sensor and fast charging battery. You get up to 2 hours of use with a quick 15 minutes charge.
The biggest criteria of selection for our alternative line up is that the optional device needs to be a convertible 2-in-1 as well for the flexibility of having the device work as a laptop as well as a tablet.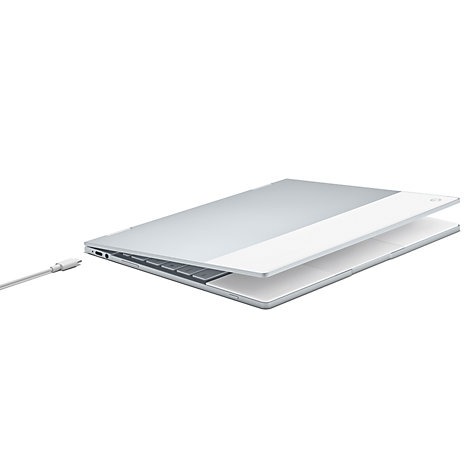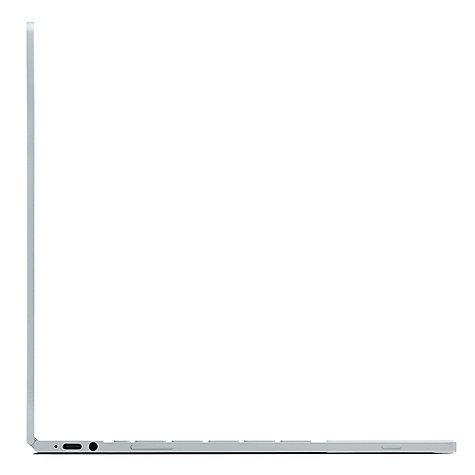 Top 5 Best Google Pixelbook Alternatives: Convertible 2-in-1 Chromebooks
Now for the Alternatives. Our line-up of alternative Chromebooks with a convertible profiles are from ASUS and ACER, two manufacturers whom are not new in the Chromebook scene. Some of the best Chromebooks in the past have been from these manufacturers and they continue to produce the best in class devices at prices you can agree on.
1. ASUS Chromebook Flip C302 Intel Core M7 –

FASTEST
Intel Core m7-6Y75 1.2GHz to 3.1GHz with Turbo Boost | 4GB RAM memory | 64GB eMMC storage | 12.5-inch Full HD 1920 x 1080 Touhscreen Display | 10 hours battery life | USB-C ports | 1.2kg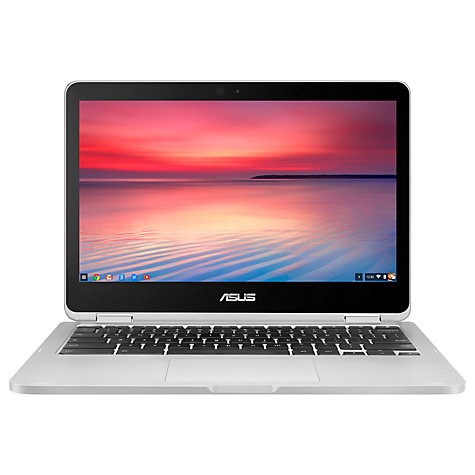 First we have the ASUS Chromebook Flip C203, the closes a device can get to the Pixelbook. In fact it uses the same 7th generation Core M7 processor as the Pixelbook. The only differences here are the amount of memory and storage. Even at half the memory at 4GB and half the entry level storage at 64GB, it is still very 'roomy' for the operating systems and any applications you choose to run.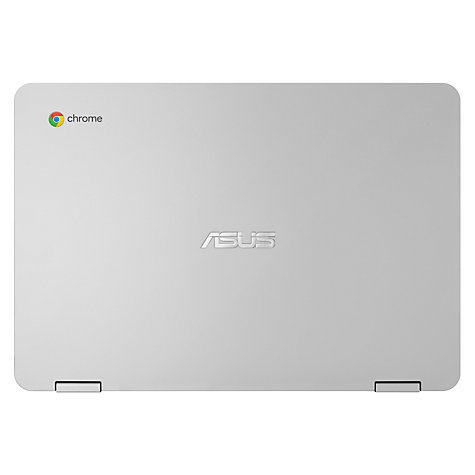 The premium built quality and design makes this a great alternative to the high-end Pixelbook. The ASUS Chromebook Flip C302's chassis has a silver lid with a tough and durable metal finish.
The other thing it fall short on is the display, at 12.5-inch, it is slightly bigger than the Pixelbook with 0.2-inch difference but only at Full HD resolution at 1920 x 1080. Still any device with Full HD display is sufficiently sharp in our books and cost less than half the price of a Pixelbook with M7 class processor. It lets you access, apart from the Chrome Internet browse and its web apps and extensions, you an access Android Apps and Amazon Apps.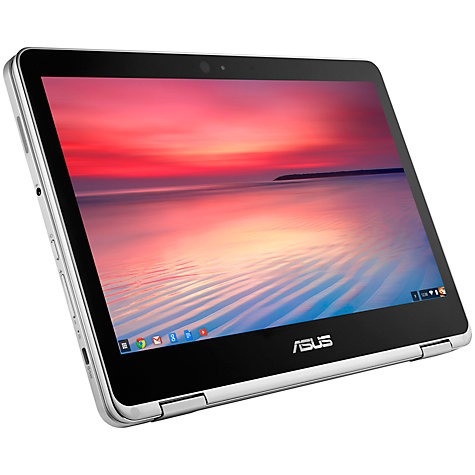 If you are familiar with an Android based tablet, this will be no different. Simply flip and convert the laptop into a tablet and use it like you do your tablet. There are two USB Type-C ports for connectivity, microSD card slot for expansion, HD camera for video calls and illuminated chiclet keyboard. ASUS, from their website does indicate that models with 8GB RAM and 128GB eMMC storage are also available.
2. ASUS Chromebook Flip C302 with Intel Core M3
Intel Core M3-6Y30 900Mhz to 2.2Ghz with Turbo Boost | 4GB RAM memory | 64GB eMMC storage | 12.5″ Full HD Touchscreen Display | 10 hours battery life | USB-C ports | 1.2kg
We love the Chromebook Flip C302 so much, we listed it twice here. This time, with a slower processor making the device truly affordable. This version uses the Intel Core M3 processor but still has the same amount of memory and storage as the first C302 above. Not only that, it also has the 12.5-inch Full HD Touchscreen Display with 1920 x 1080 pixel resolution making every super sharp include watching movies and TV shows.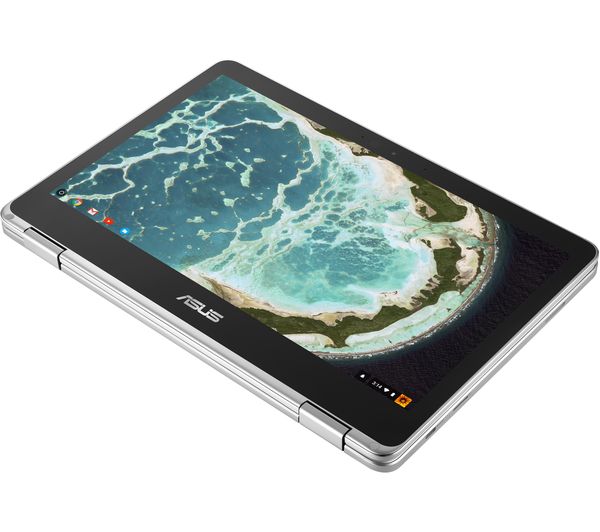 The device is designed to be ultra portable and ultra slim using a mobile processor that does not require cooling. This makes the tablet fanless and therefore silent, as whatever tablet should be. While it consumes very little energy it is also fast enough for all your daily computing needs such as checking the email, browsing the web, watching videos and even some light online photo editing.
The 360-degree hinge is smooth and firm, offering you the support you need to keep the screen where you need it to be and you can convert it from a laptop to a tablet with a seamless motion. The battery will last all day or up to 10 hours perfect for the office, on the road or at home. If you need additional storage, you can either connect an external hard drive or use the SD card slot.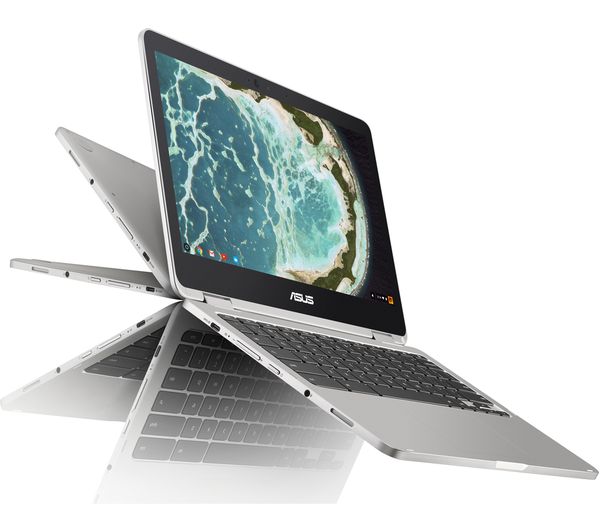 3. ASUS Chromebook Flip C101 –

SMALLEST, ULTRA SLIM, LIGHTEST
OP1 Hexa-core Dual ARM® Cortex®-A72, Quad Cortex®-A53 1.6GHz to 2.0GHz with Turbo Boost | 4GB RAM memory | 16GB eMMC Flash storage | 10.1″ HD 1280 x 800 Touch Screen Display | Up to 9 hours | USB 3.0 Type-C ports | 0.9kg
The ASUS Chromebook Flip C101 is a small device with 10.1-inch touchscreen. It is more the size of the conventional 10-inch tablets available in the market like the 10.1-inch iPad Pro but with 360-degree hinge and a keyboard built-in making it slightly thicker measuring 15.6mm thin. Still, it is an ultra thin and lightweight device for a convertible laptop.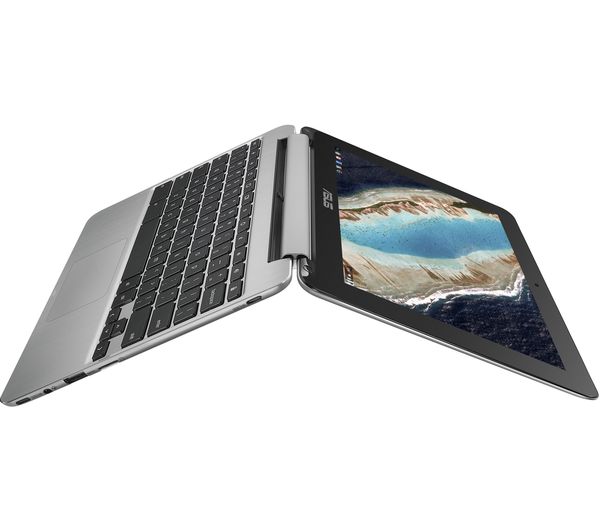 As a laptop, you get a chiclet keyboard and spacious touchpad with intuitive gesture control, two fast USB 3.0 Type-C ports and one USB 2.0 port, 3.5mm audio socket and SD card reader. The USB 3.0 Type-C ports support charging, video output and fast data transfer of up to 5Gbps and is completely backward compatible with all USB devices with the right adapter.The 10.1-inch display while offering HD resolution at 1280 x 800 pixels has a wide viewing angle of up to 178-degrees perfect for sharing what is on your screen with a group.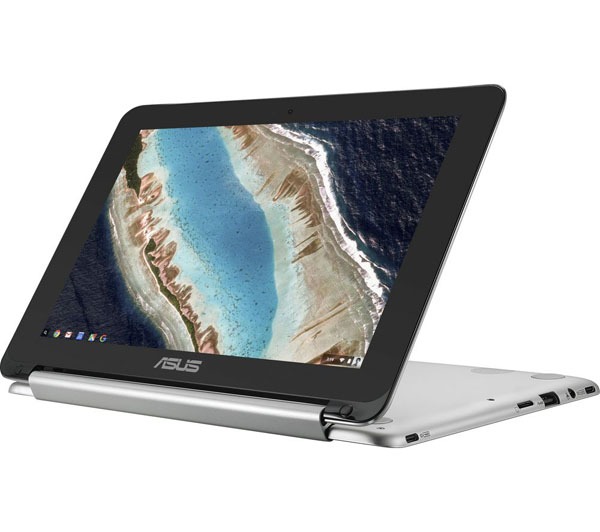 As with all convertible laptops, the 360-degree hinge lets you use the Chromebook in a number of ways, including laptop, tablet, stand and tent modes. You can work the way you want at home, school or the office using the keyboard or touch screen interface. Chrome OS is fast and responsive as usual and the long 9 hour battery life powers you through the day without needing a wall socket.
4. ACER Chromebook R13 CB5-312T 2-in-1 –

BIGGEST DISPLAY, BEST BATTERY LIFE
MediaTek M8173C Processor Quad-core 1.7 GHz / 2.1 GHz 1.5 MB cache | RAM: 4 GB / Storage: 64 GB eMMC | 13.3 Full HD 1920 x 1080 pixel touchscreen display | Up to 12 hours battery life | HDMI, USB 3.0 and USB-C | 1.49kg
If you are after a full sized convertible laptop, the ACER Chromebook R13 is for you. Powered by an energy efficient mobile processor from MediaTek, the device offers all day computing with a battery life of up to 12 hours even with a full 13.3-inch Full HD IPS LED display.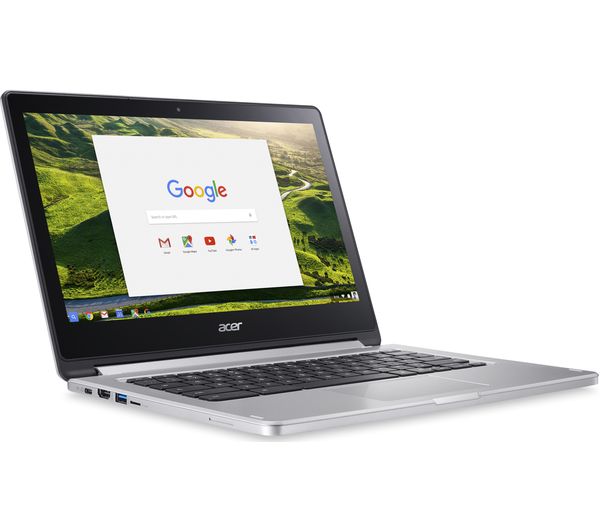 It may not have cutting edge performance like the Core M7 processor but you get a full size display pushing 1920 x 1080 pixels, 4GB RAM memory and 64 GB eMMC storage and plenty of connectivity options more than make up for this. If you need more storage, you can alway take advantage of the MicroSD slot.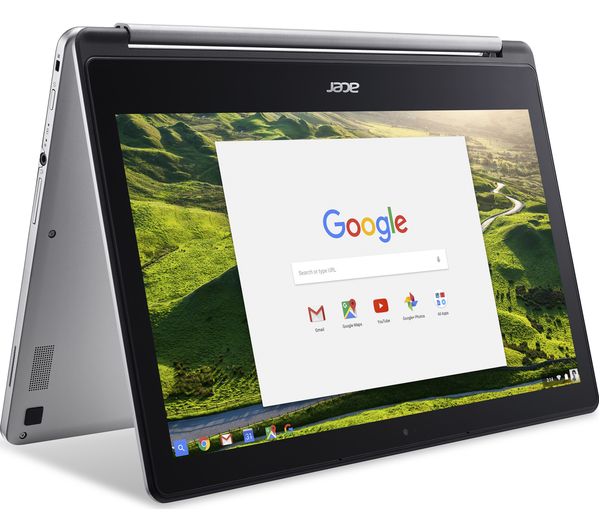 For connectivity, you get 802.11ac WiFi, Bluetooth 4.0 and 1 USB 3.0 port, 1 HDMI display output and 1 USB-C port as well as a 3.5mm audio jack.
5. ACER Chromebook R11 CB5-132T 2-in-1
Intel® Celeron™ Processor N3060 Dual-core 1.6 GHz / 2.16 GHz (Turbo Burst) 2 MB cache | RAM: 4 GB / Storage: 32 GB eMMC | 11.6-inch 1366 x 768 pixel | Up to 9.5 hours battery life |HDMI, USB 3.0 and USB2.0 ports | 1.2kg
The 11.6-inch touchscreen sits nicely between the 10.1-inch and the 12.5-inch alternatives listed here for those who wants a middle ground between the two sizes. The IPS display panel while only 1366 x 768 pixel is clear and responsive.The convertible laptop from Acer has a dual-torque 360-degree hinge that lets you use the for different modes while keeping the touchscreen steady at all time during use with taps, swipes and pinch gestures.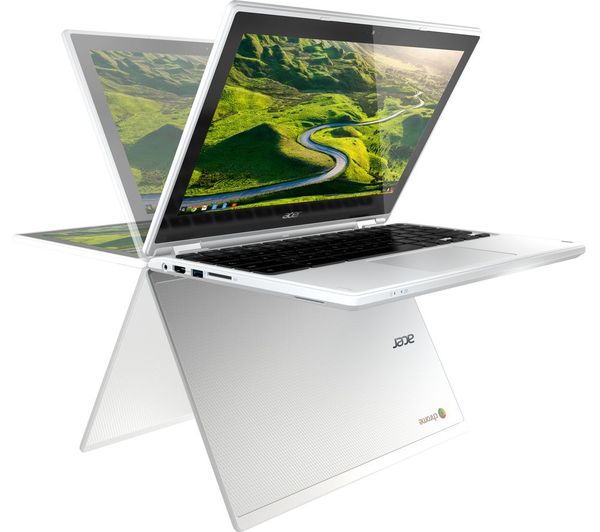 Powered by an Intel Celeron N3060 processor with 4GB or RAM and 32GB or eMMC storage, it is sufficient to keep you working on the Chrome OS smoothly with quick startup and shutdown. The keyboard is responsive and keyboard shortcuts are great for increasing productivity. If you are lazy, you can also use Voice typing in Google docs to quickly whip up your document.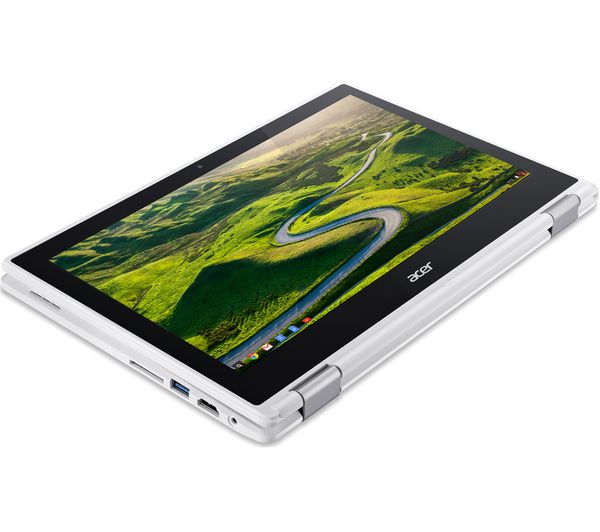 The laptop has a sleeve trick up its sleep when it comes to audio output and video, the sound and on-screen content are automatically reversed when the display is flipped over, while the slim lightweight design makes it convenient to move with the device. For connectivity the device has devices a fast USB 3.0 port, a USB 2.0 port. Bluetooth 4.0 technology and AC WiFi as well as an SD card slot.