While most Chromebooks cater to the budget segment with Celeron or Pentium processors, eMMC storage and small memory, Google's Pixelbook Go does the opposite. Powered by more mainstream hardware, Intel Core m3 or Core i-series processors with up to 16GB RAM memory and up to 256GB SSD storage, it will have those budget Chromebooks for breakfast.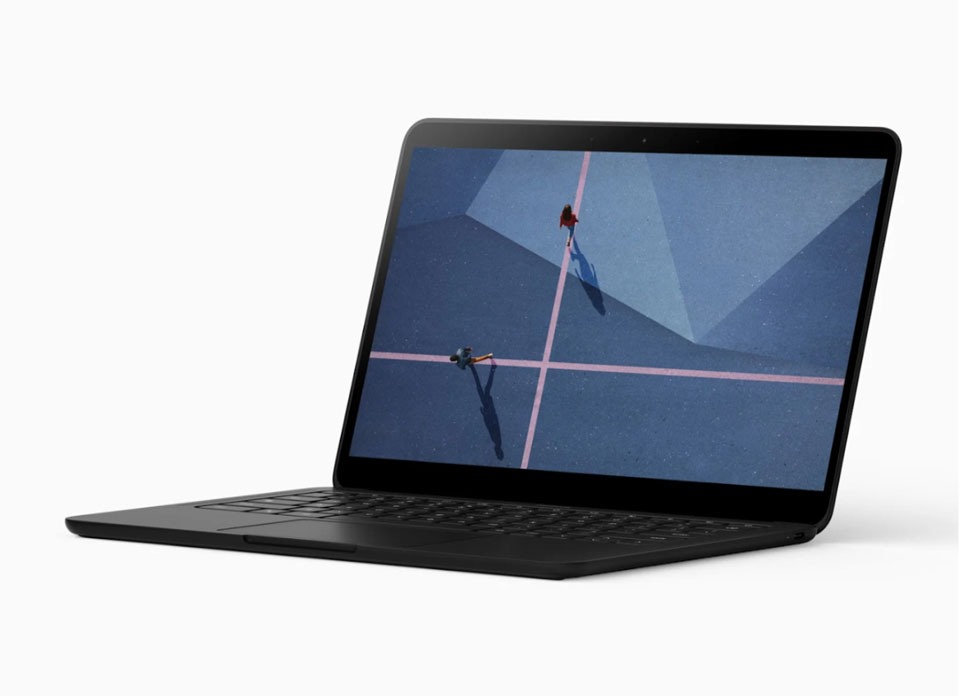 Chromebooks have always been seen as budget laptops, no thanks to the majority of vendors that are churning out budget Chromebooks left, right and center. But Google has always pushed their Chromebook with high specs and with that, a hefty price tag. The Google Pixelbook Go is just like their previous attempts with ultra high-end Pixelbooks in the past with a twist. How is this time any different?
For starters, the entry level Intel Core m3 version comes with 8GB of RAM memory and 64GB of storage wrapped in the same chassis and design as the top end Intel Core i7 model. The unit comes with an mid-range price, almost affordable to those for a premium level device. Previously, the Pixelbook is only available with Core i7 processor.
It also comes at a time when Chrome OS has matured to a point that it is seen as a stable, lightweight and just-go operating system with over the cloud software support. In addition to that, it now supports Android apps so you can install and run apps designed for mobile devices. It will also run Linux Operating system; Linux desktop and with that, Linux apps.
Personally, I use the Chrome browser a lot. In fact, majority of the time when I am on the desktop and laptop I spend on the browser with multiple tabs open. Being able to boot up quickly and browse the web, run cloud-based apps and get work done is my day to day go to. While it may not do everything a full fledge desktop will let you do, it is a zippy machine and great as a go to machine to get the job done quickly especially on the move.
Pixelbook Go Highlights
Mainstream 8th generation processors offering up to nearly 3 times performance over commonly used Intel Celeron processors on Chromebooks
Sleek, lightweight and modern design with attractive colours. Ultra portable go anywhere profile. Textured grip on the base is practical and avoids slipping.
Long all-day battery life up to 12 hours (up to 14 hours in some tests). Quick charge offers 2 hours of use with just 20 minutes of charge.
Super lightweight for a 13.3-inch laptop weighing around 1 kg and super thin measuring only 13.4 mm thin.
Machine boots up quickly, is fast and responsive with little to no lag. Google claims Chrome OS does not slow down over time giving you that always new feeling.
13.3-inch touchscreen display offers a balance of us performance and size. Full HD on Intel Core m3 and Core i5 models. High definition 4K resolution display on Intel Core i7 model.
Dual front firing speakers making the device great for downtime and entertainment to enjoy songs, TV shows, Music and YouTube.
Full HD 1080P web cam for Google Duo video chat.
Dedicated Google Assistant key on the keyboard near the bottom left corner. Alternatively, summon Google Assistant via voice with "Hey Google"
Lastly, keyboard is ultra-quiet and comfortable to type on complete with back light for working in the dark.
A Winning Formula Perfected
Chrome OS aside, Chromebook laptops, even those from the budget are fast and reliable. They look great and come with features like multi-touch display, slimline design, all day battery life and average to big size display. Now, throw in mainstream hardware specifications like Intel Core series processors, 8GB RAM memory and at least 64GB SSD storage and you have yourself a proper laptop.
The other recent device that uses the word "Go" in its name is Microsoft Surface Go, an entry level tablet with a smart keyboard cover option. But the "Go" in Google Pixelbook Go is anything but entry level. The word "Go" refers to the portability, performance and usability of the Chromebook. Let's check it out.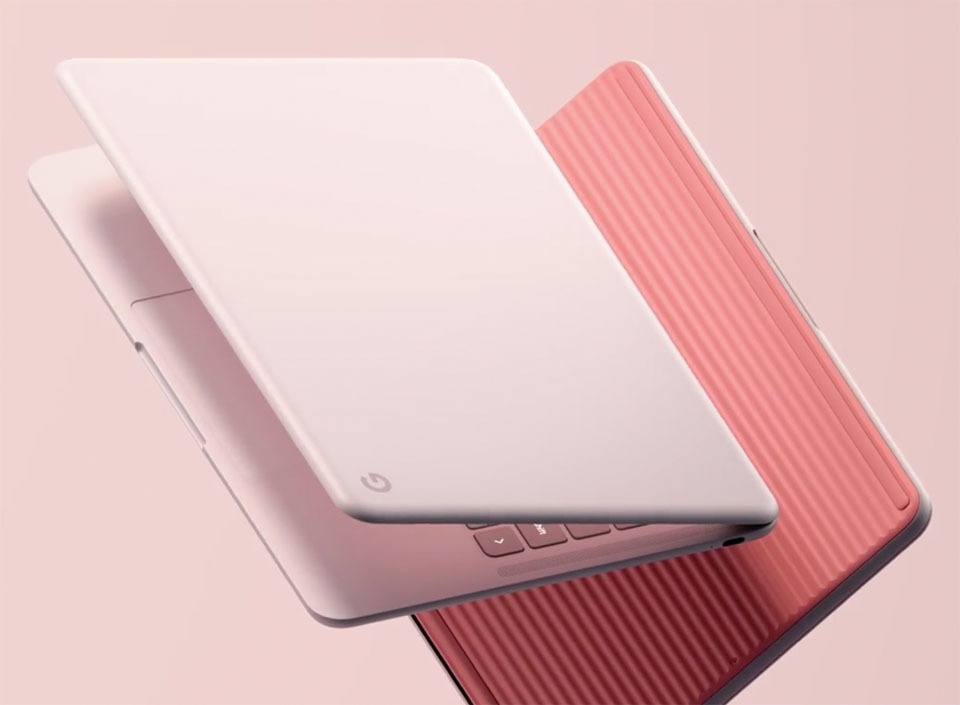 Core i-series Processor
The Pixelbook Go does not come with the latest 10th generation processors. For efficiency and portability, it comes instead with the low power Intel's 8th generation processors from the entry level Intel Core m3 to mid-range Intel Core i5 and high performing Intel Core i7. Two mid-range models are available with varying memory size (8GB or 16GB RAM) making a total of 4 different configurations, available to order from the Google Store.
Here is a quick look at the performance of these processors based on PassMark cpu benchmark taking an average of real world benchmarks. These are calculated based on benchmarks submitted by users. At the time of writing, the sample for Intel Core i5-8200Y is still low so may not reflect the real average but it does give us a good idea of the performance jump between the processors.
| | Clock Speed | Turbo Speed | Cores | Typ TDP | Ave CPU Mark | Single Thread | Cross Platform |
| --- | --- | --- | --- | --- | --- | --- | --- |
| Intel Core m3-8100Y @ 1.10GHz | 1.1 GHz | 3.4 GHz | 2 | 5W | 2935 | 1740 | 5544 |
| Intel Core i5-8200Y @ 1.30GHz | 1.3 GHz | 3.9 GHz | 2 | 5W | 3070 | 1593 | – |
| Intel Core i7-8500Y @ 1.50GHz | 1.5 GHz | 4.2 GHz | 2 | 5W | 3137 | 1810 | 6575 |
source: cpubenchmark.net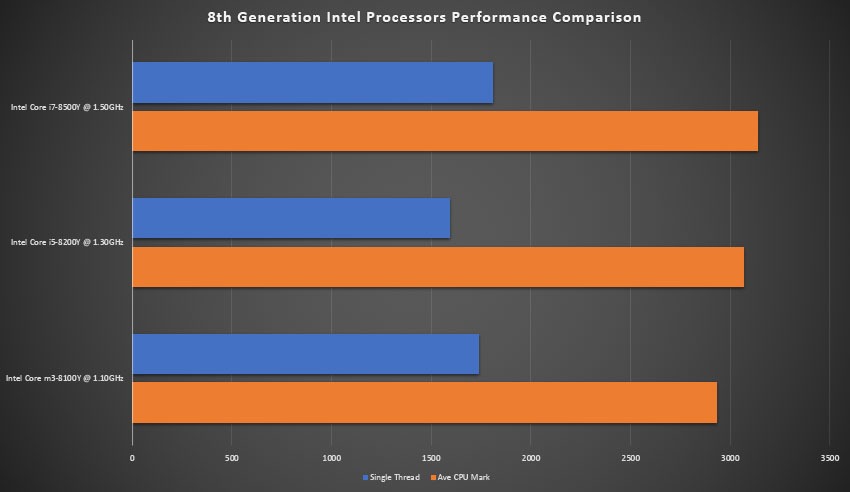 Based on the Average CPU Mark and making the entry level Intel Core m3-8100Y the baseline, the performance gains choosing one processor to the next is not significant. The Intel Core i5-8200Y has a 5% gain while the Intel Core i7-8500Y has a 7% performance gain over the Intel Core m3-8100Y.
However, this does not represent the overall performance of the system. Size of the memory and in some ways the storage also contributes to laptops overall performance. As a general rule of thumb, bigger memory means the system is faster at loading and switching between applications. It also means, users can open more tabs before slowing down the machine.
How Does it Compare to Budget Chromebooks
For an idea of how Google's Pixelbook Go compare with other Chromebooks out there, particularly those from the budget segment, we have picked some commonly used processors. These are from the Pentium and Celeron class processors.
| | Ave CPU Mark | Single Thread |
| --- | --- | --- |
| Intel Core i7-8500Y @ 1.50GHz | 3137 | 1810 |
| Intel Core i5-8200Y @ 1.30GHz | 3070 | 1593 |
| Intel Core m3-8100Y @ 1.10GHz | 2935 | 1740 |
| Intel Pentium Gold 4417U | 2302 | 1323 |
| Intel Pentium Gold 4415U | 2092 | 1209 |
| Intel Celeron N4000 | 1492 | 1089 |
| Intel Celeron N3350 | 1119 | 806 |
Source: cpubenchmark.net
As expected, the Intel Core i7-8500Y is the fastest, nearly 3 times (2.8) faster than the Intel Celeron N3350. Even the fastest Pentium, the Intel Pentium Gold 4417U in the list is twice as fast (2.06) compared to Intel Celeron N3350. Our favourite, the Intel Core i5-8200Y comes in at 2.74 times faster than the Intel Celeron N3350, just marginally under the Intel Core i7-8500Y. Lastly, the Intel Core m3-8100Y is 2.62 times faster than our baseline (Intel Celeron N3350).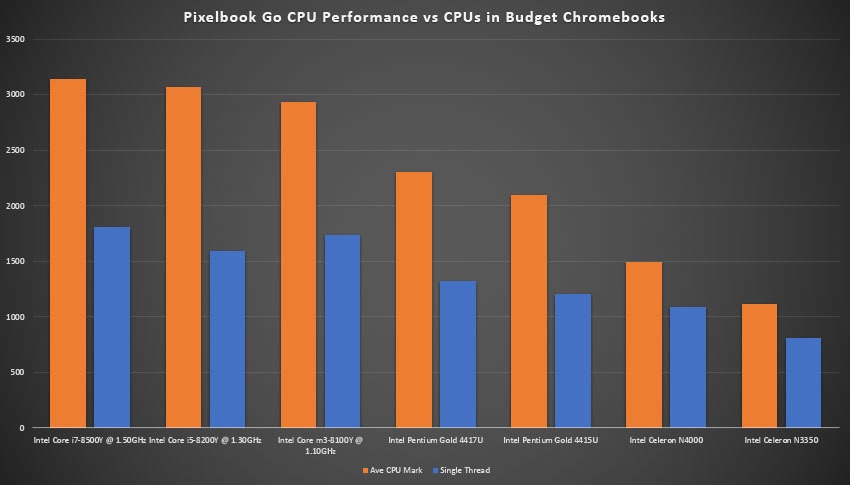 Our Favourite: Pixelbook Go Intel Core i5 8GB
There are two Pixelbook Go based on Intel Core i5-8200Y with the only difference being the size of the memory, 8GB or 16GB. Even with the 8GB, it will easily handle between 20 to 30 browser tabs without breaking a sweat. Switching between said tabs is fast and responsive. Then there is the system's ability to juggle multiple videos.
While this will never happen, watching multiple Full HD 1080p YouTube video streams at the same time but it is somewhat of a good benchmark to understand how the system can handle multiple streams at a push. W placed the maximum 1080p streams at 5 without making the system grind to a halt.
Final Thoughts
The only comparable Chromebooks are from ASUS. The ASUS Flip C434TA is a 14-inch device with a 2-in-1 convertible profile letting you switch between laptop and tablet with its 360 rotating. It is also powered by Intel Core i5-8200Y with 8GB RAM memory and 128GB SSD storage, although a cheaper version is available with Intel Core m3-8100Y is available with 4GB RAM and 128GB SSD storage. If you prefer a slightly bigger display with the ability of using the laptop as a tablet.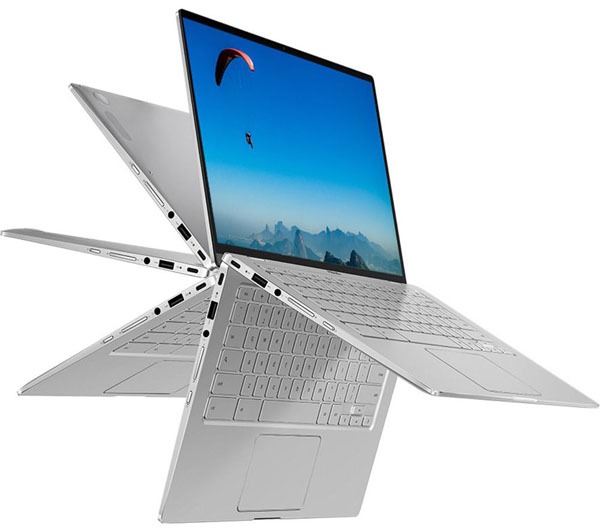 Google Pixelbook Go vs Google Pixelbook vs ASUS Flip C434TA
Unlike the Google Pixelbook, Google's flagship Chromebook and ASUS Flip C434TA above, which are both convertible 2-in-1 laptops, the Pixelbook Go is just your straight forward laptop. Both Pixelbook and Flip C434TA offers versatility in the ways you can use the device, up to 4 depending on where you hinge rotates. However, the lack of flexibility should not deter you in buying the Pixelbook Go if what you need is a laptop.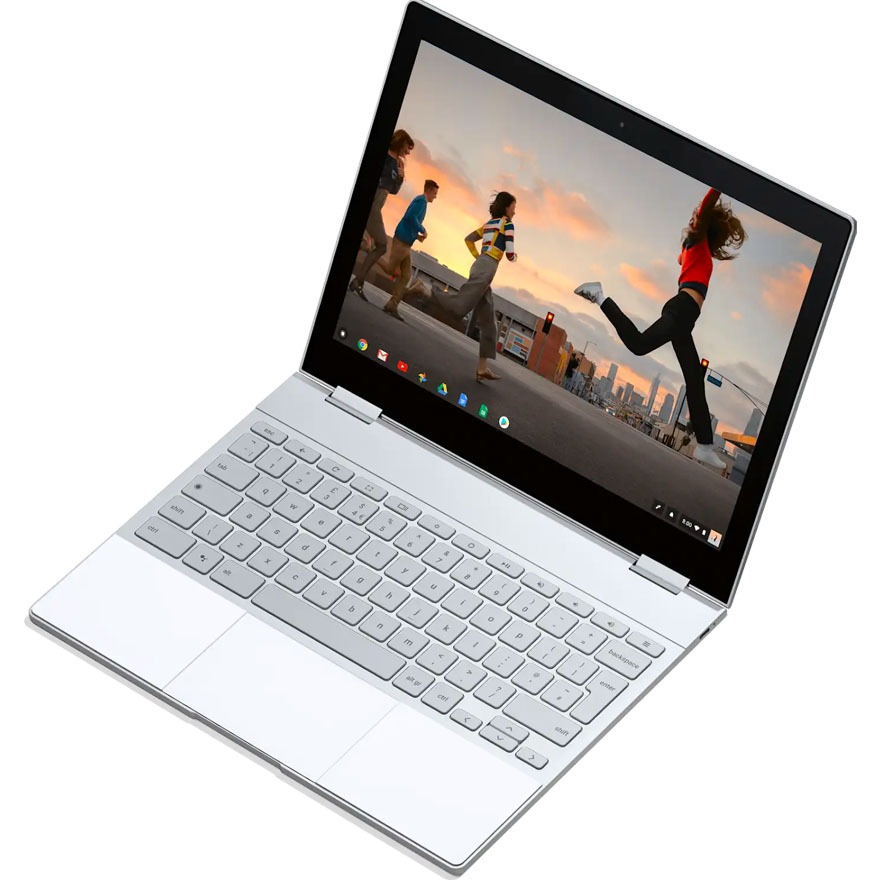 The Pixelbook Go also measures slightly thicker at 13.4mm while the Pixelbook measures 10.3mm thin and the Flip C434TA measures 15.7mm thin. You probably would not mind that extra 3.1mm particularly when the laptop with its 13.3-inch display is the lightest of the three at 1.043 – 1.090 kg compared to the 12.3-inch Pixelbook which weighs 1.1kg. The ASUS Flip C434TA is the heaviest at 1.5kg.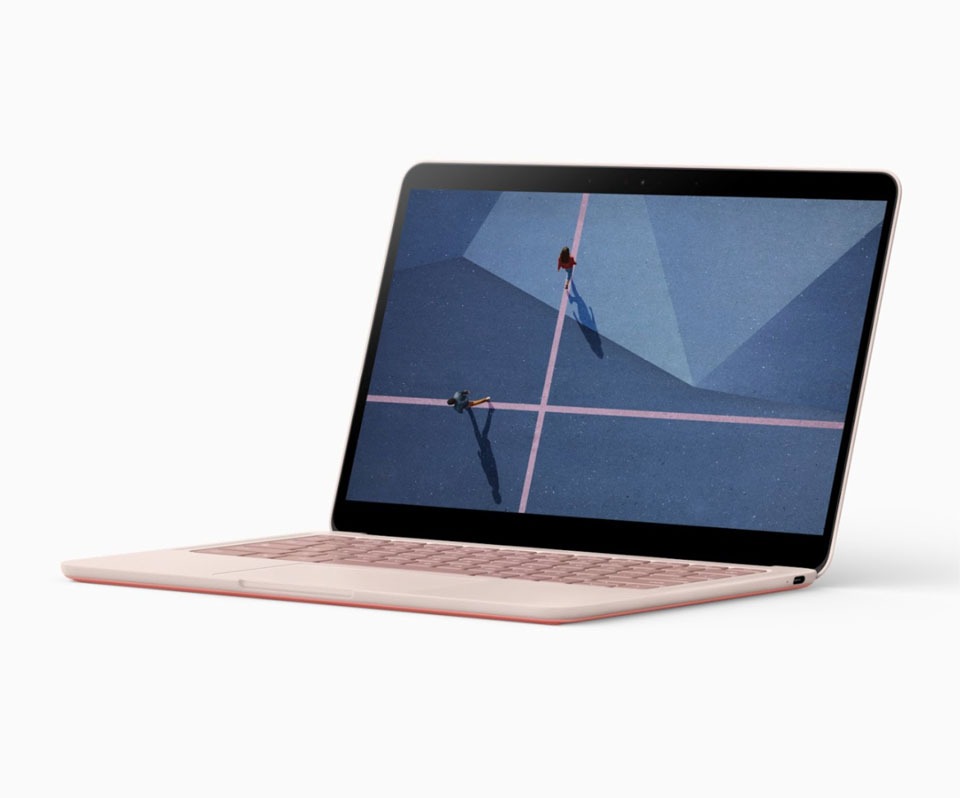 Ultimately, if you want portability and usability, the Pixelbook Go being the lightest of the three with its slim profile goes further. It has the best battery life with up to 12 hours of use from a full charge. Surprisingly, it manages to last up to 14 hours, pretty unusual to exceed manufacturer's claim. Both Google Pixelbook and ASUS Flip C434TA only manage up to 10 hours of battery life. With a modest price tag, unlike the Pixelbook at launch, the Pixelbook Go is certain to fly off the shelves. Those looking for a Chromebook with the best in portability and performance in a tight and sweet design, look no further.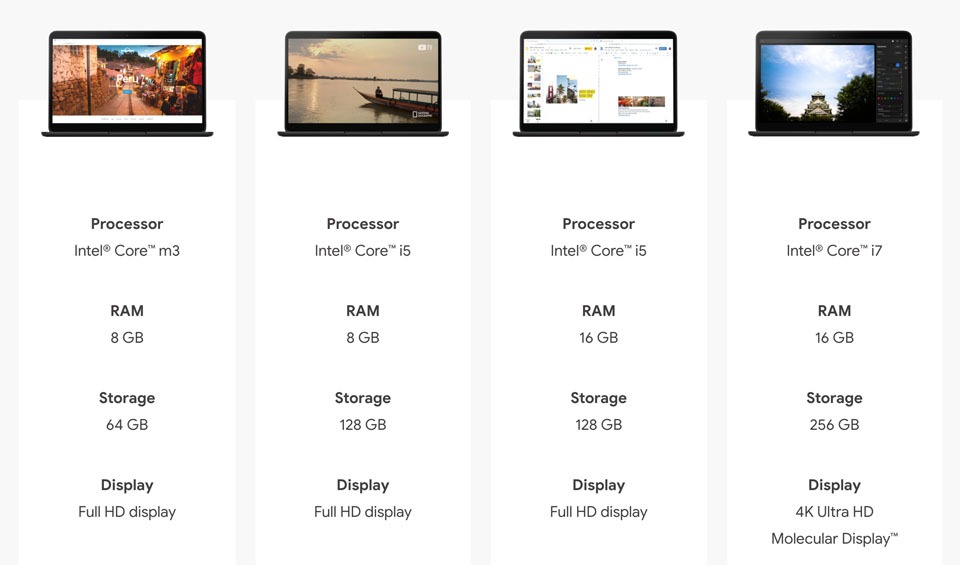 Pixelbook Go specifications
Dimensions
Height: 13.4 mm
Length: 311.0 mm
Width: 206.3 mm
Weight
Full HD: 1061 g (2.3 lbs)
Ultra HD: 1090 g (2.4 lbs)
Display
Full HD 1920×1080 (166 ppi)
4K Ultra HD Molecular Display™ 3840×2160 (331 ppi)
Processor
Powered by an 8th Gen Intel® Core™ (m3/i5/i7) processor for faster browsing, gaming and seamless 4K output to an external monitor. Compare m3, i5 and i7 processors
Memory (RAM)
8 GB or 16 GB for seamless multitasking
Storage
64 GB, 128 GB or 256 GB solid state internal storage
Battery
Up to 12 hours of use1
45 W charger (5 V/3 A, 9 V/3 A, 15 V/3 A, 20 V/2.25 A)
Fast charging: Up to 2 hours in 20 minutes
USB-C™ 45 W adaptor also works with Pixel phones
Material
Finely painted magnesium alloy body Corning® Concore™ Glass
Colour
Not Pink
Just Black
Wireless
Wi-Fi: 802.11 a/b/g/n/ac 2×2 (MIMO), dual-band (2.4 GHz, 5.0 GHz)
Bluetooth® 4.2
Audio
Dual front-firing speakers for better surround sound
2 mics for improved noise cancellation
Keyboard
Backlit keys for easier typing in low light
Full size with 19 mm pitch
Hush Keys™
Google Assistant key
Trackpad
Extra large trackpad with multi-touch and gesture support
Etched glass surface with anti-smudge coating
Camera
2MP Duo Cam, 1080p HD video at 60FPS
Sensors
Ambient light sensor
Magnetic Sensor
Ports
2 USB-C ports for charging, up to 4K external display out, and fast data transfer
3.5 mm headphone jack
Safety and security
Titan™ C security chip and built-in virus protection
Built-in FIDO authenticator
Operating System
Chrome OS