We take a look at the Acer Chromebook Spin 713, a convertible laptop with premium technology and enterprise class design aimed at businesses and users who wish to get the most out of Google's Chrome OS. Based on the 10th generation Intel Core processor and Intel's Project Athena program, it is one of the most advanced Chromebook out there.
Acer Chromebook Spin convertible laptops come in various sizes; 11.6-inch, 13.5-inch and 15.6-inch simply known as Acer Chromebook Spin 11, 13 and 15 respectively. But with the new series, it now uses three digit naming with the first digit denoting the class and the second and third digits, the size of the device. Case in point, the Acer Chromebook Spin 713 is a premium class (7) laptop with a 13.5-inch (13) touch display. While the Acer Chromebook Spin 311 is an affordable convertible laptop (3) for students with an 11.6-inch touch screen.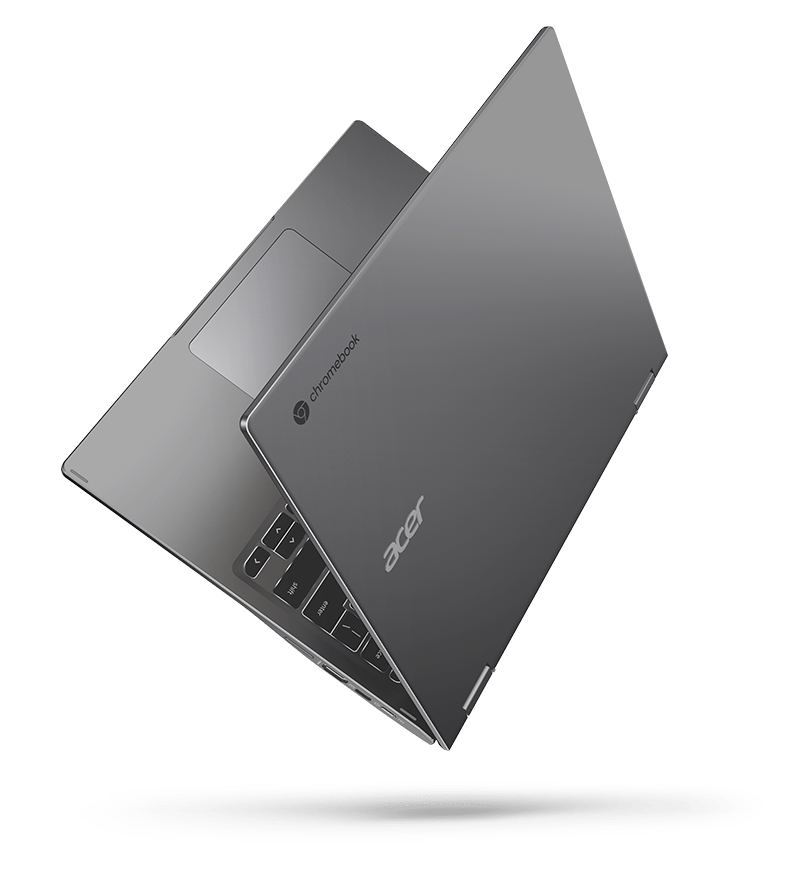 Search Acer Chromebook Spin 713 on Amazon
Acer Chromebook Spin 713
Overview
2K VertiView Corning Gorilla Glass 13.5-inch touch display 3:2 aspect ratio
Enterprise and business class convertible laptop
Military-grade durability in a flexible package
Advanced technology with a premium design
10th generation Intel Core processors and Intel's Project Athena for advanced mobile performance
Productivity Focused Touch Enabled Display
As a convertible, the 2K touch screen opens and rotates to a full 360-degrees to turn it into a slate. You can get clever with the way you use the device depending on the position of the hinges between close and fully open, options include:
display mode for presentation
tablet mode for well, tablet with touch interface
clamshell or laptop mode for keyboard input and
tent mode for pure distraction free entertainment with a small footprint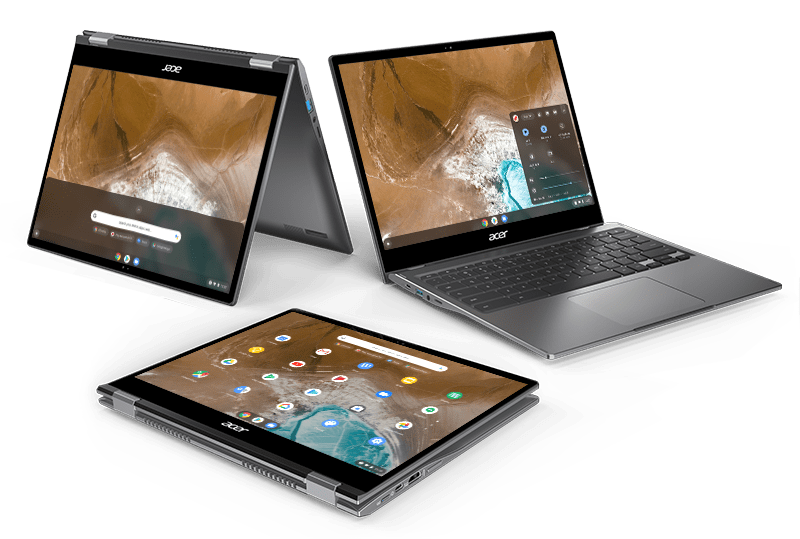 But what is more important is the use of 3:2 aspect ratio, what Acer calls VertiView. Screens with this ratio is common among premium devices especially those from Microsoft. The Surface Pro 7, Surface Book 3, Surface Laptop 3 and even the Surface Go 2 all use displays with 3:2 aspect ratio. This offers 18% more vertical room for viewport and reduces scrolling.
As for the display, the 13.5-inch screen is packed with 2256 x 1504 pixel resolution. The IPS display offers brilliant 2K clarity. It will display Full HD and 4K streaming video with more details and higher viewing angles. On top of that, the touchscreen and touchpad are made of Corning Gorilla Glass too for durability and its scratch resistant quality.
The touch panel and touchpad are also available with an optional layer of antimicrobial Corning Gorila Glass. The specially formulated layer help reduces the micro-organism and odour on touch display and touchpads. The entire display is wrapped in thinner bezels to ensure that what is on the display stands out more.
Business Class Design
The Acer Chromebook Spin 713 is an ultraportable with super slim and lightweight design. The laptop with its 13.5-inch display offers a balance between usability and portability. Plus, with the 3:2 aspect ratio and back-lit keyboard, it boosts productivity anywhere you go. The entire Chromebook only weighs 1.37kg (3.02 lbs) and is just 16.8mm thin (0.66 inches) when shut. This makes it easy to slip into a bag and take with you when working offsite, commuting, on a long haul flight or meetings with clients.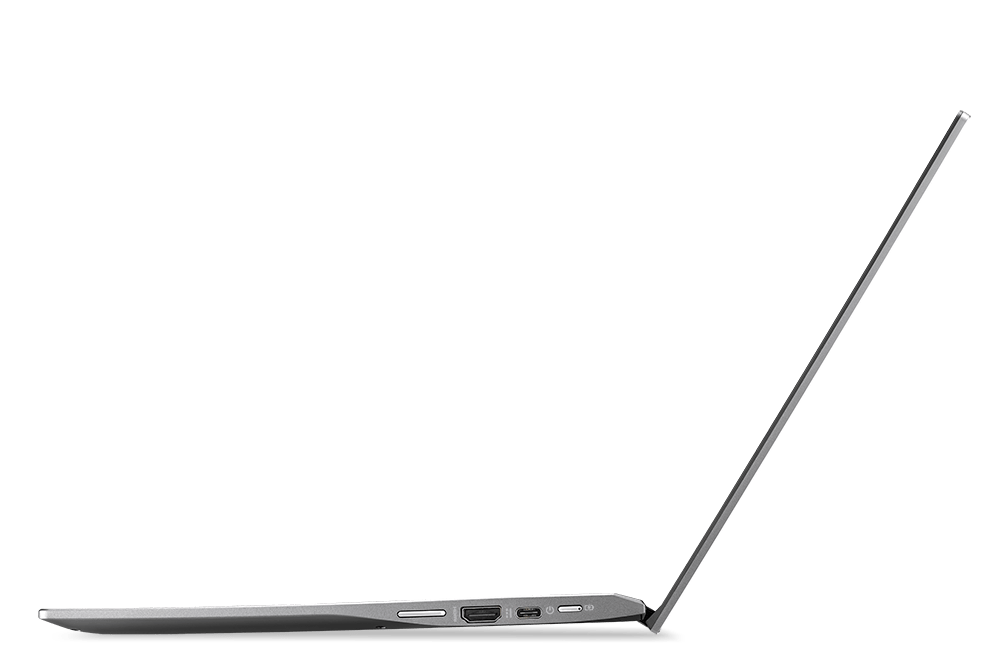 Military-grade Durability in a Flexible Package
The Acer Chromebook Spin 713's all-new streamlined aluminum chassis has a reinforced design that delivers military-grade durability (U.S. MIL-STD 810G compliant), making it capable of resisting dents, dings and corrosion. The reinforced design and shock-absorbing bumper can survive drops from heights of up to 122 cm (48 inches) and withstand up to 60 kg (132 pounds) of downward force.
NOTE: The Chromebook Spin 713 is tested by qualified 3rd party labs for certain tests procedure under MIL-STD 810G (Oct 2008) for environmental conditions that include high and low temperatures, humidity, vibrations, mechanical shocks on drops, rain, dust and sand.
Advanced Technology With a Focus on Enterprise Needs
With the Acer Chromebook Spin 713, the company focuses on enterprise and business users. The Chromebook is offered with Chrome Enterprise Upgrade included. This is a solution for businesses that wish to scale and manage their devices. The enterprise edition is different to the standard version as it carries the word Enterprise in its name, the Acer Chromebook Enterprise Spin 713.
It capitalises on the secure and productive environment for cloud-based workers. Using Chrome Enterprise and Google Console (a separate monthly fee may be required), IT departments can quickly and securely deploy, manage and power a cloud workforce that uses Chromebooks. The system comes with integrated security coverage. IT administrator can control updates, configure apps, use extensions and policies via the web based console.
"Businesses of all sizes are embracing cloud-based tools, so their employees can work more effectively from their offices or homes, while also staying connected and collaborating with colleagues, customers and partners," said James Lin, General Manager, Notebooks, IT Products Business at Acer.

"Acer's new Chromebook Spin Enterprise 713 will help businesses accomplish more, while delivering what IT management wants – security, ease of deployment, manageability, and a solid return on investment."
Connectivity Aplenty
The Acer Chromebook Spin 713 provides options to keep consumers and businesses connected. It has two USB 3.1 Type-C ports, both supporting USB 3.2 Gen 1 (up to 5 Gbps), DisplayPort over USB-C, and USB charging. It also includes an HDMI port, USB 3.0 and MicroSD card reader. Dual-band Wi-Fi 6 AX201 (802.11ax) with 2×2 MU-MIMO technology provides a fast and reliable wireless connection, while Bluetooth 5.0 delivers a convenient means to connect to peripherals.
802.11ax 2×2 160MHz enables 2402Mbps max theoretical data rates, 3X faster than 802.11ac 2×2 80MHz (867Mbps) as documented in IEEE 802.11 wireless standard spec and require the use of similarly configured 802.11ax wireless network routers.
With these many connectivity ports and advanced high performing wireless support, the Chromebook is flexible enough to cater to all your connectivity needs both wired and wireless.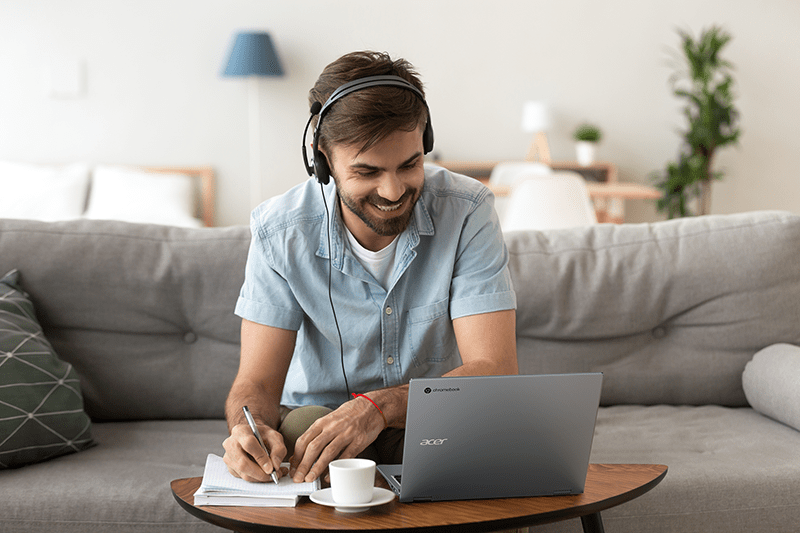 10th Generation Intel Core Processors and Intel's Project Athena for Advanced Mobile Performance
The Acer Chromebook Spin 713 (CP713-2W) was co-engineered with Intel as part of Intel's Project Athena innovation program. For Acer's part, it has successfully designed a laptop that passed rigorous testing to ensure that it performs consistently in areas such as responsiveness, instant wake and battery life.
"Acer's Chromebook 713 demonstrates the co-engineering efforts driven by Acer and Intel through the Project Athena innovation program," said Josh Newman, Vice President, Client Computing Group at Intel.

"Powered by the 10th Gen Intel Core processors, Acer's first Project Athena-based Chromebook provides exceptional performance and enables premium productivity for business professionals."
The powerful 10th Gen Intel Core processors for the latest in processing performance allows for handling multiple apps, pages, extensions and more. Users will experience more than a full day of productivity on the device's fast-chargeable battery that offers 10 hours of usage. It comes with up to 16 GB DDR4 SDRAM and up to 256 GB of PCIe NVMe SSD storage.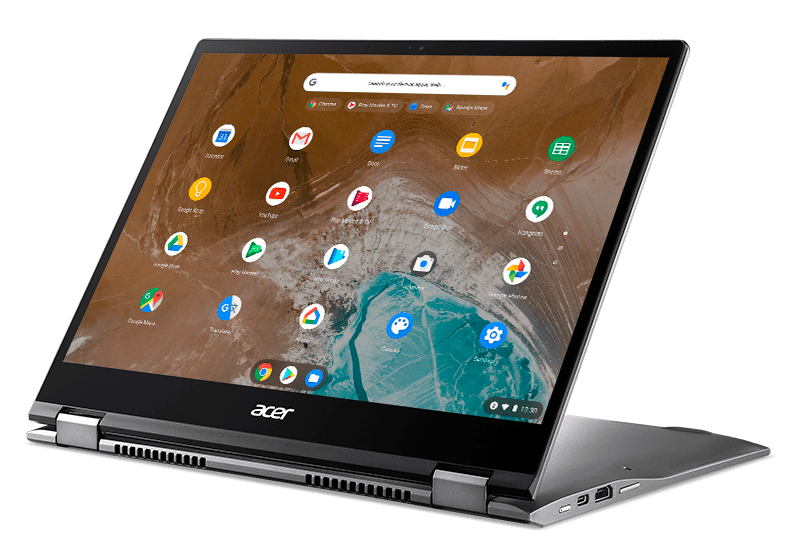 Search Acer Chromebook Spin 713 on Amazon
Specifications
Chrome OS
10th Gen Intel Pentium Gold 6405U/Core i3/Core i5/Core i7
13.5″ 2K 2256 x 1504 IPS touch display, VertiView 3:2 Aspect Ratio
Up to 16GB DDR4 RAM
128GB/256GB PCIe NVMe storage or 64GB/128GB eMMC
WiFi 6
Bluetooth 5
2 x USB-C, 1 x USB-A, MircoSD and full-size HDMI port
all-aluminum chassis
Gorilla Glass touchscreen and trackpad with optional anti-microbial coating
U.S. MIL-STD 810G compliant (drop-tested at 48″ and withstands up to 132 lbs of downward force)
16.8 mm thick, 3.02 lbs
Android and Linux app ready
USI stylus support
optional Chrome Enterprise Upgrade