An ultra portable 2-in-1 from ASUS is incredibly thin and light in a convertible tablet profile with detachable keyboard, what is not to like. The Transformer Book Chi T300 combines the power and performance of a laptop with the portability and convenience of a tablet.
When docked, it is still slimmer than the MacBook Air and while as a tablet it is barely 0.29 in. But do not think for a second that it has to sacrifice on specification, the Transformer is powered by the new generation Intel Core M 5Y10c mobile processor, has 4GB RAM memory and 128GB SSD storage.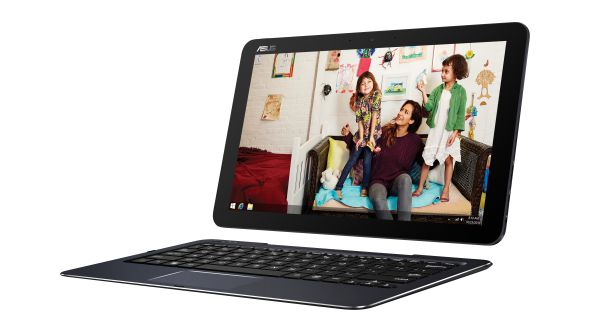 Transformer Book T300 Chi: 5 Things You Need to Know
DISPLAY: It has a super sharp Full HD 12.5 inch LED-backlit touchscreen with 1920 x 1080 pixels resolution and support 10-finger multi-touch. Everything looks razor-sharp on the 12.5-inch Full HD touchscreen, which is perfect for editing photos, watching movies, or creating a presentation.
DESIGN: Incredibly thin and light, the Transformer Book Chi T300 marries laptop muscle with tablet fun in one capable and convenient device. When docked, it's slimmer than a MacBook Air, while as a tablet it's a barely there 0.29 inches thin. It's plenty powerful and fast with a 128GB SSD and Intel Core M processor, which also keep the Chi's total weight down to just over 3 pounds. The 2 in 1 machine includes ASUS Mobile Dock with full QWERTY keyboard. The T300 Chi is made from all-aluminum one-piece design making it as elegant as it is durable, and is highlighted with diamond-cut beveled edges and sleek contours to give it a smart and premium finish.
SIGNATURE EDITION: as close to Microsoft Windows Operating System experience as possible without junkware or trialware getting in the way. Signature Edition is what we recommend for the Transformer Book T300, a machine without the pre-installed with programs, toolbars, utilities, and screensavers that you may not want. These can slow down your computer and bloat up your Start screen or desktop.
A sampling of new PCs with Signature showed an average battery life 28 minutes longer than the same PCs without Signature, an average start-up improvement of 104%, and they shut down 35% faster. PCs with Signature come pre-loaded with Windows Defender, an antivirus program that never expires and includes free updates without ever asking for your credit card. A Signature Edition is just what Microsoft ordered.
PERFORMANCE: Powerful Intel Core M processor: Built for razor-thin, ultra-mobile devices, the Intel Core M combines blazing-fast speed, exceptional energy efficiency, and an ultra-quiet fanless design. Fast, reliable performance with the Intel Core M-5Y10c 0.80 GHz with Turbo Boost Technology up to 2.00 GHz , 4GB LPDDR3 1600 MHz of memory and 128GB Solid State Drive all add up to a well rounded machine offering smooth and quick computing able to take on even some heavy duty multitasking.
BATTERY LIFE: ASUS claims a battery life of up to 8 hours means you can stay away from the wall socket for longer, keeping you unplugged for a day in the office or at school with enough juice left over for relaxing at night. Having said that, the battery life really depends on the users usage pattern. Some users have complained that the battery life fall short of the reported 8 hours. That amount of battery life is respectable for a Windows tablet but may not come close to some of the Android or iOS tablets out there then again you would not compare an orange to an apple.
Specifications:
Intel Core M-5Y10c 0.8GHz with Turbo Boost Technology up to 2.0GHz –

CORE M

12.5-inch Full HD LED-backlit touchscreen (1920 x 1080), 10-finger multi-touch support
4GB memory/128GB SSD with MicroSD card slow –

GOOD SIZE MEMORY & STORAGE

Ports: Micro USB 3.0 • USB 2.0 via included dongle • Micro HDMI • Headphone output/Microphone input combo and integrated web cam
2-cell lithium-polymer with up to 8 hours battery life –

GOOD BATTERY LIFE

Connectivity: 802.11a/g/n (Miracast enabled) and Bluetooth
Dimensions & Weight: Tablet + dock: 12.51 x 7.54 x 0.64 in (317.80 x 191.60 x 16.50 mm) and 3.19 lbs (1.44 kg), Tablet only: 12.51 x 7.54 x 0.29 in (317.80 x 191.60 x 7.60 mm) and 1.60 lbs (0.72 kg) –

LIGHT & SLIM TABLET

Includes keyboard dock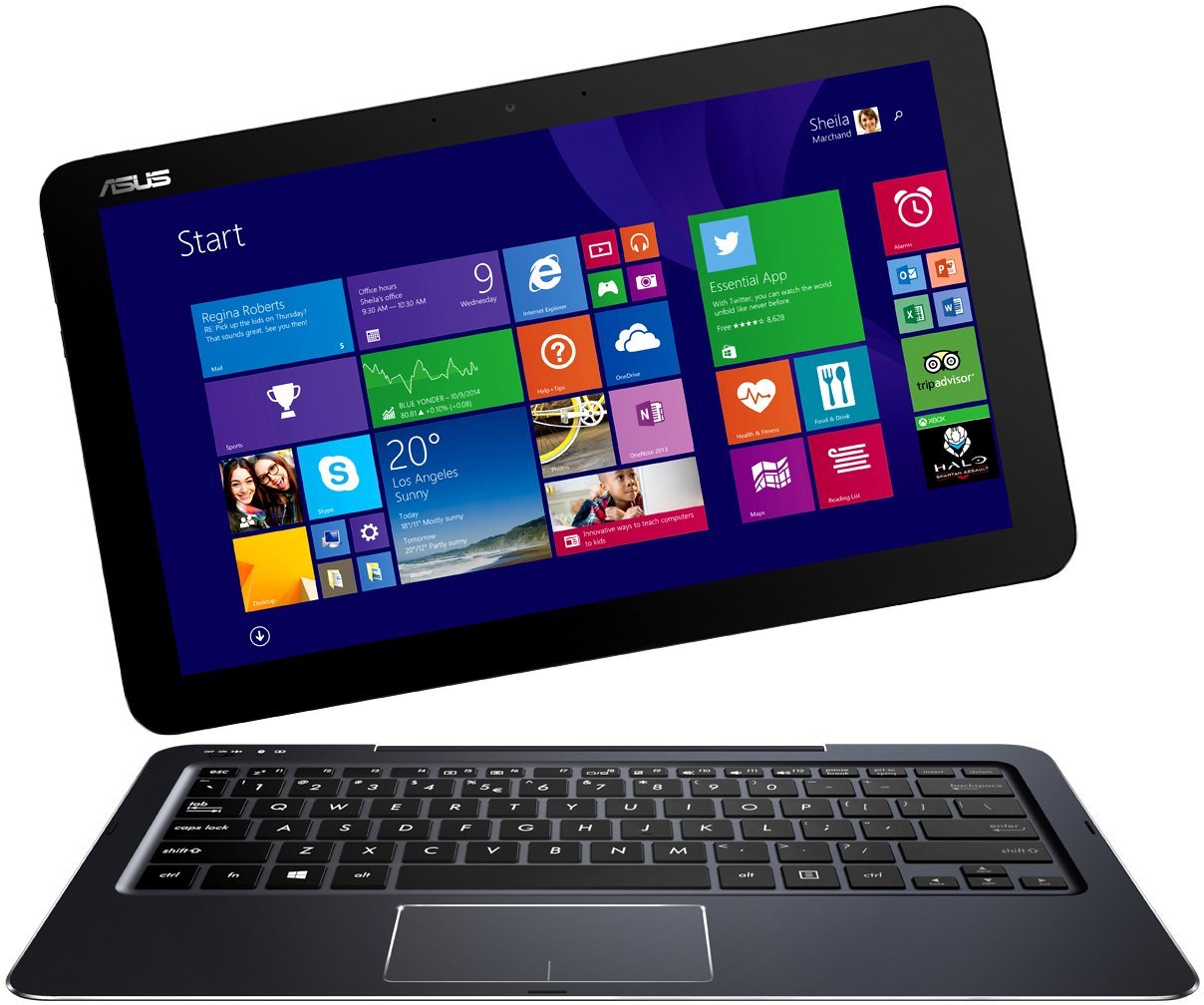 What Customers Say:
I'll start off by saying I have owned an iPad, Surface Pro 2, Surface Pro 3, Asus transformer Infinity TF700, and an Asus Transformer T100. I felt each of these had their merits, but none had the same functionality, size, weight, and performance as the Asus Transformer t300 Chi has.

I'm a happy camper but, there's a reason why I have a desktop computer. How I came to getting this laptop was through the idea of having a good laptop that is light, sleek, and fast enough.Let me tell you, this laptop delivers.

This laptop can take the toughest I get at it, it runs most of my games(realistically) and all of my office applications. The keyboard feels good and the speakers are not as bad as many people say they are.

Using the T300 Chi as a tablet is such a delight. I mean, a 12.5′ display would be a treat for anyone! Locking the tablet with the keyboard dock is merely just sliding in the magnets into the slots, it's very simple.