Pricing flagship phones above $1,000 has become the norm and it has left a lot of space for midrange devices to fill. You don't have to be able to afford a flagship phone to get top performance and a gorgeous design in a future-proof device.
The midrange bracket is hopping with smartphones that look and feel almost exactly like their more expensive flagship counterparts.
So if you want a great phone at a great price, then look no further. This article is just for you.
What is a mid-range smartphone?
Device pricing is ever-changing – flagship phones are now starting at $1,200-$1,500 each, so technically the "middle" of the market is changing, too. Arguably $500-$800 could still be considered mid-range, but consumer preference is still generally somewhere between $300-$500. This is where most of our affordable mid-range 5G smartphones reside.
What specs should I be looking for?
Every person has varying priorities when choosing a phone. Flagships often claim to tick all possible boxes, but mid-range phones have excellent internal specifications, too. Here are some of the specifications you can choose to focus on based on your application and needs.
If you want to take great pictures for social media, then you should be paying attention to the quality of camera sensors.

If you want a big screen with popping colors, then you should look at OLED devices at 120 Hz.

If you prioritize performance and want a phone that will still be fast in 3 years, then a Snapdragon 865 and 8 GB of RAM should be more than enough.

If you don't care about any of it except having a device that will last more than 24 hours, then you should be looking for phones with a 5,000 mAh battery.
All these features and more are detailed in the choices below. 
Note that prices quoted are retail or launch price and are subject to changes. These will most likely go down over time or during sales. Check online retailers for the latest offers.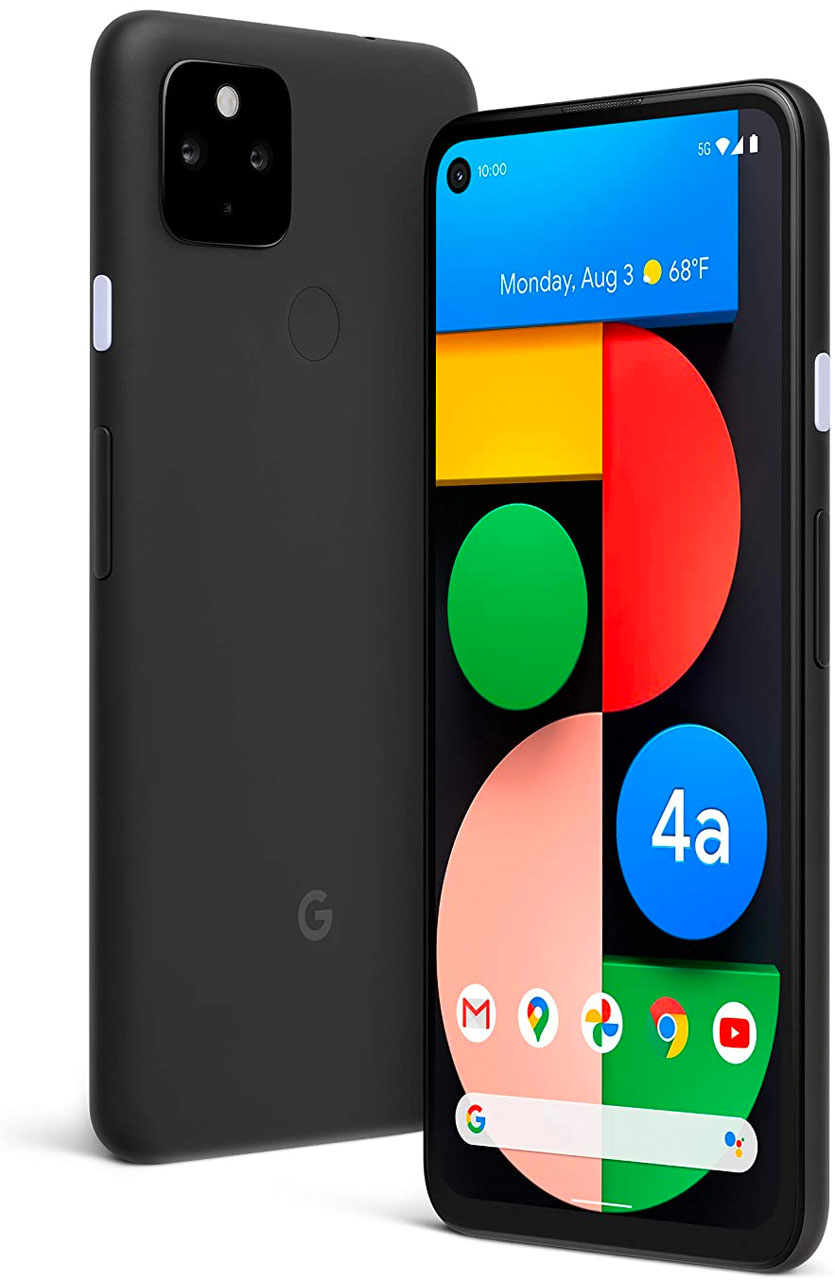 Google has its mid-range offering with one of the cheapest Pixel phones so far, and one with 5G capability, to boot.
Notable features include:
6.2 inch FHD OLED full screen display, 60 Hz

6 GB RAM, 128 GB storage

Snapdragon 765G, Adreno 620

12.2 MP dual pixel + 16 MP ultrawide cameras (rear), 8 MP front camera

1080p video capture

3800 mAh battery

Android 11 with a minimum of 3 years of updates

Headphone jack
The Pixel 4a is a good cross between the Pixel 4 and Pixel 5, with features landing in between.
Pixel 4a has the original 4's look and feel, with a matte polycarbonate body. The OLED screen is bright and crisp and it follows the Pixel tradition of flat screens (instead of curved), so putting on a screen protector will not be a problem. 
It doesn't quite have the 5's top-of-the-line Snapdragon 855 processor, but the Snapdragon 765G is still very speedy and provides excellent performance. The 6GB RAM is nothing to sneeze at, either. The 3800 mAh battery easily lasts a full day on a single charge, with Extreme Battery Saver mode that can be pushed to more than 48 hours. The included 18W charger tops up battery life at a pretty good pace. 
Pixel phones deliver some of the best quality photos on the Android side, and the 4a comes with the same camera configuration and software as the flagship 5. Photography is the Pixel specialty, and the photos outshine those taken by phones more than twice the price. All cameras – the main, the ultrawide, and the selfie – take crisp photos with beautiful and rich detail. Night Sight and Portrait modes are superb as well.
For a 5G handset with an affordable price tag, what gives? Apart from the mid-range processor, the smartphone does not support wireless charging nor is it water resistant.
The original Pixel 4a (5.8-inch screen, Snapdragon 730, no ultra-wide camera, 3140 mAh) retails at $349, further savings if you don't need 5G connectivity.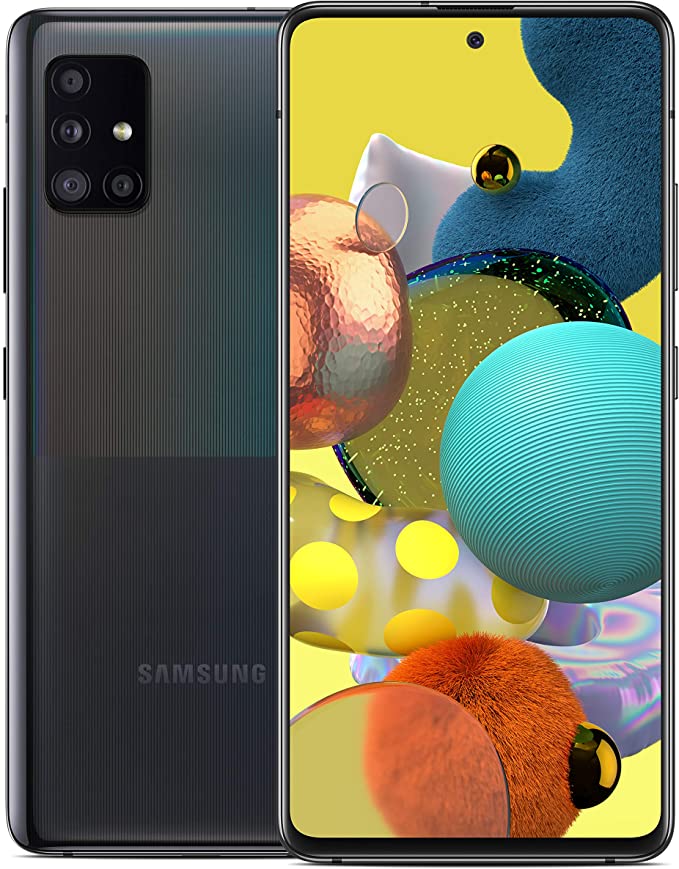 The Samsung Galaxy A50 was one of the best-selling devices in 2019. The A51 followed in 2020, and the 5G version later on. The A51 5G is the cheapest Samsung phone with 5G capability. 
Notable features include:
6.5" Super AMOLED FHD+ display

Exynos 980

6GB RAM, 128 GB storage with external memory support up to 1 TB

Quadruple rear cameras (48 MP primary, 12 MP ultra-wide, 5 MP depth, 5 MP macro)

32 MP selfie camera

4K video recording

4500 mAh battery

Headphone jack
The A51 5G version has an aluminum frame with a plastic back. Samsung's AMOLED display is unparalleled with its vibrant and rich colors even under direct sunlight. Performance with the 6GB RAM variant is fast and snappy, with no hiccups even while gaming. The 4500 mAh battery ensures more than a full day of use, and 15W wired fast charging is just as advertised.
Samsung's cameras are some of the best in the industry. Photos captured are sharp and bright with accurate colors. The Pro mode lets you control shutter speed and focus.
The Samsung Galaxy A51 LTE version retails at $399. The Samsung S20 FE LTE is on the higher end of the mid-range spectrum at $559.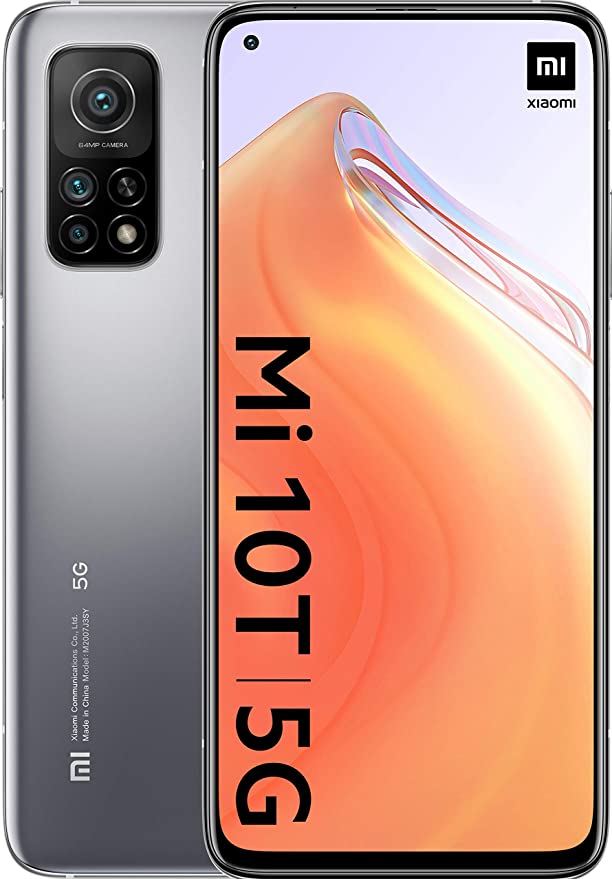 It's on the top end of mid-range smartphones, but the flagship specs are hard to say no to.
Notable features include:
6.67 inch FHD+ LCD screen, 144 Hz refresh rate

Snapdragon 865

6 GB RAM, 128 GB storage

Triple rear cameras (64 MP main, 13 MP ultra-wide, 5 MP macro)

20 MP selfie camera

No headphone jack

5000 mAh battery
This is a great phone with top-tier specs. It almost doesn't matter that it has an LCD screen instead of an OLED. The colors are still bright and crisp even in direct sunlight, and the 144 Hz refresh rate gives an out of this world smooth scrolling experience. The front and back of the phone are covered by the impenetrable Gorilla Glass 5.
The flagship Snapdragon 865 chipset performs perfectly with the 6GB RAM. Multitasking is a breeze, and there are no hiccups even while playing CPU-heavy games. The battery life is huge and superb, 5000 mAh can last up to 4 days of heavy use even with the high refresh rate. The 33W fast charger does its job excellently, and takes the beastly battery from 10% to 100% in less than an hour. 
The triple camera set-up delivers fantastic photos during the day and even at night. The Pro mode is great for manual adjustments. A cheaper version, the Xiaomi Mi 10T Lite 5G with Snapdragon 750G is also available with 6.67-inch FHD+ 150Hz display, 6GB RAM and 128GB storage.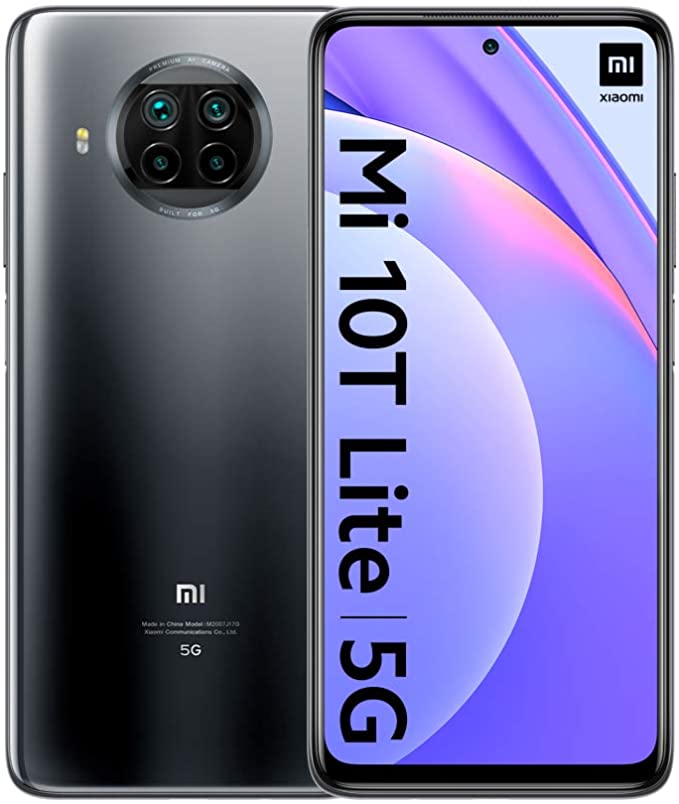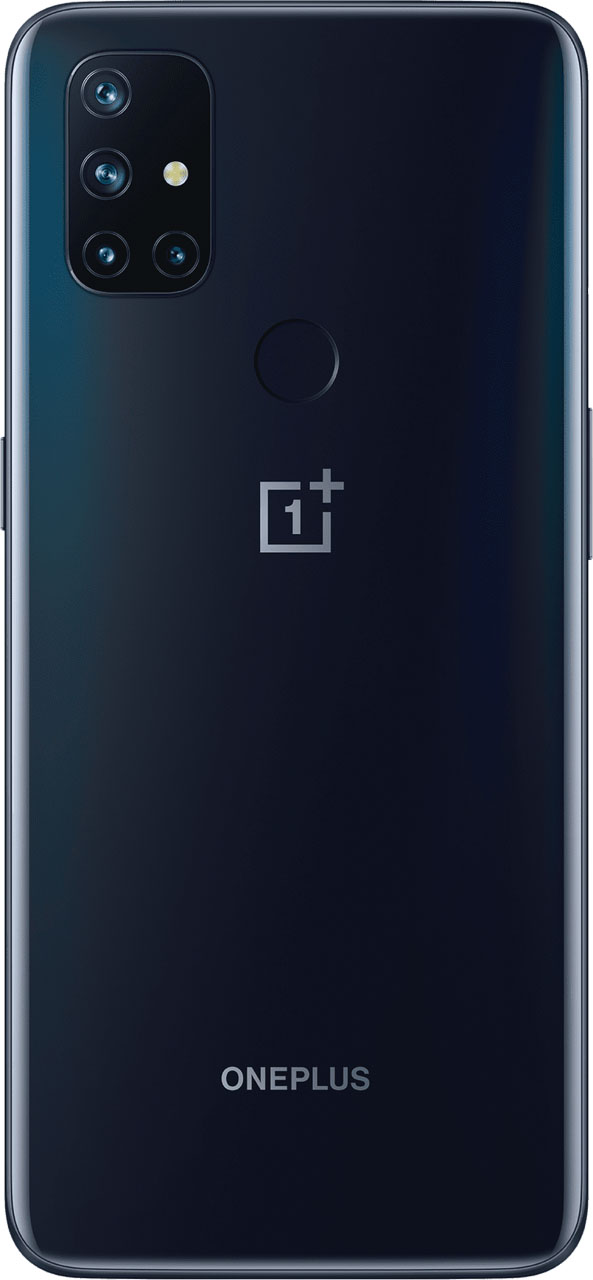 More and more mid-range 5G-capable phones are being released, and OnePlus's offering is a good one. Having pushed the prices of their 'flagship killers' higher and higher with each generation, the company have resorted to introduce a new line, the Nord series to once again bring affordable smartphones with the best specifications to the masses.
Notable features include:
6.49-inch FHD+ IPS LCD 90 Hz

Snapdragon 690 5G

6 GB RAM, 128 GB storage expandable to 512 GB

Quadruple camera (64 MP main, 8 MP ultra-wide, 2 MP macro, 2 MP monochrome)

16 MP selfie camera

4K video capture

4300 mAh battery

Warp Charge 30T

Headphone jack
The Nord N10 5G's LCD screen seems to be a downgrade on paper, but in reality, it's difficult to tell the difference unless you put it right beside an AMOLED phone. The Full-HD screen has bright and sharp colors and the 90 Hz refresh rate gives a smooth experience when scrolling. 
The Snapdragon 690 processor along with 6GB of RAM provides a smooth performance even with dozens of apps open. The 4300 mAh battery can easily handle up to two days of consistent activity.
The standard and ultra-wide cameras are some of OnePlus's best offerings, delivering bright and clear photos in daylight and pretty good detail at night. The macro and monochrome lenses feel a little superfluous, but it could be great for budding photographers. 
Motorola's 5G offering is one of the lowest-priced in the market.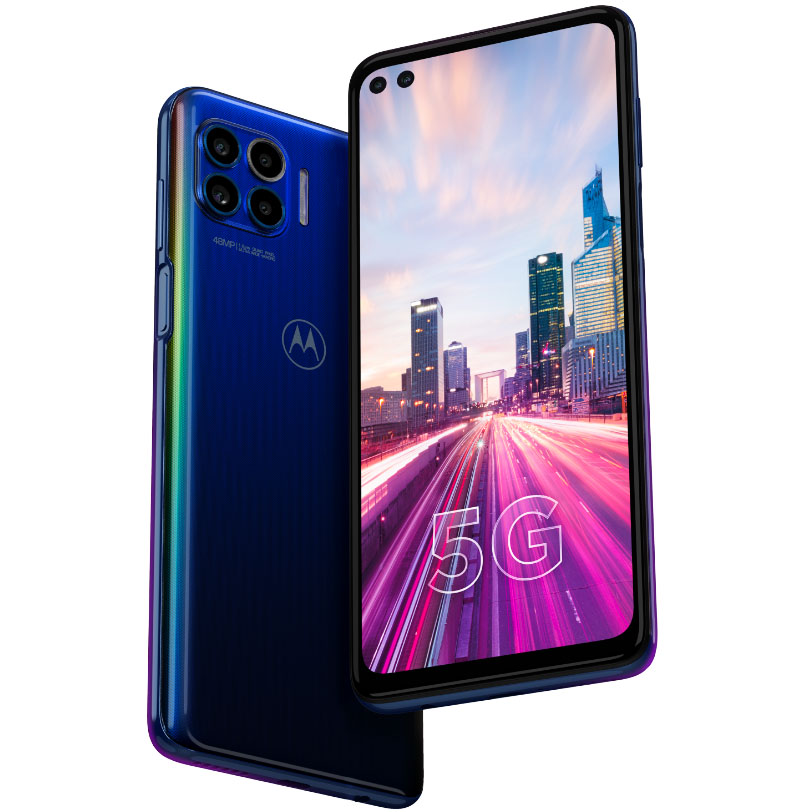 Notable features include:
6.7-inch FHD+ IPS LCD 90 Hz

Snapdragon 765G

4GB RAM, 128 GB storage expandable to 1 TB

Quadruple camera (48 MP main, 8 MP ultra-wide, 5 MP macro + ring light, 2 MP depth )

Dual selfie camera (16 MP main, 8 MP ultra-wide)

5000 mAh battery

Headphone jack
The 5,000 mAh easily lasts more than two days, and even with 4GB RAM, performance is still snappy and fast. At the core of the handset is the capable Snapdragon 765G SoC. The full HD screen along with the 90 Hz refresh rate makes for great eye-candy.
The Motorola One 5G's six-camera set-up looks a bit unwieldy, but they all deliver great photos with accurate colors. The 5 MP macro camera lens includes a ring flash that provides an extra light source for super close-up photos and video.
Conclusion
The mid-range field is robust, with offerings from the biggest manufacturers worldwide. There is no end to the possible mixing and matching of under-the-hood specs and features. You just have to choose your priorities carefully and decide what you can do without.
This list has been limited to phones released in 2020. Flagship phones from 2019 such as the Samsung Galaxy S10, S10e, and Note 10, the Apple iPhone 11, and the Google Pixel 4 are all between the $400-$600 range. They all still come with high-end specs as well as excellent features, so they're all worth looking at if 5G is not a must-have.
Lastly, these are only 5G phone that you can get your hands on easily. International companies like OPPO, Realme, Vivo, Huawei, and Xiaomi have an even broader selection of phones at a mid-range price. Stay tuned for more affordable 5G handsets.