Announced at the IFA 2020 Global Press Conference, the rugged HONOR Watch GS PRO was launched alongside the new HONOR Watch ES, HONOR MagicBook Pro and the updated MagicBook 14 and 15. We look at what the new flagship smartwatch from HONOR brings to the table.
HONOR gave us not one but two new smart watches this year. Launched in September 2020, the HONOR Watch GS PRO is the company's new flagship watch topping their last smartwatch in price, performance and features. It is also the company's first rugged watch. Here we explore how this flagship smart watch from HONOR is different to its previous offerings and what this means for users.
Compared to HONOR's previous smart watch, the HONOR MagicWatch 2, the HONOR Watch GS PRO has way more to offer. For starters, it is rugged by design. The new smart watch is built to survive the harshest of environments and comes with plenty of features for those who love the great outdoors. It also has better battery life up to 25 days per charge thanks to its high capacity battery versus 14 days on the MagicWatch 2.
Both watches are powered by HUAWEI Kirin A1 chipset and share the same 1.39-inch AMOLED round touchscreen display with 454 x 454 pixels resolution at 326PPI. They also come with GPS sensor onboard, optical heart rate sensor and are capable of water resistance up to 5ATM. Other features that both watches share include preloaded running courses with voice over guide, swimming heart rate monitor, VO2max data capture, stress and sleep monitors as well as the ability to take calls, get notifications and store music on the watch.
As for features only available on the HONOR Watch GS PRO, we go back to that rugged design. The watch received 14 military grade certifications from MIL-STD-810G/GB 150A tests. Chief among these are its ability to operate in a wide temperature range from as low as -40 to 70 degrees Celsius, low pressure, high altitude and high humidity. Other tests that it excelled at include temperature shock, contamination by fluid, solar radiation, rain, salt fog, sand and dust, immersion, vibration and shock.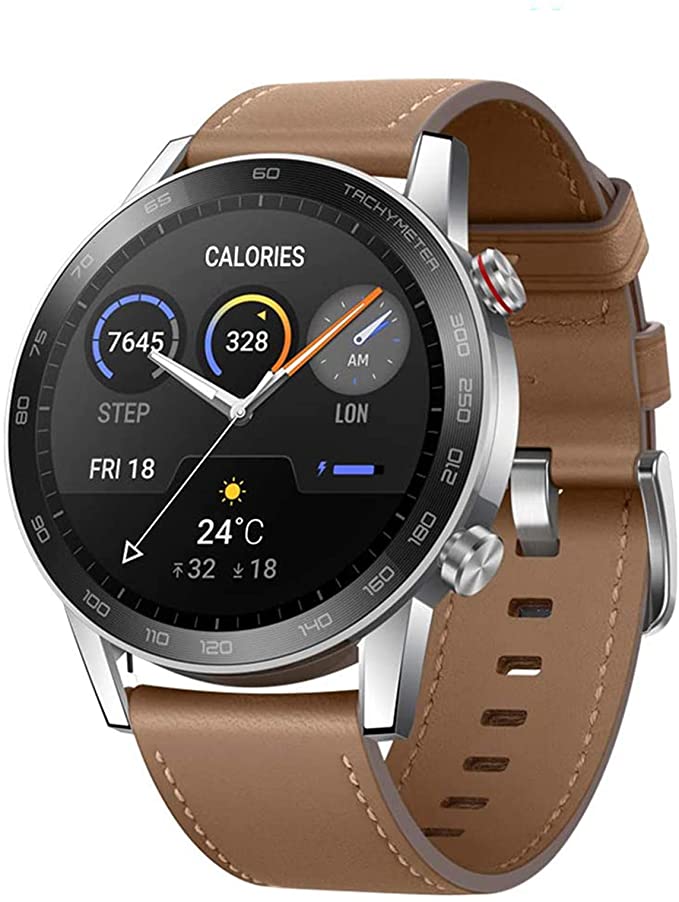 Some features on the Watch GS Pro are possible with additional sensors. The watch is equipped with an Sp02 sensor to measure blood oxygen level, altitude barometer for mountaineering and a built-in dual satellite system for route back function to help track your way back. One thing is for sure, unlike the MagicWatch 2, the Watch GS Pro is not a dress watch for men, but it is unashamedly wild and rugged.
Now that we have established where this product sits in HONOR's wearable portfolio, let's take a look at its features. Starting with a quick overview. The HONOR Watch GS PRO is the company's first rugged watch with MIL-810G standard certifications, has a long battery life of up to 25 days, comes with both heart rate and SpO2 sensors like the Apple Watch 6 and has neat features like route back function with breadcrumb navigation for tracking, supports over 100 different workout modes including multiple skiing modes, snowboarding as well as hiking. There are also 13 running courses to choose from. These are guided and timed runs for basic to advanced levels. Use the 1.39-inch AMOLED touch display to access these features. Here are features you need to know about the watch from our in-depth review:
1. The Ultra Rugged Design & Colour Options
Ruggedness is in the DNA of this watch. It has a chunky and tough exterior with a stainless steel bezel ring paired with a matt finished rubber strap with steel buckle. The strap is soft, will not mark easily and is comfortable to wear for prolonged time. But don't for a second let this big watch fool you. It still only weighs 45.5grams without the strap and 76grams with the strap. Compare this to an all stainless steel smartwatch with stainless steel bracelet, you are looking at upwards of 110grams. For our review, we look at the Charcoal Black edition. This comes with an all-black polycarbonate body and black stainless steel bezel, black strap and buckle.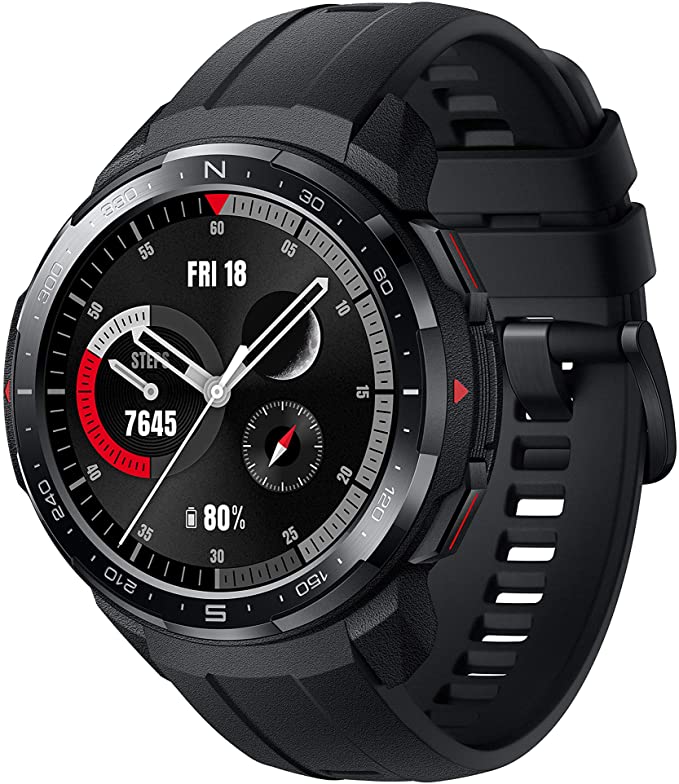 Two other colour options are shown on the website, although only one is available to buy at time of writing. There is the Marl White Beige model with beige body and stainless steel bezel in silver paired with beige matt rubber strap with silver steel buckle. The third and elusive option, the Camo Blue, comes with a light blue body with stainless steel bezel in silver tone and blue camo strap made from tight weave nylon fabric.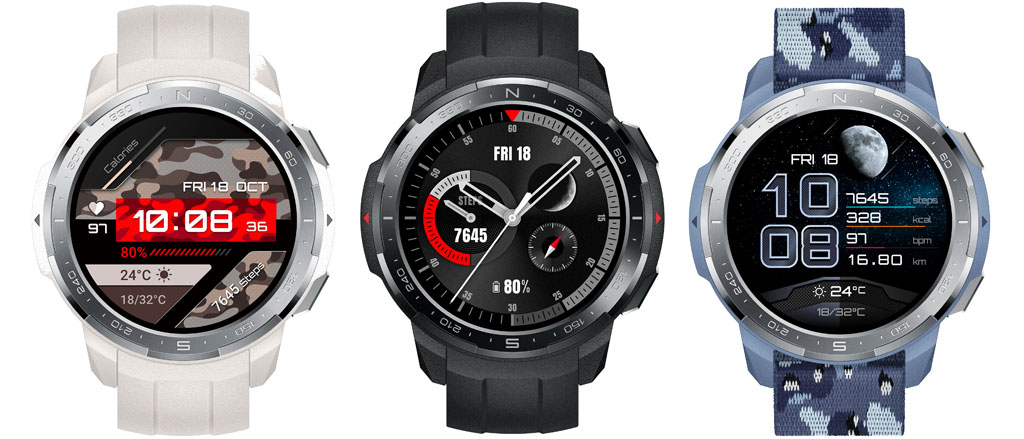 The straps are held using spring bars with quick release to allow you to swap them out with other 22mm straps easily. But unlike HONOR MagicWatch 2, no spare HONOR EasyFit straps are offered. It is unlikely that standard third party straps will work with this watch due to its height and heft, see image below. There is a moulded fit at the end of the strap nearest to the watch that if you are after an exact fit.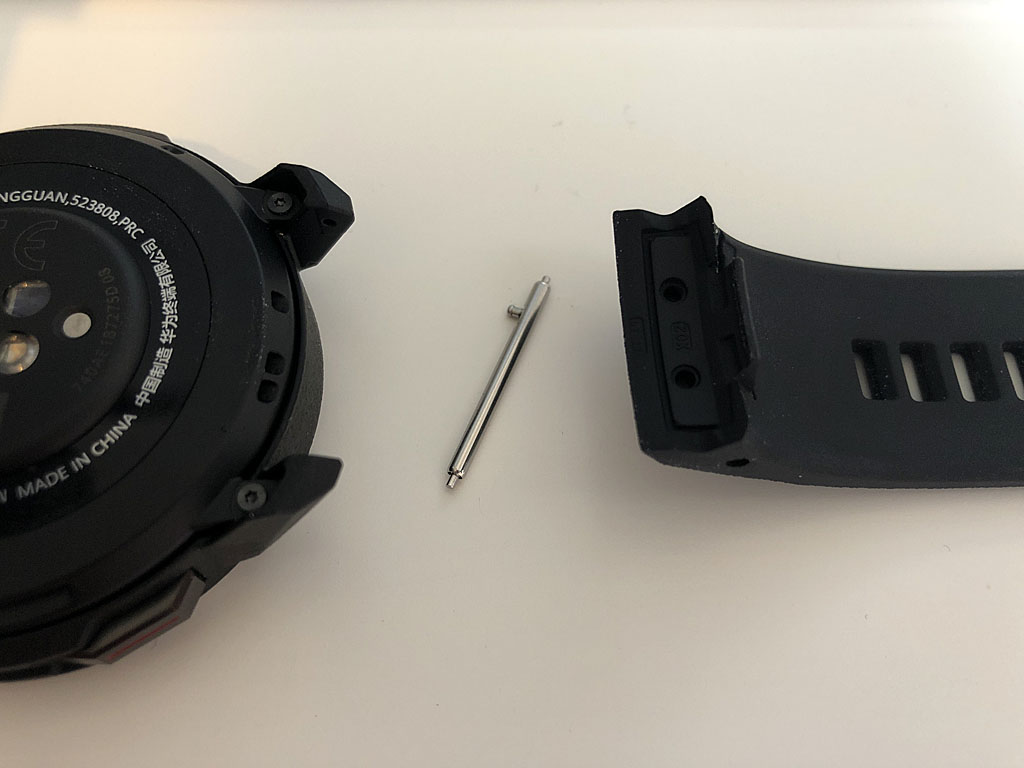 2. Watch Dial and Display Settings
Many would still prefer a round dial over a square or rectangular dials with a conventional time piece. HONOR continues this trend with the Watch GS Pro. It comes with a beautiful 1.39-inch AMOLED round touchscreen display with 454 x 454 pixels resolution and 326PPI pixel density. This makes images, watch faces, icons and on-screen buttons appear sharp, with plenty of detail and vibrant colours.
The AMOLED panel offers sufficient brightness. Use the default Auto brightness mode for a balance between battery life and screen brightness. We find that this copes will both indoor and outdoor even under direct sunlight. If you struggle, pick a watch face with big motifs, bright colour, easy-to-read numbers and clear cut design (see example below).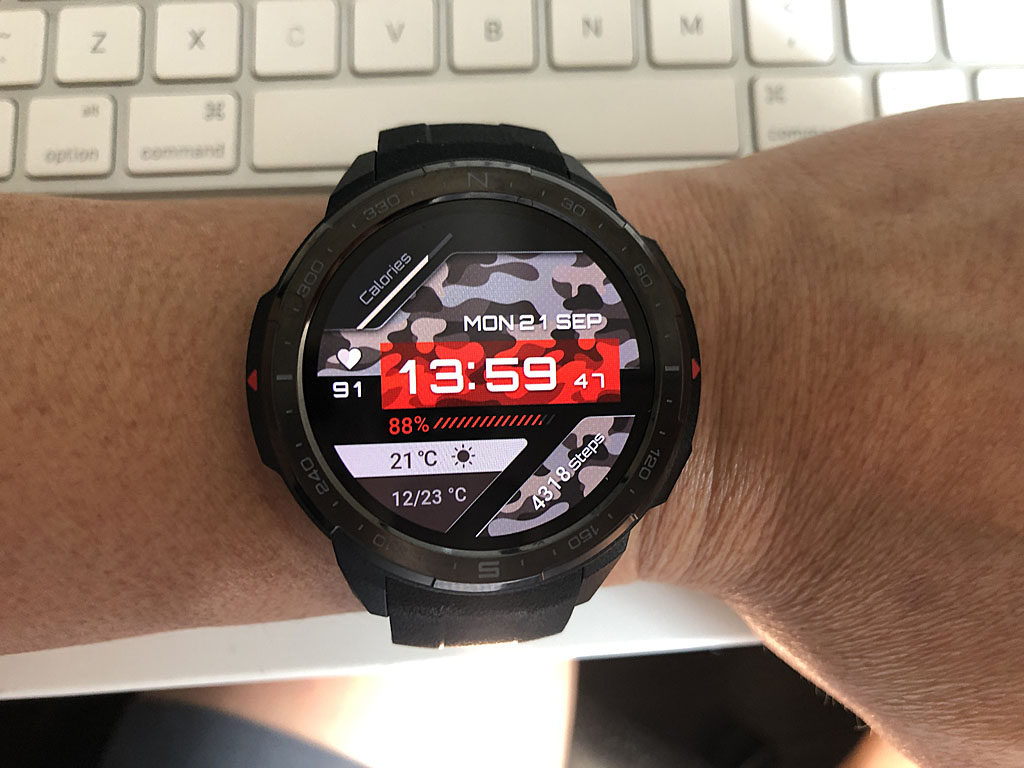 Also, the screen is not "always on" by default. It will come on automatically when you raise your wrist to look at the watch. Once it goes to sleep, tapping on it won't turn it on. You will need to press the top button to wake the watch. You can enable Always on display by swiping down on the home or watch screen, tapping on Settings, choosing Display and then Always on display. From here, you can choose one of the 6 different basic dials with no complications. My favourite 'always on' watch face is shown below. However, enabling Always on display will disable the Raise to Wake and cut the battery life by half. Even at half, or up to 12.5 days, it is still commendable. Having the display set at always on means you can glance at it for time, day and date. A quick tap here brings up the full watch mode.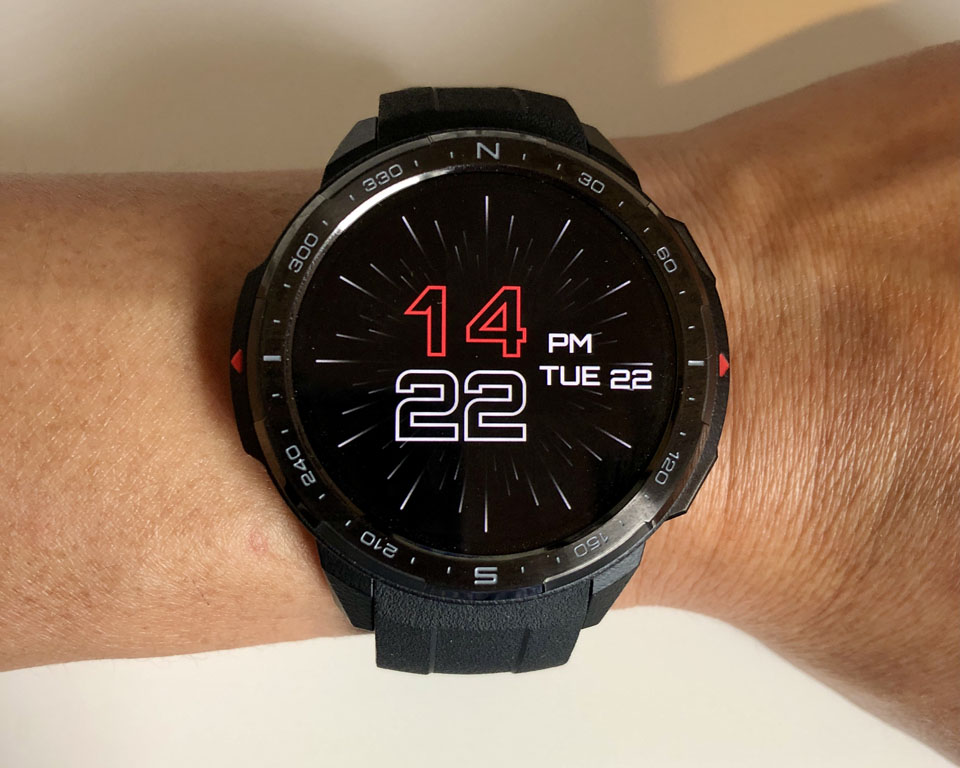 3. Touchscreen & Watch Faces
The touchscreen is responsive but we find the delay with a long tap to choose a different watch face discerning. I constantly tap on the display for two seconds expecting it to enter watch face selection. After about two seconds, I would lift my finger and wait for two to three seconds before watch face selection appears. The workaround would be to hold your finger down on the middle of the display for until it enters watch face selection. It takes around three to four seconds.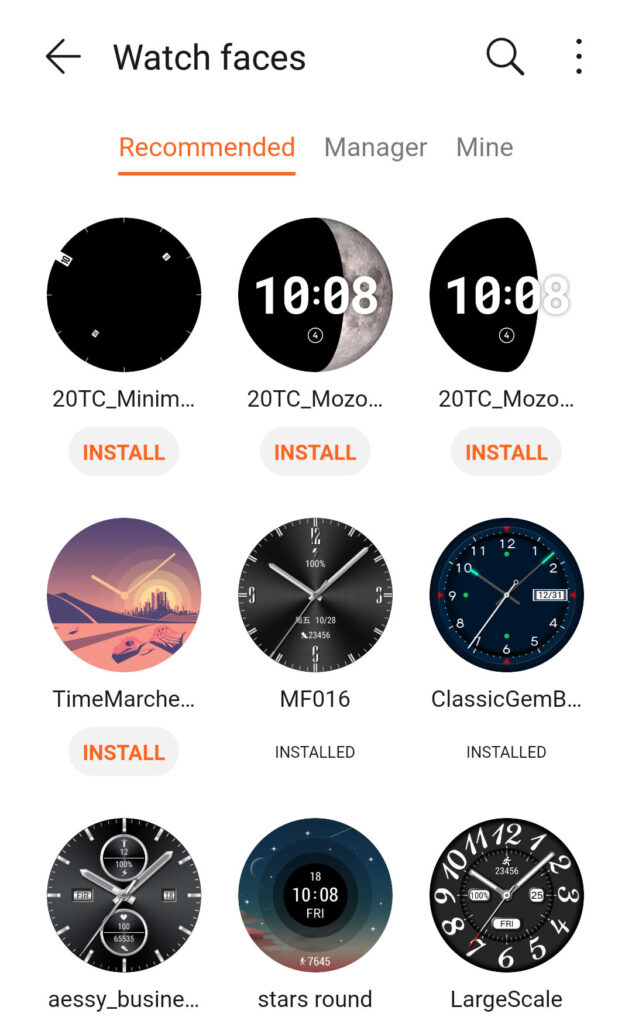 While there are plenty of watch faces to choose from and customise, you can download and install a lot more via the Huawei Health app. For this, you will need to load the app on an Android phone. The iOS version of the Huawei Health app lets you access the watch features and settings including fitness data but does not let you add and manage your music or download and install more watch faces.
I did hit a limit in the number of watch faces I could install. My last count was 30 watch faces. It is not entirely a bad thing. There is only so much storage on the device and this helps keep the number of watch faces in check. To install new watch faces, you will need to remove some existing ones.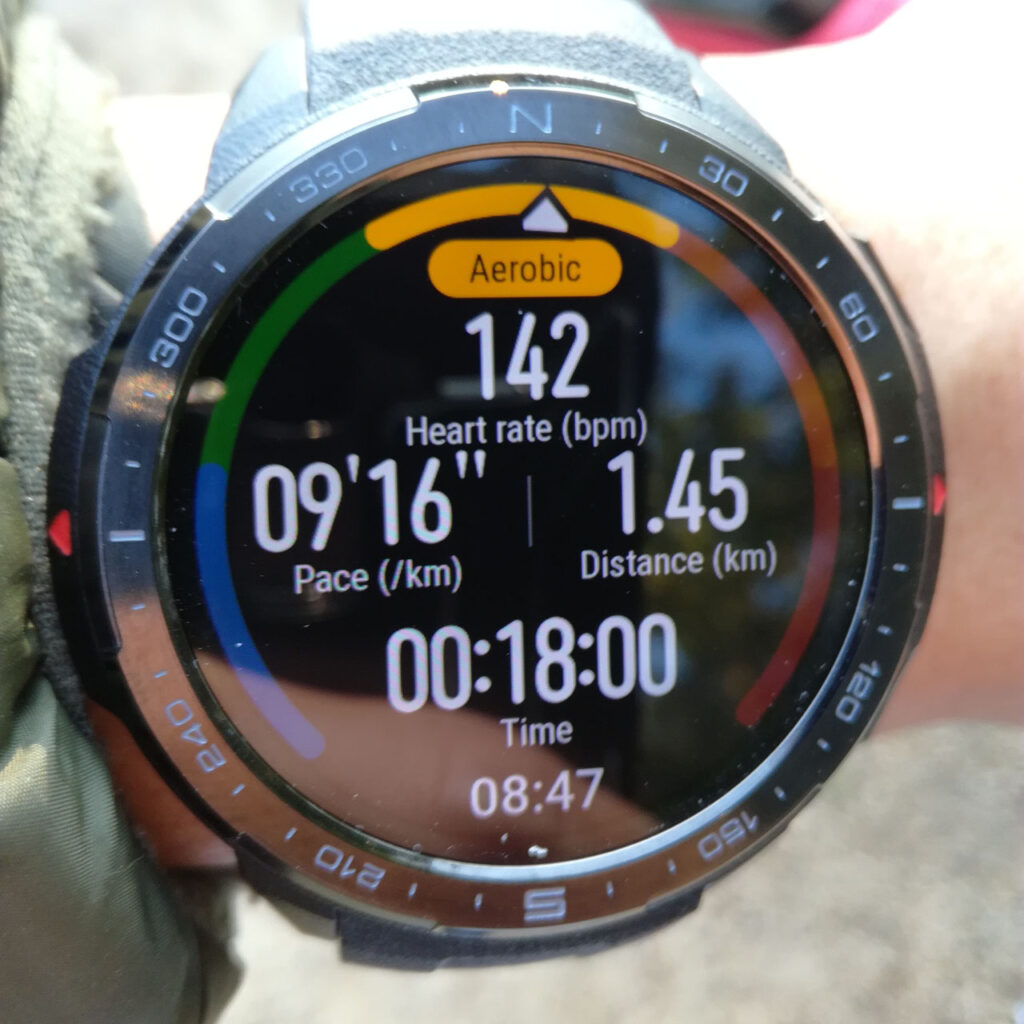 4. On Board Apps & Real Time Work Out Tracking
The Honor Watch GS PRO comes with a suite of useful health and fitness tracking apps but that is it. There is no access to any app store to download more apps or load third party apps. The benefit of such a closed system is that it will not slow down with every application that you install over time. On the flip side, you get what you are given, nothing more. The only things you can download and install are the watch faces and music from your phone. Just keep an eye on the storage. The latter lets you save your music on the watch, pair your favourite Bluetooth headphones and leave the smartphone at home for your run.

The onboard apps include Workout to access over a 100 different workout modes be it indoor or outdoor, Workout Records to access recorded workout data, Workout Status, Heart Rate, Sp02 blood oxygen level monitor, Activity Records, Sleep and Stress monitors (shown above). Other apps include Breathing Exercises, Call Log, Contacts, Music, Air Pressure, Compass, Notifications, Weather, Stopwatch, Timer, Alarm, Torch, Find Phone and Settings. Some of these are shown below in the watch screen gallery.
Watch Screen Gallery
5. Taking Calls and Carry Your Music
Apart from notifications and reminders, the watch also lets you take calls when paired via Bluetooth with a smartphone. It uses the built-in speaker and microphone so you don't have to reach for your phone in the middle of a run. There is also enough storage on the smartwatch to carry up to 500 songs. You can even create your custom playlist once you have your songs upload using the app. Pair the watch with a pair of Bluetooth sports headphones and leave your smartphone at home for an uninterrupted workout while enjoying your favourite tunes.
Calls remained clear throughout at both ends and Bluetooth pairing to pair your headphones to the watch is easy. Go to Settings > Earbuds, just make sure your earbuds are in pairing mode. Once paired, music playback is a treat via the Music app on the watch.
6. Companion App
A review of any smartwatch, especially one that is packed full of fitness tracking features and sensors, is not complete without a look at its companion App. The Huawei Health or just Health on an Honor smartphone gives its owner a full view of their health. Together with Watch GS PRO, you get a comprehensive view which includes round-the-clock heart rate data, all-night sleep tracking, SpO2 blood oxygen level and altitude measurements. You can also access standard fitness tracking data such as steps, distance, calories burned and flights of steps climbed. The latter is made possible with onboard barometer. To give you a sense of what the app is like and how data is presented, see app screen gallery below.
App Screen Gallery
Top Level Health Screens
Drill Down Fitness Data Secondary Screens and Tabs
7. Second Button
Like the MagicWatch 2, there is a second hard button near the 4 o'clock position, the first being at the 2 o'clock position. This second button is programmable. By default it allows users to access the different workout modes automatically. You can program the second button directly on the watch. I like that it is easy to access the different workout modes, set goals and reminders or remove unused modes from the list to streamline access.
8. Battery Life
From a full charge, we put the watch through a range of different display settings, outdoor workout modes using onboard GPS sensor, track stress, monitor heart rate and sleep and took multiple blood oxygen level readings. We also played with different watch faces and customising this to suit our needs. We were pretty impressed to find that after all that, the battery level still stood at 80% at the end of the first 48 hours. We are quite confident that with normal usage, the battery should last more than a week or two at a push. Only with a long-term test will we be able to confirm this.
9. No Aeroplane Mode
One thing that puzzles us is the unavailability of flight mode. This could be because there is no WiFi connectivity onboard, only Bluetooth. Still, there is no way of manually turning off or disabling Bluetooth. We could not find this anywhere in the settings. There is a reminder that you can set on the app to let you know when the watch is disconnected, but that is about it. There is also a "Do not disturb" mode to turn off notifications, incoming calls or raise to wake but that does not disable the Bluetooth adapter.
Final Thoughts
The HONOR Watch GS Pro targets the young or young at heart adults who lead active lives. The ultra rugged and military grade exterior lets you enjoy the great outdoors and carry out many activities without worrying about damaging the watch. It also comes with premium features like always on heart rate sensor and SpO2 blood oxygen monitor and dual GPS sensors for better accuracy. The SpO2 sensor has only just arrived on the Apple Watch 6.
But it is not without its flaws. It certainly isn't a dress watch. There is no leather strap option or optional straps for that matter. And due to its size, it does not work well as a sleep tracker. Having a bulky watch on your wrist when you are trying to go to sleep is not easy. It does not support third party watch app or access to Google's Wear OS app store but has everything one needs as a smartwatch that prioritises fitness tracking.
This watch is definitely for you if you are the outdoors type and use an Android mobile. It has a reassuringly solid feel to it, the polycarbonate body, reinforced band and steel buckle feel strong. Plus, if you are away from a USB charging socket, you will appreciate its super long 25 days battery life compared to a measly 18 hours from the Apple Watch 6. However, you will need to supply your own USB charger as an AC power adapter is not included in the box. An environmental move no doubt, one just need to dig around to find their collection of USB adapters amassed over the years.
Search HONOR Watch GS PRO on Amazon
Specifications
1.39-inch AMOLED touchscreen round display, 454 x 454 pixel resolution and 326 ppi pixel density
Optical heart rate sensor, SpO2 sensor, accelerometer, gyro, barometer, compass, and ambient light sensor
Powered by Kirin A1 SoC
TruSeen 3.5 heart rate monitoring with advanced AI for better accuracy
TruSleep sleep monitor for accurate sleep time and quality monitoring with detailed assessment
Stores up to 500 songs, taks calls and receive notifications from the phone over Bluetooth
Forecast weather changes and severe weather alerts
Supports 100 workout modes, 13 running courses
Rugged and Reinforced Polycarbonate Body with 14 MIL-STD-810G/GJB 150A tests certified
Water resistance up to 5 ATM
Dual GPS built-in with Route Back function with breadcrumb navigation
Big 790mAh battery for up to 25 days battery life. Up to 48 hours when GPS is enabled and up to 100 hours when outdoor workout mode is enabled.
Approximately 45.5 grams (without strap), 76 grams (with strap)