The Honor Watch ES from Honor looks like a copy of the Huawei Watch Fit belonging to its parent company, Huawei. But a closer look reveal that they are not exactly identical. For start, the Honor Watch ES aims for the budget segment of the market, so something has to give. Read on to find out more.
Honor Watch ES Moving Into Smartwatch Territory
We get it. Not everyone wants to spend their hard earned cash on a full-size smart watch. Equally, nobody wants to settle for just any fitness band with tiny monochrome display. Something like the Honor Watch ES sits between a full-size smart watch and a basic fitness tracker, yet still packs that big touchscreen display, fancy watch faces and all the fitness functions you can ever dream of. For an affordable smartwatch, there is no better alternative.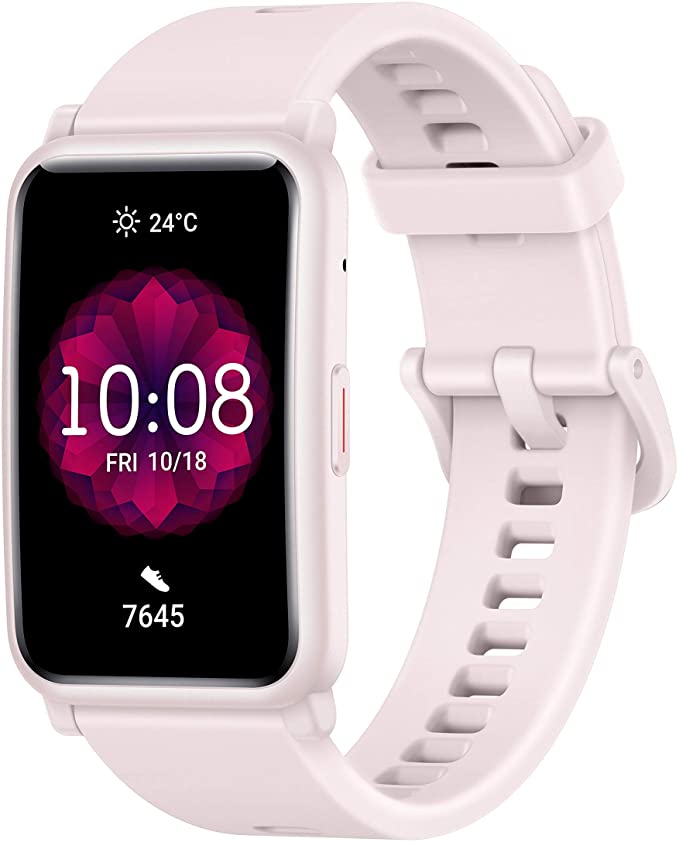 Forget those dull gray scale back-lit OLED, try a bigger, sharper and ultimately more colourful AMOLED display. That is what you will get with the Honor Watch ES. It even comes with the ability to stay always-on if you choose to enable it, a round-the-clock heart rate sensor, sleep monitor and a fitness tracker. On top of that, it has a SpO2 monitor, a feature only recently included in Apple's premium watch, the series 6. It doesn't stop there, there is the stress monitor, the ability to get notifications, control music playback, check messages, reminders and more. As a smartwatch, that's plenty.
As a fitness tracker, it supports 95 different workout modes and 12 animated workout courses. The workout modes track both indoor and outdoor fitness activities. These include running, cycling, swimming, yoga and more. The 12 animated workout courses offer easy instructions using short video clips. There are altogether 44 of these for simple home or office workouts. They cover a mix of different activities per session depending on the chosen course. These include 3 minute shoulder pain relief exercises, fat burn exercise and abs workout (the full list can be found below). Even if you are not a workout fanatic, the watch will track all your daily activities such as steps, calories burnt, distance covered, steps climbed, exercise and active times.
Honor Watch ES vs Huawei Watch Fit: Key Differences and Similarities
Before we go any further, let's take a look at how the two watches compare. For starters, the Huawei Watch Fit has a more polished look. While the watch case is made from durable polymer fiber, it is finished in a nice metal effect in black, silver or rose gold, in keeping with its premium feel. It also comes with colourful soft silicone strap options. These are available in black, mint green, cantaloupe orange or sakura pink. Honor Watch ES on the other hand is only available in black, white or coral pink with matching silicone strap. There are no silver or gold case options.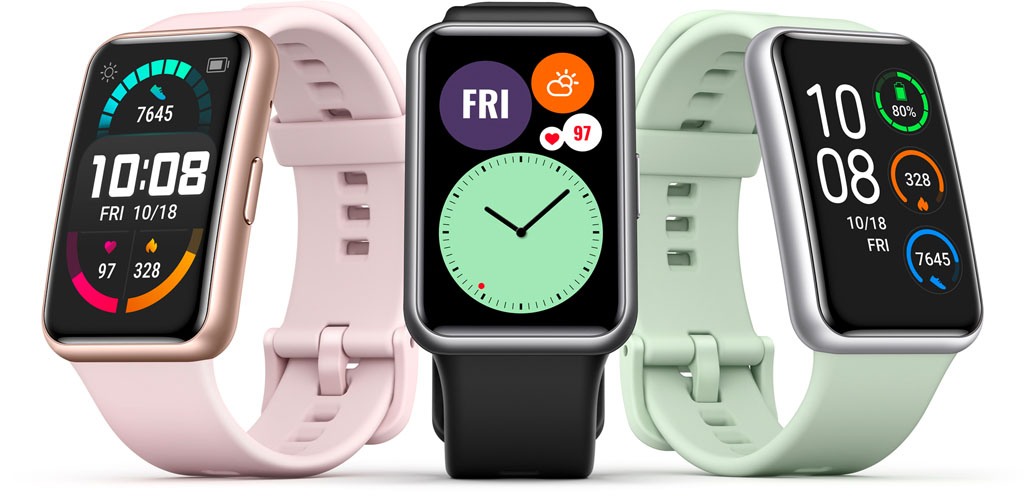 Another design difference is in the way the strap is mounted to the watch case. Where the strap meets the case on the Honor Watch ES, it uses two rigid anchor points. This makes it less elegant than the seamless mounts the Huawei Watch Fit achieves making the silicone strap disappear into the watch case. All straps are removable.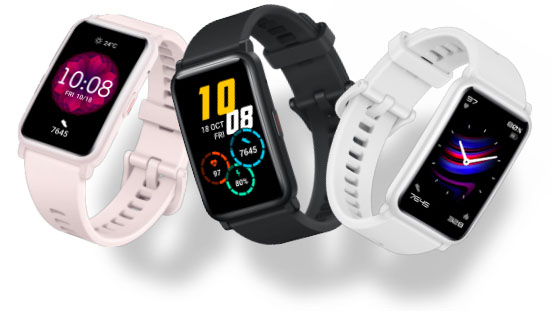 Apart from the looks, colours and design described above, the main technical difference between the two is in the sensor department. The more expensive Huawei Watch Fit comes with GPS sensor built-in, so you can track your outdoor workout and leave your smartphone behind. The cheaper Honor Watch ES however relies on the GPS sensor on the smartphone to plot your workout on a map. Without it, you will not get your training and exercise data on a map. If you always have your smartphone nearby during your workout, and prefer to save some money, the Honor Watch ES is for you.
Finally, another difference we note between the two watches, which may not be a deal breaker for many is in the number of workout modes. Like the Huawei Watch Fit, the Honor Watch ES comes with 12 animated quick workouts using 44 movement demonstrations we mentioned earlier. These are preloaded workout instructions using animated body clips. But, for the workout modes, the Huawei Watch Fit tracks 11 professional sports versus 10 on the Honor Watch ES. Together with 85 custom workout modes, this gives it a total of 96 workout modes. Therefore the Honor Watch ES supports one less, at a total of 95 workout modes.
HONOR Watch ES
12 animated workout courses
10 professional workout modes
85 custom workout modes
A total of 95 different workout modes
HUAWEI Watch Fit
12 animated workout courses
11 professional workout modes
85 custom workout modes
A total of 96 different workout modes
---
As for similarities, the two watches share the following specifications:
Display: 1.64 inch AMOLED 456 x 280 HD resolution touchscreen (slide and touch gestures support) 326PPI, 70% screen-to-body ratio, 16.7 million colours, covered in 2.5D curved glass
Memory: 4GB
Sensors: 6-axis IMU sensor (Accelerometer sensor, Gyroscope sensor), Optical heart rate sensor, Capacitive sensor, Ambient light sensor, Spo2 monitor to track blood oxygen level
GPS: built-in on Huawei Watch Fit, smartphone GPS supported on Honor Watch ES
Connectivity: BT 5.0, BLE
Battery Life: 10 days normal use, 7 days heavy use. On the Huawei Watch Fit, 12 hours with GPS mode enabled.
Water resistance: 5 ATM
Charging: Magnetic charging thimble, full charge in 100mins. 70% in 30mins.
Works with Android 5.0 or later and iOS 9.0 or later.
Dimensions and weight: 46 × 30 × 10.7 mm, approx. 21 grams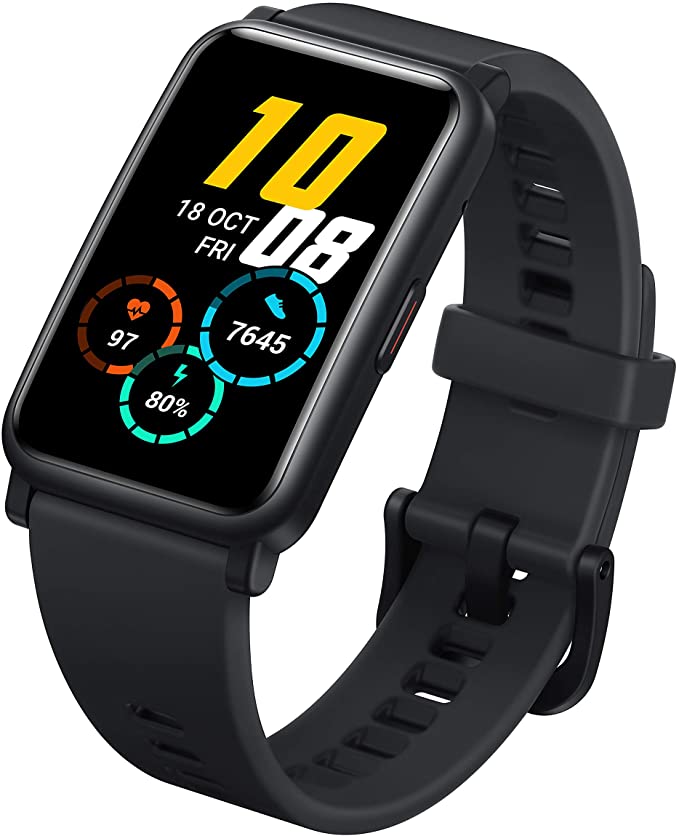 Honor Watch ES In-depth Review
After having the Watch ES for over a week, it is safe to say that it lived up to our expectations both as a watch and a fitness tracker. But, instead of writing a full review like everyone else, we cut straight to what we like and what we are not so hot on with the Honor Watch ES.
What We Like About the Honor Watch ES
The watch offers many outstanding features. Here are 10 of them that speak to us directly and why we would recommend the Honor Watch ES.
1. A Cross Between a Smart Watch and a Fitness Tracker
I am not one for fitness bands. They have tiny, difficult to see monochrome screens and limited functionality. A typical fitness band may present time and some basic fitness data, but that is about it. It uses hard buttons instead of touchscreen and offers hardly any customisation.
The Honor Watch ES is not just a fitness tracker but a smartwatch. With its big colour display, it will present useful information such as steps, heart rate, calories burnt, weather, distance travelled, steps climbed, battery power, date and time at a glance. It also features a touchscreen that supports swipes, taps and gestures. Plus, there are tonnes of customisations to play around with. More about its fitness features later.
2. Ultra Lightweight and Compact
You hardly notice that it is there. The watch weighs a mere 21 grams. Compare this to a full size smart watch, that is hardly anything. The Honor Watch GS Pro launched at the same time as the Honor Watch ES weighs 76 grams. That is 3.6 times heavier than the Honor Watch ES. The soft silicon strap together with the slim and lightweight case ensures that the watch does not get in the way. You can wear it in your sleep, during your workout, in the shower or for a swim and make it work just as hard as you do.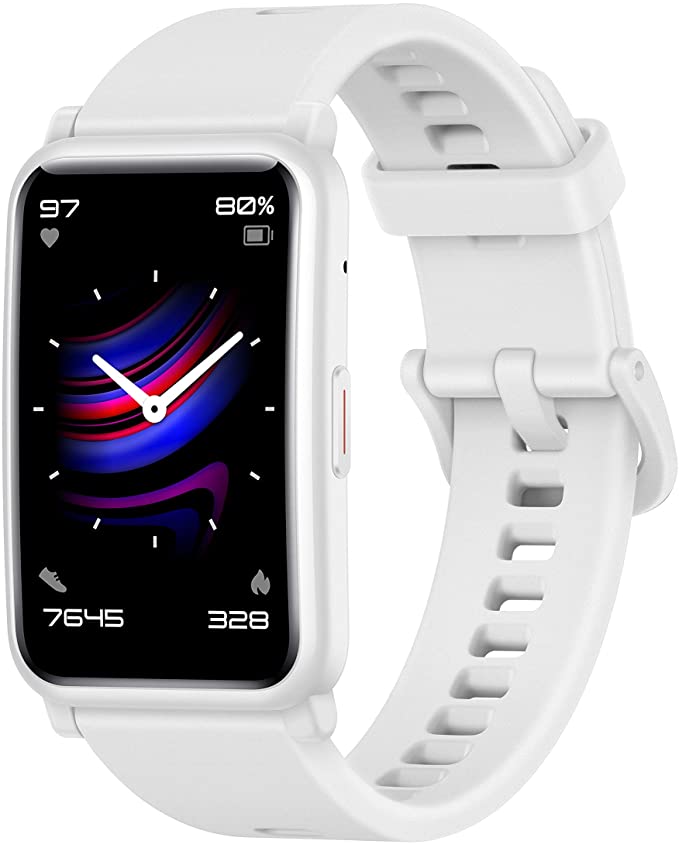 3. Bigger AMOLED Touch Display
A step up from the standard fitness band, the Honor Watch ES has a bigger, more usable 1.64-inch touchscreen display. Compare this to smaller touchscreen such as the 0.95-inch display on the Honor Band 5, it is 1.7 times bigger. This makes it easier to swipe up, down or sideways and tap to get what you want. It also means the display can show more information at a glance. The display goes right up to the sides and corners for a bezel-less effect and is covered with a 2.5D glass for a smooth, rounded drop.
4. Watch Faces – with more to download and install
You can customise the watch face to suit the time of day or your style with more to download and install from the Watch Face Store on the Huawei Health App installed on an Android device. For iOS users however, there is no access to the Watch Face tab. You will have to live with the 12 watch faces you are given onboard the watch. These clock faces are stylish, colourful and makes the watch stand out. Take a look at the 12 default watch faces below.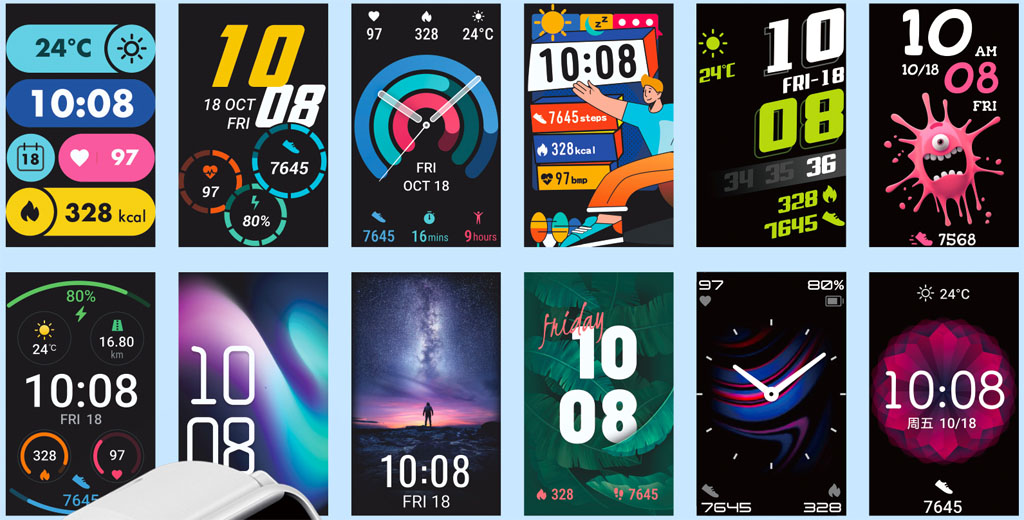 Honor Watch ES also supports always-on display with 6 different basic watch dials to choose from. This is known on the watch as standby watch faces. You will be warned when choosing one of these standby watch faces that the battery life will take a hit.
5. Round-the-clock Heart Rate Monitor – never miss a beat
The Honor Watch ES has a built-in heart rate sensor for 24/7 heart rate monitoring. It uses Huawei TruSeen 4.0 technology to provide timely alerts of elevated or abnormal heart rate results. The heart rate data is also presented in a friendly graph format so you get a 24 hour overview of your heart rate. The heart rate monitor really comes into its own during your chosen workout mode as it combines with other sensors to show just how hard you are pushing yourself physically.
6. Build in Exercise Courses – your very own virtual coach
No time for the gym, use the onboard quick workout courses. Follow the on-screen instructions to complete your chosen workout either at home or in the office. No membership fees to pay. Not even a subscription to a certain fitness app (we are looking at you Apple). Think of it as your free virtual coach with your fitness class right out of your wrist. These built-in workout courses use a combination of 44 different animated clips to guide and track your progress in real-time. The 12 preloaded fitness courses are as listed below:
Re-energize
Neck and shoulder relaxation
Exercise at work
Burn fat fast
Full body-stretch
Strengthen heart and lungs
Advanced chest workout
Ab toning
Ab ripper
Core workout
Leg and glute toning
Leg workout
Our advice is to pace yourself. If you are new to working and fitness training, these courses will be a challenge. So, take your time and complete each stage of the course in your own time. The counter will motivate you to go faster to finish each stage quickly. Only do so when you are more familiar with the exercises and courses.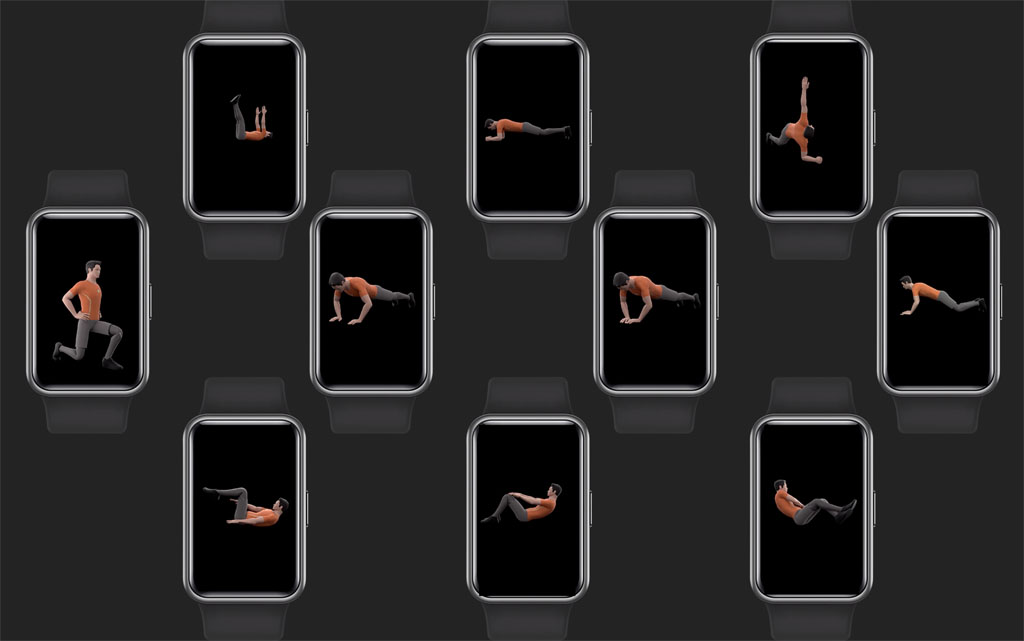 7. Tonnes of Workout Modes – it will track everything that do
The Watch ES supports up to 95 different workout modes. A basic list is presented by default. You can or remove these. It basically covers everything one can do with regards to fitness. Of these, there are 10 professional workout modes that offer high-level fitness tracking with personalised guidance. The common ones are running, walking, cycling both indoor and outdoor, as well as swimming, elliptical and rower. The other workout modes are categorised under indoor, fun, sports, water, winter and extreme. You are bound to find your favourite workout, sports or activity to track here.
Having a fitness oriented smartwatch motivates you to do more to stay healthy. The Honor Watch ES with its comprehensive set of workout modes means you can track all your fitness activities beyond just walking, running and swimming. Gym based workouts like strength, spinning, stepper, air walk, HIIT training to instructor led workouts like yoga, pilates, aerobics are included. Sports like tennis, baseball, rugby and cricket to taekwondo, boxing, karate, fencing and even dancing can be found. It truly has it all.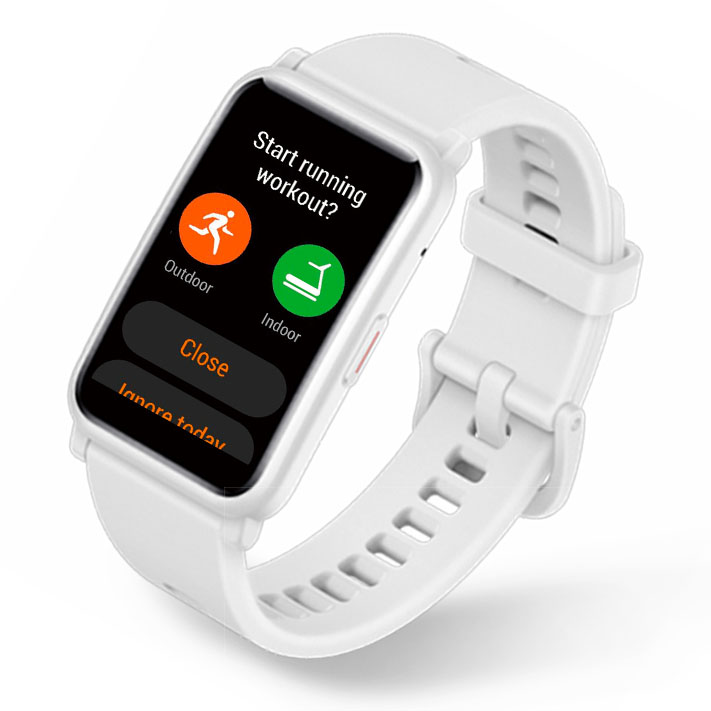 Once you have completed your workouts, you can review them directly on the watch via Workout Records or for a more detailed breakdown, sync the data to the app on a smartphone and view the performance of each workout there. The app also provides personalised recommendations and tracks both your chosen workout and exercise courses.
While supported, we could not trigger the automatic workout recognition. Not wanting the watch to miss our workouts, we usually set this prior to starting our workout. Honor claims that the Honor Watch ES can automatically detect the type of workout and start logging this so you can always keep on top of your fitness activities.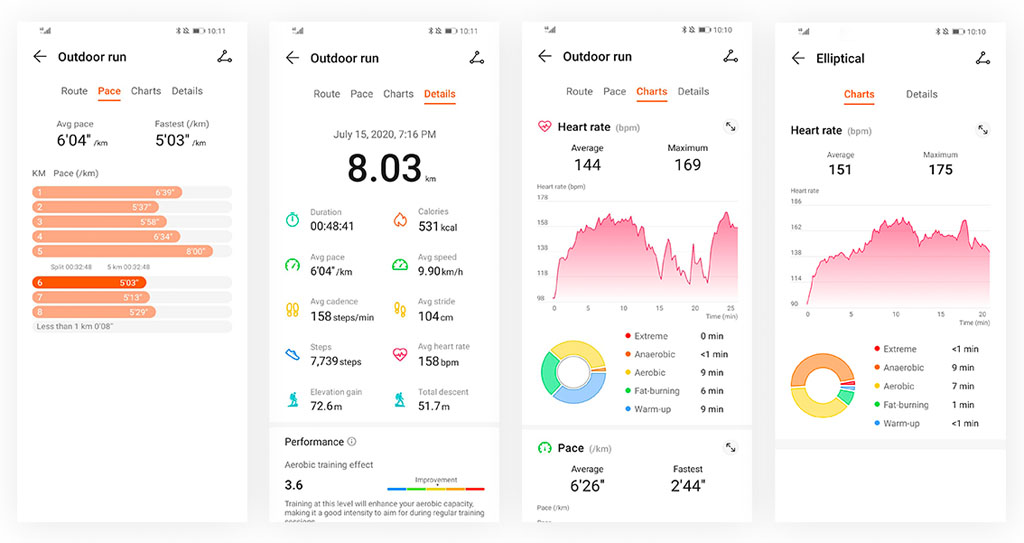 8. Sleep and Stress Monitor – improve on your sleep.
For sleep and stress monitors, the watch uses TruSleep 2.0 and TruRelax technologies respectively. Learn about your sleep patterns and how to improve this over time. TruSleep technology identifies the different stages of your sleep and breaks this down in a graph format in the app. These stages; deep, light and REM are explained alongside breathing analysis. Together, they provide high-level sleep tracking, assessments and recommendations to help improve sleep quality. The app does warn that enabling TruSleep for more accurate sleep monitoring will reduce battery life.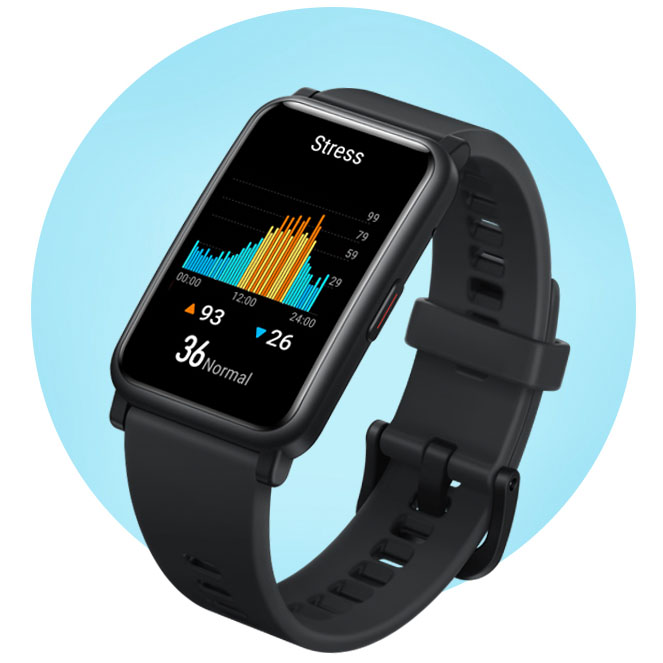 As for the stress monitor, the watch helps you manage everyday stress do you knoe when to ease back and relax. It comes with Huawei TruRelax technology. Use it in conjuction with Breathing Exercies to calm your mind. To start using the Stress monitor, answer a series of questions on the Health app. Then watch the bar graph to understand your daily routine and which activity contributes to your stress level. I can tell you that I am the calmest when I am spending time with my family and friends in a relaxed environment.
9. Blood Oxygen Monitor
Just like the Apple Watch 6, it takes a few seconds to read the blood oxygen saturation levels with the SpO2 monitor. You will need stay still while the reading is taken. But, once it has a reading, it will continue to measure and update the oxygen level in your bloodstream. This is useful to understand the state of your respiratory system. The progress indicator shown when it is taking a reading may not represent the amount of time it needs, if you stay still, often it takes less time to get a reading.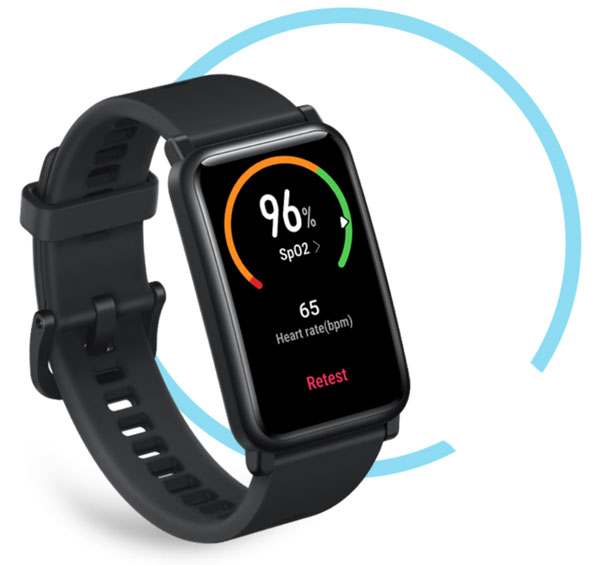 10. Battery Life
Even with a bright colour display and a screen this size, the watch manages a respectable 7 days of use for our review which sounds about right. Honor claims up to 7 days of heavy use with HUAWEI TruSleep and Heart rate monitor enabled. At a push, it will last up to 10 days on a full charge. It also supports quick charging to quickly top up the charge in a short time. A quick 30 minutes charge is said to be enough to make the watch last for a week. It reaches full charge in just over an hour.
BONUS: It is also worth mentioning that the Honor Watch ES has the ability to track and predict the menstrual cycles. This is presented in the cycle calendar, both on the app and in the watch. Use this to stay on top of menstruation or ovulation with a reminder on the watch for when these are taking place.
Not So Hot
Now for aspects of the watch that we thought could be improved.
1. Receive notifications but cannot respond
The notifications are piped through the Huawei Health app. You can control which app can send notifications to the watch. These can be from Messages, WeChat, WhatsApp, Facebook, calendar etc. It will even let you preview incoming calls. However, they are just that, notifications with no way of responding to them on the watch. You will need your phone for that. It does not come with onboard speaker and microphone to pick up the incoming calls nor ability to reply to messages.
2. Support for iOS lags behind Android Apps
The companion app for Honor Watch ES, known simply as Health on Honor smartphones and Huawei Health on other Android and iOS devices is the gateway to access all the fitness data and configure the watch. However, the iOS version lag severely behind the Android version due to system limitations. For instance, it will not let you access the Watch Face Store or control music playback. It also does not support Huawei TruRelax to monitor stress and Female Cycle Tracker to follow menstrual cycles. If you have an Apple smartphone, you will need to consider these limitations when purchasing the Honor Watch ES.
3. Uninspiring design
While we love the size and weight, the Honor Watch ES has a rather bland design and uses too much plastic. While the display is covered in glass, the entire watch case is plastic, including the back plate. Don't get me wrong, the build quality is great. It just seems rather cheap, showing very little in way of style. There is a single hard button to switch between app shortcuts (in vertical list format) and watch mode. This small button is located on the right side of the case and is marked with a red line.
Final Thoughts
The affordable Honor Watch ES lags behind its bigger sibling, the Huawei Watch Fit in the looks department. To keep its cost down, it also lacks a GPS sensor. If your workouts are mainly indoor; at home, in the office, at the studio, gym or even in the swimming pool and pitch, then you won't miss the GPS. Even if you run, walk or trek outdoors and you are happy to do this with your phone nearby, the watch will support GPS data from the paired smartphone. It is only a problem when you decide to leave your device at home. Without the phone and built-in GPS sensor, it will not be able to track your workout against the route that you take.
Would we recommend the watch? Certainly. As more than a fitness tracker alternative and to those who already have an Honor or Android smartphone, the Honor Watch ES works wonderfully. The ability to download and install more watch faces keeps it fresh and exciting. Those intending on using the watch with an iOS device will find certain features unavailable. Still, you get a full set of smart watch functions like timer, alarm, flashlight, find my phone, stop watch, notifications and weather.
Finally, the real benefit of the smartwatch is in the large and bright AMOLED display. That and the string of onboard sensors. The advanced features are made easier to use on the large colour display. Our favourite is the fitness courses, those animated video clips are so easy to follow. Other apps readily accessible on screen include workout records, workout modes, heart rate sensor, SpO2 monitor, sleep and stress monitor, breathing exercises and activity records. For a watch with an affordable price tag, it certainly is not short of features and is well equipped with useful sensors.