Aimed squarely at the premium segment, The HUAWEI's new flagship WATCH is two to three more expensive than its other smart watch with circular watch dial, the WATCH GT Series. It even cost almost double the price of HUAWEI's gimmicky watch with embedded earbuds, the WATCH Buds. So what makes this the flagship watch from the company?
HUAWEI WATCH Ultimate
The watch is available in two colours and with that, different bands. The more expensive of the two is Voyage Blue (799.99) with a titanium body and bracelet. The other, the cheaper Expedition Black (699.99) comes with black body and hydrogenated nitrile rubber strap. While the colour may be different, both are made from zirconium based liquid metal with ceramic rear. Tough 2.35mm thick sapphire glass lines the 1.5-inch LTPO AMOLED colour display up front with 466 x 466 pixels and up to 1000 nit peak brightness. This is the biggest circular display on a Huawei Watch or any smartwatch out there. The GT line only used 1.43-inch or 1.32-inch AMOLED displays.
For the Voyage Blue model, it watch has a deep blue nano-tech ceramic ring bezel that surrounds the display. You also pay extra for a separate rubber diving strap in matching blue to swap out the more formal titanium bracelet. For the Expedition model, it uses a red and black ceramic compass bezel paired with a black titanium case and lightweight HNBR strap. The strap is highly durable, water resistant and low temperature tolerance. More importantly, it feels smooth and smooth on the skin.
HUAWEI WATCH Ultimate on Amazon
Features That Stand Out
Other than the case, strap and display, what else the high price tag? Three things to be precise. There is the all new expedition mode, fast one hour charging and able to survive underwater up to 10ATM pressure or 100meter depth. The last one is great for scuba or free diving. There are of course the standard Dual-band Five-system GPS, up to 14 days battery life, Golf mode, ECG and arterial stiffness detection. The last feature was only just introduced in the WATCH GT 3 Pro.
1. Built for Adventures – Diving / Expedition
With the pressure proof case and up to 100m water resistance, the watch comes with diverse diving modes. You can tap into the easy to use dive computer for quick information such as dive time, depth and more right on the screen. There is even a Buhlmann decompression algorithm built to provide safety notifications and warnings whilst tracking your dive. You can then review the captured diving data again after.
The details are astonishing. The HUAWEI WATCH Ultimate uses a 16-piece structure to protect the case from water with amazing result. Not only is it water resistant, it also has a micron-level water-proof filter.

Diving Modes include recreational, freedive, technical dive, gauge mode diving and scuba dive with useful dive tools. There is even pro-level diving algorithms and diving guides. Even the buttons and crowns play a role for complex operations like marking the switching gas, the underwater timestamp, view information and resetting the average depth. This is definitely a watch to go for if you are a scubaholic.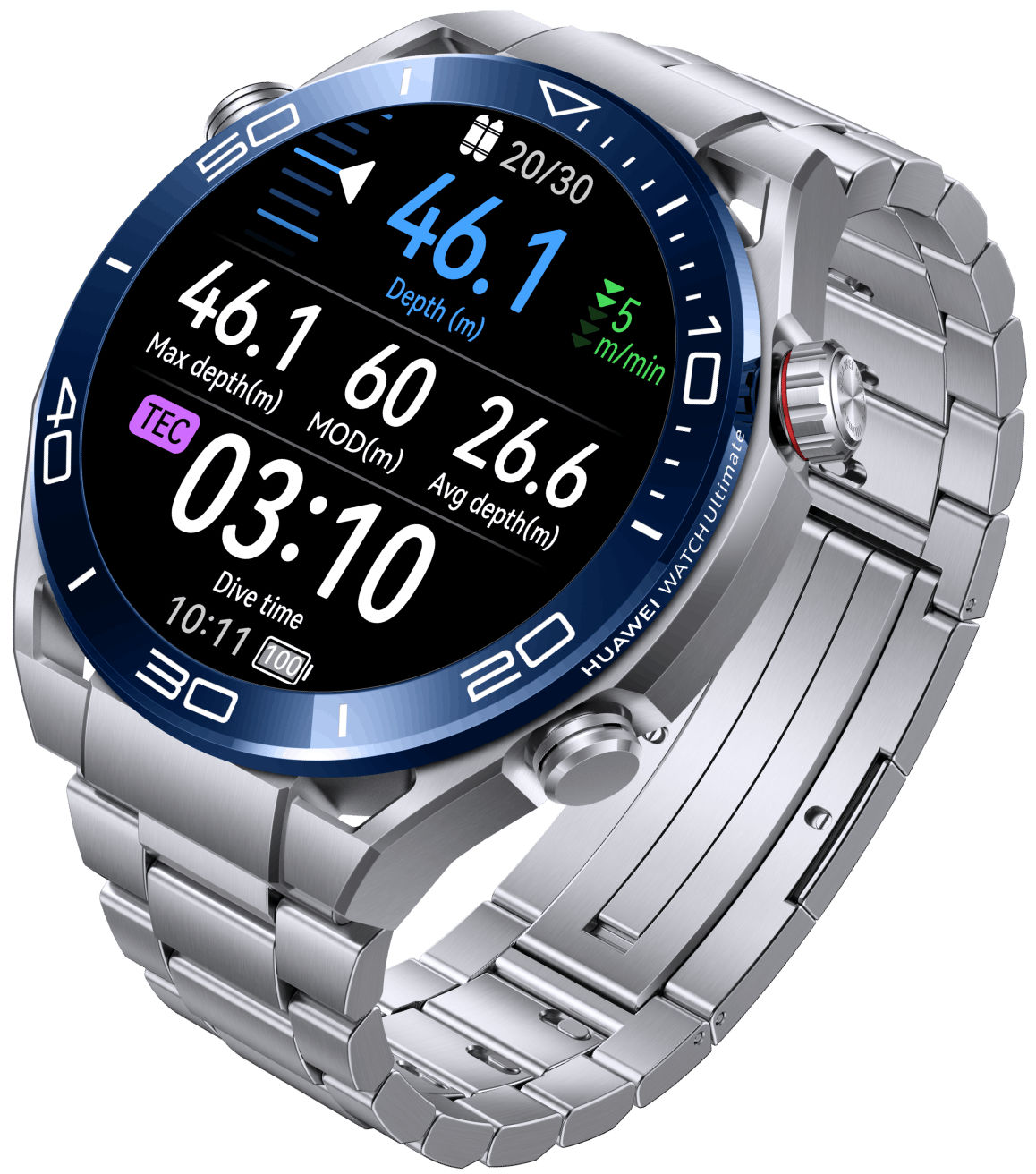 As for the expedition mode (which is supported on both models), the watch offers plenty in way of battery life including support for night mode to keep going throughout your expedition. Here is where the tough titanium body comes into play. It is more than 4.5 times stronger and 2.5 times harder than steel to withstand all the elements. A rugged watch feeling excessively big or covered extra protective materials.
Choosing zirconium based liquid metal over stainless steel body, a first for a smartwatch, Huawei was able to shave 17.4% off the weight of the wearable.
Plus, the already proven tech from the earlier GT Series like location marking and route back navigation with the help of dual-band five-system GNSS positioning, means you don't have to worry about getting lost. Access to positioning information is even easier on the big screen.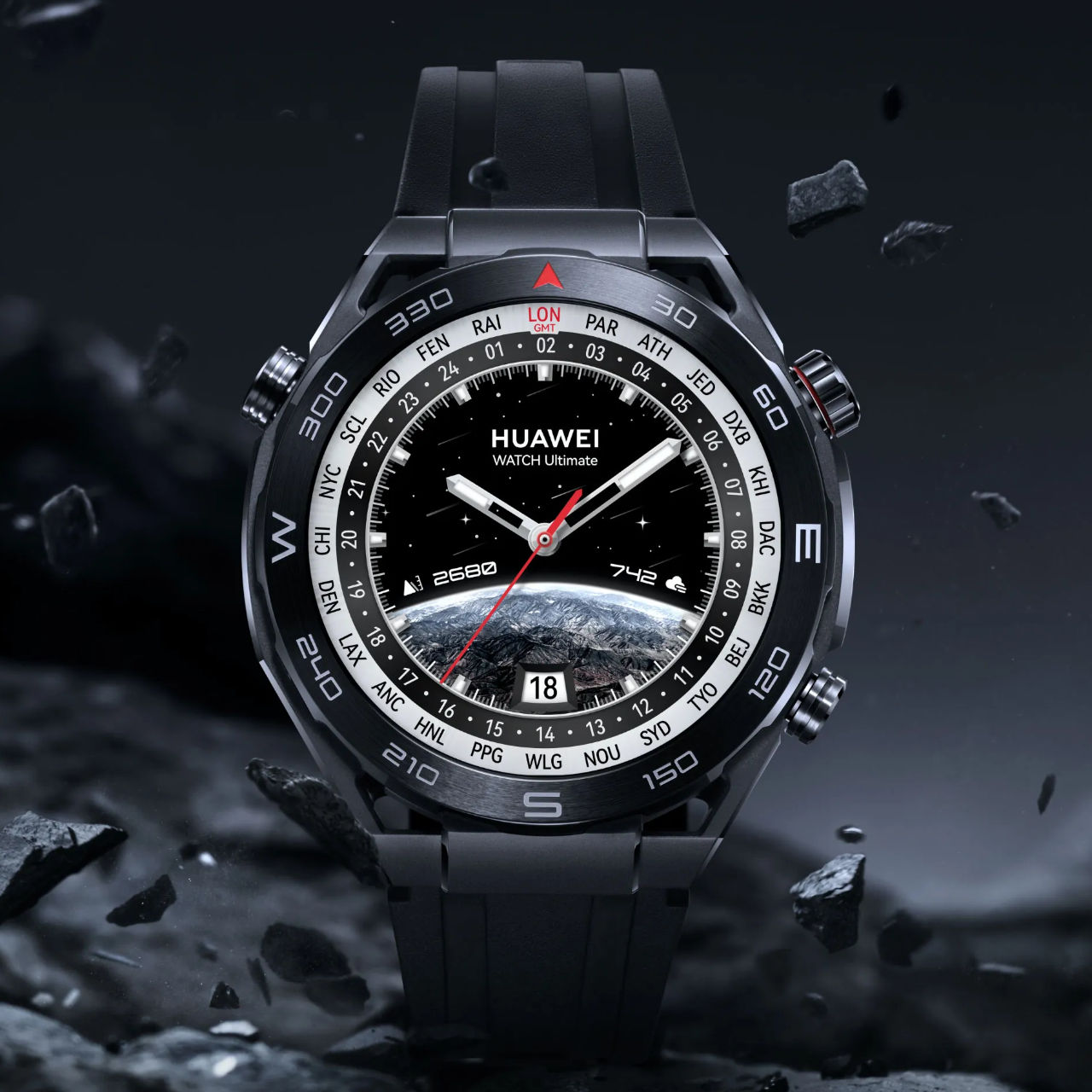 2. Fast Charging
You won't have to worry about charging as the 530mAh battery last up to 14 days, but when you do, the watch supports quick charging. It will only take 60 minutes to fully charge the watch twice as fast compared to GT series watches that can take up to 120 minutes to charge.
Going back to the battery life, the caveat is, the number 14 is based on Huawei's defined average use. This will change drastically based on your personal use more so if Always On Display is enabled. For example, you would only get 8 days if using the phone for 30 minutes Bluetooth calling and 30 minutes audio playback every week on top of enabling heart rate, TrueSleep and stress monitor plus 180 minutes of workout every week with GPS enable. The 8 days test also includes 50 SMS messages, 6 calls, 5 alarms and 30 minutes screen on each day.
3. Always-On Display and Watch Faces
There are many ready made watch faces to download and apply but you can also create your own custom watch face from a gallery image. Alternatively, pick and mix the available segments to create your own look and layout.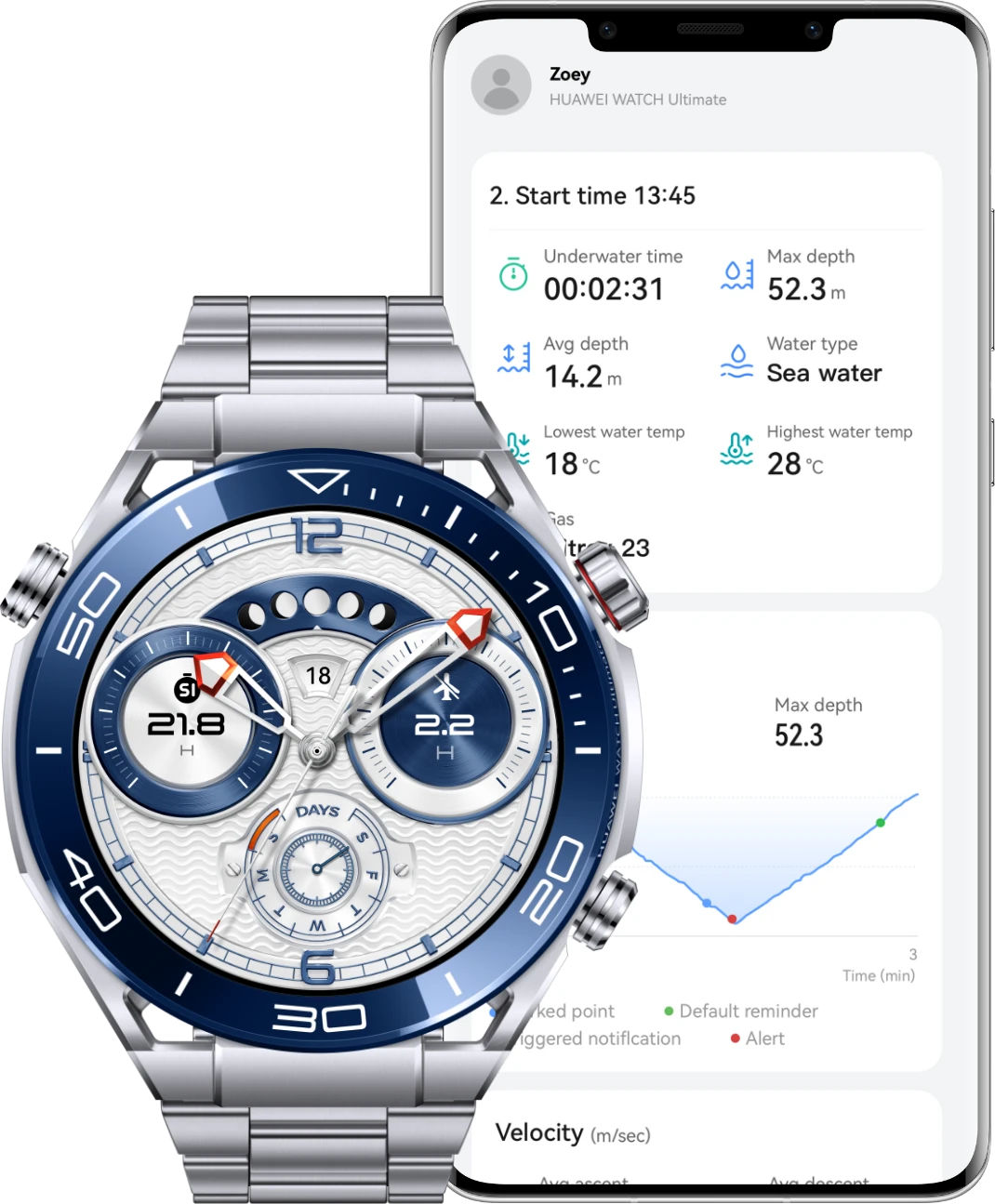 HUAWEI WATCH Ultimate on Amazon
Fitness Tracker
Beyond the deep sea diving and expedition features, the HUAWEI WATCH Ultimate is at its heart still a smartwatch with many fitness and health based tracking. It captures heart rate and other health indicators especially during workouts. There is Blood Oxygen level of SpO2 and real time heart rate with alerts for abnormality like low oxygen level or high heart rate. As for tracking your workouts, there are over 100 different basic workout modes. This is on top of over 20 professional workouts.
Together they cover hiking, cross-country running to mounting climbing. There is so much information that it can track with data like calories, distance, route and more. It even offers tips to enhance your workout. Also on the subject of fitness, there is now an intelligent outdoor power management that helps reduce power usage in exchange for longer battery life. The smart power management modes are used when entering outdoor modes like walking, hiking or trail running.
More advanced features like ECG real-time analysis by touching electrode on the side for 30 seconds. This improved and more accurate system will help identify common heart conditions. Working with the PPG sensor, the watch also detect arterial stiffness. This is an indicator for arteriosclerosis or damage of the blood vessels carrying oxygen away from the heart. It then offers tips to improve cardiovascular health.
Other features include TruSleep 3.0 sleep quality and sleep state monitor, TruSeen 5.0+ for more accurate heart rate readings during exercise and stress monitor to track and manage daily stress levels. The best way to make the most of all the tracked data is to get HUAWEI Health app, available for iOS and Android.
Golf Mode
Last but not least, the Golf Mode captures useful information like gold swing, swing speed, swing tempo, backswing time and downswing time. Switch over to driving range mode and you can follow each swing with even more details, including useful tips and demonstration to improve your game. Here is a golf companion smartwatch.