There is no stoping Huawei. The telecommunication company may be sanctioned in certain parts of the world but it is not stopping it from launching more consumer products such as smartphones, smart watches, tablets, earbuds and monitors. Their focus on tablets and laptop brought us MateBook D and MateBook X Pro. This time around we have the more powerful, business-focussed (and pricier) MateBook 16. Could this be a MacBook Pro 16 alternative?
Having lost access to Google Mobile Services, Huawei tried to emphasize the concept of its own ecosystem with its home grown Harmony OS used to fuel its smartphones, tablet and wearable division. It would also continue to capitalise on its partnership with Intel, AMD and Microsoft for the more powerful computing devices such as the MateBooks. For seamless connectivity, the company uses Huawei Share for its devices to communicate with one another and aid in building a completely independent ecosystem of its own.
The Matebook 16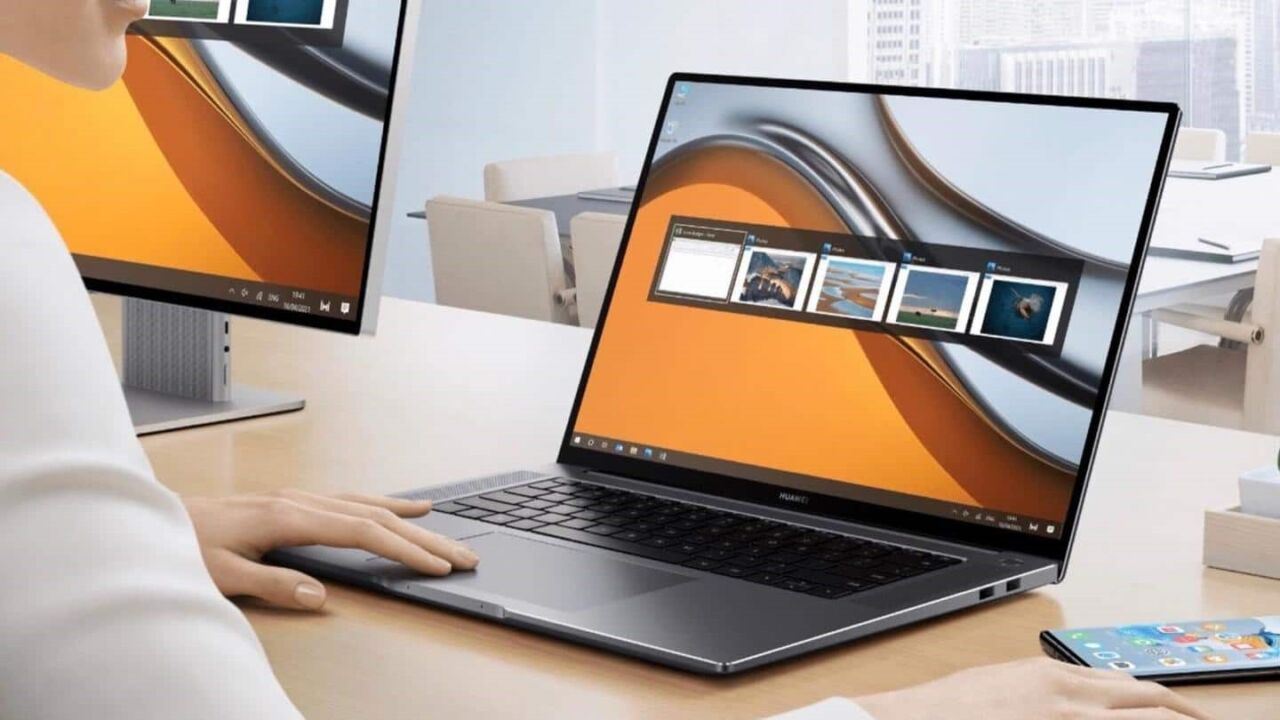 The Matebook 16 comes in line with the previously released flagship Matebook X Pro Ultrabook and is purely a workhorse designed to take on the business laptops from Dell XPS, HP Spectre, Lenovo Yoga, or Asus ZenBook. The MateBook 16 comes with the latest specifications and Huawei pits it against more established competitors like Acer Swift 3, Dell XPS 15 9510 and the Lenovo IdeaPad 5 Pro 16. The new Ultrabook from Huawei is available for a price of around 1300 USD and retains the ultra-sharp and edgy looks of the flagship MateBook X Pro adding in more processing power and juice for sustained performance.
Key Specifications
| | |
| --- | --- |
| Display | 16-Inch 2520 x 1680, 60 Hz |
| Processor | AMD Ryzen 7 5800H 4.7GHz Boost, 65W – 45W |
| Graphics Adapter | AMD Radeon RX Vega 8 |
| Memory | 16 GB DDR4 Dual Channel |
| Storage | 512 GB PCIe M.2 SSD |
| Battery | 84 Wh Lithium-Polymer |
| Webcam | HD 720p |
| Price | 1300 USD |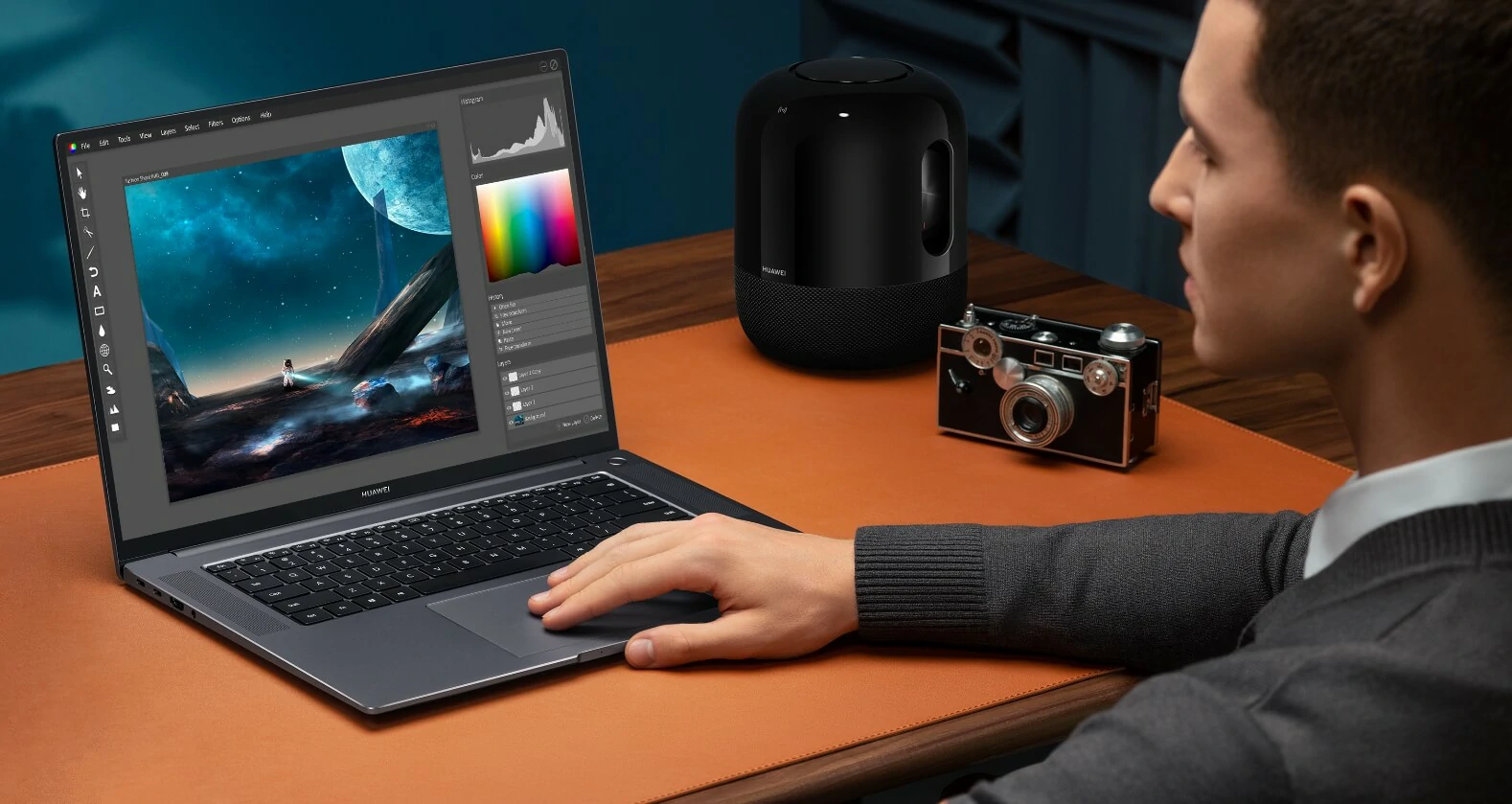 Design
The MateBook 16 comes in the same aluminum case that is found in the MateBook X Pro. The laptop has a high-quality and premium design that oozes excellent workmanship. It has the same small hollowed edge design near the centre to make it easy to open the lid as featured in the older MateBooks and a polished edge imparting a sharpness and edgy look to the device. The ultrabook comes in a holographic Space Gray colour that lets out hints of purple hue when it reflects light in specific angles.
Underneath the lid is an extremely thin bezel display that has a 90 percent screen-to-body ratio.
The lid and the base are built sturdy and don't let out any creaks or bends during rough use. The hinges are strong and opens smoothly to a maximum 145-degree angle that nicely fits in the large 16-inch display. The laptop has good ergonomics and can be easily managed during single-handed operations. The cooling vents are located at the base of the device and overall, there is a sharpness to behold with acute angles around the corners.
Physical connectivity ports offer a nice combination of options with two USB C ports, an HDMI 2.0 port and a 3.5mm audio port on the left while the right edge has two USB A ports. The USB C port also acts as the charging port for the laptop.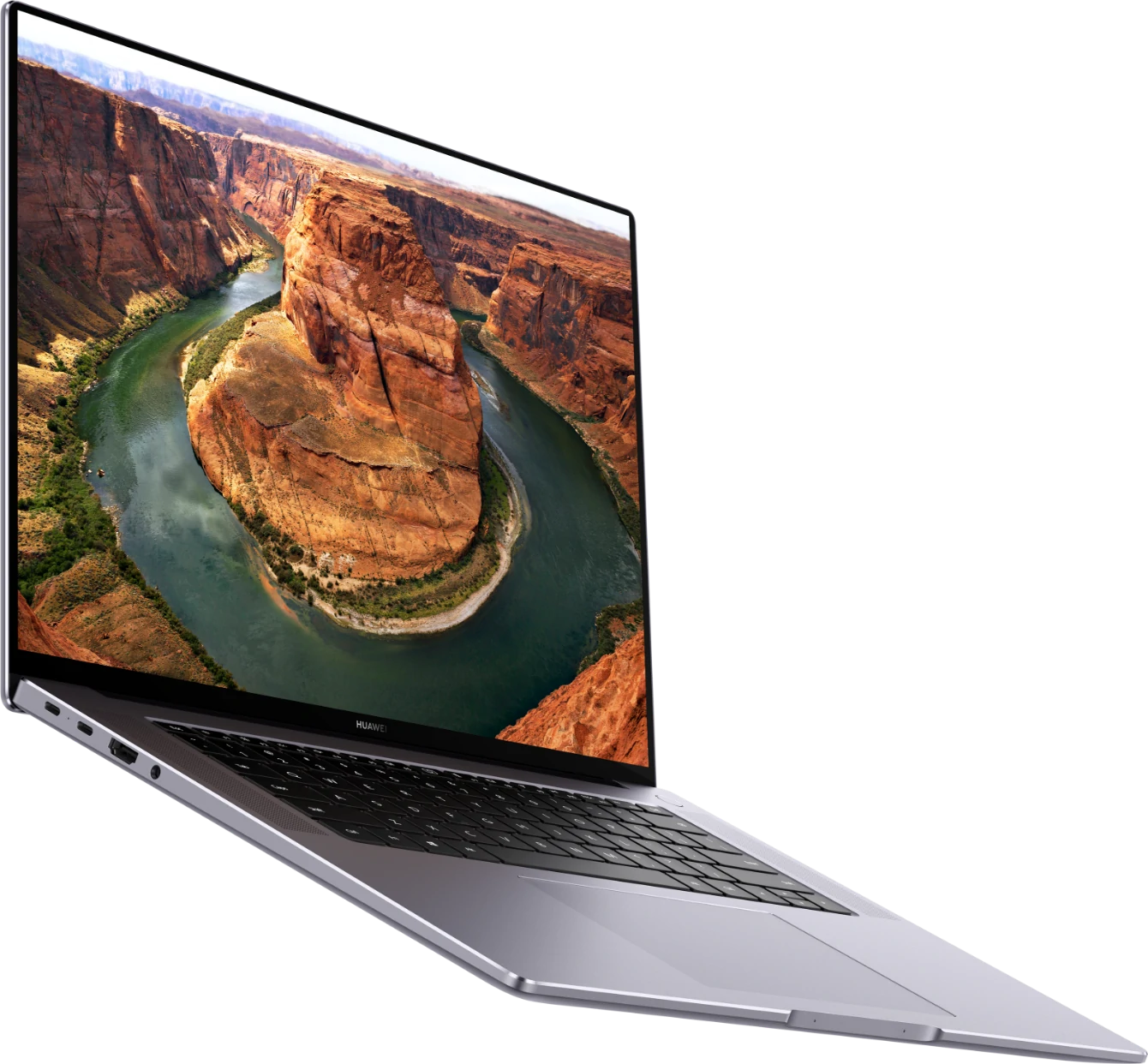 Display
The large 16-inch panel works on a 3:2 aspect ratio and despite the huge dimensions, makes the MateBook a device with one of the narrowest and deepest displays. It is somewhat heavy in comparison to some other competing Ultrabooks owing to its hefty internals in our group of comparison devices. The 16-inch panel should have supported more than the current 2520 x 1680 maximum resolution that boils down to a pixel density of 189 DPI. That pixel count makes it a 2K resolution display. Screen content however gets displayed very clearly with strong colour reproduction and viewing angles despite the panel being reflective.
The Huawei MateBook 16 has a meagre average brightness of 300 nits with a low black value but a high contrast ratio of 1500:1. There is however a bit of backlight bleeding issues along the edges when on maximum brightness but it is a fairly seldom occurrence. The colours of the display are well-calibrated with strong 100% sRGB coverage making the panel excellent for video and photo editing. Colours are vibrant and the laptop is rightfully marketed as a multimedia device with the display being perfectly suitable for occasional heavy entertainment.
Keyboard
With the lid open you might be taken aback by the absence of any webcam on the top edge but the MateBook 16 does come with a webcam it intelligently hides underneath one of the function keys.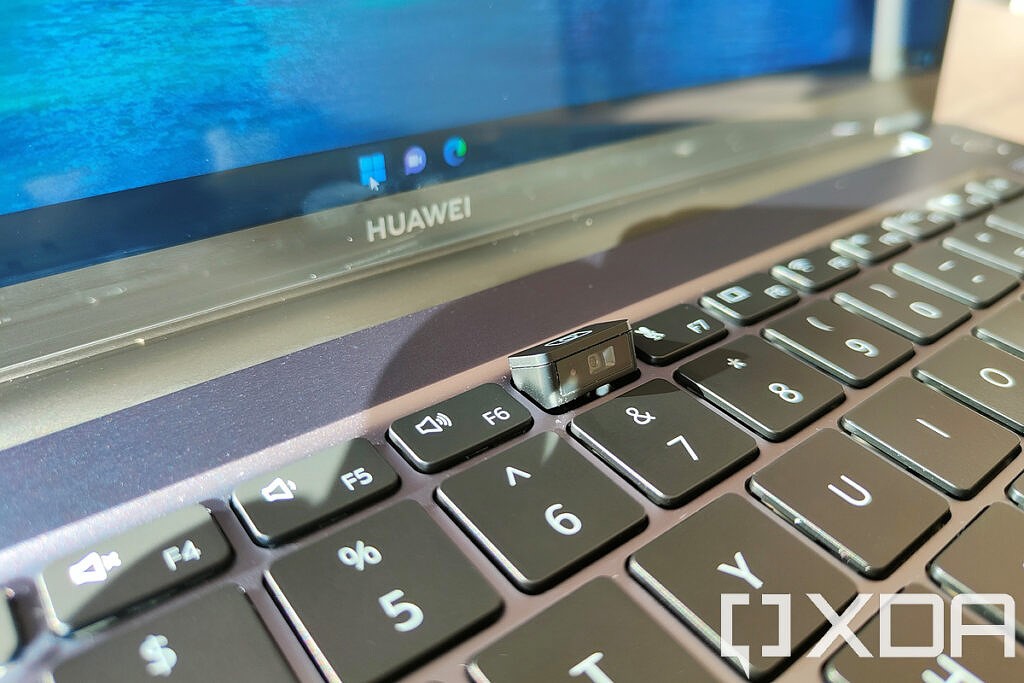 A style statement to turn heads, isn't it? Just make sure you have proper hygiene on work calls as the camera has an upward angle and seems to encroach the under-chins and nostrils. On-keyboard placement also hinders the camera's coverage as your fingers cover a large part of the frame instead of your face if you use the keyboard during calls.
The typing experience however is pleasant as the business focussed chicklet-type keyboard has a sharp but silent response to tap and is by no means a slouch. The two-tier backlit keys offer crisp and short feedback with minimum false presses.
The fingerprint reader is embedded in the power button placed at the left top corner of the keyboard while the glass trackpad is fantastic to use. Gestures and navigation are a pleasure due to the huge size of the trackpad and it comes with high sensitivity but that again results in the trackpad registering occasionally brushes and accidental touches as clicks.
Performance
The MateBook 16 is a performance powerhouse owing to the powerful Ryzen 7 5800H processor. It is a multi-threading enabled octa-core processor that has a base clock of 3.2GHz and a boost clock of 4.7GHz. Although there is no dedicated GPU, visuals required for regular graphics works or casual content creation such as light video or photo editing is managed by AMD Vega 8 graphics embedded in the CPU. Here is a benchmark of the laptop alongside some of its competitors and it is right there among the elite.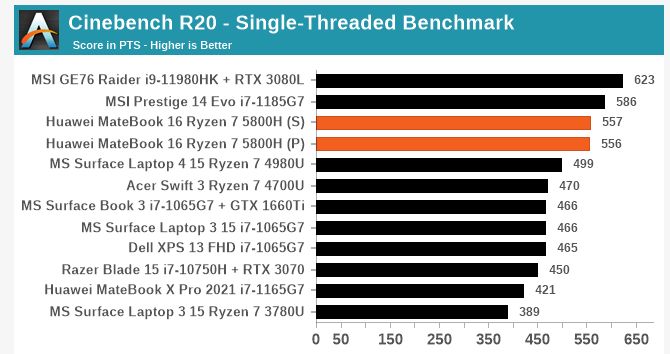 The Ryzen 5800H has an average power consumption of 45 watts and peaks at 65 watts on boost mode and stabilizes at 54 watts with stable performance making the MateBook 16 one of the fastest laptops with a 45 watts processor. It outperforms most others in the same power to price range and comes up with good single-core and multi-core performance. Its integrated graphics is still strong than most other integrated graphics solutions such as Iris Xe and even some Nvidia MX solutions.
The MateBook 16 seems custom-made for heavy office productivity. It has 16GB DDR4 memory operating at 3200 MHz speed and can be further upgraded to 32GB if needed. Simultaneous screen sharing, web browsing and accessing Office Suites during video calls are a cakewalk for the Ultrabook and it does all this without making you scramble for the charger. More on this in a moment.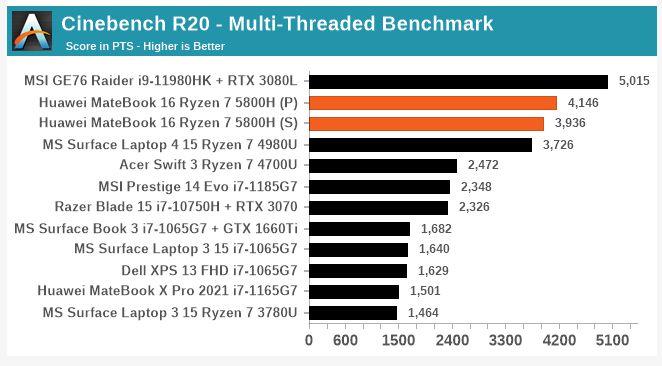 Battery, Storage and Connectivity
Huawei's Ultrabook is heavy owing to the high-density battery that keeps it running all day and even allows you to catch a full movie after work. It returns close to 11 hours of battery back-up with brightness set to suit the in-office environment. The lack of discrete graphics and a power-optimized low TDP processor adds in to push the battery life of Huawei's new laptop to excellent category. The big display and robust cooling mechanism inside the hood with two silent cooling fans are the only components that consumes some power worth mentioning. With the device, you get a 135-watt fast charger that powers the up the laptop when you plug it into one of the USB-C ports.
Finally, we come to storage and audio. There are two front-firing speakers located beside the keypad that does a commendable job at sounding good during occasional entertainment. The audio is not muffled thanks to the placement of the speakers and though there is little bass, clarity during voice calls is excellent and even music sounds good.
Unlike some of its competitors, the new MateBook does not come with various storage options to choose from. There is a fast 512 GB SSD that can be upgraded but only in terms of capacity as the M.2 SSD is already connected to a PCIe 3.0 four-lane connector. Read and write speeds of the Lite-On SSD are fast but there are faster SSDs out there.
Lastly, the MateBook 16 has excellent wireless connectivity and communication features with an Intel AX200 Wi-Fi module supporting Wi-Fi 6 and Bluetooth 5.1. Network connections are stable with no drops in data speeds over stable broadband or Wi-Fi connections.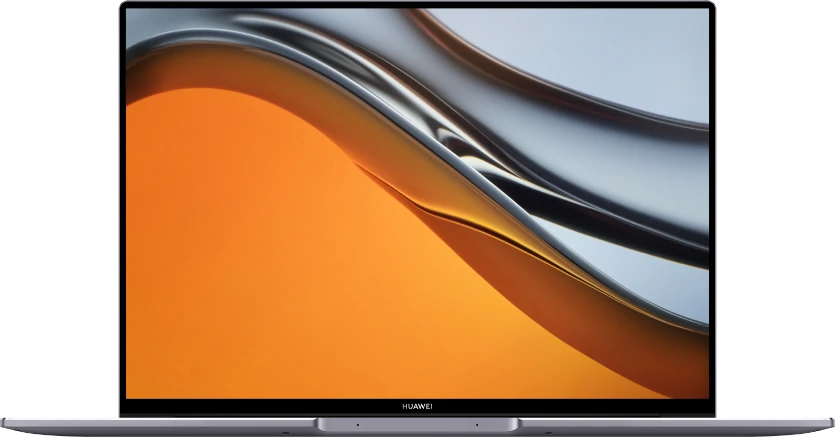 Conclusion
The Huawei Mate 16 is a mean and able machine best suited for handling the toughest of productivity chores. It has a beautiful display and powerful processor that doesn't guzzle on the battery and can handle almost anything you throw at it barring heavy or even medium graphics tasks.
A few downsides are its lack of discreet graphics solution, lack of storage/memory configuration options and the hefty price tag. It is pricy for the features it offers but lasts long on its sub-100-Wh battery to score good value for money points. It is versatile at physical connectivity and has all the required ports to extend displays and connect to 4K displays if needed and also comes with older USB Type-A ports for connecting older peripherals. Overall, the MateBook 16 is the next big step that can be at the center of the ecosystem Huawei wants to build.