The competition between Intel and AMD has never seen such blood before. For every iteration released, the Red and Blue teams lock horns for technical supremacy. AMD took the CES 2021 by storm by launching their Zen 3 powered Ryzen 5000 series mobile processors, showcasing their entire line-up of the latest processors promising 4K gaming on laptops.
Intel was not far behind in introducing four new processor families and brought forward its 11th Generation Tiger Lake H-35 series processors focusing on reaching the 5GHz mark on laptop and the promised enthusiast level gaming on a thin chassis.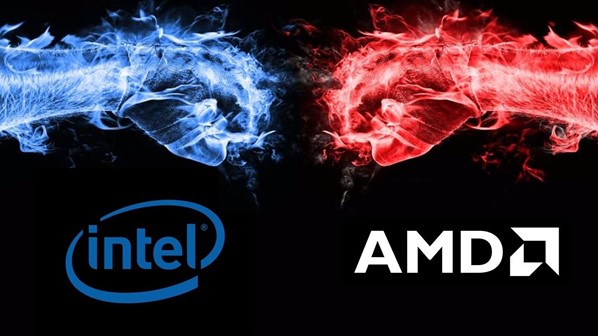 Intel has launched more than thirty processors under its Tiger Lake banner of which more than ten have been launched in this year alone. It started with its ultra-portable business-focussed line ups in September 2020, moderately powered H35 series in January 2021, and its best offering, the H series in May 2021. Some of these processors are extremely capable of consistently hitting the 5GHz mark with Turbo Boost and they return exceptional performance irrespective of the laptop type.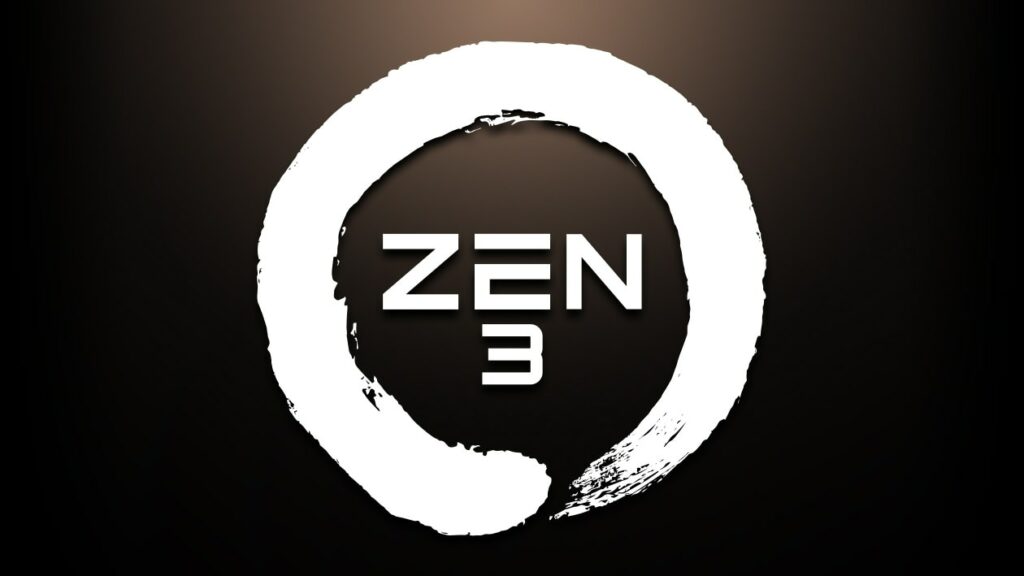 AMD has fourteen mobile processors under its portfolio, all launched since CES 2021 and based on the Zen 3 architecture. Although not quite hitting the 5Ghz mark on their own, Ryzen chips are known to be unlocked and hence it perhaps is possible to overclock them beyond the 5GHz mark on a laptop. These processors offer jaw-dropping frame rates at high resolution while gaming and exemplary performance numbers.
Today we will compare the performance of the latest Intel Tiger Lake processors and AMD Ryzen 5000 Series Mobile processors and try to find out if Intel has been able to gain the ground it has been losing to AMD.
Tiger Lake H35 vs Ryzen 5000
Back in January 2021, when Ryzen was blazing the stage with its line up of 11 new processors, Intel launched 3 quad core processors of the Tiger Lake H35 series each with a maximum TDP of 35 watts. Of these the i7-11375H with Iris Xe graphics could reach 5GHz with Intel Turbo Boost. It also announced its plans to launch gaming focussed octa-core H series processors for the future.
These three H35 processors each had 4 cores and they managed good scores only on single-core performance when pitted against the Ryzen 5000 processors. In single-core performance, Intel's i7- 11370H managed to come close to the AMD's top-of-the-line Ryzen 9 5980HS which is an octa-core processor. Here is the benchmark.

However, the moment the processors were made to run at full throttle, the performance dropped as the quad-core processors of Intel could not keep up with the 20MB cache, octa-core processors of AMD. In the benchmark below we see even the last generation processors from Intel overtaking the Tiger Lake i7-11370H. It should be worth mentioning that both processors from Intel and AMD have a maximum TDP of 35 watts but in single-core performance, it is perhaps the superior architecture of Zen 3 that keeps the Ryzen processors ahead.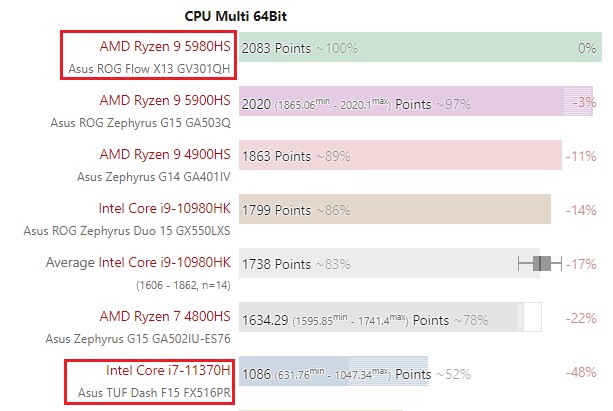 Tiger Lake H vs Ryzen 5000
On May 11th Intel launched the Tiger Lake H series that it had announced in January. A total of 5 processors are up for the laptop consumers. Of these processors, two Core i5 processors have hexa-cores and a maximum speed of 4.5 GHz with a variable TDP of 35-45 watts. One Core i7 processor with a Turbo Boost frequency of 4.6GHz and two Core i9 processors with the most powerful one being i9-11980HK capable of reaching 5GHz with Turbo Boost and has a maximum TDP of 65 watts. With a host of new processors that can challenge AMD, Intel is hoping to end AMD's dominance. So, let's check how these new chips are slotted to perform against the top brass of Ryzen 5000.
Here is the line-up of processors launched by Intel that is available for consumer laptops.
| | | | | |
| --- | --- | --- | --- | --- |
| Processor | Core/Thread | Speed/Turbo Boost | Cache | TDP |
| Core i9 11980HK | 8(16) | 2.6-3.3GHz/5.0 GHz | 24MB | 45-65 W |
| Core i9 11900H | 8(16) | 2.5-2.1GHZ/4.9 GHz | 24MB | 35-45 W |
| Core i7 11800H | 8(16) | 2.3-1.9GHz/4.6GHz | 24MB | 35-45 W |
| Core i5 11400H | 6(12) | 2.7-2.2GHz/4.5GHz | 12MB | 35-45 W |
| Core i5 11260H | 6(12) | 2.6-2.1GHz/4.4GHz | 12MB | 35-45 W |
One look at the line-up and you can probably guess that AMD has reasons to be worried. The cache of the top three processors is set at 24MB which is 4 more than AMD's best processor Ryzen 9 5980HX.
The new H series processors have dual base clock speeds and that too at staggeringly low levels which indicates that these are going to go light on the batteries at idle. Let us take the Core i9 11900H as an example. Although it is designed for 35W, it will typically run inside of a 45W notebook at a slightly higher speed.
However, on being boosted by Intel Turbo Boost Max 3.0 technology, some of the cores can reach up to 5.0GHz. During multicore benchmarks however, the final output of all the cores should be around 4.5Ghz.
Tiger Lake H Improvements
Intel has finally shifted from its 14nm processors and in the H series, introduced a 10nm SuperFin lithography. The 7nm Zen 3 gets a competitor in Willow Cove microarchitecture that Intel has used on these H series processors. We find a plethora of improvements in the new architecture. The maximum supported memory speeds have gone up from DDR4-2933 to DDR4-3200.
Almost all of the new processors are rated at 35W, rather than 45W to provide sustained performance. Intel also claims that the Tiger Lake-H is more than just a processor series but rather a platform that offers three times the platform bandwidth of its predecessor. It leaves Ryzen 5000 behind with the implementation of PCIe 4.0 with a mix of 20 PCI Express 4.0 and 24 PCI Express 3.0 lanes. Ryzen 9 5980HX for reference has a PCIe 3.0 module.
PCI Express 4.0 enables the CPU to access super-speed GDDR6 memory from the graphics cards directly, enabling the gamers to experience gaming like never before on a mobile platform. Intel promises desktop-like gaming performance on laptops with its H series processors. The frame rates are supposed to up with diminishing latency and images with heavy textures would load in an instant.
Here are some of the improvements brought in by Intel as a part of its H Series Mobile Processor platform.
PCIe 4.0 with Intel Rapid Storage Technology
Support for Overclocking through Intel Xtreme Tuning Utility
Memory supported up to DDR4-3200.
Thunderbolt 4 with transfer speeds up to 40Gbps.
Discrete Intel Killer Wi-Fi 6E.
Dual Embedded Display Port integrated for power-optimized companion display.
Gaming Performance of Intel H series Mobile Processors
Intel has focussed on gamers and content creators with its H series processors. Although it has strangely done away with Iris Xe graphics and returned to integrated UDH graphics, the technologies it has embedded in its latest processors benefit the content creators and gamers heavily. Here are benchmarks provided by Intel in which it pitted its best processor Core i9 11980HK against Ryzen 9 5900HX. The graphics card used is an RTX 3080.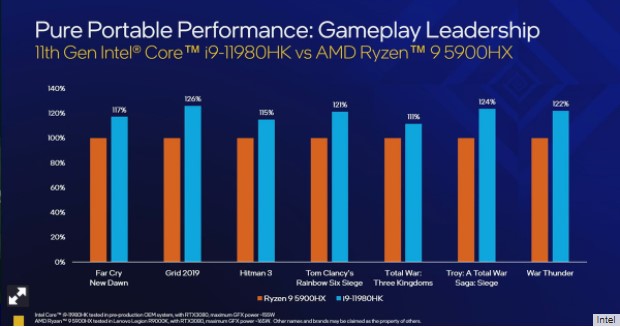 We see at least 20 percent improvement in most games tested. The Intel i9-11980HK, which by the way is an unlocked processor, beats the best processor from Ryzen 5000 series. With demands outstripping supply for the Ryzen processors, AMD has big reasons to worry.
Here are the numbers when i5-11400H is pitted against the Ryzen 9 5900HS. Mind you these two chips from AMD are their best.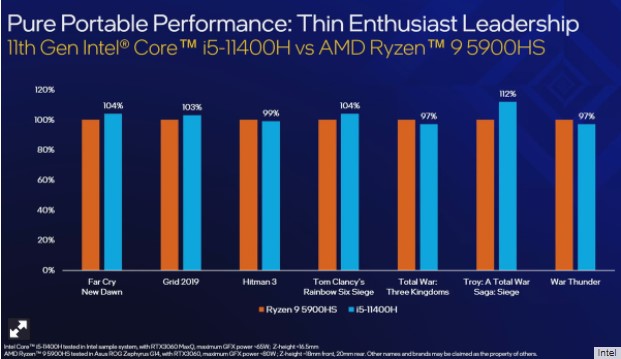 The numbers are worrying again for AMD. Although it had a first mover's advantage, it seems with the Tiger Lake H series, Intel has finally upped the ante and come down hard on the Ryzen Zen 3. However, it would be worth noting that these are not independent benchmarks but from Intel itself. We will get to see a better picture as the weeks progress with various portals coming up with their independently conducted benchmarks.
Conclusion
With whatever limited data that we have (due to the recent release) and going by Intel's statements, the hegemony AMD promised with huge pomp and fanfare might finally be over. Intel is back with a bang. Its Tiger Lake processors have been categorically launched to target every section of laptop users. We have quad-core processors for ultra-portable and business laptops that excel in business productivity. There are mid-range gaming focussed hexa-core processors and finally, we have a potential holy grail for content creators and professional gamers in the Core i9-11980HK that is unlocked and ready to go beyond 5GHz.
So, is there nothing left for Zen 3? Well, not all is lost. The sun still shines bright for the Zen 3 based EPYC Processors AMD launched in March that Intel still does not have an answer to. Also, the pricing of Intel's H series is not fully decided yet. AMD has developed quite a 'panache' in pricing its products at superb value for money points. Remember Ryzen 3300X? A 1-year-old, $120 hotcake (Frankly, I am still searching for one) that Intel still does not have an answer to. Perhaps, this disruptive pricing 'panache' is the only lifeline AMD has in this race to stay at the helm.