If we talk of trends in the mobile computing industry, slim and lightweight are the two biggest factors. Next, decent internal specifications and you have an excellent portable with performance. Barring professional gamers and heavy content creators, most business and users in general can carry out productivity and office tasks comfortably on compact 13–14-inch lightweight laptops. We take a look at 10 of the best ultra portables in this category.
A great upside to these devices is that they are priced competitively and sit at a nice price point with a great value for money quotient. Besides business and productivity, slim and lightweight laptops with a compact footprint are best suited for academic purposes and are hence hugely popular among students.
Top 10 Best Lightweight and Slimmest Ultraportables with 13-14-inch Display
The laptops we have with us today are some of the slimmest ones ever manufactured and each of them have a weight of around 3 pounds. Here are 10 of the slimmest and most lightweight laptops with a 13-14-inch display that you can buy right now. Most of these laptops have excellent specifications with powerful and battery-efficient processors that offer stable performance with sustainable battery life. Some of these laptops even feature fast charging technology that can charge up the laptop promptly when you run out of juice.
Slim and Light Laptops – Our Top Picks
LG Gram 14Z90P Laptop
Acer Swift 5 Intel Evo Thin & Light Laptop
Dell XPS 13 9305 Laptop
ASUS ZenBook 13 Ultra-Slim Laptop
ASUS ZenBook S Ultra-Slim Laptop
Microsoft Surface Laptop 4
Apple MacBook Air Laptop
HP ENVY 13 Laptop
Dell XPS 13 9310 Thin and Light Touchscreen Laptop
HP Spectre x360 Luxury 14T Laptop Buy
1. LG Gram 14Z90P – Our Lightest Pick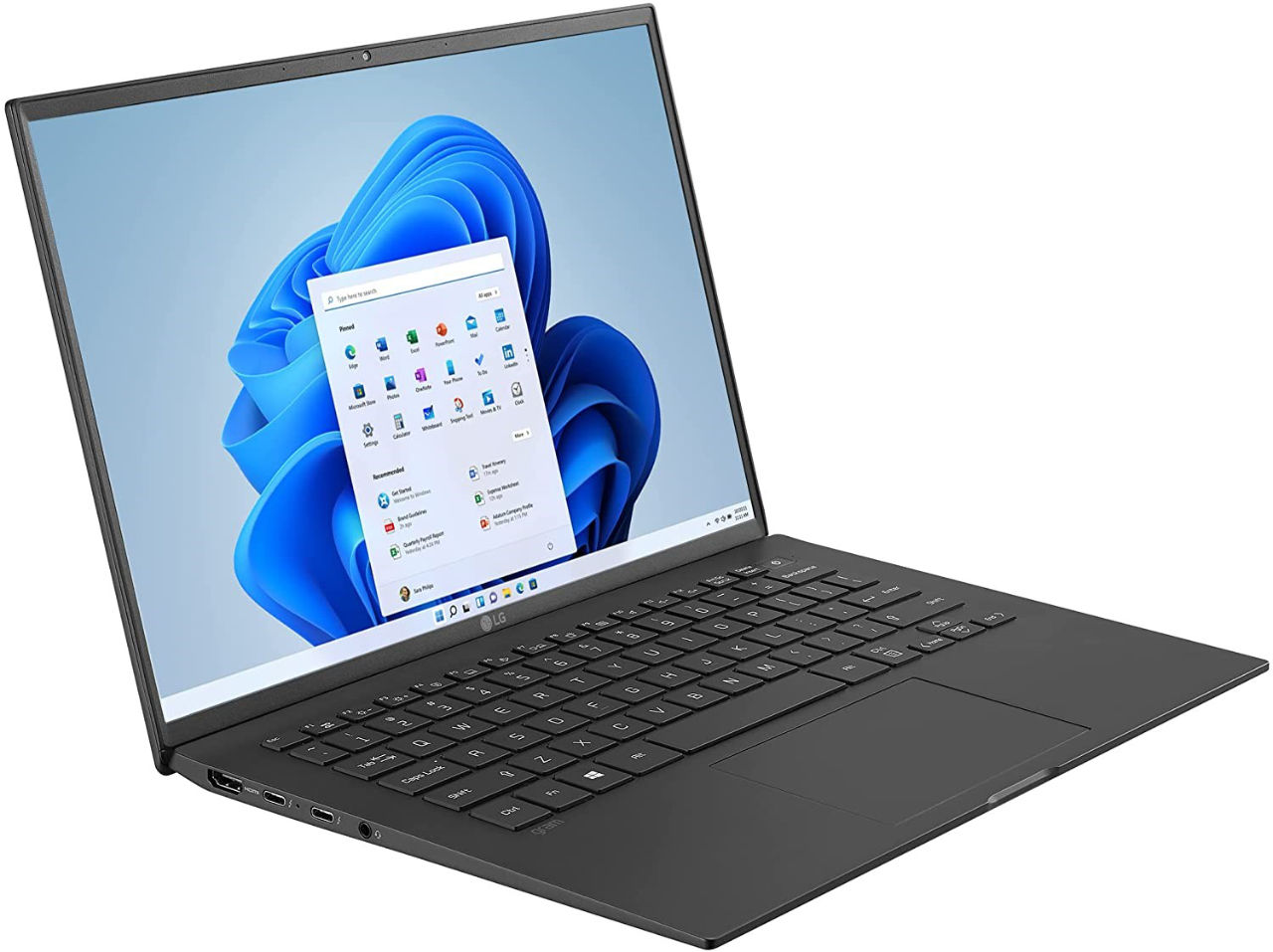 The 14-inch LG Gram falls in the ultra-lightweight category but packs some punch when it comes to performance. It has an FHD+ display with an excellent 99 percent DCI-P3 colour gamut and Intel Iris Xe graphics. The WUXGA IPS display panel combined with strong in-built graphics allows you to use it as an occasional gaming and entertainment device on the go. The magnesium-alloy body keeps the weight at just 2.2 pounds yet provides military-grade toughness.
Performance numbers are off the charts with the Gram thanks to an 11th Gen Intel Core i7 processor. The Core i7-1165G7 is a quad-core, hyperthreading enabled yet power-efficient processor that is coupled with 16GB of LPDDR4X memory operating at 4266MHz. For storage, there is a fast 512GB PCIe M.2 SSD with a good read and write speed.
Physical connectivity ports include a couple of Thunderbolt 4 supported USB-C ports and a full-sized HDMI port. Additionally, LG has thrown in a couple of USB 3.2 Type-A ports for good measure and a micro-SD card slot along with a 3.5mm audio jack. A 72Wh battery powers the LG Gram and it also has an Intel Evo tag which at around the $1300 mark makes this laptop a lightweight champion.
2. Acer Swift 5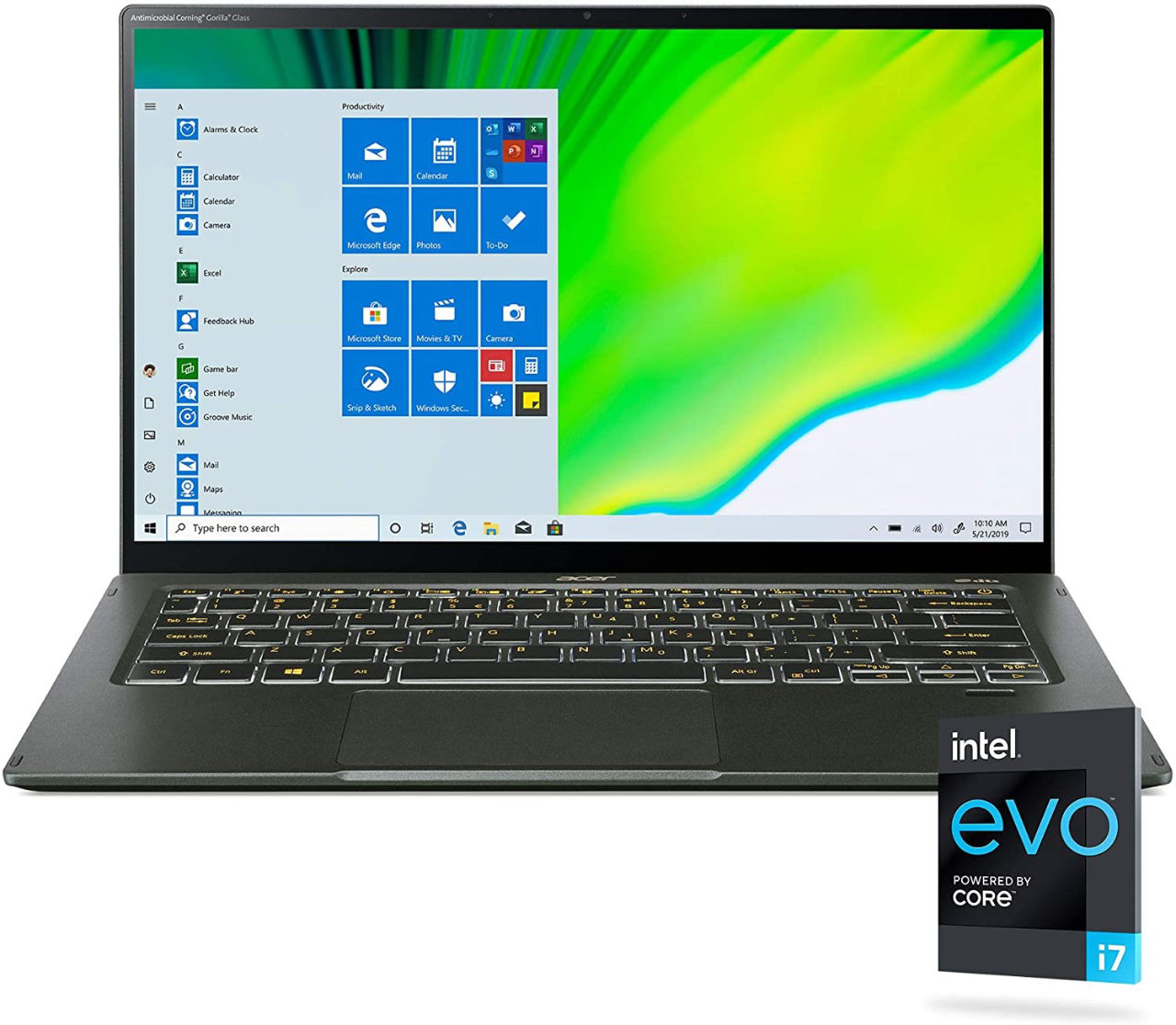 A powerful alternative to the LG Gram above is the Swift 5 from Acer which comes with a similar 14-inch IPS display with Gorilla Glass screen protection on top of the FHD panel. The brightness is set a bit low here at just 350 nits but it has excellent colour coverage with a 100 percent sRGB colour gamut aided with an Intel Iris Xe graphics chip. The display scores big thanks to full-touch support.
Performance is similar in the Swift 5 as the Gram above with the same Intel Core i7-1165G7 powering you through daily business and productivity tasks with ease. We have the same 16GB LPDDR4X physical memory set-up but a larger 1TB SSD storage. A small display, power-efficient processor and Intel Evo tag allow a continuous usage of up to 15 hours on the Acer Swift 5.
Physical connectivity ports include a Thunderbolt 4 enabled USB Type C port and two USB 3.2 Type-A ports and an HDMI port. The laptop conforms to Wi-Fi 6 standards and features an anti-microbial touchpad and backlit keyboard that makes the deal even sweeter at the same price as the LG Gram above.
3. Dell XPS 13 9305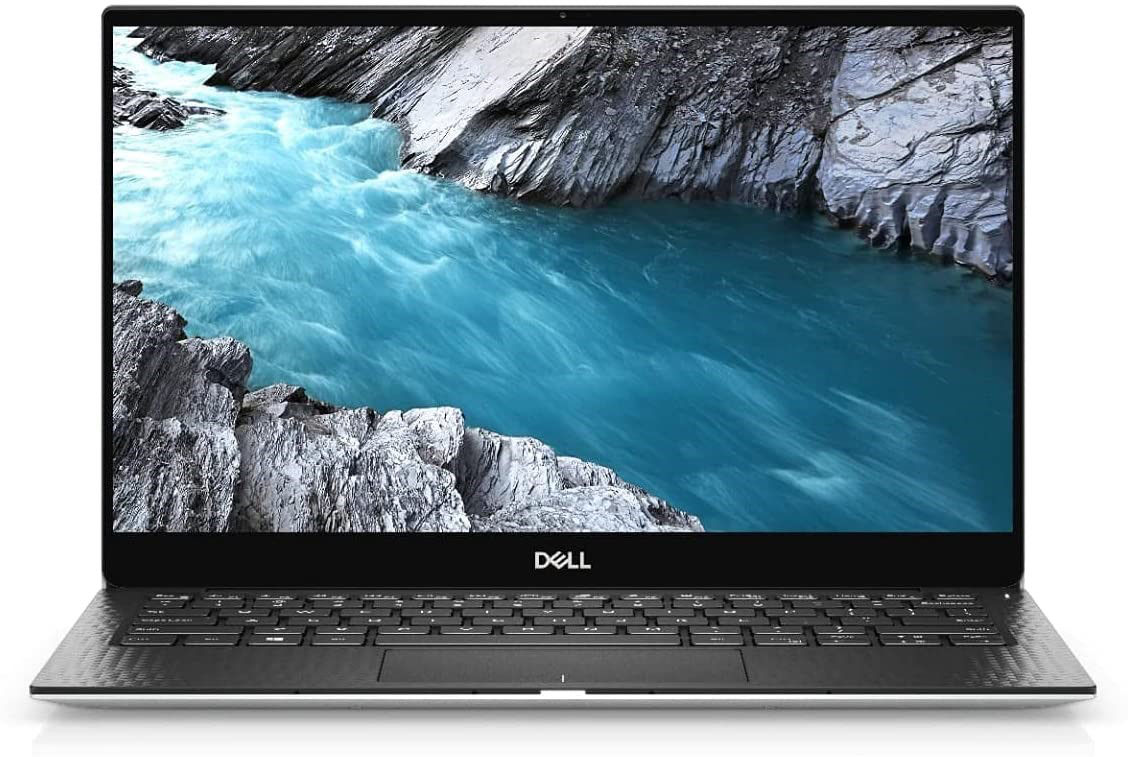 The Dell XPS series has had a penchant for having some of the best business-focused laptops in its line-up for years now and the XPS 13 9305 is just what busy professionals need in their day-to-day work life. The 13-3-inch FHD display under the lid supports touch like the Acer Swift 5 but comes bereft of any protection. The CNC machined aluminium chassis allows heavy use while keeping the weight of the ultraportable in check and keeing an overall small footprint.
The XPS 13 9305 is powered by a Core i5-1135G7 quad-core processor with a peak clock of 4.2 GHz. The chip is hyperthreading enabled with 8MB cache memory that offers value for money multitasking capabilities. In addition to the 8GB LPDDR4X onboard memory, there is Intel Iris Xe for graphics-intensive tasks and a 256GB SSD which makes it a fully business-focussed device. Physical memory and storage are some of the downsides of the XPS 13 9305 but it is still a sweet deal at the offer price.
Occasional entertainment and streaming is also on the cards here with Waves MaxxAudio Pro powered stereo speakers and MIMO enabled Wi-Fi 6. Besides a backlit keyboard and an ultra-responsive trackpad, the laptop also comes with adequate physical connectivity ports and a 3.5mm audio out port.
4. ASUS ZenBook 13 – Our Slimmest Pick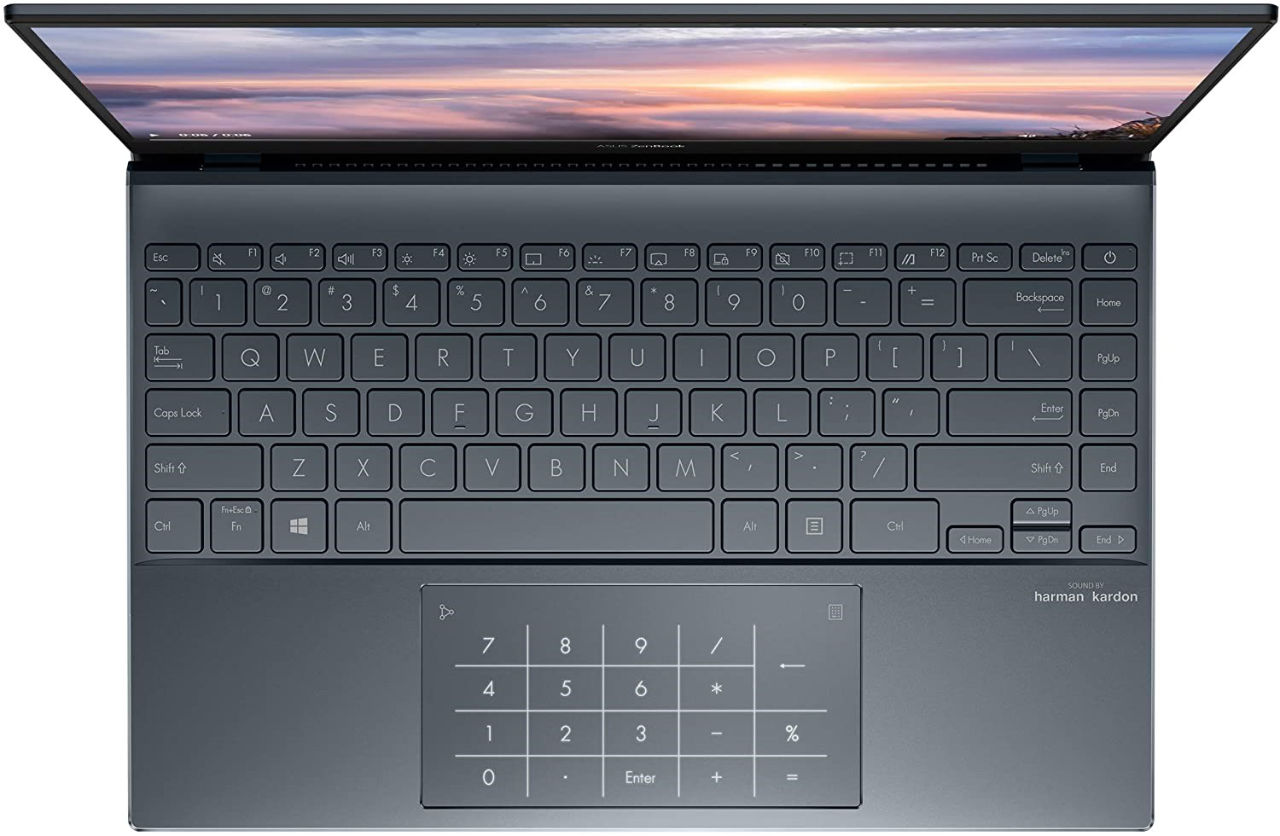 Innovation has been Asus's forte for years now and this time they are back with an uber-slim 13.3-inch laptop featuring an FHD display with extremely thin bezels. The lid features a prop-up design that lifts the keyboard a bit to aid in typing, a better audio experience from the speakers and better thermal management. The ZenBook 13 is built to adhere to 810G military-grade durability standards and can withstand above-average wear and tear.
With most laptops in the thin and light category sticking to battery-efficient Intel processors and Intel Iris Xe graphics, the ZenBook 13 is no different with a Core i7-1165G7 at its heart. The quad-core processor has a peak speed of up to 4.7GHz with 12MB cache memory that returns decent multi-tasking performance when coupled with 16GB DDR4 physical memory.
The ZenBook 13 features a fast 1TB PCIe SSD for storage and includes plenty of physical ports for connecting additional peripherals and external storage. There are two Thunderbolt-supported USB Type C ports, a USB 3.2 Type-A port, and a micro-SD port. Surprisingly, Asus has dropped the 3.5mm audio port and users would need a Bluetooth headset for online communications. The ZenBook 13 also features a heavy 18-hr battery with fast charging support.
5. Asus ZenBook S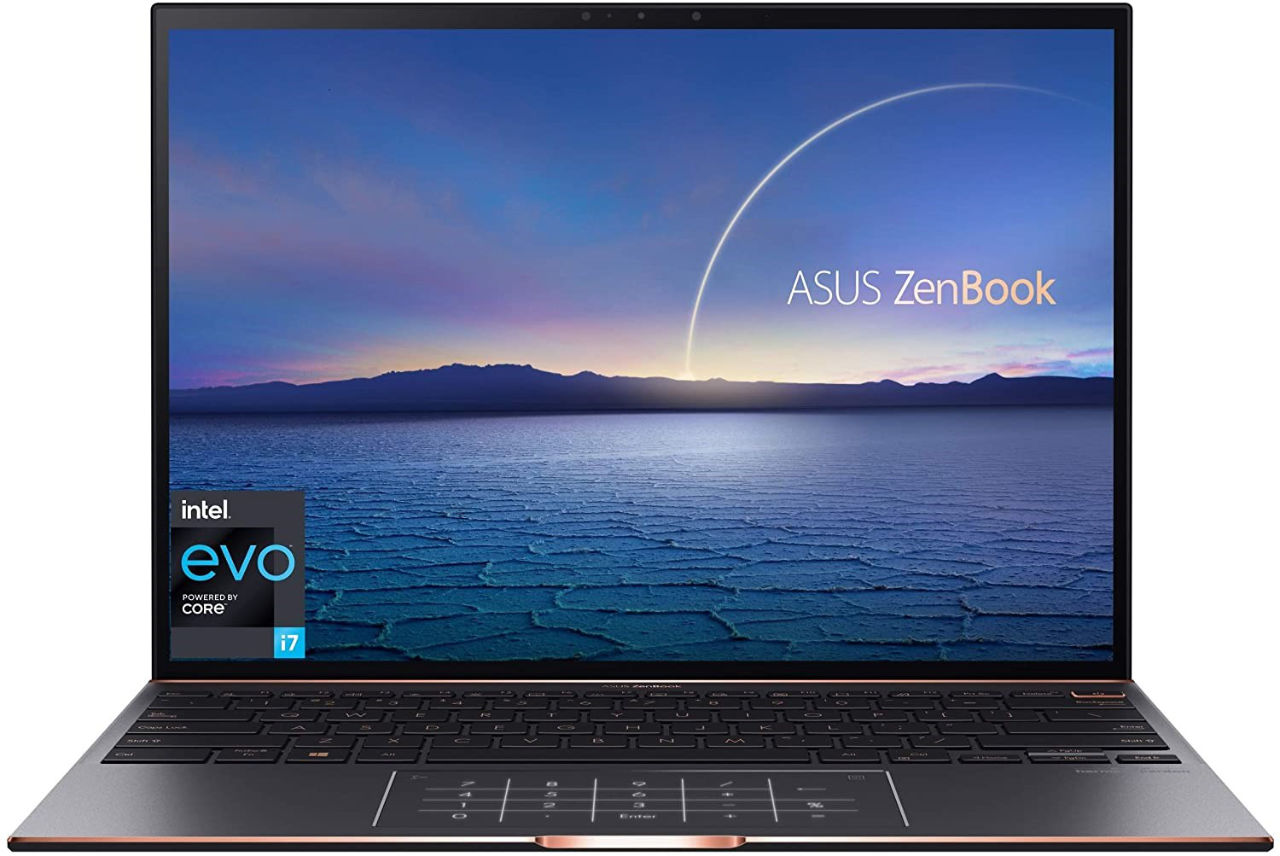 The ZenBook S is priced higher than the ZenBook 13 and comes with a slightly bigger 13.9-inch display with a peculiar 3300 x 2200 resolution. The laptop has a premium look thanks to its copper edge finish and a spun-metal build which comes with military-grade toughness and durability rating. The 3:2 aspect ratio display panel is touch-enabled and anything you play on the ZenBook S looks great thanks to its 100 percent DCI-P3 and 133 percent sRGB colour gamut.
The same old tried and tested Intel Core i7-1165G7 powers the premium ZenBook S with a max core clock of 4.7GHz along with 16GB DDR4 memory. The keyboard however could have a bit more travel distance though they are backlit with the trackpad acting as a number pad when needed.
As for storage, there is a fast and snappy 1TB NVMe SSD without further provisions for expanding the storage. Connectivity ports include Thunderbolt 4 supported USB Type C ports, Type-A ports, and a microSD card slot.
Finally, in terms of power consumption, Intel Evo branding allows the ZenBook S to offer up to 12 hours of battery life and comes with a fast charger that when connected to the Type-C port, charges the battery up to 60 percent in about 50 minutes.
6. Microsoft Surface Laptop 4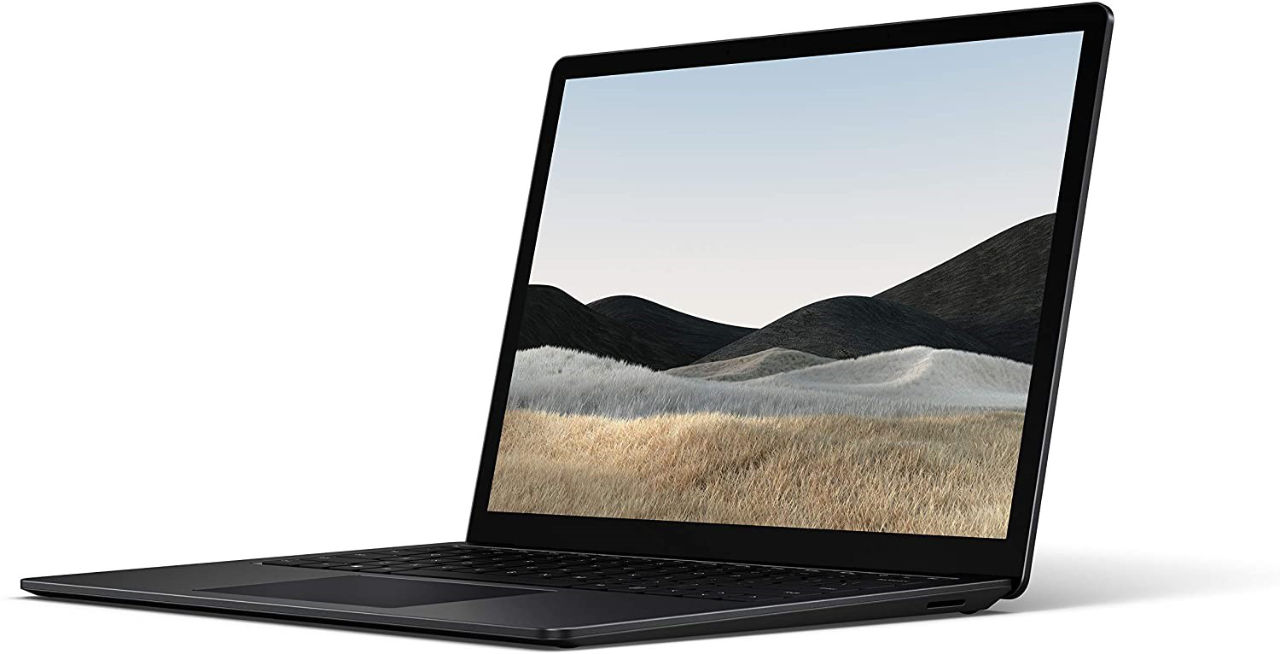 Available for an attractive price point of under $1000, Microsoft's Surface Laptop 4 with a 13.5-inch touch screen display is perhaps the pick of the lot. However, we were left unimpressed with the thick bezels around the display panel. The laptop however is a versatile device with extremely good optimization from Microsoft. It comes in different colour choices and finish. Undoubtedly, one of the best features has to be the keyboard. Travel, comfort, tactile feel, size, button and trackpad placement are all spot-on.
Microsoft allows users to choose between three processors, an Intel Core i5, i7 or a Ryzen 5 and there are customization options with the physical memory ranging between 8-32GB. For Intel processors, the graphics are managed by Intel Iris Xe. The Surface Laptop 4 is quite a nifty and dependable device and its sleek and portable build is a beauty to behold.
There are various storage options to choose from ranging from low to high capacity but the physical connectivity options are pretty limited here with a single USB Type-A and Type C port and a 3.5mm audio port.
Wireless connectivity options include Wi-Fi 6 and Bluetooth 5.0. Efficient power management and optimization allow the laptop to return a sustainable 19 hours of usage and one can use fast charging tech built-in to recharge when it finally runs out of juice. Amongst all the laptops listed today, the Surface Laptop 4 has the highest battery life.
7. Apple MacBook Air (2020)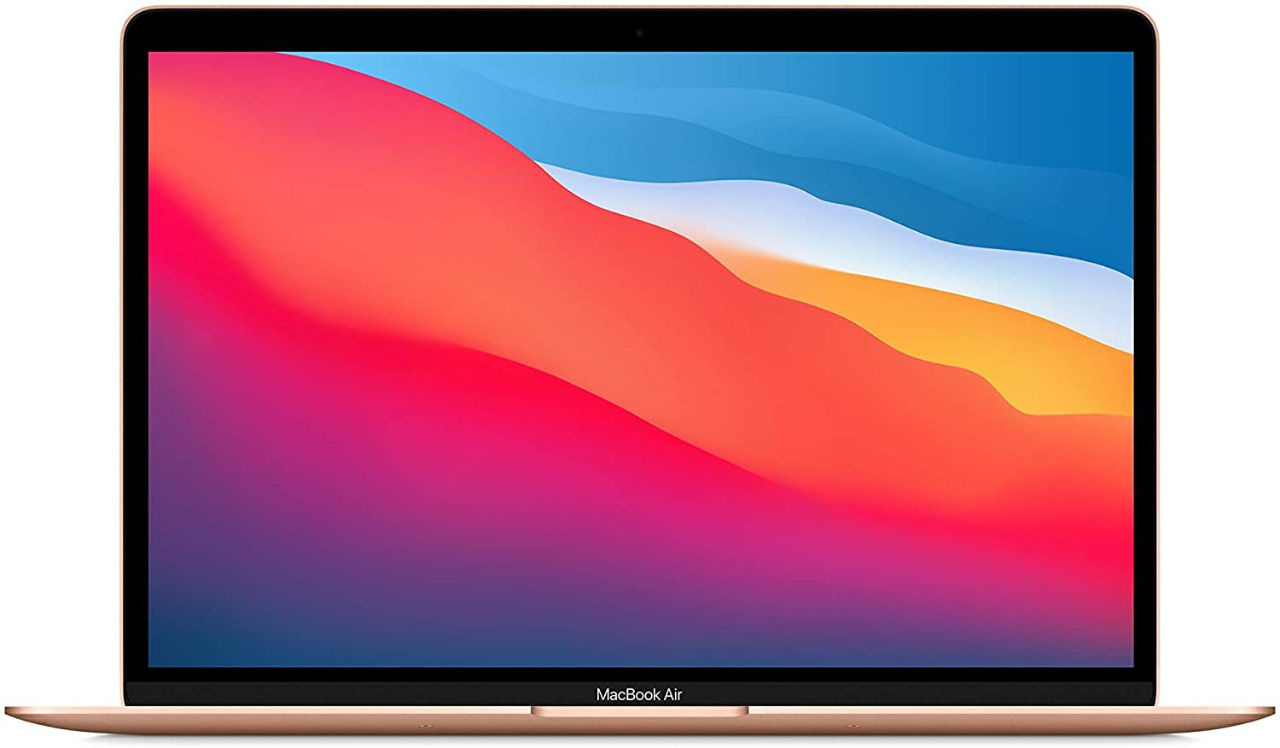 Finally, we have a MacBook from 2020 that fits the bill and is one of the premium slim and lightweight devices with uncompromising performance that you can own. The display is one of the best with a 13.3-inch Retina panel spreading pleasures across anything it displays with sharp texts and vivid colours. The MacBook Air is extremely light, weighing just 2.8 pounds and has a sturdy build to sustain a busy lifestyle.
The Air returns an unparalleled performance owing to its revolutionary all-in-one M1 chip that integrates the processing power of an Octa-core CPU and a 7-8 core GPU along with Machine Learning capable Neural Engine. You can game mainstream on the Air as well as task it to execute simultaneous work streams with ease. It manages thermals beautifully with zero noise (as there are no active cooling, only in MacBook Pro 13) and extremely good power efficiency.
Speaking of power management, the MacBook Air comes with 18 hours of average battery life and 16GB of high bandwidth physical memory. It has expandable storage of up to 2TB and advanced security and privacy feature to secure your data. The keyboard is responsive and allows fast typing with the keys travelling an optimal distance that leaves a nice crispy feeling on the fingertips. Overall, at under $1000, the MacBook Air could be the best pick in terms of sheer multitasking and gaming ability on a small screen and compact chassis.
8. HP ENVY 13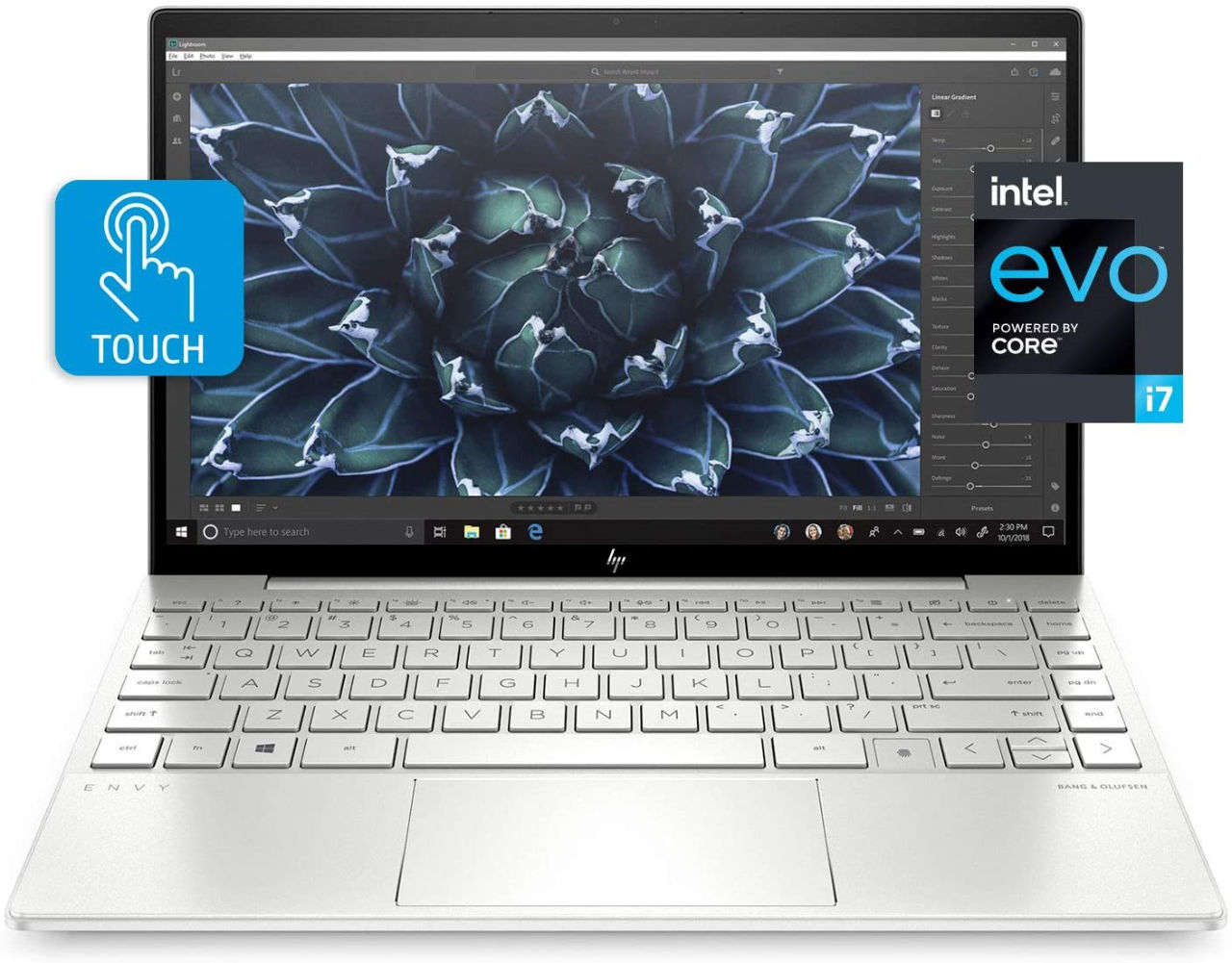 What do you get when you mix uncompromising performance with elegant looks? You get the HP Envy 13. If it had a bigger display, it could have easily passed off as a premium gaming device. The 13-inch-high quality IPS panel has full-touch support and thin side bezels with a premium HD camera on the top and a dual microphone array. The silver premium quality keyboard features a monochrome backlit, a camera shutter button, and a biometric authentication key.
Following the path of most slim and lightweight laptops, the Envy 13 features the Core i7-1165G7 quad-core multi-threaded processor coupled with 8GB DDR4 physical memory and a 256GB SSD that makes the Envy 13 ideal for academic use. Its storage is as fast as the processor however the capacity is a bit low for heavy office or content creation.
The sound output lacks bass but sounds good enough for occasional movies owing to the Bang and Olufsen speakers the Envy 13 comes embedded with. Heat management could be an issue if you end up using it for prolonged periods. Physical connectivity ports include a USB C Thunderbolt 3 port and a couple of USB Type-A ports. Battery backup could be a bit better however, HP's optimization and Intel Evo tag would ensure that the advertised 13 hours is sustainable in the long run.
9. Dell XPS 13 9310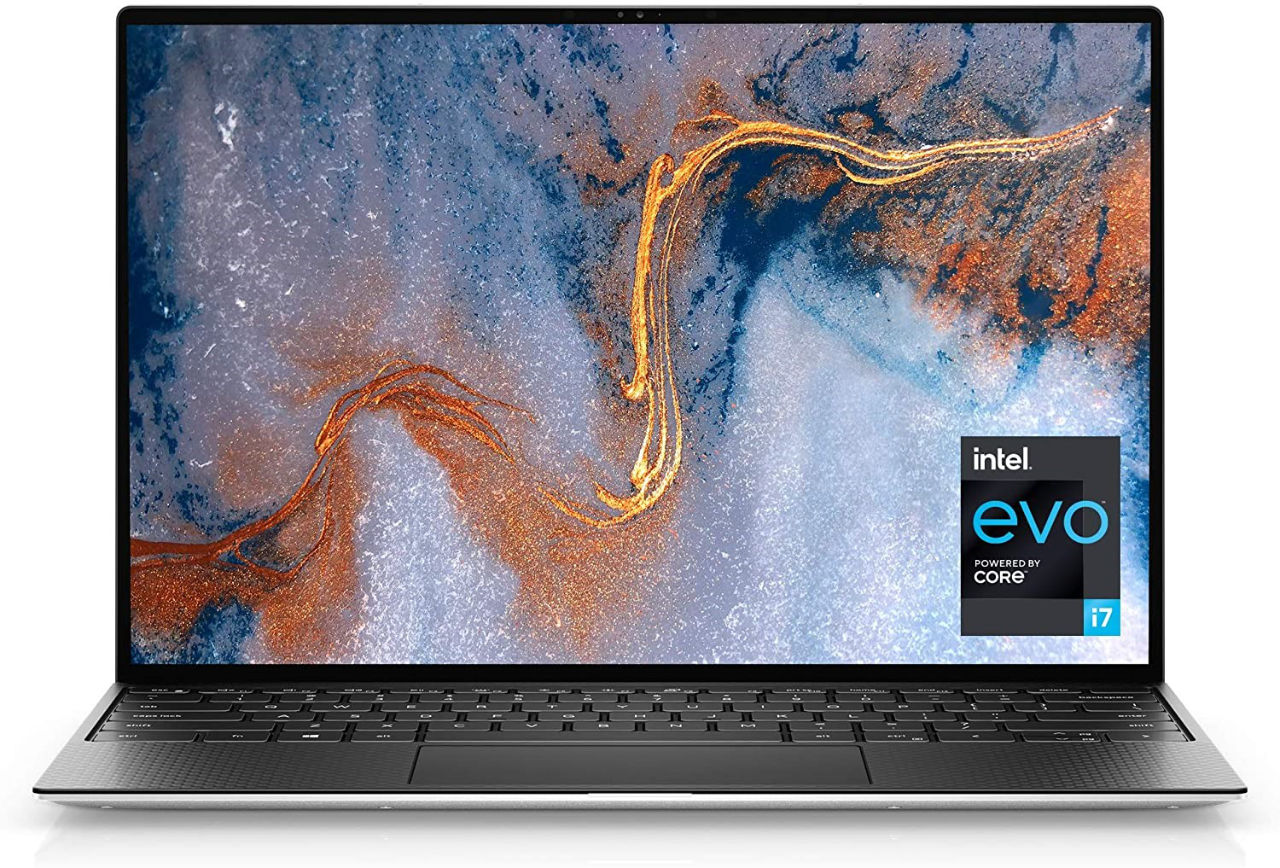 The next pick continues the Dell legacy with the XPS 13 9310. We looked at its younger sibling a bit earlier but this one has a slightly more powerful processor than its predecessor. The touch-enabled display panel is retained with the resolution now being bumped up to a Full HD+ display panel. The build material is now a combination of recycled plastic and aluminum. It has an Energy Star rating along with the Intel Evo branding for a superbly optimized power delivery system.
The new processor, Core i7 1195G7 has the same architecture as the Core i7-1165G7 on the XPS 13 9305 but a much higher turbo clock speed at 5.0 GHz. The XPS 13 9310 is more suited for heavy workloads and a bit of mainstream gaming is possible thanks to the inbuilt Intel Iris Plus graphics. There is plenty of physical memory in the form of high bandwidth 16GB DDR4 RAM but a relatively low capacity SSD could leave a bad taste in the mouth of some buyers.
There is improvement in the connectivity section with the built-in AX1650 powered Wi-Fi 6 technology prioritizing communication, gaming, and video streaming for a smooth online experience. Physical connectivity ports are scarce though with just a couple of USB Type C Thunderbolt 4 ports and a MicroSD card slot.
10. HP Spectre x360 Luxury 14T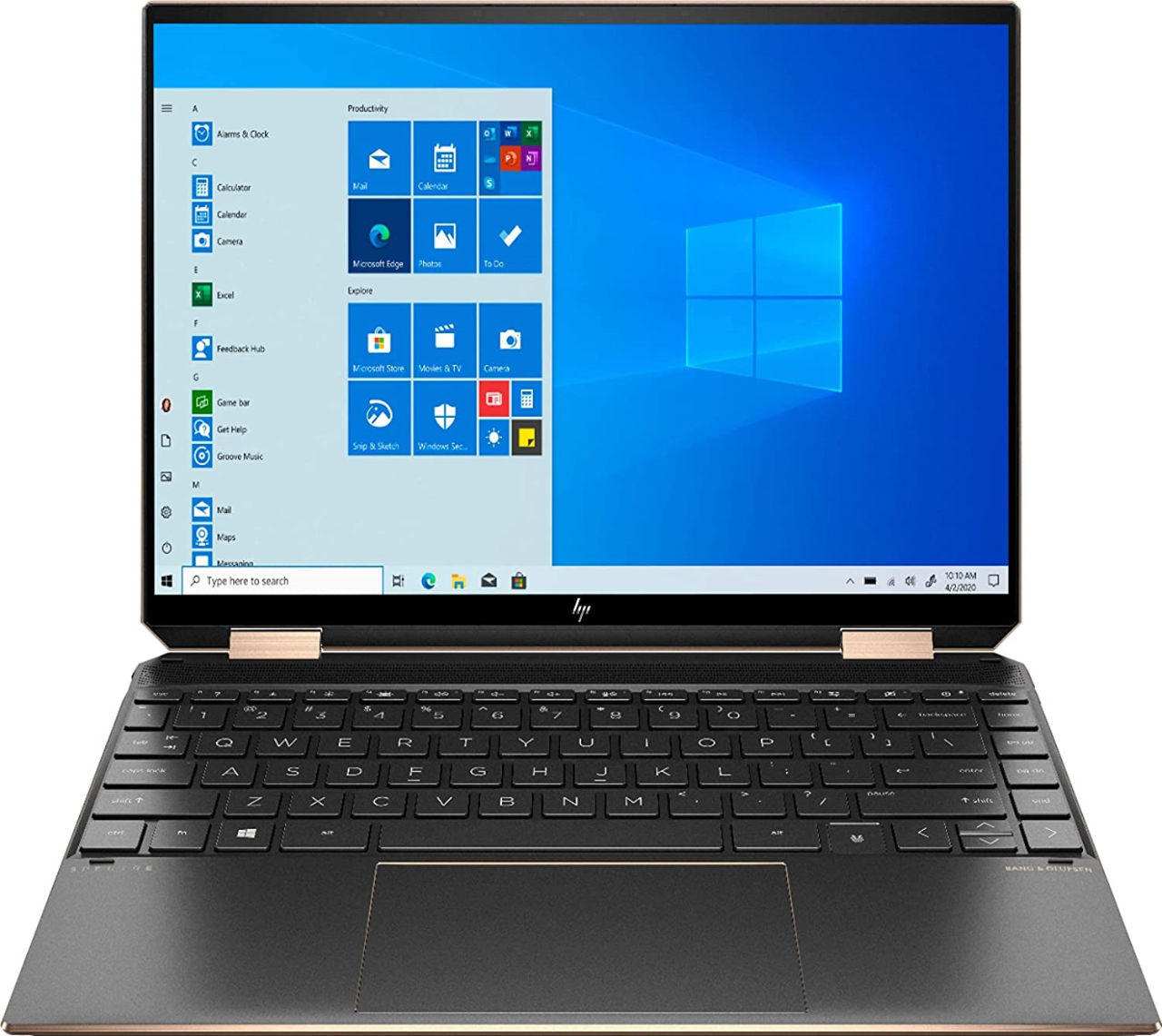 We have a premium slim and light laptop to end our picks in the convertible HP Spectre x360 laptop. It has diamond-cut looks and a premium price tag to go along with it. The premium designer chassis houses a 13.5-inch WUXGA+ resolution touch screen that has splendid clarity and works best with the supplied Tilt pen. The display has an anti-reflective coating and works on the 3:2 aspect ratio. The hinges are strong and allow for a full rotation of the display to serve as a tablet.
The Spectre x360 14T comes with the ageless Core i7-1165G7 processor and Intel Iris Xe combo that allows occasional gaming and moderate multitasking. HP has loaded the 14T with a robust 16GB 3200MHz DDR4 memory module and a 1TB NVMe SSD for sustained premium performance. The built-in Bang and Olufsen quad-speakers sound pleasant and catching up with the latest movies and other multimedia content is a pleasurable experience.
Thermal management comes complete with improved airflow design and in-bag detection technology that manages to keep the device cool and stop the 10-hour battery from draining out. Wireless connectivity is managed by Intel AX 201 powered Wi-Fi 6 and Bluetooth 5.0 while physical connectivity ports include two Thunderbolt 4 Type C ports and a single USB Type-A port.
Last Words
Most slim and light laptops come with a metal body with military-grade durability and they spot really nifty displays. However, due to a thin chassis, thermal management is an issue in some of these devices. Laptops meant for portability mostly opt for power-efficient Intel processors that can get you through most business and productivity tasks with excellent battery life but mainstream gaming is not their forte due to their over-reliance on integrated graphics solutions. A value for money price point would be around the $1000 mark and there are quite a few options out there you can choose from. Given that most of the systems uses Intel Core i7-1165G7, if a couple of these catches your eye, prioritise things like battery life, memory and storage. After all, you want a laptop with a powerful processor that will also last you through the day and have enough memory and storage for your applications.