Not only is Huawei moving up in the world of telecommunications and smartphones, it is not far behind in the fields of portable computing by that I mean the laptops and tablets. The company has repeatedly impressed up the hearts and minds of gadgeteers with their offerings. The MediaPad M5 tablets are no exception.
As its name suggest, this is a media consumption device but with the optional keyboard case and M-Pen, it will pass for both work and play. It is designed to be used in landscape mode with button placement and branding to match.
We Like
Vibrant and big 10.8-inch display
Solid performance, plenty of memory
Amazing sound, good volume and 3D effect
USB Type-C port for Quick Charging
2K IPS display is sharp and bright
Not So Much
No headphone jack
M-Pen stylus is optional*
Camera could be better
Need to reign in on pre-loaded apps
Keyboard case is optional
*M5 Pro includes the M-Pen stylus
The MediaPad M5 is classed as a premium device given its specification. If you compare this to other offerings from Huawei, the MediaPad M5s are actually the company's flagship tablets. The company's mid-range offerings are the M3s while their entry models are the T3s (see table of comparison below).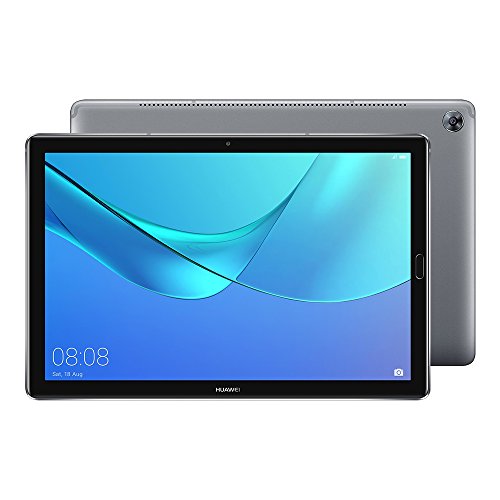 Search Huawei MediaPad M5 10.8 on Amazon
Mobile Devices: swipe left to see more.
|   | Huawei MediaPad T3 7 | Huawei MediaPad T3 10 | Huawei MediaPad M3 Lite 8 | Huawei MediaPad M3 Lite 10 | Huawei MediaPad M5 8.4 | Huawei MediaPad M5 10.8 |
| --- | --- | --- | --- | --- | --- | --- |
| Display and Resolution | 7″ IPS (1024 x 600, 170 PPI) | 9.6″ IPS (1280 x 800,157 PPI) | 8″ IPS (1920 x 1200, 283 PPI) | 10.1″ IPS (1920 x 1200, 224 PPI) | 8.4″ IPS (2560 x 1600, 359 PPI) | 10.8″ IPS (2560 x 1600, 280 PPI) |
| Processor Name and Speed | MTK Quad-core (1.3GHz) | Qualcomm Quad-core (1.4GHz) | Qualcomm Octa-core (Up to 1.4GHz) | Qualcomm Octa-core (Up to 1.4GHz) | Kirin 960 Octa-core, (Up to 2.4GHz) | Kirin 960s Octa-core, (Up to 2.1GHz) |
| RAM and ROM | 1G+16G | 2G+16G | 3G+32G | 3G+32G | 4G+32G | 4G+32G |
| Battery(typical) | 3100mAh | 4800mAh | 4800mAh | 6660mAh | 5100mAh | 7500mAh |
| Front and Rear Camera | 2MP and 2MP | 2MP and 2MP | 8MP and 8MP | 8MP and 8MP | 8MP and 13MP auto focus | 8MP and 13MP auto focus |
| Audio | 1 Speaker | 2 Speaker | 2 Speaker Tuned by harmon/kardon | 4 Speaker Tuned by harmon/kardon | 2 Speaker Tuned by harmon/kardon Supports Hi-Res audio | 4 Speaker Tuned by harmon/kardon Supports Hi-Res audio |
| Parental Control and Expandable Storage | ✓ | ✓ | ✓ | ✓ | ✓ | ✓ |
| Fingerprint Reader | | | ✓ | ✓ | ✓ | ✓ |
| Android Version | Android 6.0 + EMUI 4.1 | Android 7.0 + EMUI 5.0 | Android 7.0 + EMUI 5.0 | Android 7.0 + EMUI 5.0 | Android 8.0 + EMUI 8.0 | Android 8.0 + EMUI 8.0 |
| Dimensions(mm) and Weight | 179 x 103.7 x 8.6 & 250g | 229.8 x 159.8 x 7.95 & 460g | 213.3 x 123.3 x 7.5 & 310g | 241.3 x 171.5 x 7.1 & 460g | 212.6 x 124.8 x 7.3 & 316g | 258.7 x 171.8 x 7.3 & 498g |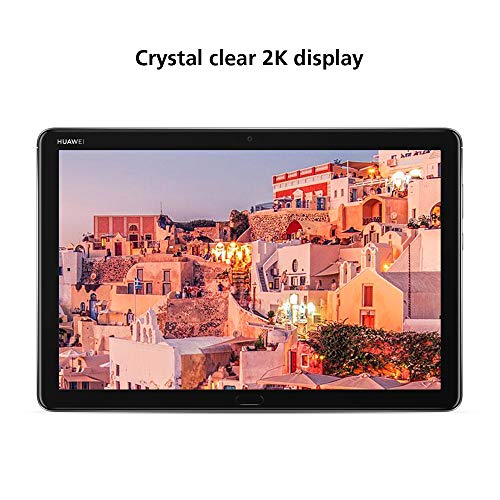 Search Huawei MediaPad M5 10.8 on Amazon
The MediaPad M5 range comes in two sizes, the big 10.8-inch and the smaller 8.4-inch. Both screens are capable of pushing 2K resolution, that's 2560 x 1600 pixels or WQXGA resolution with 16:10 aspect ratio. This makes the screen on the small 8.4-inch device sharper with 359 ppi compared to the 10.8-inch with 280ppi. Even at 280ppi, it is still sharper than the new iPad 11-inch's 264ppi.
With the 10.8-inch, it's more than an inch bigger than the standard iPad (9.7-inch). This bigger real estate is complemented with more pixels, making images sharper. At this size, it is more of an 11-inch than a 10-inch device. Given its processor, 4GB of memory and 64GB of storage, one could easily pitch it against the iPad Pro 10.5 or the new iPad Pro 11. But as we know, the new generation Apple's Pro tablets have gone over the top with super powerful processors and developers are just playing catch-up.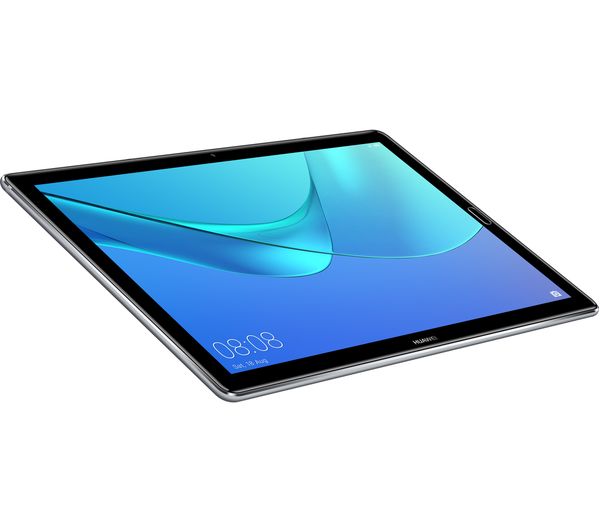 Search Huawei MediaPad M5 10.8 on Amazon
To reduce eye fatigue, the display system comes with ClariVu technology. This improves the contrast ratio and offer eye-care mode filter that reduces the blue light to help you cope with pro-long use.
In terms of design, the tablet is slim and light and comes with are many premium touches. This includes the small bezel (82% screen to body ratio), the chrome effect rounded trim on all four edges and the curved metal body. It. The tablet is fronted with curved-edge 2.5D glass as oppose to just a flat piece of glass. This gives it a sleek look and makes it easy to handle. Altogether, it has the hallmarks of a premium smartphone.
Available in champagne gold with white bezel or space grey with black bezel, both options are equally beautiful and sleek. The all metal body is robust and the curved 2.5D glass allows it to stand out from other 10-inch tablets. Build quality is as what you would expect from a flagship device, solid and feels balanced in the hand.
Just like the Galaxy Tab S4, the MediaPad features quad firing speakers with smart channel switching and Patent Histen 3D sound effects for immersive sound. Huawei had help from Harmon Kardon to fine tune and certify the sound outputs. The sound chip also supports Hi-Res audio with Hi-Fi DAC and noise cancellation.
The lack of 3.5mm audio jack is a let down. Given the Hi-Res audio support, one could easily get a Bluetooth Hi-Res headphones but would be nice to also have the option of using a wired variety.
Search Huawei MediaPad M5 10.8 on Amazon
While most tablet manufacturers opt for side or upward firing speakers, Huawei deploys the four speakers behind the series of holes running on the two long sides of the tablet around the back. You can't miss them as they are huge. These digitally amplified speakers delivers powerful and rich sound with good volume.
The home button has a fingerprint sensor for quick login. It also serves as a shortcut button. A quick tap on the button lets you go back to your previous screen or app. Press and hold the button and you will be taken back to home.
If you want to switch between apps, you can also swipe the home button to bring up recent apps and you will be presented with Android's friendly apps switcher. The button can be configured for different functions in the settings. We are really impressed by how quickly the device switches on via the fingerprint sensor in one action instead of power button and logging in.
The clever combination of hardware button and off screen navigation meant you can do away with the virtual navigation bar thereby releasing even more space on the screen for your apps.
The MediaPad M5 10.8-inch is powered by Huawei's Kirin 960s Octa-core processor with four 2.1GHz core and four 1.8GHz core. It also has a bigger memory with 4GB of RAM but like most mid-range tablet comes with only 32GB of onboard storage. The tablet is responsive and fast even when multitasking and offers smooth gameplay.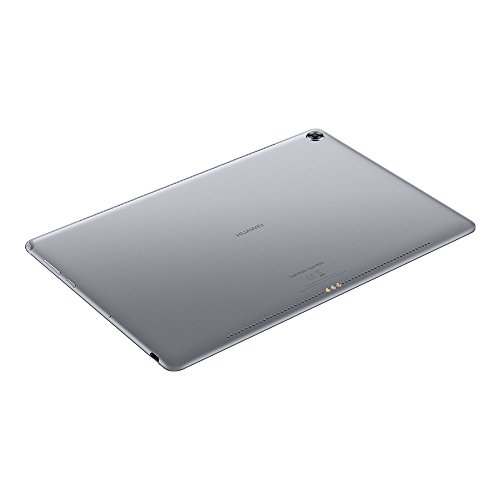 Search Huawei MediaPad M5 10.8 on Amazon
There is a little software gem, a sort of easter egg if you like from the EMUI 8.0 custom skin on Android Oreo. You can turn the tablet into a desktop by switching to Desktop Mode. This turns the standard Android interface into a Windows desktop like interface with start button, task bar and notifications. This, together with the optional stylus and keyboard should work nicely as a 2-in-1 hybrid.
The MediaPad M5 lasts up to 12 hours of video play time help from its high capacity 7500 mAh battery and Smart Power Saving tech. Just like the Samsung Galaxy Tab A and Tab S4, it supports quick charging, meaning you can top it back up with just under 3 hours (2.9 hours) of charging with QuickCharge. If you are in a hurry, get up to 1.5 hours of use from a quick half an hour charge. To charge the device, there is a USB Type-C port found on the bottom right corner when held in portrait mode.
WiFi only or WiFi and LTE model are available.
Dimensions: 258.7 x 171.8 x 7.3 mm (H x W x D)
Weight: 498 grams