Samsung Galaxy A8 2018 is Samsung's replacement for the Galaxy A5 2017. In Samsung's product portfolio, the A series is Samsung's answer to the mid-range market. It caters to those whom are looking for premium design and specifications but do not wish to spend top dollars for them.
The A-series aren't chart toppers when compared to Samsung's flagship phones such as the Galaxy S9 and S9+ as well as the latest Galaxy Note9 but they are no slouch either. Like the J-series which covers the budget end of the product spectrum, the A-series is designed to ensure Samsung's product dominance in the market, covering the mid-range market. That and a whole host of other smartphones with the Galaxy name are aimed at covering all corners of the market.
With stiff competitions from budget smartphones makers like Huawei and its budget off-shoot, Honor and Xiaomi and its budget sub-brand Pocophone, it's about time Samsung brings its budget and mid-range offerings up-to-date.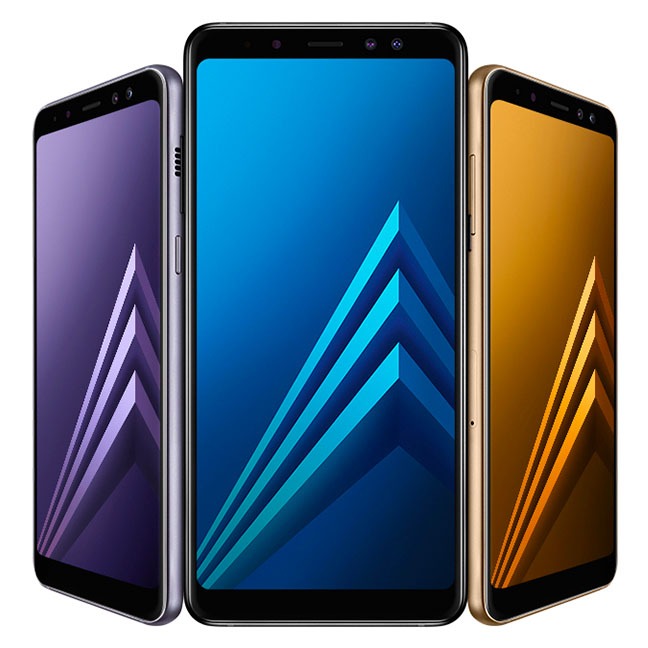 Search Samsung Galaxy A8 on Amazon
8 Things You Need to Know About the Galaxy A8 and A8+
1. Display: It has a 5.6-inch display using the new 18.5:9 aspect ratio bringing it up to date with the latest smartphones in the market. Samsung is not giving in on the notch trend and for good reasons. Using their Infinity Display technology minus the curved edge you get with their flagships, the A8 and A8+ spot visibly bigger screen to footprint ratio. It still has a slight 'forehead' and 'chin' but completely lost the Samsung brandname on the front just like the flagships. The expanded screen rewards its users with the wide screen most have come to expect from their new phone with no notch getting in the way.
Love it or hate it, the notch is more of a hindrance stopping one from enjoying video or using the phone in full screen. Galaxy A8 and A8+ with its Infinity Display overcomes that and is still able to incorporate premium features like dual front facing selfie camera and face recognition.
The A8+ has a bigger 6-inch display with the same Full HD+ resolution of 1080 x 2220 pixels. Both displays uses Samsung's Super AMOLED technology, offering one of the best viewing experience you can ever ask from a phone. However, going full screen does mean that you have to content with rounded corners. Again, since iPhone X, more and more people have come accept this, just not as much as the notch.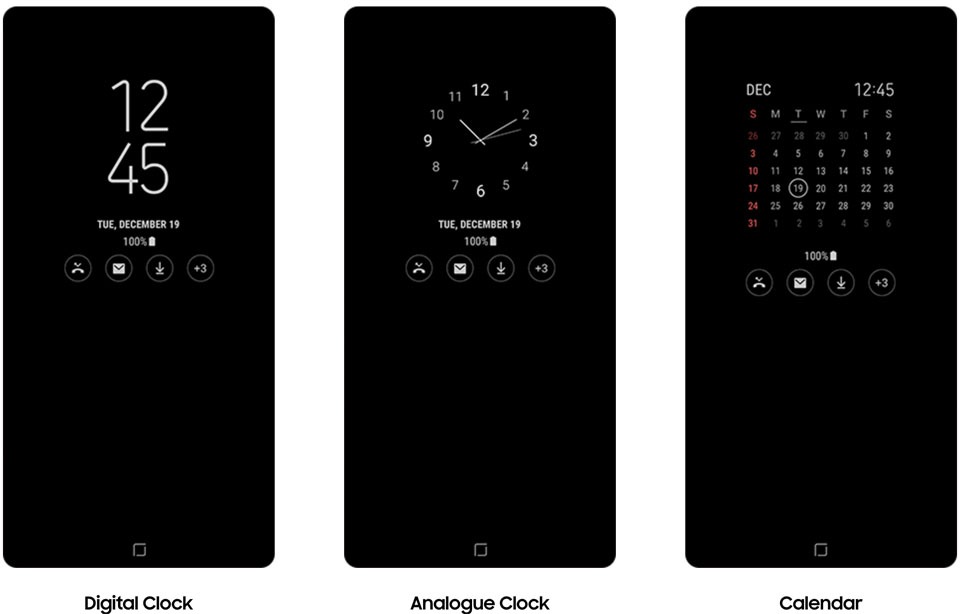 Search Samsung Galaxy A8 on Amazon
Both phones also features always on display so you can set it to show clock, calendar and alerts even when the phone is in sleep mode for hands-free operation. The AMOLED display can also be customised to your liking. You can change the blue light settings as well as pick one of the following colour profiles; Adaptive Display, AMOLED Cinema, AMOLED Photo and basic to suit you.
2. Dust and Water Proof Design: Not many mid-range smartphones can boast this but the A8 and A8+ are both IP68 rated, making them dust and water resistance. The phone is designed to be protected against dust and water. You can dunk the devices in fresh water up to 1.5m deep for 30 minutes. Yes, we are talking full submersion, impressive for smartphones that also retains the 3.5mm combo socket and USB Type-C for data and charging. Now, here is a premium feature that you would pay big money for.
3. Design: Dual glass, both front and back sandwiching a solid aluminium frame, the phone is as premium as any phone gets. The solid feel does come with a bit more heft at 178 grams at a thickness that is only a smidge more than the Galaxy S8 at 8.4mm (0.4mm difference) but it offers a more weighted feel and better balance in the palm. The new form factor also offers better grip and single handed use. To give you an idea of the size, here is how it compares with S8 and S9.
Samsung Galaxy A8: 149.2 x 70.6 x 8.4 mm (5.87 x 2.78 x 0.33 in) 172 grams
Samsung Galaxy S8: 148.9 x 68.1 x 8 mm (5.86 x 2.68 x 0.31 in) 155 grams
Samsung Galaxy S9: 147.7 x 68.7 x 8.5 mm (5.81 x 2.70 x 0.33 in) 163 grams
Like the S8 and S9, the A8 has an all glass front devoid of any physical buttons. This probably helps keep the whole water resistant design. Being digital, the navigation bar and home button arrangement are customisable. The finger print scanner is placed on the back of the phone, aligned to the centre just under the single rear camera. So it doesn't matter if you are right or left hander, you can unlock the phone quickly or use the Finger Sensor Swipe feature and the Digital Navigation Bar.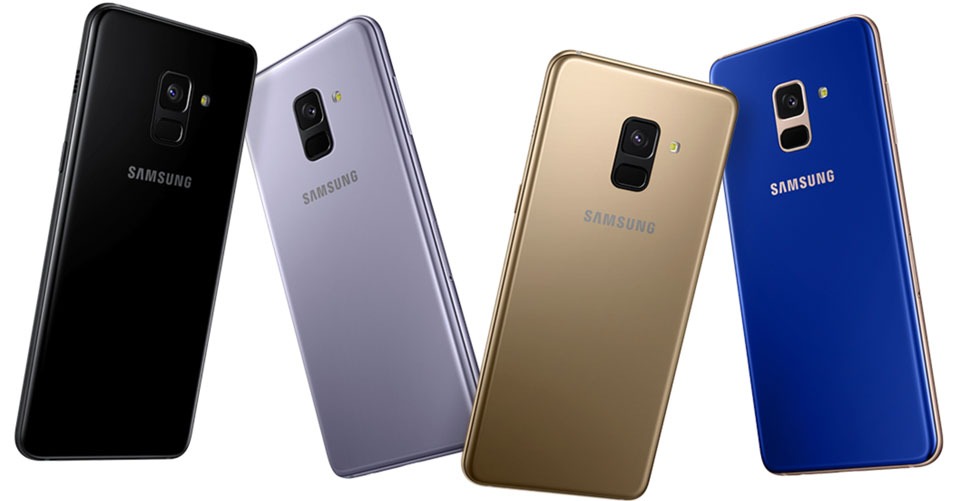 Search Samsung Galaxy A8 on Amazon
For colour options, this may vary from country and region but you will be spoilt for choice. Select from black, orchid gray, gold or blue.
4. Dual Front Camera: Samsung has chosen to focus more on the selfie camera than the main camera. When everyone else is offering dual main camera setup, the A8 and A8+ features dual selfie camera. The pair of front facing cameras use 8MP and 16MP for dual camera, wide selfie or live focus modes. It captures amazing photos in daylight and great for capturing portrait photos with bokeh or blurred background effects with dual camera mode. The Live Focus mode allows you to go back and readjust the focus to your liking, for just the right amount of background blur.
You can also customise your shots with live effects, adding Stickers, Beauty Effects and Filters. There is also a Food Mode for foodies who can't get enough of food shots.
Low light performance is good to average. It does capture lighter images than compared to what your naked eye is able to perceive. One problem we noticed is when capturing selfie with the phone held with arm fully extended, the captured photo can sometime lacks sharpness. So, we suggest not over-reaching your selfie, use the wide angle selfie instead.
5. Main Rear Camera: Again, the camera's low light performance is good to above average with surrounding scene coming out bright and clear. This is made possible with bright F1.7 lens, larger 1.12㎛ pixels, and bigger 1/2.8" sensor to bring in light from the environment and make photos crisp and detailed. Depending on the surrounding light source, it is more than capable of capturing details that are above and beyond what your naked eye can detect suffering from very little noise.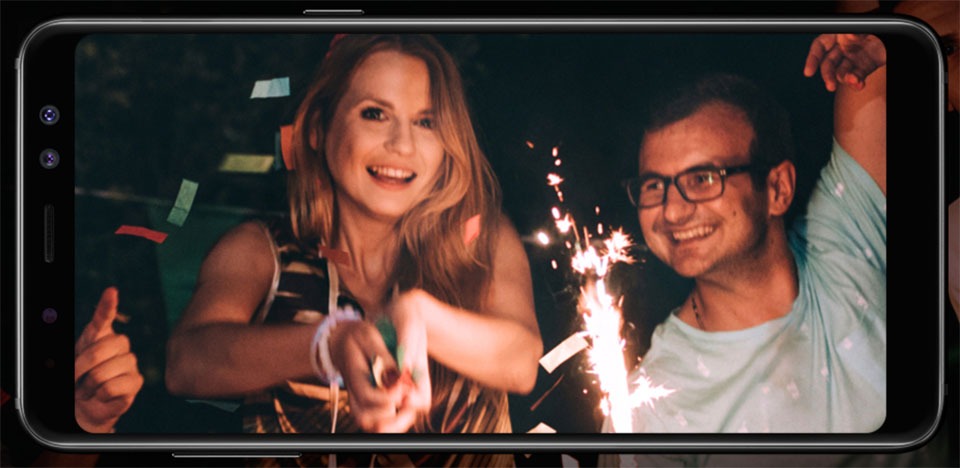 Search Samsung Galaxy A8 on Amazon
Both cameras capture images in HDR (High Dynamic Range) by default. While there is no Optical Image Stabilisation to speak of, the camera employs VDIS (Video Digital Image Stabilisation) allowing it to capture smooth video even in hyperlapse mode. We noticed the result in video footage captured with the rear camera. The downside is, the cameras are only capable capturing up to 1080p HD video at 30 fps, so no 4K videos, not even 60 fps Full HD. You do get continuous Autofocus when shooting video but we find that it sometime misses the subject especially when it is small, focusing on the background instead.
Sound on the video captured with both the main and front facing camera with onboard microphone are good. We can't really complain.
6. Performance: Another area where the Galaxy A8 excels is the processing power and resources. The Galaxy A8 and A8+ is powered by Samsung Exynos 7885 Octa-Core Processor (2.2GHz Dual + 1.6GHz Hexa). Not quite the performance of flagship Snapdragon 835 and 845 but together with ample memory and storage, 4GB on the A8/A8+ model and up to 6GB on the A8+ model as well as generous internal storage of 32GB or 64GB the device plows through everything you throw at it.

Apps load quickly, switching between apps is smooth, scrolling does not suffer for visible stutter and running multiple windows for multi-tasking is a dream. Game play performance is excellent with no lags or skip frames. Use the Game Launcher and choose your gaming mode for even better experience. Also If you need more storage, pop in a microSD card in the dedicated slot. The card reader supports up to 400GB of extra storage. From experience, the phone does not overheat even at a push and performs extremely well under pressure.
7. Battery Life: Good battery life with one and a half days use per full charge. Quick charging helps top things up in a flash. With a 30 minutes charge, you can get up to 40% while an hour gets you up to 80% and for a full charge, you will only need approximately an hour and a half. However, to keep cost down, there is no wireless charging. Still, you get a reversible USB Type-C connector which is more than anyone can ask for from a mid-range phone. The smaller A8 has a 3000mAh battery while the A8+ has a 3500mAh battery. Video playback is up to 17 hours on the A8 and 19 hours on the A8+. From our test, we get about 13 of video playback on the A8 which is still very good considering we kept the power settings at normal.
8. Speaker: In the audio department, you get a single speaker located on the side of the phone instead of the button. The speaker is placed just to the top of the power button on the right side of the phone. For those who are used to downward firing speaker or speakers, you can hold your phone in such a way that it reflects the sound towards you. With the side firing speakers, you are going to have to get creative when viewing videos on landscape mode or listening to music in portrait mode. The single speaker produce good volume with clarity and detail you would expect but put a pair of headphones in and you can enjoy active noise cancelling sound. Perfect for keeping you in the zone or when you are totally engrossed in your game.
Other Features
Other clever features include Secure Folder that lets you securely lock away data and apps. Use the fingerprint scanner to unlock the Secure Folder that can be used to store photos, calendar appointments, contacts, videos, emails, files, notes and even Internet bookmark. You can also create a secure App drawer and add selected apps in there complete with its own set of credentials separate to ones outside of the Secure Folder.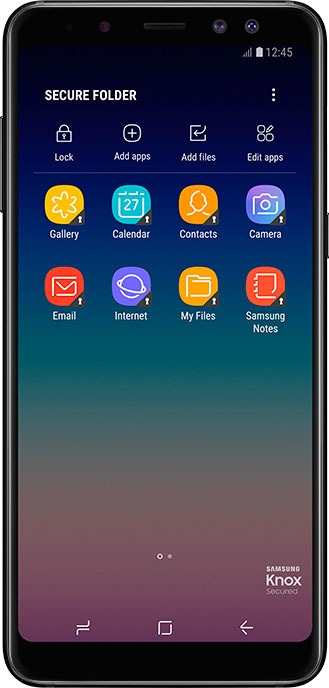 Search Samsung Galaxy A8 on Amazon
There is also built-in support for Dual Messenger. Choose from Facebook, WhatsApp or Messenger although this may vary from country to country. This feature lets you connect with your favourite messenger and use up to two different chat accounts so you can connect with different groups of people e.g. one for family and the other for work or friends.
Only applicable to geeks like me, you can now enable a special long screen shot feature and use a combination of hard buttons to capture not only the full screen but the entire page with scroll capture. This lets you capture the screen be it a configuration menu or browser window in its entirety.
Finally, there is a neat feature called Adaptive WiFi. This function when enabled lets you conserve battery energy by enabling and disabling WiFi based on your location. Instead of having the WiFi adapted switched on all the time, constantly looking for a connection, it will automatically turn on and connect when you are in range. When you leave the area, it will automatically turn off WiFi, helping you save battery power.
Final Thoughts
There are lots of phones to choose from in this price bracket but the price of the new A-series phones have dropped since launch making the Galaxy A8 and A8+ even more desirable. Samsung got everything right about the phone in terms of performance, design and price. With the use of a good processor and plenty of memory, the Galaxy A8 and A8+ are bound to keep giving and performing at its best for at least two years if not more.
Call quality is great, WiFi and 4G connectivity isn't top notch but sufficiently quick. Bluetooth and NFC lets you connect to other accessories easily and lets you use Samsung Pay to easily manage and pay with your credit cards.
Launched with Android 7.1.1 with the usual Samsung customisation and theme, you are bound to receive further software updates from Samsung. Choosing to focus on selfie camera with a dual camera setup is great for selfie lovers. The single 16MP main camera offers great photos and 1080p video. As a Samsung phone, you are not being shortchanged, bear in mind that even on flagships like Galaxy S8 and S9, you would still get a single main camera. It is only recently that you get a dual main camera setup on the Galaxy S9+. If you want to bag yourself a flagship-like smartphone with all the premium features and design and still have plenty of money left in the bank for other things, the Galaxy A8 or A8+ is your answer.