Here is a quick rundown comparing the MacBook Air M1 (2020) with tapered design with the all new MacBook Air M2 (2022). Announced at WWDC on the 6th June 2022, the all new MacBook Air M2 (2022) is a departure from the MacBook Air's design language first introduced in 2008. So what's new in MacBook Air M2 vs M1?
Apple is keeping the MacBook Air (MBA) M1 on the shelf which means the new MacBook Air (MBA) M2 slots in between MBA M1 and the new MacBook Pro 13 M2 in terms of price. This makes choosing the new MacBook Air M2 that bit more difficult than if it was a straightforward swap i.e. Apple replacing the MBA M1 with the MBA M2. So the question now comes down to, is it worth spending $200 more for the new MBA M2? What does the comparison between MacBook Air M1 vs M2 look like?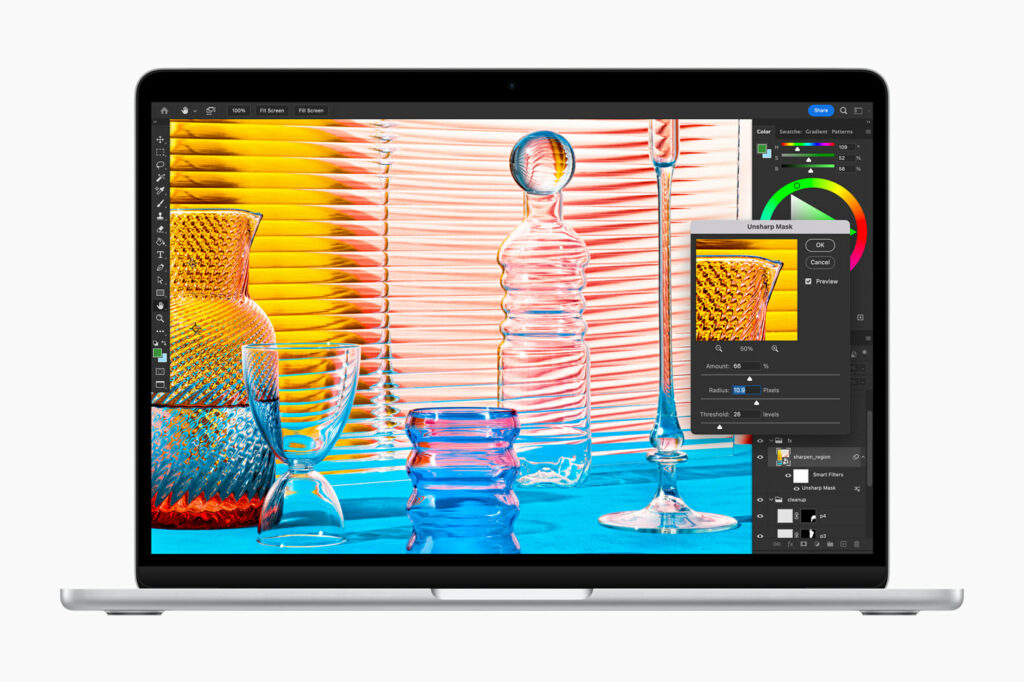 We compared previous MacBook Air M1 with MacBook Pro M1 in our other article and will be looking to pitch the new MacBook Air M2 against the new MacBook Pro 13 M2 soon.
MacBook Air M1 vs M2: 10 reasons to choose the new MBA
The simplest and easier reason in choosing the new MacBook Air M2 2022 is the all-new design. The iconic tapered design is now replaced with a simple ultra slim design with rounded corners, squared off edges for the top, rolled edges for the bottom and even thickness throughout. But our reasons go beyond skin deep, starting with:
1. Apple Silicon
Let's go for the obvious one (beyond the looks and design), the Apple's Silicon. The new MacBook Air 2022 is powered by the M2 chip while the 2020 version is based on the M1 chip. Here's how they differ:
| | | |
| --- | --- | --- |
| | MacBook Air M1 (2020) | MacBook Air M2 (2022) |
| Chip | Apple M1 chip | Apple M2 chip |
| | 8-core CPU (4P/4E) | 8-core CPU (4P/4E) |
| | 7 or 8-core GPU | 8/10-core GPU |
| | 16-core Neural Engine | 16-core Neural Engine |
The biggest improvement is in the increased number of GPU cores. This increases the transistor count from 16 billion on the M1 to 20 billion on the M2 even though both are based on the same 5nm manufacturing process. The other improvement is in the Neural Engine. While the number of cores stayed the same, it can now take on 15.8 TOPS (Trillion Operations Per Second) when previously it only does 11TOPS.
MacBook Air M1 vs M2 Chip Performance
What we learnt from WWDC event are as below:
M2 CPU is 18% faster than M1 CPU in the same power envelope
M2 GPU is 25% faster than M1 GPU in the same power envelope
M2 GPU is 35% faster than M1 GPU at higher power state
M2 Neural Engine is 40% faster than M1 Neural Engine
In practice, when running different applications such as
Video Editing: M2 is 40% faster
Image Filters and Effects: M2 is 20% faster
Gaming: M2 is 30% faster
Scene Edit Detection: M2 is 60% faster
Photo Stitching: M2 is 40% faster
ProRes Video Transcode: M2 is 300% faster
Image Upscaling: M2 is 20% faster
2. Improved Memory Bandwidth & Bigger Memory
Still on the subject of the new M2, it now supports higher memory bandwidth of 100Gbps.
| | | |
| --- | --- | --- |
| | MacBook Air M1 (2020) | MacBook Air M2 (2022) |
| Memory | 8/16 GB unified memory | 8/16/24 GB unified memory |
| | 68.25Gbps mem bandwidth | 100Gbps mem bandwidh |
| Storage | 256GB/512GB/1TB/2TB | 256GB/512GB/1TB/2TB |
This means it can support bigger memory, up to 24GB unified memory. Previous M1 chip only supports a memory bandwidth of 68.25Gbps and up to 16GB of unified memory. The speed of the memory has also improved with the use of LPDDR5 up from LPDDR4X.
3. Bigger and Brighter Displays with Iconic Notch
MacBook Air M2 joins MBP 14 and 16 by introducing the iconic notch on the top of the display to house the camera and sensors. This leaves MBP 13 M2 and MacBook Air M1 the only laptops with notchless displays.
| | | |
| --- | --- | --- |
| | MacBook Air M1 (2020) | MacBook Air M2 (2022) |
| Display | 13.3 LED backlit with IPS | 13.6 LED backlit with IPS |
| | 2560 x 1600 (227ppi) | 2560 x 1664 (224ppi) |
| | 400 nits | 500 nits |
| | P3 Wide Colour | P3 Wide Colour |
| | True Tone Technology | True Tone Technology |
Apple does not reduce the spatial resolution by introducing the notch. On the contrary, the height is increased by 64 pixels for a bigger 13.6-inch panel. This allows the display to go closer to the top edge for a full view design with even bezels on all three sides. Like the MBP 14 and 16, the top tool bar now sits between the notch with shortcuts and icons rearranging itself accordingly. The display is also 25% brighter at 500 nits while other parameters stays the same.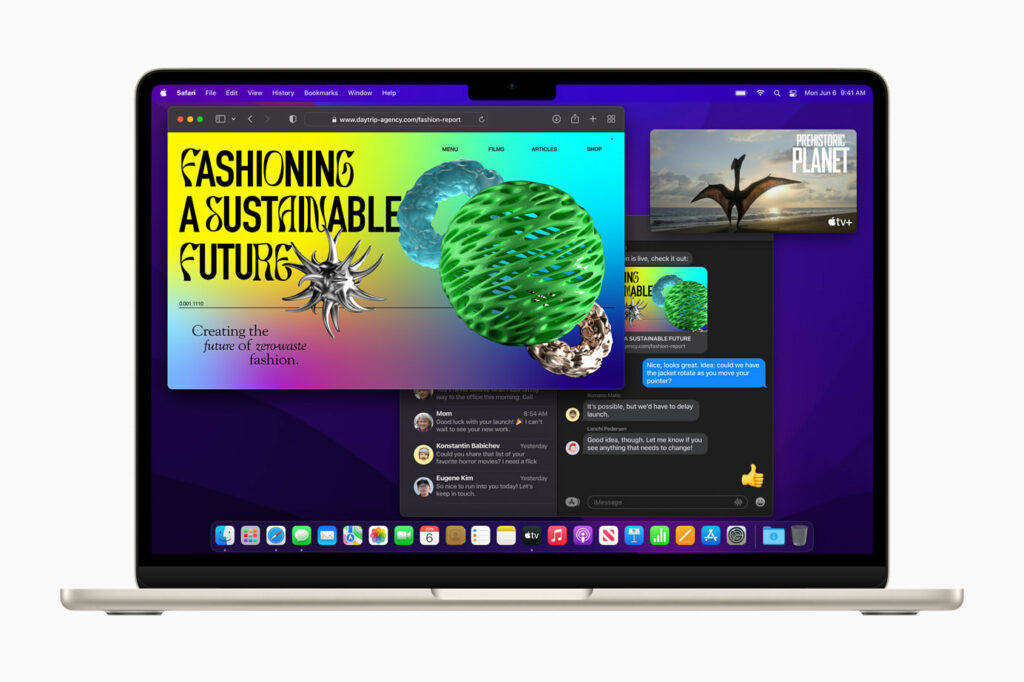 4. Bigger Battery and More Powerful Adapter
| | | |
| --- | --- | --- |
| | MacBook Air M1 (2020) | MacBook Air M2 (2022) |
| Battery & Power | up to 15 hrs wireless web | up to 15 hrs wireless web |
| | up to 18 hours video playback | up to 18 hours Video playback |
| | 49.9wh LiPo battery | 52.4wH LiPo battery |
| | charge via USB-C | charge via MagSafe |
| | 30W USB-C power adapter | 35W dual USB-C adapter |
| | | Fast charging 50% in 30mins |
| | | * requires optional 67W USB-C |
Depending on the model you choose, the MacBook Air M2 with 8-core CPU and 10-core GPU comes with 35W power supply, 5W higher than that supplied with the M1 and lower M2. The adapter also comes with two USB-C outputs so you can charge up to two devices at the same time. Battery capacity is also slightly bigger. Considering the performance gain of the M2, it is still very efficient offering the same  15 and 18 hours battery life for wireless browsing and video playback respectively.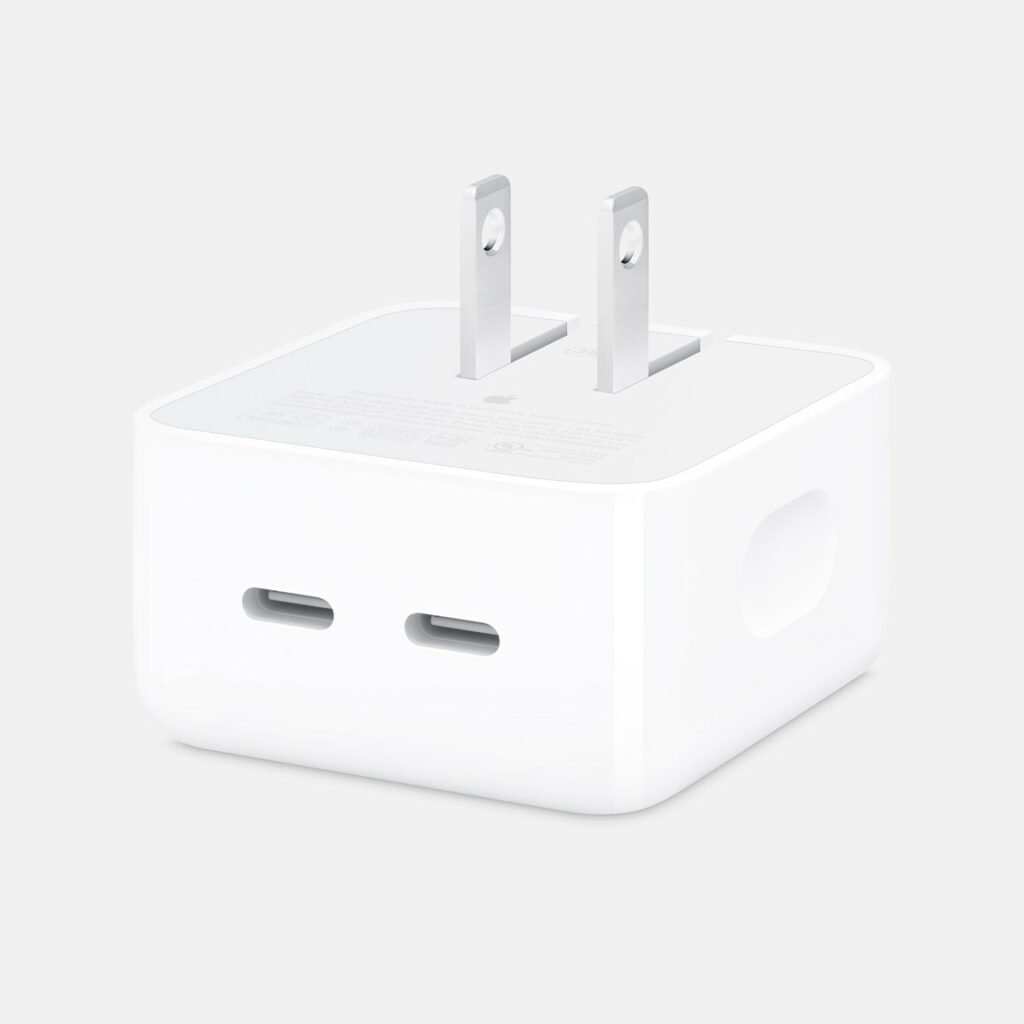 5. MagSafe
Just like MBP 14 and 16, the new MacBook Air M2 now comes with MagSafe power socket. The supplied power adapter comes with a USB-C to MagSafe power cable. This makes charging both safer and more convenient. As it is a dedicated charging port, it also frees up the two Thunderbolt/USB4 type C ports for peripherals.
6. Fast Charge Support
The new MacBook Air M2 also supports fast charging but there is a catch. You will need the optional 67W USB-C power adapter to take full advantage of this feature. This will quickly bring your laptop up to 50% battery level in half an hour.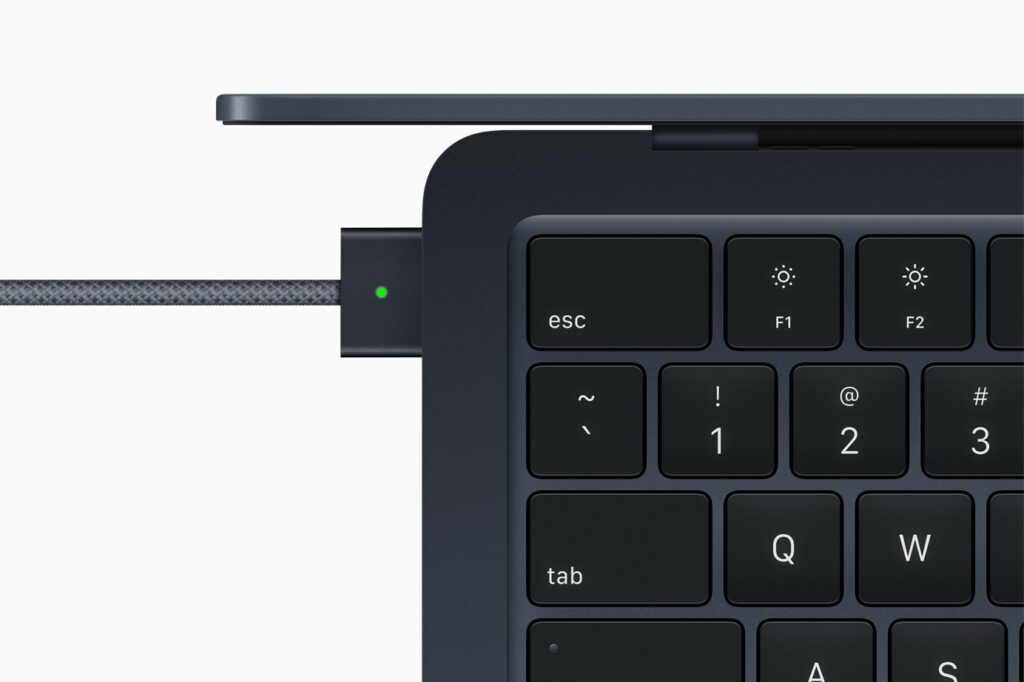 7. Higher Resolution and Smarter FaceTime Camera
One of the biggest bugbear with the previous MacBook Air M1 is its poor performing 720p FaceTime camera. There is now a Full HD 1080p camera for better video calls and photos. It won't capture 4K resolution videos but Full HD is better than 720p any day. For that you will need the iPhone pairing, part of the new iOS and MacOS feature to make use of the iPhone cameras on the MacBook. The web cam is also smarter thanks to its advanced image signal processor with computational video.
| | | |
| --- | --- | --- |
| | MacBook Air M1 (2020) | MacBook Air M2 (2022) |
| Web cam | 720p FaceTime HD camera | 1080p HD camera |
8. Four Speakers vs two Speakers and Spatial Audio Support
Even in a slim and light chassis, you can find four speakers, two more than the M1 model in the MacBook Air M2. The speakers are capable of supporting Spatial Audio. With quad firing speakers and separation between tweeters and woofers for both left and right, this offers a better soundstage, clarity especially for voice and stereo separation.
The other audio features that it shares with M1 are Wide Stereo Sound and support for Dolby Atmos playback. Both devices also come with three microphone array with directional beam forming for clearer calls and 3.5mm audio headphone jack. There is a minor difference in the headphone jack on the M2 model,  it now supports high‑impedance headphones.
9. Four Colour Options
Not quite what we were expecting with many speculating the use of iPad Air like colour schemes with colours like Pink, Purple and Blue. Some even going as far as to suggest the myriad colour options of the iMac 24. To us, this is not going to be a deal breaker by any means. We value the technical specifications more. But new is still new so with the MacBook Air M2, there are now four colour options (vs 3). They are Silver, Starlight, Space Gray and Midnight. Starlight to replace the gold option on the MacBook Air M1 and the all new Midnight which is a darker Space Gray. The latter is also the first on any MacBook, a blackish finish like the Surface Pro 8 Graphite option.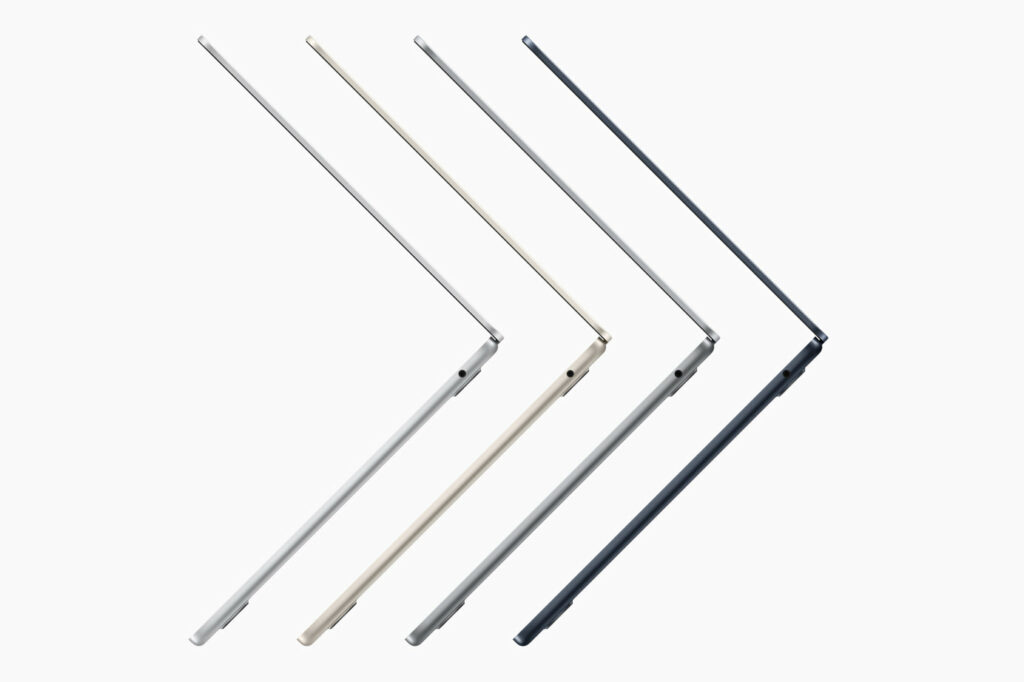 10. Full Height Function Row with Full Size Touch ID Sensor
Apart from the full size keyboard, the MacBook Air M2 now feature full height top row. And on the far right is a full size fingerprint (Touch ID) sensor and power button. This is the top row that accommodates the function keys, previously limited to half height. Even the ESC key on the far left is wider. Kudos to Apple for making the Magic Keyboard even better.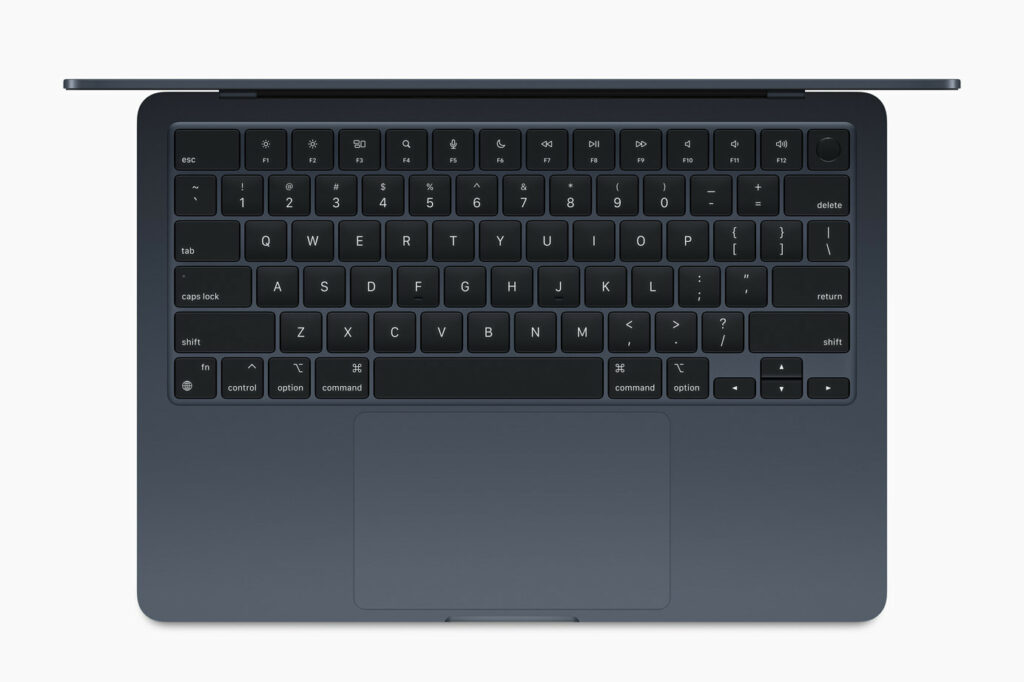 BONUS: ProRes Acceleration
Something for the MacBook Pro 13 M2 with active cooling but is also supported on the MacBook Air M2 is ProRes transcoding. ProRes acceleration is now supported in the Media Engine of the Apple M2 chip which means ProRes videos captured on iPhone 13 Pro can be encoded or decoded quickly.
Media engine on M2 (not available on the M1 chip)
Hardware-accelerated H.264, HEVC, ProRes and ProRes RAW
Video decode engine
Video encode engine
ProRes encode and decode engine
From the updated Media Engine also comes support for 8K H.264 and HEVC video on the MacBook Air M2. This allows for simultaneous playback of multiple 4K and 8K video streams right on a thin and light laptop. So there you have it, our MacBook Air M1 vs M2 comparison and why pick up the MacBook Air M2. Not convinced? If you would rather pick up a MacBook Air alternative, check out our list of super slim, lightweight and just as powerful laptops.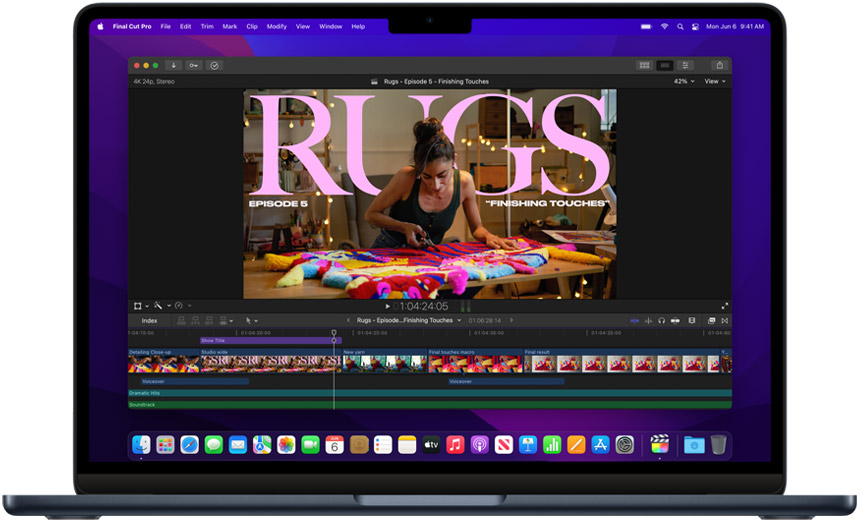 Full Comparison Table
| | | |
| --- | --- | --- |
| | MacBook Air M1 (2020) | MacBook Air M2 (2022) |
| Chip | Apple M1 chip | Apple M2 chip |
| | 8-core CPU (4P/4E) | 8-core CPU (4P/4E) |
| | 7 or 8-core GPU | 8/10-core GPU |
| | 16-core Neural Engine | 16-core Neural Engine |
| | | |
| Memory | 8/16 GB unified memory | 8/16/24 GB unified memory |
| | 68.25Gbps mem bandwidth | 100Gbps mem bandwidh |
| Storage | 256GB/512GB/1TB/2TB | 256GB/512GB/1TB/2TB |
| | | |
| Display | 13.3 LED backlit with IPS | 13.6 LED backlit with IPS |
| | 2560 x 1600 (227ppi) | 2560 x 1664 (224ppi) |
| | 400 nits | 500 nits |
| | P3 Wide Colour | P3 Wide Colour |
| | True Tone Technology | True Tone Technology |
| | | |
| Battery & Power | up to 15 hrs wireless web | up to 15 hrs wireless web |
| | up to 18 hours video playback | up to 18 hours Video playback |
| | 49.9wh LiPo battery | 52.4wH LiPo battery |
| | charge via USB-C | charge via MagSafe |
| | 30W USB-C power adapter | 35W dual USB-C adapter |
| | | Fast charging 50% in 30mins |
| | | * requires optional 67W USB-C |
| | | |
| Expansion | 2 Thunderbolt/USB4 ports | 2 Thunderbolt/USB4 ports |
| | | |
| Web cam | 720p FaceTime HD camera | 1080p HD camera |
| | | |
| Video Support | Built-in display | Built-in display |
| | 1 external up to 6K@60Hz | 1 external up to 6K@60Hz |
| | | |
| Touch ID | Touch ID Sensor | Touch ID Sensor (full size) |
| | | |
| Audio | Stereo speakers | Four speakers sound system |
| | Wide Stereo, Dolby Atmos | Wide Stereo, Spatial Audio, Dolby Atmos |
| | Three mic array with beamforming | Three mic array with beamforming |
| | 3.5mm headphone jack | 3.5mm headphone jack |
| | | |
| Wireless | WiFi 6 (802.11ax) | WiFi 6 (802.11ax) |
| | Bluetooth 5 | Bluetooth 5 |
| | | |
| Size | 0.41-1.61cm(H) x 30.41cm(W) x 21.24cm(D) | 1.13cm(H) x 30.41cm(W) x21.5cm(D) |
| Weight | 1.29kg | 1.24kg |
| | | |
| Keyboard | Backlit Magic Keyboard with TouchID | Backlit Magic Keyboard with TouchID |
| | Half Height Funtion Keys | Full Height Function Keys |
| Trackpad | Force Touch trackpad | Force Touch trackpad |
| | | |
| Colours | Gold, Silver, Space Gray | Silver, Starlight Space Gray, Midnight |
RELATED: MacBook Air M1 (2020) Specifications on Apple's Website