The video game industry is getting bigger every day and a large part of its popularity goes to eSports. Since 2010, esports has gone on to have a combined viewership of over 450 million with over 1 billion USD in revenue. Naturally, players look for the best from their gaming laptop and the latest to plug that gap is the 7th generation Lenovo Legion 5i Pro.
Currently, a lot of MOBA (multiplayer online battle arena), first-person shooters (FPS) and real-time strategy (RTS) games such as Valorant, League of Legends, DOTA, and Counter-Strike have worldwide and regional tournaments with huge prize pools where players from all over the world compete to win prizes.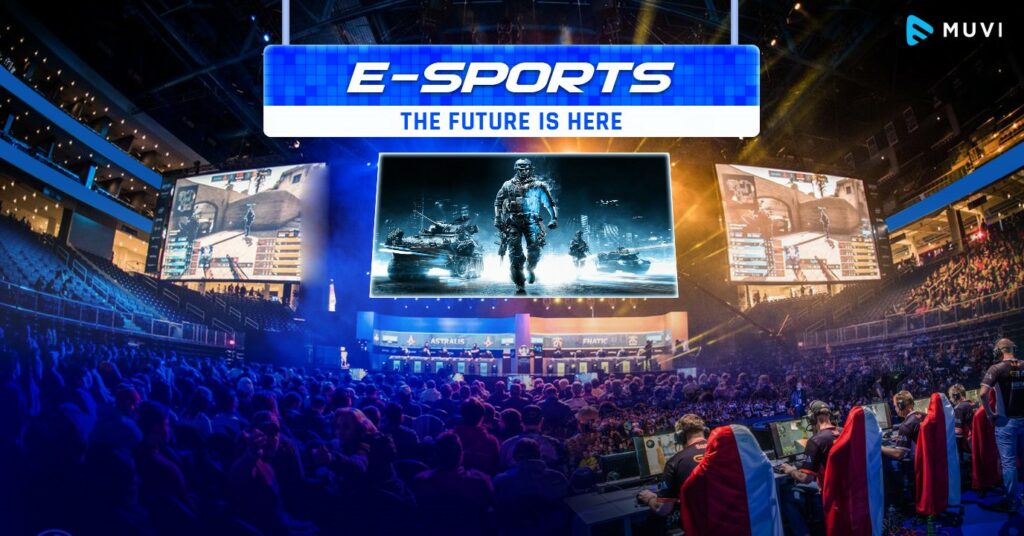 This industry is expected to boom in the future with projected revenue of a billion USD every year. With a formal discussion to include esports in the Olympic Games by the International Olympic Committee, esports is now on an equal footing with any other sport.
Enter, the 2022 Lenovo Legion 5i Pro. It is a powerful gaming laptop specifically designed to excel at esports. It is one of those gaming laptops that leave you raging to go again, just after you have vanquished the enemy.
We looked at the previous generation Lenovo Legion 5i Pro with 11th generation Intel processor as one of the alternatives to MacBook Pro 16. Here is the all new, even more powerful alternative.
Introducing the Lenovo Legion 5i Pro (2022)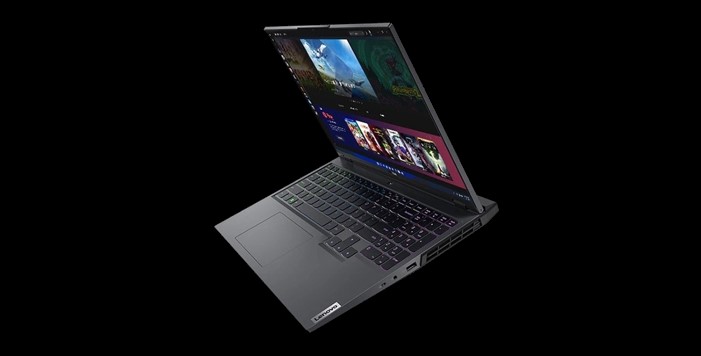 Technical Specifications
| | |
| --- | --- |
| Display: | 16-inch, 16:10, 165 Hz, 2560 x 1600 |
| Processor: | Intel Core i7-12700H |
| Memory: | 16GB DDR5-4800 |
| Graphics: | Nvidia GeForce RTX 3070Ti 8GB GDDR6 |
| Storage: | Up to 2TB PCIe NVMe SSD |
| Operating System: | Windows 11 |
| Battery: | 80 Whr, Rapid Charge Supported |
| Audio: | 2×2 Stereo Speakers, Nahimic Audio |
A Stellar Build and Design
Manufacturers have thankfully gone a bit less aggressive with the design of gaming laptops these days. The Legion 5i Pro packs huge punches in terms of performance and power but does less to grab attention in terms of sharp edges, 'shouty' designs or over the top RGB.
In fact, there is no RGB lights at all on the body and it's not until you lift the lid that you would consider it a gaming laptop with its grey-black body. There is a Legion logo on the top edge of the lid and a couple of angular impressions for a bit of styling, that's about it.
The body mostly uses hard plastic to keep the weight at a modest 5.49 pounds. Though it is still heavier than some of its competitors with the Razer Blade 15 closing out at 4.4 pounds.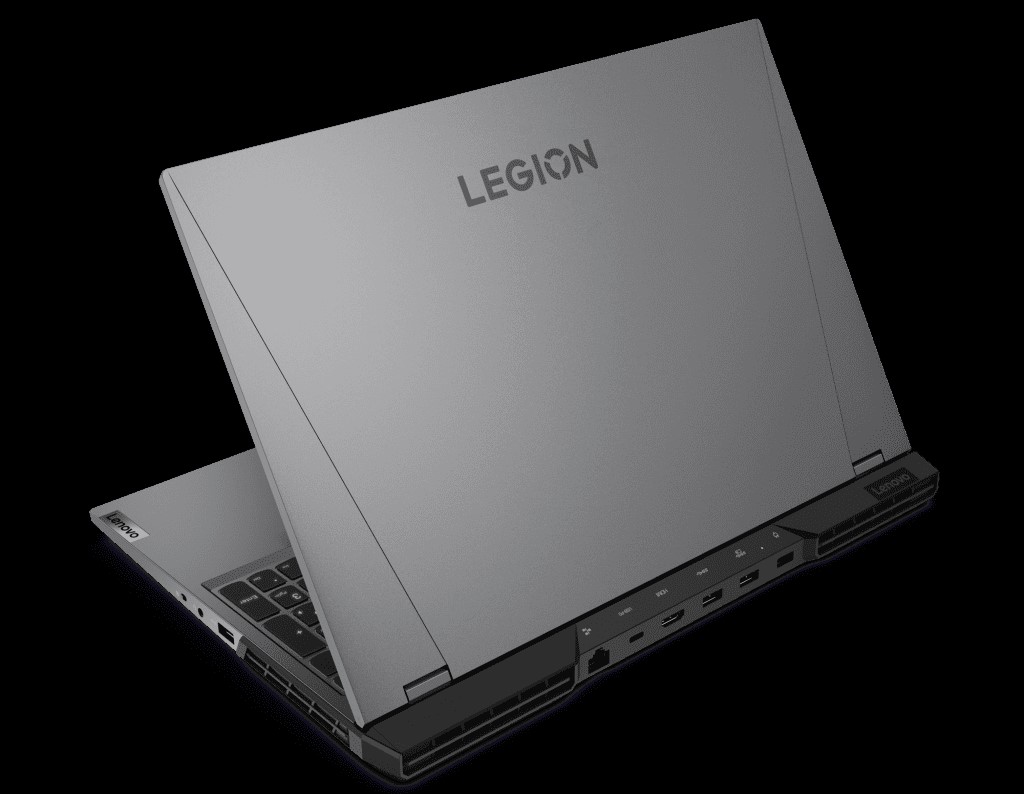 The lid opens on a sturdy hinge that is placed well ahead of the edge of the keyboard housing. This way the rear edge makes way for some of the physical connectivity ports and adds a bit of style to the otherwise bland looking laptop. The left and right edges sport heat vents which go cool and quiet when the new Legion is on Silent Mode. More on the different working modes of the laptop later.
Display
The display is where the 2022 Legion 5i breaks barriers. eSports is all about more actions per minute and the rapid movement of characters during gameplay. Lenovo equips the Legion 5i Pro with a 16-inch WQXGA IPS panel with a 165Hz refresh rate. The maximum supported resolution is set at 2560×1600 pixels while the peak brightness is at 500-nits. Variable Refresh Rate was a feature that we missed last year and Lenovo has done well to include this anti-screen tearing tech in the 5i Pro this year.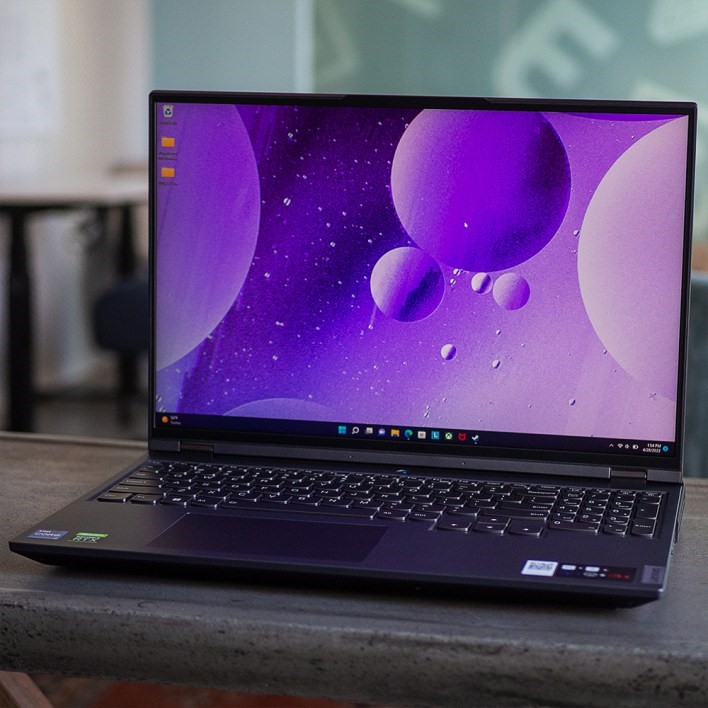 The bezels are thin on the sides, though we have seen thinner ones, with a 720p electronic shutter enabled camera on the top edge and a Legion branding at the bottom. In terms of colour coverage, stunning is the word we will choose to describe the 100 per cent sRGB and 80+ DCI-P3 colour gamut this IPS panel achieves.
Dark scenes during gameplay are well lit by default with colours popping based on the content. In certain cases, the red and orange colours pop out, especially when there is something to do with fire. The blue and green hues in nature dominated scenes are however slightly bland in comparison but that is hardly noticeable. IPS panel weaves its magic again with the Lenovo Legion 5i Pro boasting over-the-top viewing angles.
Incredible Gaming with Excellent Productivity
The Legion 5i Pro has a powerful discreet graphics card in the Nvidia RTX 3070 Ti coupled with a 12th Gen Intel Core i7-12700H processor. Both of these components are extremely capable of churning out high numbers while handling graphics-intensive tasks with gaming being the priority.
The 12th Gen processor with its six hyper-threading enabled performance cores and eight single-threaded efficiency cores handles single-threaded and multi-threaded applications with unmatched efficiency. With a peak frequency of 4.7 GHz and 24MB smart cache, it is built to rip through even the heaviest of applications with ease.
The 16GB 4800MHz frequency memory module offers huge headroom for multi-threaded task execution. For users looking to work extensively on Handbrake, the Legion 5i Pro won't disappoint with an impressive four and a half minutes duration for 4K to 1080p transcoding.
Nowadays most high-end processors can handle almost everything you throw at them and hence the ability to run specific applications is no longer a benchmark to judge the capabilities of any particular processor. Dedicated benchmarking applications paint a better picture and here are some for the Lenovo Legion 5i Pro.
Performance Benchmarks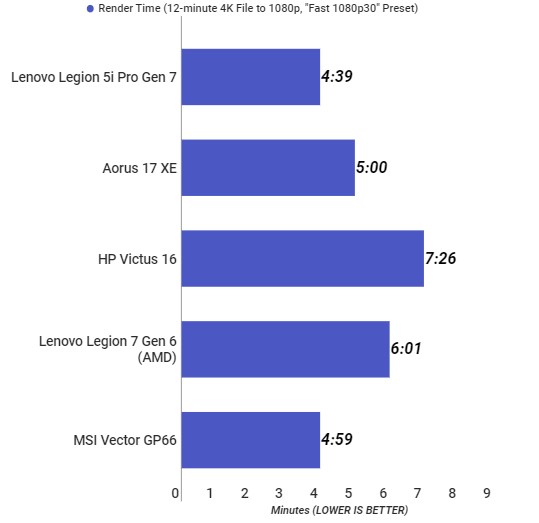 Geekbench 5 shows below-par performance on single-threaded applications but multi-threading is where the Core i7-12700H leaves a trail of destruction behind. This is possible thanks to the explosive power of 20 threads the processor comes with.
The different operational modes we spoke about earlier need a special mention here with the 45-watt CPU going up to 124-watts on load. Users can switch between Silent, Auto and Performance modes by pressing the Fn + Q key combination.
The performance mode is indicated by a red LED on the power switch, while a blue LED indicates the silent mode.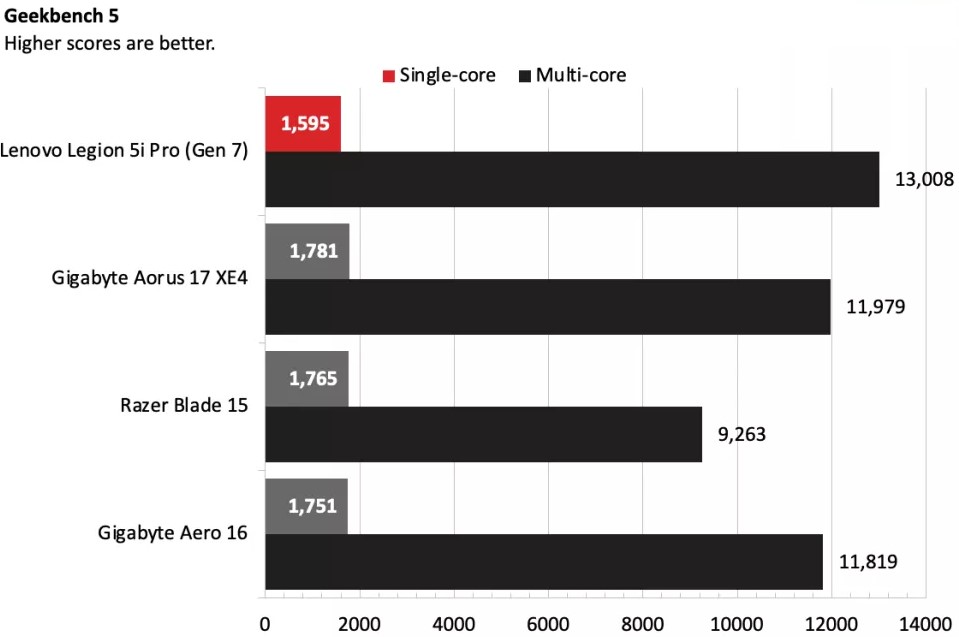 With regards to gaming performance, the RTX 3070 Ti needs no special mention. This ray-tracing enabled discreet graphics card with 8GB GDDR6 video memory is capable of handling the most demanding games at the highest settings and quality. Most games clock over 60 fps even with ray tracing enabled with Cyberpunk 2077 coming last at 62 fps. The Ti version of RTX 3070 is about 20 per cent faster than regular RTX 3070 cards and gamers worldwide would be happy that this isn't a Max-Q powered version.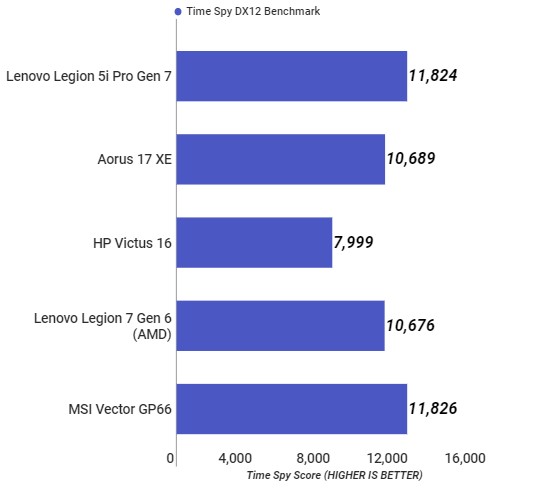 Users can even game quite comfortably in the silent mode where there is a bit of performance deficit but very minimal fan noise. Being a non-Max-Q card, however, strains the battery and the performance drops significantly when unplugged.
On full load, the graphics card draws in 125-watts leaving the battery depleted in about 37-minutes. Here is an fps count checklist about the gaming capabilities of the Lenovo Legion 5i Pro on QHD which is the native resolution of the laptop and lower resolutions.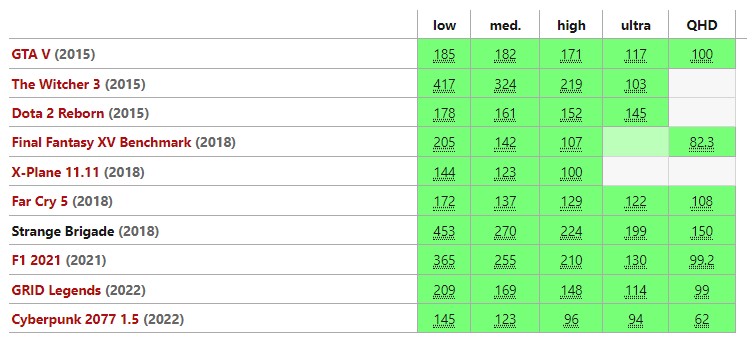 A Mixed Bag of RGB Keyboard, Efficient Storage and Underwhelming Audio
The Legion 5i Pro debunks a myth that gaming is good only on mechanical keyboards. It does so thanks to its ThinkPad style keyboard with a key travel distance of 1.5mm. The tactile feedback is excellent but the spacing between the keys is low as expected from most laptops that have anything under 17-inch displays.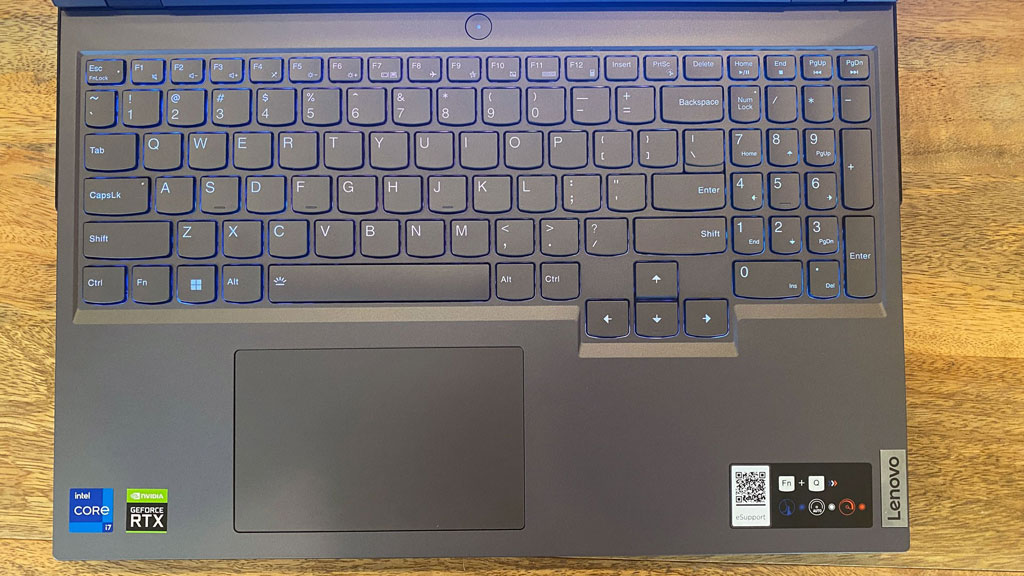 The speakers are bottom-mounted in the Legion 5i Pro and frankly, they are underwhelming. It is loud but sounds hollow and lacks any punch. With Nahimic Audio Enhancement turned on, the experience starts to improve and users can still play with the equalizer and the different sound profiles it offers for a slightly better sound.
The storage might not be the fastest around but manages to do a commendable job. The laptop comes with a 512GB PCIe NVMe SSD and is expandable up to 2TB with a couple of M.2 2280 slots. File read/write speed on the PCIe 4.0 Samsung SSD is blazing fast with over 5 GB/s on sequential read and write.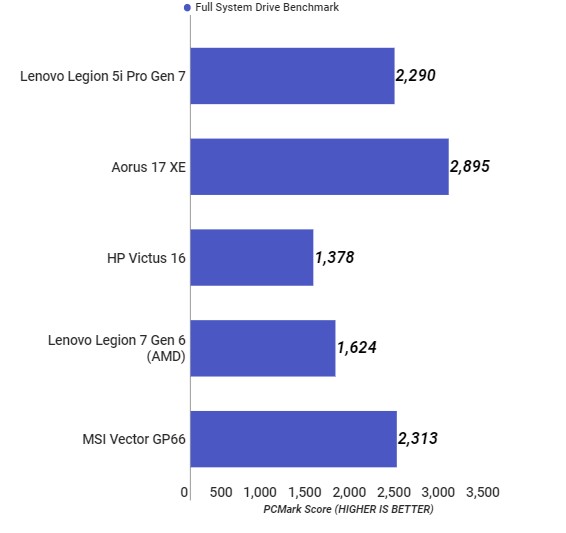 About Heat and Battery
The working modes are somewhat of a blessing for the Lenovo Legion 5i Pro, gaming on performance mode generates a good amount of heat. Temperatures reach close to 60 degrees on load and even the keyboard heats up significantly. Hence, we strongly suggest using external cooling pads if you want to game on your lap or for extended period. This is particularly poor thermal management from Lenovo as the MSI Vector GP66 has a slightly more power-consuming 150-watt GPU yet it maxes out at 44 degrees on load.
Battery runtimes could leave a lot of users asking for more. The 80Whr battery is not enough for a beastly machine like the Legion 5i Pro and the maximum you can wring out of it is around 5 hours. The battery lasts even lesser on performance mode but thankfully gaming is possible on silent/quiet mode too. The battery supports Rapid Charge and Lenovo supplies a big 300-watt power adapter that charges the battery up fully in about an hour.

Connectivity
We were left grinning when we saw a physical LAN port on the Lenovo Legion 5i Pro. Oh, how much have we missed it. It sits comfortably at the rear edge along with an HDMI port, a couple of USB-A ports, the charger port and a USB Type-C port. The left flank has a couple of USB 3.2 Type-C ports one of which is a Thunderbolt 4 port and the right flank has a webcam on/off switch, a 3.5mm headphone combo port and a USB 3.2 Type-A port. Wireless capabilities are adequate with a Wi-Fi 6E network card and Bluetooth 5.2.
Conclusion
After reviewing the Legion 5i Pro in detail we can say that Lenovo has done a commendable job and has almost achieved what it set out to do. This laptop is a dedicated esports machine with a splendid display that strikes the perfect balance between performance, beauty and features. It has a processor that is more than capable of handling any game that is out there right now and is even future proof for at least 3 years.
The RTX 3070 Ti is a significant upgrade over the already highly capable RTX 3070. Heat management is what the Legion 5i Pro has failed badly in and there is scope for improvement in the build quality and battery performance too. Overall, the Lenovo Legion 5i Pro is an excellent gaming laptop that offers the best value for money in this segment.