The Alienware m15 R3 might be by far the best gaming laptop, more so than the MSI GS66 Stealth and the Lenovo Legion 7i. It has the very best cooling system and performance of any reasonably sized 15-inch gaming laptop. If you are interested in purchasing the Alienware m15 R3, it is worth knowing what this does well to give you a better idea of how other gaming laptops stack up in the market. Read our full review below.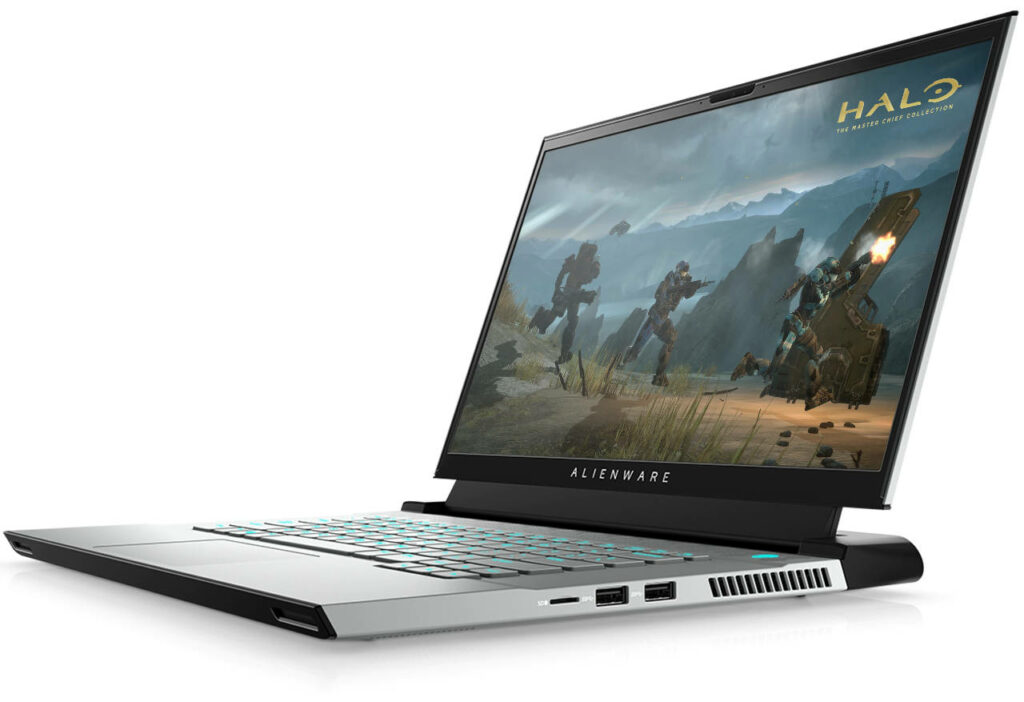 Build Quality
The build quality has not changed much from last year which isn't a bad thing. Previous generation R2 won a lot of accolades from being a CES 2020 Honoree to IF Product Design Award. Apart from the specification boosts, Dell takes the same winning formula from the Alienware m15 previous generations and applied further gaming enhancements.
It had last year's finish, both for the interior and exterior. Very comfortable and definitely noticeable during day-to-day use compared to other laptops. The Lenovo ThinkPad P1 which had a black finish may be more resistant and far better at coping with fingerprints, sweaty palms and greasy stains but the Alienware m15 R3's silver finish also known as Lunar Light does get marked easily. You can go for the Dark Side of the Moon finish which may cope better. 
Structurally the screen has very little flex and almost none on the keyboard deck. The hinge tension is also spot on, very nicely weighted. Everything about the design makes it stand out as a mobile gaming machine. This includes the Alienware branding and the number 15 on the lid and the huge rear vent accented with RGB strip lighting. Open the lid and you get RGB keyboard, honeycomb styled grills for more ventilation, Alienware insignia for power button and glass touchpad. For gamers who want something flashy, this offers the modernized version of that.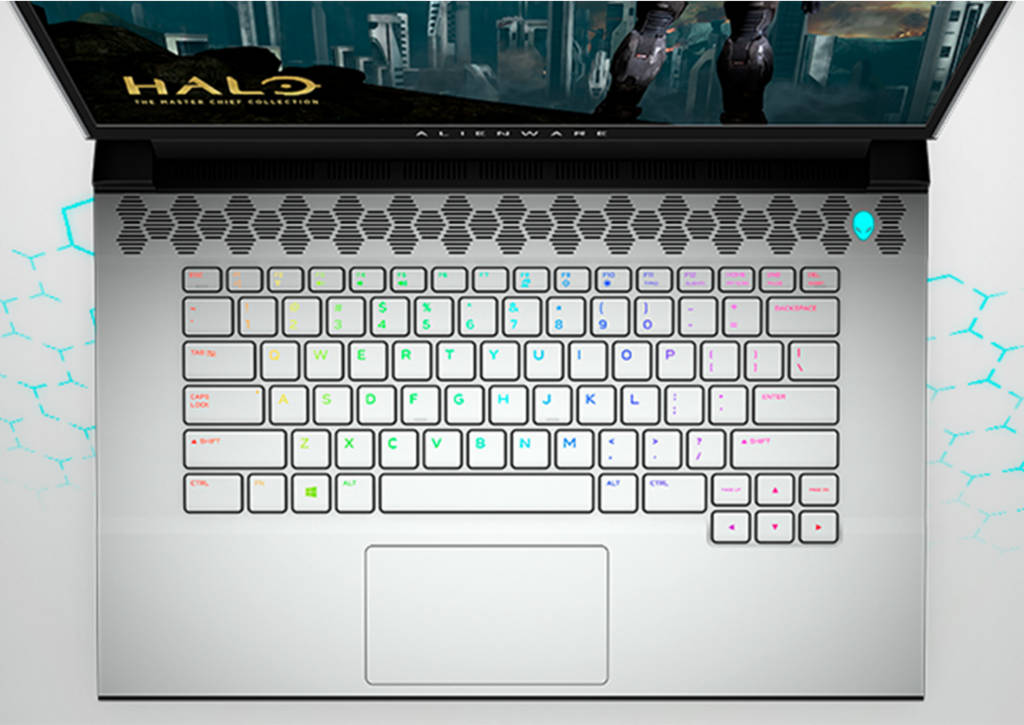 Hardware
One of the strongest aspects of the M15 R3 is definitely the keyboard. It is a combination of a nice key travel (1.7mm), strong tactile bump, the decently large key size. The spacing between each keys will let you cruise at 110 words per minute without really thinking about the way you type. Each key comes with RGB lighting that you can control with Alien FX lighting software. Then there is N-Key rollover and anti-ghosting technology, all of which enhances the keyboard for gaming. The typing experience feels similar to the Magic Keyboard on the 2020 MacBook Pros and the ThinkPad P1 except with a bit more tactile feedback. This keyboard might just be among the very best on a laptop with slight concave top.
The trackpad is excellent, and Dell nailed the touchpad hardware this time with the precision-point touchpad. The smooth glass surface offers a premium look and feel. There is no feeling of friction even as it registers your motion, perfect for a highly engaging and precise gaming experience. Tracking accuracy is also exceptional even with very small movements you can move the cursor exactly where you want to go which is one thing that the vast majority of windows track pads do poorly. Pro-gamers would still prefer a gaming mouse, I know I would.
On last year's model the M15 had bottom mounted speakers that projected sound directly down onto your desk, the driver is still mounted in the same position, but the speaker grill is now at the front ledge. In some ways they sound better but in terms of detail and clarity these are not particularly great, the bass response is decent, but it is a little thin. Treble is good although sometimes it seems to peak at certain frequencies in the upper mid-range and that throws it off, otherwise pretty good tuning. These sound fairly good, but they are not class leading. Most gamers would prefer a wireless gaming headset and the Alienware Wireless Gaming Headset AW988 pairs with this laptop well.
The 15.6-inch screen is just a standard 1080p –144hz panel, and a bit underwhelming compared to some of the high-end panels we have seen come out this year. The brightness is fine, just a tad above the average at 280 nits but everything else is kind of lacking. Relative to other gaming laptops with 1080p, 144hz panels it is about average. The visual quality and the refresh rate are all average. If you want something better, opt for the 300Hz panel with the Dark side of the moon finish. This is not only smoother with no motion jitters, but has a faster 3ms response rate compared to 7ms and a wide colour gamut at 100% sRGB. 
A third display option, a 15.6-inch 4K UHD display based on an OLED panel is also available if you decide to customise the laptop at the point of purchase. This will of course push the price up significantly. For that you get a super bright 400nit display, ultra fast 1ms response time, superior 100,000:1 contrast ratio (true black), DCI-P3 colour gamut (100%), 60Hz refresh rate and Tobii Eyetracking technology built-in.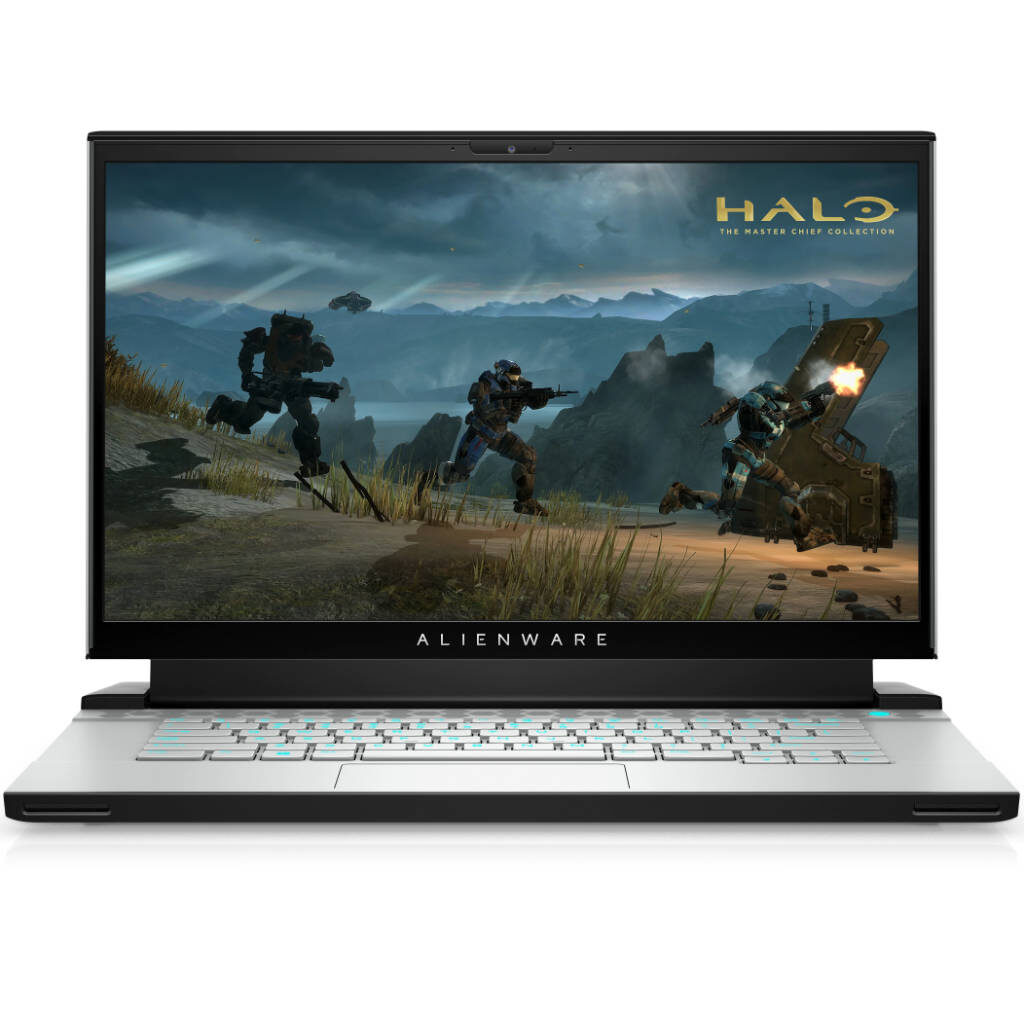 In terms of ports, you have Ethernet, USB type A, and a headphone Jack on the left and two more USB A ports and a micro-SD slot on the right. On the back, you have the charging port, the proprietary amplifier port for connecting to their external GPUs or alternatively you could do that through the Thunderbolt 3 port which can also charge the laptop. There is also a mini Display Port and an HDMI 2.0 port.
Getting inside the laptop is a bit harder this year but not particularly difficult. There are no clips holding the bottom panel in place and inside you will have two M.2 2280 slots and one M.2 2230 slot. So, three SSD slots in total capable of supporting dual RAID 0 storage. You can configured this to hold 2 x 2TB PCIe M.2 SSD RAID0 storage as boot drive and 512GB PCIe M.2 SSD for extra storage.
The Wi-Fi 6 card is now soldered on. Also included as standard is the Bluetooth 5.1 adapter. There are no DIMM (dual in-line memory module) ram slots on the back of the motherboard like the Triton 500. The memory is integrated to the system board, soldered on and cannot be upgraded, so best decide on the maximum amount of memory for the system at the time of purchase. Choose between a total of 16GB or 32GB.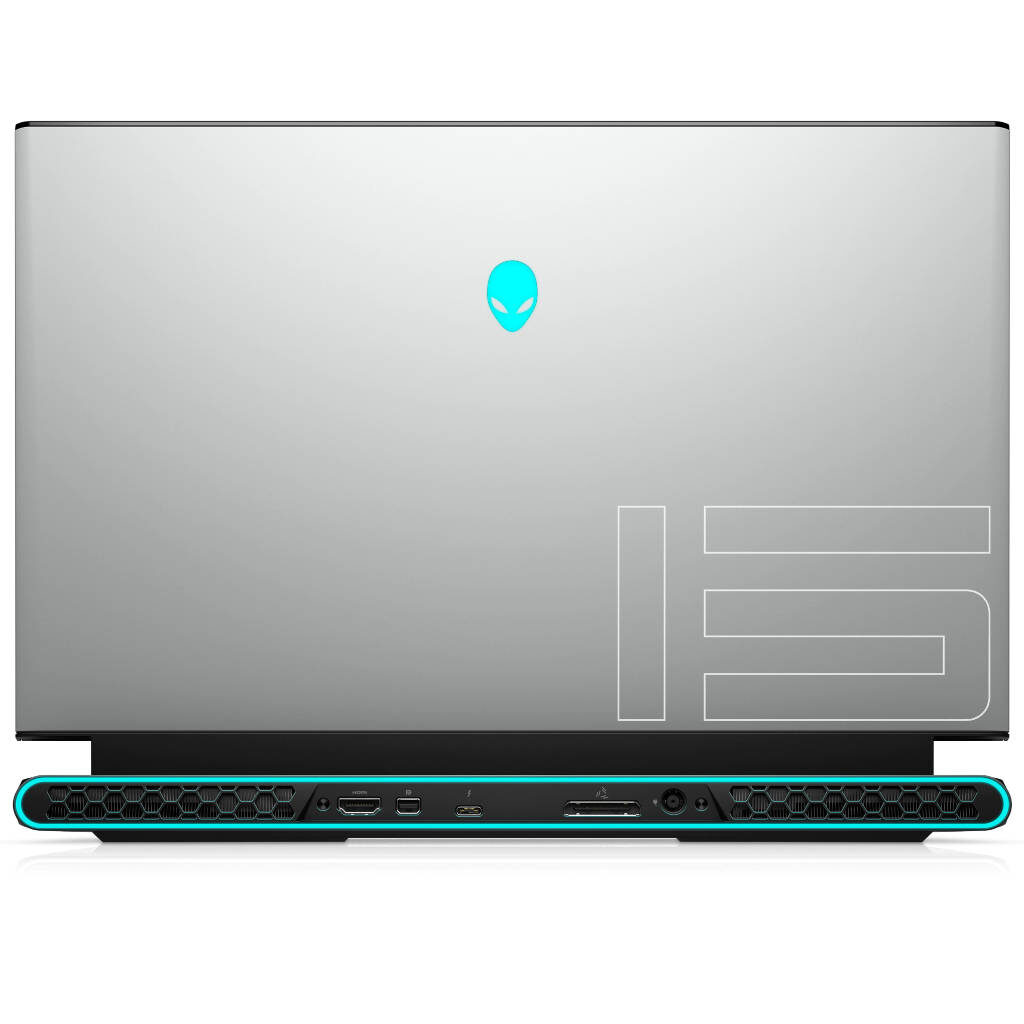 Performance
As for the thermal performance, for a bit of context, Dell is not generally known for good thermal performance. Their XPS 15 is infamous for overheating, and so were their previous Alienware laptops. There is not one bit of exaggeration in saying that the thermals on this are by far the very best of any 15-inch gaming laptop. Ahead of the competition by a significant margin. This obviously excludes any of those massive 50-pound laptops with desktop components and dual power bricks. So, the Alienware Area 51 M is out and surely it that has better cooling than this and given its size.
But for something reasonably portable and for the average person, this is undoubtedly the very best. When you have it on the performance thermal profile the fans will spin at around 70% all the time regardless of what you are doing. At that setting, the thermals are fairly similar to the Omen 15 at full fan speed. So, you get the advantage of a quieter system. But once you run the fans at full speed, it eliminates all thermal throttling even under combined CPU and GPU load.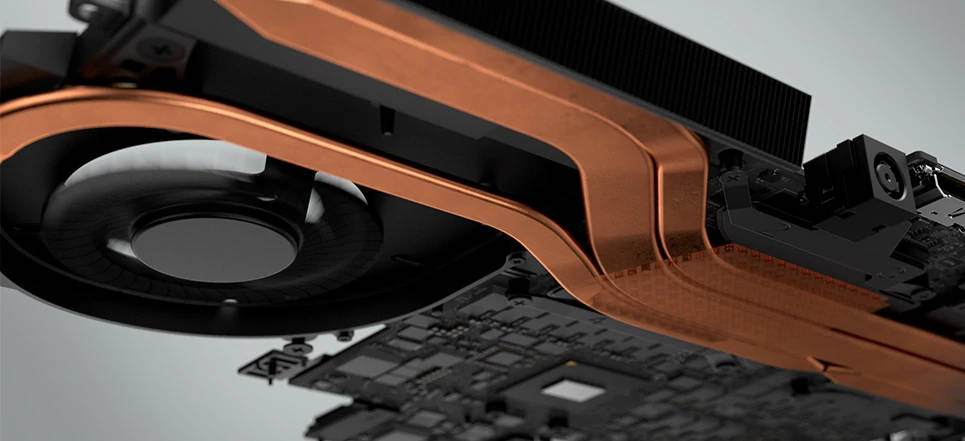 Using a combination of hardware design and software, the Alienware m15 R3 employs Advanced Alienware Cryo-Tech to dissipate heat efficiently and keep the overall system cool. From the dual intake to the extended CPU fan and GPU fan blades to the vapor chamber between the CPU and the copper heat pipes and finally to the dual-exhaust airflow system, the thermal management is top-notch. Three components worthy of mentioning here are the 132 kevlar like polymer fan blades to cool both the CPU and GPU, four 3.5mm diameter copper composite head pipes for heat load balancing and dense copper fin stacks for increased overall heat dissipating surface area.
As for the software, the Alienware Command Center offers overclocking options that lets you quickly and safely boost the performance of the system to get the very best of the system while keeping it running cool. Use the intuitive settings to create custom overclocking profiles to suit your gaming needs. You can also find auto-tuned game profiles if you prefer to use that instead.
The performance difference with the fans at full speed in certain games, not all, but some games like shadow of the Tomb Raider, this thing actually outperformed the Lenovo Legion 7i with the RTX 2070 Super Max Q by 7%. The Alienware laptop actually had fairly good thermals even though this is running a standard RTX 2060. While there are cheaper GPU options such as the AMD Radeon RX 5500M with 4GB GDDR6 graphics memory or the NVIDIA GeForce GTX 1660 Ti with 6GB GDDR6 memory, we recommend the NVIDIA GeForce RTX 2070 Super with 8GB GDDR6 and above. Other, more powerful GPU options are GeForce RTX 3070 8GB and the chart topping GeForce RTX 3080 8GB GDDR6.
Even if you don't care about the performance gains having such impressive cooling allows you to run the fans quieter while still maintaining high frame rates in most games at 1080P ultra. You don't need to compromise between performance for lower fan noise. Lastly, there is an 86Wh battery inside which should get you about 5 and half hours of light use. The expected battery life should have been somewhere between 6 to 6 and a half hours but it's not too bad, this is roughly the average battery life for a gaming laptop of this calibre.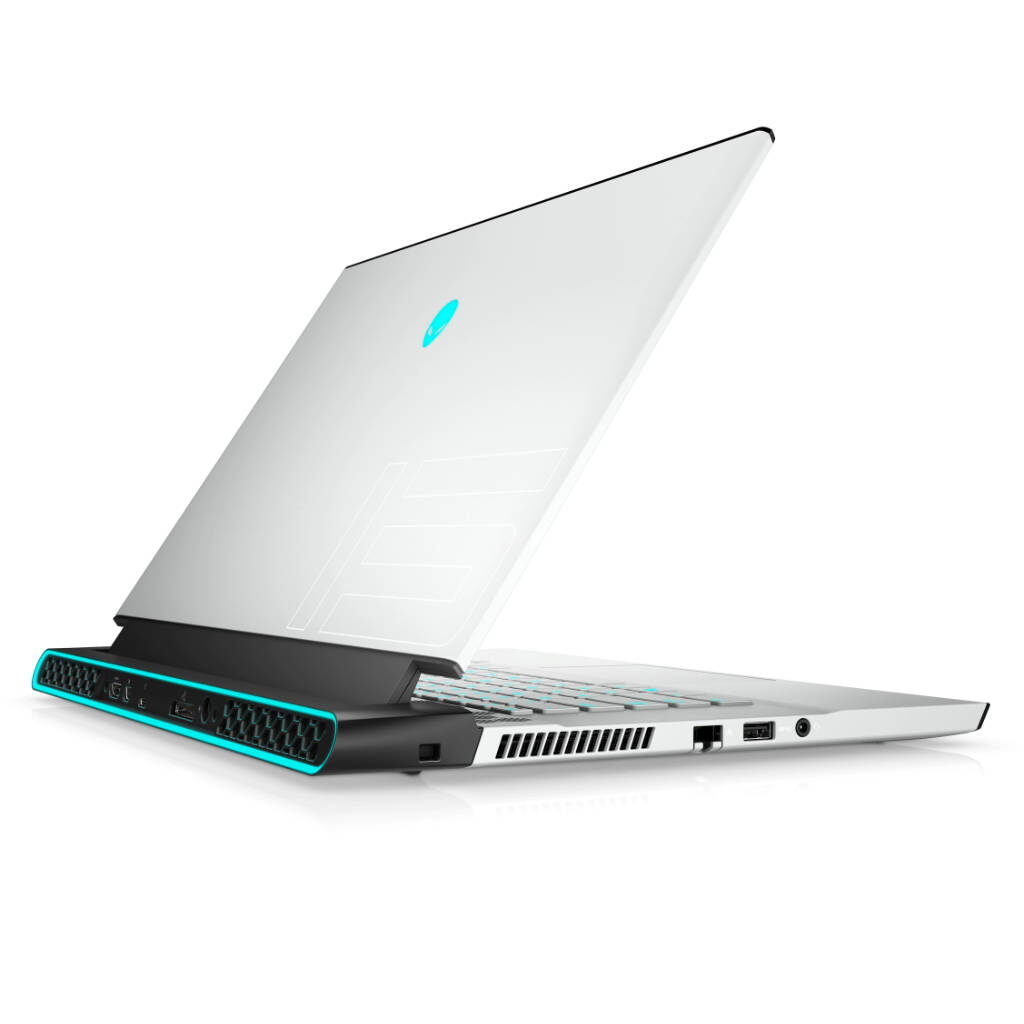 Conclusion
Overall, this is a very good laptop. We absolutely loved using the laptop and can't fault it. Where this excels is definitely in its keyboard, it's thermal management technology and performance. For those three areas, no other gaming laptop comes close. They are class leading in their regard. On a more personal note, I like the design for what it's worth, the LED's, the color scheme, the screen, keyboard and exterior design. They make for a balanced approach, not too shouty and not too subdued either, striking a median on the gamers spectrum of machines.
There are other laptops that are very good but if you want a high-performance laptop that is as enjoyable to use as this with the looks to match, the Alienware m15 R3 is for you. The nearest competitors are MSI GS66 Stealth and the Lenovo Legion 7i. Other than this, we would recommend the Razor Blade 15 as a viable alternative for someone who is looking for a high-end gaming laptop in 2021. But, we still think when pitched side by side, the Blade 15 feels more like a midrange machine. It has exceptional build quality but it doesn't feel anywhere near and as enjoyable to use as the Alienware m15 R3.