There are four different PC cases to choose from when building your own PC, we list them here together with advantages and disadvantages of going with each. Why you would choose one over the other for your next PC build.
It all comes down to the motherboard
The very first point of consideration when choosing a case for your custom PC is the size of the motherboard. You need your motherboard to fit in your chosen case. We like to think that at this point you have decided on all the major components of your build and are now looking for a suitable case.
These include CPU, CPU cooling, Motherboard, Memory, Graphics Card, Liquid Cooling and Radiator (if you intend to use one). Power supply, cooling fans and the number of drives you can mount on the case are pretty standard but no harm in checking the specifications for these too, to ensure that your chosen components will fit in the case.
Motherboard Form Factors
There are four different motherboard form factors, these differ in size and are shown below. A full tower or Extended ATX case will take all the different motherboards in various form factors, but not the other way round. You also do not necessarily want a huge E-ATX tower if you live in a small flat or have limited space under or on the desk.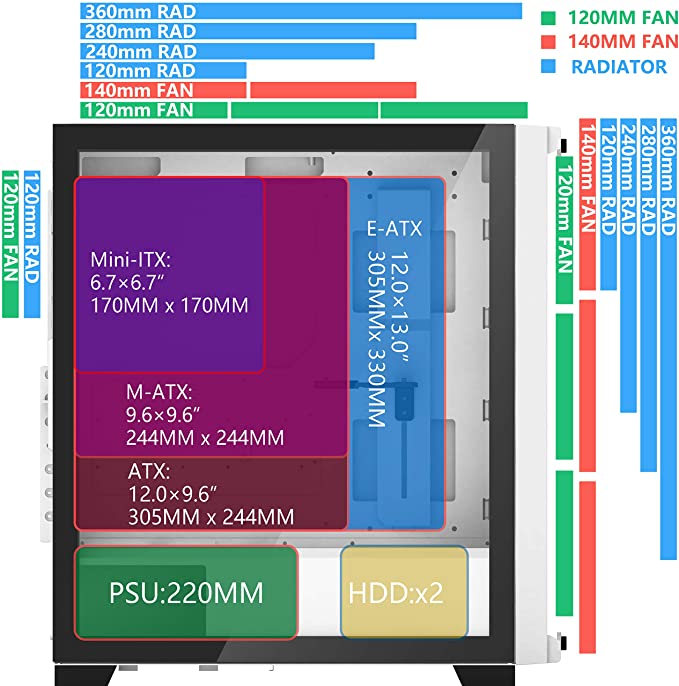 The different motherboard form factors and sizes are as listed below, starting with the biggest to the smallest:
Extended ATX (E-ATX) 12-inch x 13-inch or 305mm x 330mm
ATX 12-inch x 9.6-inch or 305mm x 244mm
Micro-ATX (M-ATX) 9.6-inch x 9.6-inch or 244mm x 244mm
Mini-ITX (Mini-ITX) 6.7-inch x 6.7-inch or 170mm x 170mm
The Different PC Case Sizes
Again, from biggest to smallest, here are the different PC cases to fit the four different motherboard form factors above.
Full Tower or Extended ATX (E-ATX)
Midi Tower (TX)
Micro ATX
Mini ITX
1. Full Tower or Extended ATX (E-ATX) Case
The biggest of all PC cases is the Full Tower, also known as the Extended ATX (E-ATX) case. Even if you do not use an E-ATX motherboard, if you are looking to install multiple cooling fans, CPU cooler radiator, full size Graphics Card and Liquid cooling system plus radiators, it won't hurt to get the E-ATX case for the added space. At this size, you won't even have to worry about room to mount hard disk drives or 2.5-inch SSD storage drives.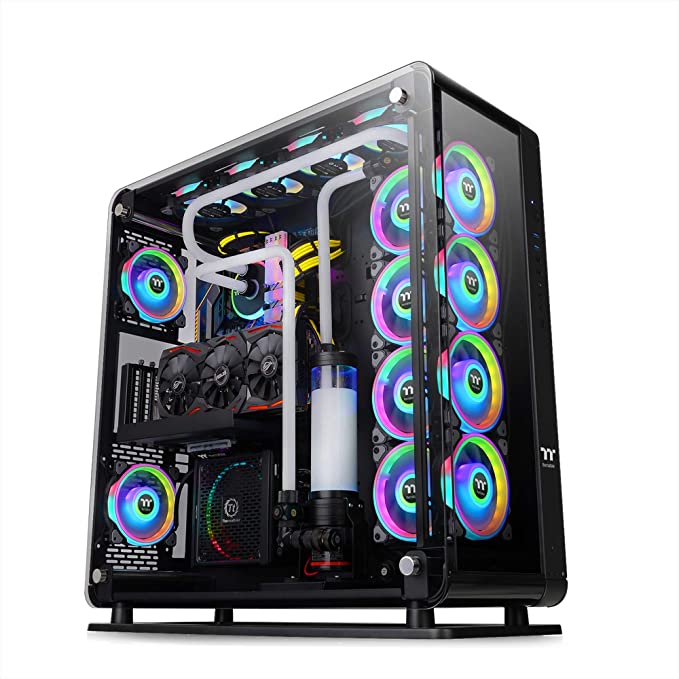 Another reason for opting to go with the Full Tower or E-ATX case is the extra depth to be able to take a long graphics card. High performance GFX cards are known to be big with its own cooling fans and can sometimes be up to 30cm long. Quite simply, if you have one of those, you are going to need at least an ATX case. We recommend the E-ATX case if you are building a serious gaming machine based on an ATX or E-ATX motherboard.
Search Full Tower E-ATX Case on Amazon
2. MIDI Tower (ATX) Case
The Midi Tower or sometimes known as a Mid Tower is the most common PC case in the market. Mid because it sits between the big Full Tower and the smaller Micro ATX tower, a play on the word medium. It is designed for motherboards up to the ATX form factor, meaning it will have enough room for ATX, Micro-ATX or Mini-ITX motherboard.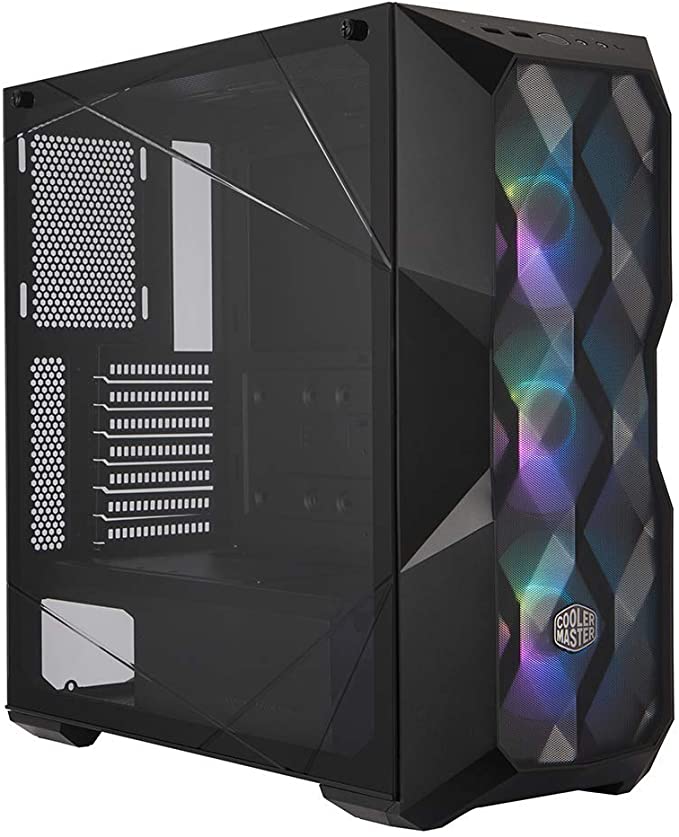 As it is the most common, you will never be short of design options to choose from. Manufacturers offer them at competitive prices too, so you can buy a pretty decent Midi Tower for very little money. Depending on the design, Mid Tower cases are unlikely to have room for a full 360 mm radiator. At most, it will house a 280mm liquid cooling radiator unless it comes with extra room in front.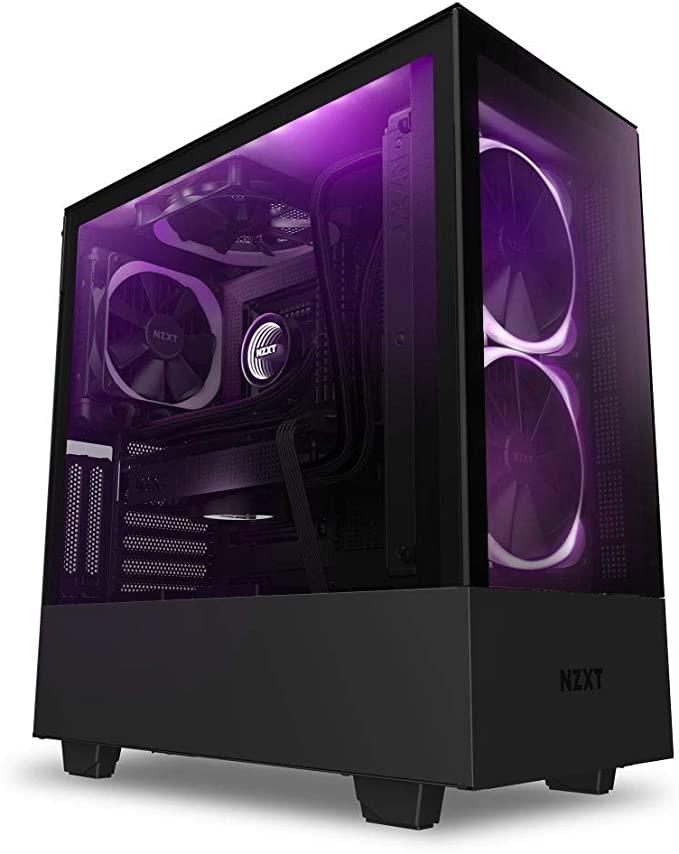 Search Mid Tower ATX Case on Amazon
3. Micro ATX (mATX) Case
Next, we have the Micro ATX case. This is the most common among Desktop PC manufacturers, such as Dell, HP and Lenovo. They are sometimes known as mATX but do not mistake this for the smallest Mini ITX case below. Micro ATX cases are actually bigger than Mini ITX cases and will take the Micro-ATX or Mini-ITX motherboard.
If you are considering a mATX case for your gaming machine, be sure to check the size of your graphics card. More often than not, the limited space in the case means you are restricted to mid-range or entry level GPU cards. Plus, you certainly wouldn't be able to get CPU cooling radiators or water cooling system in it, so set your expectations accordingly.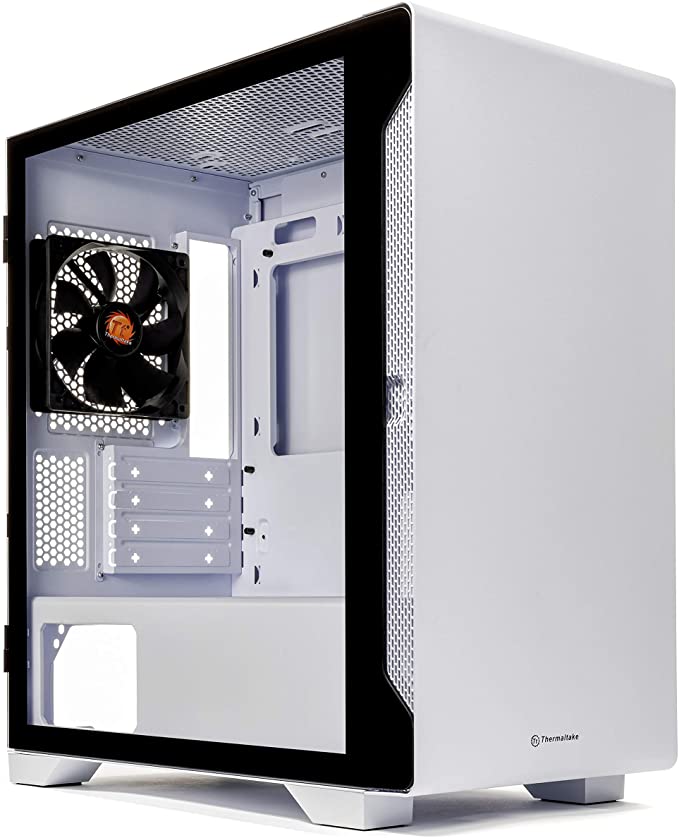 Also watch out for large CPU coolers such as tall tower fan and big heat sink. Again, there might not be enough 'headroom' for theses. We recommend choosing the Micro ATX case for a mid-range desktop build with small to medium graphics cards and stock CPU fan. For additional cooling, there might be room for one or two more case fans on top of the standard rear fan.
Search Micro Tower mATX Case on Amazon
4. Mini ITX case (Small Form Factor)
Finally, the Mini ITX case, sometimes known as the Small Form Factor. Things are going to get tight in there, so a lot of planning is required. Make sure you have a list of PC components you want to squeeze in the case well ahead. Check the internal dimensions and sizes to be sure there is room in the case for them. The main reason for picking a Mini ITX case is because you have made the concious decision to go small starting with a small Mini-ITX form factor motherboard.
Also, there won't be room for extra cooling, let alone liquid cooling or CPU radiators. Some cases come with option to add small cooling fans, but that is the extend of cooling you will get. Use of stock CPU cooler and small to mid-size graphics card are a given. In the storage front, you will be limited to one 3.5-inch hard disk drive and one 2.5-inch SSD drive depending on the design.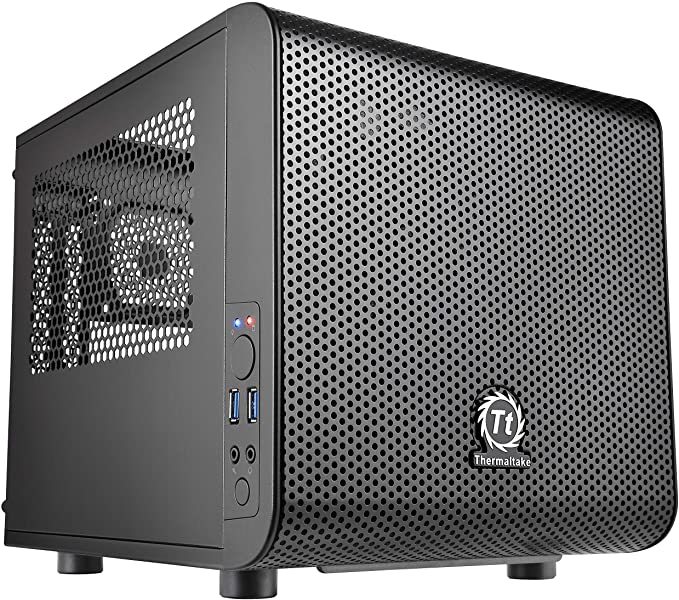 Having said that, some manufacturers pushed the limit on what you can squeeze into a tiny cube. If you shop around, you might get one that supports dual expansion slot for graphics card up to 260mm long. You can even find ones with enough room for a tower CPU cooler up to 140mm and large 200mm fan such as the Thermaltake Core V1 SPCC Mini ITX Cube above.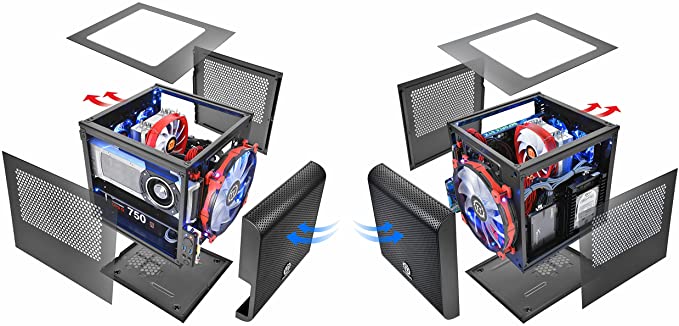 Search Micro Tower mATX Case on Amazon