If we consider the number of images shot worldwide using different cameras on mobile phones alone, they amount easily exceeds photos taken with 'proper' cameras. Today, it is a fact that more images and videos are shot using mobile phones than with DSLRs and mirrorless and other proper cameras in existence. Shooting with what you have is good but make it great with these essential camera accessories.
In a nutshell, mobile phone cameras are here to stay. For those who are already hooked on mobile phone photography and videography (I also love the term smartphoneography), these tools and accessories made available by different manufacturers will take your photo or video shoots to the next level.
Must Have Camera Accessories for iPhone
Today, we shall discuss a bunch of those tools. They include lighting tools, gimbals, tripods, extra juice (by that I mean batteries and charging bank) and printers. So, let's dive right in.
1. CliqueFie Sway – single axis gimbal and stabiliser
One of the coolest designs that we have seen in recent times is the CliqueFie Sway single-axis gimbal plus stabilizer. This gimbal plus stabilizer is designed for mobile phones. Photographers and videographers who regularly shoot with a mobile phone find it very difficult to stabilize their phone during a shoot. The slightest movement of their hands can cause a jittery or blurry still or footage.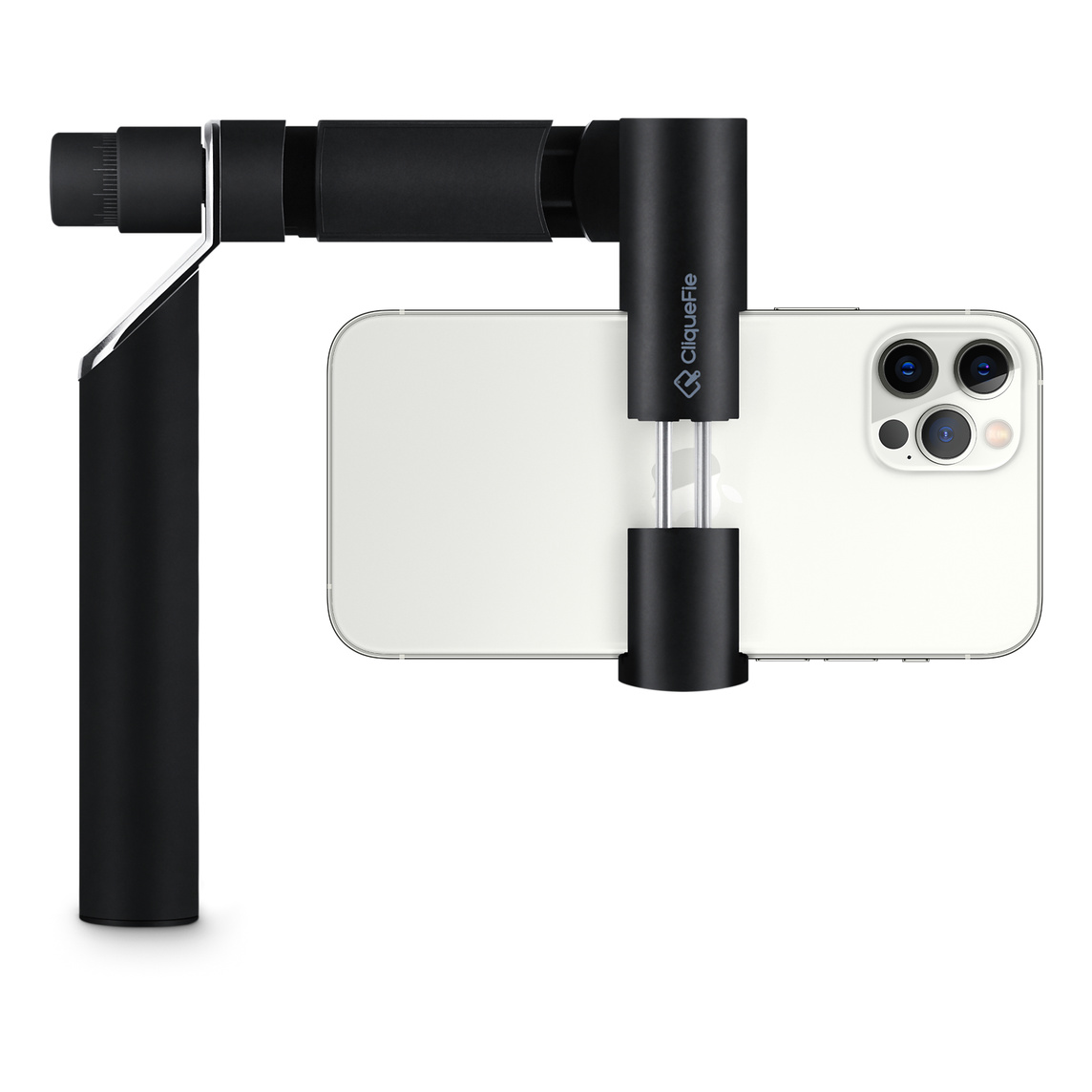 Search CliqueFie Sway on Amazon
There are various types of gimbals available in the market. Some like the Digitek or DJI OSMO manufacture a bunch of three-axis gimbal plus stabilizers. But they are expensive, plus you don't need a three-axis gimbal plus stabilizer all the time. A single-axis gimbal and stabilizer is more than enough for most. And this is where products like CliqueFie Sway come into the picture.
Additionally, CliqueFie Sway comes with a cold-shoe attachment. With this, you can attach an optional external microphone or any lighting tools if you find them useful. This improves the overall usability of this gimbal stabilizer.
In terms of space usage and portability, the CliqueFie Sway is small enough to fit inside your purse, pocket and backpack.
2. Fujifilm Instax Mini Link
Small is beautiful and no this is not some cliched attempt at trying to start a conversation. The Fujifilm Instax Mini Link is functional as well as it is beautiful to look at. At a summer fun party and looking to give a beautiful gift to all who are present? Hand out a fun group photo to all those who are present. Print your photos right at the convenience of where you are. Fujifilm Instax Mini Link is a portable printer that prints directly from your mobile phone and does more.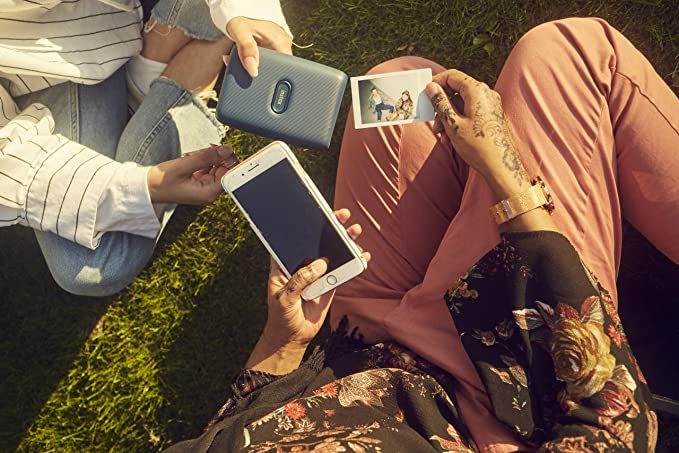 Search Fujifilm Instax Mini Link on Amazon
You can add interesting frames to your photos as well as print from your videos too. Want to print a collage of five photos on different phones? You can connect up to five mobile phones to the Fujifilm Instax Mini Link and print a collage of five different photos on those phones.
The Fujifilm Instax Mini Link comes with a unique system where you can turn it upside down and press the INSTAX button and it would repeat print the last print. This saves you from having to run the print command for repeat prints. Especially when you are printing the same photo multiple times.
The Fujifilm Instax Mini Link is pretty fast. It can print a single photo in 12 seconds flat. However, the paper requires 90 seconds for the photo to be developed upon printing.
3. Apple MagSafe Battery Pack
Apple's MagSafe is a new charging ecosystem introduced by Apple that allows your iPhone 12 (and above) to be charged wirelessly on the go. One of the basic needs we have, when we use our iPhones as cameras, is battery power. A fast wireless charging solution such as the MagSafe Battery pack offers that. The range of attachments and charging solutions that come under this new ecosystem makes it possible to find one that is perfect for your iPhone. You can choose either one from Apple or a third party solution. Top it up and take it with you so you never have to worry about low battery on your iPhone.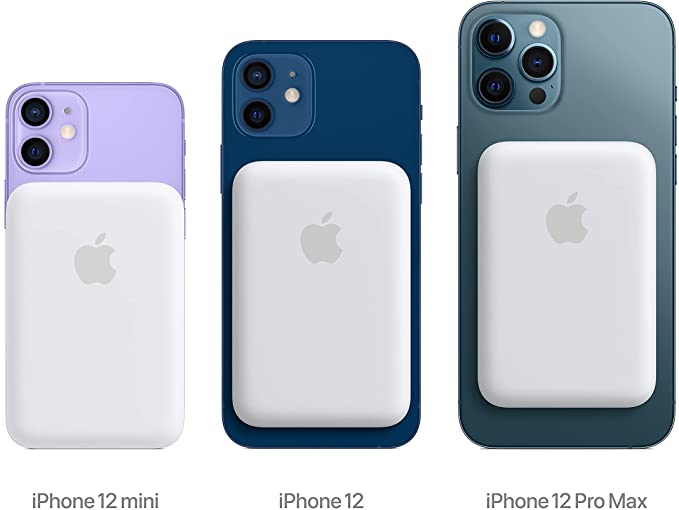 Search Apple MagSafe Battery Pack on Amazon
4. Belkin Boost Charge – MagSafe Wireless Charging Pad / Power bank
Belkin has a wireless charging pad that works with the MagSafe wireless charging solution. This charging pad supports only iPhone 12 at the moment. When not being used as a wireless charging pad you can use it as a stand-alone power bank with a total capacity of 10,000 mAh that you can take anywhere with you. With that kind of capacity, you can leave your power adapter at home on short trips as it will fully recharge the iPhone twice.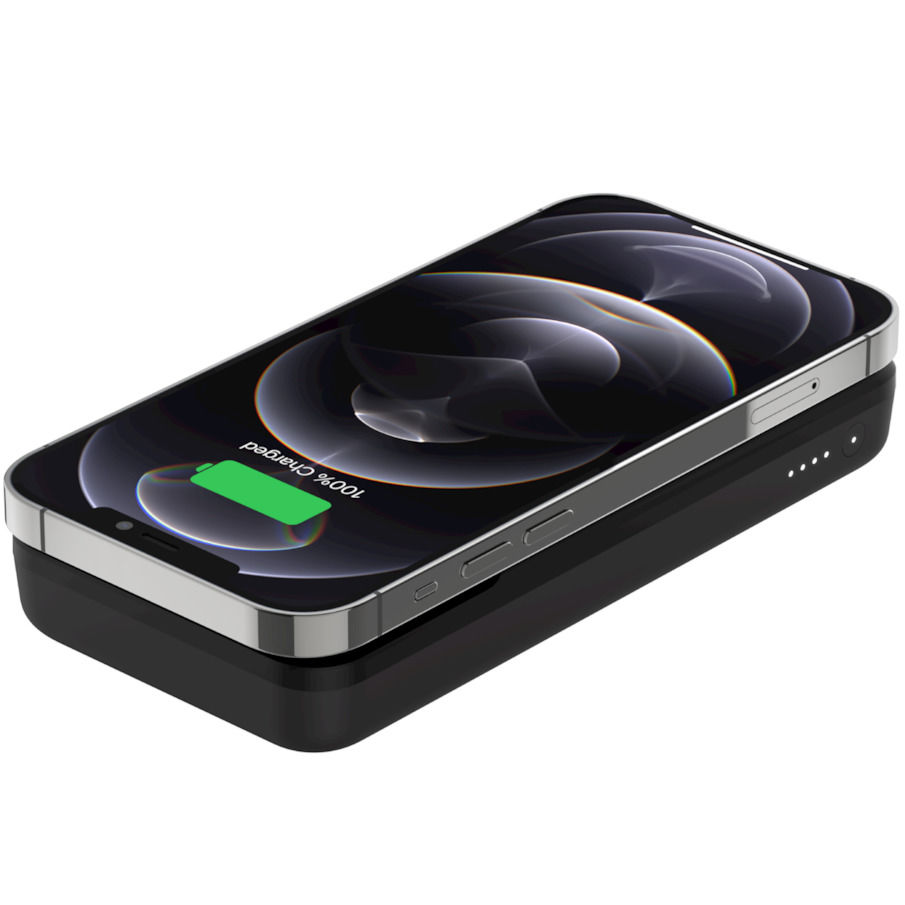 Search Belkin Boost Charge Magnetic Portable Wireless Charger on Amazon
The easy-to-use technology aligns your phone perfectly each time you use it offering fast recharge up to 7.5W thanks to its compatibility with the MagSafe architecture. The perfect magnetic alignment means it does not get detached while charging.
While most power banks do not recommend using them while it is charging, charging and discharging at the same time can be a problem, the Belkin-made wireless charging pad cum portable power bank can do so. When you run out of juice both in the charger and phone, simply plug the device into a wall socket, seat your phone on the MagSafe contact and have both of them charging at the same time. This convenience is a big thing.
When recharging the wireless charging pad it takes just about 3.5 hours to fully recharge using the 18W USB Type C port.
5. Anker iPhone LED Flash
Anker's iPhone LED flashlight is the first of its kind that's certified by MFi for iPhone 11 and the iPhone 11 Pro and above. The light cube connects to your iPhone via the lightning cable and produces perfectly synced flashes for that perfect shots. You can control the flash within Apple's native camera app or manually turn it on or off via the button.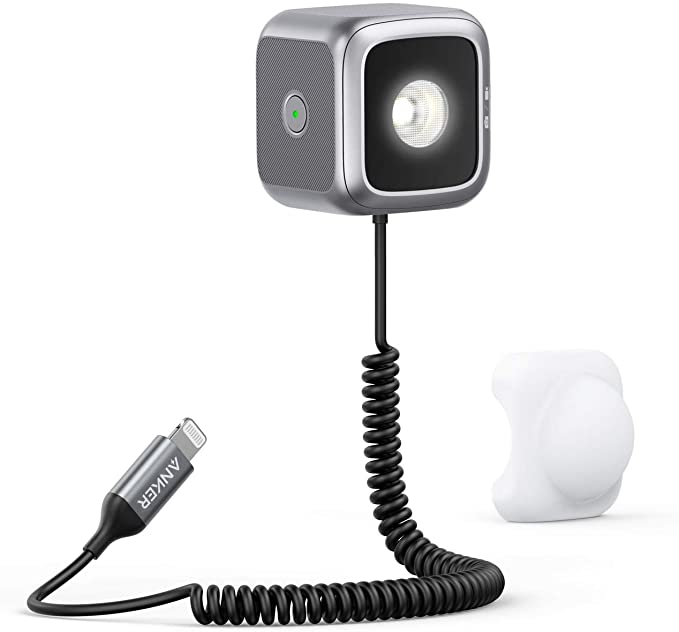 Search Anker iPhone LED Flash on Amazon
This tiny powerhouse of light can produce up to 50 minutes of light on a single charge. Alternatively, you can fire up to 10,000 shots with a single charge.
The system comes with dual lighting mode. It can work as a flashlight and as a flash (light source). That means your creative lighting options just doubled.
Use the flash mode to create stunning portraits, practically turning night into day, fill the shadows under the daylight sun, or whatever else your mind drives you to do. Or, use the diffuser to soften the light for moody shots.
Let the flashlight mode work as a constant source of inspiration with which you can produce some creative images and videos.
The light is extremely portable measuring just 1.75-inch by 1.5 inches by 1.65 inches making it easy to drop in your bag and take with you wherever you may want to.
6. JOBY Beamo LED Light
Joby's Beamo is a powerful yet portable LED light that is designed to work with your iPhone. There are two version, the Beamo LED Light capable of 1500 lumens and the Beamo Mini LED with 1000 lumens of power. We chose the brighter Beams LED Light (1500 lumens) with 5100K light temperature for our list to differentiate between this and the Anker light source above. It also works with your Android system. This tiny yet extremely powerful white LED light system can hide imperfections on your subject's skin, can brighten up a face, and produce beautiful crisp images and videos. The secret behind the sauce is the 750 lux light power that shines through.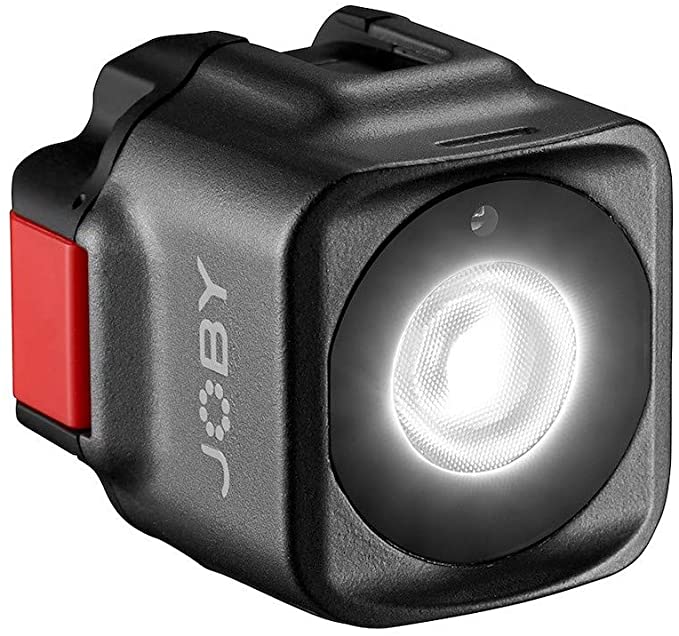 Search JOBY Beamo LED Light on Amazon
Easy to connect and control through a mobile app Beamo is a neat little device that mobile phone filmmakers and images makers will love using.
Did you know that one Joby Beamo can be connected with another via the cold shoe and you can create an array of four Joby Beamos to produce beautiful stills and videos? Vloggers will find this useful. Especially ones who are already familiar with the Joby vlogging kit.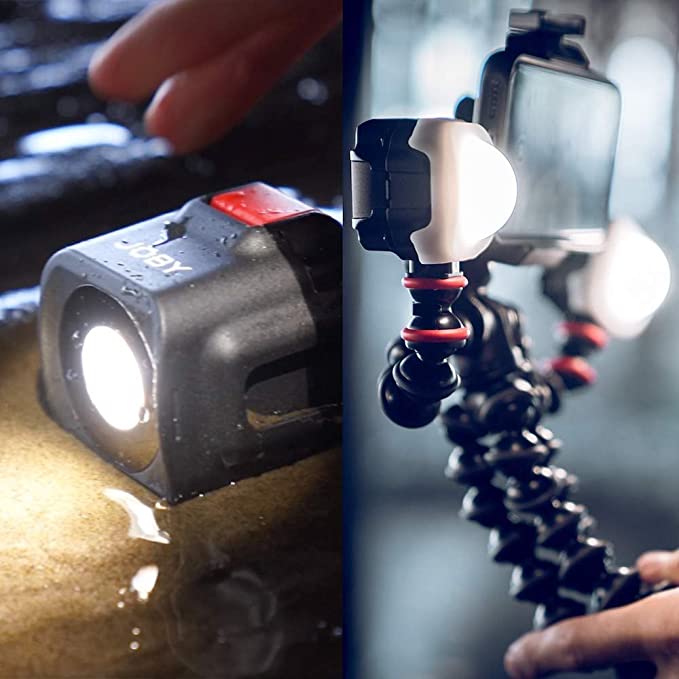 And that is not all, there is a second cold shoe on the Joby Beamo that allows you to connect a Wavo Mic. That means you can extend the functionality and production quality of your shooting kit with the cold shoe connection.
There's more you can do with the Beamo. There is a light diffuser kit that you can use to soften the quality of the light. At the back of the Beamo is a dimmer. This allows you to adjust the power of the light as per your need.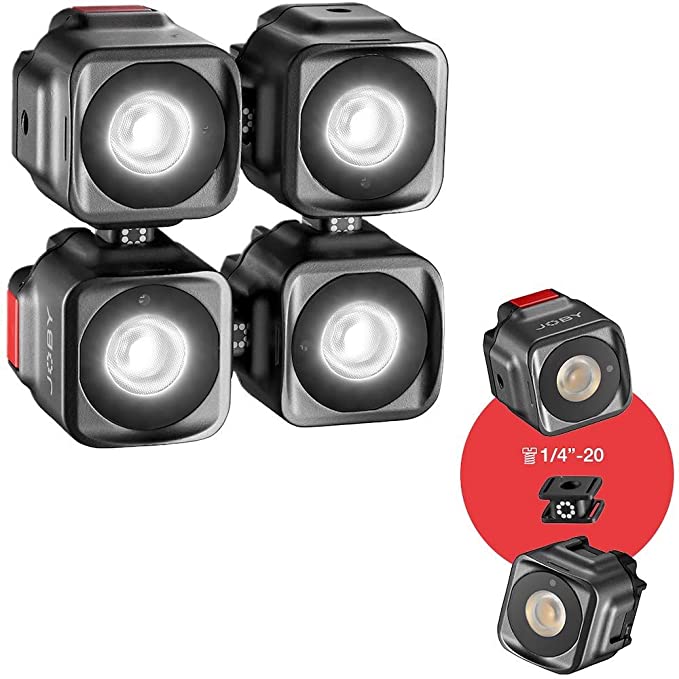 In terms of build quality, Beamo is built out of an aluminum chassis and is rugged. It can withstand water seepages under 30 meters making it practically waterproof on land. On a full charge it will work for up to 40 minutes at 100% brightness or over 100 minutes at 50% brightness.
7. Joby GorillaPod Tripod
Joby's GorillaPod tripod is one of the best in the business considering its flexibility. It is a fantastic range of products. There are multiple versions of Joby's GorillaPods. Choose one depending on the camera that you use and you will not regret your decision.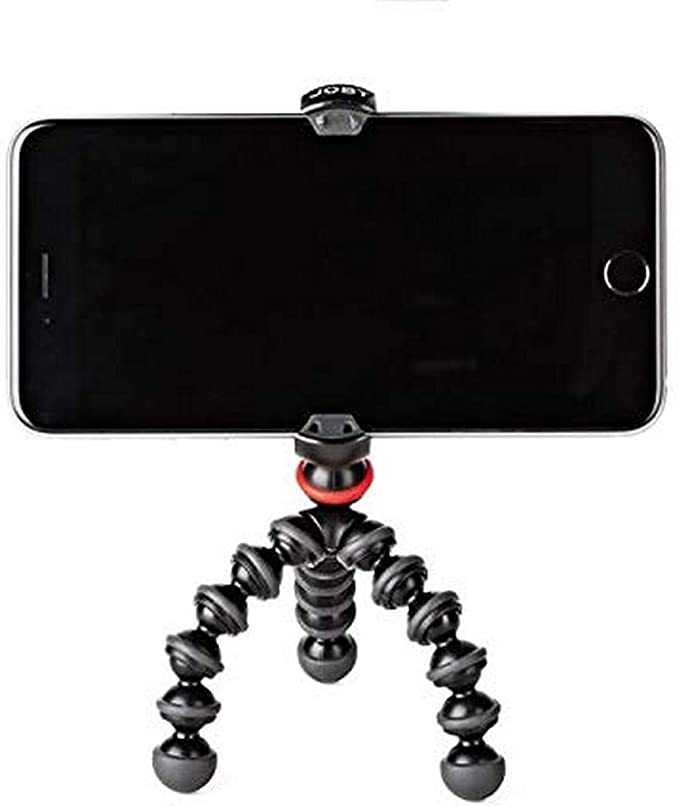 Search Joby GorillaPod on Amazon
We recommend the Joby GorillaPod is the primary travel tripod if you don't want to lug too heavy a weight. On the other hand, if you want to carry two tripods then the Joby GorillaPod is our second-choice tripod. This is partly because the GorillaPod is a small-sized tripod. It won't allow you to capture an eye-level perspective of the scene in front of you.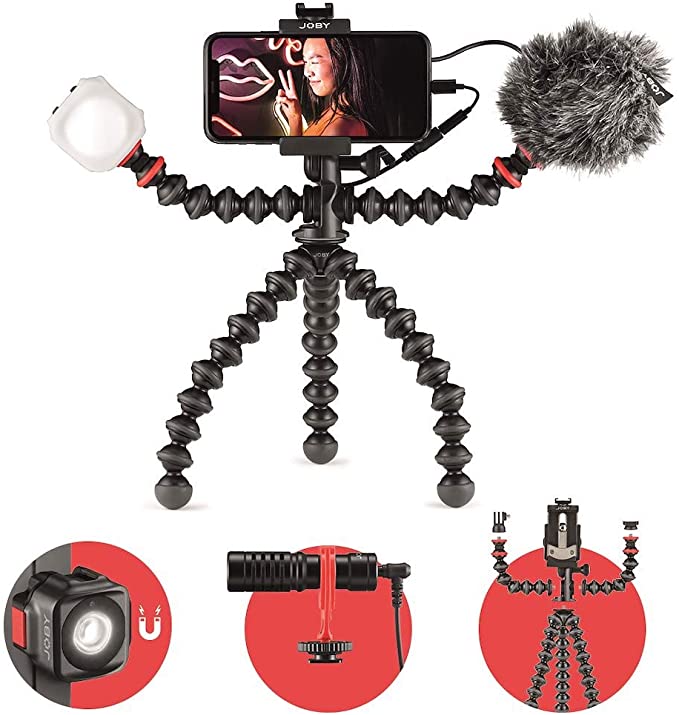 That said, the GorillaPod is the only tripod that comes with these unique Flexi-joint legs that allow it to be wrapped around anything that it can find including tree branches, ledges, and windowsills. This gives you an incredible variety of shooting angles to explore. The blogger and content creator version comes with extra arms and mounts for external microphone, LED light (Beamo Light above) or second camera, doubling as a versatile and compact mobile rig.
Please note you will need to purchase a mobile phone adapter head to work with the GorillaPod.
8. Manfrotto Tripod
Manfrotto is one of the biggest names when it comes to camera support systems. They also manufacture a bunch of other products. Manfrotto makes some great quality tripods. There are small carbon fiber lightweight travel tripods like the Manfrotto MKBFRC4-BH Befree these are slightly pricey compared to the aluminum-built tripods but you get the advantage of a smaller load to carry.
Then you have the Manfrotto PIXI Mini which is a tripod kit and is designed exclusively for mobile phones.
9. DJI OM4 Gimbal
The DJI OM 4 is a hand-held 3-axis gimbal stabilizer for your mobile phone and doubles up as a tripod for vlogging, live videos, video recording, and still selfie shoot. This is a quintessential tool for vloggers and selfie enthusiasts.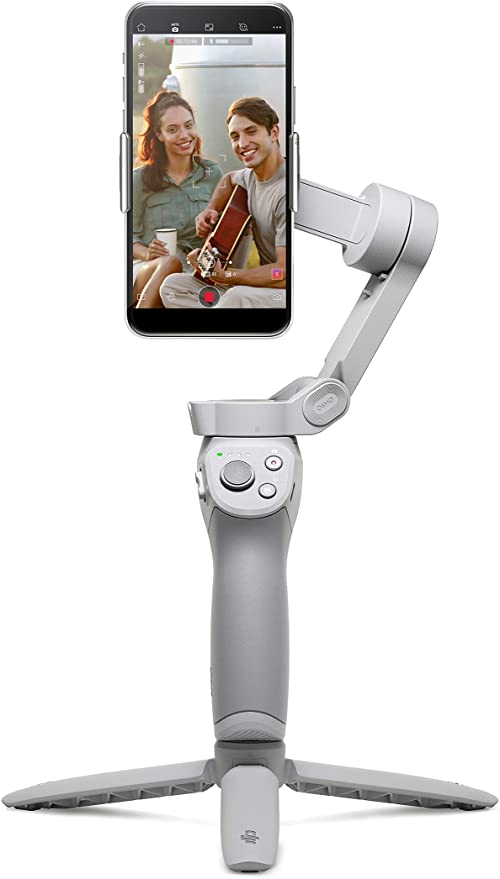 Search DJI OM4 Gimbal on Amazon
The phone holder is compatible with all major phone designs (not tablets). The attaching process is simple, and you can immediately start shooting videos and stills. the three-axis gimbal motor helps you to create buttery-smooth videos.
The in-built functions include a Gesture control feature that lets you start a shoot with just a hand gesture. Comes in handy when you are shooting selfies pr group shots. The proprietary Activetrack 3.0 feature makes tracking people easy. There is also an M button that lets you switch between portrait and landscape mode for changing your composition whether it is for Facebook Shorts or Instagram or regular videos.