Summer is here, the sun is out, time for some outdoor activities. To capture it all be in scuba diving, paragliding, mountain biking, skate boarding or even lazy river riding, you will need one of these action cameras. Now even smaller, faster and more versatile than ever, you can leave your smartphone behind, strap on one of these and truly enjoy whatever you are doing hands free.
One of the many features I find useful with the GoPro Hero is the voice control function. Simply ask your camera to start or stop recording video, time lapse, shoot burst or photo with voice commands. This is especially useful when you are riding or taking on any activities that require both hands.
Five Action Cameras in 2022 to Consider
If you haven't joint the action camera craze and are considering one, here are five for choices for your consideration. Even if you already have one and are thinking of an upgrade, you've come to the right place.
1. Go Pro Hero 10 Black –

BEST ALL-ROUNDER
Video Resolution: 5.3K at 60FPS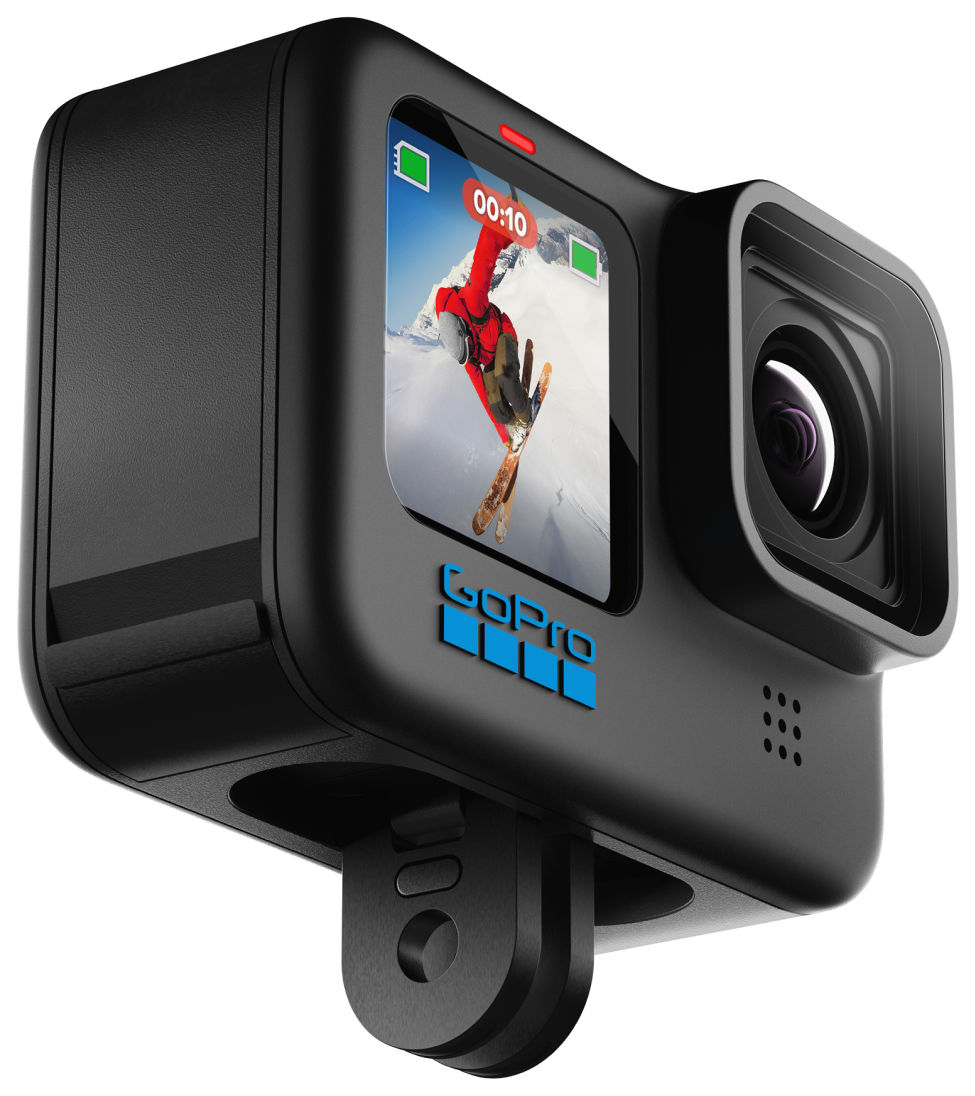 Search GoPro Hero 10 Black on Amazon
The latest GoPro action camera is now out with a GP2 faster processor. You can find out the differences and similarities between the two cameras in GoPro Hero10 Black vs Hero9 Black. With the powerful processor, it can capture even more frames at the highest resolution of 5.3K, 60FPS as oppose to 30FPS and even higher frames at 4K resolution, 120FPS as oppose to 60FPS on the Hero 9. Double the frame rate means smoother video, best for high action recording and 8x slo-mo recording at 2.7K resolution.
But the real power of the camera isn't just in capturing highest frame rate at super high resolution. It will capture 23MP photos with HDR as oppose to 20MP, 10m waterproofing without additional case, support for live streaming at 1080p perfect for video bloggers in the field capturing live action. It does all that with the all important HyperSmooth 4.0 digital video stabilisation with better horizon levelling with higher tilt limit. Other useful features include better night shots, water-shedding hydrophobic lens cover and stable WiFi connection.
2. Insta360 One RS –

BEST FOR SWAPPABLE LENS
Video Resolution: 6K Widescreen 2:35:1 with Active HDR mode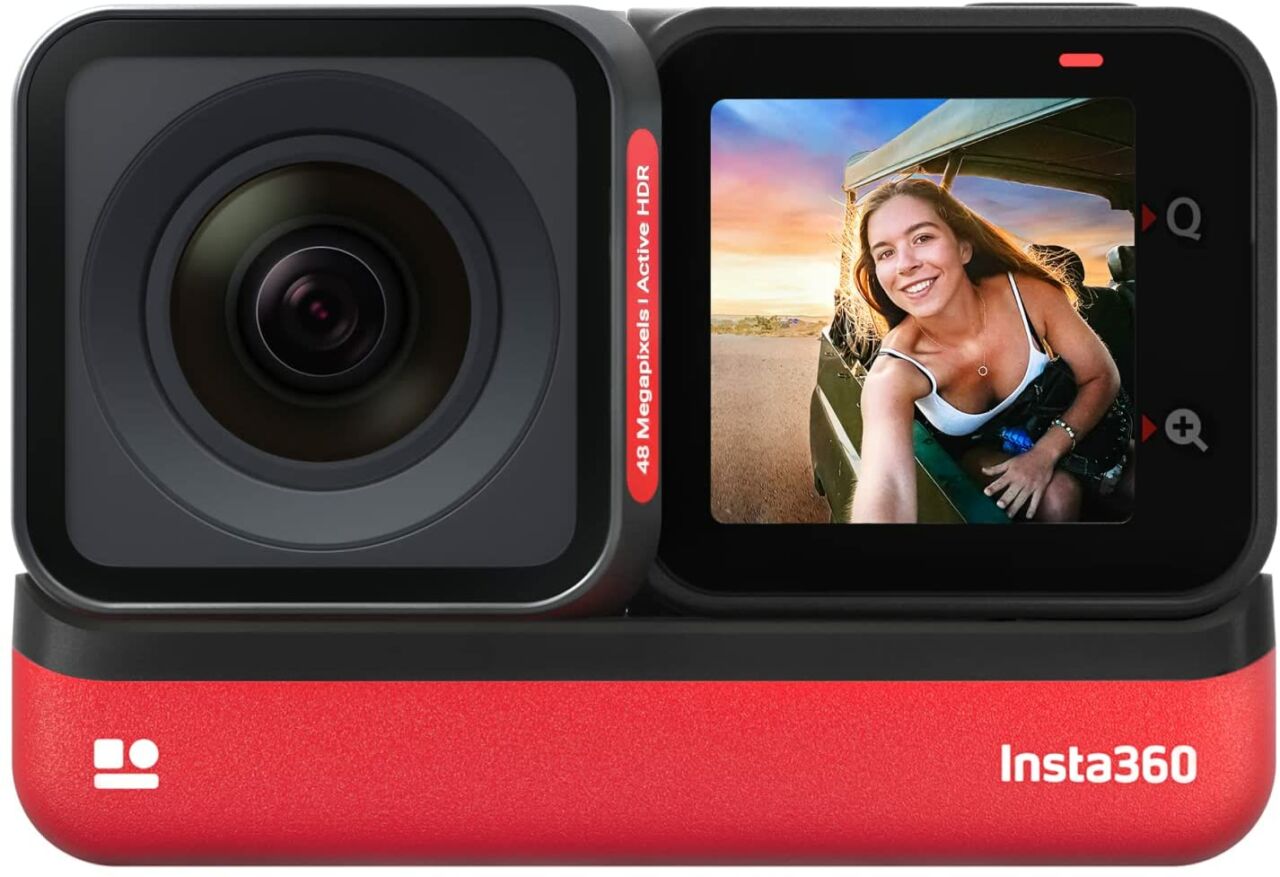 Search Insta360 ON RS on Amazon
This Insta360 One RS is a worthy competitor to the GoPro Hero 10 above. It is a modular camera with swappable lens and screen module. A Twin Edition includes two cameras a Waterproof 4K 60FPS Boost Lens camera and a 5.7K 360 camera. Together the action camera is capable of capturing 48MP photos, 6K Widescreen Video and Active HDR video. Standard action cam functions include FlowState stabilisation, horizon lock, rugged and waterproof housing up to 5 meters. For the latter, Dive Case is included for deep or rough waters. For connectivity, there is WiFi, Bluetooth and USB Type-C port.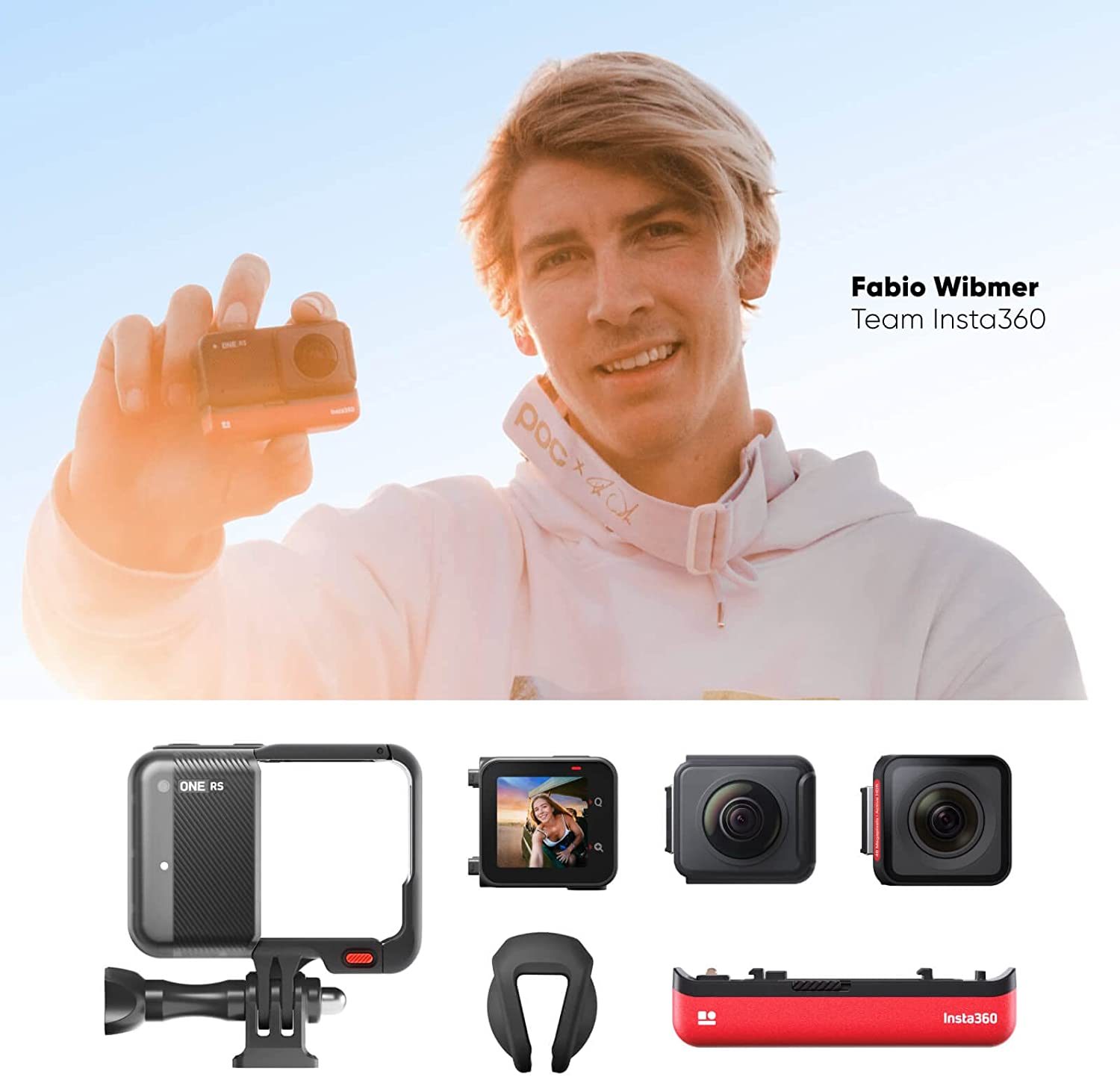 The more affordable option would be to go for Insta360 One RS 4K. It will still record widescreen 6K video but no support for 5.7K 360 video recording. Back to the Twin Edition, clever features include invisible selfie stick effect to automatically remove the selfie stick (in 360 mode only) and instant digital zoom up to 2.7 times. A third camera module is also available, the Wide Angle Lens co-engineered with Leica. It uses a big 1-inch sensor for better low light performance and can shoot 5.3K wide angle video.
3. DJI Action 2 –

BEST FOR PORTABILITY
Video Resolution: 4K 120FPS, 155-degree FOV, 12MP stills
There is a new action camera from DJI known simply as the DJI Action 2. It is a lot smaller than the previous DJI Osmo 4K, with clear departure from the GoPro and almost all action camera profiles thus far. It takes on a cube like profile featuring a full touchscreen on the back and lens on the other side. The super wide FOV camera will capture up to 4K resolution video at up to 120fps. However at those super high resolution, things get pretty hot quickly so recording length are limited to 3 to 5 minutes depending on the settings.
Smaller and lighter design makes the DJI Action 2 more portable and with the magnetic attachment, easier to mount to straps, headbands, lanyard and accessories.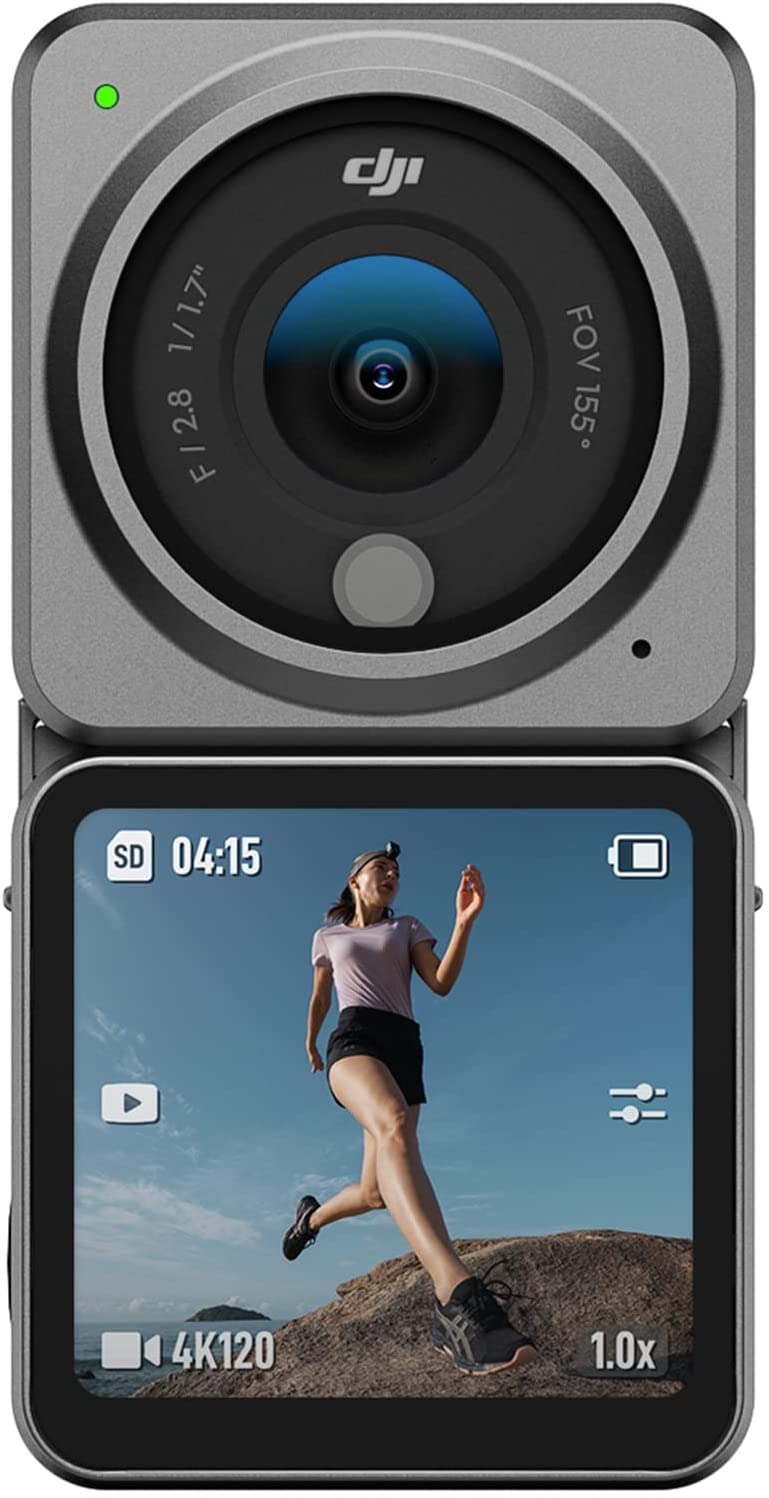 Search Insta360 ON RS on Amazon
The lightweight aluminium alloy body (only 56grams) and Gorilla glass of touchscreen and lens make this a rock solid action camera. Action 2 even comes with magnetic inter locking catches that lets you connect different accessories quickly and securely. Accessories include the power module for extended battery life and front touchscreen for dual screen feature. These are available separately or as a combo. Features you will appreciate include 10m waterproofing without needing an external case, automatic stabilisation with. RockSteady 2.0 and HorizonSteady and capture modes like Timelapse, 8x slow motion and digital zoom up to 4 times.
4. GoPro Max –

BEST FOR 360-DEGREE VIDEO
Video Resolution: 360-degree: 5.6K 30FPS, 3K 60FPS or Hero 1440p60 or 1080p60 16.6MP 360 photo, 5.5MP Hero Mode Photo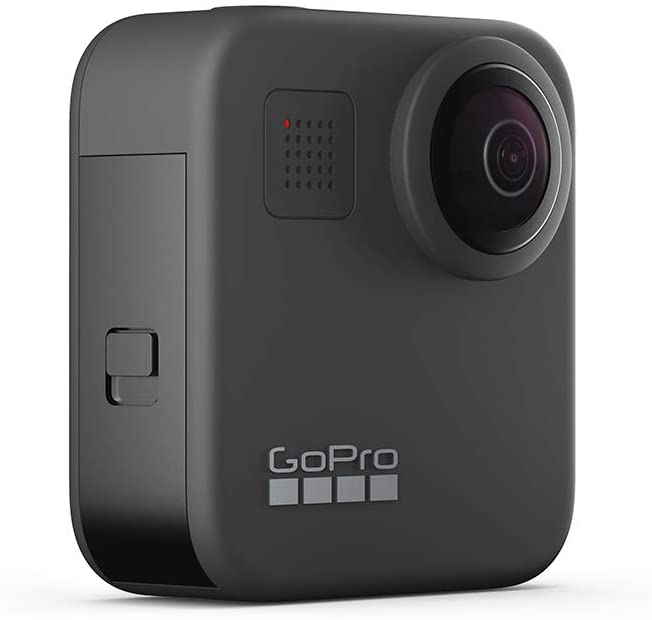 Going beyond just being a camera, the GoPro Max is a 3-in-1 camera. What are the two other features you ask? Video camera for bloggers and 360-degree camera with up to 6K resolution. The camera uses two sensors front and back to capture 360-degree footage. Two things that it excels given the 180-degree lens on each side, the 180-degree stabilisation with a huge butter and amazing horizon levelling. The huge sensor also lets you take distortion free 270-degree panoramic photos using Horizon Plus.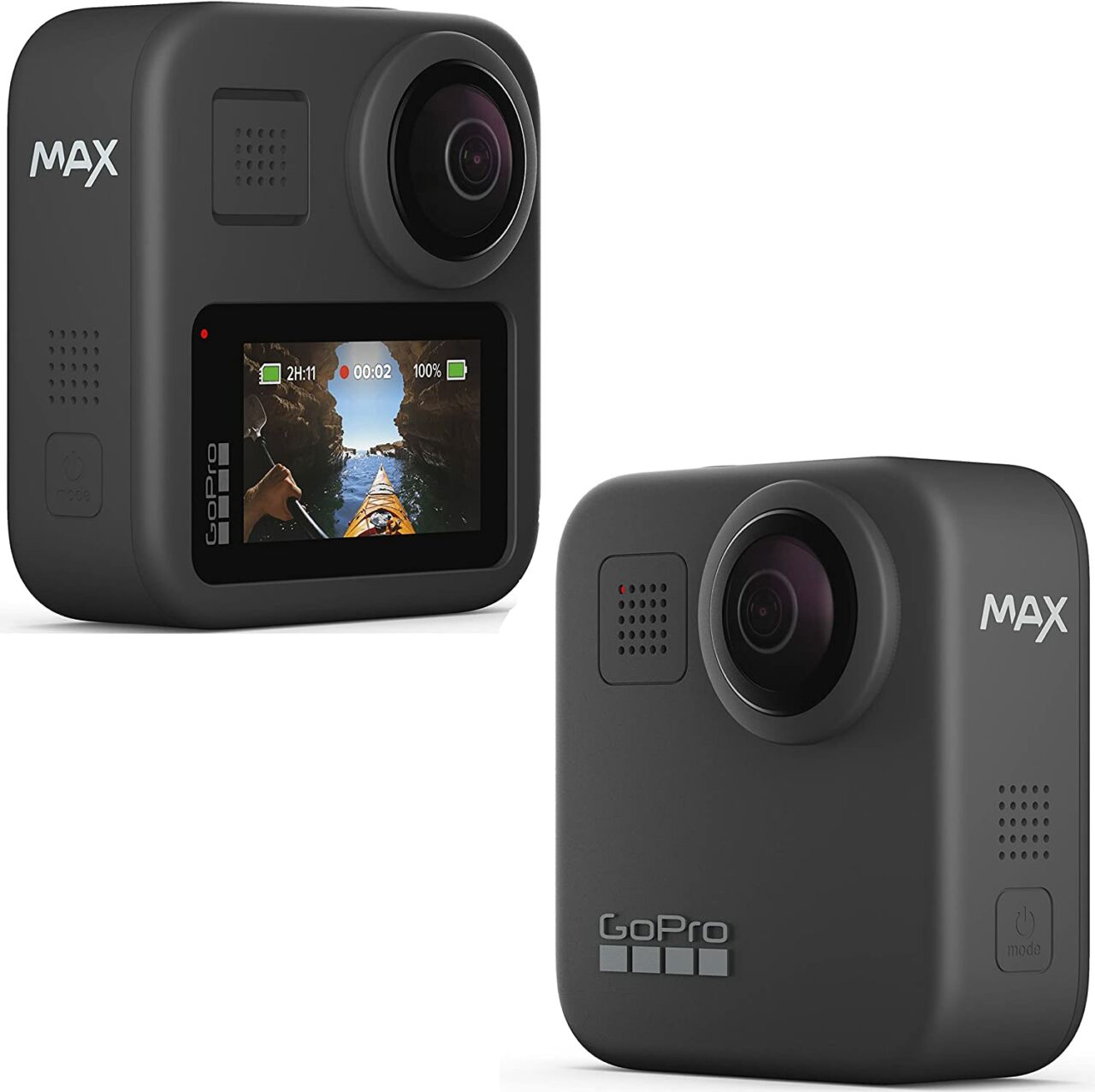 With the extra lens and single touchscreen display, it is taller than the GoPro Hero 10 Black but still compact enough to mount using existing GoPro accessories. If you had a current Hero, the Max is a 'playful' upgrade to capture not only standard videos for spherical ones. Plus it supports the GoPro features we all love; HyperSmooth, Horizon Levelling, TimeWarp and Time Lapse. However, beyond the gimmicky, 360-degree camera, the single Hero video capture is no where near 5K, 1440p at its best resolution.
5. Insta360 Go 2
Video Resolution: 1440p FPS50, 1080p FPS50, Slow Motion FPS120, HDR FPS24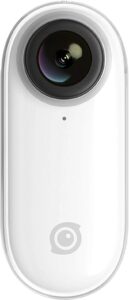 The smaller of the two cameras on our list from Insta360, this tiny little movie maker is small and lightweight yet packed with features. It is a direct competitor to the DJI Action 2 for compact size and lightweight design. It is more affordable than the One RS above or the One X2 or any of the cameras on this list. Video recording features include FlowState Stabilisation, Horizon Lock, Hands-Free, Hyperlapse, Nightlapse, Slow Motion, AquaVision and Auto Editing. The tiny housing with Lens Guard is waterproof up to 4 meters and it can record up to 1440p resolution video, higher than Full HD (1080p) so plenty for social sharing.
Use the included magnet pendent and attach the camera to your chest to record Point Of View (POV) videos of your adventures, and yes it works over your shirt. Other included accessories are Pivot Stand, Lens Guard and Easy Clip. Battery life is 30 minutes on a full charge and 150 minutes with optional charge case. There is a limit as to the length of video clip that you can record depending on the mode; 30 mins for FPV mode, 15 mins for Basic Stabilisation and 10 mins in FlowState Stabilisation mode.
Given its lightweight design, it will work very well strapped onto anything including your pet. I couldn't get my GoPro Hero 9 Black on my dog and have it stay upright as it was too heavy. No problem with the Insta360 Go 2 with the Pet Strap Mount accessory. As with most action cameras, you can get the Insta360 Go 2 with all the accessories in their All-Purpose Kit or other combos (filter kid, multifunction case (with charger, remote and tripod). The one limitation is, there is no built-in display