8-inch tablets are a balance between usability and portability. Anything bigger and you will be looking at a full size 9.7-inch or 10-inch tablet, heavy and bulky. Anything smaller and you will get a 7-inch tablet, small and cramped, not so easy to use. 8-inch in our books is the best size.
Even Apple stayed away from introducing a smaller tablet at 6/7-inch and kept with the iPad mini (now in its 4th iterations) with a 7.9-inch (approx. 8-inch) display. There is nothing wrong with a small 6 or 7-inch tablet, these are great as an e-reader, listening to music, catch a TV show or level up with your favorite games.
Apple stuck to the iPad mini as their smallest offering, this goes to prove that 7.9 or 8-inch is a comfortable size, anything smaller is called a Phablet.
For productivity stuff like checking and replying to emails, completing forms, editing documents, preparing presentations or spreadsheets, that extra inch is going to make a whole lot of difference. Quite often it is also going to give you the full browser experience instead of viewing web pages made for smaller devices in responsive mode.
We can spend all day listing the benefits of an 8-inch device over a smaller tablet but it is easier for you to have a feel and look at this yourself.
Top 10 Best 8-inch Tablets
To make buying decisions easier for your, we have divided our list into Budget or Entry level 8-inch tablets and Mid-range to Premium 8-inch tablets. We have also included some strong entries, slightly old but still very capable premium tablets that you might find in the market and possibly at bargain prices. Here is a quick overview of our list of best 8-inch tablets:
Best Budget/Entry Level Tablets
Best Mid-Range to Premium Tablets
BONUS: Other Strong Entries 
These may not be the latest tablets but they are still very capable premium tablets.
Let's take a closer look at each of the tablets.
Best Budget/Entry Level Tablets
Our first 5 best 8-inch tablet in the budget or entry level range are from reputable brands such as Lenovo, Samsung, Huawei and Asus. We accept nothing less.
Lenovo Tab 3 8-inch is designed to be a multimedia companion ready for reading, movies and games. Features include multi user ready with personalised profile and app configurations great for sharing. There is also a kids interface where parents can control their children's access to websites and apps. To make it an entertainment tablet, the IPS display comes with HD resolution (1280 x 800 pixels and for sound, it employs Dolby Atmos that adapts to the apps in use through its dual stereo speakers. Powered by a 1.3GHz quad core processor with 1GB of RAM memory and 16GB of storage, the Lenovo Tab 3 8 Tablet is ideal for the entire family. Finally, the IPS display is also an adaptive, adjusting its settings for better viewing comfort under different lighting conditions.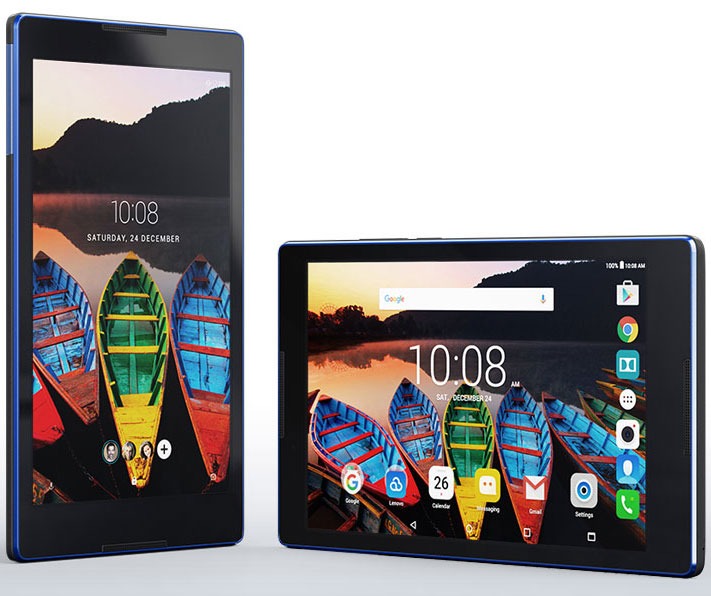 8-inch HD IPS Adaptive Display 1280 x 800 resolution –

HD RESOLUTION

MediaTek™ 1.3 GHz Quad-Core, 64-bit processor
1GB RAM memory and 16GB internal storage with microSD slot for up to 64GB
5MP rear camera and 2MP front camera
Battery Life: up to 9 hours battery life on a single charge from 4290mAh battery
Dimensions & Weight: 125 x 8.9 x 210 mm (4.92″ x 0.35″ x 8.26″), 329 grams 
Android 6.0
We like the excellent value, high build quality and excellent sound from dual front firing speakers with Dolby Atmos.
---
Samsung Galaxy Tab A is liken to Samsung Galaxy A-series smartphone, mid-range devices that offers everything that the average user needs and more. Apart from the standard tablet features covering everything from email, browser, photo, audio to video, it supports multitasking, kids mode, productivity applications with Microsoft Office (Word, Excel, PowerPoint and One Drive) as well as multi user mode. Powered by a 1.2GHz quad-core processor with 1.5GB of RAM memory and 16GB of storage, the tablet also works with other Galaxy devices especially the Galaxy Smartphone to push notifications and share files using Samsung Side Sync 3.0 and Quick Connect.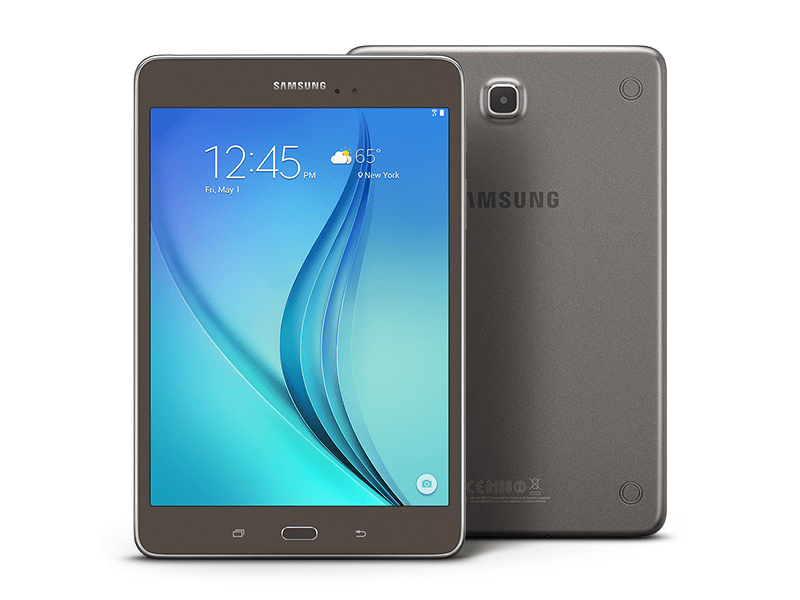 8-inch PLS TFT Display with 1024 x 768 XGA resolution 
Samsung Quad Core Processor, 1.2 GHz Qualcomm APQ 8016
1.5GB RAM Memory and 

16 GB Flash Storage with 

microSD Card Slot (Up to 128GB) –

MORE MEMORY

5.0MP main camera and 2.0MP front facing web cam
Battery Life: Up to 13 hours internet browsing time, 12 hours video playback or 114 hours music play time with 4200mAh Lithium Ion battery
Dimensions & Weight: 8.2 x 5.4 x 0.3 inches, 11 ounces (208.3 x 137.9 x 7.4 mm, 313 grams) –

THINNEST & LIGHTEST IN THE BUDGET SEGMENT

Android 5.0 Lollipop. Available in Smoky Titanium (shown above), Smoky Blue or White
We like the tablet for its no nonsense, clean and intuitive interface, slim and sleek body with stylish chrome surround and amazing battery life
---
Here is a low cost 8-inch Android tablet that still packs all the bells and whistles a standard tablet has. The Lenovo A8 is based on MTK 8121 processor running at 1.3GHz with Quad-Core. Notable features include the 8-inch HD IPS display running at 1280 x 800 pixel resolution, integrated front and rear facing camera at 2MP and 5MP respectively which is a surprise bonus at this price and the dual stereo speakers with Dolby Digital Plus audio system. As you can see from the specifications, it is not very different from the Lenovo Tab 3 8-inch but with better battery life.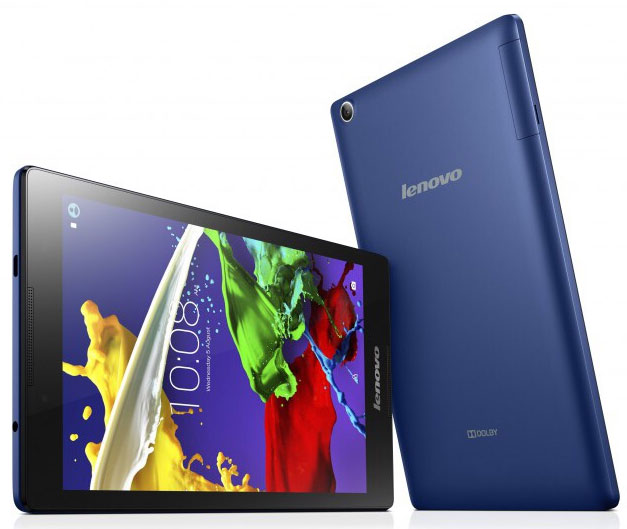 8-inch HD IPS display at 1280 x 800 resolution –

HD RESOLUTION

Mediatek MTK 8121 1.3 GHz Quad-Core processor
1GB DDR2L Memory and 16GB eMMC Storage expandable up to 32GB with microSD
2MP front facing, 5MP rear facing cameras
Battery Life: 11 hours (4200 mAh), 20 days standby
Dimensions & Weight: H21cm x W12.5cm x 8.9mm thin  ,Weight 360g
Colour options: Red, White, Midnight Blue
Even though this is one generation behind the current Lenovo Tab 3. it has everything you can ask for and want. All the features you find on the new generation plus better battery life.
---
A relatively newcomer in the tablet space, the T1 is the entry version while the M2, also in our line-up is one of the best tablets in the mid-range to premium segment. Still, it is the only tablet in this segment with an aircraft-grade aluminium back plate, in sand blasted finish and 3G connectivity that supports both data and voice. The IPS display is HD with 1280 x 800 resolution and is capable of reproducing over 90% of Adobe RGB colour space for brighter colours and contrasts. The screen ratio is 16:10 which is great for consuming content especially movies and TV shows. IPS technology offers 178° wide angle viewing. It is powered by a 1.2GHz quad core processor with 1GB RAM memory. The only let down is the storage, a tiny 8GB but you can quickly supplement this with a microSD card for up to 32GB of extra storage.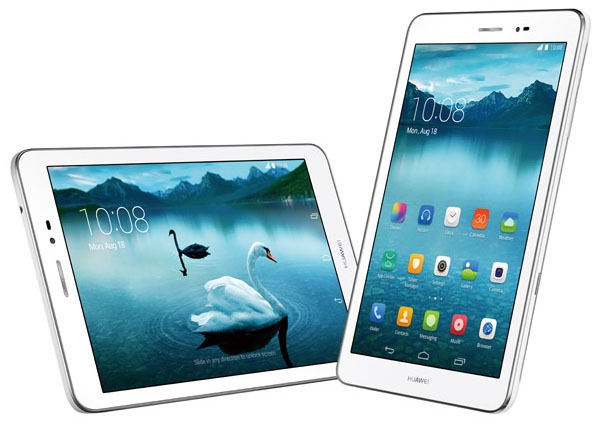 8-inch display 1280 × 800 IPS full-view-angle touchscreen 188PPI (pixels per inch) –

HD RESOLUTION

MSM8212 Quad-core A7 1.2GHz processor
1GB RAM memory, 8GB Storage, MicroSD slot for up to 32GB extra storage
Front camera: 0.3 megapixels, Rear camera: 5 megapixels
Battery Life: lithium polymer, Capacity: 3.7 V, 4800 mAh. standby 300 hours, normal usage up to 8 hours
Height: 210.6mm, Width: 127.7mm, Depth: 7.9mm, Weight: about 360g (with battery)
While we cannot verify this, Huawei claims that with the 4800 mAh battery, you get up to 16 hours of Internet browsing time and 13 hours of non-stop entertainment as well as a whopping 20 days on standby. This makes it one of the most long lasting tablet per charge to rival even tablets in the premium segment plus it comes with 3G and voice call support.
---
The biggest plus on the ZenPad Z380M is the 2GB RAM. At this price point, you would normally only get 1GB or at most 1.5GB of RAM memory. Also, while it is advertised at only having 8 hours of battery life, we have reports of uses managing up to 12 hours of browsing, watching video and playing games before needing a charge. It also comes with sufficient storage at 16GB but should you want to add more, you will need to remove the backplate to get to the microSD slot (takes up to 128GB). If you are familiar with ASUS Android smartphone or tablet, you will quickly come to realise that you get some pretty useful apps but they are mostly ad sponsored. These can be uninstalled easily should you not like them. Powered by low cost MediaTek quad-core processor, the tablet is still responsive and with nice touches optimisation you get with ZenUI 2, you will quickly fall in love with the tablet.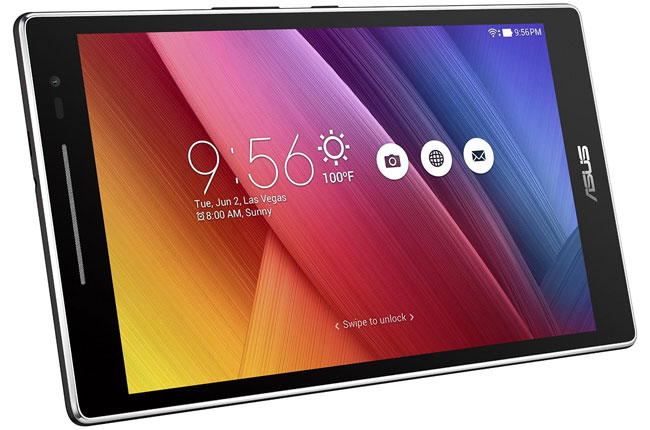 8-inch LED Backlight WXGA (1280×800) Screen IPS Panel with anti fingerprint coating and ASUS Tru2Life Technology
MediaTek MT8163 1.3GHz Quad-Core, 64bit processor and Mali-T720 MP4 Graphics
2GB RAM memory, 16GB Storage and microSD card slot, support up to 128GB SDHC –

DOUBLE MEMORY

2MP front camera, 5MP rear camera
8 hours battery life; 15.2Wh Li-polymer Battery
209 x 123 x 8.5 mm (LxWxH) 350 grams
ASUS also offers 5GB Life Time ASUS Webstorage Space (11B for year 1) and 100GB Google Drive space for 2 years.
Very fast processor and good graphics, excellent battery life and has dual band WiFi but the only odd design decision we find is the location of the micro USB charging port located on the top of the tablet. There is a fair amount of bloatware but you can quickly disable or uninstall this. The ZenPad Z380M is a great value tablet with plenty to offer. Available in Dark Gray, Pearl White, Rose or Gold with interchangeable backplate accent.
---
Best Mid-Range Tablets
You get an option of 2GB RAM with 32GB storage or 4GB RAM with 64GB storage, the later is un-heard of in this price range. And if 32GB or 64GB of storage is not enough, there is the microSD card slot that supports up to 128GB. The catch though is that the tablet is powered by Intel Atom Z3530 Moorfield Super Quad Core 64-bit 1.3GHz processor. This is not necessarily a bad thing as it is zippy and responsive. The only thing to watch out for it the app support. For optics, the main camera is a 5MP shooter, while the rear, a 2MP. The goodies does not end there, the 8-inch screen is packed with 2K level pixels, that's 2048 x 1536 with 178 degree wide angle viewing, higher than your standard Full HD resolution and half of 4K, that's a lot for an 8-inch device.
8″ 2K IPS Display (2048 x 1536) –

HIGHER RESOLUTION

Intel Atom Z3530 Super Quad-Core, 64bit, 1.3GHz.

2GB RAM, 32G Onboard Storage.

1 MicroSD Card slot, expend up to 128GB SDHC.

Android 5.0 Lollipop O/S

ASUS TruVivid, Bluelight filter technology for enhanced visual experience.

203.2 x 134.5 x 6.9 mm, 317grams –

THIN
If you opt for the bigger 4GB and 64GB version, the Z580CA model, you also get the faster Intel Atom Z3580 Super Quad-Core 64bit 2.3GHz processor an a pair of higher resolution cameras, at 8MP and 5MP for rear and front respectively. The only thing that may put you off is the USB Type C connector. It just means you can not use your existing chargers, unless you have lots of USB Type C devices lying around.
---
The new Fire HD 8 received a spec bump. From 1.2GHz Quad Core to 1.3GHz and 1GB RAM to 1.5GB RAM and standard storage moving from 8GB/16GB to 16GB/32GB. All are welcome upgrades. including the battery life from 8 hours to 12 hours. It has however, gained some weigh and bulk, moving from 7.7mm to 9.2mm and 311 grams to 341 grams. The microSD slot now supports 200GB of additional storage. The only thing that Amazon did not push is the cameras, instead of VGA front and 5MP rear cameras, you now get a basic VGA front and 2MP rear cameras. Apart from the storage sizes, the tablet is available in 4 colour options; Black, Magenta, Blue, Tangerine.
8.0-inch 1280 x 800 resolution IPS display with multi-touch (189ppi) and an advanced polarising filter, fully laminated HD display
Quad Core up to 1.3GHz 
1.5GB RAM and 16GB or 32GB Storage
VGA Front and 2.0MP Rear Cameras
WIFI Dual Band 802.11 a/b/g/c/ac, BT, MicroSD expansion slot (up to 200GB), microUSB
Battery life: 12 hours
Dimensions & Weight:8.4″ x 5.0″ x 0.4″ (214 mm x 128 mm x 9.2 mm), 12.0 ounces (341 grams)
Amazon's very reason for entering the tech market with their own tablet is purely selfish reasons, to sell more content. That's not entirely a bad thing as their tablets are designed with dual stereo speakers with Dolby Atmos, reliable dual band WiFi and long battery life and priced affordably. The Fire OS is super easy to use with built-in access to movies, TV shows, songs, books, apps and games if you are invested in the Amazon eco system. This is a must have for Prime members.
---
Love it or hate it, the Yoga Tab adopted the barrel like rolled edge design since the first generation. It has used this on both Windows and Android tablets with much success and has started to use the extra storage space not just for higher capacity battery but as sound chambers, rotatable camera room for built-in projector (on Lenovo Yoga Tab 3 Pro).
The 8-inch display is HD resolution with IPS technology. The embedded kick stand lets you use the tablet in multi modes. The battery life has been improved to 20 hours instead of 18 hours per charge with its 2-cell Li-Ion with Quick Charge 2.0 that charges 75% faster. Powered by Qualcomm Snapdragon APQ8009 1.3GHz quad-core processor with 1GB or RAM memory and 16MB of storage.

Qualcomm® Snapdragon™ APQ8009 1.3 GHz Quad-Core Processor
8-inch FHD IPS Screen 1280 x 800 [HD]
1GB RAM
16GB eMMC Storage
8.0MP Front/Rear Rotating Camera
WLAN, BT, MicroSD slot (up to 64GB), MicroUSB
Dimensions: H14.6 x W21 x D 0.3cm, 466 grams
Battery Life: 20 hours Li-Ion
It's all about the user with multi-mode operation, use it to read holding the rolled edge comfortably in the palm of your hand, use it with the kick stand all the way out to hand it on a hook, or part way as a stand in stand mode (landscape only) and tile mode for typing (as shown above). The Yoga 3 8-inch delivers rich home theater sound that you will not experience on any other tablet. The two integrated front-facing speakers and powerfully immersive Dolby Atmos® sound give louder, clearer and dynamic audio.
---
Best Premium Tablets
Following from the success of Galaxy Tab S, the second generation sees a smaller display 8-inch instead of 8.4-inch but with a more user friendly 4:3 screen ratio better for reading and browsing the web. The Tab S2 8 is Samsung's thinnest at 5.6mm and lightest tablet at 272 grams. It features a Super AMOLED 8-inch screen with 2048 x 1536 resolution for vibrant colours and details, 3GB of RAM, a powerful processor the Samsung Exynos 5433 Processor, octa-core processor with two quad-core clocking at 1.9GHz and 1.3GHz for responsive and efficient computing. To court the professional market, Samsung includes MS Office for Android on the Tab S and if you cannot leave home without your content, load up the microSD card reader with up to 128GB of extra storage. LTE option available.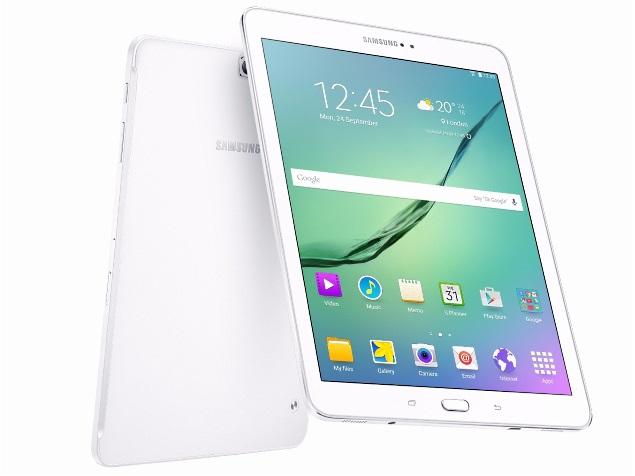 8-inch Super AMOLED screen 1536 x 2048 pixels (~320 ppi pixel density)
Exynos 5433 – T710, T715 Octa-core (4x1.9 GHz & 4x1.3 GHz) with Mali0T760
3GB RAM memory, 32GB or 64GB storage, microSD slot up to 256GB
8MP autofocus main camera, 2.1MP front facing camera
Wi-Fi 802.11 a/b/g/n/ac, dual-band, Wi-Fi Direct, hotspot, Bluetooth 4.1, A2DP, LE, A-GPS, GLONASS
Non-removable Li-Ion 4000 mAh battery
198.6 x 134.8 x 5.6 mm (7.82 x 5.31 x 0.22 in), 265 g (Wi-Fi) / 272 g (LTE) (9.59 oz)
A very nice tablet that is quick and responsive. The Super AMOLED display is second to none. While it replaced the Tab S with 8.4-inch display given the display ratio, it is actually a bit bigger but weighs about the same weight. It an excellent tablet, with Microsoft Office, it could even be a laptop replacement. With the right adapters, you could be printing (wired and wireless), browsing the web, transferring documents to and from the devices and much more.
---
A strong entry from Huawei, the Mediapad M2 8-inch focuses on music and entertainment. The M2 is one of the most compact tablet with all metal slim body at 7.8mm thin. It stands out from the rest here with the including of 4G LTE mobile connectivity. The unit boast amazing dual firing sound with Harman Kardon technology. The 8-inch display is Full HD and its powered by Kirin 930 octa-core processor with 64-bit architecture. To keep you going there is a massive 4800mAh battery, for up to 30 hours on a single charge.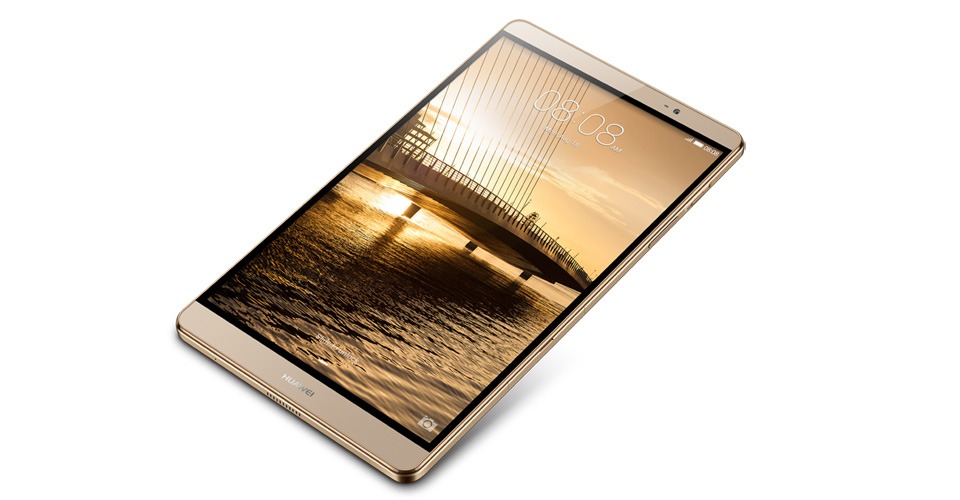 8.0-inch 1920 x 1200 FHD IPS touch display with touch
2.0 GHz Kirin930 64 bit Octa-core CPU with GPU Mali-T628 MP4 + i3 co-processor
2GB (Standard)/3GB (Premium) RAM memory and  16GB (Standard) / 32GB (Premium) storage and MicroSD up to 128GB
8MP AF rear-facing camera with flash and 2MP FF front-facing camera
GPS/A-GPS/Glonass Location & Navigation
4,800 mAh lithium polymer high battery
Wi-Fi: IEEE 802.11ac/a/b/g/n, 2.4/5GHz, Bluetooth: 4.0: compatible with 3.0 2.1 + A2D, EDR, BLE
214.8mm x 124mm x 7.8mm, 330 grams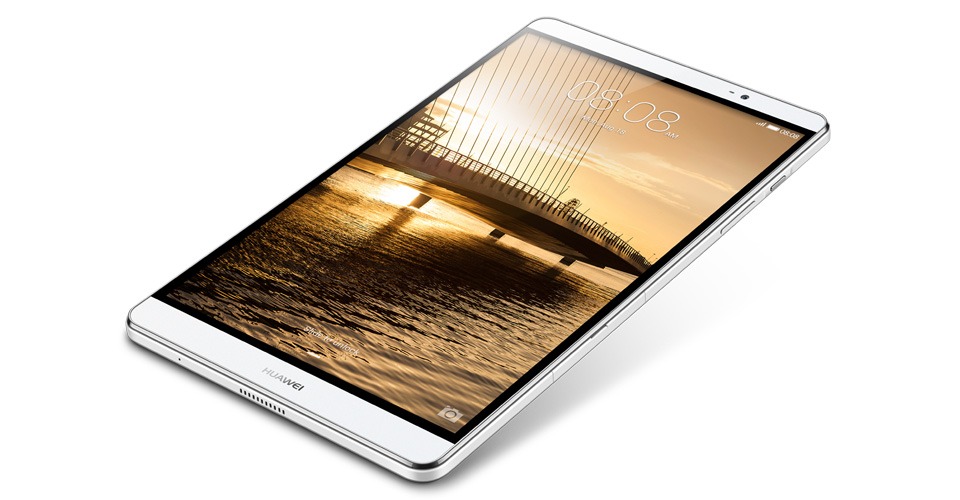 ---
BONUS

: Other Strong Entries

Finally, you might snap up a bargain if you can still get your hands on one of these premium tablets. They are still very capable tablets with plenty to offer.