If you are into realistic racing and flying experience away from the actual tarmac or sky, sim racing and flight simulators are the ones that can take you the closest to reality. With actual racing and flying gears that simulate accelerator pushes and altitude controls, you are going to enjoy the thrill of flying and the competitiveness that circuits have to offer. All you need now is a monitor to make it all come to live.
Unlike mainstream gaming, however, sim racing is a costly operation that needs extra hardware compared to a regular gaming. One of the most important component is the display. You would need a proper display that can give you real-time images of a race driver or pilot. For an exhilarating experience, you need to hear what a racer or pilot hears and see what they see.
While you can run simulators on any monitor, unless you can replicate the field of view of a racer or pilot, you are sure to miss out a lot. Hence, a considerable portion of the research for setting up a simulator gaming system should comprise of looking for an ideal gaming monitor and a powerful graphics card to drive that display.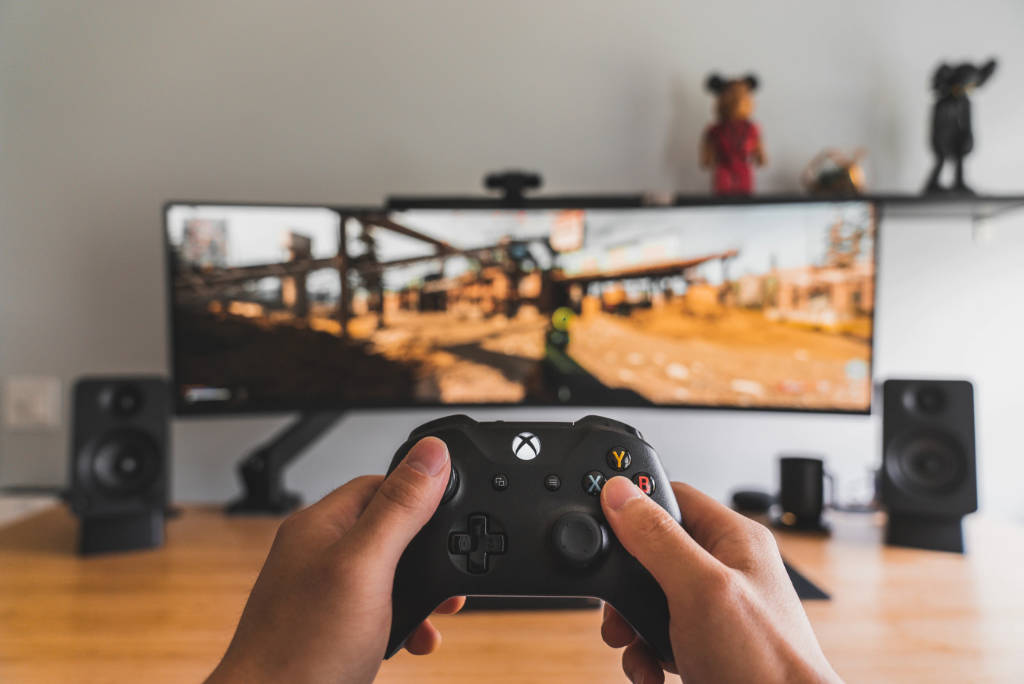 Top 5 Best Monitors for Use with Racing and Flight Simulators
The choice of graphics cards for simulators is a topic for another day. Today, let's look at some of the monitors you can buy to maximize your simulator gaming experience.
1. Samsung Odyssey G9 –Super Wide Curved Monitor for Simulators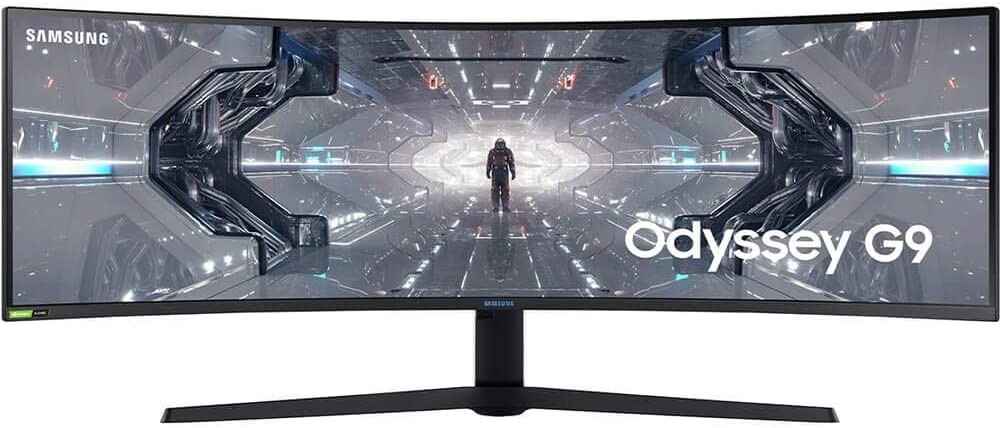 Search Samsung Odyssey G9 on Amazon
For users who prefer single screen set up, there is nothing better than the Samsung Odyssey G9 curved-screen monitor right now that you hook up and start flying. This 49-inch VA panel monitor has the perfect curvature that wraps around you and covers a large part of your peripheral vision. The humongous monitor can fit in everything that a racer or pilot sees at the sides and front. In sim racing particularly this is essential as it enables you to check if someone is trying to sneak past you on the bends.
Besides the sheer monstrosity of its size, the Odyssey G9 has a lot more to offer to gamers. It supports a 4K resolution, has a 240Hz refresh rate, and is an HDR 1000 VESA certified display panel. It has all the makings of an excellent gaming monitor with a 1ms response time and a wide range of connectivity features.
A downside that's an easy guess with the Odyssey G9 is an extremely high price tag. Considering that however, you do get every penny's worth of what you would be paying for. The hard plastic-made chassis that houses the beautiful display panel comes with a glossy finish imparting a sophisticated look and feel to the monitor. The stand is adjustable allowing users to change the height and tilt of the monitor. For simulators screen real estate matters and a Super Wide Screen monitor like the G9 maximizes your field of view in a single screen setup.
The HDR-certified panel has 1000-nits peak brightness and its DCI-P3 color coverage is 98 percent. There are a lot of colour shades on display thanks to its 2,500:1 contrast ratio. The G9 comes with two dual Display Ports 1.4 and an HDMI 2.0 port. Unlike most monitors that employ variable refresh rate the G9 comes with both Nvidia G-Sync and FreeSync and they are compatible with the monitor's refresh rate.
2. Samsung Ultrawide CHG90 – A Cheaper Ultrawide Monitor for Simulators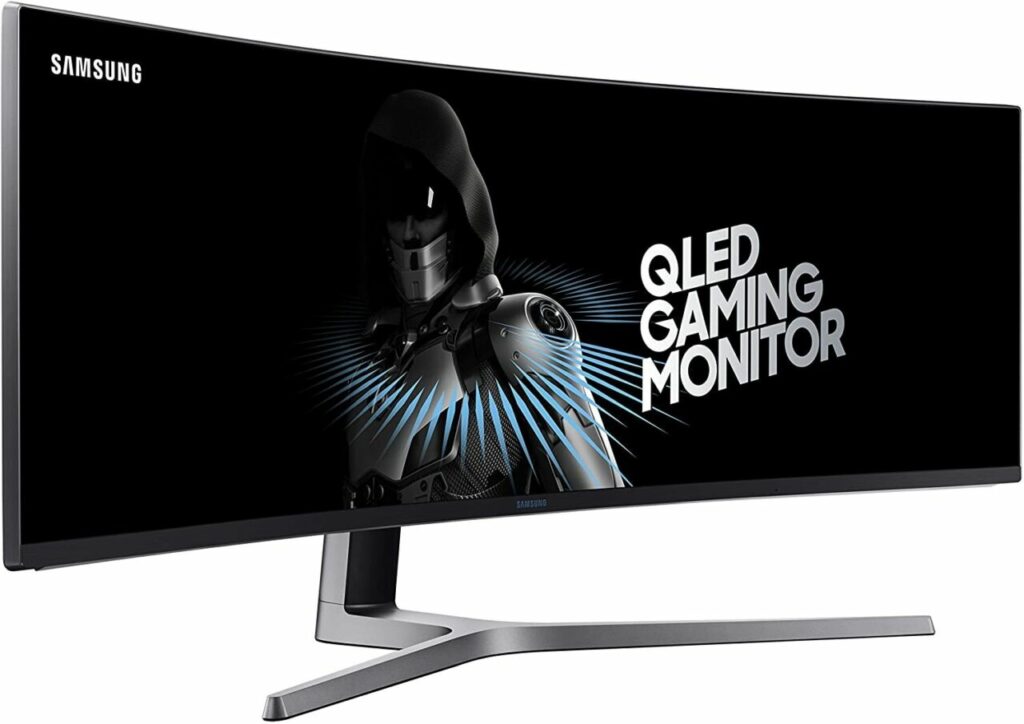 Search Samsung CHG90 on Amazon
For those who want to experience a similar flavour but at a much cheaper price, Samsung's massive 49-inch CHG90 is a big HDR-enabled that offers the same display real estate with the specs tuned down a bit. This offering from Samsung comes with super-thin bezels at the sides and a slightly thicker bottom that has the Samsung logo.
The CHG90 comes with a lower 144Hz refresh rate and FreeSync 2 with a deeper 1800R curvature and covers your field of vision entirely as it wraps all around the user placing him at the center of the action. The panel used here is a QLED Vertical Alignment display that has a max resolution of 3840 x 1080.
The low-resolution means sharpness is lower with low PPI but the colour reproduction is rich and vibrant thanks to an optimized HDR. Brightness is adequate for daytime use along with a comprehensive colour gamut and enormous contrast ratio allowing a huge number of colour shades to be displayed on the display panel.
Samsung CHG90 comes with plenty of connectivity options with dual USB 3.0 and HDMI 2.0 ports. Multi-display support is provided by an additional Display Port 1.4 and a Mini Display Port. For discreet audio is there is a single 3.5mm headphone along with mic in/out jacks. Users can access a detailed OSD menu that offers several game-enhancement features.
3. AOC CU34G2X – A Clear Winner among Mid-sized Curves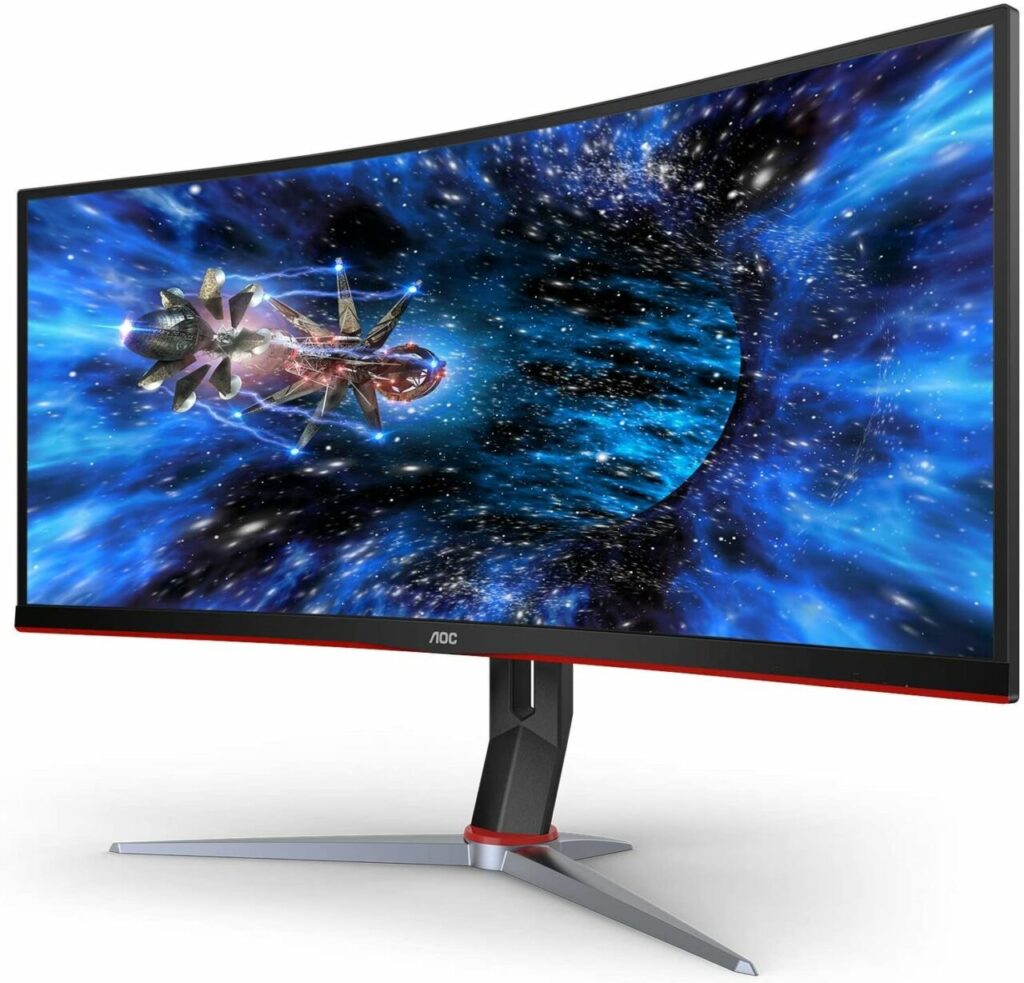 Many might not prefer 49ers in their room and for them, we have the AOC CU34G2X. It is a curved screen gaming monitor that has a subtle build that can easily pass off as a regular monitor with a sleek black and red coloured accent. Rigidity and balanced are obtained through the metal stand. There is no option to raise the height or tilt the monitor like some of the others on the list.
The 34-inch AOC is almost frameless and is marketed as a QHD ultrawide operating at a 21:9 aspect ratio and 2K plus resolution. The refresh rate offered is perfect at 144Hz without any scope of overdrive and a 1ms response time. The VA panel is HDR compliant but VESA certification is missing and has a low peak brightness of just 300-nits. Above 100 percent sRGB coverage with true 8-bit colour depth offers rich and vivid colours with excellent colour coverage, reproduction, and saturation. The visuals are life-like with an accurate depiction that is sure to leave sim gamers awestruck with the detailing they would have from the display panel.
AOC has provided the monitor with two HDMI 2.0 ports and two Display Ports 1.4. There is a headphone port and a hub of five USB 3.0 ports where two are for quick charging and upstream while the rest three are downstream ports. The AOC CU32G2X is an excellent entertainment device that can double up as a TV along with a monitor.
4. Acer Predator XB271HK – Flat Screen 4K Monitor for Multi-Monitor Set-up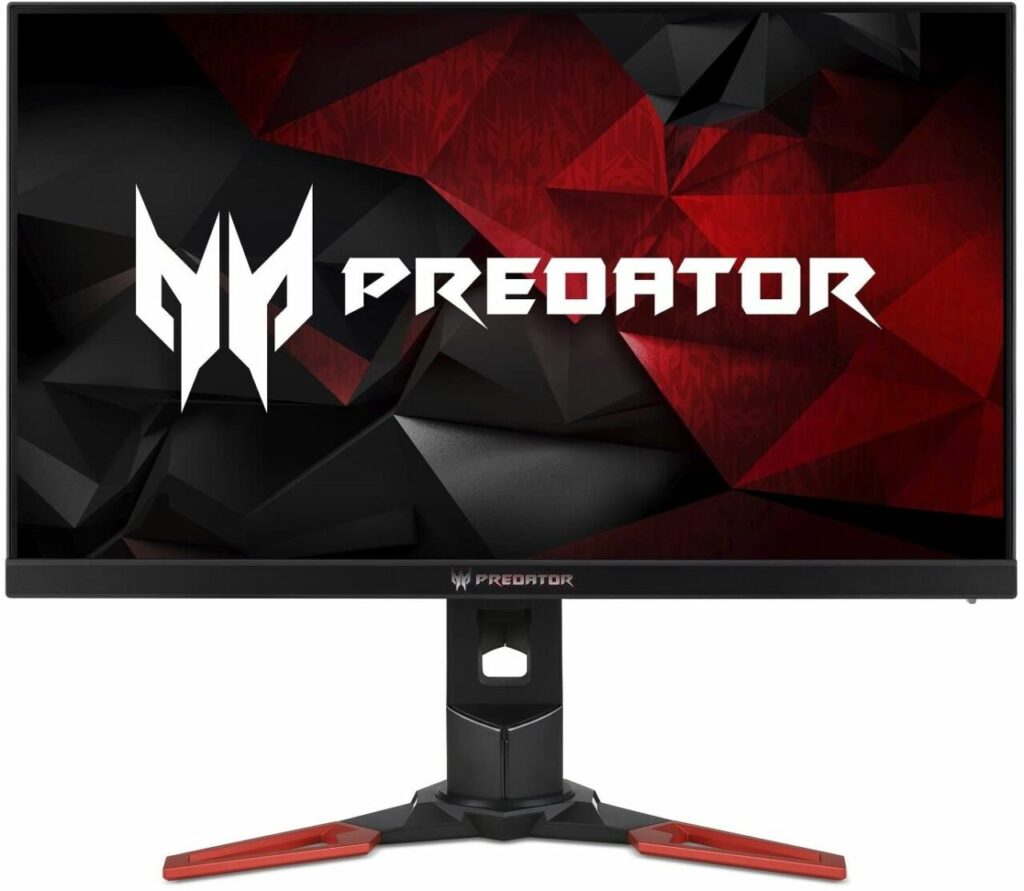 Search Acer Predator XB271HK on Amazon
Next up is the Acer Predator XB271HK. It is a classy 27-inch flat-screen monitor with maximum supported 4K UHD resolution. The monitor looks sharp with its bezel-less IPS panel and matte-coated housing. The build is flexible and offers height adjustment and tilt up to 40 degrees. The stand also includes a 30-degree swivel feature.
The high-quality IPS display panel comes with excellent image reproduction for ultra-smooth gaming. Adding to it is Nvidia G-Sync variable refresh rate technology that aids with screen tearing while gaming as the fixed refresh rate is quite low along with a high response time. Unlike curved screens, the flat screen Acer does not offer a wrap-around for an immersive gaming experience but its 27-inch size makes it suitable to be used as a multi-monitor set up on sim gaming systems.
The monitor offers life-like images on the 4K resolution display that is vivid and crisp with superb sharpness and colour accuracy. The Predator delivers blur-free and smooth motion gaming giving a lot of smoothness and fluidity to racing and flight simulators. The monitor comes with outstanding grey-scale performance but the brightness is a bit underwhelming at 350-nits.
The Predator suffers on the connectivity front with a fairly old school version 1.2 Display Port and version 1.4 HDMI port. For USB connectivity there is a single USB 3.0 for upstream and two USB 3.0 ports for downstream. A saving grace is perhaps the USB 3.0 ports housed in front at the left edge of the monitor.
5. Acer Predator CG7 – Best 43 Inch Flat Screen Monitor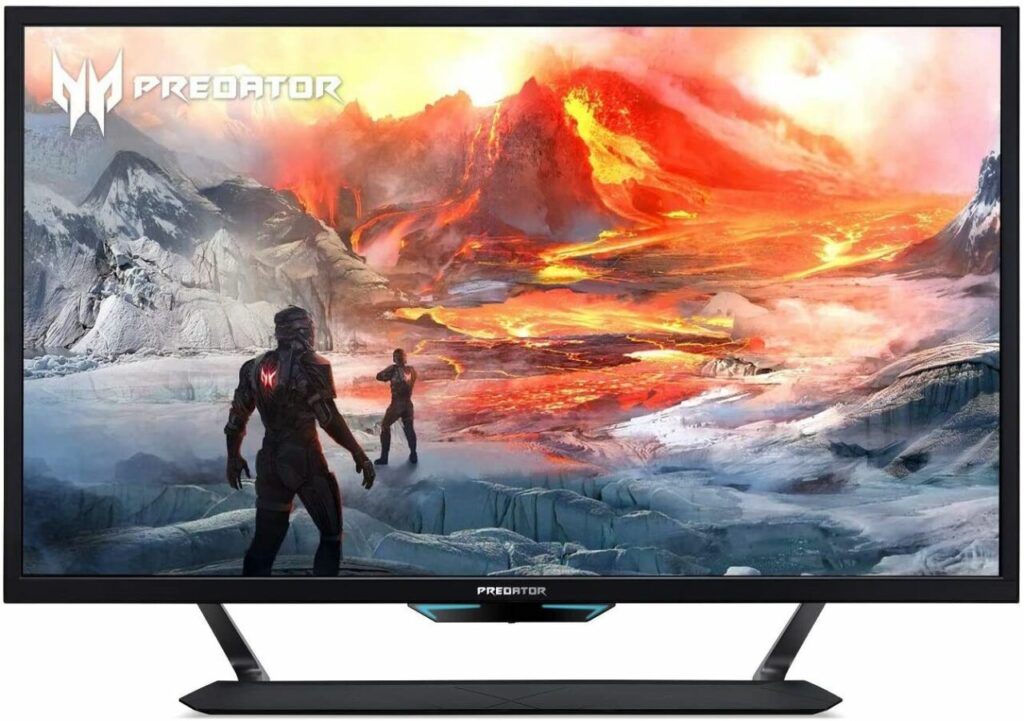 Search Acer Predator CG7 on Amazon
Our next entrant is the Acer Predator CG7 which comes with a 43-inch G-Sync certified display. It is a big-sized monitor and the best option for sim racers looking for a single monitor setup with a flat screen. The monitor has a light sensor that can auto-adjust its brightness and a proximity sensor that allows it to enter standby mode to conserve power when you are not in front of the monitor.
The CG7 comes with a VA panel that is G-Sync compatible and has a refresh rate of 120Hz and a 1ms response time. The maximum supported resolution is 4K UHD and the monitor fully supports VESA certified HDR1000. The monitor has an Overdrive facility where the refresh rate is overclockable up to 144Hz. The Predator CG7 has excellent brightness and contrast ratio with good colour coverage that produces highly detailed, rich, and crisp images. The colours coverage is accurate with deep blacks, and there is adequate contrast ratio to allows the grey shades to be clearly distinguishable. Due to the low response time of the VA panel, there is virtually no motion blur or ghosting.
There are a large number of connectivity options in the Acer Predator CG7. There are three HDMI 2.0 ports and two 1.4 Display Ports. There is also a USB Type-C port and two each of USB 2.0 and 3.0 downstream ports along with a USB 3.0 upstream port. However, be warned that all those features come at a price. Looking for something that is more pocket friendly, check out the next entry.
BONUS: Philips 343E2E – Best Value for Money Flatscreen Monitor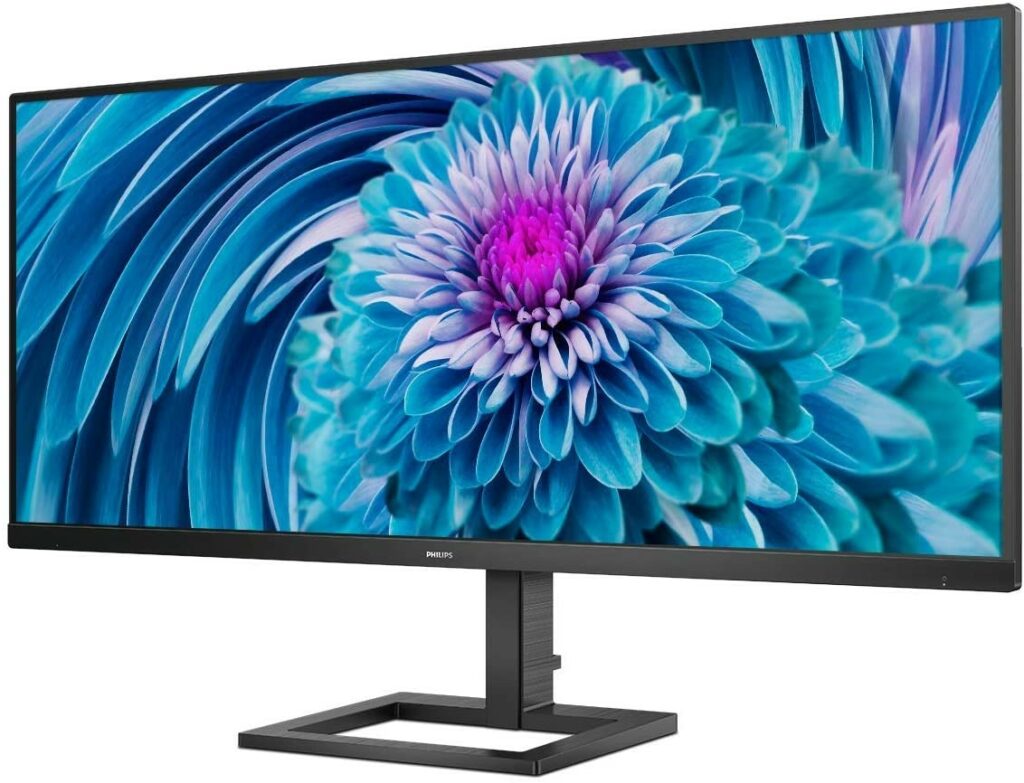 Search Philips 343E2E on Amazon
If you are looking to get the most out of your money, you can get the Philips 343E2E, a great standalone monitor and can also be used in a multi-monitor setup. The monitor is competitively priced with a screen wide enough to compare to at least two regular displays side by side. The monitor is extremely stylish on a budget and operates on an aspect ratio of 21:9. It has a sturdy base with a height-adjustable display and standard cable management features.
The monitor comes with an IPS display that returns clear, sharp, and crisp graphics. The downside is its refresh rate that is too low at 75 Hz. Although the display is VESA mountable it lacks HDR due to its low 300-nits peak brightness. The IPS panel supports a maximum of 1080p Full HD resolution and comes with a bigger colour spectrum that accommodates a lot of colour shades that result in excellent colour accuracy in anything you play on it. Simulated games offer intricate details and imagery that can be best described as life-like on this monitor. The response time is extremely low at 1ms with excellent viewing angles.
In terms of connectivity, Philips does an underwhelming job. There is a Display Port conforming to version 1.2 that is fairly outdated and two version 1.4 HDMI ports. A useful addition is a USB-C port that comes with Power Delivery protocol enabled. There are no downstream or upstream USB ports which in turn severely limits the monitor's multimedia capacity. It is just the basic boxes that Philips ticks with the 343E2E.
Conclusion
Racing and Flight sims thrive and look the best when played on big-sized monitors or a multi-monitor setup. The objective here is to increase the screen real estate as more elements of the game and what a real racer sees in front can be spaced out into a screen. You can play simulators on smaller monitors too but cramming all the necessary details in a single small display would mar the experience of the gamer to a large extent.
So, there we have it, a list of few monitors that are best suited for flight and racing sims at various budgets.