There are now more consumer drones than you can count with both hands. From budget (under 200) to mid-range (200-500) and high-end (up to around 1000), we look at some of the best drones to suit every budget.
While these are way cheaper than commercial drones, they are by no means any less in terms of features and quality. Besides recreation purposes, there are numerous avenues of application where drones come in handy even for the regular Joe. Need to inspect your roof or gutter, use the drone. Need to check the perimeter of your property, send the drone. With its high resolution camera, it is more than capable as aerial surveillance. Need to add aerial shots and dramatic cuts to your home or vacation video, you know what you need.
Commercial applications include the role of drones as border patrol. You may call them Unmanned Aerial Vehicles or Pilotless Aircrafts and nowadays with the inclusion of 4K cameras on a gimbal, it has taken a big technological leap towards being used in professional entertainment projects as well. Aerial photography via drone cameras can let you capture excellent images from high angles.
If you are thinking of getting a drone but never could decide on which one to go for, you have come to the right place.
Drones: Budget Segment (under 200)
This segment is most suited for beginners who are new to the drone game and want to try their hands on these beautiful gadgets for the first time. We have three very affordable drones in this segment, largely dominated by drone maker Holy Stone. They come with excellent basic features like Hover, Follow Me and Pre-decided Flight Path with video capture resolution from Full HD to 4K UHD. A caveat here is that we have intentionally left out drones with 720p camera, those are more like glorified toys. 
1. SANROCK U52 Drone with 1080P HD Camera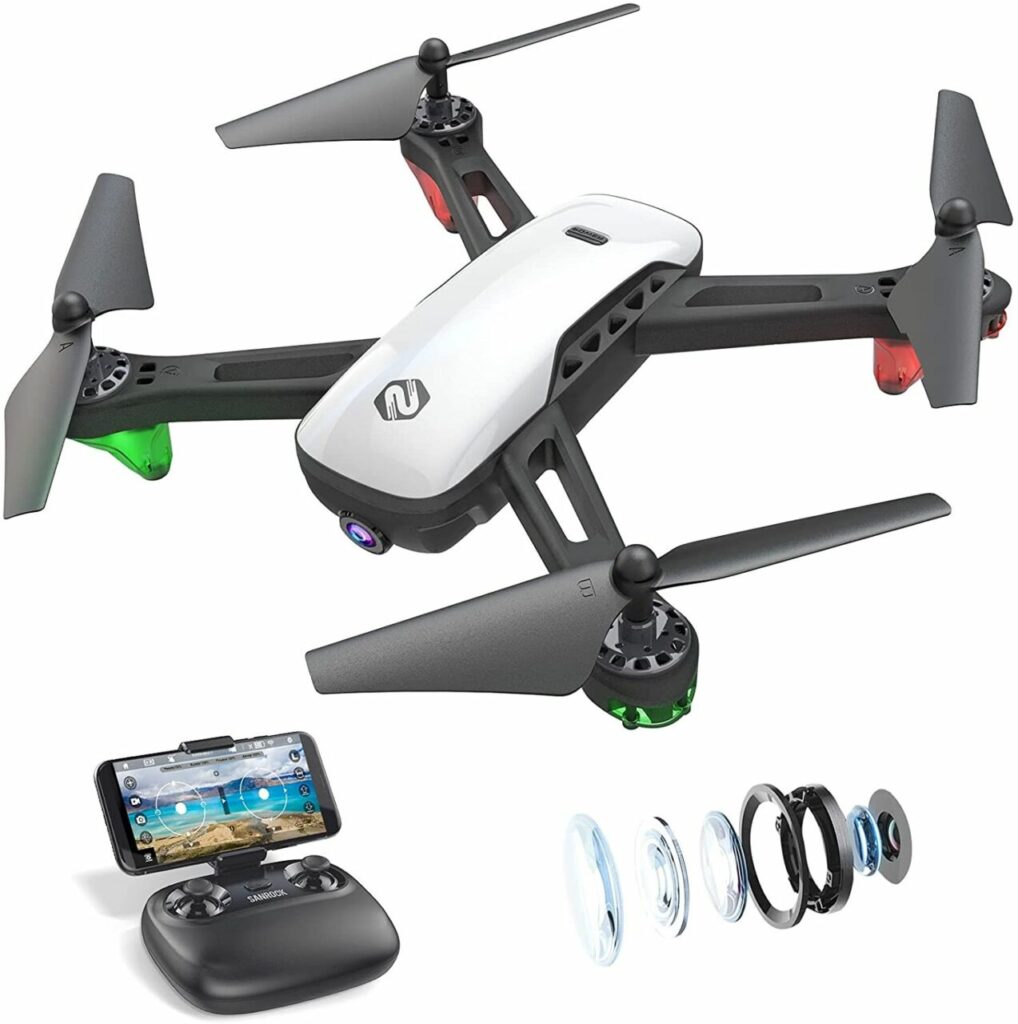 Search Sanrock U52 Drone on Amazon
Features at a glance:
Built-in Full HD 1080p HD camera 
Auto Hovering, Altitude Hold, Return to Home button, One key start/landing, 2 Speed setting
Headless mode controller, alert when exceeding 100 meter range
360° flips and rolls
Define flight path on the app
Control with app and accelerometer in your phone
The first entrant in the budget segment is this sub $100 drone from SANROCK. It is made of ABS and is expected to last longer than most plastic drones. A built-in HD Camera can record footage in 1080p resolution and transmit it in real-time to viewing devices like your mobile or iPad. The best part is it's difficult to lose as the one-key-return feature allows it to come back to you safely without any navigation.
The SANROCK U52 comes with a battery that gives it 13 minutes of flight time. Besides the regular functions, the U52 has Auto Hovering functions which allow you to take stable shots over waterways and crevasses. There is much control given to the user as the receiver sounds an alarm if the drone's battery is low or it has exceeded 100-meter distance.
2. Holy Stone HS175 Drone with 2K Camera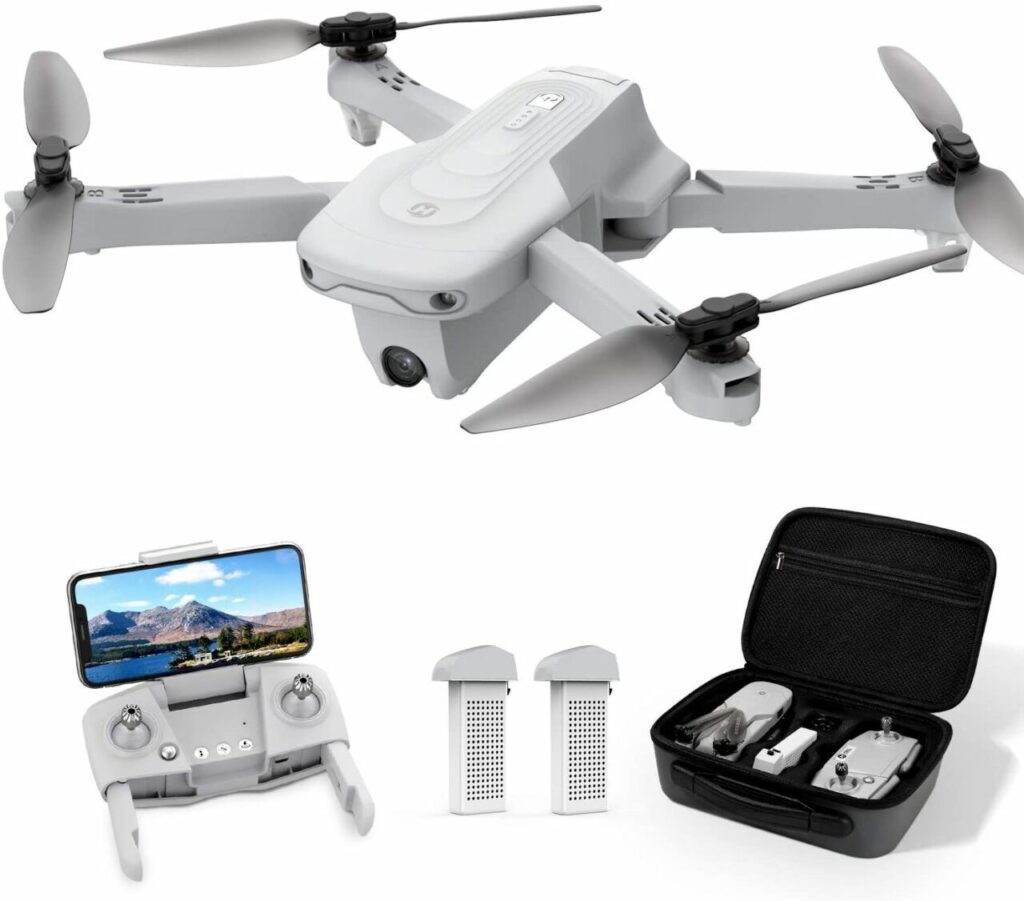 Search Holy Stone HS175 on Amazon
Holy Stone HS175 comes equipped with a 2K camera that can capture high-resolution 2048×1080 images. The lens is 120 degrees wide and adjustable up to 90 degrees and allows excellent landscape photography. Live transmission over a 5Ghz wireless network ensures a smooth and stable video feed from up to 300M away. The HS175 is equipped with advanced GPS and GLONASS sensors that are particularly helpful in locating the drone if it loses power midway and falls on the ground. The drone is easy to use and comes with a 'Follow Me' function that follows you when activated via the remote control. It can hover at a fixed altitude and fly on a predefined path. The drone comes with a 1300mAh Li-Po battery that returns a decent flight duration of up to 22 minutes per battery.
3. Holy Stone GPS Drone with 4K Camera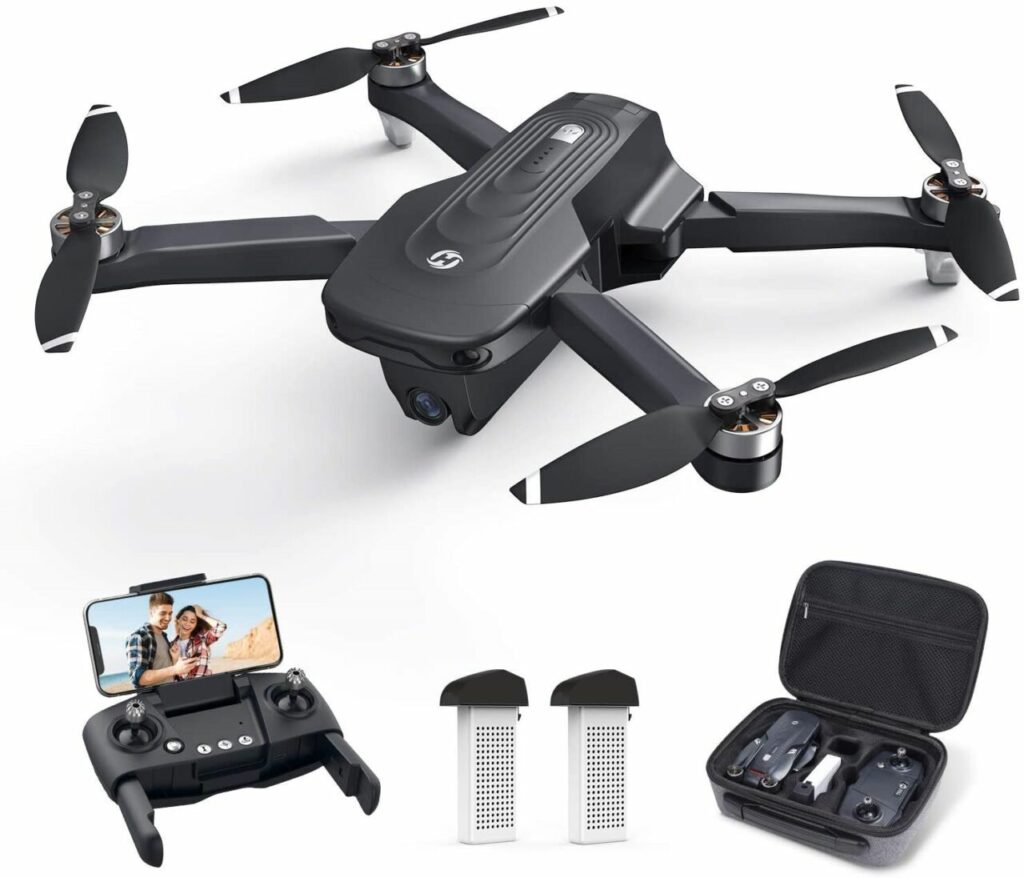 Search Ruko F11 Pro 4K on Amazon
Our final entrant in the budget segment features a 4K Ultra Clear camera with a 120-degree wide-angle lens and is adjustable up to 90 degrees. The camera provides UHD resolution pictures and enables users to capture perfect shots and transmit them over a 5GHz FPV network. Although flights are GPS-assisted and let users tap a single switch for safe return, GLONASS is missing. The drone comes in a nifty carrying case that accommodates the foldable drone and its accessories.
Holy Stone's 4K drone gives the best in-range flight time of up to 23 minutes (per battery) and comes with regular features like Altitude Hold, Headless Mode, Follow Me and Flight Pattern. The drone is easy to use, lightweight and suitable for beginners and newbies. At just under $200 the 4K drone from Holy Stone is a good value for money option for drone photography enthusiasts.
Drones: Mid-Budget Segment
If you can spend a bit more, the mid-budget segment is a sweet spot, balancing price and functionality. Here, we have included five mid-range drones in this segment. These drones more in terms of build quality and more reliable internal components. They even feature better camera functions like image stabilization, gimbal and more reliable GPS.
4. Ruko F11 Pro 4K UHD Drone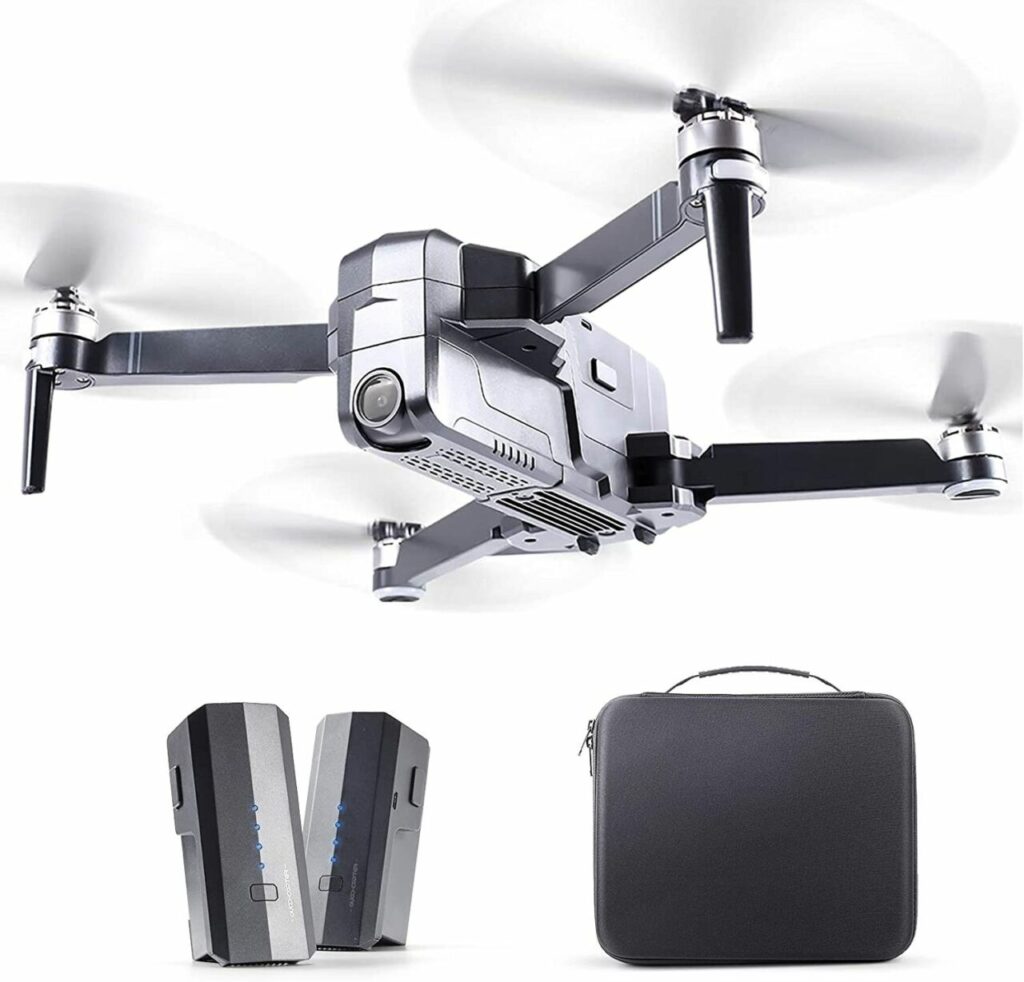 Search Ruko F11 Pro 4K on Amazon
The Ruko F11 Pro looks beautiful in a black/silver ABS build. Build quality is good and it feels solidly built. The drone features a 120-degree wide-angle camera that is excellent at capturing 4K Ultra HD images and video with stunning clarity, vivid colours and high contrast. Although EIS is missing the drone is equipped with brushless motors and level 7 wind resistance that gives it a lot of stability while capturing images and video. Priced at around $300, its transmission range is up to 300 meters with a flight distance of 500 meters.

The F11 Pro comes with an extra battery that doubles its flight time to 46 minutes and is easily changeable. Intelligent features like recording the last location come in handy if the drone loses power mid-flight. The drone includes all regular features like Circle mode, Follow Me mode and can also fly along a pre-designed path.
5. Holy Stone HS720E 4K EIS Drone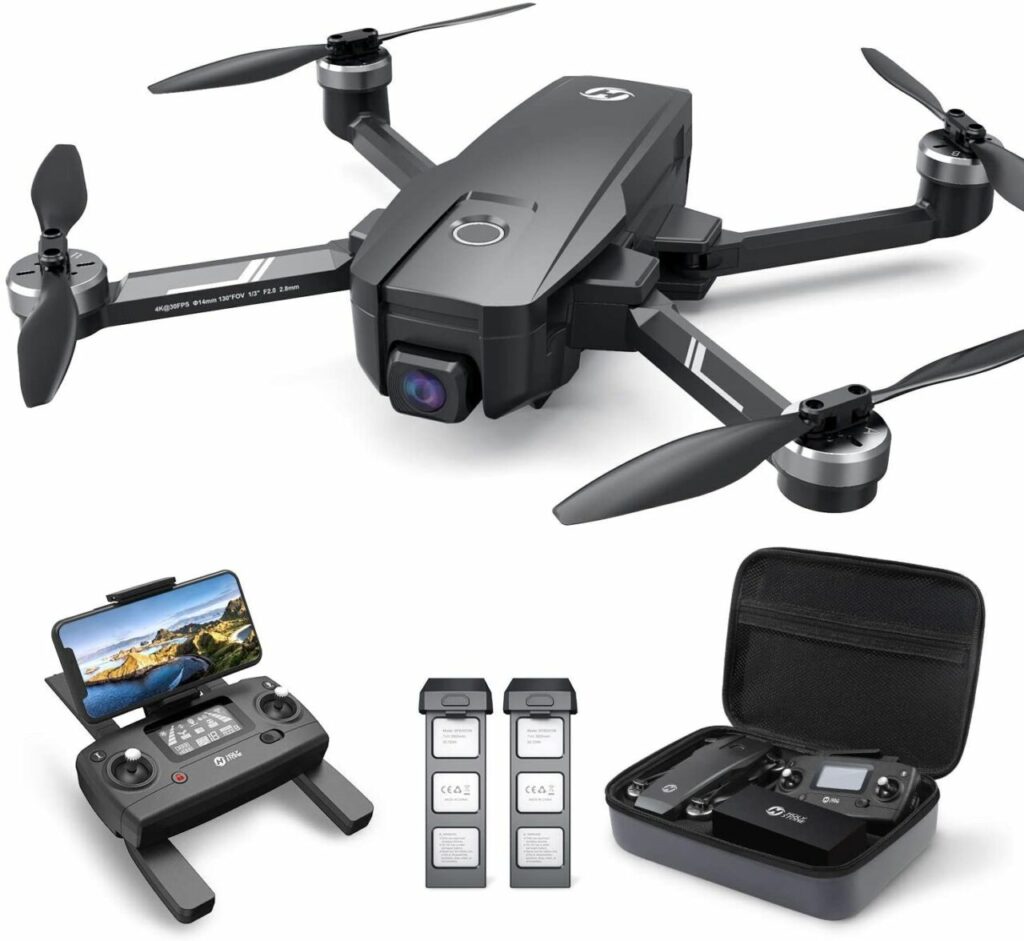 Search Holy Stone HS720E on Amazon
Holy Stone HS720E comes with Electronic Image Stabilization that offers excellent stable video transmission during flight at a price range of around $350. The camera comes with an Anti-Shake feature and uses a Sony sensor that is capable of capturing 4K UHD videos and images. EIS helps to reduce blurring while capturing content and transmitting over a 5GHz signal. The capture quality is clear with natural colours and contrast. The Point of Interest Feature allows the camera to circle around a point of interest and capture excellent landscapes in the background.
The HS720E comes with a rather standard 23-minute flight time which can be extended using a spare battery supplied by Holy Stone. The drone features an altitude control system and can transmit videos smoothly from over 1600 ft. GPS-assisted Auto Return Home is intelligently activated when the battery is low. The quadcopter drone features powerful long-life brushless motors that are maintenance-free and operate almost silently.
6. DJI Mavic Mini Drone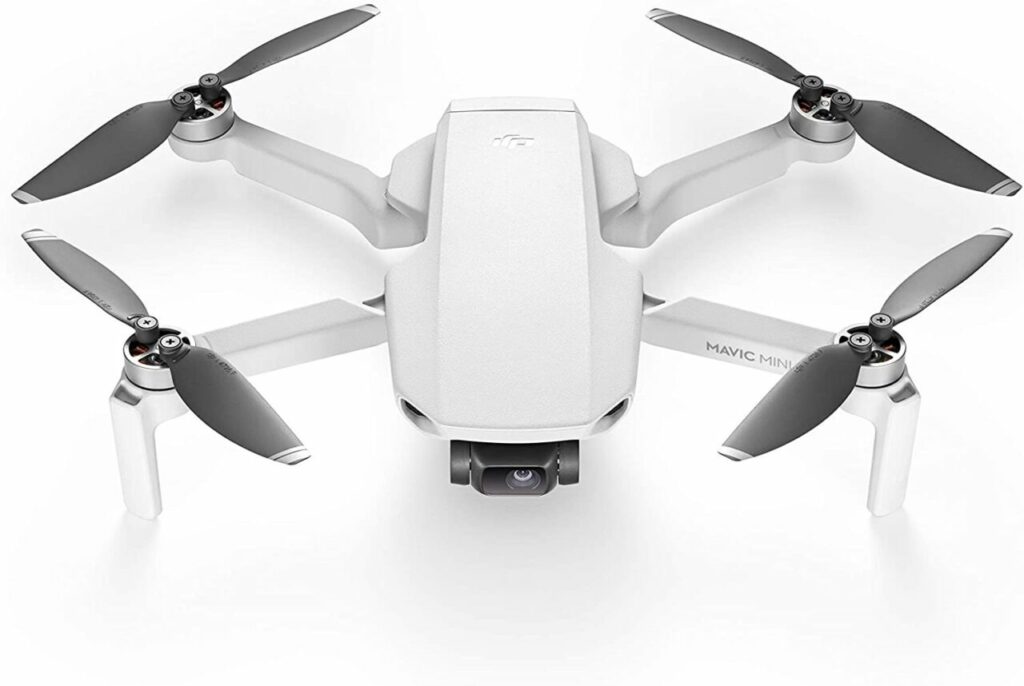 Search DJI Mavic Mini on Amazon
Veterans drone flyers would tell you that DJI drones are usually not available for cheap. Hence, if you can spot one, especially at around $400, it's a no-brainer even if it is a previous generation drone, the DJI Mavic Mini 2 is also on our list below. What the Mavic Mini lacks in size, it makes up for in functionality. The drone comes with an excellent 12MP camera that has a CMOS sensor that can turn even a simple jogging video captured with 'Follow Me' into an art form. Its lightweight design allows it to fly high up to 1.86 miles and can travel at high speeds of up to 29 mph. The camera features a 3-axis motorized gimbal that imparts excellent stability while capturing videos. Aerial photos are of pristine quality and videos can be recorded in 2.7K or 1080p resolution.
Mavic Mini's is very compact and when folded and can sit on your palm. The maximum flight time is 30 minutes. In the combo pack, you get a lot of spares and enhancements like extra batteries, spare propellers, Gimbal Protector, cables, propeller guards, etc.
7. Ruko F11 Gimbal Drone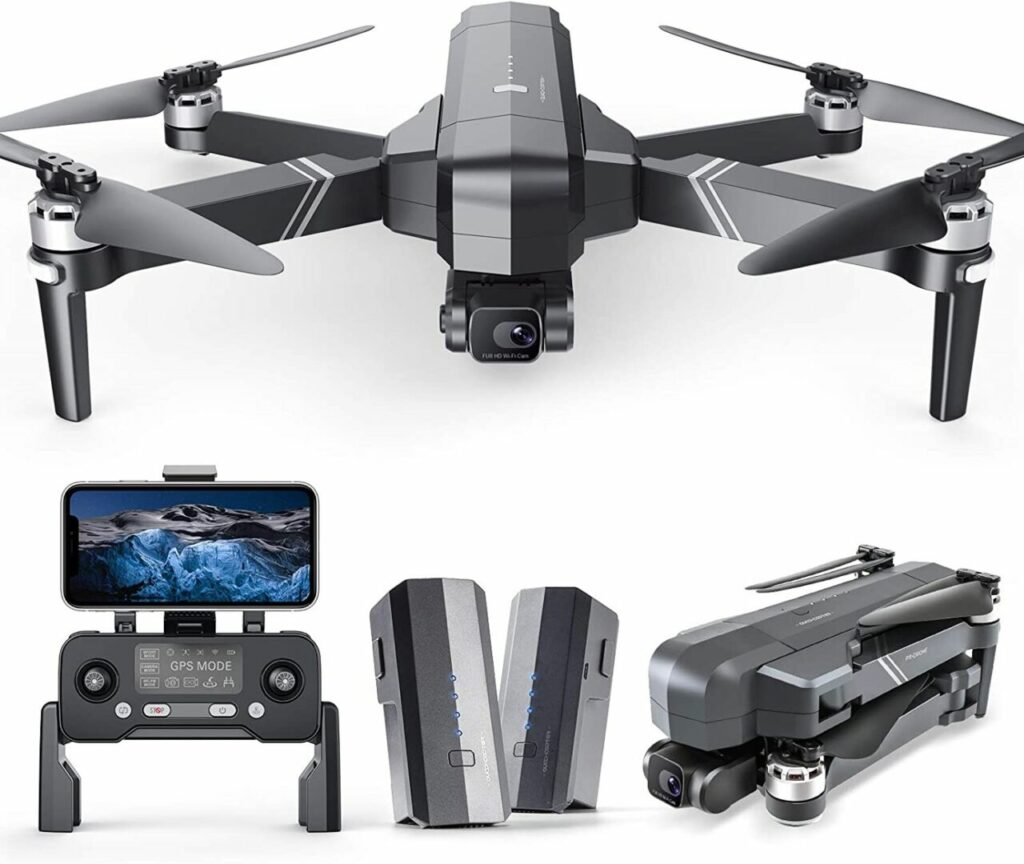 Search Ruko F11 Gim Drone on Amazon
The Ruko F11 Gim comes with a 4K Camera and has a 2-axis mechanical gimbal along with EIS. The combination of these technologies goes a long way at eradicating blurriness to a large extent and provides an incredibly clear and stable video with excellent picture quality. Both images and video can be captured at 4K resolution and there is an additional 5X zoom feature for more detail in the shots.
The F11Gim has a jaw-dropping flight range of up to 4900ft and can do live 5GHz FPV transmission from 3900ft. The flight duration is just over 20 minutes from a single battery but the manufacturer supplies a spare. The F11Gim uses the same brushless motors as F11 Pro that provide reliable and stable flight performance with speeds going up to 15m/s. The drone also comes with GPS and Air Pressure Altitude Control System for sustained stability at high altitudes. Regular features are all included and easy to access from the Fly App in this $400 drone.
8. DJI Mini 2 Drone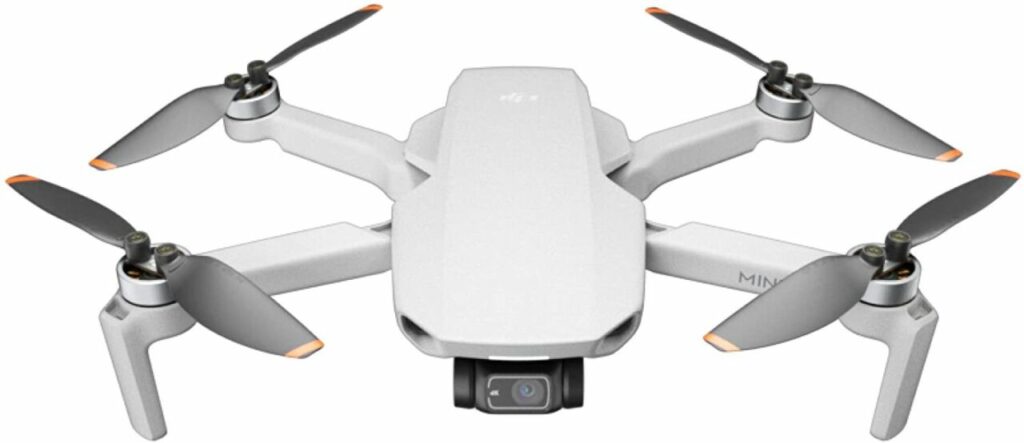 A DJI drone in the mid-budget segment is always good stuff to have. The DJI Mini 2 is again a small-sized drone that is available at a price range of around $450. Its 249g weight makes it a powerful but compact and convenient drone for aerial photography. The 12MP camera is capable of shooting 4K images and videos.
DJI has used OcuSync 2.0 to allow the Mini 2 to adjust automatically between a couple of frequencies and increase the transmission distance of the live video to an astounding 10,000 meters. In addition to the high transmission distance, the camera also features a 3-axis motorized gimbal and Level 5 wind resistance that brings stability while capturing content.
The Mini 2 is equipped with a battery that gives it more than 30 minutes of flight time and that too at a 4000-meter altitude. The camera capabilities are further bolstered with a 4X digital zoom, 4K Hyper lapse and Panorama features that let you capture professional-quality videos.
Drones: High-Budget Segment
If you are going above $500 for drones, you sure mean business and we have nothing but the best for you. The two drones we have selected in this segment have out-of-the-world camera performance offering much more than what we have experienced so far. A huge field of view, 4K at 60 fps, 8K Hyperlapse, Safety Features, you name it, it is all there.
9. DJI Mavic Air 2 Drone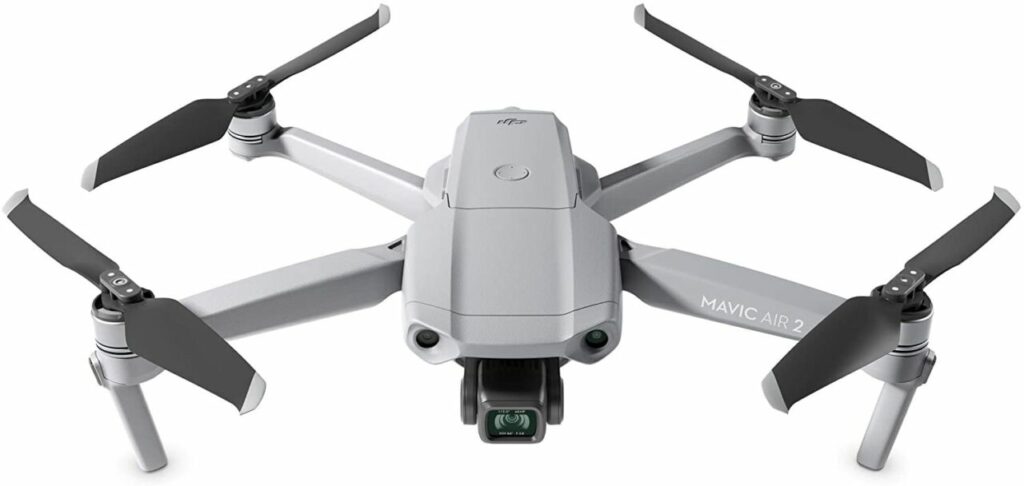 Search DJI Mavic Air 2 on Amazon
The Air 2 is one of the premium drones from DJI that comes with an incredible 48MP camera that has a big 0.5-inch CMOS sensor. Videos recording and live transmission are possible at 4K/60fps with H.265 video codec capturing more information in every image. The powerful camera of the Air 2 comes with intelligent shooting modes and HDR that yield stunning results. 3-axis gimbal aids in stability and OcuSync 2.0 offers 10 kilometers of video capturing range. Livestream is possible in Full HD resolution.

Features like Spotlight 2.0 keep the subject locked and Active Track 3.0 keeps it centered. It also features a sports mode that lets users capture stunning fast-paced shots like surfing or skiing. The drone flies at a max speed of 42 mph in sports mode. The DJI Mavic Air 2 has over 30 minutes of flight time with a lot of enhancements offered in the combo pack. It is available at a price range of around $800.
10. DJI First Person View Combo Drone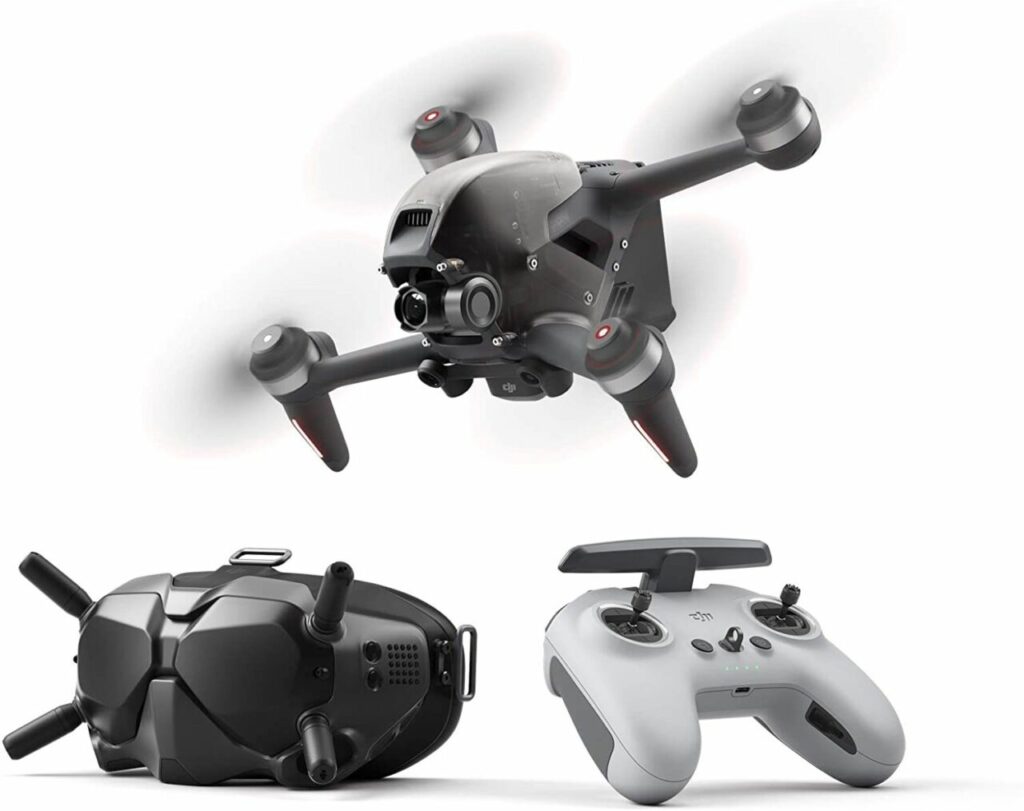 Search DJI FPV Combo Drone on Amazon
What happens when you fuse two extreme pieces of tech? You get the DJI First Person View Drone. The drone comes with a VR-like headset that DJI calls FPV Goggles. Whatever the drone's 4K enabled, 150-degree wide field of view camera sees, it transmits straight to the goggles in real-time.
The controller gives you full control over the drone with all the regular features like Return to Home and Low Battery warning. 4K videos captured at 60fps provides unmatched clarity, smoothness and dynamic range. Live transmission uses HDL Digital Transmission technology to enable low latency even from over 6 miles. The DJI FPV drone is also equipped with OcuSync 3.0 and motion control that makes the drone a premium choice at more than $1200.
The drone has obstacle sensing technologies and can be easily brought to a hover mode within a few seconds on detecting obstacles in front of it or below it. Flight duration is 20 minutes but flight speed is at an astounding 87 mph. It can capture excellent fast-paced shots and is best for capturing object in fast motions like a moving car or a bike from close range.