Serious gamers need ultra wide curved gaming monitors to get the most out of their games. These monitors offer a full immersion experience with panoramic and cinematic view that wraps around the user. You can use multiple monitors arranged side-by-side but a full uninterrupted 34-inch field of view beats that any day.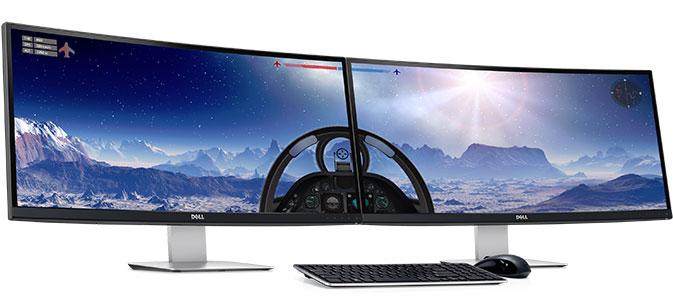 Factors to Consider When Picking an UltraWide Curved Gaming Monitor
When considering and ultra wide curved gaming monitor, here are the factors to look into.
1. Resolution
Ultra Wide monitors have a different aspect ratio to standard wide monitors. Instead of 16:9 it uses 21:9 aspect ratio. This makes them 31.25% wider. With a bigger horizontal resolution they are more suited as a curved monitor compared to monitors with 16:9 aspect ratio.
At 21:9 aspect ratio, the monitors are available at UltraWide QHD with 3440 x 1440 pixel resolution. That's 4K resolution but with a panoramic viewing experience. A lower resolution display is also available in our list below at WFHD with 2560 x 1080 pixel resolution. This helps keep the cost down as the panel is cheaper to produce and is suitable for those with mid-range or entry level GPUs.
2. Curvature
A curvature rating number or curve radius defines the sharpness of the curve of the monitor. A curved monitor with a radius of 1500R has a more acute curve than compared to a monitor with a curve radius of 2300R. The bigger the curvature rating, the softer the curve. For example, a radius of 3800R is hardly noticeably and probably more suited for television where viewers are further away from the screen.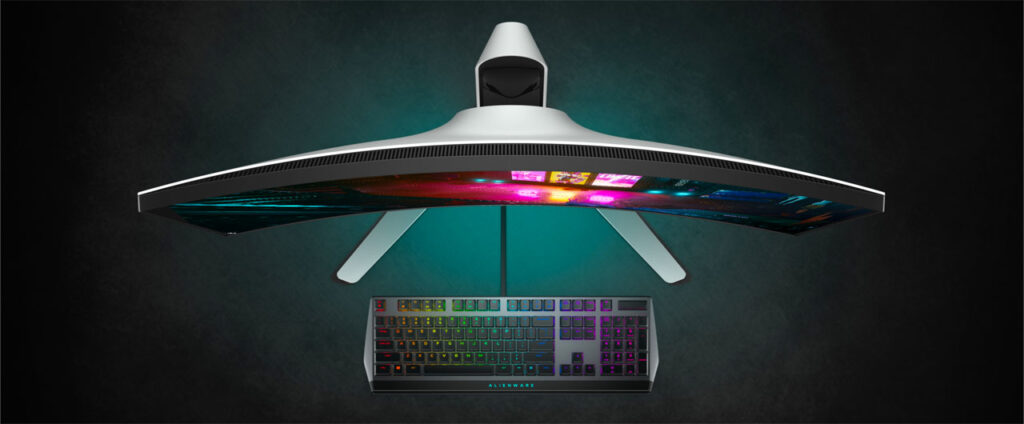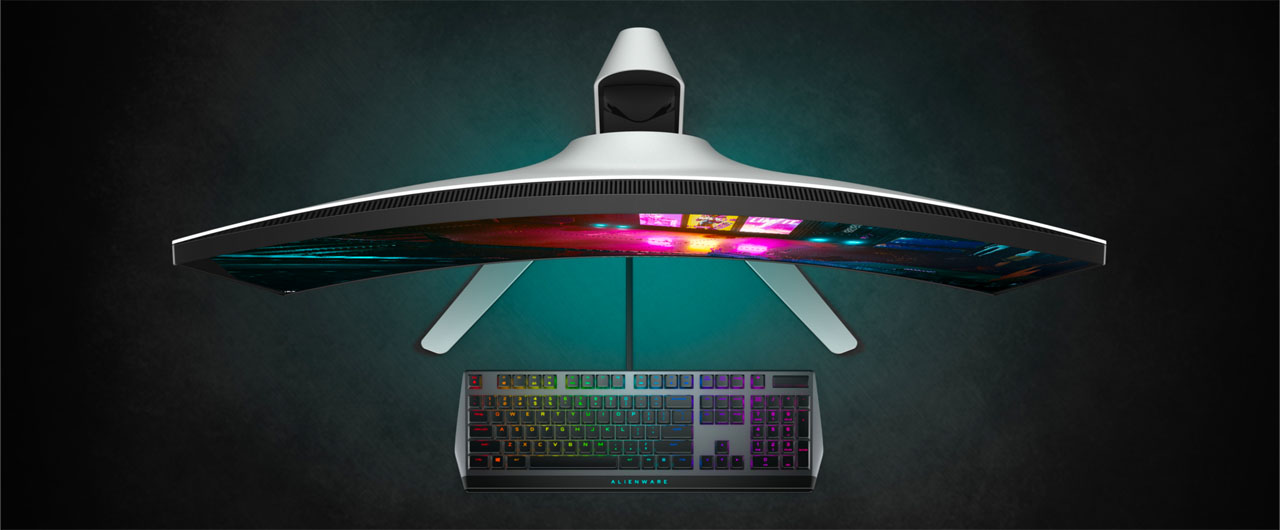 Common curve radius among our list of curved monitors are 1900R and 1800R. These offer a suitable viewing distance enough to envelope a gamer for the best gaming and truly immersive experience. Surrounding the players view port for quick and easy viewing with the least amount of distractions and reflections.
If you are interested, the curve radius (curvature rating) is derived from the center of a circle to the middle of the monitor. This circle is created by arranging multiple of the same monitor to form a circle and is measured in millimeters.
3. Refresh rate
A monitor's refresh rate indicates how many times a screen is redrawn per second. The higher the refresh rate, the better the monitor at eliminating screen stutter. Evidence of visual flickering usually presents itself on standard monitors with a refresh rate of 60Hz, one simply has to move the mouse cursor quickly on the screen. Higher refresh rate such as 75Hz, 100Hz, 120Hz, 144Hz or even 200Hz to 240Hz reduces flicker to present a smoother, silkier motion.
Page scrolling, video motion and in-game action especially for RPG will render more naturally. Fast moving action scenes or action games will benefit from higher refresh rate. Depending on your display, you can change the refresh rate setting via the operating system's settings page or graphics driver software.
4. Frame rate synchronisation
Choose between AMD FreeSync or NVIDIA G-SYNC technology supported by the monitor to match the frame rate of your display card display card. This allows the monitor to stay in sync with the display card when reproducing the image frame by frame on the display. This works in tandem with the refresh rate above. Synchronisation eliminates distortions like tearing and artifacts to show a smooth and vibrant image on screen.
5. Monitor Viewing Angle
Most monitors on our list have wider viewing angles of up to 178 degrees (both horizontal and vertical) with the help of In-Plane Switching (IPS) technology. This technology offers better viewing angles and colour reproduction than the standard panel. With IPS technology, displays can offer the following benefits:
Wider viewing angle
Better colour accuracy
Better contrast, higher contrast ratio
Deeper black level
More consistent image across the display
Faster response time
It does so by shifting the patterns of the liquid crystals in LCD displays to leverage of liquid crystals aligned in parallel. The results, a super wide viewing angle with better consistency and more accurate colour. The colours, brightness and contrast will not change drastically when viewed from different angles.
6. Response Time
A monitor's response time is measured as the time it takes to change from one colour to another. Ratings are based on how fast the monitor covers the whole spectrum of colour, from black to white and black again, with some manufacturers starting from grey-to-grey. Older monitors have an average of 10 milliseconds response time or higher. The monitors in our line-up are in the single digits and can go for as low as 1ms.
What this means for a gamer is, a lower response time translate to fewer evidence of ghosting and blurring in a fast-paced action game. Think about moving and shooting at your opponent at the same time or taking a long-range shot in sniper mode to get multiple targets.
7. Colour Accuracy
There are a few colour spectrum standards to which manufacturers rate the colour accuracy of their display. The common ones are sRGB, NTSC and DCI-P3 standards. Basically, the wider the colour gamut, the bigger the percentage rating against these standards, the close to its original colours, images are videos are represented on the monitor. However, these standards not equal. For example, the Alienware 34.1-inch monitor is capable of 98% DCI-P2, this exceeds the standard colour spectrum at 134.5% sRGB.
8. Connectivity & Interfaces
These monitors support more than one input type or interface type. Depending on your desktop or laptop, and the type of video output available from the graphics card, you may need a suitable cable to connect the two up. Older interface such as VGA and DVI are being phased out in favour of newer interfaces. Both VGA and DVI carry video signal only with support for up to 1080p Full HD resolution. New interfaces like HDMI, DisplayPort, Thunderbolt 3 and USB Type-C can support higher refresh rate and resolution up to 8K. The latter two, Thunderbolt 3 and USB Type-C ports, use the same interface type (USB-C). One simply has to look for the label or logo e.g. lightning symbol for thunderbolt beside the port to differentiate. Earlier versions of Thunderbolt interfaces (1 and 2) use Mini DisplayPort. Some monitors also come with onboard USB hub, they replicate your USB port so you can connect peripherals and charge them at the same time via the monitor.
Top 8 Best 34-inch UltraWide Curved Gaming Monitors
BONUS: AOC AGON AG352QCX 35-inch Curved Gaming Monitor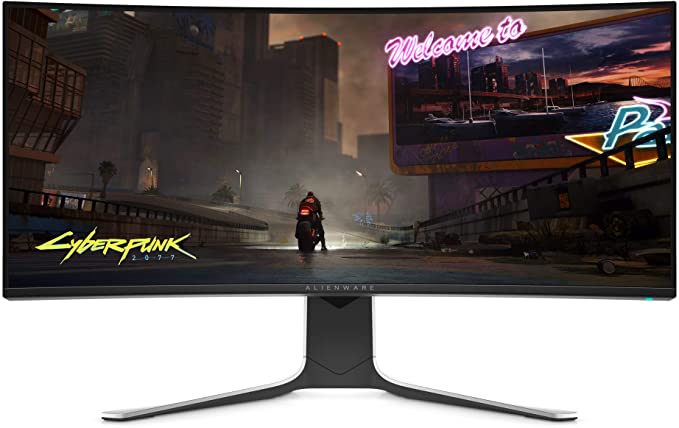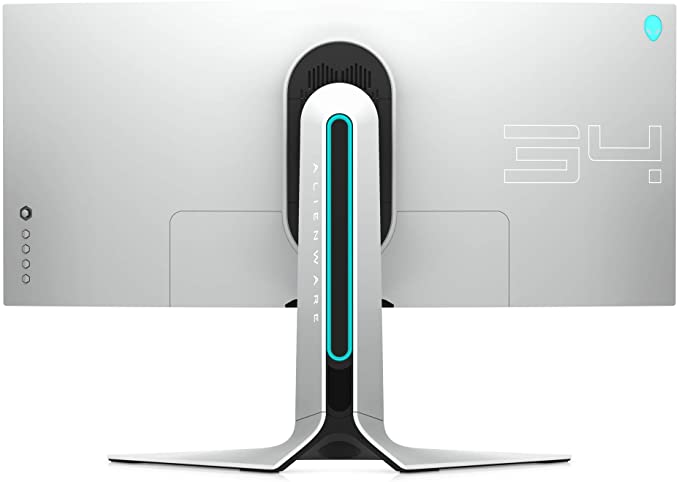 Type: IPS panel with NVIDIA G-SYNC, LED Edgelight, Lunar Light case. 98% DCI-P2 (exceeds standard colour spectrum at 134.5% sRGB), Alienfx customisable lighting (Alienware head logo, continuous light strip on the stand, downlight and power button) height and tile adjustable.
Resolution: UltraWide QHD 3440 x 1440 21:9 aspect ratio, contrast ratio 1000:1
Curvature: 1900R
Refresh Rate: 120Hz
Response Rate: 2ms GTG
Ports: 1 x HDMI (ver 1.4), 1 x DP (ver 1.2), 1 x USB 3.0 upstream port (Rear), 2 x USB 3.0 Downstream port (Rear),2 x USB 3.0 Downstream port with 1 x power charging (Front bottom),1 x Headphone-out jack (Front Bottom), 1 x Audio Line-out jack (Rear).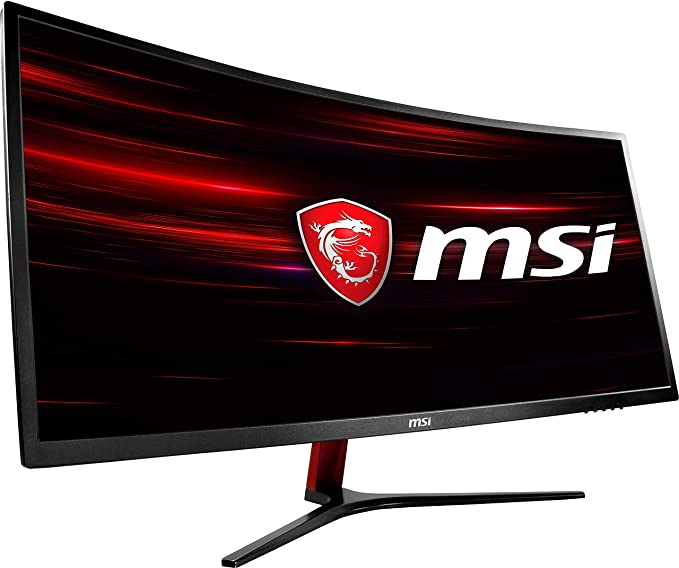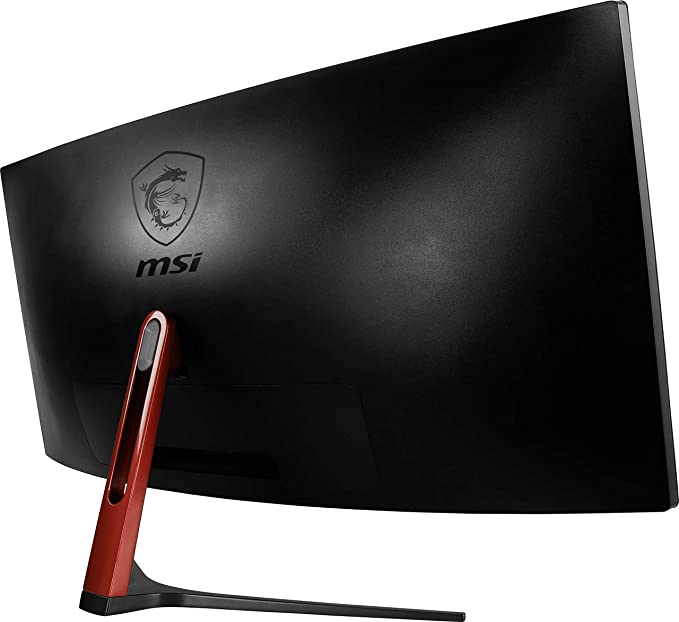 Type: IPS panel with AMD FreeSync, RGB Mystic Light, 110% sRGB wide colour spectrum, Picture in Picture and Picture by Picture as well as Split Mode. Blue light reduction, anti-flicker,
Resolution: UltraWide QHD 3440 x 1440 21:9 aspect ratio
Curvature: 1800R
Refresh Rate: 100Hz
Response Rate: 8ms
Ports: 1x DVI / 1x HDMI (2.0) / 1x DP (1.2)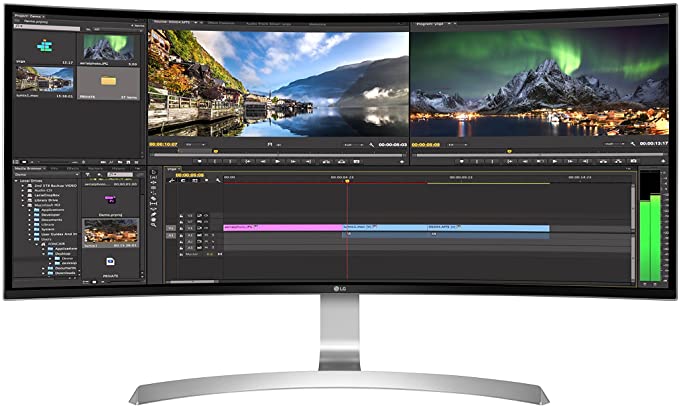 Type: IPS panel with AMD FreeSync, multi-tasking monitor (PIP and PBP), Game mode, black stabilizer, DAS mode, flicker safe.
Resolution: UltraWide QHD 3440 x 1440 21:9 aspect ratio
Curvature: 1900R
Refresh Rate: 75Hz
Response Rate: 5ms GTG
Ports: 2 x HDMI, DisplayPort, USB-C display connection (compatible with MacBook) support USB 3.0 QuickCharge, Headphone out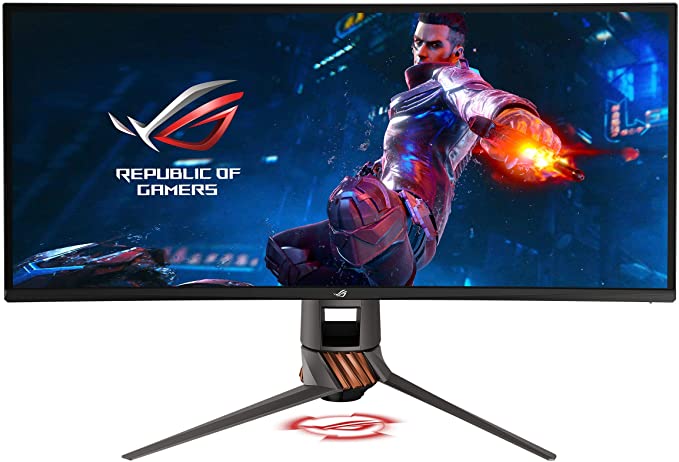 Type: IPS panel with NVIDIA G-Sync, ASUS Aura Sync RGB lighting, tilt, swivel and height adjustaments, Asus Eye Care, game enhancement, flicker free, customisable light signature projection
Resolution: UltraWide QHD 3440 x 1440 21:9 aspect ratio
Curvature: 1900R
Refresh Rate: 120Hz (120Hz overclocked via DP)
Response Rate: 5ms
Ports: HDMI 1.4, Dual USB 3.0, DisplayPort 1.2, earphone jack, cable management system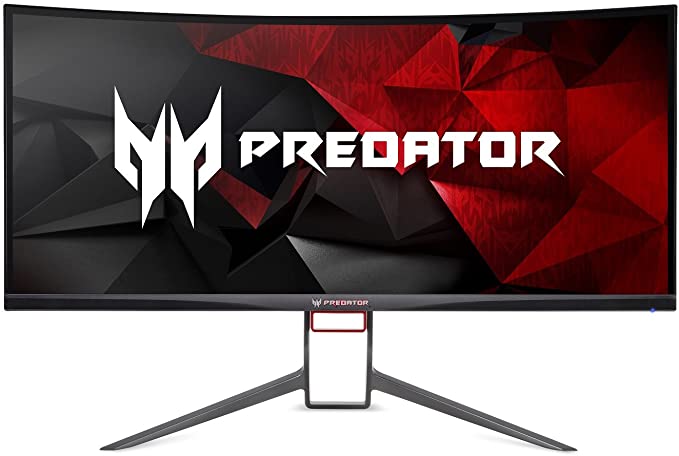 Type: IPS panel with NVIDIA G-Sync, 100% sRGB Wide Color Gamut, ZeroFrame design and Acer VisionCare technologies
Resolution: UltraWide QHD 3440 x 1440 21:9 aspect ratio
Curvature: 1900R
Refresh Rate: 100Hz (120Hz overclocked via DP)
Response Rate: 4ms
Ports: DP 1.2, HDMI 1.4, USB Hub (4 USB 3.0 ports)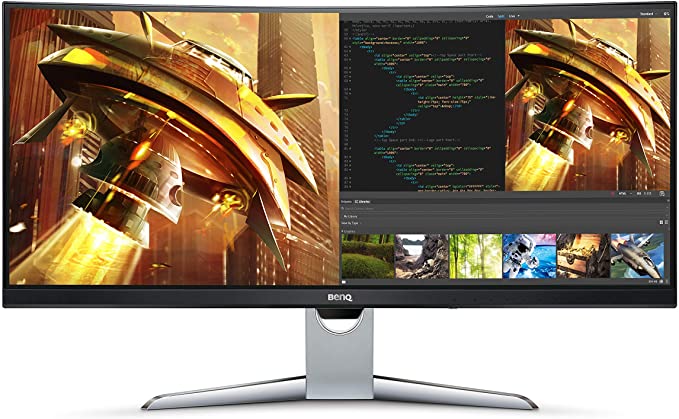 Type: VA Panel, AMD Free Sync, HDR10, ultra slim bezel, patented eye care, Brightness Intelligence Plus, Zero Flicker, Low Blue Light, height and tilt adjustable.
Resolution: UltraWide QHD 3440 x 1440 21:9 aspect ratio
Curvature: 1800R
Refresh Rate: 100Hz
Response Rate: 4ms
Ports: USB-C one-cable connectivity enables SuperSpeed USB data transfer and 2K video delivery over a single cable, HDMI, DisplayPort, USB 3. 1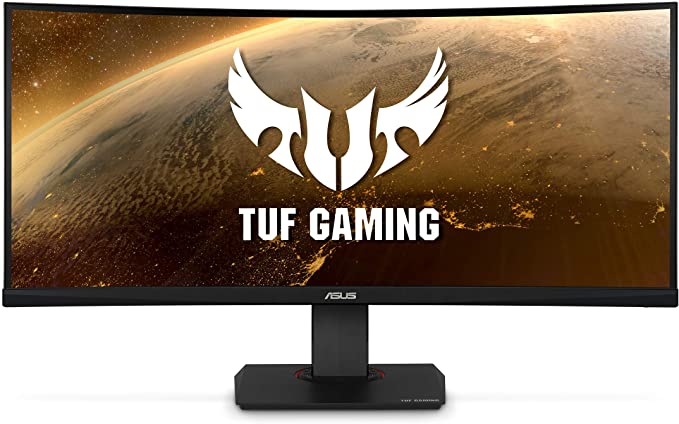 Type: HDR gaming monitor, Adaptive-Sync or free Sync. motion blue reduction, Asus Eye Care technology, GameVisual and Game plus functions, shadow boost to enhance image details in dark areas. Picture in Picture (PiP) and Picture by Picture (PbP) supported.
Resolution: UltraWide QHD 3440 x 1440 21:9 aspect ratio
Curvature: 1800R
Refresh Rate: 100Hz
Response Rate: 1ms (MPRT)
Ports: DisplayPort 1.2, HDMI (V2.0) x2, USB 3.0 x2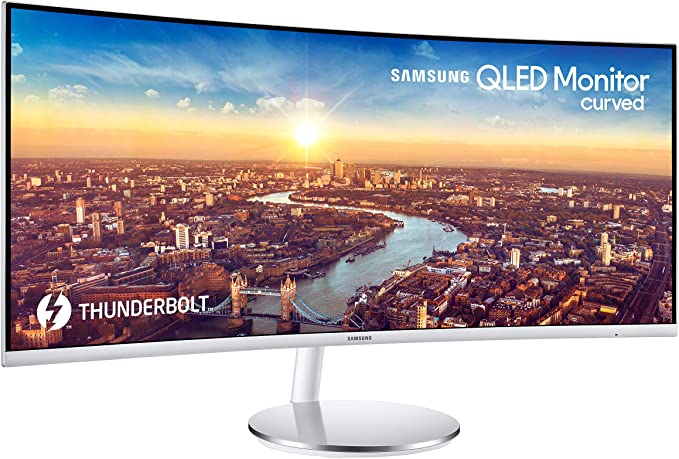 Type: QLED panel with AMD Freesync, Stereo Speakers, White Chassis, Quantum Dot Colour and VA panel supports up to 125% sRGB color space and 3000:1 contrast ratio darker blacks, low blue light, Picture by Picture (PBP) and Picture in Picture (PIP) support for two sources
Resolution: UltraWide QHD 3440 x 1440 21:9 aspect ratio
Curvature: curved monitor
Refresh Rate: 100Hz (120Hz overclocked via DP)
Response Rate: 4ms
Ports: 2x Thunderbolt 3 (compatible with MacBook Pro) up to 85W laptop charging through a single cable, HDMI, DP, 2 x USB 2.0, Headphone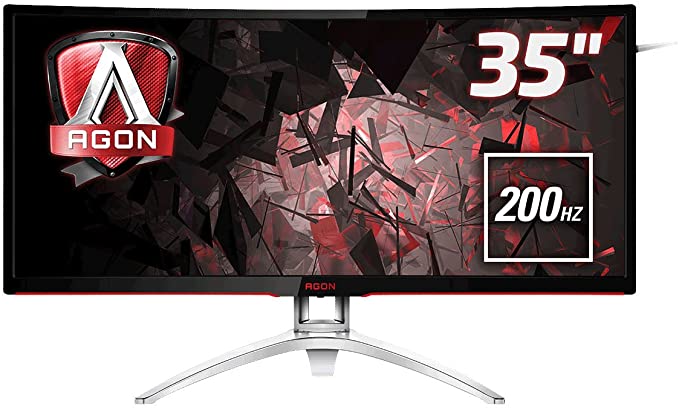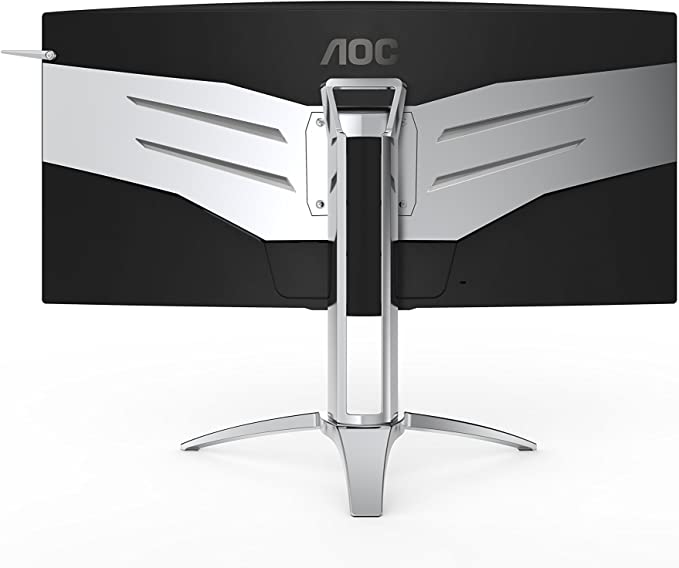 Type: IPS panel 178 degrees viewing angle, heigh adjustable, AMD Freesync, Colour changing LED Accent Lighting on rear fins.
Resolution: WFHD (2560×1080) 21:9 aspect ratio
Curvature: curved 35-inch monitor
Refresh Rate: 200Hz
Response Rate: 4ms
Ports: 2 USB 3.0 ports, 1 HDMI, 1 VGA