The Samsung Galaxy Tab S7 FE (also known as the Fan Edition) is a 5G ready tablet that is widely considered to be a stripped-down version of the widely popular Samsung Galaxy Tab S7+ that was launched last year (Aug 2020).
This is the first time that Samsung has launched a Fan Edition tablet. They have done this before with smartphone, the Galaxy S20 FE, a cheaper alternative to the S20, S20+ and S20 Ultra.
In fact, before the launch of the Samsung Galaxy Tab S7 FE 5G the rumor mills were abuzz with the possibility of a Galaxy Tab S7 Plus Lite. Probably this is it, just renamed.
So, what do you expect out of this cheaper and supposedly stripped-down version of the S7+? Will it be able to replace your workstation for creative workflow? Or is it best as a mobile entertainment and communication device that you use when traveling? We look for answers to these and other questions.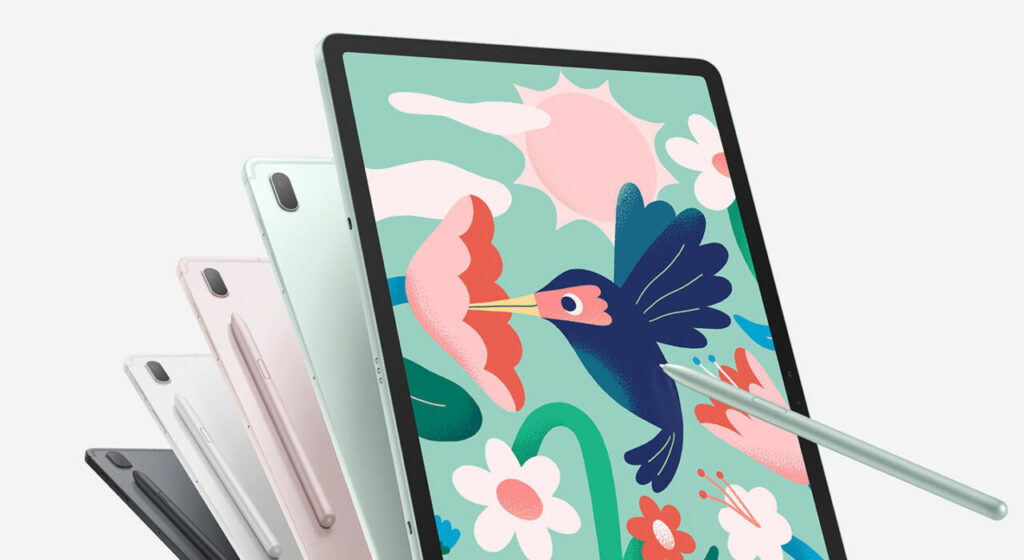 Search Samsung Galaxy Tab S7 FE 5G on Amazon
Features and comparison to Tab S7+
The Samsung Galaxy Tab S7 FE 5G came out after the success of the Tab S7 Plus, so a bit of comparison of features and performance of the two tablets is unavoidable. Especially with people trying to figure out if the lower-end tablet can still perform as per their expectations and if they can save a few bucks opting for it rather than the higher-spec version.
Display
Let's look at the screen first because that is obviously what you would be looking at and admiring the longest. The Samsung Galaxy Tab S7 FE 5G shares the same 12.4-inch screen size as the Tab S7 Plus. So, no surprises there.
But the cost-cutting thing is obvious when you look closer. The older Tab S7 Plus has an OLED screen. But the one on the Tab S7 FE has a TFT LCD. Considering that the Tab S7 FE is targeted at the Apple iPad Air we would have preferred a better screen.
Processor
More cost-cutting is obvious when you look at the processor. The older Tab S7 Plus has a Qualcomm Snapdragon865 Plus processor but the Tab S7 FE 5G has a Snapdragon 750G octa-core processor.
Memory
A few more cost-cutting steps have been taken in the memory aspect. You get 6 GB of RAM with the Tab S7 FE 5G (128GB storage version, with the 64GB storage version you can get only 4GB of memory) whereas with the older Tab S7 Plus you got 8 GB of installed memory.
Storage
Storage is expandable and that is always a good thing about Samsung and Android tablets over iPads. There are two storage options 128 GB and 64 GB as mentioned above. Both the Tab S7 FE 5G and the older S7 Plus comes with an SD card slot that will allow you to extend the memory up to 1 TB.
The only time you will need such high storage is when you are shooting a lot of videos and photos and processing RAW photos from your camera before uploading to social media. Of course, if you start downloading Netflix videos then even 1 TB of storage is minuscule. So you have to be careful what you do with the amount of storage that you buy.
Camera
There are two cameras on the Tab S7 FE 5G. One is the back-facing 8-megapixel back camera and the front-facing 8-megapixel camera for video chats. By default, this front-facing camera is oriented in landscape mode which helps you to get started straight away on the right footing after unboxing. The S7 plus comes with dual rear cameras; 13MP wide and 5MP ultra wide and 8MP wide front selfie camera.
Refresh Rate
Another major area of cost-cutting is in the refresh rate aspect. The Tab S7 Plus comes with a refresh rate of 120 Hz. The Tab S7 FE has a refresh rate of only 60 Hz. You will not notice the difference in the refresh rate unless you are playing high-speed or high-octane action games. For creative works in particular refresh rates don't matter.
5G Connectivity
What Samsung hasn't tinkered with are the 5G connectivity features. So, if you are a big fan of using 5G connectivity the Tab S7 FE 5G has that the same way the older S7 Plus did.
Battery life
Battery life is an important aspect of any hand-held device. With all that processing power, high-end display, and brightness, you will need a lot of juice to keep it running for long durations. The Tab S7 FE 5G comes with a 10,090 mAh battery.
The company claimed figures are about 11 to 12 hours if you are running the tablet on LTE. For playing back videos the tablet battery should last for about 13 hours.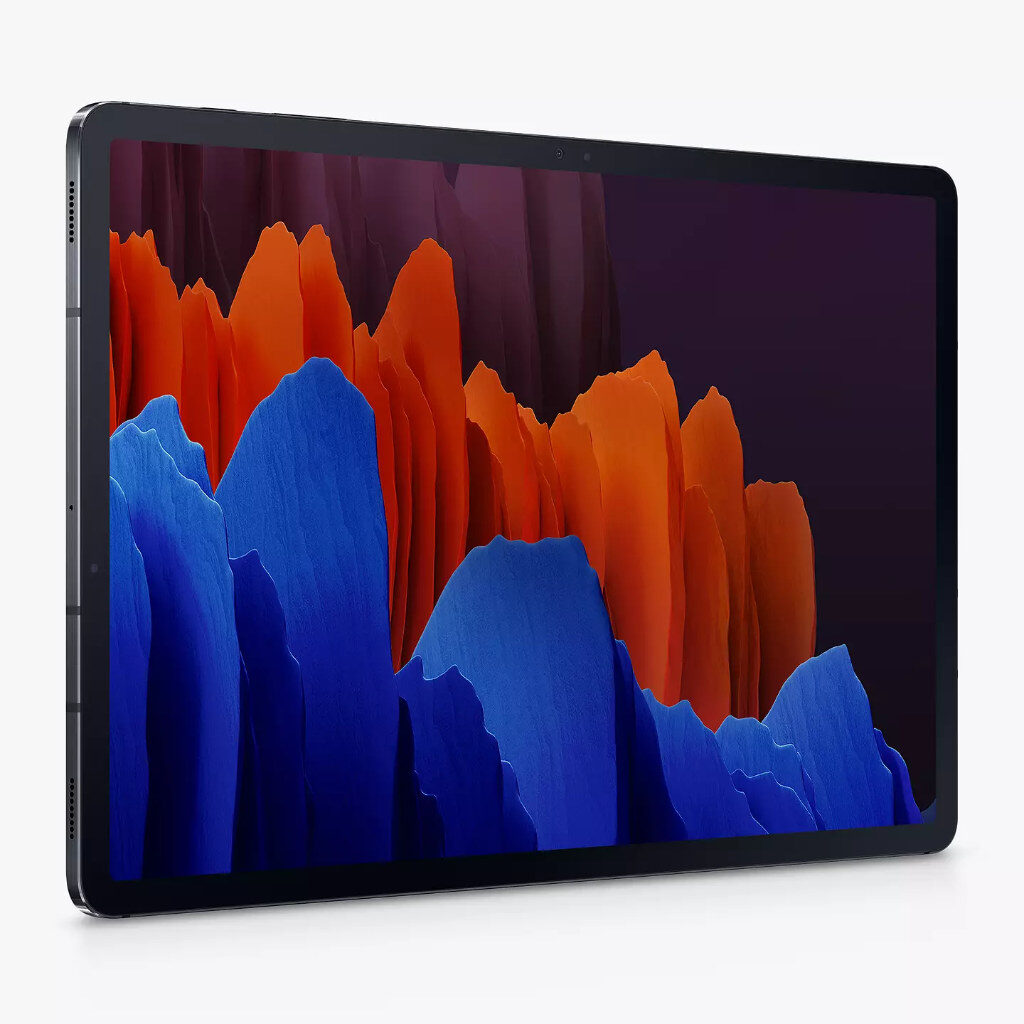 Search Samsung Galaxy Tab S7 Plus on Amazon
Why you would choose this over Tab S7 Plus?
If you are not a gaming enthusiast, we would say that the Tab S7 FE 5G is a better compromise and gives you better bang for your buck than the Tab S7 Plus. The Tab S7 Plus is the better (and therefore the cooler) tablet. It has all the bells and whistles. It is more powerful, comes with more memory and more processing muscle.
But then if you don't need that extra processing muscle it is wasted on you. In that case, we feel you can save some money and pick the Tab S7 FE 5G over the Tab S7 Plus. Apart from the chip in use, lower storage and the choice of lower resolution 8MP rear and 5MP front camera as well as TFT panel, both tablets are almost indistinguishable. See comparison table below.
| | | |
| --- | --- | --- |
| Tab S7 | Tab S7+ | Tab S7 FE 5G |
| Screen size | Screen size | Screen size |
| 11″ (278.1 mm) | 12.4″ (315.0 mm) | 12.4″ (315.0 mm) |
| Dimensions | Dimensions | Dimensions |
| 165.3 mm x 253.8 mm x 6.3 mm | 185 mm x 285 mm x 5.7 mm | 185 mm x 284.8 mm x 6.3 mm |
| Weight | Weight | Weight |
| 500 g | 575 g | 608 g |
| Battery Capacity | Battery Capacity | Battery Capacity |
| 8000 mAh (typical) | 10090 mAh (typical) | 10090 mAh (typical) |
| RAM + Storage | RAM + Storage | RAM + Storage |
| 6 GB + 128 GB | 6 GB + 128 GB | 6 GB + 128 GB |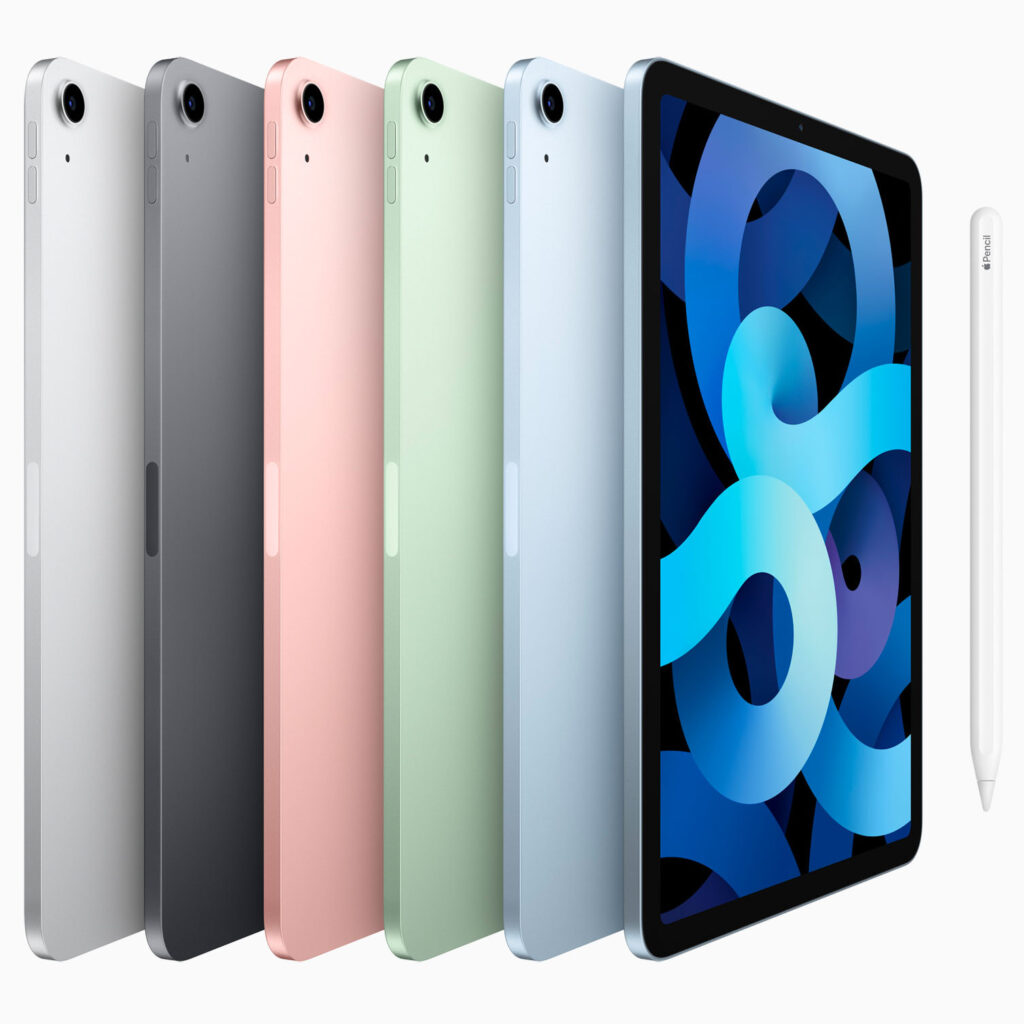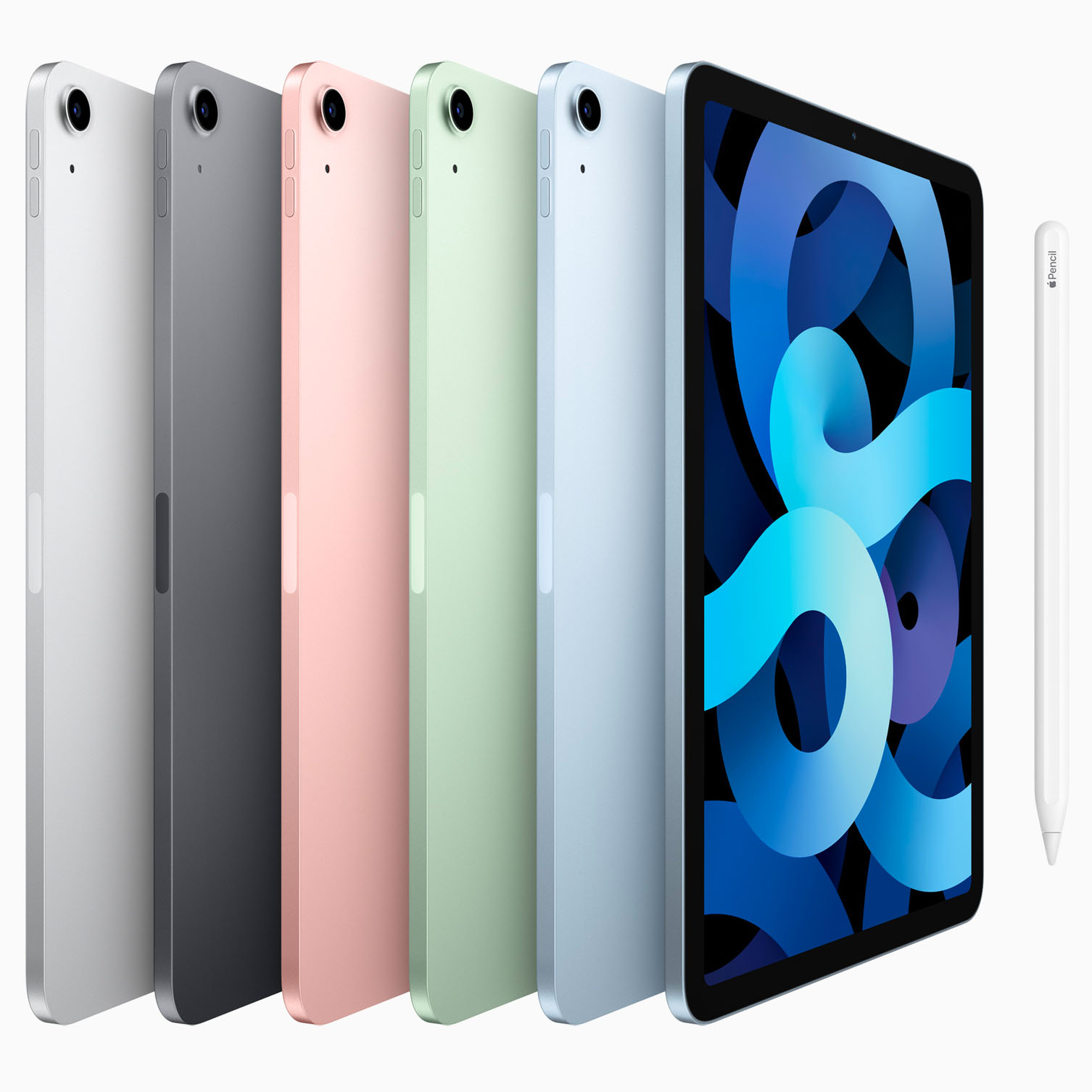 Search Apple iPad Air 2020 on Amazon
Priced to compete with the iPad Air but with a full 12.4-inch display vs 10.9-inch
The biggest advantage of the Tab S7 FE 5G over the iPad Air is the size of its display. At 12.4-inch it is much bigger than the iPad Air and that is a big decision-making factor for some. For others, it is a bit too unwieldy, especially when you are traveling. But if you always loved catching up on your favorite shows, listening to your favorite music or checking on what's the latest in your friend circle you would feel that the larger screen on the Tab S7 FE would be the better choice compared to the smaller screen of the iPad Air.
1. Screen size vs pixel density
But the screen size is just one aspect. The second one is the resolution. The Tab S7 FE offers a resolution of 2560 x 1600 pixels. That's a display density of 243 PPI. On the other hand, the Apple iPad 10.9-inch offers a Liquid Retina display with a resolution of 2360 x 1640 pixels (264 PPI density). On display resolution and density, the Apple iPad 10.9-inch would be the better choice.
2. The difference in processing power to the Apple iPad Air
The tab 7 FE is powered by a Snapdragon 750G octa-core processor. When we compare the processor with the A14 Bionic chip that powers the Apple iPad Air the latter resolves as a much more powerful processor. Across all the benchmarking tests the A14 Bionic chip beats the Snapdragon 750G hands down.
3. What does it mean for you?
If you are looking for performance the Apple iPad Air is the better tablet than the Tab 7 FE. Yes, the Qualcomm Snapdragon 750G has two additional cores, but the A14 Bionic chip comes with an array of specifications that beats the Snapdragon 750G, including higher memory bandwidth supports which improves overall performance.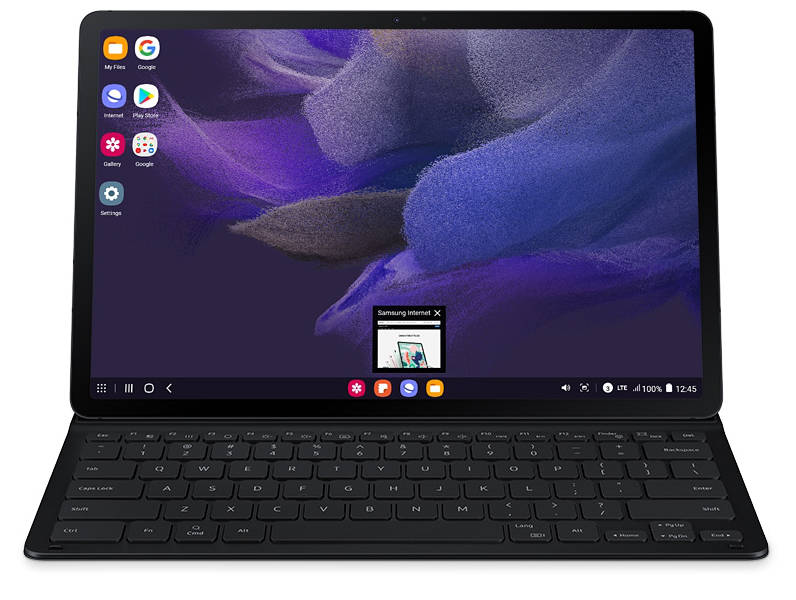 Would you use it to replace your laptop for creative work and multi-tasking?
If by creative work, you mean movie editing and photo retouching then definitely a 15-inch laptop offers a bit more flexibility in terms of viewing space (and of course more computing power, heat management, and the works).
Plus, you can always plug in an external 4K monitor to your laptop and that would mean a larger space to display the timeline of the video you are editing. This also means more desktop space for editing large images.
If you look under the hood even the older Tab S7 Plus come with the processing might that will enable it to handle advanced editing and creative tasks. Surely, it can handle Lightroom CC Mobile and Adobe Photoshop Express, which even the two years old Galaxy S10 Plus handles well.
And there is no reason why the Tab S7 Plus and the Tab S7 FE 5G will not be able to cope. But when it comes to advanced retouching on Photoshop or CaptureOne, you need a proper laptop or a computer. In no way will the Tab S7 FE or for that matter the Tab S7 Plus be able to take the place of a proper computing platform in that regard.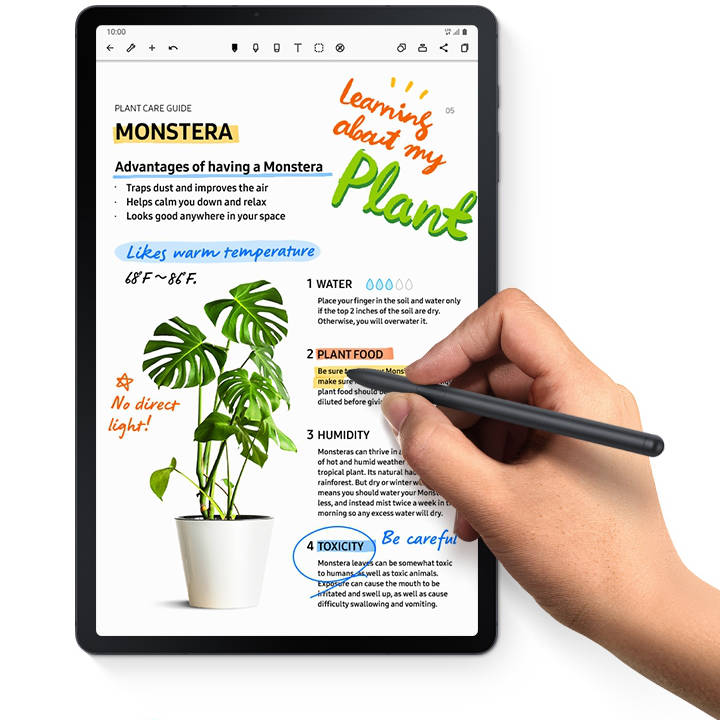 Having said that, the Galaxy Tab S7 FE 5G performs well as a tablet. The included S-Pen stylus means you can immediately take advantage of pen input. This makes it a great creative device if you are into producing your own art work and designs as artists and designers. The 12.4-inch display puts it on par if not close to the Ipad Pro 12.9 if you count drawing and sketching space alone. A 6 months access to Clip Studio Paint is included to get your started. Another bonus is, the S-Pen does not require charging, this and the fact that it is included are good reasons to get this over the iPad Air. Plus, the included stylus is colour matched to the colour of the chassis.
As for versatility beyond just a tablet, the proven Samsung DeX interface support is available with the Galaxy Tabs S7 FE. You just need a Bluetooth keyboard or optional keyboard cover to take advantage of it. What it does is to turn the tablet interface into a desktop like environment to let you access apps and files in a friendly and intuitive set up.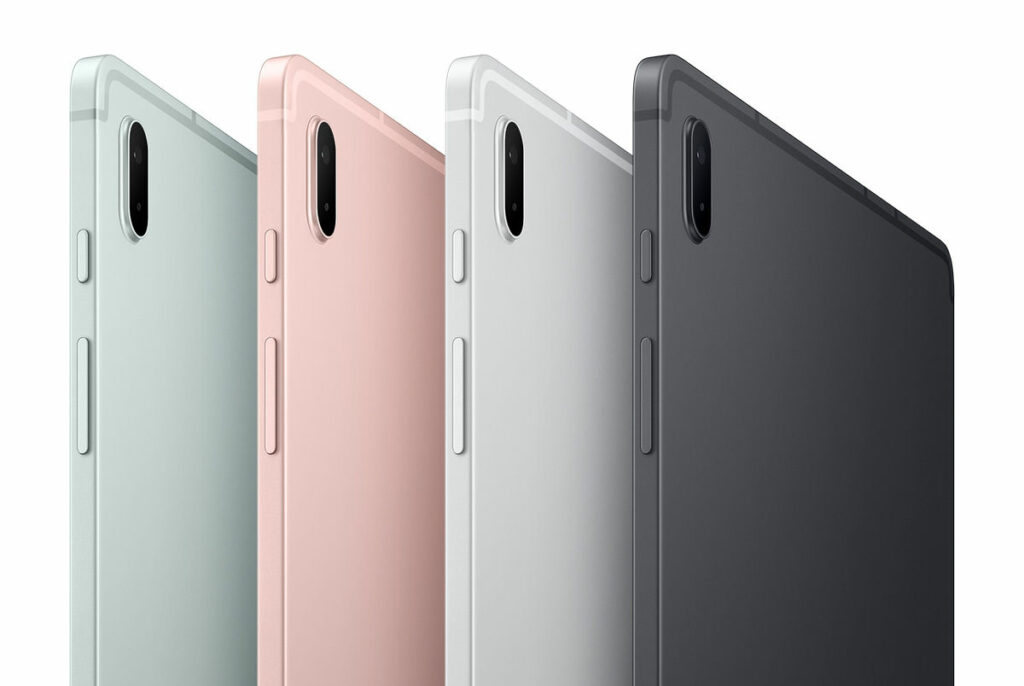 Search Samsung Galaxy Tab S7 FE 5G on Amazon
Conclusion
When we heard of the launch of the Tab S7 FE we were under the impression that this will be a slightly scaled-down version of the Tab S7 Plus retaining much of the advanced specs of the Tab S7 Plus. However, close inspection reveals that the only three similarities are in the display, the battery life, and the user interface. Apart from that, the Tab S7 FE is not worthy of being called a FE (Fan Edition) version of the Tab S7 Plus. The only reason people will buy it is perhaps that it is competitively priced with the Apple iPad Air insight, and it has a larger display between the two.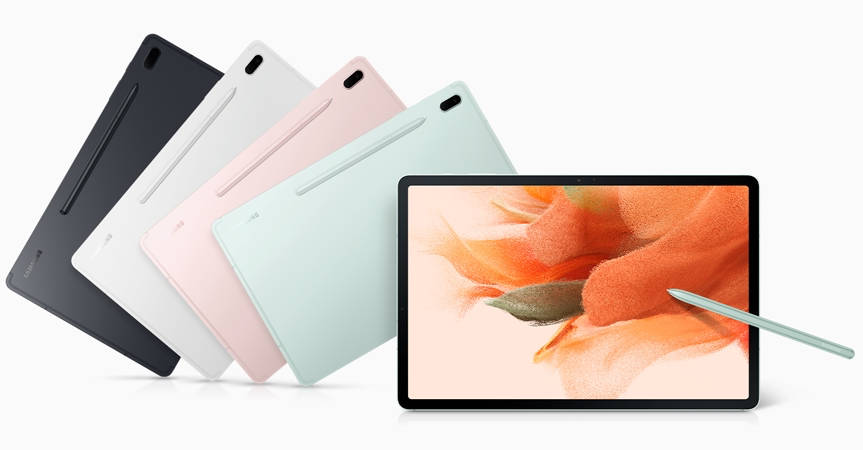 Edited by Samuel J Tan