Apple launched the all new iPad Pro 12.9-inch and 11-inch in October 2018. The third generation iPad Pros now come with smaller footprint and is slimmer than previous generation. It also boast faster A12X Bionic chip, ultra narrow bezel, Liquid Retina display, Face ID and USB-C port. To complete the tablet, Apple also released the new 2nd generation Apple Pencil and Smart Keyboard Folio.
The launch also sees Apple putting the price of the 12.9-inch tablet up to $999 from $799. That's 25% more than what you would pay for the iPad Pro 12.9-inch 2017. While there are many really nice features like being able to connect directly to a camera or external display, attaching the Apple Pencil magnetically to the tablet for charging, Face ID, and edge-to-edge display, do they warrant a price hike this big? Let's take a look
The New iPad Pro 11-inch and 12.9-inch (2018) is Paving the Way for a New Generation iPads
The latest iPad Pro takes a whole new departure in terms of design with squared off instead of soft rolled edges, corners that are rounded to the radius of the Liquid Retina display and an even slimmer chassis.
Here are 25 things you need to know about the new iPad Pro:
1. Super Fast Processor: The new iPad Pro is powered by A12X Bionic chip, faster than the A12 Bionic chip in the iPhone XS, XS Max and XR launched just under a month a go in September. Compared to 2017 models powered by Apple A10X Fusion, the new iPad Pro is 35% faster in single core performance and nearly twice or 90% faster in multicore performance. Plus, the chip now comes with Neural Engine for advanced machine learning.
Apple claims that the new iPad Pro is faster than 92% of the laptops sold and is as powerful as the Xbox One in the graphics department.
2. Faster Graphics: The A12X Bionic chip also brings with it two times better graphics performance when compared to previous iPad Pro.
3. Liquid Retina Display: The most notable change is the display. It now uses Liquid Retina display first feature on the iPhone XR. The display has rounded corners like in the new iPhone XR.
4. Same resolution: on the 12.9-inc model as per previous generation. Both 12.9 and 11-inch iPad Pro have the same pixel density of 264ppi. The 12.9-inch iPad Pro has a resolution of 2732-by-2048-pixel resolution while the 11-inch iPad Pro has a resolution of 2388-by-1668-pixel. Understandably, given is bigger size, the 11-inch model has higher resolution than the 10.5in model's 2224 x 1668.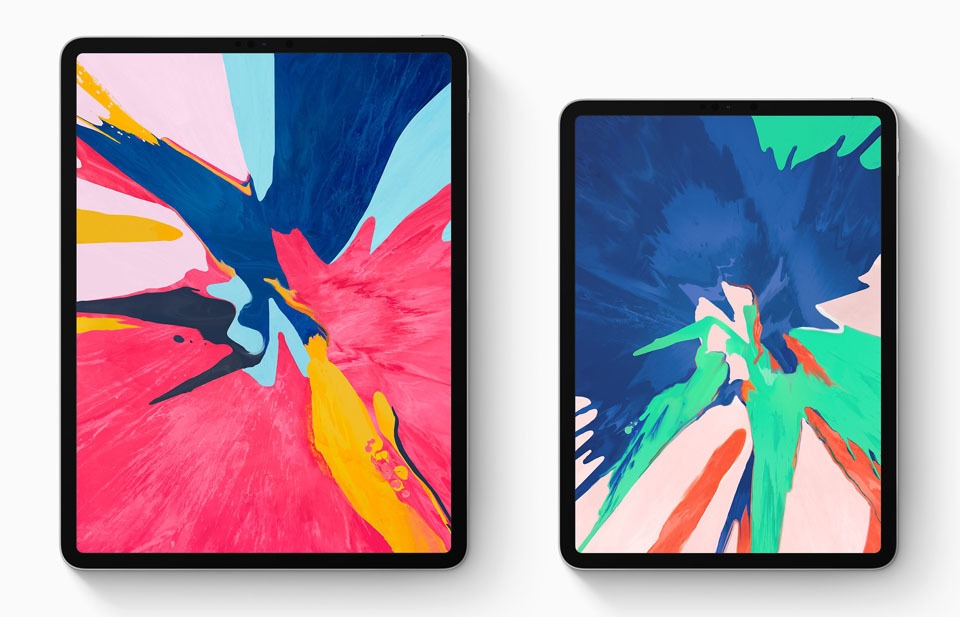 The all new iPad Pro displays are treated to an anti-reflective coating, with a small 1.8% reflectivity. This together with the fingerprint-resistant oleophobic coating and super high 600 nits brightness lets you use the tablet outdoors.
5. True Tone and ProMotion: The displays are very sharp and bright (600nits) for its size. It also offers plenty of colours (P3 wide colour gamut) and contrast with True Tone and ProMotion technology that automatically adjusts the refresh rate to suit the application.
6. Design: Major overhaul in the design veering towards a more utilitarian, with squared edges and an industrial feel. The new iPad Pro sees a real departure from all the iPads that came before it and sets the design language for future iPads.
7. Near Bezel-less: With an all-screen design, gone are the big forehead and chin bezels. The narrow bezel are of even width all round with just enough room for the camera and sensors as well as space to hold the device
Edge-to-edge display with minimal bezel makes this an unmistakable iPad, paving the way for new generations of iPads to come. If Apple were to push this further towards the way of iPhone X, you would have to live with a notch to accommodate the dot projector, camera and infrared camera.
8. Massive Storage: Four storage options instead of three with the addition of 1TB. There is now 64GB, 256GB, 512GB and 1TB.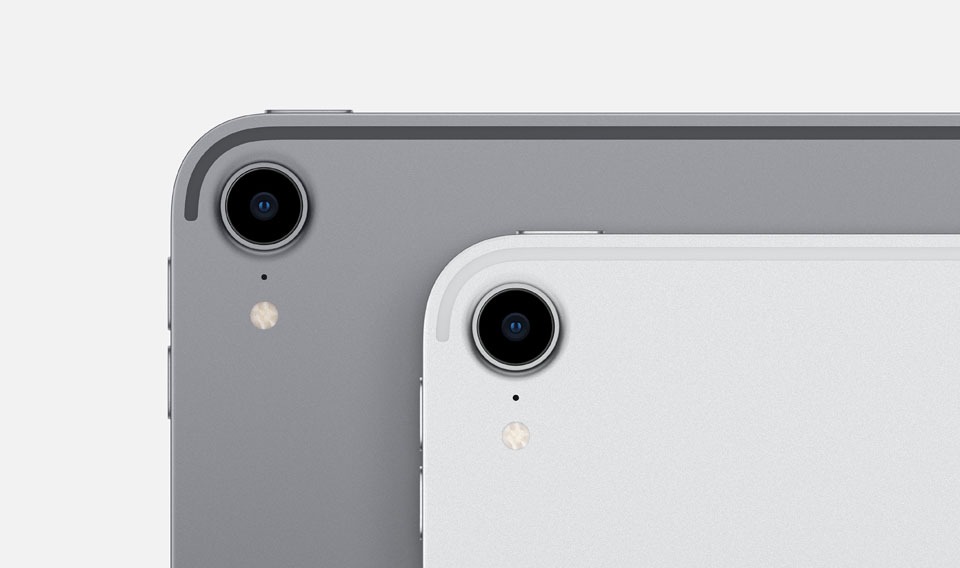 9. Smart HDR: Two cameras, 12MP front facing camera with amazing photos, 4K video recording capability, Smart HDR and AR experiences.
10. TrueDepth: 7MP TrueDepth front facing camera for portrait, selfies, FaceTime calls, Animoji and Memoji.
11. Face ID: Gone is the home button and finger print sensor. Taking advantage of the TrueDepth camera, the new iPad Pro now use Face ID facial recognition to unlock the device, Apple Pay, send and receive money in Messages, complete purchase and secure app logins.
12. Gesture Driven: no home button means iPhone X style gestures like tap to wake, swipe from bottom to reveal Dock, Swipe up and pause halfway to switch between opened apps and swipe up from the bottom for home.
If you've used the iPhone X, the gestures are the same. Tap to wake the device, swipe up to go to home, or further to open the app switcher. Other intuitive gestures are swipe from the top right to access Control Centre and swipe on the bar at the bottom to scroll through opened apps.
13. Smaller foot print compared to second generation, Apple claims 25% reduced volume with the new 12.9-inch and maintaining the same as the 10.5-inch iPad Pro with the new 11-inch iPad Pro.
iPad Pro 12.9 3rd Gen – Width: 8.46 inches (214.9 mm) x Height: 11.04 inches (280.6 mm) x Depth: 0.23 inch (5.9 mm)
iPad Pro 12.9 2nd Gen – Width: 8.68 inches (220.6 mm) x Height: 12 inches (305.7 mm) x Depth: 0.27 inch (6.9 mm)
14. Thinner: 1mm thinner than previous generation. This is the thinnest iPad ever.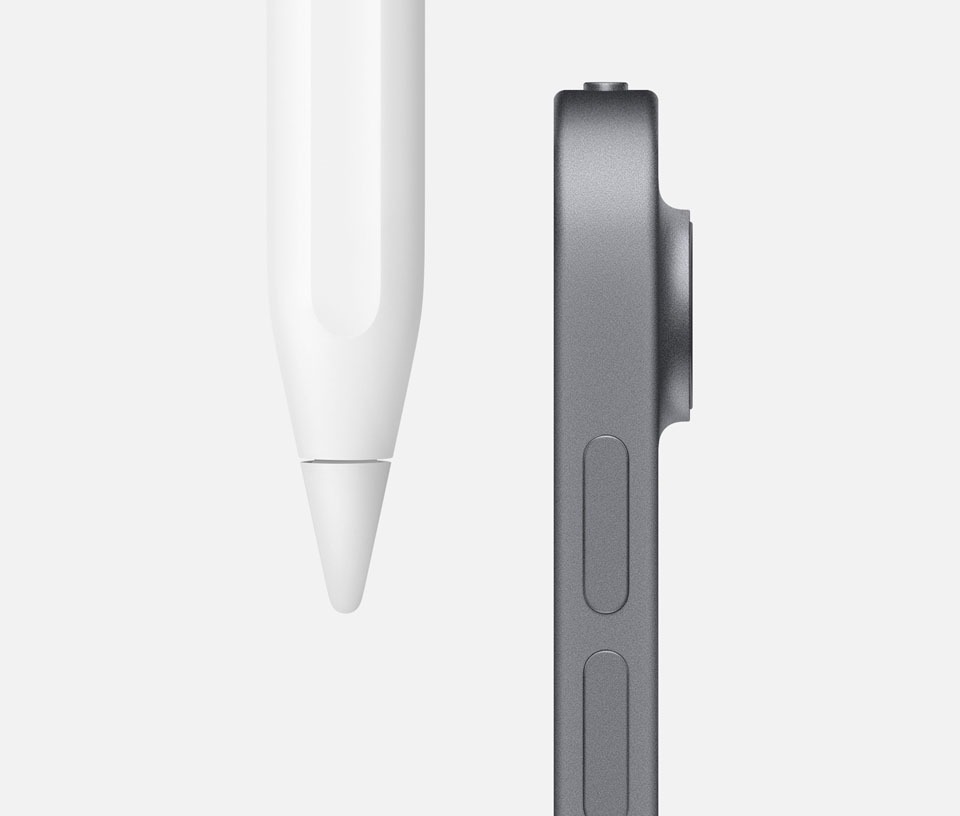 15. Lighter: The WiFi model is 46 grams lighter at 631 grams compared to 677. If you pick the WiFi + Cellular model, it weights 633 grams, 59 grams lighter than previous generation (692 grams).
iPad Pro 12.9 3rd Gen – WiFi model: 1.49 pounds (677 grams), WiFi + Cellular model 1.4 pounds (633 grams)
iPad Pro 12.9 2nd Gen – WiFi model: 1.39 pounds (631 grams), WiFi + Cellular model 1.53 pounds (692 grams)
Smaller, thinner and lighter, the new iPad Pro has less volume. The smaller 11-inch model is actually the same size as the previous generation 10.5-inch model. The 12.9-inch model had the usual nip and tuck losing 25 mm in height and 5mm in width.
16. Better Audio: Quad firing speakers, two on each short sides promising better bass and clarity. A new woofer and tweeter pair in each corner for wider stereo using the thinnest speaker system in a tablet. Remember, 5.9mm thin.
17. More Microphones: The new tablet is equipped with five microphones for calls, video recording and audio recording.
18. Pencil clip-on: Magnetic connector for the new Apple Pencil, holds and charges the pencil. The pencil is an an optional purchase as before. The second generation Apple Pencil pairs and charges automatically when attached to the tablet. It also features a clickable button for app related functions. A quick double tap lets you switch tools – such as between a brush and eraser in Notes, or zooming in and out in Photoshop.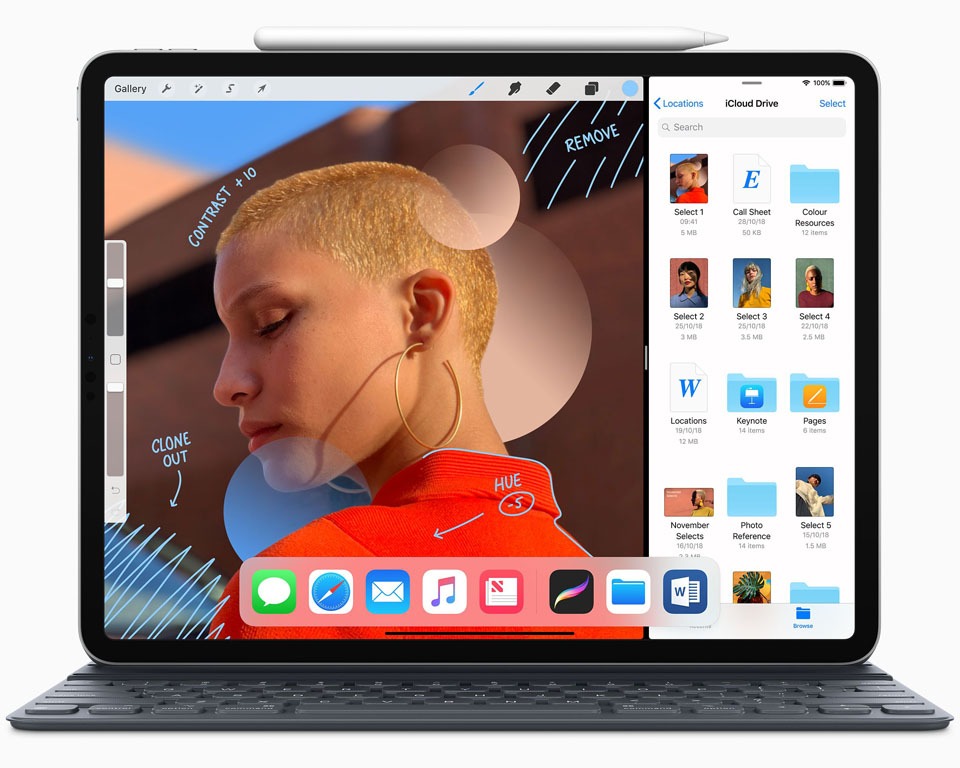 19. Smart connector for Smart Keyboard Folio. Like the Apple Pencil, the Smart Keyboard Folio is an optional purchase. Both Pencil and Keyboard are expensive to buy and will need to be factored in to your budget.
20. USB-C port in place of the lightning port for connectivity to accessories, camera or external display. It can even be used to charge the phone
21. Same Battery Life: Up to 10 hours of battery life per charge with the onboard 36.71-watt-hour rechargeable lithium-polymer battery. The WiFi and Cellular model has a lower but still respectable up to 9 hours battery life when used for surfing the web using mobile data.
22. Connectivity: WiFi only or WiFi and Cellular models are available with the later offering 4G LTE data connectivity. The WiFi and Cellular model benefits from Assisted GPS, GLONASS, Galileo and QZSS.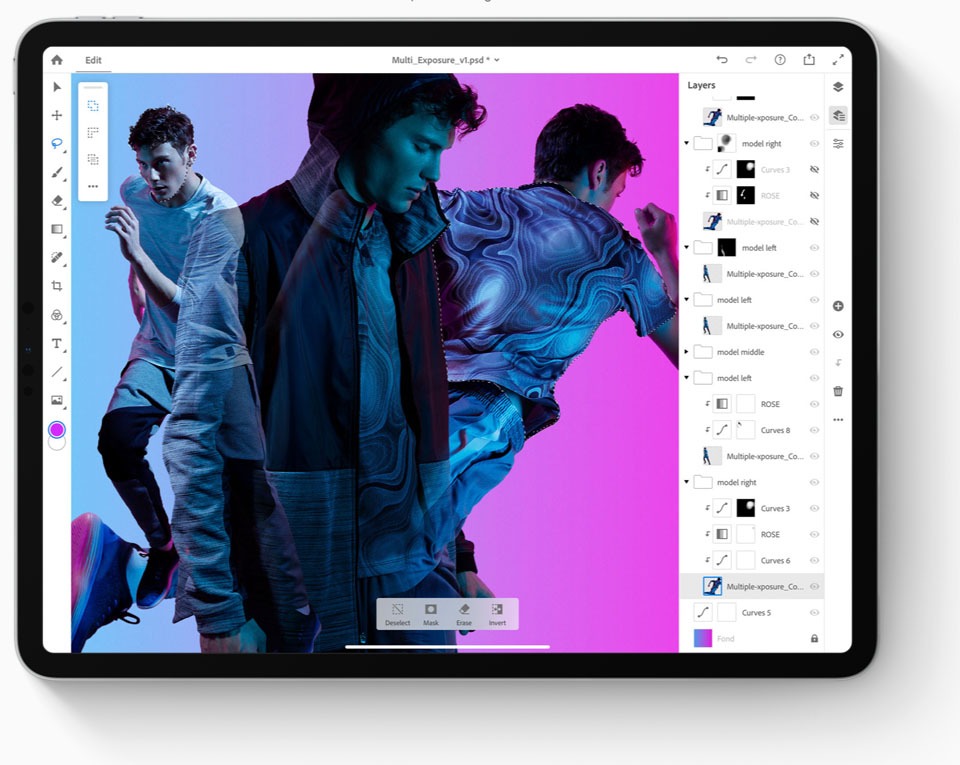 23. No Headphone Jack: The headphone and microphone combo socket has been removed from the new iPad Pro. This means that you can no longer use your favourite headphone with the device. It also means you cannot use the buttons on the headphones as remote for video recording and photo capture. If you haven't already got yourself a Bluetooth headset, it's time to consider one.
24. Professional Apps & Games: Apple showcased the Adobe Photoshop CC at launch. Presentation video also showed a glimpse of Autodesk's AutoCAD at work. Gamers were also treated to NBA 2K demo. It's a sign of many good things to come with apps that will replace its desktop and laptop counterpart, letting you carry out real professional work on the tablet. Note that Adobe Photoshop CC is coming to iPad in 2019. Apps like Lightroom CC, Photoshop Fix and Premiere Rush as well as 3D games like Asphalt Rush are available.
25. Accessories: Improved and redesigned 2nd generation Apple Pencil and new Smart Keyboard Folio is a must to complete the 2-in-1 experience but the cost is still too high.