Since the launch of Microsoft's Surface Pro, there have been many clones but none of them come close to its build quality. HP intends to change that with the HP Envy x2. Incidentally, it is also the device that HP intends to showcase the Mobile PC platform.
For the first time in years, since Surface RT, Microsoft is embracing the ARM architecture once again by re-writing Windows 10 S to take advantage of the architecture. Why go to all that trouble, you may ask. The Mobile PC Platform has advanced by leaps and bounds since. Not only are these system-on-chip architecture more efficient, they are much smaller allowing for thinner devices, better at managing power to deliver exceptionally long battery life, does not require active cooling and offer high download speeds via WiFi and 4G LTE as well as X16 LTE.
These ARM architecture can now deliver the same level of performance as a full-sized laptop based on Intel or AMD processors minus the heat, bulk and limited battery life. Like their smartphone counterpart, they also have something that the mainstream PCs haven't quite mastered, instant sleep and instant wake, something that smartphone and tablet users are used to.
The mobile platform is capable of pushing 4K Ultra HD displays at 60 FPS with 10-bit colour depth. That is to say, it will render up to 4K ultra HD playback at 60 FPS without breaking a sweat. Like high-end smartphones it can also capture 4K Ultra HD video up to 30 FPS with its dedicated Image Signal Processor (ISP) capable of supporting HDR.
Enter Snapdragon 835 Mobile Platform
Microsoft has been working with Asus, HP and Lenovo to bring ARM devices to the market based on their reference system that uses Qualcomm's Snapdragon 835 Mobile Platform. Devices from each manufacturer may differ in terms of design, build quality and material but underneath them, they are based on the same core.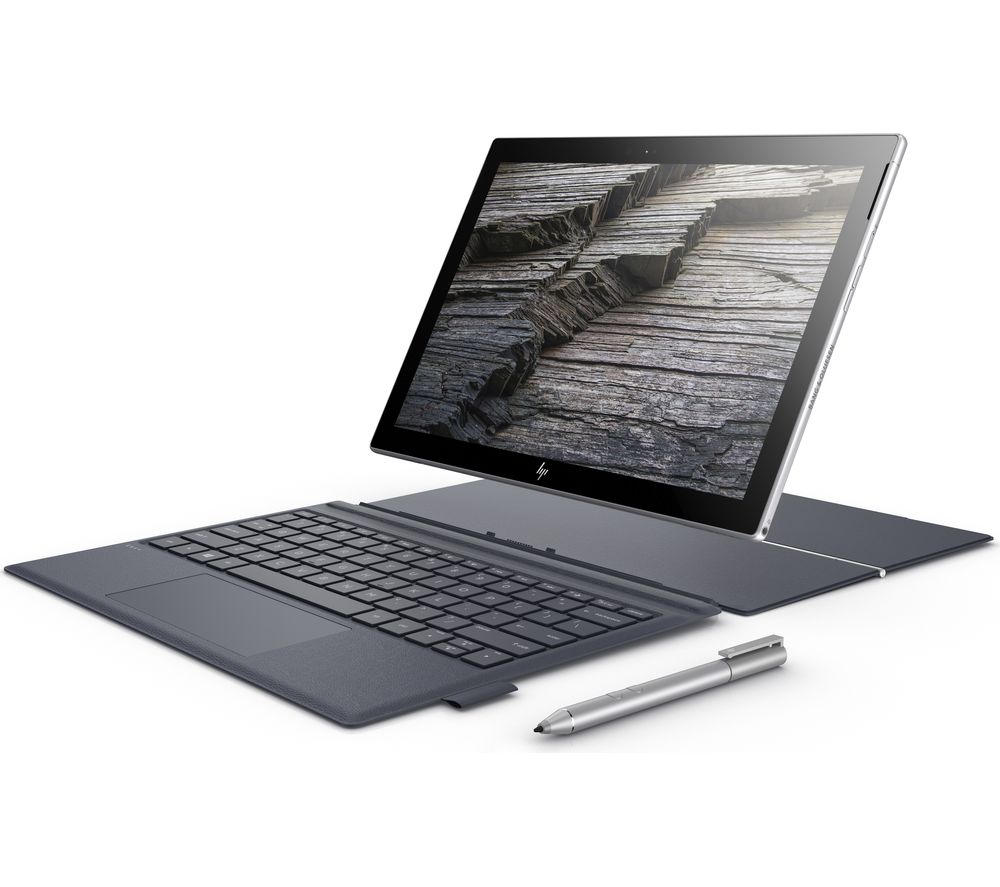 What is the Snapdragon 835 Mobile Platform? The mobile chipset is no stranger to the smartphone market and have been used on high-end devices for a while now. Focusing on everything one needs to make a successful mobile device; performance, graphics, power, security, connectivity and image processing, Qualcomm squeezes a high performing Kryo 280 64-bit CPU up to 2.45GHz octa-core processor based on ARM Cortex technology, Adreno 540 GPU for fast rendering graphics, Hexagon 682 DSP for improved performance and battery life and X16 LTE modem as well as multi-Gigabit 802.11ad and 2×2 11ac WiFi for connectivity into a single 10 nm chip.
The chip also includes advanced camera image signal processor (ISP) powerful enough to support the capture of up to 32MP image or up to two 16MP images from a dual camera setup with zero shutter lag, smooth zoom, fast auto focus and vivd colours. It doesn't stop there, to help with security, the chip incorporates Qualcomm's Haven Security Suite. This allows for devices to support fingerprint scanning, voice, iris and facial recognition. Manufacturers may pick and mix what feature to use on their system.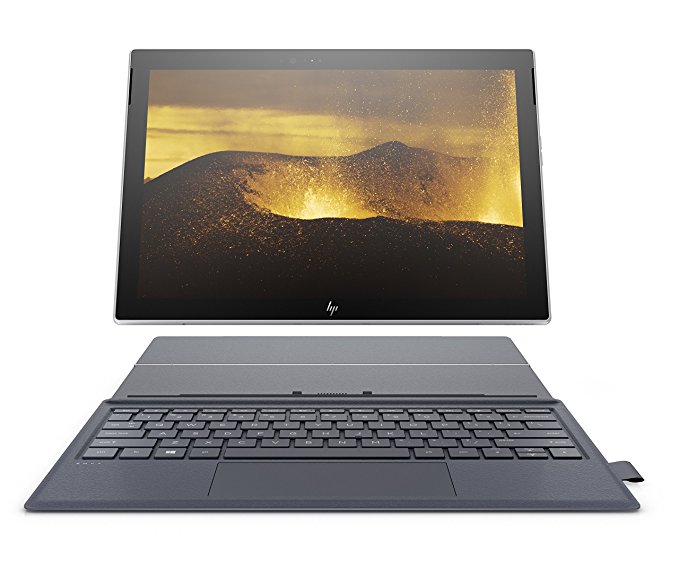 Oozing with Quality That'll Make You Envy x2
Now that we got the core bits out of the way, let's take a look at HP's execution of their ARM device. Without a doubt, the Envy x2 is a solid and high-end device with a premium look and luxurious feel. You can tell from its faux leather covered keyboard, the sleek CNC machined frame, the smooth corners, the tough Gorilla Glass covering the screen and the finish on the stylus. The whole tablet is packed in an ultra slim body measuring only 6.9 mm in depth. That's the same thickness as the iPad Pro 12.9-inch. You can say it's a MS Surface Pro device designed to take on Apple's big iPad Pro.
Starting up the device, and you will immediately get the benefit of using the Snapdragon chip, the instant-on experience. That and the ability to keep working continuously on the device for hours. HP claims up to 22 hours of continuously use watching FHD video at 1080p (1920 x 1080) with reasonable brightness at 150 nits and 50% audio level. Their benchmark is based on WiFi and auto dimming being switched off. The reality is, with mixed use, one would till be able to hit the 20 mark easily just as long as you don't push the device too much.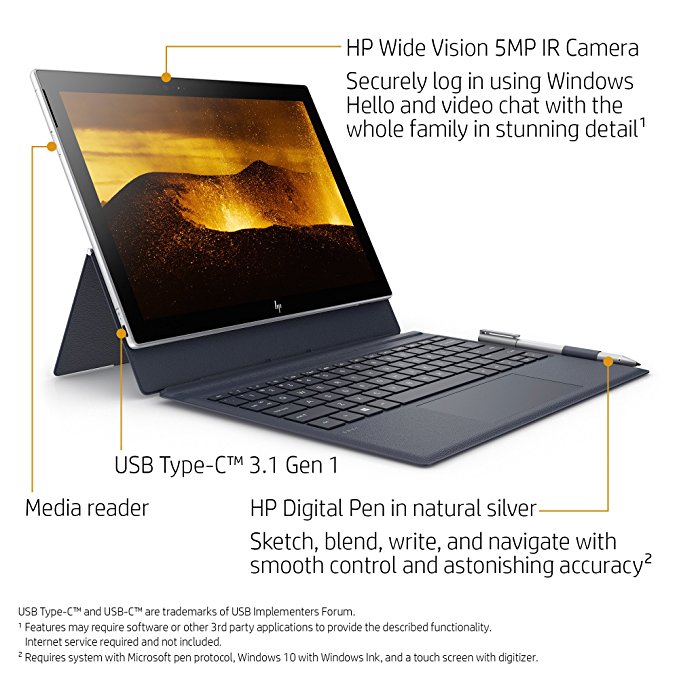 The display is sufficiently bright with good contrast and is protected edge to edge by Corning Gorilla Glass 4. It works well even under direct sunlight if you can put up with a bit of glare which is common among glass fronted tablets. It's resolution, a respectable WUXGA+ or 1920 x 1280. Size wise, it is also a 12.3-inch display like the Surface Pro and offers very good viewing angles based on IPS technology, what HP calls the BrightView WLED backlit display. Touch performance is good but the stylus experience is only moderately good. Still, you'll find yourself drawn to use the stylus more for navigating and a spot of drawing on Windows Ink or taking notes with Windows Notes.
As a tablet, it manages quite an impressive sound output from its speakers. With the audio system tuned by Bang & Olufsen, it's music to your ears. If you are watching your favourite TV show or movie, you can crank it up high and the volume and sound projection is strong without crackling. Which is an amazing feat considering the size of the device and its speakers. Together with that magnificent display it is easily an amazing entertainment tablet to consume all manners of streaming media. Plus, it can go for hours without overheating and you won't get the sound of fan whirling in the background.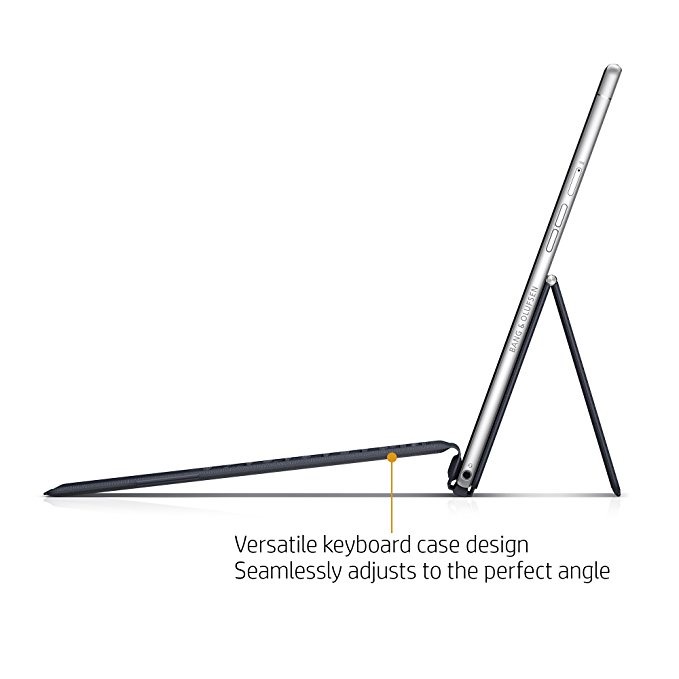 The keyboard cover has a magnetic catch that attaches to the bottom of the display to raise the keys to a comfortable typing angle when laid on the table. It is worth noting that the detachable keyboard has full size keys, large touchpad and a band that serves to hold the stylus when not in use. When closed, it serves to protect the screen. The back of the cover folds conveniently to turn itself into a kickstand offering strong and sturdy support for the display, keeping it up even when using the display as a touch screen. It is also capable of offering multiple viewing angle and has a magnetic hinge to easily dock and remove the tablet. As with the keyboard side, the back cover folds up to protect the back of the tablet when closed.
Is it for you? – Pros and Cons of going with Envy x2
If you are a road warrior, a commuter, a long hauler or simply likes to travel light and in style, doing the things you do while on the go or at the cafe during a stopover and wants a full desktop experience then the Envy x2 is for you. At 0.7kg tablet only or 1.21 kg with the keyboard, the device won't weigh you down. Given its ultra long battery life, the detachable PC will definitely last you through your journey. So, you can safely store your power adapter in the check-in luggage. But, should you need to top it up, the battery supports fast charging. You can easily top up your battery up to 90% from as little as 90 minutes before you hit the air or road again.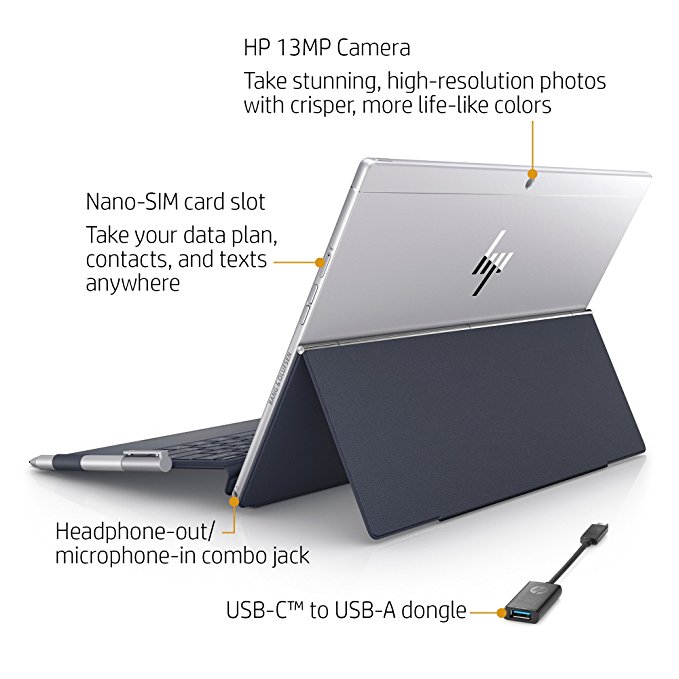 However, if you are after a device to take on some medium weight or heavy lifting then the tablet is not for you. Running on a version of Windows 10 S written specifically for the ARM architecture meant some third party 32-bit or 64-bit applications will need to run in emulation mode. This presents a performance penalty that will be evident during use. Photoshop CC and Chrome browser will take a few more seconds here and there to load and run. We recommend, sticking to the barrage of Microsoft apps such as the Edge browser, Email, News Readers, Skype, MS Office suite already designed for the platform and any certified apps from the Microsoft Store.
While you are allowed to switch to a full fledge Windows 10 Pro for free currently just like you do with the Surface Laptop, we won't recommend it for the HP Envy x2. It is after all, a mobile tablet first with all those mobile innards. You won't pick up your tablet to edit 4K videos or play 3D intensive games as a first choice so don't expect that of the Envy x2. Should you insist, and if you are brave enough to upgrade to Windows 10 Pro, you can then install any apps not limited to Windows App Store but be warned, there will be compatibility issues as the platform is still relatively new.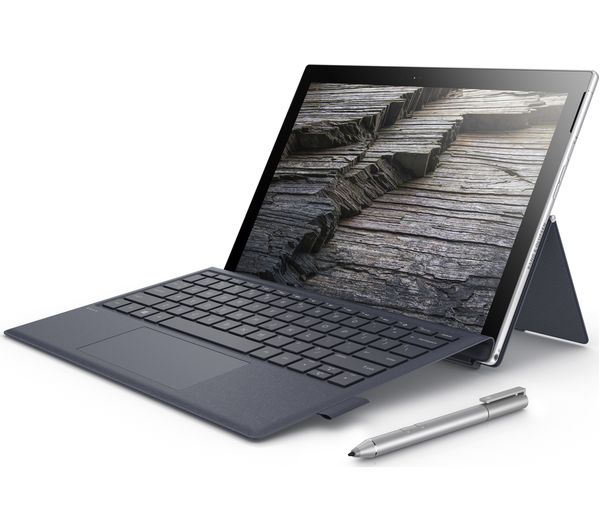 Some of the best features of Windows 10 like Windows Hello, Cortana, Windows Ink, Start Menu, Edge browser and S mode works very well on the device given its profile. As a tablet, you are more likely to use the voice driven digital assistant to manage your schedule, arrange video calls, check the weather, grab headlines and get notifications from your social media accounts and emails. You are also more likely to use the included stylus to drive your device, to annotate, write notes, sketch and draw, something you won't be doing with a standard laptop. It is truly a versatile 2-in-1 device with super long battery life, 4G LTE connectivity and WiFi in a highly portable package.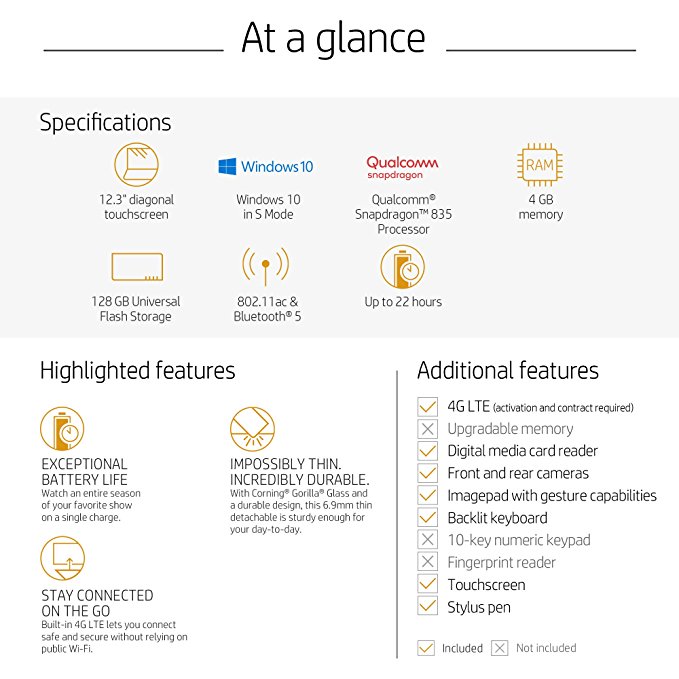 Specifications
Operating system
Windows 10 S
Processor
Processor family
Qualcomm® Snapdragon™ processor
Processor
Qualcomm® Snapdragon™ 835 (2.6 GHz, 8 cores)
Appearance
Product color
Natural silver slate cover, oxford blue base and keyboard frame
Product design
Sand blast anodizing cover, small pebble grain base and keyboard frame finish
Box contents
What's in the box
Stylus
Cover keyboard
Storage Specifications
Special features
Connect to soft keyboard cover
Drives
Internal Storage
128 GB / 256 GB UFS 2.1 MO-276 3×2
Cloud service
Dropbox
Cloud service footnote number
[1]
Graphic Subsystem
Graphics
Qualcomm® Adreno™ 540 GPU
Graphics
Integrated
Multimedia and Input Devices
Audio features
Bang & Olufsen, dual speakers, HP Audio Boost
Webcam
HP Wide Vision 5MP Camera (front-facing)
HP 13MP Camera (rear-facing)
Three integrated digital microphones
Multimedia and Input Devices
Input devices
Qualcomm® Location GPS/GLONASS
Sensor hub (integrated)
Proximity-sensor (SAR)
Hall sensor
Accelerometer
Gyroscope
Digital compass
Ambient light sensor
Multimedia and Input Devices
Keyboard
Full-size island-style backlit keyboard
Pointing device
HP Imagepad with multi-touch gesture support
Weights
Weight
0.7 kg (tablet)
1.21 kg (tablet and keyboard)
Security Management
Security management
Qualcomm® Mobile Security Solutions
Software and Applications
Pre-installed software
Netflix
Software – Productivity & finance
1 month trial for new Microsoft Office 365 customers
Battery and Power
Battery type
3-cell, 49.3 Wh Li-ion
Power supply type
45 W AC power adapter
Battery life video playback
Up to 22 hours
Battery life
Up to 22 hours
Battery life footnote number
[3]
Battery life video playback footnote number
[3]
Battery recharge time
Supports battery fast charge: approximately 90% in 90 minutes
Battery recharge time footnote number
[5]
Memory
Memory
4 GB / 8 GB LPDDR4x-1866 SDRAM (onboard)
Memory Note
Transfer rates up to 1866 MT/s.
Memory and storage
4 GB / 8 GBmemory
128 GB / 256 GB UFS storage
Connectivity and Communications
Network interface
Qualcomm® Snapdragon™ X16 LTE Mobile Broadband Module
Wireless
Qualcomm® WCN3990 802.11ac (2×2) Dual-Phy and Bluetooth® 5 Combo
Ports
1 USB 3.1 Type-C™ Gen 1 (Data Transfer up to 5 Gb/s, Power Delivery, DP1.3)
1 nano-SIM (pin-ejection, user accessible)
1 headphone/microphone combo
Expansion slots
1 micro SD media card reader (pin-ejection, user accessible)
Wireless Note
Miracast compatible
MU-MIMO supported
Wireless technologies footnote number
[8]
Dimensions
Minimum dimensions (W x D x H)
29.3 x 21 x 0.69 cm (tablet)
Display Specifications
Display size (diagonal)
12.3″
Display
31.2 cm (12.3″) diagonal WUXGA+ IPS BrightView WLED-backlit multitouch-enabled edge-to-edge glass with Corning® Gorilla® Glass (1920 x 1280)
Warranty
Warranty
1 year limited parts, labour, and pickup and return service