Nothing can compare to a real, full screen smartphone. With no cut-out or notch getting in the way, you can expect a proper full view experience. That is what you get with Xiaomi Mi Mix 3.
Minimal notch like the 'O' cut-out and dew drop are still obtrusive no matter how you try and hide it. Specially designed wallpaper can disguise the cut-out or notch but for everything else, apps or media, it's going to bug you.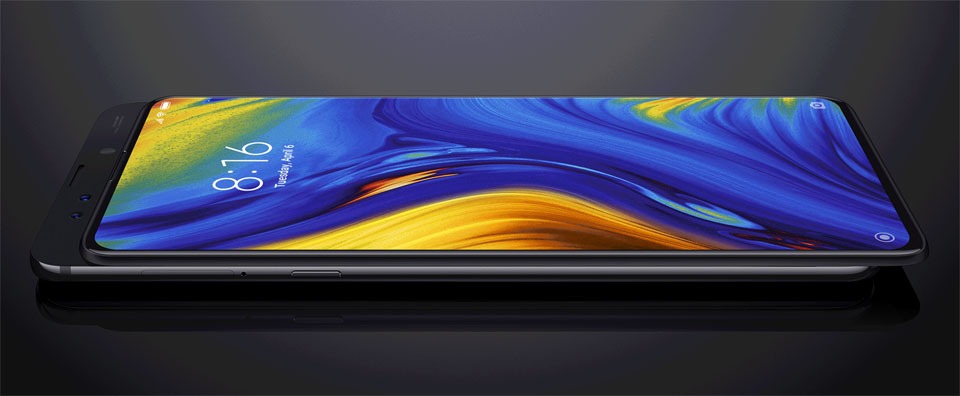 Sandwiched Slider Smartphone
But what about the selfie or front facing camera, you ask. Using mechanical sliding rails, the phone is made up of two flat slices sandwiched together. The front facing camera is mounted on the rear slice, under the display. Slide the display down to reveal the dual selfie camera. Slide it back up and you are treated to a huge 6.39-inch AMOLED display. If you worry about the reliability of the slider, Xiaomi claims that it came out feeling like new even after an extensive 300,000 test slides.
The Real Full Screen Display
The Full Screen Display has an impressive 93.4% screen-to-body ratio. The front of the phone is virtually all screen thanks to the hidden dual camera design safe for the rounded corners and small bars at the top and bottom. It doesn't stand out as much as some smartphones thanks to the OLED display. Unlike some smartphones with LCD display that required a bigger chin bezel to house the connector and slighting.
6.39 inch AMOLED display from Samsung (measured diagonally) and 19.5:9 custom aspect ratio
2340 x 1080 FHD+, 403 PPI, 60000:1 (min) contrast ratio, NITSC 103.8% (typ)
Capable Front Facing Camera Pair
Using your thumb to push down the screen, slides up the rear slice, revealing a 24MP camera and a second 2MP sensor for depth sensing. This allows the front facing camera pair to capture portrait with bokeh effect. Once captured, the level of bokeh or background blur can be adjusted on the image, just like on the new iPhone XS and XS Max.
Even More Capable Front Facing Pair
If you are impressed with the dual front facing camera, the main or rear camera pair is even more impressive. Achieving DxOMark score of 108 for photo quality and 93 for video quality, it uses a similar setup as the setup on Mi 8 Pro. The dual rear camera setup comes with large 1.4μm pixels and Dual Pixel Autofocus for amazing low light performance or any lighting level for that matter. It also offers 2x optical zoom with image stabilisation and is capable of ultra slow motion with 960 fps.
No Slough
Until recently with the introduction of Snapdragon 855 processor with 5G support, the Snapdragon 845 held the top spot, as the high end CPU for premium phones. The Xiaomi Mi Mix 3 smartphone uses the Snapdragon 845 mobile platform clocking up to 2.8 GHz speed. The same processor is used on the OnePlus 6T and Samsung's Galaxy S9. When compared to the two, Xiaomi Mi Mix 3 is still the cheapest, price wise. The CPU together with a spacious 6GB RAM and equally roomy 128GB ROM storage allows the Android 9 Pie to run like a dream. Unfortunately, there is no microSD card slot for extra storage but you are not going to miss it given the 128GB on board storage and cloud storage to relieve the demand on space.
Long Lasting Battery
With a high capacity 3100mAh or up to 3200mAh, there is plenty of juice to last you through the day and then some on a single charge. When you run low, you can use the USB Type-C two-way charging port with support for QC4+ for quick charging. Alternatively, use the included 10W wireless charger. Xiaomi claims that the included 10W wireless charger has an increased charging efficiency, up to 30%. The phone supports 18W QC3.0 charging and is compatible with all Qi wireless chargers.
Look and Feel
In the looks department, the phone is available in green, blue or black ceramic. The ceramic back plate curves on all sides making it. It isn't waterproof or IP rated so don't go near water.
Specification
Qualcomm Snapdragon 845 Chipset
6GB RAM and 128GB storage
6.39-inch Full Screen AMOLED Display 2340 x 1080 FHD+, 403 PPI 19.5:9 aspect ratio
Dual 24MP + 2MP front camera with real time video background blurring, Dual 12MP + 12MP rear camera with Ultra light-sensitive AI.
We looked at 5 similar slider smartphones in the market with similarly high screen-to-body ratio.