Just one year after the P20 Pro comes the much improved, new P30 Pro flagship from Huawei. This time, it comes bearing stunning camera, amazing display and the highest zoom on any smartphones.
Huawei has been a mainstay in the smartphone industry for years now, and the Huawei P30 Pro is indeed a smartphone with superpowers. Released on March 26, 2019, the flagship device from Huawei comes with a large and visually-stunning 6.47-inch display, three powerful rear-facing cameras, and an excellent 4,200mAh capacity battery to power it all. With the beautiful FHD+ (2340 x 1080) 6.47-inch display, the Huawei P30 Pro joins only a handful of high-end smartphones in the market with an OLED screen that delivers more pixel density, contrast levels and brightness than any of its predecessors.
The Huawei P30 Pro has the highest optical zoom on any flagship smartphone currently out there. The telephoto lens is capable of 5x optical zoom, achieved through a periscope system. But, that's not all, when combined with other cameras in its Leica quad lens array system, it offers up to 10x 'hybrid' zoom. Combining the different lenses to work seamlessly when it comes to zooming and clever AI lets Huawei achieve a lossless still image capture.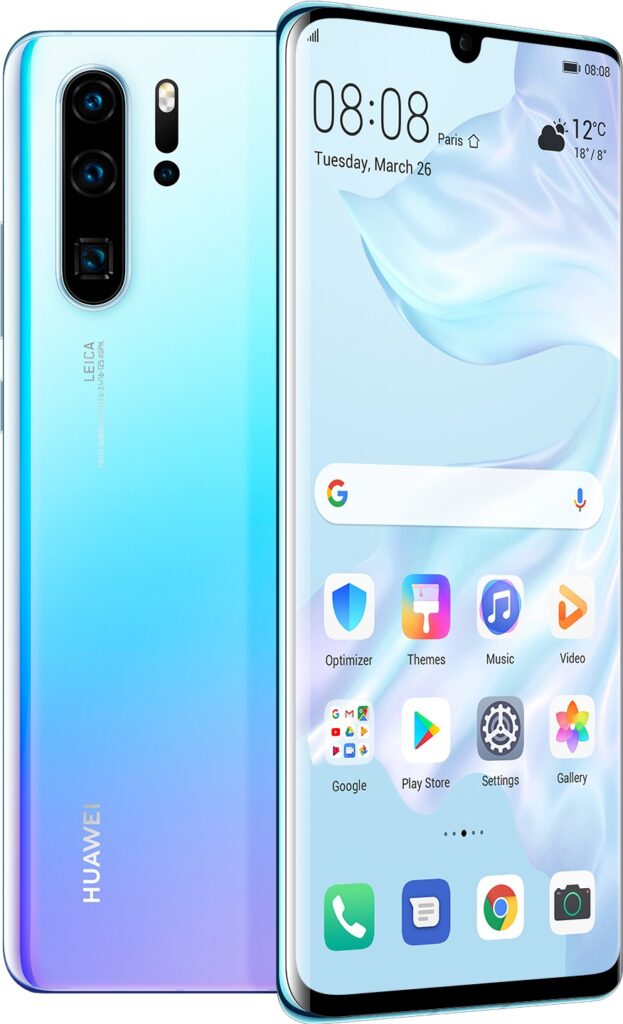 Highly Rated Camera
You only have to look at the DxOMark rating of 112 to appreciate how good the primary camera is. While the array has 4 camera lenses, it really is just three real optical cameras, the fourth one is a time-of-flight (ToF) sensor.
Depth Sensing
The ToF sensor is a range imaging camera system that employs time-of-flight techniques to resolve distance between the camera and the subject for each point of the image. It does this by illuminating a scene with modulated light source and measure the round trip of the reflected light. This allows the camera to determine the distance or depth of the subject.
The laws of physics make it difficult to fit a longer zoom lens into a thin smartphone body. Even using smaller-than-usual image sensors and clever lens design, manufacturers have only managed so far to achieve 2 or 3x optical zoom factors in conventional high-end smartphones.
Clever Folded Optics
In order to achieve 5 times optical zoom in a super slim profile, the lenses are arranged in a periscope system. Light travelling into the phone is reflected vertically using a mirror inside the phone towards a lens. This makes the optical axis run along the body of the phone removing the 2x or 3x optical zoom limitation. The light then goes through the lens and onto the sensor. This gives it a longer equivalent focal length without the need for a thick chassis.
Another twist to the camera system is the use of RYYB (red-yellow-yellow-blue) sensor instead of the standard RGB pixels. In going with the RYYB sensor, the camera can capture twice as much yellow and green light.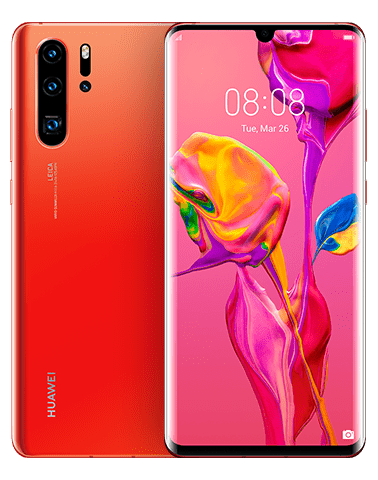 The Sensors: Main, Wide and Telephoto
The primary camera comes with a 1/1.7 40Mp quad sensor that produces 10Mp image output. The 27mm-equivalent lens comes with an f/1.6 aperture and is optically stabilized a first for this sensor size in a smartphone.
Thanks to a minimum focus distance of 25mm, the 20Mp super-wide-angle (16mm-equivalent) camera is capable of capturing macro shots, but the arguably most exciting innovation is the stabilised tele-camera that uses folded optics to achieve a 5x optical zoom factor (125mm equivalent).
Rear Camera:
Leica Quad Camera:
40 MP (Wide Angle Lens, f/1.6 aperture,OIS) +
20 MP (Ultra Wide Angle Lens, f/2.2 aperture) +
8 MP (Telephoto, f/3.4 aperture,OIS)
HUAWEI Time-of-Flight(TOF) Camera
supports autofocus (phase focus, contrast focus), supports AIS (HUAWEI AI Image Stabilization).
Front Camera: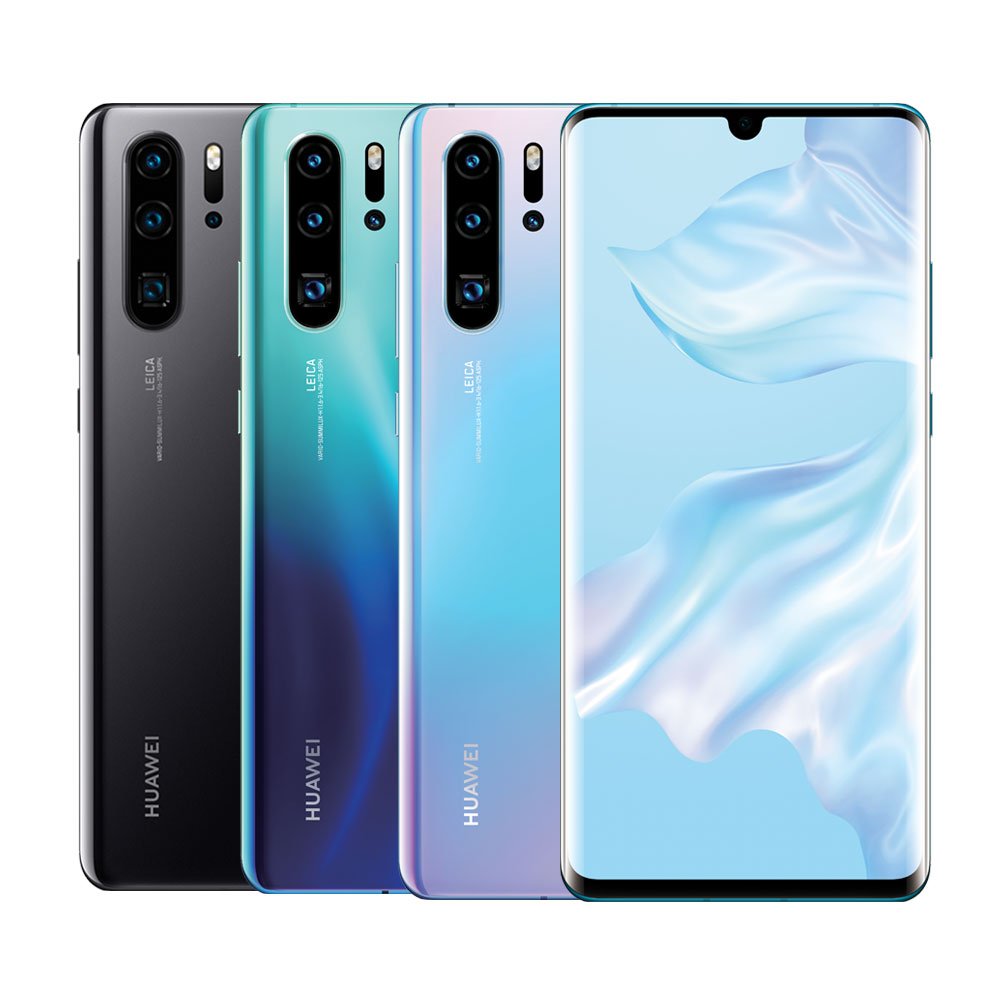 Kirin Power
Using HiSilicon's flagship processor, the same processor that powers the Mate 20 Pro, Huawei P30 Pro benefits from the Kirin 980 chipset. Together with up to 8GB RAM memory and up to two 512GB ROM storage. Other storage options include 128GB and 256GB.
HUAWEI Kirin 980 Octa-core Processor: Dual NPUs(Neural-network Processing Unit)  2*Cortex-A76 Based 2.6GHz+ 2*Cortex-A76 Based 1.92GHz + 4*Cortex-A55 1.8GHz
6 GB RAM + 128 GB ROM or
8 GB RAM + 128/256/512 GB ROM
Huge Display
Minimal notch in the shape of a dew drop houses the front facing 32MP camera. This leaves the huge 6.47-inch OLED display with HDR support to shine. In our opinion if you have to live with a notch, a minimal dew drop notch is preferred to a cut-out. Intrusive no doubt but less so than a floating black hole. The panel comes with a wider P3 colour gamut capable of 16.7 million colours using its Full HD+ 2340 x 1080 pixels. It is wrapped with a double 3D curved glass body just like that found on the Samsung S10+ making the side bezels disappear to the sides.
Hiding Under the Display
Being a flagship, the Huawei P30 Pro incorporates in-screen finger print sensor for quick unlocking. There is also an speaker under the display in place of a traditional top front speaker. Dubbed the HUAWEI Acoustic Display Technology, sound wave is sent via the large display so it does not matter where you place the phone du The electromagnetic sound levitation will project sound from the vibrations in the display to your ear. Hold the HUAWEI P30 Pro comfortably with one hand, while a more advanced in-screen fingerprint sensor swiftly unlocks it.
Battery Power
With a bigger phone and a bigger display comes more room to accommodate a high capacity 4200mAh battery. To charge, us the supplied SuperCharge 40W adapter. The smartphone also supports Wireless Quick Charging up to 15Watt, but you will need a Qi compatible wireless charger. The phone can also be used to charge another device wirelessly. Charge up your phone to 70% power in 30 minutes with the TÜV Safety Certified 40W HUAWEI SuperCharge.
IP68 Water and Dust Resistant
Removing the conventional speakers in favour of in-screen audio, traditional fingerprint sensor in favour of in-display sensor and the removal of headphone socket offering instead a Type-C earphone adapter, keeps the device pretty water and air tight. This allows Huawei P30 Pro to be protected against the elements earning it an IP68 rating. The device has been tested in a controlled environment and certified to be splash, water, and dust resistant in specific situations. IP68 rating means that based on certain defined test conditions, the device is protected against harmful ingress of static water at up to 1.5 meters, for up to 30 minutes, meanwhile the temperature difference between water and device is not more than 5K.