First things first, with the Honor 20e, you do get the Google Mobile Services (GMS) right out of the box. This means you get the standard bundled GMS apps pre-installed, such as the Google Search, Google Chrome, Google Map, YouTube and the all important Google Play Store. With that out of the way, lets look at what else the Honor 20e has to offer.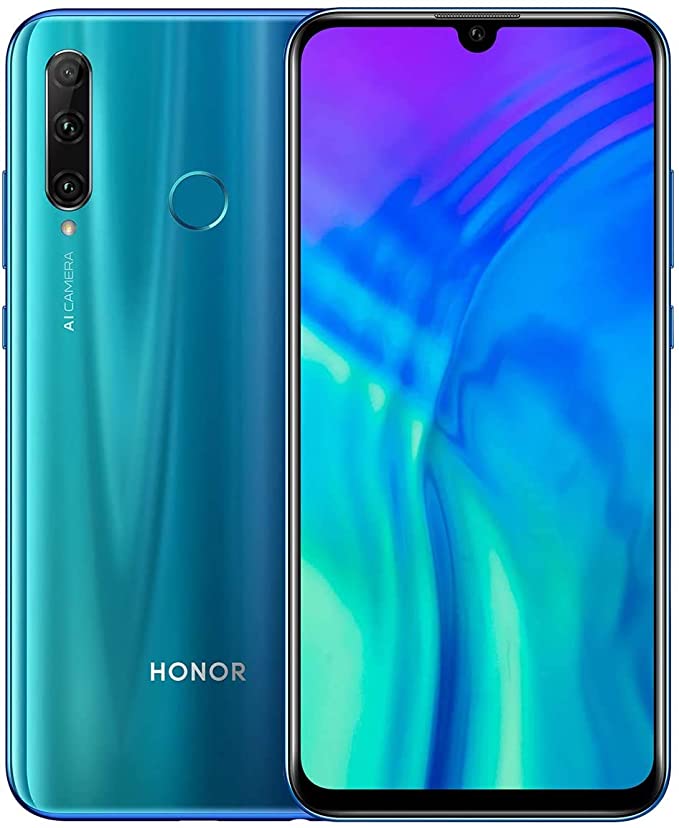 Does Honor 20e smartphone comes with GMS?
The short answer is YES. Once setup is complete, you have access to Google Search, Gmail, Maps, YouTube, Drive, YT Music, Movie & TV, Duo, Photos Docs, Sheets, Slides and Calendar right out of the box. During setup, especially when logging into your Gmail, it will prompt you to install Google Files and to back up your device using Google Drive. But the most important of these is access to Google Play Store, which lets you install all the apps published there. You could not get a more Android phone than that with access to Google Mobile Services core apps and beyond.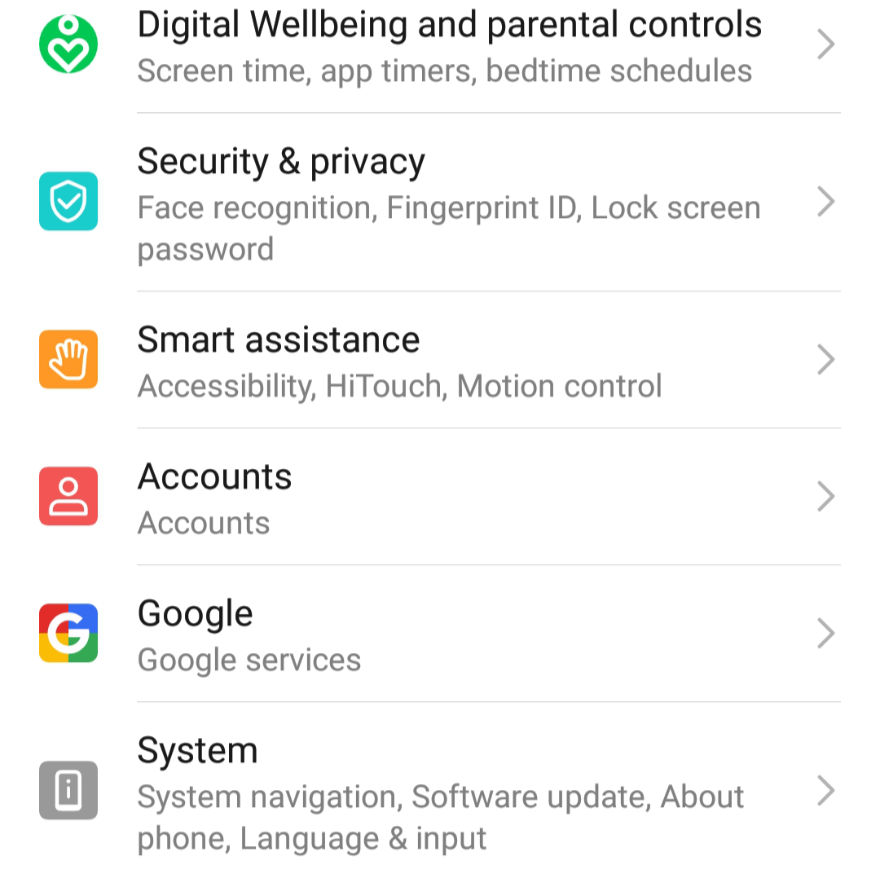 It is all down to the timing of the launch of the handset and when the trade ban was implemented by the U.S. Government. In May 2019 the government barred companies from working with Huawei and Honor thus stopping access to Google Mobile Services and updates. The Honor 20, Honor 20 Pro and by extension the Honor 20e was announced in China on the 21 May 2019. This and other Huawei and Honor smartphones launched on or before May 2019 were allowed to use the services and access to Google Play Store, Google Assistant and updates.
Honor smartphones with GMS support include Honor 9x, Honor 9x lite, Honor 20 Pro, Honor 20 and Honor 20e. The Honor 9x Pro which was launched later does not come with GMS access and has to rely on Huawei App gallery, Phone Clone, and backup restore option.
Honor 20e vs Honor 20
The Honor 20e is the budget variant of the Honor 20. When comparing the two phones, the Honor 20e being the cut-down version has a slower processor, less memory and storage, lower resolution cameras, no macro lens and smaller battery. It also comes with a slightly smaller display with dew drop design to house the front facing camera. The Honor 20 uses a pin hole screen design. Price wise, the Honor 20e is 44% cheaper than the Honor 20 or nearly half the price of its premium sibling. See table below for a spec for spec comparison between the two smartphones.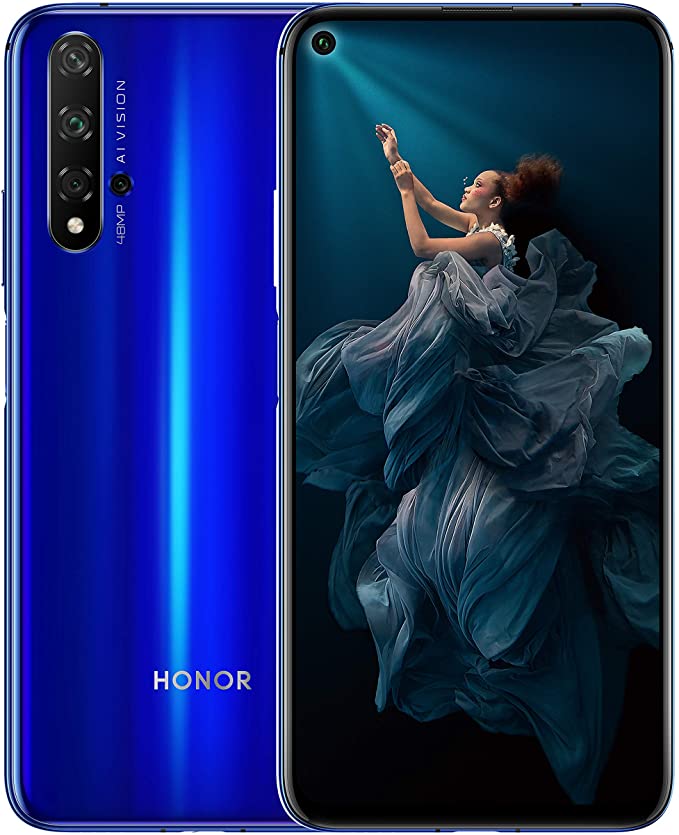 | | | |
| --- | --- | --- |
| | Honor 20 | Honor 20e |
| Screen Type | Pin Hole | Dewdrop |
| Build | Glass front and back, metal frame | Glass front, plastic back and frame |
| Display Size | 6.26-inch IPS 2340 x 1080 pixel | 6.21-inch LTPS 2340 x 1080 pixel |
| CPU | Kirin 980 | Kirin 710F |
| Mem | 6GB RAM | 4GB RAM |
| Storage | 128GB ROM | 64GB ROM |
| Camera Front | 32MP f2.0 | 8MP f2.0 |
| Camera Rear | Quad: 48MP F/1.8 + 16MP F/2.2 + 2MP F/2.4 + 2MP F/2.2 | Triple: 24MP F/1.8 + 8MP F/2.4 + 2MP F/2.4 PDAF |
| SIM | nano SIM | Dual |
| Fingerprint | YES | YES |
| Connectivity | 802.11bgnac Dual Band, BT5.0+BLE | 802.11bgn 2.4G WiFi, Bluetooth 4.2+BLE |
| Battery | 3750mAh | 3400 mAh |
| Weight | 174 grams | 164 grams |
| Thickness | 7.9mm | 8mm |
| OS | Android 9 | Android 9 + EMUI 9.1 |
Honor 20e vs Honor 9X Lite
For a closer handset in terms of specifications and price, we take a quick look at the comparison between the Honor 20e versus the Honor 9X Lite. Both phones are powered by the same Kirin 710F mid-range chip with 4GB RAM. The differences are the Honor 9X Lite has a bigger 6.5-inch display but an ugly iPhone-like notch, double the storage at 128GB, dual-band WiFi support and a higher capacity battery at 3750 mAh. However, the Honor 20e has an advantage over the Honor 9X Lite with an extra wide-angle lens for the rear triple camera setup. The Honor 9X Lite only comes with dual rear camera.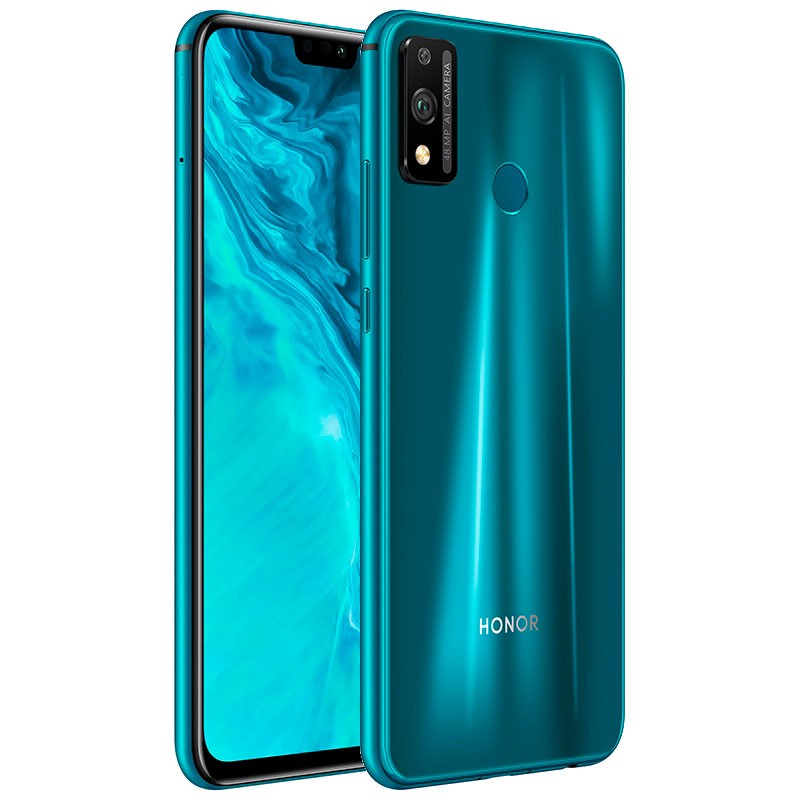 | | | |
| --- | --- | --- |
| | Honor 20e | Honor 9X Lite |
| Screen Type | Dewdrop | Notch |
| Build | Glass front, plastic back and frame | Glass front, plastic back and frame |
| Display Size | 6.21-inch IPS LTPS 2340 x 1080 pixel | 6.5-inch IPS LCD |
| CPU | Kirin 710F | Kirin 710F |
| Mem | 4GB RAM | 4GB RAM |
| Storage | 64GB ROM | 128GB ROM |
| Camera Front | 8MP F/2.0 | 8MP F/2.0 |
| Camera Rear | Triple: 24MP F/1.8 + 8MP F/2.4 + 2MP F/2.4 PDAF | Dual: 48MP F/1,8, 2MP F/2.4 |
| SIM | Dual | Dual |
| Fingerprint | YES | YES |
| Connectivity | 802.11bgn 2.4G WiFi, Bluetooth 4.2+BLE | 802.11bgnac Dual Band WiFi, Bluetooth 4.2+BLE |
| Battery | 3400 mAh | 3759 mAh |
| Weight | 164 grams | 188 grams |
| Thickness | 8mm | 7.8mm |
| OS | Android 9 + EMUI 9.1 | Android P+EMUI 9.1 Lite |
Now that we know where the Honor 20e stands amongst Honor's product portfolio, lets take a closer look at the phone.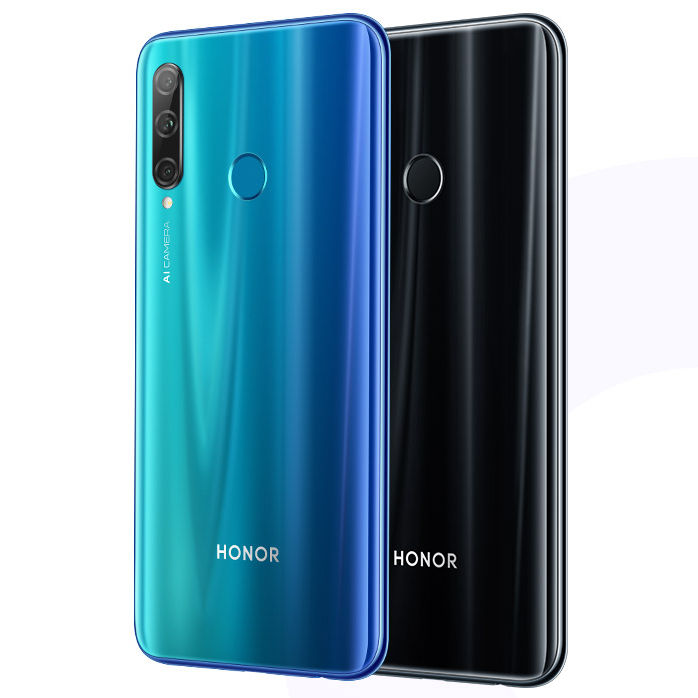 Honor 20e In-Depth Review
We established that the mid-range Honor 20e smartphone comes with access to Google Mobile Services (GMS) core with some compromises. It is powered by the Kirin 710F 12nm chip and runs Android 9.0 (Pie) with EMUI 9.1. Both the hardware and software are a little dated, but works well together offering plenty of speed and headroom to handle multiple applications simultaneously.
What is in the box
On first impression, the phone comes in a nice box that offers adequate protection. It is also well thought out with plastic sleeves, cable binders and different compartments for the phone itself, documentations, charger and charging cable. Where labels are attached, to the front of the screen and the backplate to show the features and instructions, these are easily removable with a pull away tab. See image gallery below for the unboxing.
The phone even comes with a transparent silicone case that offers a snug fit to protect the plastic backplate without adding much in way of thickness to the phone. A custom fit glass film screen protector has already been applied to the display to protect it from scratches. These are things you do not need to worry about from day one. No need to hunt high and low for a case that will fit and do not have the hassle of buying, lining up and applying a third party tempered glass film to protect the display.
Honor 20e Smartphone in plastic sleeve
10W USB Charger and charging cable
Transparent silicone case in plastic sleeve
Glass film screen protector or guard applied to the display
Sim slot ejector pin
Documentations: Quick Start Guide and Warranty Information booklets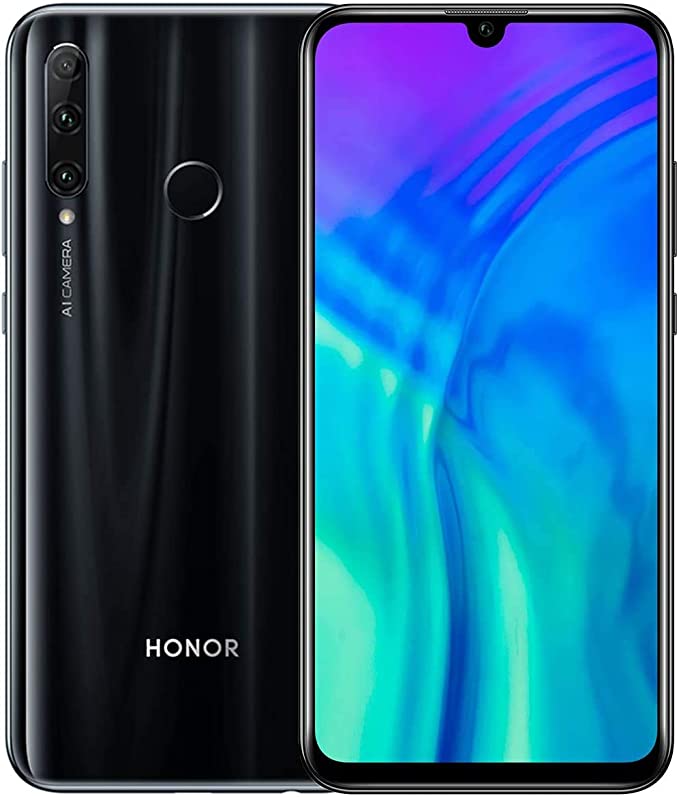 Initial Setup & Update
On first boot-up, there are a few steps to take before it gets to the home screen. These are pretty standard with smartphones today. From basic settings, updates, software agreements to login, simply follow the instructions from screen-to-screen until you complete all the required steps. The steps are shown below: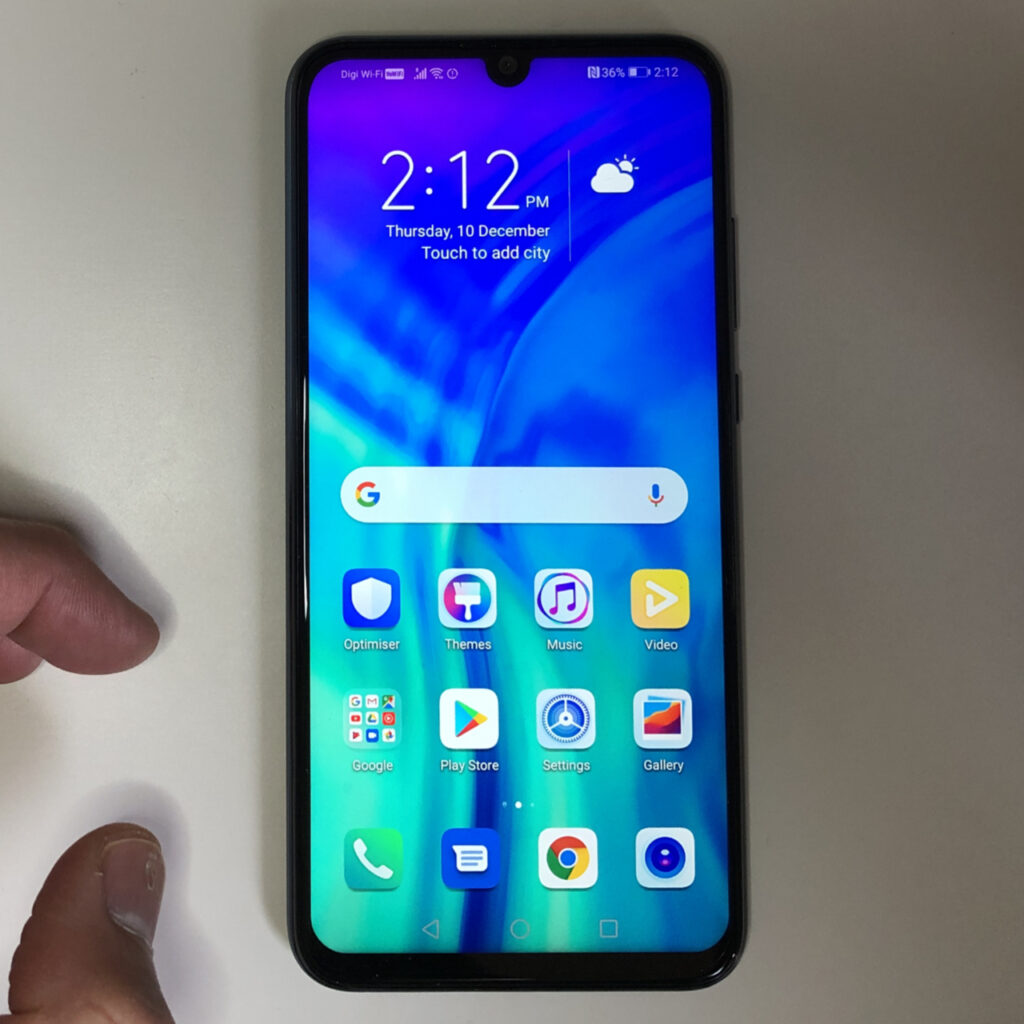 Boot up the device via the power button
Welcome screen and select language
Select region
Term of use agreement
Option to import date to the phone from one of the following: another Android, iPhone or iPad (iOS), Huawei Cloud backup, Google cloud backup or skip if you are setting it up as a new phone. The last option would be our choice.
Connect to a wireless network. Add your network settings here.
Sign in to google with your gmail account and password or create a new Google account
Agree to Google Services including option to back up to Google Drive for easy recovery
Setup Google Assistant with Google learning your voice
Login to Huawei Cloud, AppGallery, Find My Phone, Health and more.
Wizard to protect your device by setting the following; Fingerprint ID, Face unlock and password to prevent unauthorised access and unlock the phone.
Setup Enhanced services such as WiFi+ to automatically switch between WiFi and mobile data, turn on or off WiFi and obtain your location. Then there is weather service with location awareness and HiSearch for online and local searches including image driven search using the camera.
User Experience Improvement Programme participation
Enable overnight Update to get automatic software updates with notification before an update is installed
Download and install software update if any, we had to download and install the 9.1.0.310 update (see image below)
Reboot to install EMUI update
Complete update installation and continue to home screen.
You may get phone settings and Android System notifications to further configure your phone such as choosing a theme, setup wallpaper or follow an on-screen tutorial.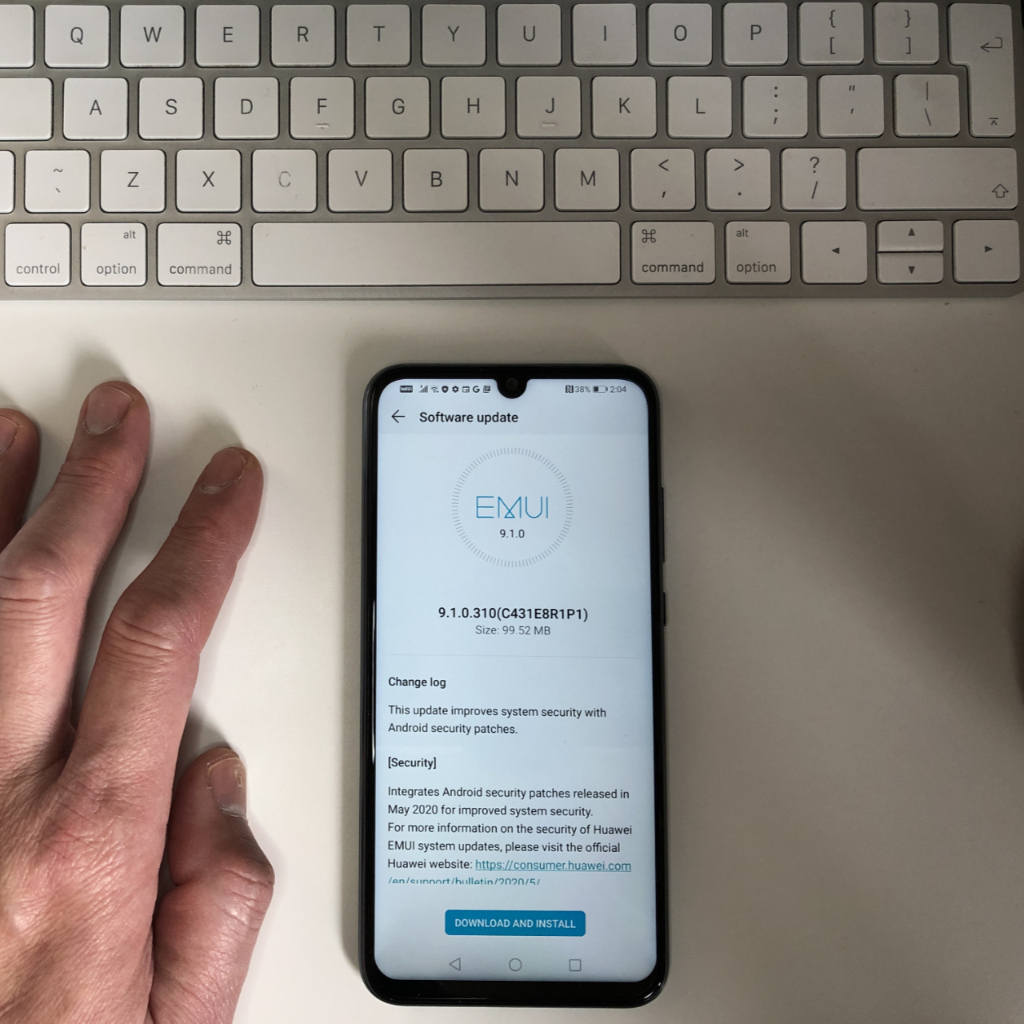 Performance
Powered by the Kirin 710F, the 12nm chip comes with an octa-core processor with four high performance 2.2GHz Cortex-A73 cores and four efficient 1.7GHz Cortex-A53 cores. This is paired with Mali-G51 MP4 GPU. As for memory and storage, it comes with a spacious 4GB RAM memory and a rather standard 64GB ROM storage. Together, they offer a responsive user experience; fast application loading and switching, quick Internet browsing and smooth video streaming and playback.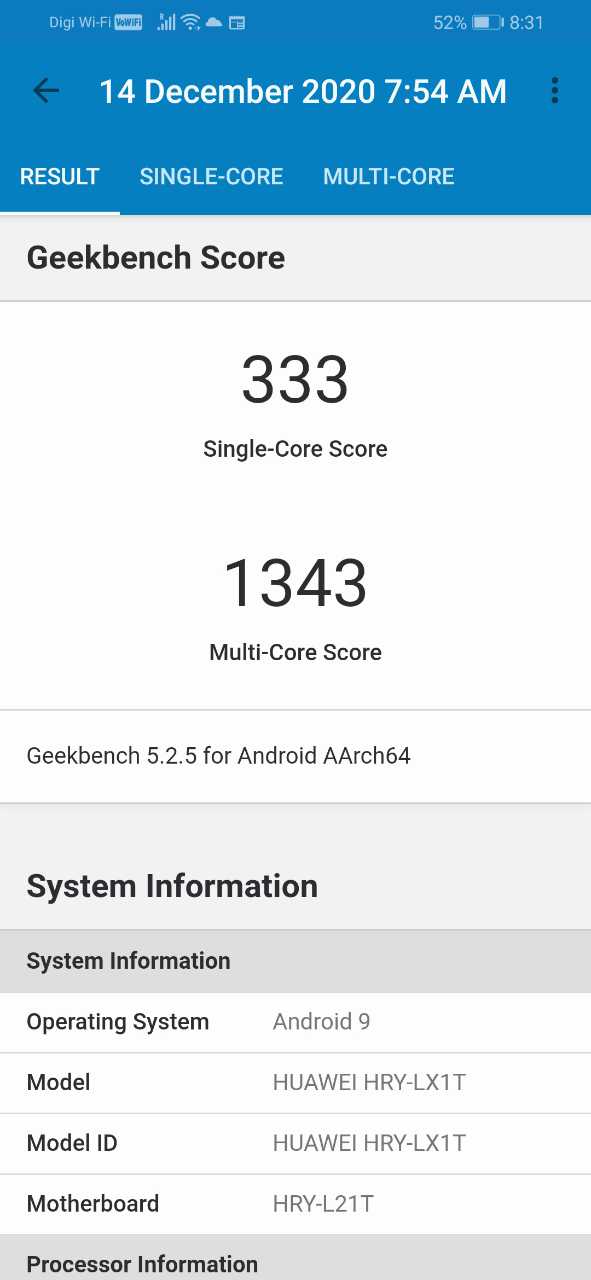 1. Honor 20e Geekbench 5 Benchmark Scores
Geekbench 5 placed the CPU at 333 and 1343 on single and multi-core performances, respectively. As for compute OpenCL score, it managed 1021 points. We switched up to performance mode under the battery settings before running these benchmarks. For single-core performance, this puts the phone between Xiaomi Redmi Note 7 and Samsung Galaxy S8. As for multi-core performance, it sits between Xiaomi Redmi Note 8 and Samsung Galaxy S8, all of which are respectable flagship smartphones in their days. For OpenCL compute benchmark, its performance is comparable to the mid-range but more expensive Samsung Galaxy A71 based on Qualcomm Snapdragon 730 (image below).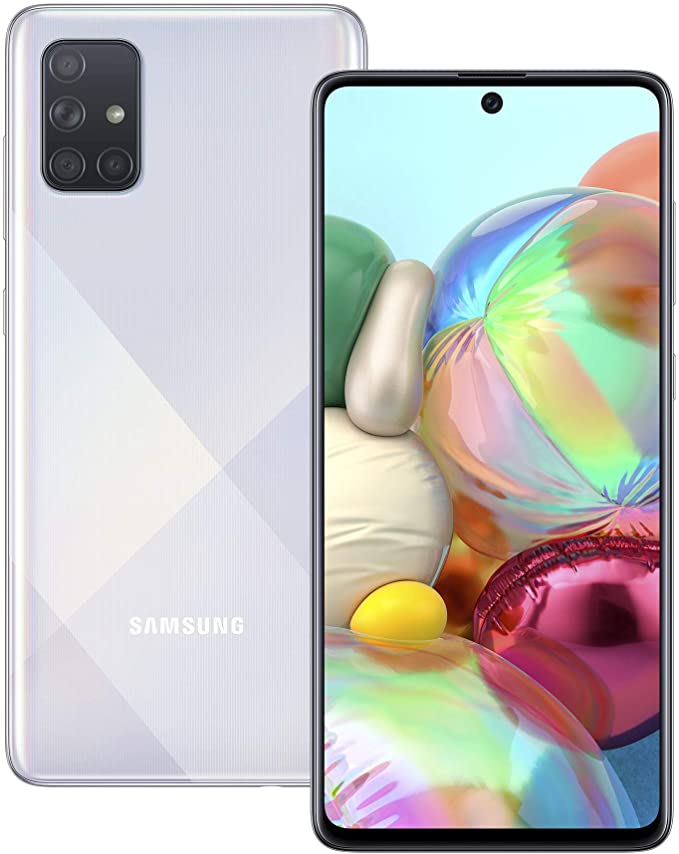 2. Honor 20e 3DMark Benchmark Scores
Again under the performance heading, we ran 3DMark benchmark, the Sling Shot Extreme and as expected, the Honor 20e scored a middling 1080. The average for all Android devices is 2140. Sling Shot Extreme is a demanding benchmark. As such, even with an OpenGL ES 3.1 score of 989, it still outperformed 72% of phones in this test.
If you are interested, the Honor 20e scored 1502 on the standard Sling Shot benchmark. This score is better than 56% of the results achieved by all other Android devices. Note that in the 3DMark app, the phone is identified as Huawei Honor 10i. We could not run other benchmarks such as Wild Life and Wild Life Stress Test as they require Android 10 or higher. See below for benchmark results.
3. Honor 20e Passmark Benchmark Scores
Finally, using passmark.com Performance Test Mobile Version 3, we got the following results. The system receives an overall average score of 5463. The three key scores are CPU at a respectable 198964, memory at 13633 and storage at 26336. As for the GPU performance, the Honor 20e managed 8423 on 2D graphics tests and 1747 on 3D graphics tests. Scores are scaled to V2.
4. Honor 20e AnTuTu v8 Benchmark Score
While we did not run the AnTuTu v8 benchmark on the device itself, it scored 196298 according to nanoreview.net from their list of smartphones that uses the Kirin 710F. These are chiefly mid-range devices from Huawei and Honor. At that score, it sits just under the Honor 30i in the number 2 spot but is vastly superior that all the other Huawei and Honor phones, including the Honor 9X Lite at number 8. You can find out more about the benchmark at nanoreview.
Design
The phone is super slim, measuring only 8mm thin. As for its footprint, it is not very different from the iPhone XR with a dimension of 154.8mm tall x 73.6mm wide. But remember that the phone comes with a bigger 6.21-inch display. The iPhone XR is 150.9mm tall and 75.7mm wide with a 6.1-inch display. The latest iPhone 12 measures 146.8mm tall and 71.5mm width but comes with a 6.1-inch display. This is a good size. Not too big or too tall, that you struggle to reach parts of the display with one hand operation. It also fits nicely in the pocket without sticking out.
Around the back, the array of triple lens camera and flash is aligned top down on the left while the fingerprint sensor is located in the top middle section of the phone (see image above). At the bottom of the phone you find a 3.5mm audio jack, charging port and speaker in that order from left to right. The power and volume buttons are on the right edge of the phone. The plastic backplate is a bit of a fingerprint magnet, especially on our midnight black model. It probably won't show as much on the phantom blue version. The transparent silicone case did not help, as it too suffers from smudges.
Display
The IPS display offers plenty in way of sharpness and brightness. It has a dewdrop notch, one that I prefer to Apple's big ugly notch. That 6.21-inch display is effectively full view, edge-to-edge safe for the slightly bigger chin (bottom) bezel. This gives the Honor 20e over 90% screen-to-body ratio. As for the details and colour, you get Full HD+ resolution at 2340 x 1080 pixels with an IPS panel. Watching Full HD 1080p video on the display is a real treat.
We noticed a slightly dimmed area on the display near the bottom bezel and around the dewdrop notch. This is only evident when the app has an all white background. It does not affect the performance of the display, and you can hardly notice it when streaming videos from your favourite YouTube channel.
The colour is vivid, motion is sufficiently smooth and jitter free, and you can push the brightness right up when viewing outdoor. By default, video will play in a letter box fashion, but you can pinch and zoom in for a full view. You will however notice the dewdrop notch when you do that. Elsewhere, the display is TüV Rheinland certified which means it reduces blue light radiation to protect your eyesight and prevent eye strain particularly when using it in dim light.
We recommend that you set bedtime mode and use blue light filter schedule under Settings > Display > Eye Comfort. You can also set Bedtime mode under Settings > Digital Wellbeing and Parental Controls. Set your bedtime to silence the phone and put the screen on greyscale.
Our only niggle is our protective glass film was applied slightly off center, but you only notice this if look closely. Also, with the edge-to-edge display and using gestures instead of the three key navigation, you do feel the edge of the glass film when swiping from the edges (left, right or bottom) to the center.
Cameras
The AI assisted triple lens rear camera does come into its own and is one to steal the show here. We had such fun taking photos with the phone. The main shooter is a 24MP camera with wide aperture F/1.8 lens with Quadra CFA sensor capable of 480fps Super Slow-motion Video capture, Super Night Shots and 1.8um ISO enhancement.
The second camera is an 8MP sensor with an ultra-wide angle 17mm lens and F/2.4 aperture. This allows you to capture ultra wide images such as landscape or even full body portraits close up. The effective angle is 120 degrees wide. When shooting using the ultra-wide angle lens, do not be alarmed when the framed image on the screen suffers from fish-eye effect. This will be corrected by the camera software.
The third camera, a 2MP sensor with F/2.4 camera is a phase detection autofocus (PDAF) camera. This helps you focus on the subject quickly and accurately and together with the main and wide angle cameras, take sharper photos.
We will look at the camera performance in detail in our next post. Here are some of the Super Night Shots that were taken with the Honor 20e.
Related: Honor 20e Smartphone Camera Review: With real photos captured using the phone
Portrait Night Scenes
Landscape Night Scenes
As for the selfie camera, the single shooter with AI will capture nice portrait with options to choose different bokeh effects all added post shot digitally. Just watch out for the on-screen instruction to keep your camera steady for those low light shots while it sharpens the images.
Face Unlock
There is a caveat with Face Unlock and a setting specific to Face recognition. For the former, it is a disclaimer that suggests it is possible to unlock the phone by someone or something that looks like you making it less secure than pattern, pin and password. Face recognition also does not work well in low light, at a great distance or different angle.
There is an extra setting specific to facial recognition, choose to enable pick up to wake to automatically wake and log in with face recognition in the right conditions. We face no difficulty in using the Face Unlock. We were able to unlock the device quickly. It requires that you swipe up to continue after Face Unlock just like on the iPhone to access the home screen.
With pick up to wake enabled and face recognition, you can quickly unlock the phone by simply picking up the phone and looking at the screen.
Fingerprint Sensor
An alternative to Face Unlock is to scan and register your fingerprint(s). With the sensor located on the back of the phone, you can quickly get used to picking it the phone and placing your index finger naturally on the sensor to unlock the phone. This works even better with the included transparent case, as the hole on the case allows you to feel for and locate the sensor quickly. This is my favorite way to unlock the phone. Unlike Face Unlock, it does not require you to swipe up to access the home screen. Instead, picking up and placing your finger on the sensor takes you straight to the home screen in no time at all.
Battery Life
With average use, the battery will last one and a half day even with performance mode enabled. This is confirmed by the onboard battery settings page, a full 35 hours remaining on a full 100% charge. This drops to 33 hours 15 minutes when switched to Performance mode and increases to 43 hours 50 minutes when Power Saving mode is selected.
While it does not support fast charging, the supplied 10W charger and USB cable will bring the battery back to full in under 2 hours. Our only disappointment is the use of microUSB 2.0 port for charging and data. No reversible USB Type-C port or cable. At this price, we can not complain.
Final Thoughts
There is a lot to like about the Honor20e. You may not get 5G connectivity or WiFi 6, these are features reserved for flagship smartphones but it is still nippy. Camera performance is better than expected. Low light performance gets a helping hand with Super Night mode, but only if the subject stays relatively still.
The high-resolution and bright display dishes up vivid and sharp images and offers smooth video performance. Overall, the phone performed better than expected with superb battery life and zippy interface. Plus, the dual SIM support with option to add microSD card is a bonus. For the price, you can't really go wrong. If an all-round performer is what you are after, get the Honor 20e. Your bank account will thank you.