From the big three tech companies; Amazon, Facebook and Google come these big flagship smart displays that let you connect to your home network, access voice activated assistants, control your smart home devices including security systems, make video calls, stream video and music and more.
Without compromising on size, features and usability, these big smart displays starting from 10-inch and going up to 15.6-inch are the best smart displays currently out there. Yes, there are cheaper and smaller smart displays available, check out our list of small and affordable smart touchscreen displays, but they come with compromises like low resolution display, tinny sound system and limited touchscreen real estate to navigate on the device properly.
RELATED: Top 3 Best Budget Smart Displays: Small and affordable smart touchscreen displays
Large Smart Displays
We have divided our list into large (10-inch) and super-sized smart displays (bigger than 10-inch) as below:
1. Echo Show 10 (3rd Gen) [10-inch]
One of a kind smart display that sits on a motorised base that turns the camera and display to face its user, following them around the room during a video call. How neat is that? The biggest upgrade to their flagship smart display, the third generation 10-inch smart display moved away from the conventional wedge design and into a slate mounted to a vase like cylindrical base. Available in two colours, charcoal or glacier white fabric, the Echo Show 10 with motion and Alexa looks amazing in any room.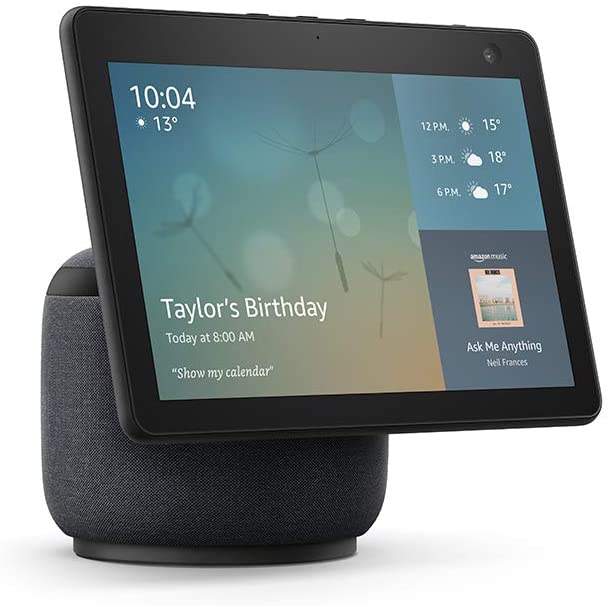 The 10.1-inch display is not quite Full HD, but at HD resolution (1280 x 800 pixels), it is sufficient for video calls, on-screen information and video calls. However, the biggest advantage the 10 has over 8 or 5 is room for bigger drivers to pump out louder and clear sound. In this case, it comes with two 1-inch tweeters and a 3-inch woofer. Together with the display, this makes a great music and video streaming device. Stream music for Amazon Music, Apple Music, Spotify and online radios. As for videos, stream from Prime Video, Netflix and Hulu.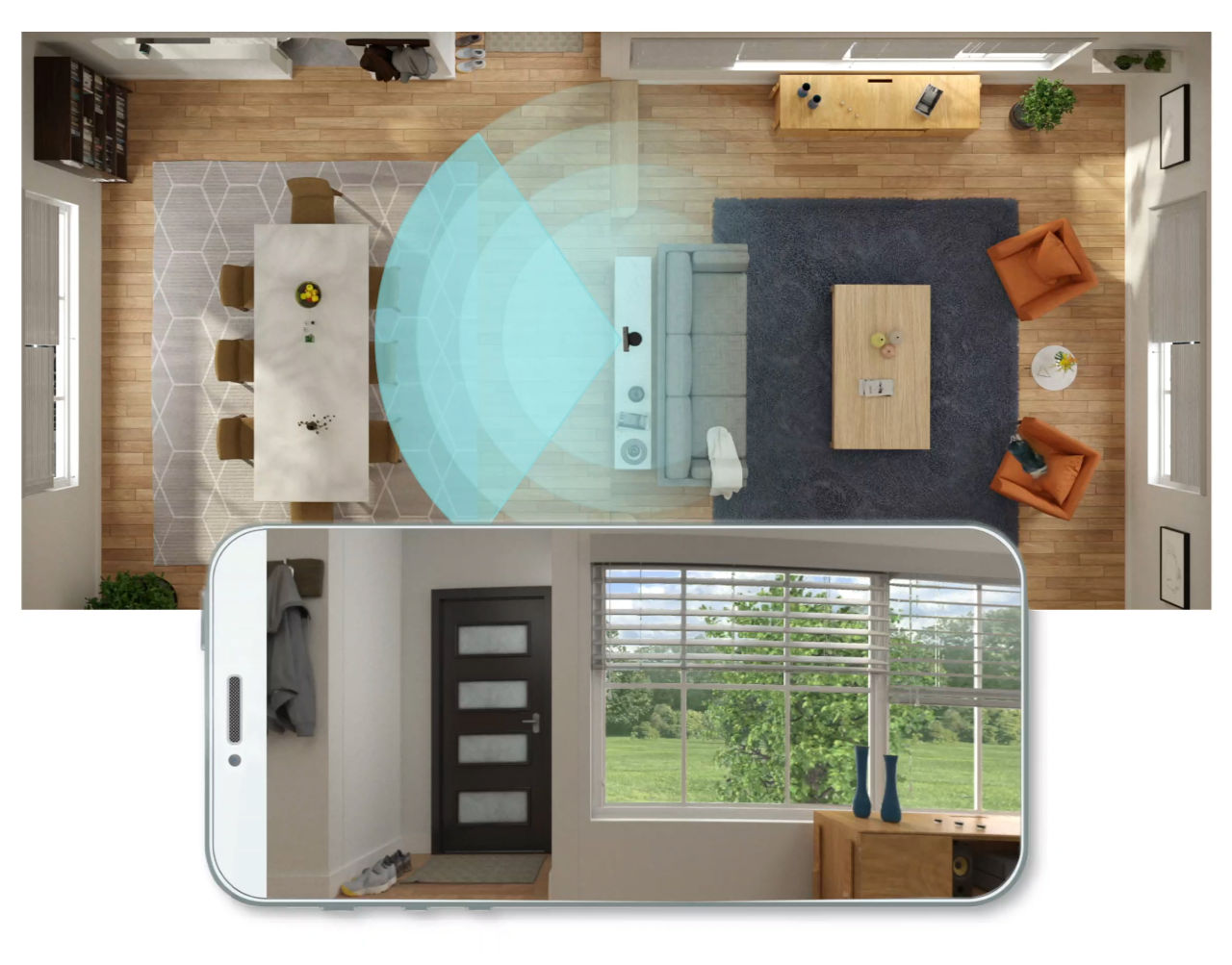 Back to the rotating base, with its on board camera, this also lets you use the Echo Show 10 to look around the room remotely or use Alexa Guard Plus to keep your home and family safe. With the latter, once enabled, the camera and onboard microphone will pick up intruders, detect smoke alarms or carbon monoxide alarms, sound of glass breaking or other noises and alert you.
Another use for the smart display is in the kitchen where it can be a cook's companion. Here you can use the smart display to quickly add things to your shopping list, or even order what you need from Amazon, check your family calendar, find recipes and step by step cooking instructions from Food Network Kitchen, Tasty, Allrecipes and more.
2. Facebook Portal
Facebook Portal has a sleek and minimalist photo frame design. Unlike Amazon Echo Show above and Google  Nest Hub Max below that are unmistakably smart displays with its tablet like design, the Facebook Portal 10-inch looks like a rectangular photo frame with border surrounds and camera in one corner. That camera can be hidden for privacy with the microphone and camera slider. It comes with an integrated stand that lets you switch between portrait or landscape quickly to suit your content or app and is available in black or white.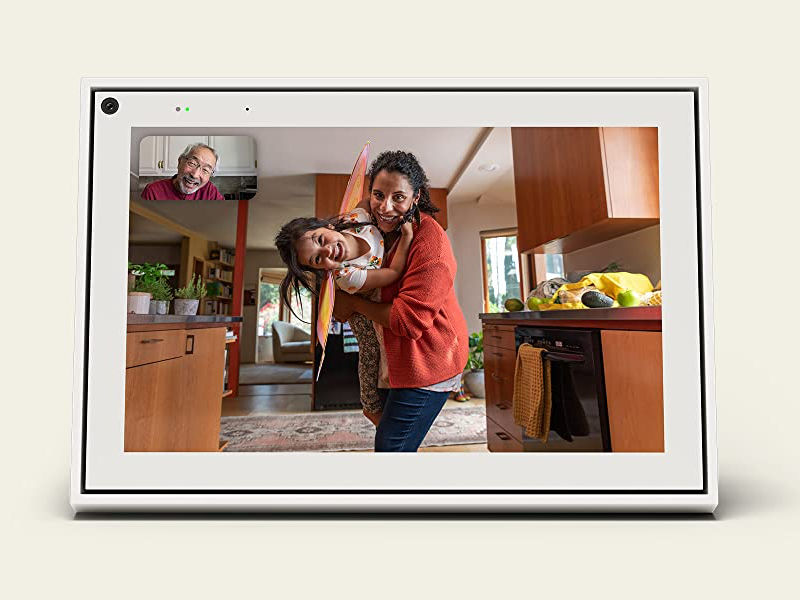 Search Facebook Portal 10 on Amazon
While it is powered by Alexa voice services, instead of using the Alexa wake word, you use "Hey Portal" followed by your voice command. Being Facebook also means that it closely integrates with Messenger and WhatsApp so you can make video calls start from the device to anyone with the app running on their mobile device. It even supports Zoom video calls. The wide angle smart camera will automatically pan and zoom with no moving parts on smart display to follow the user during a call. So much for the rotating base on the Echo Show 10.
Apart from video calls, you can also use the smart display to show photo feeds from Instagram and Facebook, broadcast Facebook Live directly from the Facebook Portal and more. It doesn't just stop with Facebook oriented features. With Alexa built-in, you can use it to stream video and music, get the news, weather, set a timer, listen to online radio and more. In essence, anything that your Echo Show can do, the Facebook Portal can do too.
3. Facebook Portal Go [10-inch] –

Battery Built-in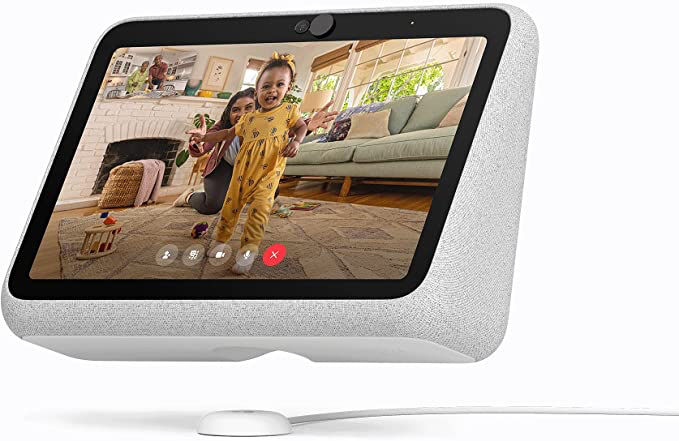 Search Facebook Portal Go on Amazon
A battery powered portable version of the Facebook Portal also with 10-inch touchscreen display is also available. Dubbed the Facebook Portal Go, it breaks free from the power cable so you can move it around the house with its integrated carry handle. The wedge design lets it accommodates room-filling Hi-Fi audio system. This means it also doubles as portable wireless speaker and streaming video screen for entertainment.
3. Google Nest Hub Max [10-inch]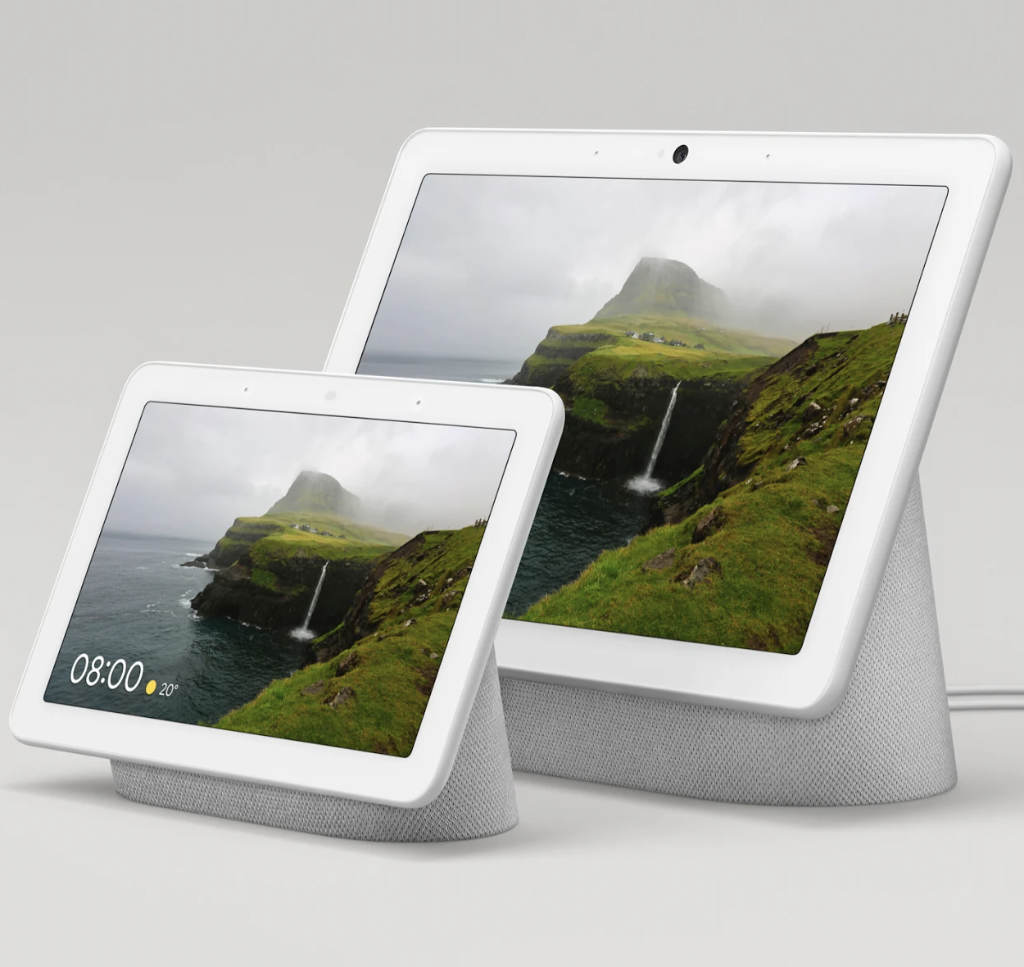 The bigger of the two Nest Hub smart display, the Nest Hub Max comes with bigger speakers including 3-inch subwoofer and stereo front firing tweeters and a large 10-inch HD touchscreen. Being from Google also means you can tap into the other services that the company offers easily including Google Music, YouTube video, Netflix and more. As a big smart display, one of its biggest selling point is being able to make group video calls (via Google Duo or Google Meet) or joint a Zoom meeting. Any of those calls can be initiated via voice command.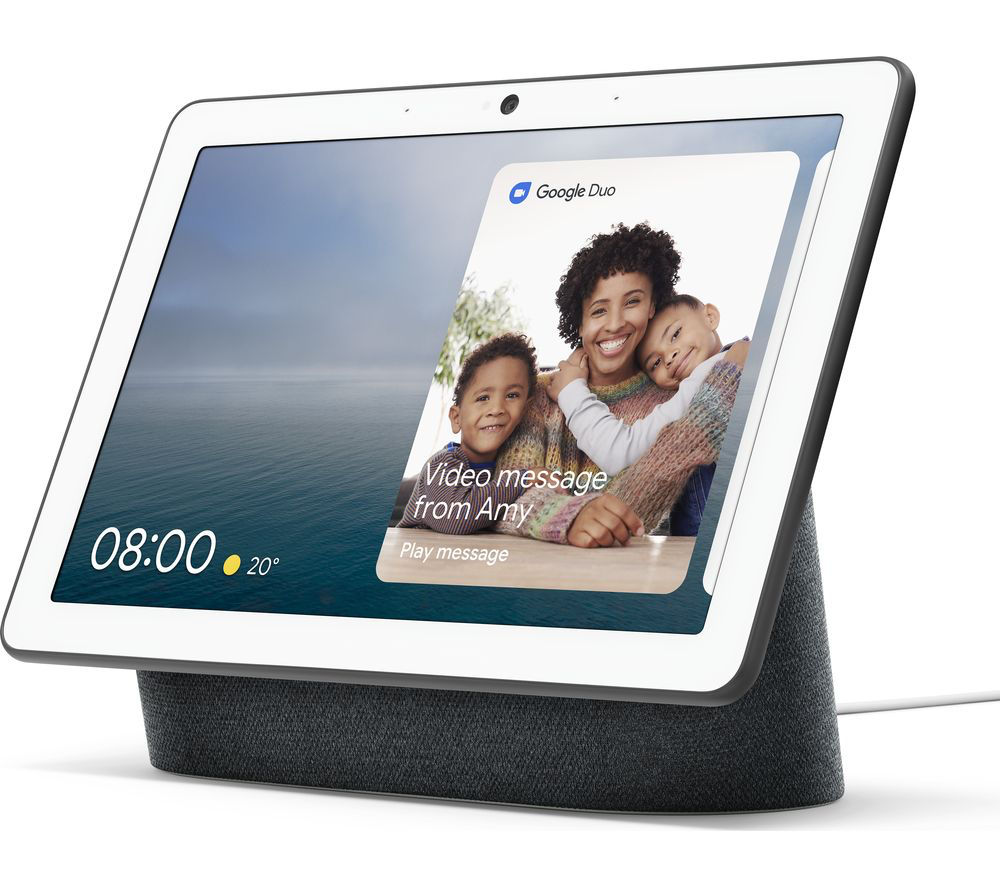 Search Google Next Hub Max on Amazon
Another big selling point is being able to control your smart home devices such as lights, switches, heat and media center and create routines all from one place to take charge of your connected home. The devices will need to be Google Assistant compatible. Lastly when sitting there waiting for your command, it can pull up your family photo library on connected Google Photo or show any of the 16million images in its collection in the cloud designed to go with the ambience and lighting of the room. Oh, one more thing. The web cam also doubles as a Nest indoor security Nest Cam however a subscripton is required for added security notifications.
Supersized Smart Displays
Moving on, we have smart displays bigger than 10-inch with up to 15.6-inch.
4. Facebook Portal+ [14-inch]
Looking more like Google's Nest Hub Max with its slate and base combination, the Facebook Portal+ comes with a bigger 14-inch HD display (2160×1440 pixels) and you can actually tilt the display and with that the camera angle. The second generation Portal+ comes with a beefier base. From that you get Smart Sound and HiFi audio for room filling music and crystal clear video calls. And, like the Facebook Portal 10 above, the ultra wide 12MP Smart Camera will pan and zoom to follow the subject automatically. Think Centre Stage for new iPad Pro 5th gen, iPad 9th gen and iPad mini 6th gen. It will even zoom out when someone steps into the frame.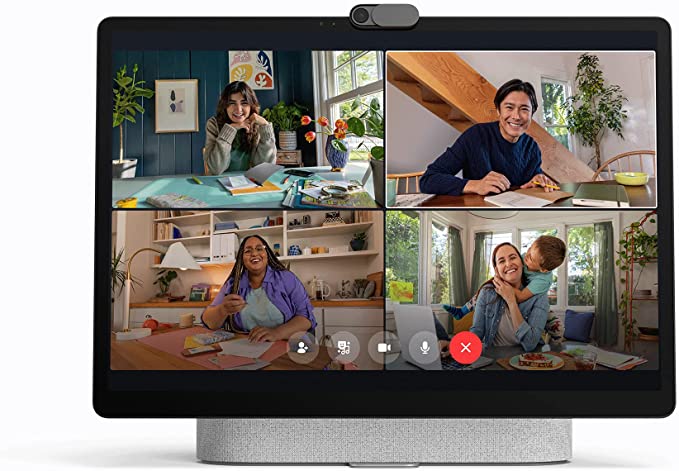 Search Facebook Portal+ on Amazon
Those who enjoy getting together with friends and family across the globe will love the many interactive features and background. Another key app is Story Time. With music, animation and AR effects, just pick the book then read along with on-screen text and prompts to pull off a remote bedtime story. Next, like other Facebook Portals, this 14-inch version has Alexa built-in. So apart from the ability to launch into video calls and group chats with WhatsApp, Messenger, Zoom, GoTo Meeting, Facebook Live and more, you can also access all the features the Alexa cloud service has to offer including controlling smart home devices and streaming media both music and video.
5. Facebook Portal Plus [15.6-inch]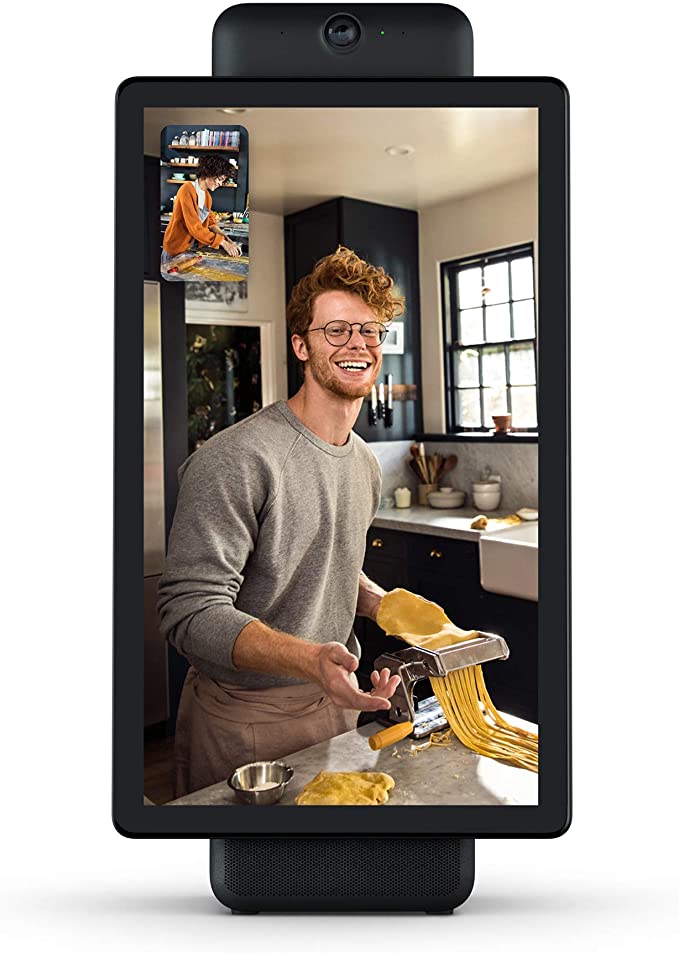 Search Facebook Portal Plus on Amazon
Not going to be around for long but the first generation Portal Plus with 15.6-inch display is still a favourite and warrants a spot on our list here. As with the new Facebook Portal, Portal Go and Portal+ 14 above, it features deep integrated with Facebook and is powered by Alexa. Even as a first generation device, it comes with Smart Camera built-in allowing the system to automatically pan, zoom and widens during a video call to capture the user without any moving parts. The microphone system also features noise cancellation to minimal unwanted background noise during calls. The display can be rotated 45 degrees to switch between portrait or landscape mode depending on your preference.
Another feature that all Portals support is the AR effects. You can use this to add overlays and animated backgrounds and objects, perfect for story time or just a bit of fun. For entertainment, the Portal + comes with an array of 2-inch tweeters and a 4-inch woofer, enough to pump out sweet music to anyone's ears with amazing lows and rich details. Finally, Alexa voice services offers all the skills common with Echo Shows including streaming video feed from a compatible video doorbell or security camera and watching your favourite shows.
6. Echo Show 15 [15.6-inch]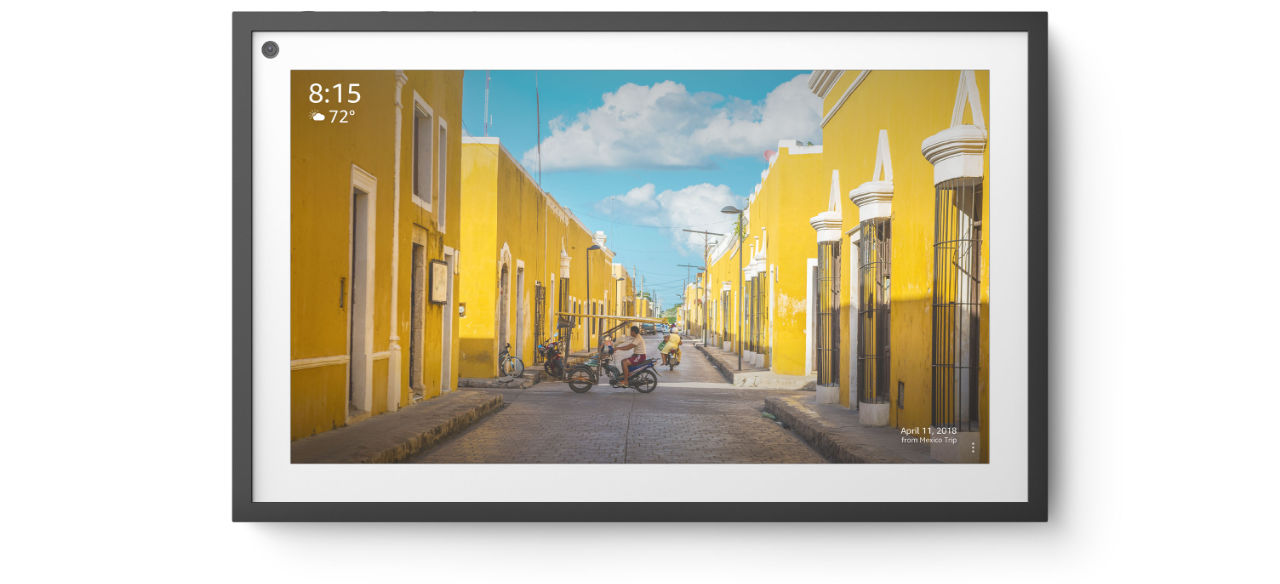 Search Amazon Echo Show 15 on Amazon
A smart digital photo frame that goes beyond just displaying your holiday photos, the Echo Show 15 has a huge 15.6 Full HD 1080p screen wrapped in your conventional white border and set in minimalist boxy frame. If it isn't for the camera hole and 5MP camera on the top left corner in landscape mode, nobody would know that this is in fact a smart display. Even the camera can be hidden with a camera shutter, simply push the slider to seal off the camera hole for a seamless white border and complete privacy.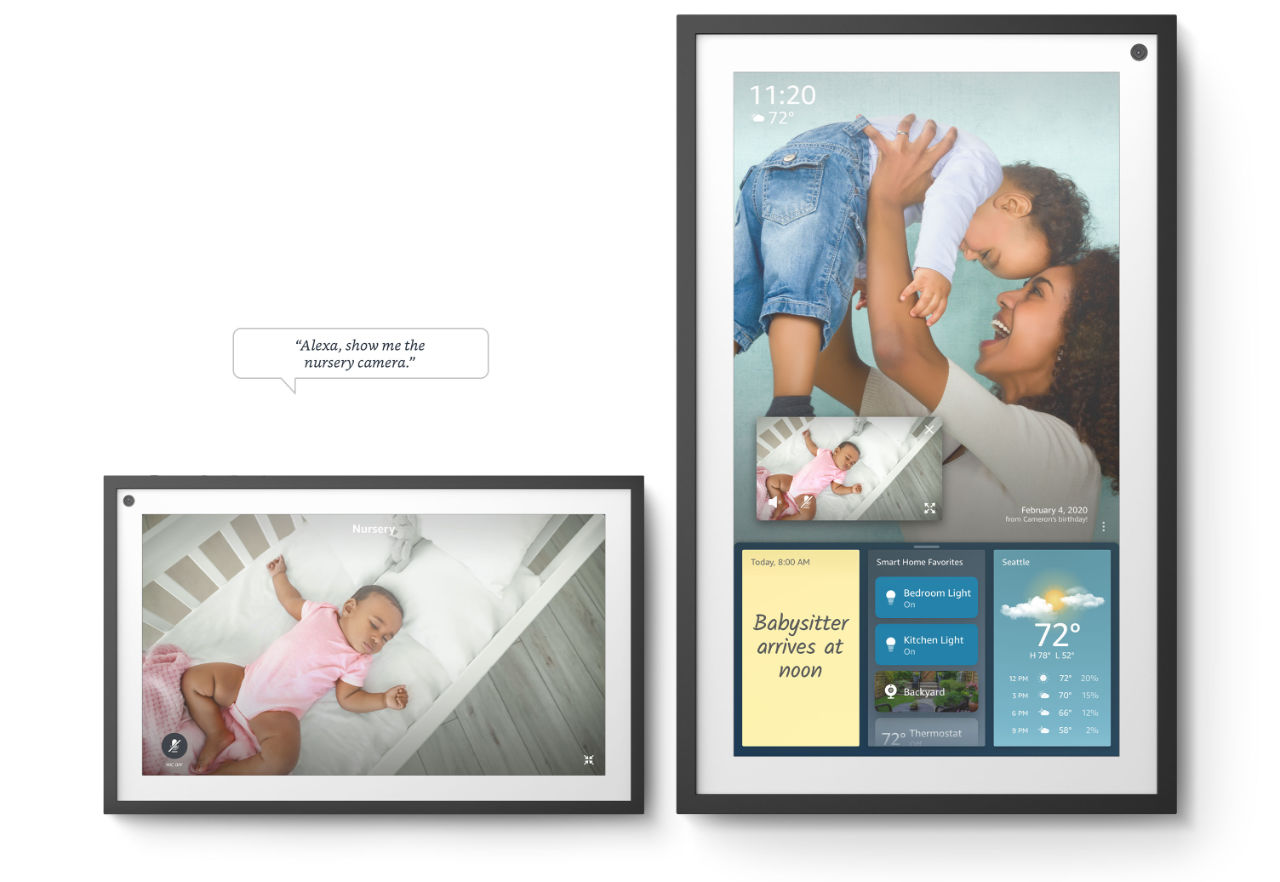 Underneath the frame and display is a fully functional computer that lets you summon Alexa voice service to help your family organise their day. This includes getting the right information at the right time, set to do list, look up appointments on the calendar, add things to the shopping list and leave messages for each other. Being Alexa enabled also lets you control your smart home devices including show video feed from compatible network cameras, control the lights, heating and smart plugs.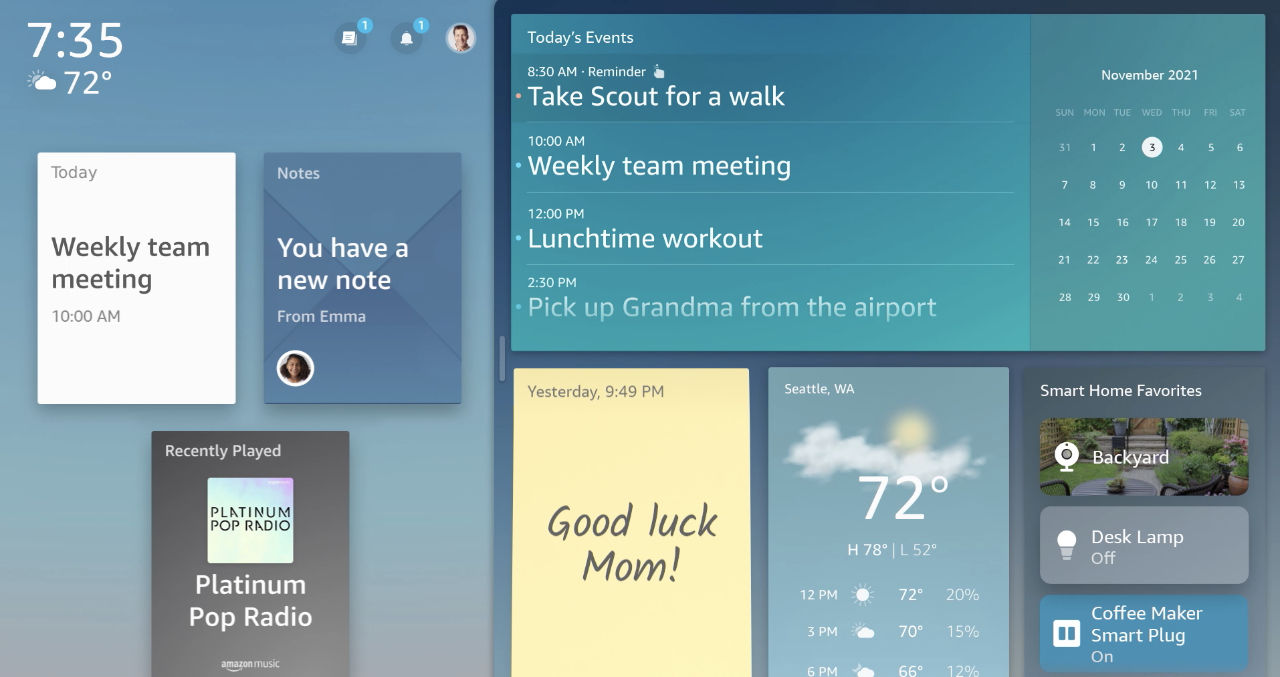 The introduction of the Echo Smart 15 also see the new Face ID like feature called visual ID on top of voice ID. This will be available on Echo Smart 15 at launch and as upgrades for Echo Smart 10 above and Echo Smart 8. What this means is the smart display will be able to personalise the type of information displayed on the screen according to the person standing in front of it. This includes appointments, reminder and even recently played tracks.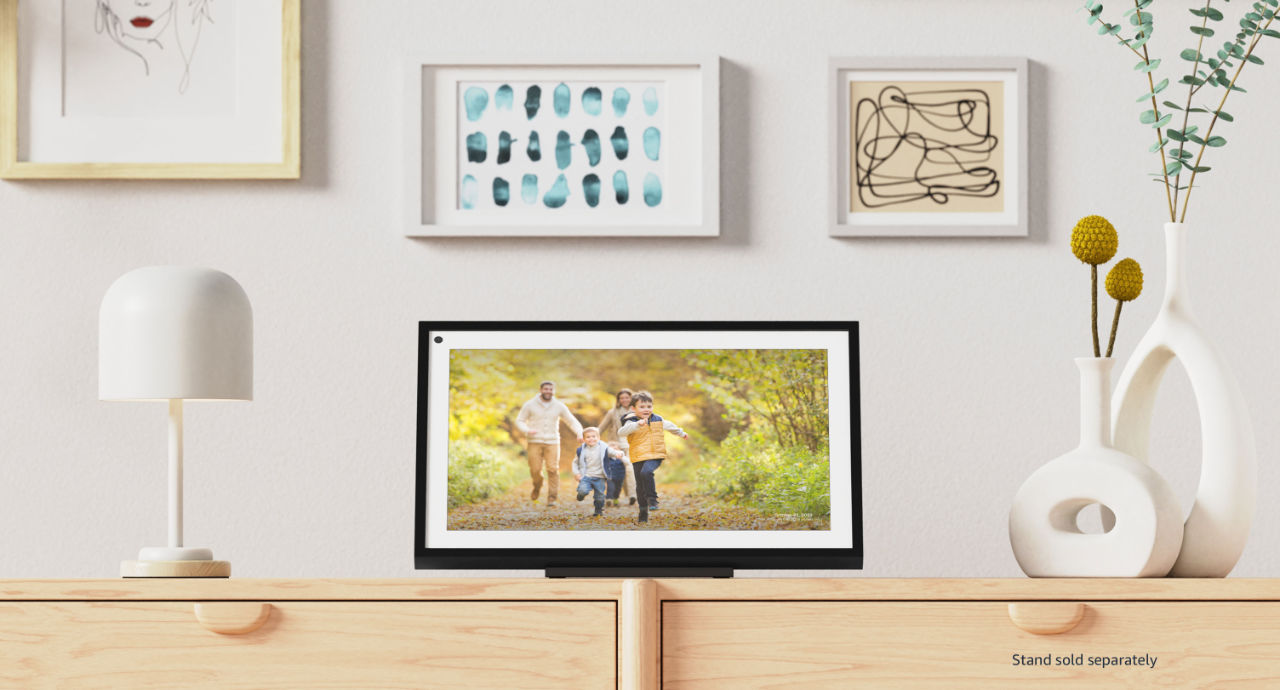 It is also versatile in that you can mount it on the wall either in landscape or portrait or have it on the table or counter top with the optional stand. For entertainment, we would definitely recommend the landscape orientation, better suited for streaming video content such as tv shows, movies, cook shows and demo videos.