Forget smart speakers, smart displays are the next big thing in smart home tech. Making and taking video calls, calling up TV shows, movies and tutorial videos, actually seeing your schedule and information you requested from the voice assistant will change the way you interact with technology.
Let's Start Small
If you are unsure how a smart display can revolutionise the way you control your home, make video calls, summon the voice assistant to give you any information be it news, weather, traffic, tutorials, recipes and even order your dinner complete with visual cues and on screen information, we recommend that you start small.
Starting small with smart display ranging from 5-inch, 7-inch and 8-inch is the most affordable way to introduce these babies into any home. They already come with bigger and louder speaker than the standard smart speakers as well as the far field microphones. The latter gives it an advantage over using a standard tablets such as the Amazon Fire 7 or Fire HD 8 if you are considering using an old device for the job.
Smaller smart displays also take up less space and comes with the convenience of on board web cam with privacy switch that turns it into a web cam for video calls, baby cam or even security camera with the right subscription. The main players in this space are Google and Amazon. For bigger smart display with 10-inch or bigger touchscreens, watch out for our next article.
1. Amazon Echo Show 5 2nd Gen [5.5-inch]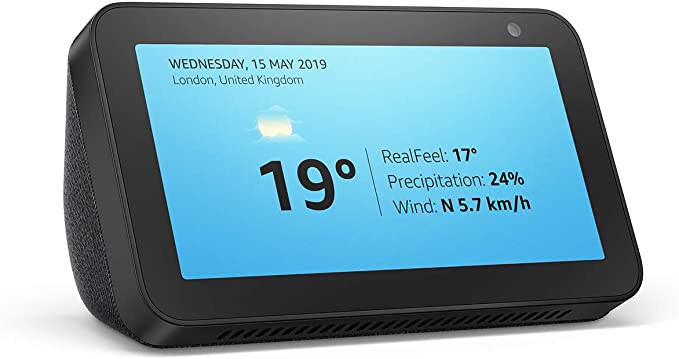 Amazon launched a display-supported smart device in June 2017 called the Echo Show. Since then, it has launched several improved versions and the Echo Show 5 2nd Generation is the latest from its smart display portfolio. The new device comes with 5.5-inch display, the smallest of all the Show devices. The new Echo Show 5 has an improved 2-megapixel camera but the 3.5mm jack has been done away with.
One of the biggest appeal of the Echo Show 5 is its compact size. Just as small as before with a 5.5-inch, 960 x 480-pixel touchscreen, it does not look out of place in the bedroom, living room, kitchen or even in the hallway. The display is bright and colourful. The compact display acts as an excellent monitor for security cameras and video doorbells but it is not quite perfect for binge-watching content from OTT providers due to a low resolution and screen size.
The Echo Show 5 comes with a single speaker inside the wedge-shaped housing that has moderate to good loudness levels and bass for its tiny size. The Echo Show 5 does not support Zoom and is best suited for Internet video calls between two Echo Show devices. The processor speed is where the new Show still needs improvement as it takes a lot of time to load video feeds. Navigating the user interface can feel a little sluggish too.
2. Google Nest Hub 2nd Gen [7-inch]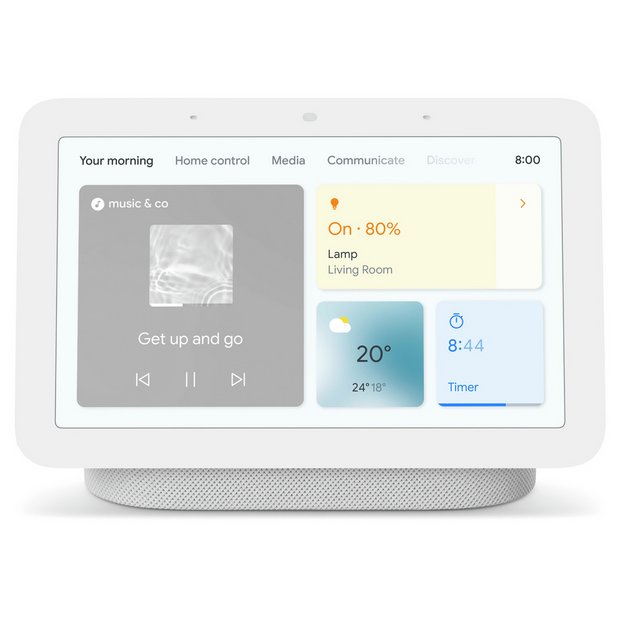 Search Google Nest Hub on Amazon
With smart speakers flooding markets, the next big thing is sure to be smart displays and Google is going head-to-head with Amazon Echo Show. Being marketed as a digital photo frame, the Nest Hub has all the features of a smart display. Unlike other similar devices that are continuous pieces of equipment, the Nest Hub looks like a 7-inch tablet that has been attached to a wedge-shaped base. This reduces the footprint of the device but also robs it of any visual glory.
The smart display comes with physical volume buttons on the rear right along with a power inlet port on the fabric-covered base. As with other Google smart products, you need the Home app for a smooth set-up. When the device is idle, it displays a photo frame by default that chooses your best photos from Google Photos and starts a slideshow.
You can also link your device to Facebook or Flickr for additional photos. There is support for multiple Goole accounts allowing the entire family to control the device using their voice or by standing in front of the camera. The display supports card-based actions from downwards and upwards swipes and it does this proactively to actually help users without being triggered manually with wake word as in the Echo devices. There is no camera and so the Nest Hub cannot be used for video calls.
3. Amazon Echo Show 8 2nd Gen [8-inch]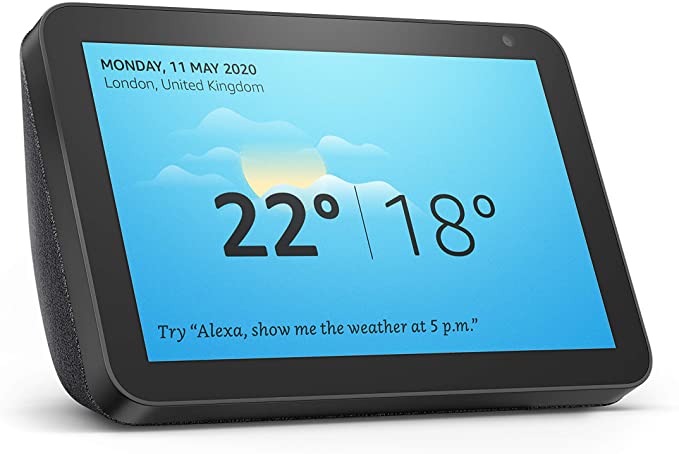 Amazon's Echo Show 8 is perhaps a device better suited for binge lovers. It is faster than the Echo Show 5 and betters it in most parameters. Firstly, the screen measures at a modest 8-inches and comes with an HD+ resolution. The screen can adjust its colour along with white balance according to the lighting of the room. The 2-megapixel camera on the Show 5 sees an improvement to 13 megapixels that greatly improves video calling capabilities. The processor is better than the Show 5 that returns fast and snappy performance on the Show 8.
Alexa integration is extremely smooth with the assistant now allowing users to open applications and join video calls on Zoom through voice commands. The screen however is not adequate for group calls as anything shared on the screen appears small and difficult to comprehend. As for the sound, the Echo 8's wedge-shaped chassis houses two speaker drivers that let out loud and clear audio with decent bass. Overall, there might not be any major improvements but a lot of minor improvements in various sections that add up and make the Echo Show 8 a comprehensive package.
Final Thoughts
When considering a smart display on a budget, you can't go wrong with any of the above. Our favourite is the Amazon Echo Show 8 although we may be bias in that we are already familiar with Alexa and have smart devices around the house that supports it. While these may not be suitable for consuming video content such as TV shows and movies due to its size, they are more than sufficient for the following tasks:
quick tutorial videos and recipe cards
access news briefing, weather and traffic in a friendly visual format
a way to access video feed from door bell camera, indoor baby camera, outdoor nature cam, security cameras
to make one to one calls or calls to a small group. Not quite suitable for anything more than a video call with two other parties
perfect upgrade for entry level smart speakers for visual interface
control centre for smart home devices such as lights, robot vacuum, power points, heating/cooling system and more
listen to podcast, online radio, audio books and access music streaming services with the added visual and touchscreen support
double as digital photo frame taking feed from family's online photo library
add more skills to access local services such as booking a table, order food and deliver etc.
If you have any other suggestions for ways to use the small smart displays, do let us have it in your comments below.
Adapted from our original article published on our sister site, colourmyliving.com