Lenovo has been building Surface Pro alternatives in the shape of the Miix 300 series (320), Miix 500 series (510 and 520) and Miix 700 series (700 and 720). With the Miix 630. it's selling the idea of an always connected and always on device.
The key differentiator between this and other detachable in the Miix series is the fact that it is powered by Qualcomm Snapdragon 835 Mobile PC Platform. The same architecture that powers some of the best Android smartphones and tablets out there. This meant that it has a super long battery life of up to 20 hours, that's all day battery life and then some. The only tablets that come anywhere close to this is Lenovo's own Yoga Tab 3 and Tab 3 Pro with up to 18 hours battery life.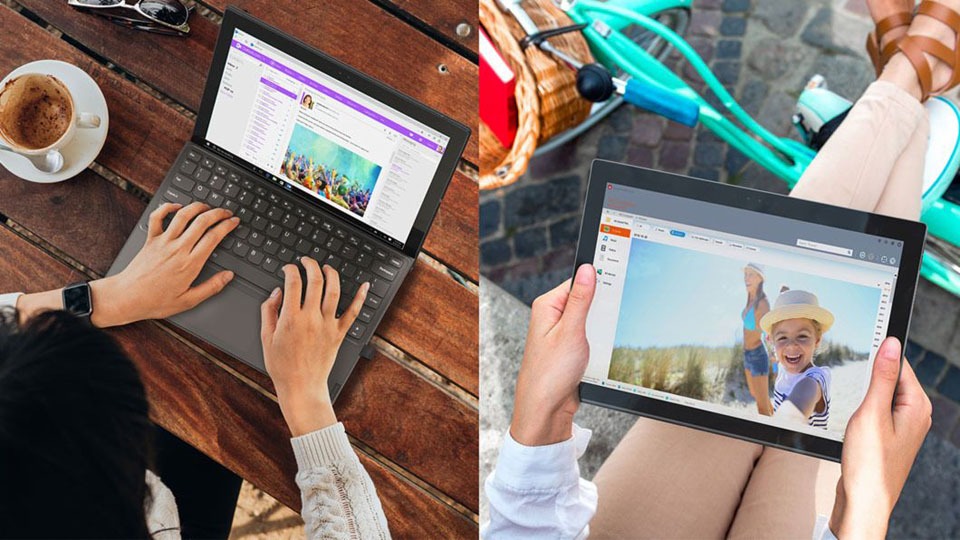 In fact, with the Lenovo Miix 630, we see the PC industry re-introducing ARM-powered Windows devices to the market. HP and Asus are the other companies doing the same. The difference this time is that these new generation devices from Lenovo, HP and Asus will run traditional x86 desktop apps and software. Come pre-installed with Windows 10 S edition, a stable operating system already running on Microsoft's Surface Laptop, it offers full desktop experience, no different to that on normal laptops and desktops.
The operating system is compiled to run on the ARM mobile platform natively without any emulation promising a more stable system with better performance.
It may come pre-installed with Windows 10 S, a version of Windows that is limited to apps from the Windows App Store, you can upgrade this to Windows 10 Pro for free subject to availability from Microsoft.
Always-On and Always-Connected
But why ARM processor, why not stick to Intel based laptops and tablets? The answer here is that like mobile smartphones and tablets, the Qualcomm powered device is a lot more efficient with deeper sleep and faster wake-up time offering an always-on experience that many are used to with Android and iOS tablets. To add to that, the mobile PC platform supports 4G LTE connectivity so you can chuck a mobile broadband SIM card into the slot or use eSIM (subject to provider) and have an always connected tablet. But, is the 2-in-1 Detachable Laptop all it is made out to be, let's find out.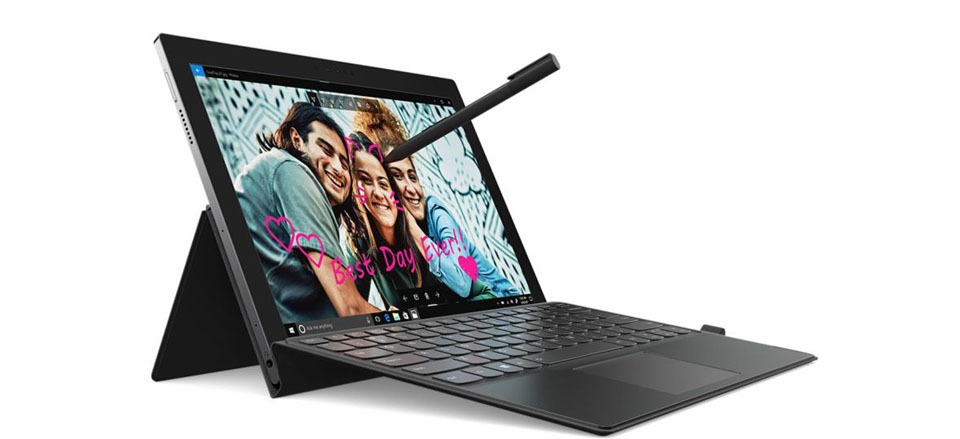 The Value Preposition
1. The 12.3-inch Full HD touch display with 1920 x 1280 resolution (WUXGA+) is exactly the same size as Microsoft's Surface Pro display. The only difference here is that it is Full HD instead of Full HD+ (2736 x 1824 pixel resolution) with higher PPI. Still, the colour is vibrant and images are sufficiently sharp and bright. The touch screen can be a finger print magnet but what tablet isn't, just make sure you don't use your tablet with greasy fingers.
2. The ultra portable design. The Lenovo Miix 630 is thinner at 7.4mm and lighter at 770 grams (tablet and keyboard) thanks to the mobile PC platform. If you are using it as a tablet on its own, it only weighs 620 grams. The Surface Pro weighs from 768 grams on its own. Finished in Iron Grey colour, the tablet has an aluminium body. The bottom edge feature a magnetic keyboard connector, the right side carries a USB Type-C port for charging and connectivity, speakers and volume rocker. On the top, you get the power button and a couple of microphones while on the left edge, you will find a microSD or nano SIM slot, speaker and audio port. There is no integrated kickstand keeping the back of the tablet clean. The table relies on the keyboard cover as a stand.
The 2-in-1 device folds flat with the tablet, keyboard cover and stylus held together like a thin folio for ultra portability. You will want one of these if you commute regularly, likes to work in the cafes, on the train or in the plane and want both the flexibility of a tablet and a laptop.
3. Cool and quiet Operation. The Lenovo Miix 630 is fan free and runs cool for a silent operation thanks to the mobile PC platform, the Snapdragon 835 chipset. There is nothing more annoying than trying to work or watch your favourite TV show with a whirling fan in the background.
4. Plenty of memory and storage. The device comes with 8GB of DDR4 RAM memory and 128GB or 256GB of Universal Flash Storage 2.1 storage sufficient for most applications. Entry level models may have lower memory and storage.
5. Smartphone connectivity from WiFi to 4G LTE seamlessly. Found yourself stuck without WiFi or hot spot, with the onboard 4G LTE connectivity support, you get smartphone like connectivity, simply chuck a nano SIM card into the slot for an always connected experience. You will of course need a separate data contract for that.
6. The included full-size keyboard. Most manufacturers such as Apple or Microsoft would require you to buy the keyboard separately and charge a hefty price for it. Lenovo is doing things differently. They have included a full size-size keyboard with the Miix 630 at no extra cost. The full size keyboard boast a 1.5 mm travel distance, double as a cover and stand, and is backlit, everything you would want for a comfortable laptop typing experience. When in use, the keyboard mounts magnetically to the bottom edge of the display to angle the keyboard. The precision touchpad is not the biggest around but is big enough to let you scroll, zoom and rotate easily.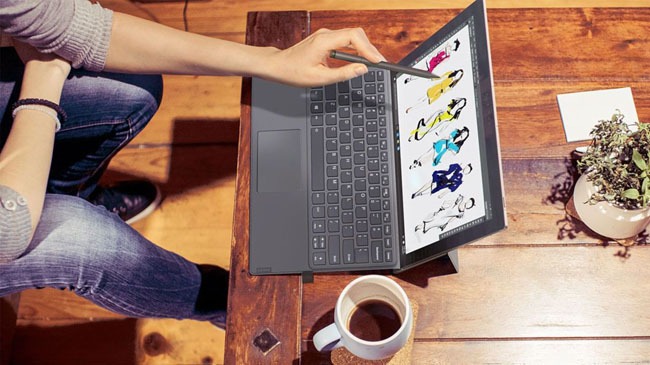 7. The included stylus at no extra. Lenovo Active Pen Stylus in included in the purchase. It tucks away nicely in the pen holder on the keyboard when not in use. If you are thinking of a tablet solely for the ability to create graphics and design using the stylus, here is your alternative to iPad Pro 12.9 and Surface Pro. The difference is, you don't pay any more for the pen input device. This together with the keyboard presents a huge saving from having to buy them separately when going with other options. However, to keep the cost down, the pen has a quarter of the pressure sensitivity (1024 levels) compared to say the Surface pen with 4096 levels. But as it comes included, we can't really complain. Still it draws, sketches and annotates with Windows Ink without any problem. Writing with the stylus is smooth and the pen rests nicely in the hand and felt weighted.
The Lenovo Miix 630 comes bundled with a full size detachable keyboard cover with stand built-in and a digital pen input or stylus. When not in use, the stylus can stay next to the keyboard secured with the elastic band to keep it safe. That's more than what anyone would ask for to complete their investment and to maximise their productivity.
8. The 20 hours ultra long battery life meant you can leave the power adapter at home and travel light. It also meant you can go through the day without looking for a power socket and have enough battery to last you through your long-haul flight while you trot the globe. As a comparison, Surface Pro lasts up to 13.5 hours per charge while Surface Laptop lasts up to 14.5 hours per charge.
9. Front and rear facing camera.  The Lenovo Miix 630 has a 13MP rear facing auto focus camera and a 5MP + 0.3MP front facing infrared camera that supports Windows Hello. The front facing camera pair allows you to quickly and securely login to your device much like Face ID on your smartphone with facial recognition capability. No more fiddling with finger print scanner or typing in your password, just remember to smile at the camera.
10. As a tablet it makes the personal digital assistant more accessible. Windows 10 S enables Cortana®, your voice-enabled intelligent personal digital assistant to be available to you on the go with the Miix 630. Get reminders, track flights, send short emails, play music and much more – all with just your voice.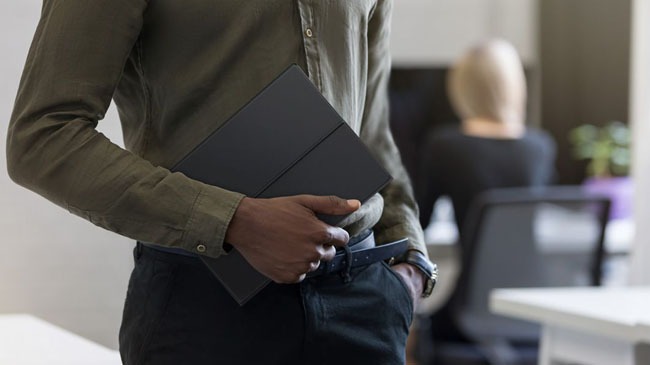 Final Thoughts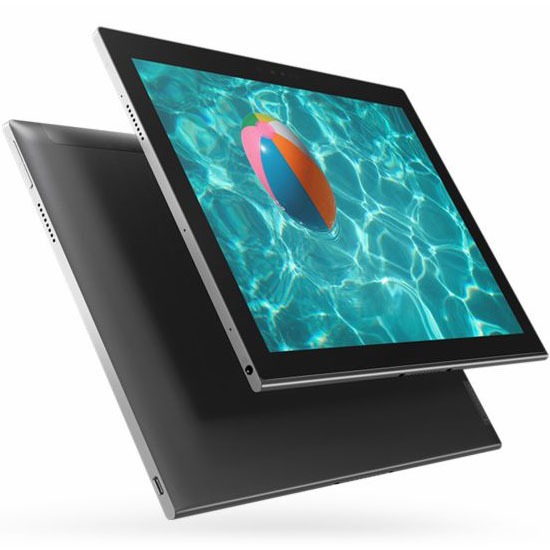 As a detachable 2-in-1 PC, we can understand why the number of ports are limited. When using the device as a tablet, it bodes well as you do not really need all those ports to get in the way. This helps keep the sides of the tablet clean and clear of any holes you find with ports. Those who complained about the port limitation should look at a full size laptop.
We felt that there is sufficient connectivity options. 2 x 2 WiFi 802.11 ac, Bluetooth 4.1 LE and 4G LTE with a Nano SIM card and contract for wireless connectivity. USB Type-C, Micro SD expansion slot and audio combo jack for everything else. If you really need video output or extra USB ports, you can always get a Type-C USB hub with video output.
While the OS and Microsoft applications such as the Edge browser, Email and MS Office are rewritten natively to take advantage of the ARM platform, making it super fast and smooth, loading other 32bit or 64bit applications requires emulation. This may be transparent to the end user but you can certainly feel it where responsiveness and speed are concerned. It will still run the Chrome Browser or Photoshop CC, it just need a few seconds more to start and operate. The true benefit of the device is as it is designed for, an alway-on and always connected tablet.
What we like about it
Super long battery life
No extra cost for stylus and keyboard
Ultra portable design with super slim aluminium body
Detachable keyboard cover with backlit and sufficient key pitch for the full size buttons
IR camera to support Windows Hello for facial recognition login
LTE Support with SIM card slot on-board and support for eSIM.
What is it good for
Document processing, spreadsheet crunching, Internet browsing, checking emails, blogging, light photo editing.
Watching movies and TV show anytime, anywhere with streaming services like Netflix and Prime Video.
True all day and night computing with 20 hours of battery life, considering that you take some time to eat, sleep and take toilet break, and if that takes up to 4 hours of your 24 hours routine.
Gallery